If you have chanced upon this article, you must be a proud owner of a car or a large vehicle who is looking for a Jack Stand. Owning vehicles such as these invites troublesome chores such as changing tires or frequent checking of engines. This misery has led to many either opt for public transports or other alternatives.
That being said, this is a reasonably small section of people. The other crowd seeks tools that make life easy and uncomplicated. A tool like a jack stand is what keeps your car up and running most of the time.
In this article, we bring you the ten best jack stands for all kinds of vehicles. Picking a reliable pair of jack stands will save you from injuries and other precarious outcomes.
---
What is a Jack Stand?
Jack stands are an invaluable aspect of your vehicle's safekeeping. These offer complete support for your vehicle in lifting off the ground. Two of the pivotal tools in getting the job done underneath your car are — a floor jack and a jack stand. The jack stands come in a variety of different designs and identical shapes. Following is a guide to help you before you choose one from the vast market.
---
Guide to Buying A Jack Stand
Having a sturdy piece of a jack stand is handy in most circumstances. The safety and protection of you and your car are the most pivotal factors that may inspire your purchase decision. If you have made up your mind about buying the best jack stand, here is what you have to consider:
Material: Jack stands come in a variety of different materials. These materials will give an idea of the durability and quality of the product. The most preferred models are available in materials like aluminum and steel metal. For smooth transportation, the aluminum jack stands come in handy. In contrast, the steel stands are heavy and ideal for lifting heavier vehicles.
Weight Ratings: The most pivotal factor when selecting the jack stand is the — weight or load capacity. Jack stands start supporting from 2-tons, which is reasonable for small cars and sedans. However, consider purchasing jack stands that offer supports more than what your vehicle demands. Jack stands are available up to 22-tons of capacity.
Lifting Height: Another crucial factor to consider is the lift height of a jack stand. Prior to choosing based on ideal lifting height, it is essential to know your car height and how much you want the car to be lifted. Moreover, purchase a jack stand with a narrow base that improves stability.
Locking Mechanism: The make or break factor that requires your attention and understanding is to know how to secure the jack stand's lock. Generally, jack stands either come with a ratcheting mechanism or pin to lock the saddle at your height.
The pin-lock system is common and affordable. However, setting up this lock is not all plain-sailing. The ratchet mechanism is efficient in making small height adjustments while also easy to set-up.
Also Read: Best Floor Jacks For Your Vehicle In 2020
---
Safety Tips To Consider
Jack stand is an investment that must meet both your and your car's safety standards. As a proud car owner, you must ensure that the jack is well-built enough to keep your car standing for long periods of time. Here is a checklist of safety tips to be considered:
Inspect the weight capacity: Jack stands come in different weight capacities. It is important to check that your stand meets the weight of your vehicle. A sound choice to be considered here is to shop for stands weighing more than your car.
Place them only on flat surfaces: Although most jack stands claim to ensure stability on uneven surfaces, it is never a great option to place them on those. Try placing the stand on a stable surface, which may reduce the risk of any accidents.
After lifting your vehicle off the ground, gently shake it to check the stability.
Carefully read through the manual: You may have used jack stands in the past; nevertheless, paying attention to the details mentioned in the user-manual will do no harm. Do not rush the lifting process with your new stand, take your time and perform everything safely.
---
Best Jack Stands and the quality ones.
Lifting a car from the ground is a highly demanding task. Jack stands have been the savior in lifting small to large vehicles. After hours of research, we have jotted down the best available jack stands of this year.
1. AmazonBasics Steel Jack Auto Stand (Editor's Choice)
The much-appreciated product on our list is the AmazonBasics Steel Jack Auto Stand. These jack stands come in a pair, which, when used together, can hold between 2- or 3-tons. These carjack are supplied with a rust-proof-coated steel frame, meaning they will last for a few years.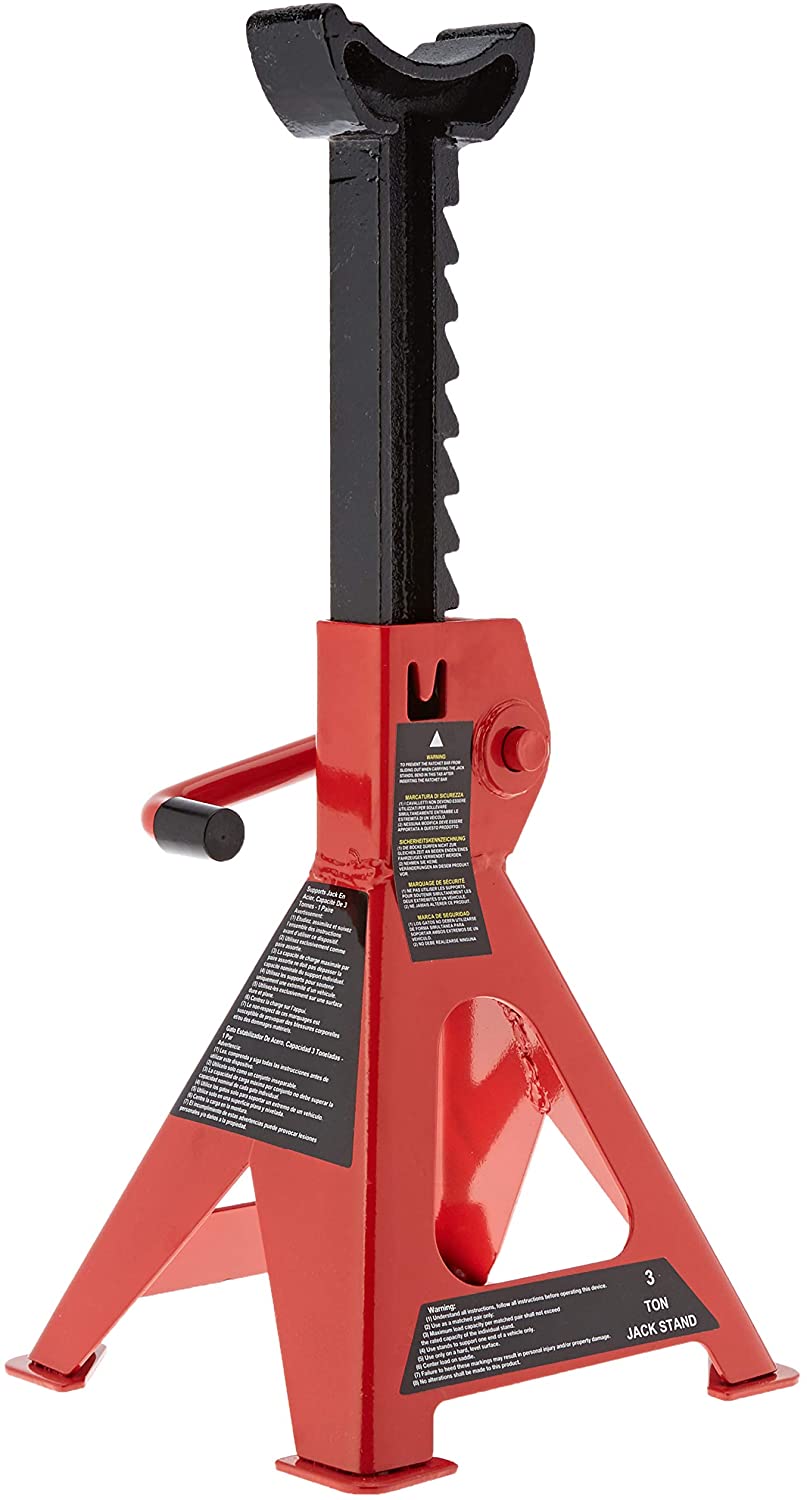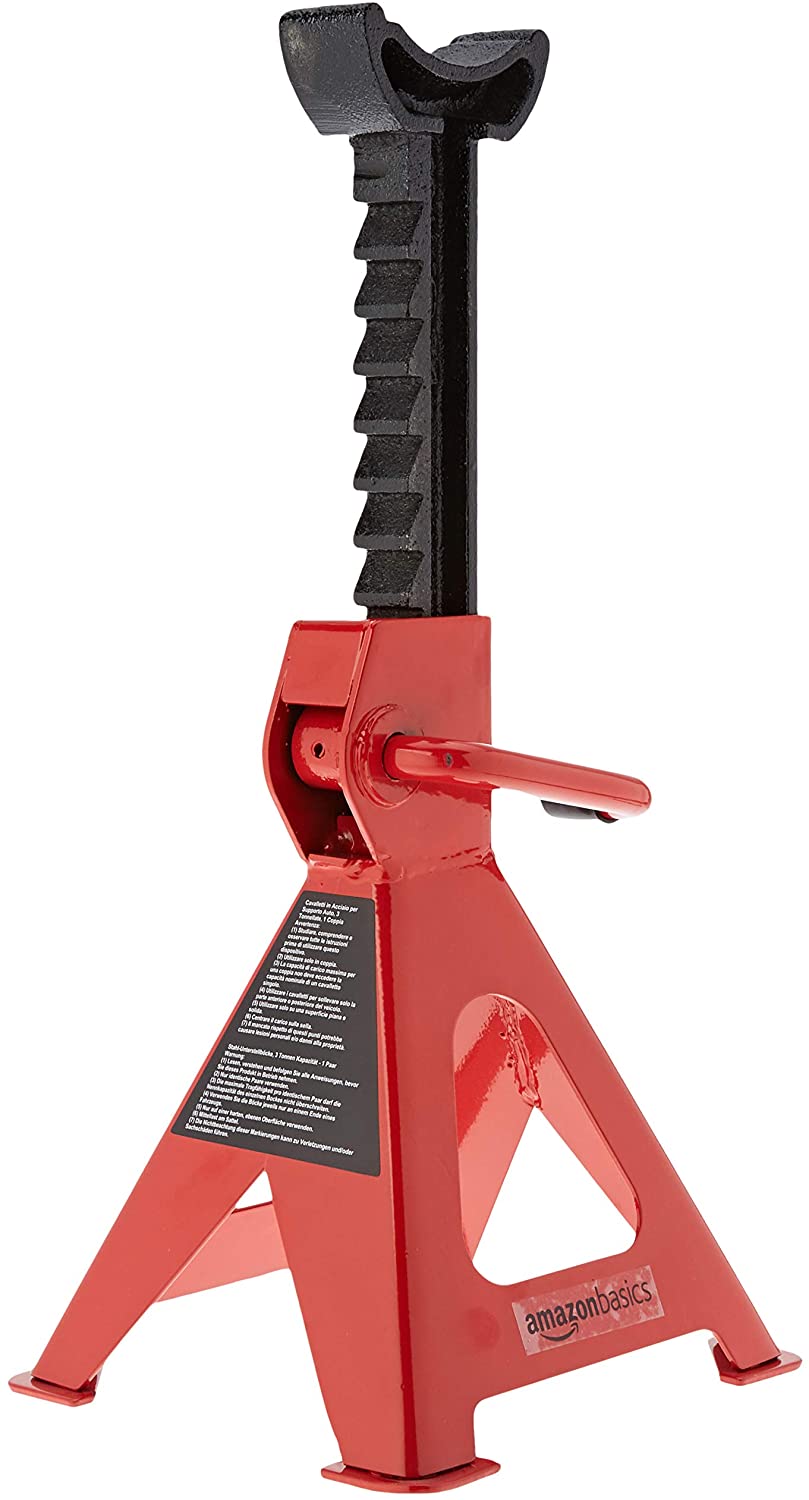 This jack stand features a self-locking ratchet, which effortlessly helps raise or lower the stand per required height. Furthermore, this piece adheres to the ASME PASE-2104 safety standard for Portable Automotive Service Equipment.
The jack stand is backed by a limited one-year warranty. The stand boasts of a narrow square base that improves its stability. These are inexpensive jack stands that are reliable to use even in the long run. You can also pair this with the Powerbuilt 620479E Xtra Low Profile Floor Jack for smooth repair process
2. Powerbuilt Alltrade 640912 Jack Stand (Best Designed Jack Stand)
The Powerbuilt Alltrade Jack Stand is sturdiness written all over it. This heavy-duty tool boasts a 2-in-1 design by combining jack and stand, making this a bit too heavy unit at 22 pounds.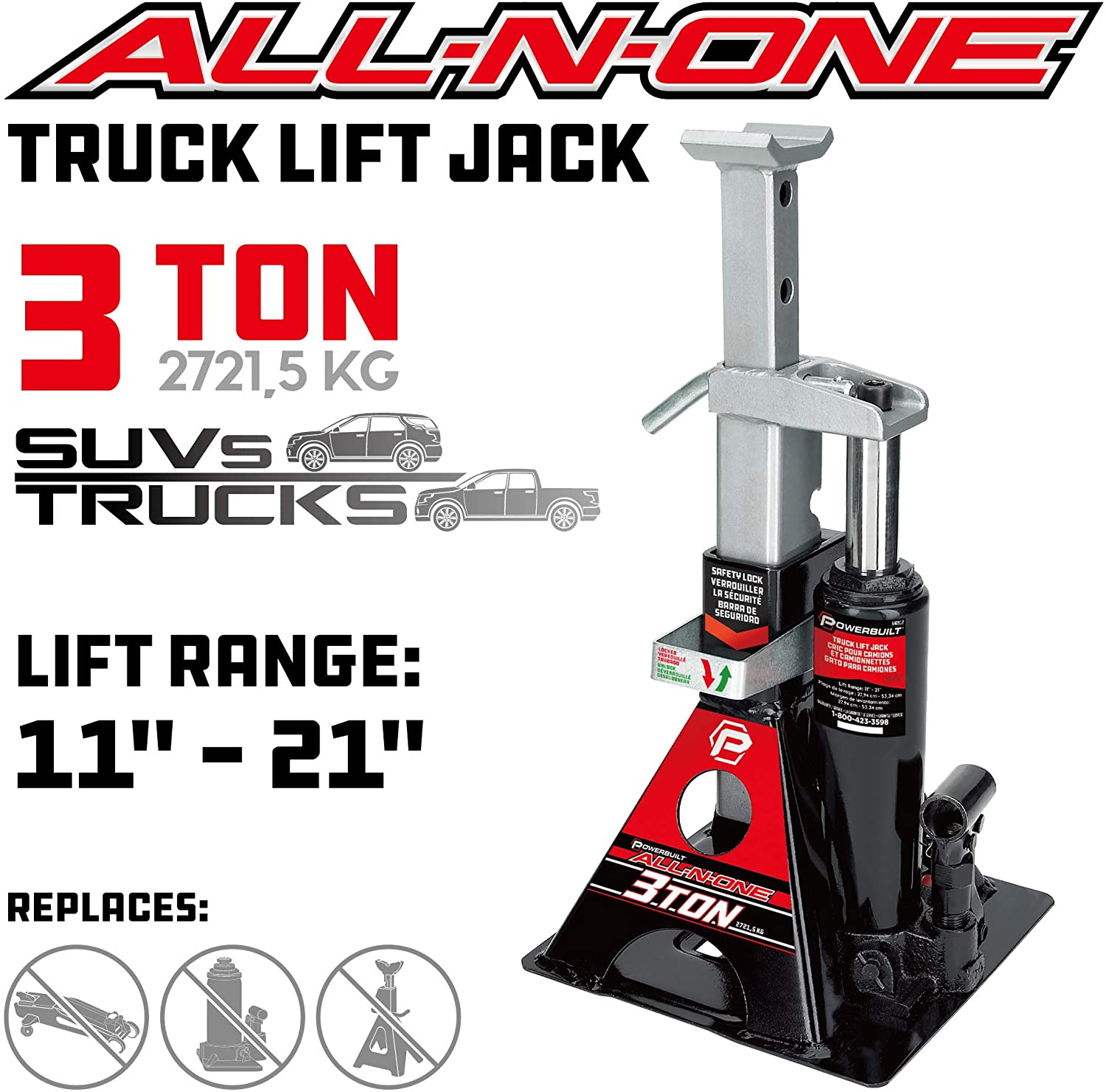 This gear comes with 3-ton of weight capacity and a height range of 11 to 21-inches, capable of lifting any automobile between light trucks and off-road vehicles. The Alltrade 640912 has a square-shaped base with dimensions measuring 9.75-inches, rating it higher in terms of stability.
This jack stand comes with a safety bar, which safely locks the ratchet to prevent it from lowering once raised. What's more, this jack stand exceeds all the ASME and Portable Automotive Lifting Devices (PALD) standards.
3. Big Red T43004 Torin Jack Stand (Best Aluminum Jack Stand)
The Big Red T43004 is a pair of robust aluminum jack stands that have the capacity of holding up to 3 tons. This is rated highly amongst the best aluminum jack stands. Weighing in at about 10 pounds, these are the lightest available on the market.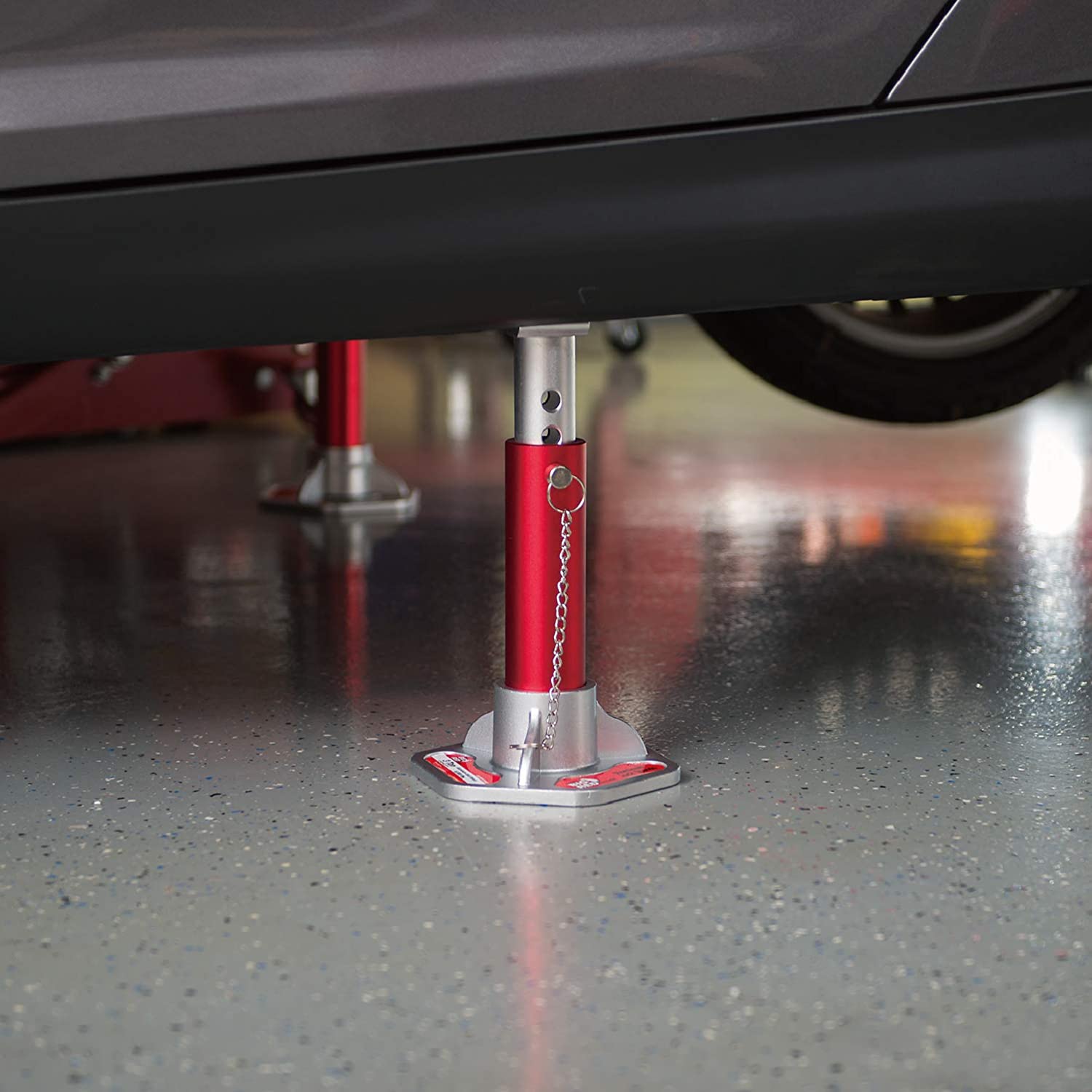 Much like the T41202, this jack stand also sports an alluring red-colored body built to accommodate most vehicles, including compact cars to ATVs. For safety and protection, this stand is supplied with detachable locking support pins with six locking positions.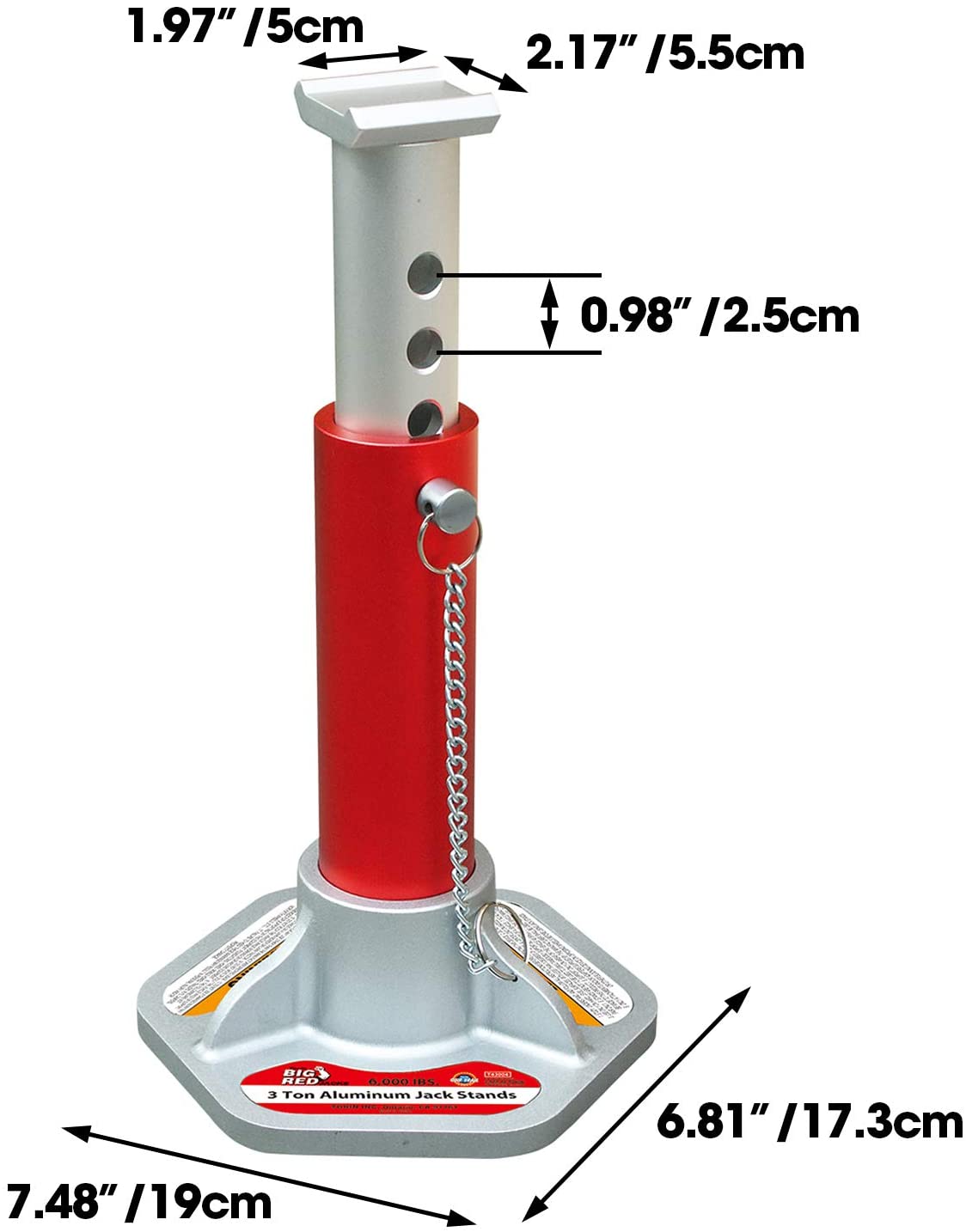 The T43004 has a flat removable base, ensuring that the stand is safe and remains in position for hours. This jack stand comes with a minimum height of 10.75-inches and a maximum height of 15.5-inches. Most Big Red products like Big Red Hydraulic Trolley Floor Jack (T83006) qualify and exceed safety standards and are backed by a one-year limited warranty from the manufacturer. All in all, this jack stand is a handy and lightweight option to have in your vehicle's trunk.
4. Esco 10498 Jack Stand (Best Anti-Rust Jack Stand)
The Esco 10498 is a complete steel package featuring a flat top in a tripod-like design. This jack stand arrives in a powder-coated finish that prevents it from rusting. The stand's saddle cushion is pretty efficient in keeping the protecting vehicle's frame from damage.
Esco's locking pin-type design is handy on all occasions, a well-received feature among all kinds of mechanics. This jack stand supports height adjustment from 13 to 21-inches, which is adequate to work on vehicle types. A point to be noted is that these stands are available separately and not sold in pairs.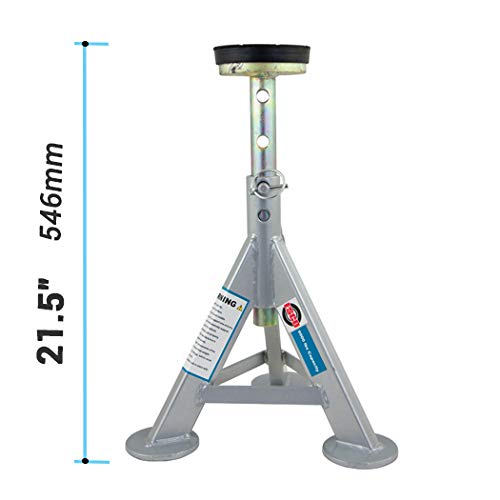 The Esco 10498 comes with a capacity of lifting to 3 tons. This is slightly pricey; however, the circular base and tripod-shaped design make up for it.
Also Read: 10 Best All Season Tires On The Market – Buying Guide
Best Heavy-Duty Jack Stands
1.Sunsex 1410 Jack Stand (Best Heavy-Duty Jack Stand)
Premium and high-capacity, the Sunsex 1410 Jack Stand is the most convenient tool for oversized cars. This heavy-duty jack stand is an incredible gear that comes with the ability to hold up to 10 tons.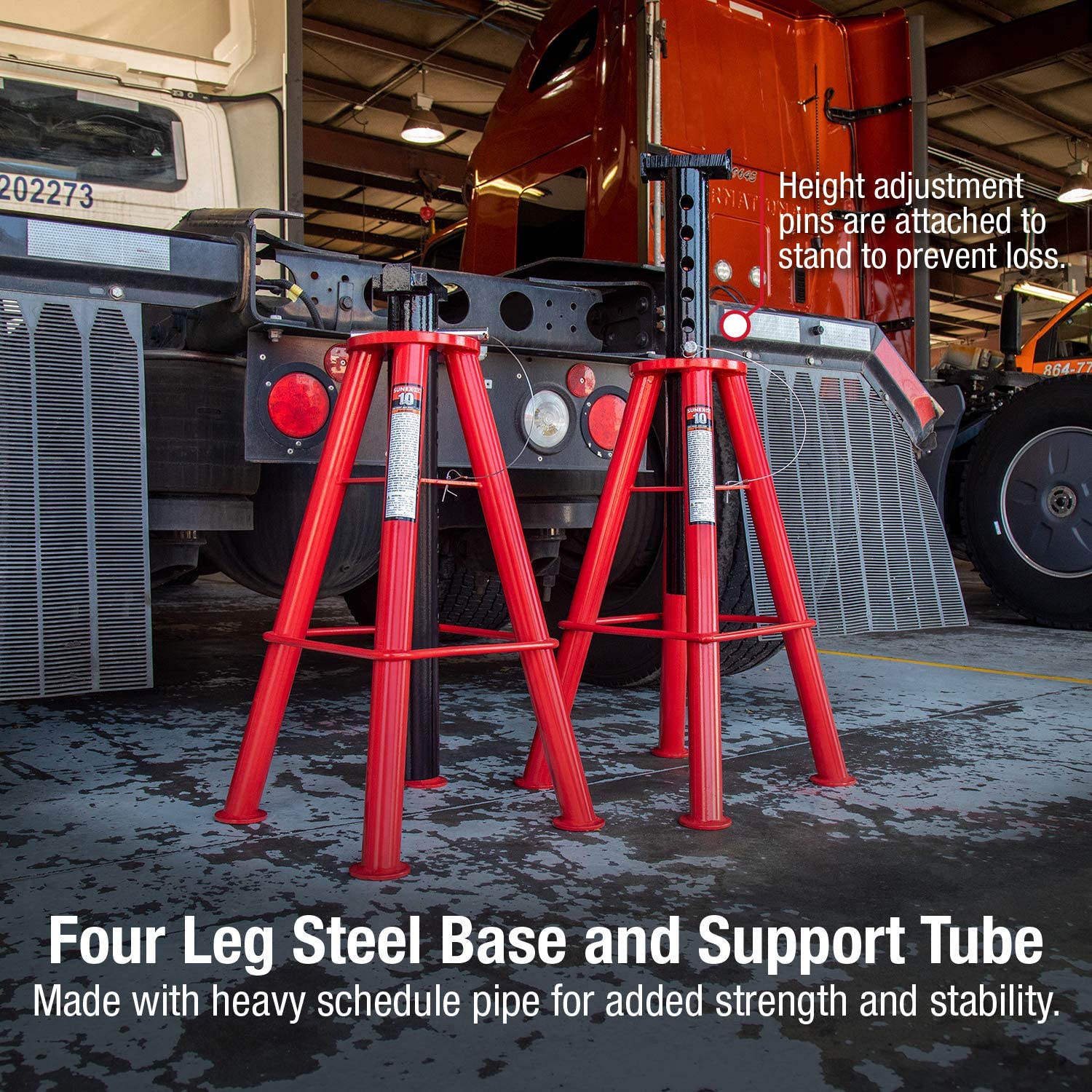 The jack boasts of a V-shaped saddle, efficient to cradle axles or other under truck components. This machine can effortlessly be raised to 46.5 inches in height.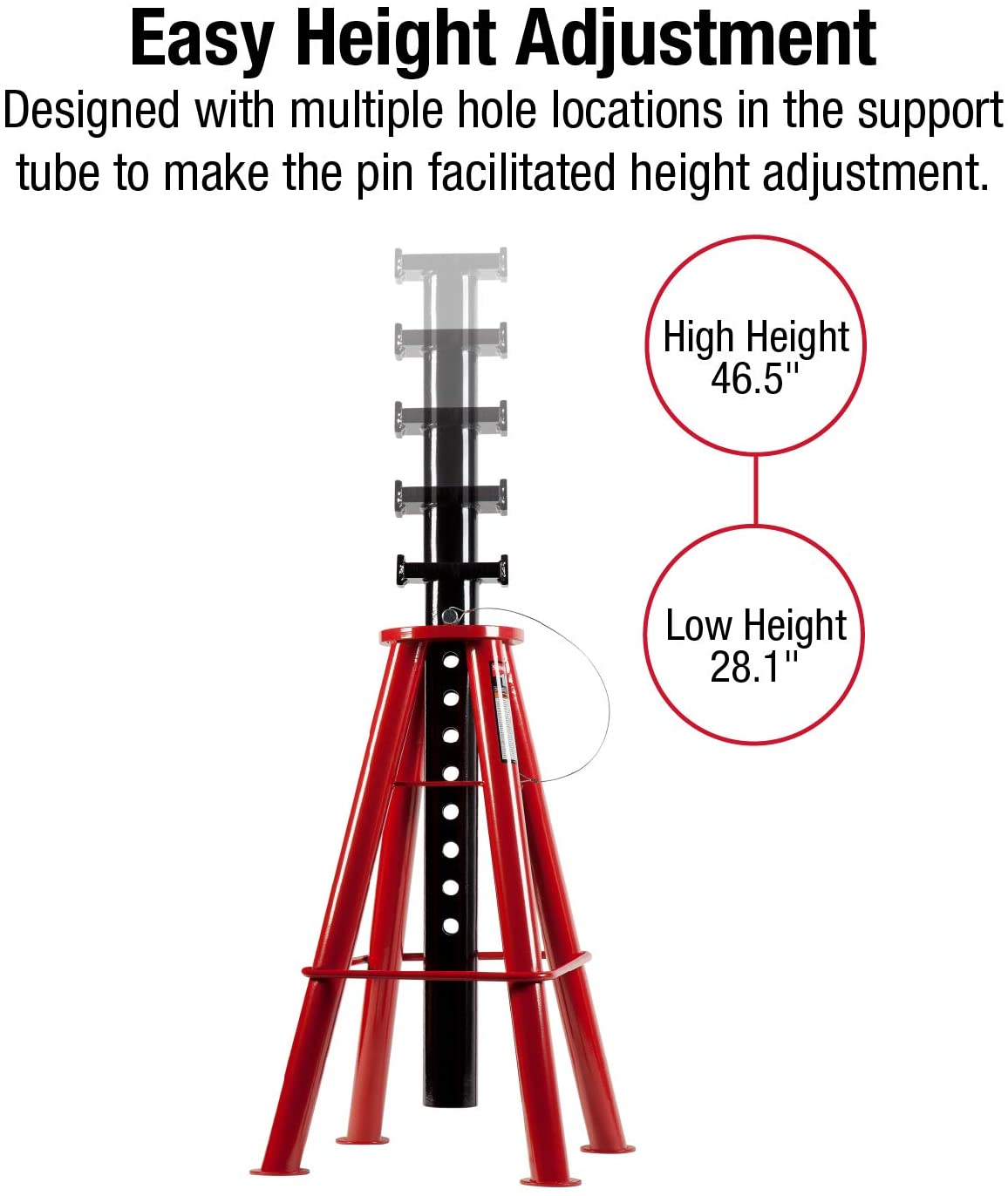 The Sunsex 1410 comes in multiple variants — 10 Ton, 10 Ton High, 10-Ton Medium, and 22-Ton. This is a costly model with features that make it stand out from most of the standard models. The only letdown is the price, so going for the maximum capacity one is the safest option. This metal-embodied jack stand weighs 105 pounds, thus making it hard to move around places.
2. Cartman Jack Stands (Best Inexpensive Gear)
Featuring third on the best jack stands list is the Cartman Jack Stand. This heavy-duty steel jack is a choice preferred by mechanics who seek something inexpensive and easy-to-use garage gear.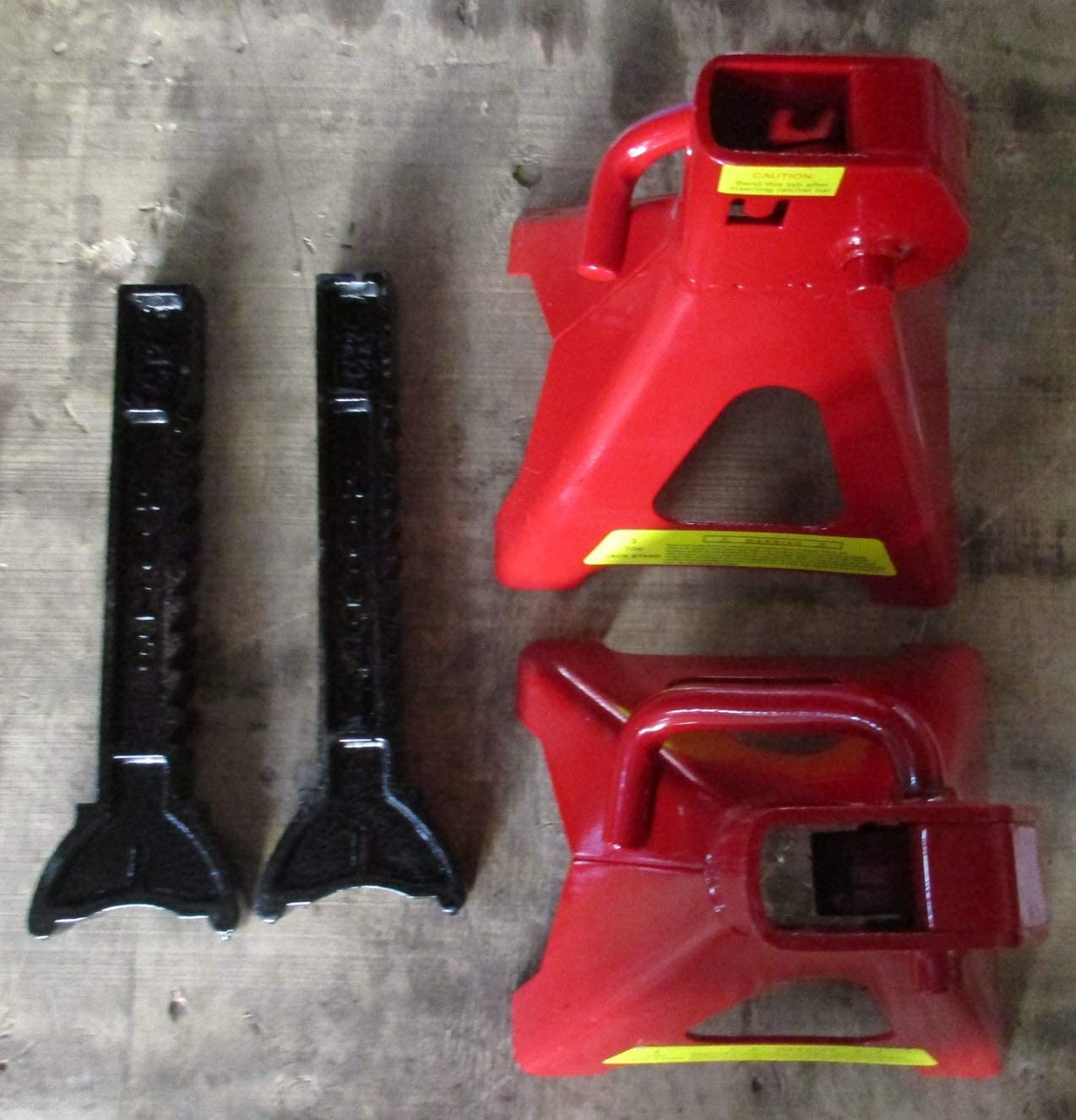 This jack stand is a concoction of quality materials, meaning it is safely built to pass all the American National Standards (ANSI) requirements. The jack sports a double locking pawl clubbed with a tooth design for added safety.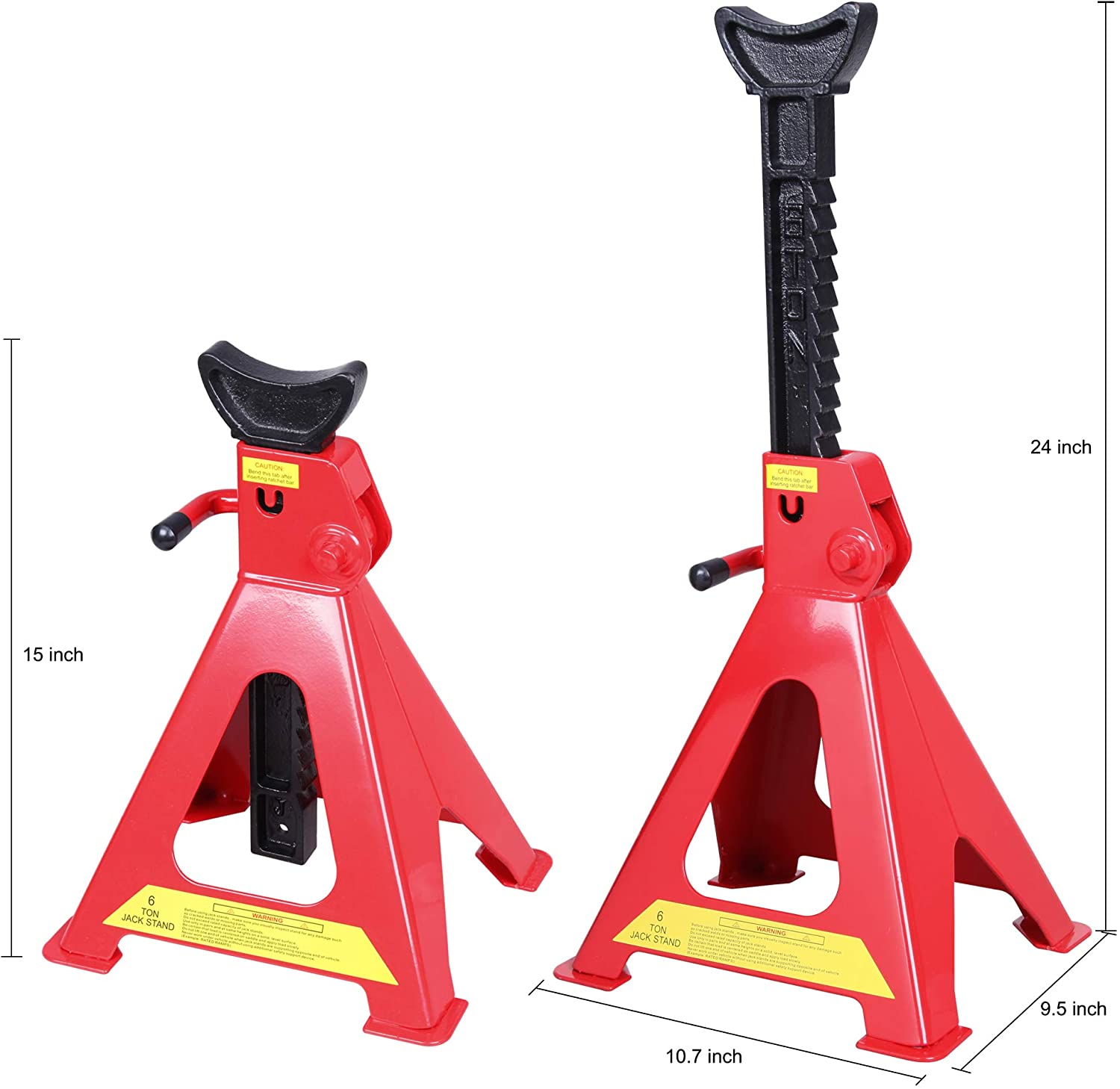 Moreover, there is the double-locking feature that saves the stand from wobbling on uneven surfaces. Equipped with a built-in quick adjustment mechanism, Cartman's jack stand is quick and straightforward to adjust. This is a handy feature when dropping or raising the stand by an inch or two. These jack stands also come in a 3-ton safety pin variant.
3. Pro-Lift T-6906D Jack Stand (Best in Commercial & Residential Use)
The Pro-Lift T-6906D Jack Stand is a mighty little gear with handy features like the double-locking safety mechanism and more. The double-locking safety enhances safety with a locking handle and mobility pin. This jack stands on a robust steel base and a ratchet bar of iron, offering complete stability and durability for a more extended period.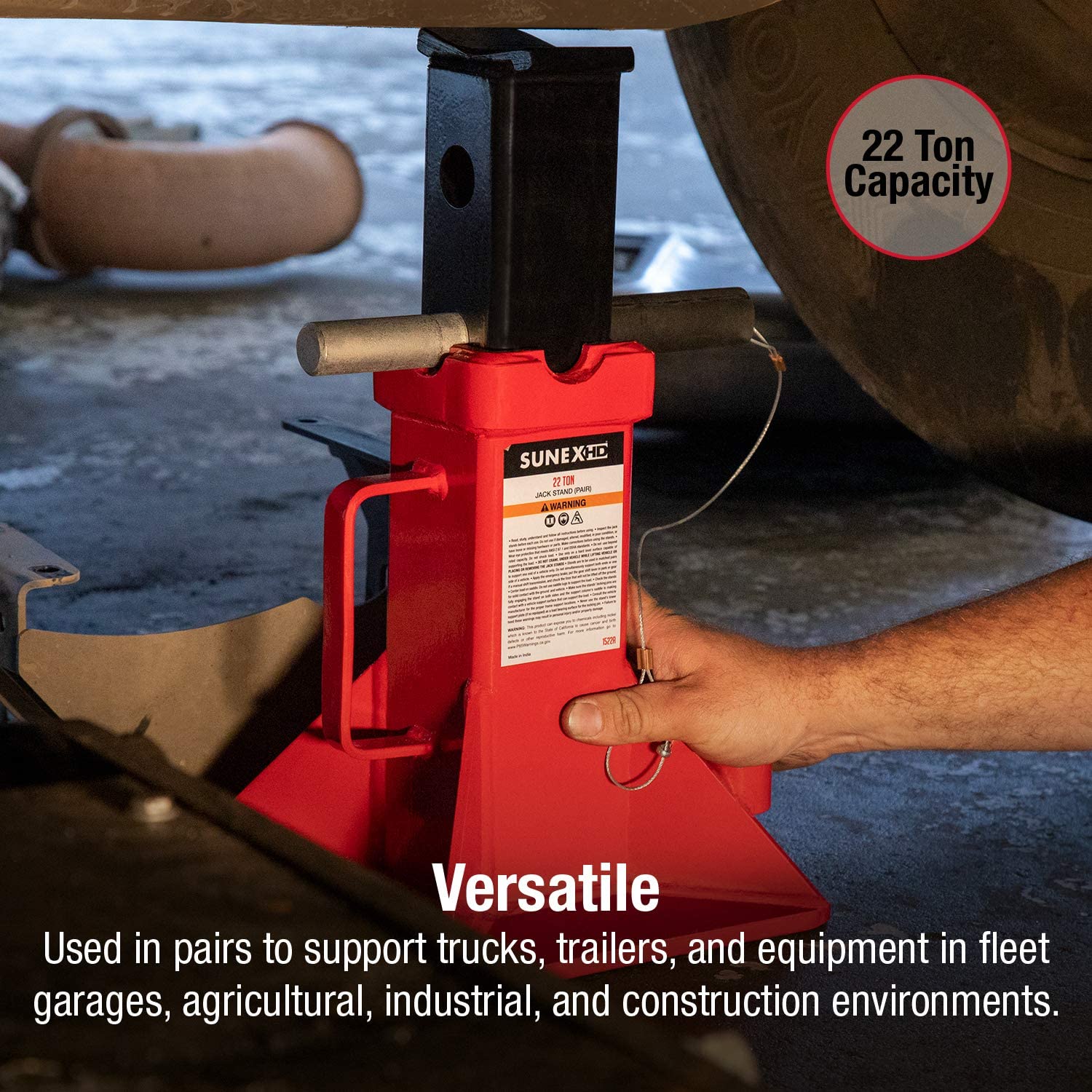 This powerful tool includes a user-friendly height adjustment mechanism for locking the stand to your desired height. Like most of the other models on this list of best jack stands, the T-6906D also meets ANSI and PALD standards.
The brand is explicitly marketing this product as a tool ready to be used for "commercial and residential use." This equipment can hold up to 6-tons that are safe enough for most vehicles, including home and farm vehicles. This jack stand is backed by a one-year manufacturer warranty.
4. Big Red T43002A Torin Jack Stand (Best in Stability)
Another incredible tool from the house of Big Red is the T43002A Torin Jack Stand. This lifting gear comes with a double locking system, which is rated safe and recommended to support vehicles up to 6 tons.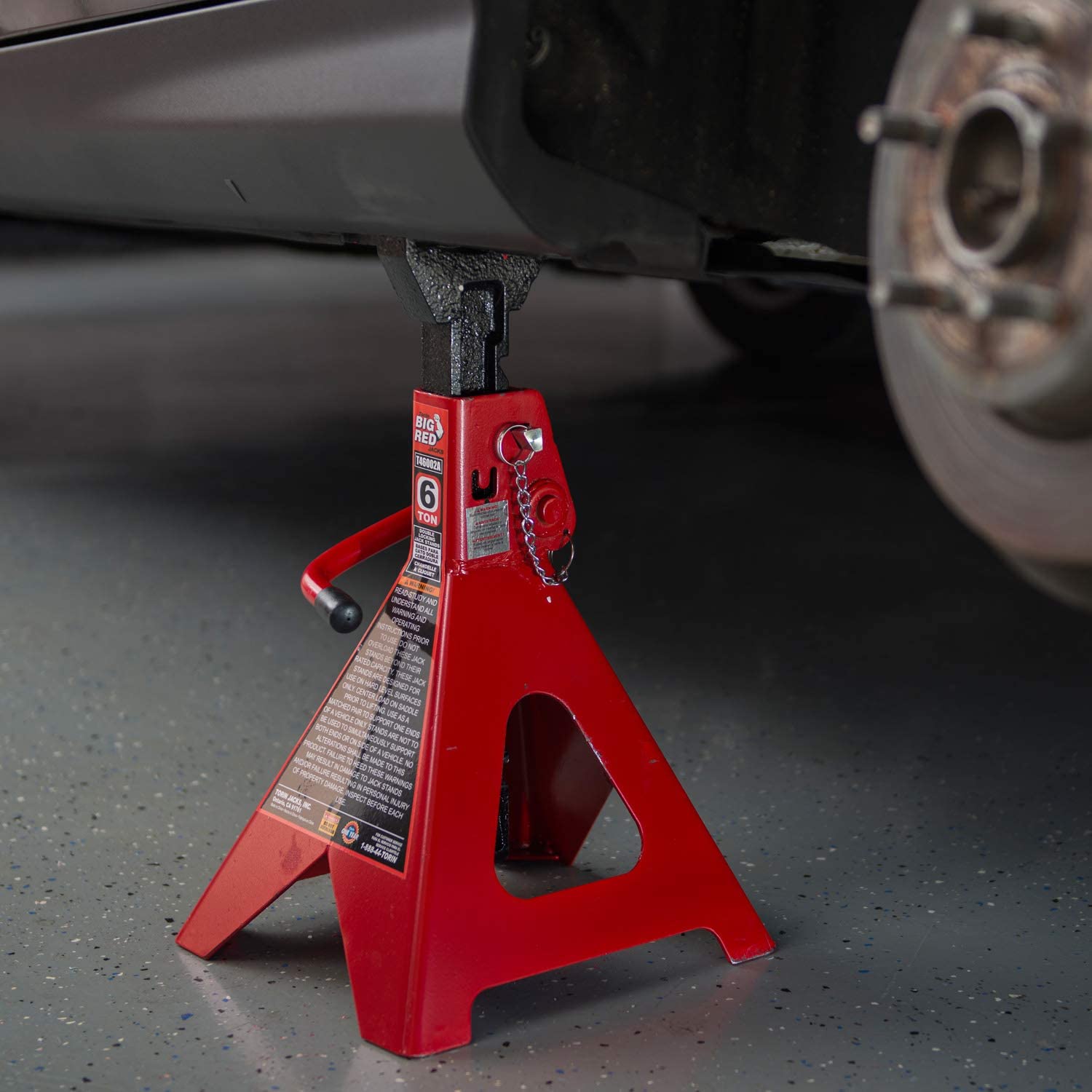 These jack stands to boast a steel body with a welded frame design, making it strong and durable for years to come. The stand's narrow base is strong enough in holding sedans, jeeps, ATVs, and UTVs.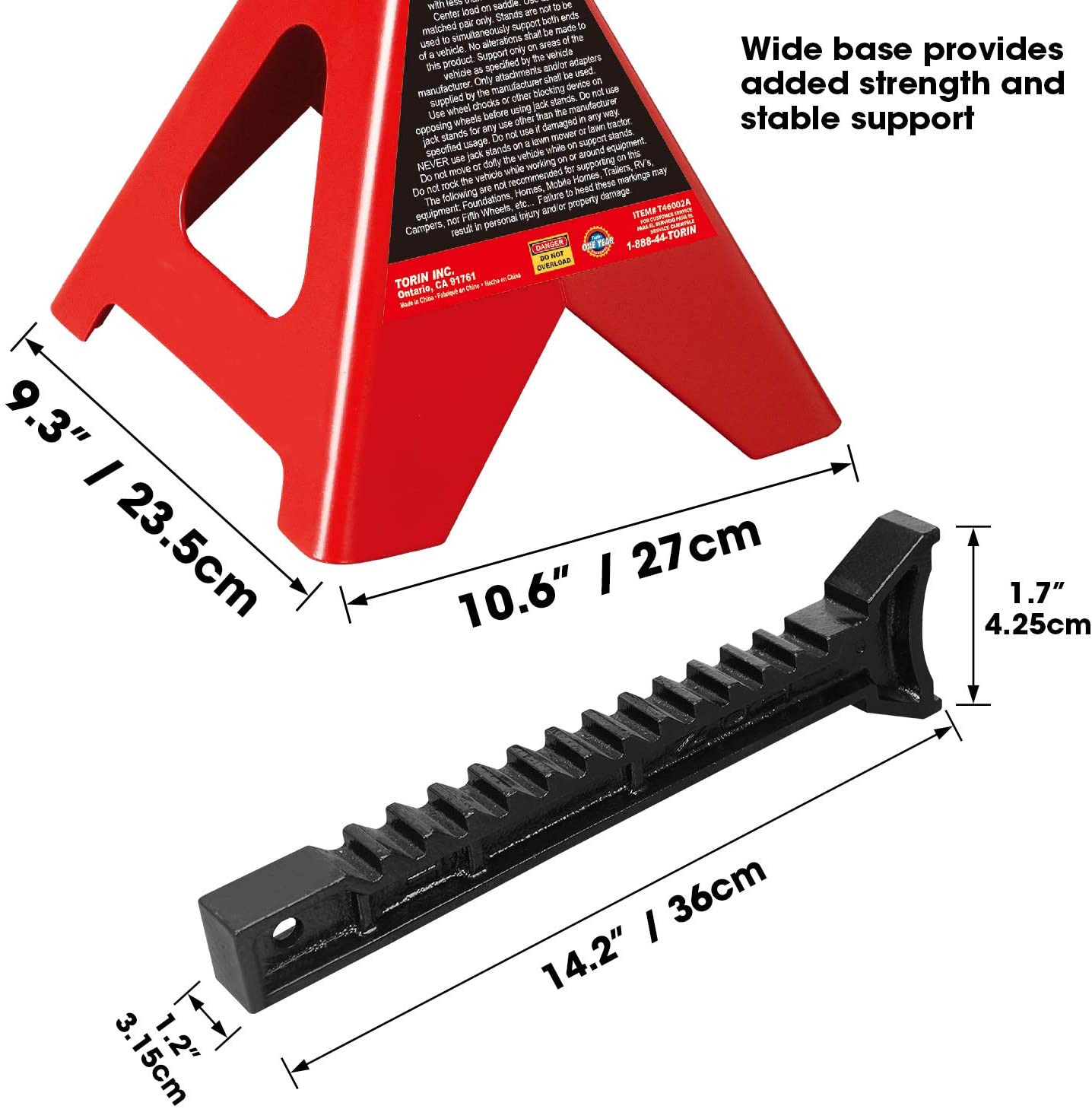 The T43002A comes with a few extra safety features like the multi-position forged iron, enabling quick height adjustments. The Torin jack stand is quite useful in lifting from 11.22 to 16.7-inches in height. For additional security, this comes with a removable locking pin. This jack stand meets and exceeds the ASME safety standards and comes with a limited warranty of one year.
Best Budget Jack Stands
1. Big Red T41202 Torin Steel Jack Stand (Best Budget-Pick)
Mimicking the flaming color, The Big Red T41202 Torin Jack Stand is a red hot machine that is every professional's safest bet available on the market. This jack stand is sturdy enough to hold vehicles weighing up to 3 tons.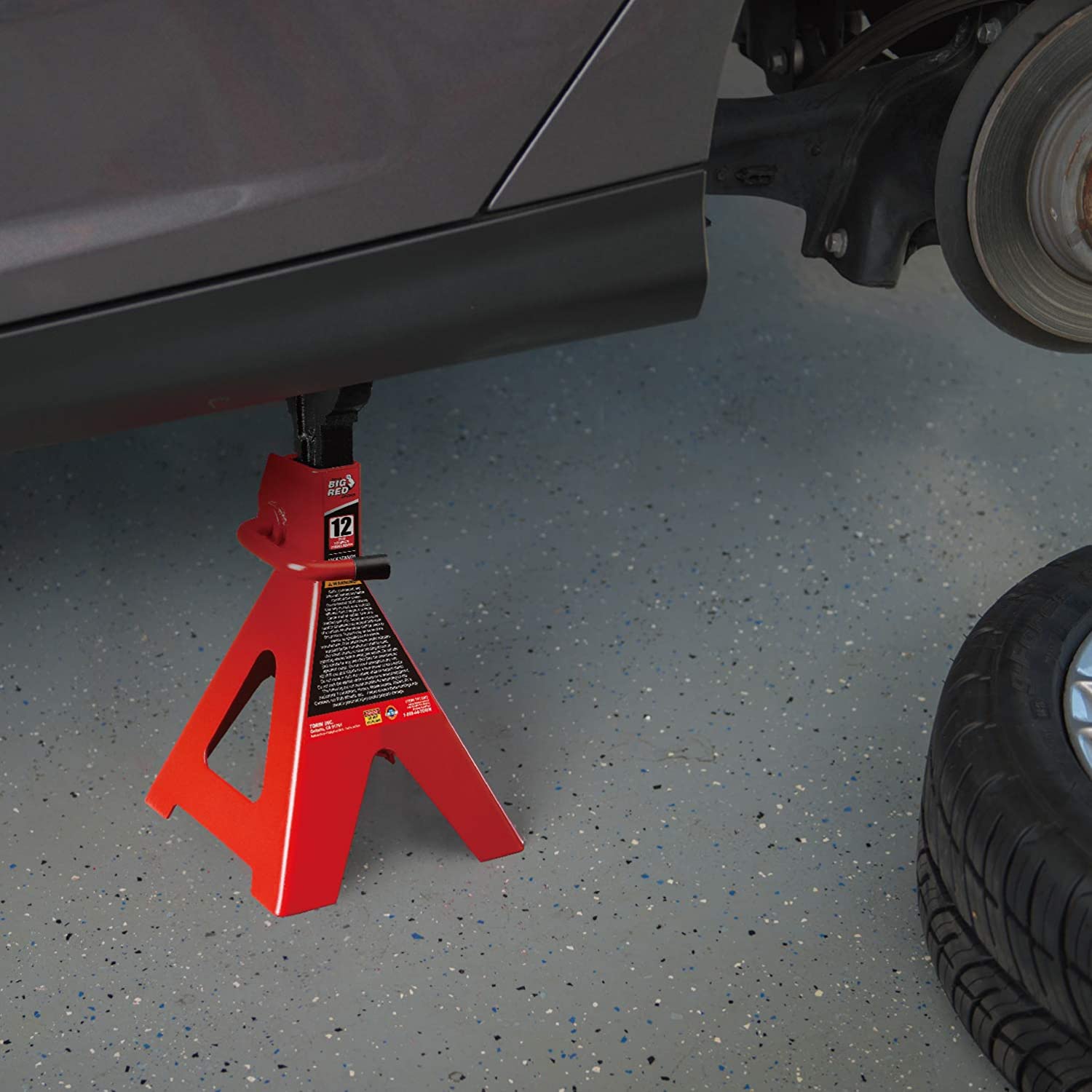 Built of high-grade forged steel, this car jack is slightly bulkier than other units with the same lifting capacity. This durable machine is available in four different sizes — 2-, 3-, 6- and 12-Ton. The Big Red jack is a tough nut capable of safely placing most vehicles, including compact cars, sedans, SUVs, and light-duty trucks.
This jack stand comes with a large saddle marked as "safe" for contact and load support. The T41202 features a multi-position ratchet bar with a sawtooth design that enables you to quickly adjust the stand's height. All the variants are backed by a one-year limited warranty.
2. Powerbuilt 620471 Unijack (Best 2-in-1 Jack Stand)
The Powerbuilt 620471 is an incredible concoction of both jack and stand in one unit. Besides supporting your car whilst you work underneath, this jack stands effortlessly raises or lowers them too.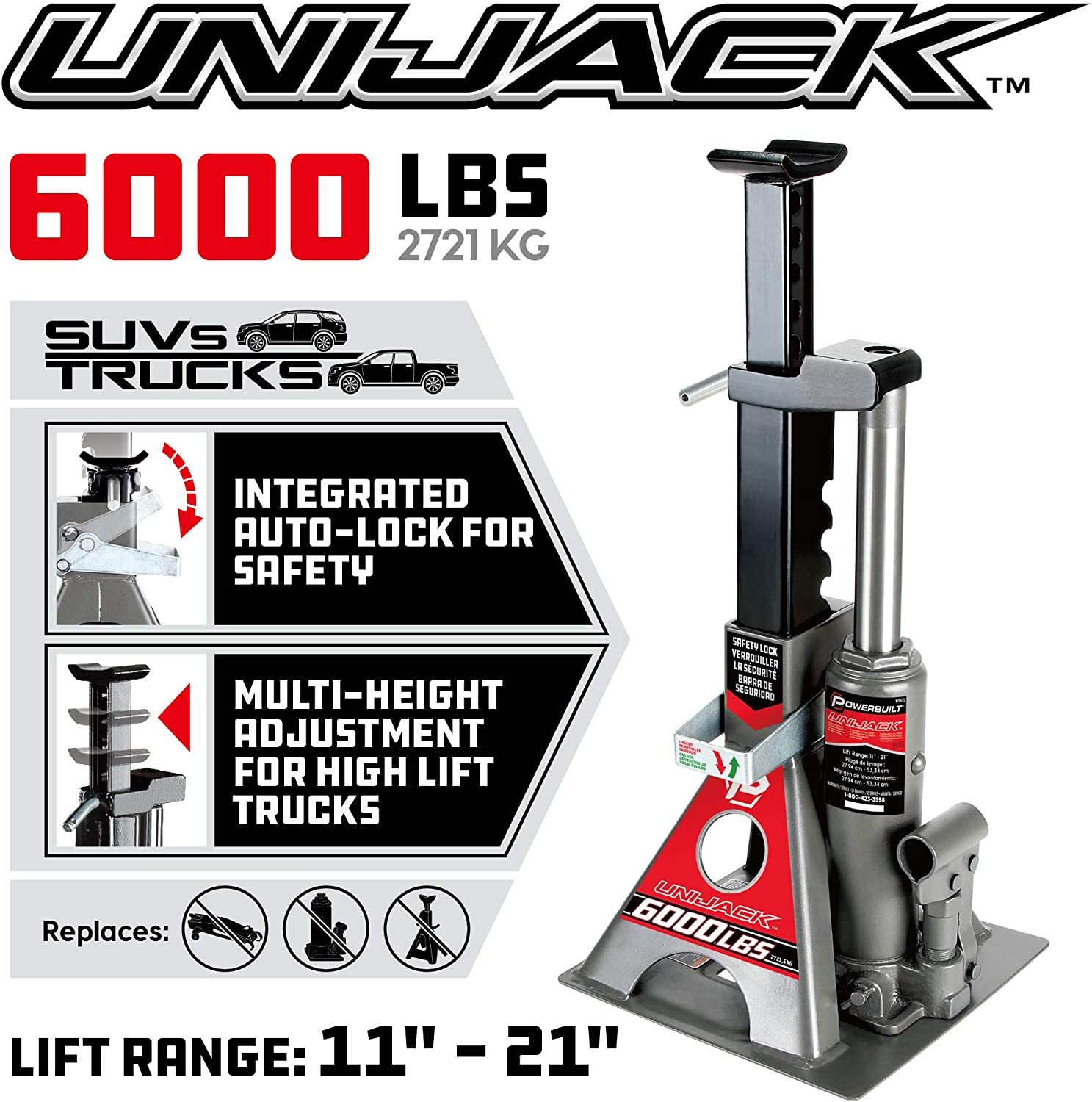 This powerful tool comes with a carrying capacity of 2 and 3 tons. While it comfortably lifts vehicles from 11 to 21-inches from the ground. Coming with a safety bar locking system, this piece comfortably locks the stand in one position.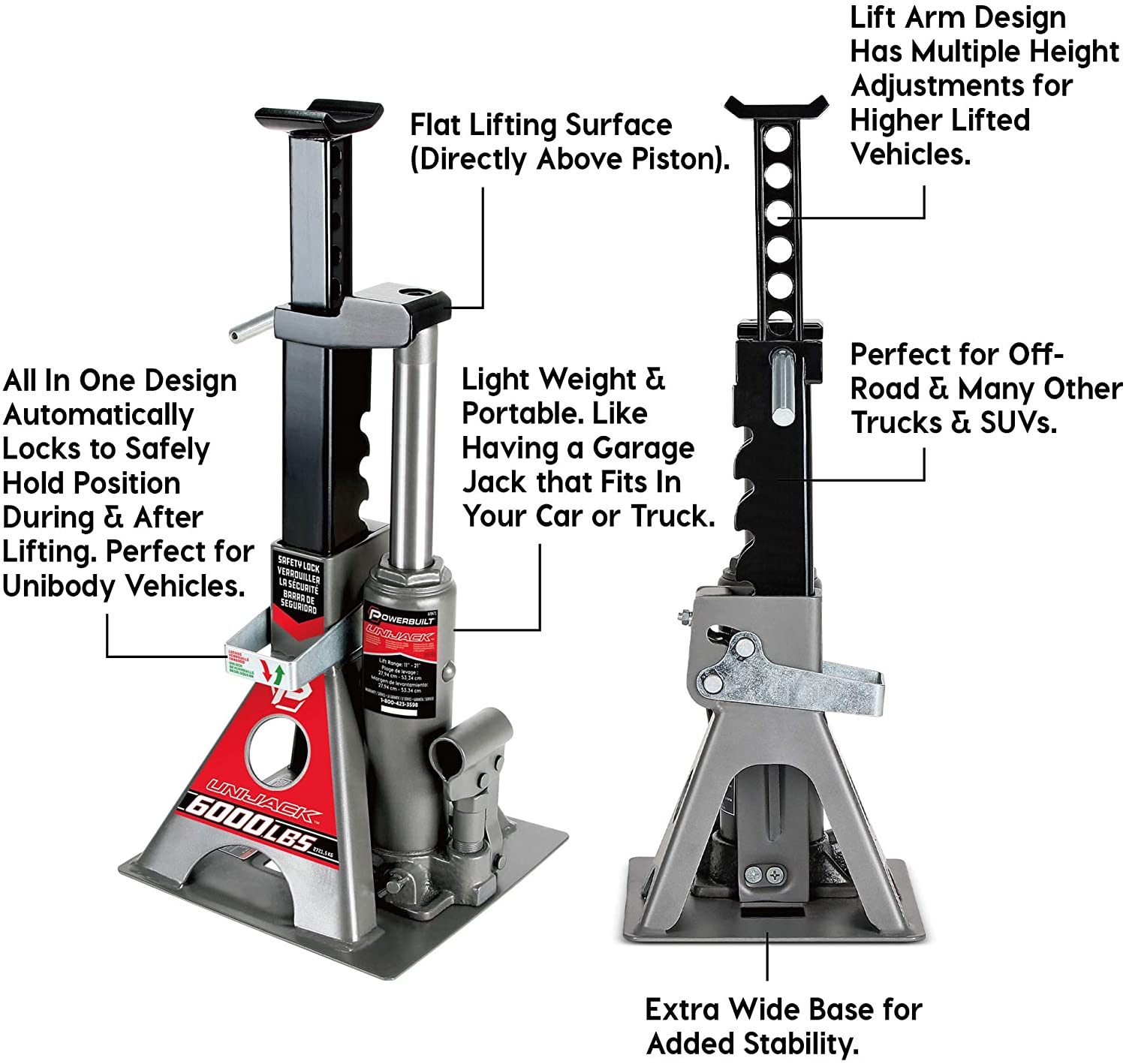 Powerbuilt 620471 has a large steel base, ensuring that it does not sink in the ground. Backed by the built-in hydraulic bottle jack, there is the minimal effort required from your side in lifting your car. This inexpensive yet powerful jack stand meets ASME and PAL standards.
---
CONCLUSION
For those relishing the activity of changing tires and maintaining their automobile independently, this is the tool. Our choice for the best jack stand is the AmazonBasics Steel Jack Auto Stand that is lightweight and lifts between two and three tons. If you are a fan of aluminum gears, the Big Red T43004 Torin Aluminum Jack Stand is one reliable choice.
---
FAQs
How do I lift one side of my car with jack stands?
Lifting your vehicle off the ground requires you to follow certain safety precautions. The general rule of thumb for ensuring safety is by placing blocks or chocks under the wheels. This prevents your vehicle from rolling off the jacks.
Where do I install jack stands?
Jack stands are not meant to be placed under any location of your car. There are dedicated areas that car manufacturers have offered in order to make it easier for owners to identify and place the jack stands. Generally, the spot is next to the front and rear wheels. Check for the precise location in the owner's guidebook.
How many jack stands will I require?
The most sought after way of lifting vehicles is by placing jack stands underneath every wheel. This maximizes the stability and safety of the person working under the vehicle.
Nevertheless, it largely depends on the task you are into — if changing a tire, one jack stand will suffice. However, in demanding jobs, having more than one jack stand is recommended.
Which one to choose between — Jack Stands vs. Ramps?
Owing to their oversized base and coverage area, ramps are considered the safest options available. Jack stands to operate on mechanisms that may fail without your knowledge. On the contrary, ramps need not require any mechanism to raise your vehicle off the ground. Ramps are more user-friendly and safer to use than the jack stands.