Maintaining a car all on our own is the most challenging of jobs we may have come across. There is no garage in the world that has no spot reserved for a floor jack.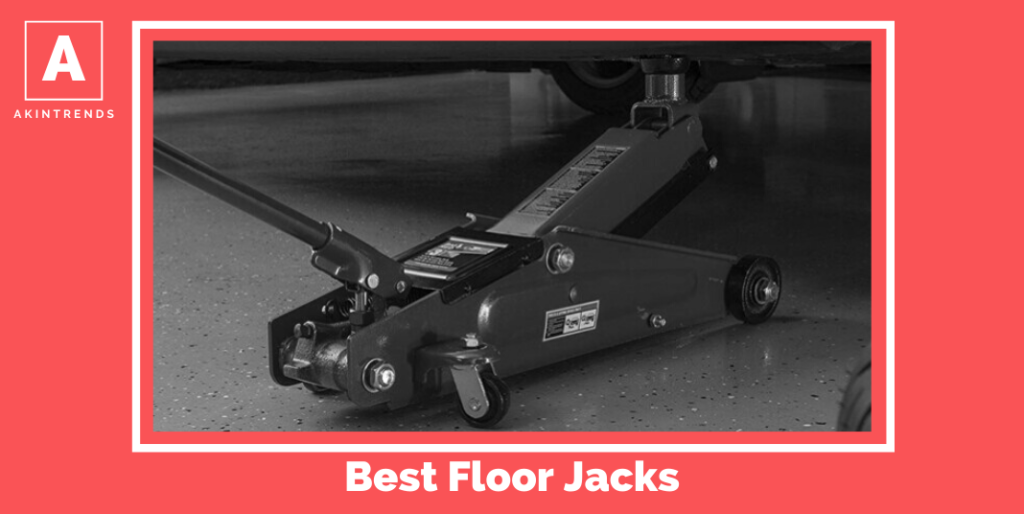 A floor jack has been at the top of the purchase list — be it if you are a mechanic or a proud car owner. Floor jacks have been the saver of many lives and come to the rescue when needed the most.
Having a floor jack onboard is essential. This guidepost throws light on the things you have to consider before buying one and the best currently available on the market.
---
Consider This Before Buying a Floor Jack
A tool like a floor jack requires attention to detail when buying. There are plenty of things to be taken care of; durability, weight capacity, storage, height, etc. To learn about these concepts, read on.
Durability: The first thing to consider when splurging your hard-earned cash on a floor jack is — durability. If the jack you pick is unable to resist the hardest of lifting tasks, this may not be the one to have onboard. It is critical to choose a jack that has durable construction and can prevent damages.
Weight capacity: Another make or break factor is — weight or lift capacity. Understanding the capacity of how much the floor jack can lift, becomes more comfortable for you to choose one according to your vehicle. Ideally, most floor jacks can lift from anywhere about 1.5 to 5 tons.
Storage: A floor jack is not the tool you will be using throughout the day. A jack that can be stored easily will save you enough garage space. Try finding the ones featuring two-piece handles and low-profile designs.
Height: The purchase decision inspiring factor is the height. The minimum lift height can determine how well the jack can fit under the car and the clearance space between the sill and the floor. Several floor jacks can easily lift over three to twenty inches from the floor.
---
Best Floor Jacks of 2020
Floor jacks are the important pieces of equipment you will ever have in your garage. The tool's potency in lifting vehicles of all sizes is a job that hardly any human can afford to do. After hours of research, the following products make it to our list of ten best floor jacks of 2020.
1. Pro-Lift F-767 Floor Jack (Editor's Choice)
Convenience and built for smoother accessibility to most vehicles, the Pro-Lift F-767 Floor Jack is the best car jack of all the tools available on the market. This floor jack is supplied with a 2-ton capacity, which is the lowest yet can still get the job done.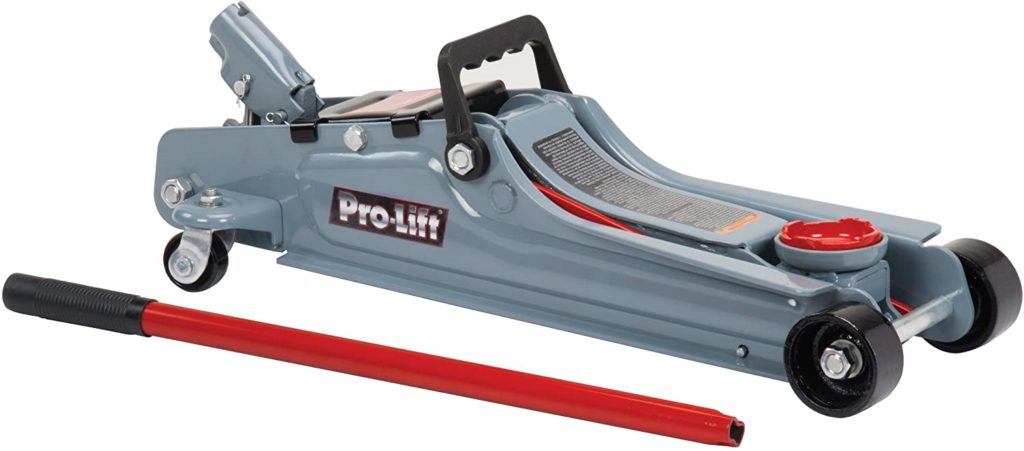 This weight capacity enables you to lift medium-sized cars and have better access to most of the vehicle's parts. Pro-Lift F-767 arrives with a patented bypass device that ensures the safety of the floor jack from over pumping.
Furthermore, the safety valve feature safeguards the floor jack from overloading. In terms of durability, this piece of equipment is studded with heavy-duty steel construction. This floor jack is suitable to be positioned under clearance of 3 ½ inches and lifted to 14 inches.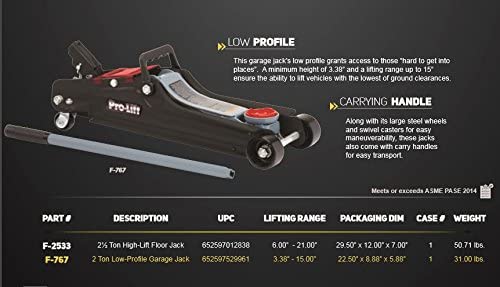 2. Pittsburgh Automotive Floor Jack (Best in longevity)
Featuring second on the list of best floor jacks is the Pittsburgh Automotive Floor Jack. Heavily packed in steel for maximum durability, this floor jack is capable of lifting weight up to 3 tons.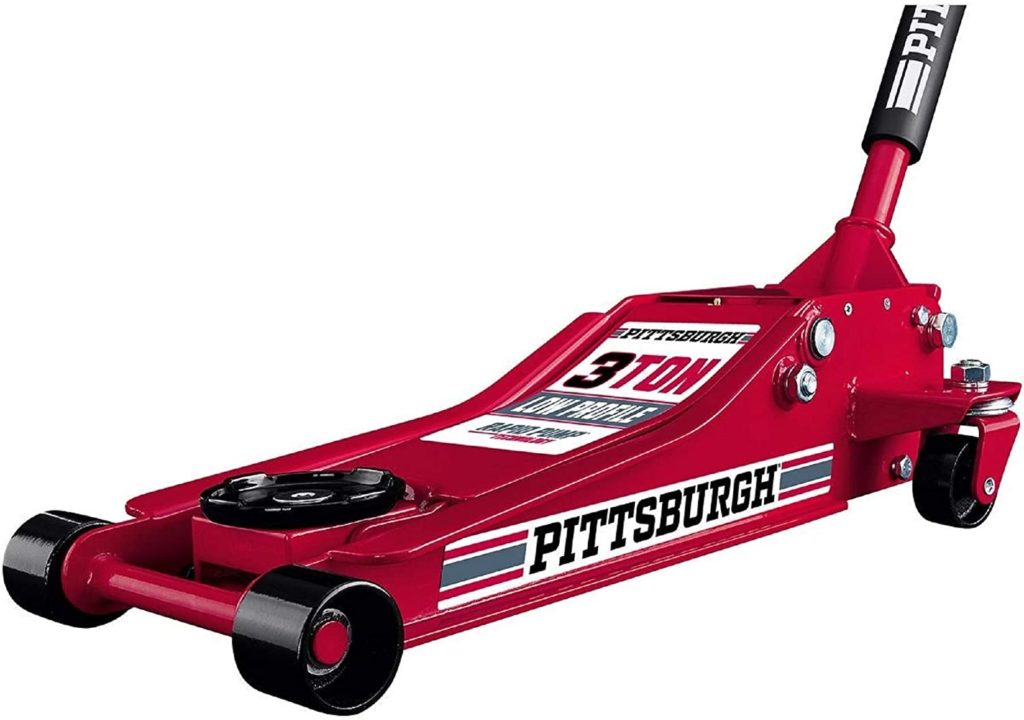 This boasts of an exclusive dual parallel pumping system, which offers effortless lifting of cars in fewer pumps. The Pittsburgh Automotive Floor Jack is made of steel, making it a wise choice when performing difficult lifting tasks.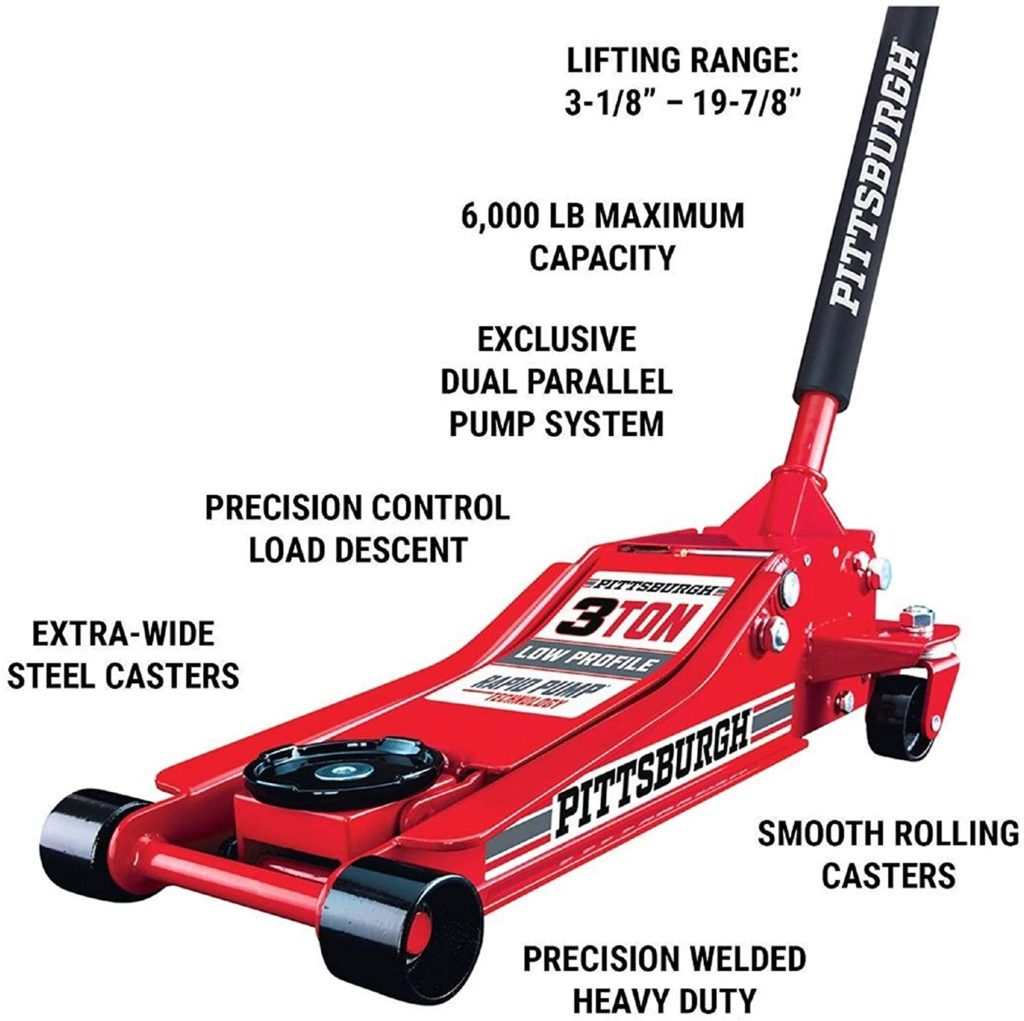 This floor jack includes a universal joint release that provides precise load control, irrespective of the handle position. The rapid pump feature ensures that you seamlessly lift vehicles of all sizes in a jiffy.
3. Blackhawk B6350 Lift Service Jack (Best Weight Capacity)
The Blackhawk B6350 Floor Jack is a professionals' choice in streamlining the process of lifting. This floor jack has an exceptional lift capacity of up to 3.5 tons, helping you lift all kinds of vehicles.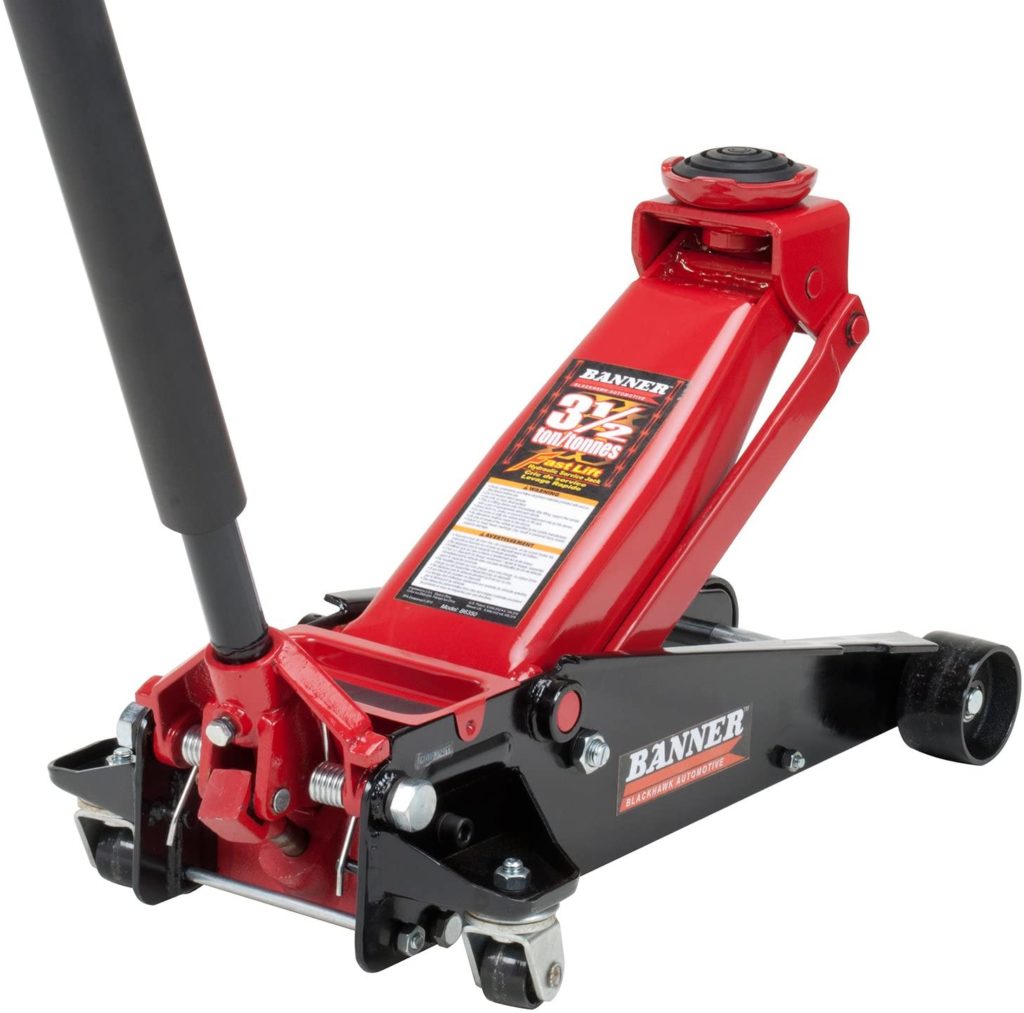 Packed with mighty steel construction, this handy equipment is long-lasting. Supplied with fast lift technology, the B6350 quickly lifts vehicles in a matter of seconds.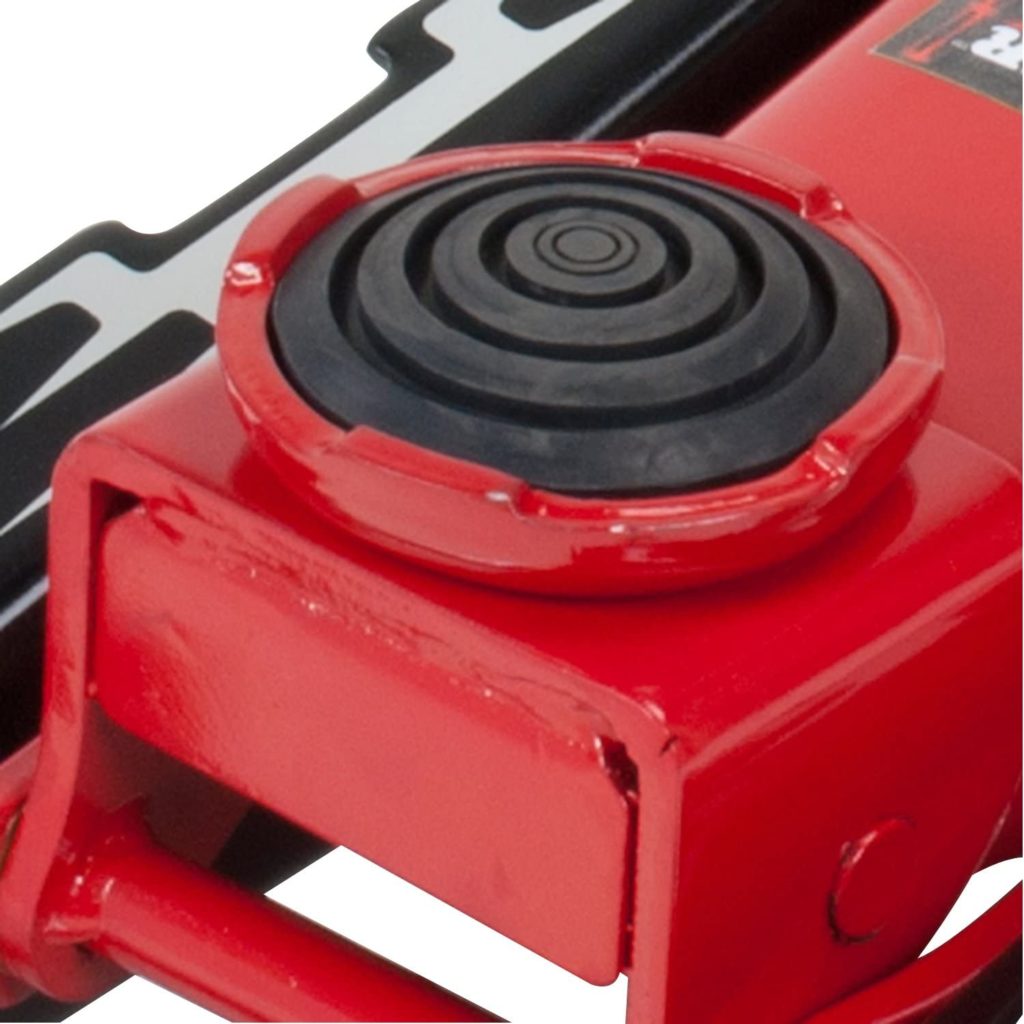 This floor jack features a built-in safety valve, which ensures there are no accidents whilst lifting vehicles. This product is marketed as a valuable tool in the garage and outdoor activities like a picnic or ball game. Quite like the Pittsburgh floor jack, there's a universal joint for better precision control.
4. Arcan ALJ2T Aluminum Floor Jack (Best with Low-profile design)
The Arcan ALJ2T Aluminum Floor Jack is the ideal equipment for those frequent changes of tires. This is designed in aluminum, thus offering incredible strength and stability in managing the hardest of lifting jobs.

This floor jack offers a 2-ton capacity and weighs slightly more than 50 pounds. Sporting a low-profile design, ALJ2T can be conveniently placed beneath most vehicles.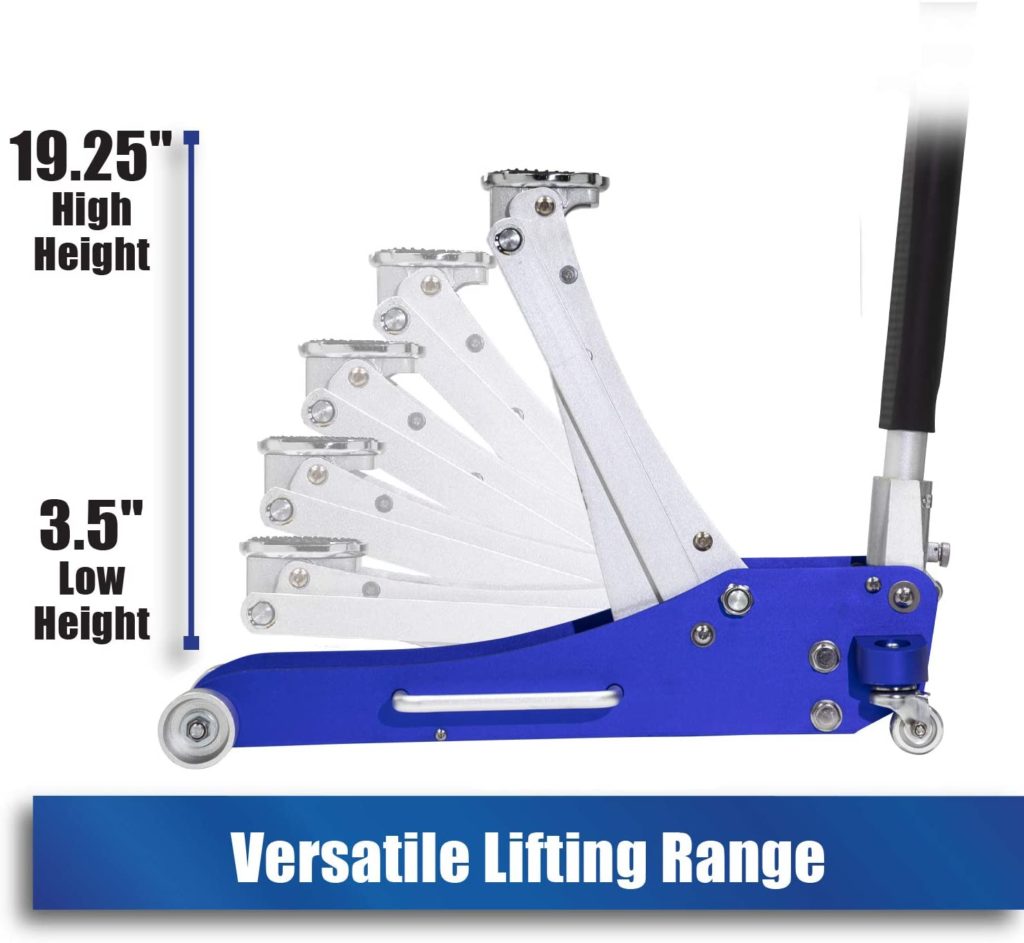 The floor jack can be placed inside a 3 ½ inches clearance area and easily be lifted to 9 inches. The two-stage quick lift feature is efficient enough in lifting all vehicles quickly, no matter the size of the vehicle.
5. Powerbuilt 620479E Xtra Low Profile Floor Jack (Best in Safety)
Durable and firmly-built, the Powerbuilt 620479E is one handy piece that will stick in your garage for years to come. This floor jack boasts a low-profile design, which can be placed as low as 2- 3 /4 inches and can be raised to 15 inches.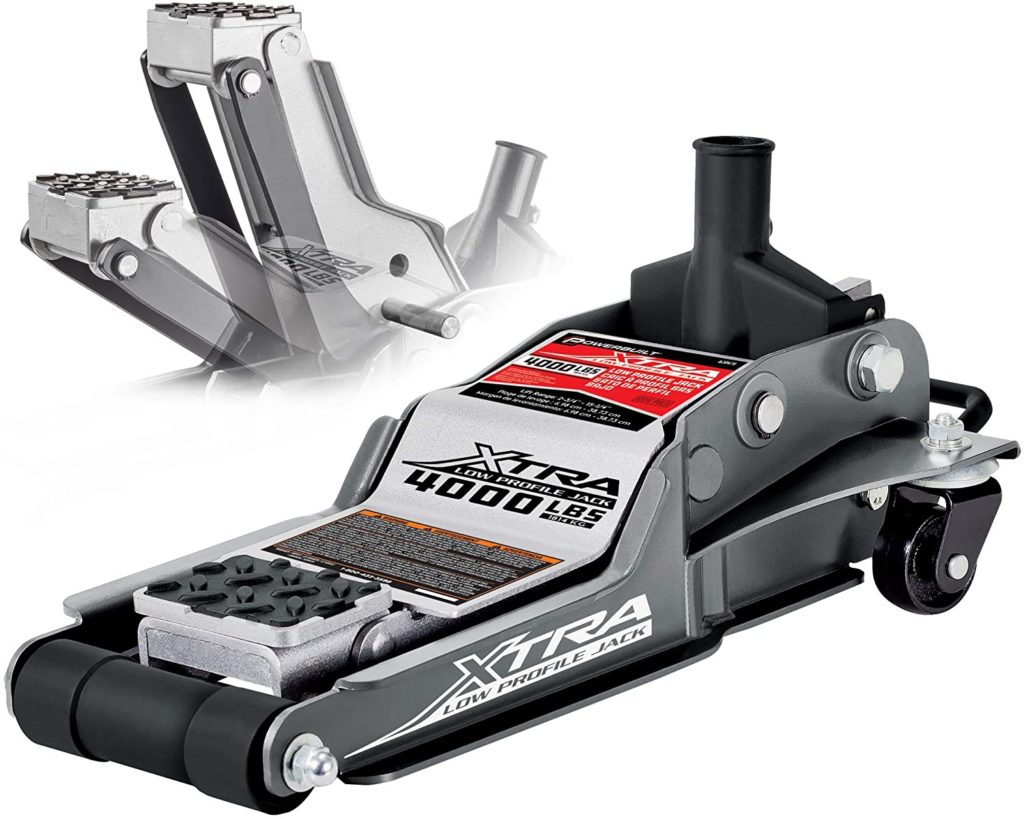 The floor jack features a safety bar that secures the jack when in the topped-put raised position. The 620479E arrives with interesting quick lift features, which reduce time spent on lifting vehicles.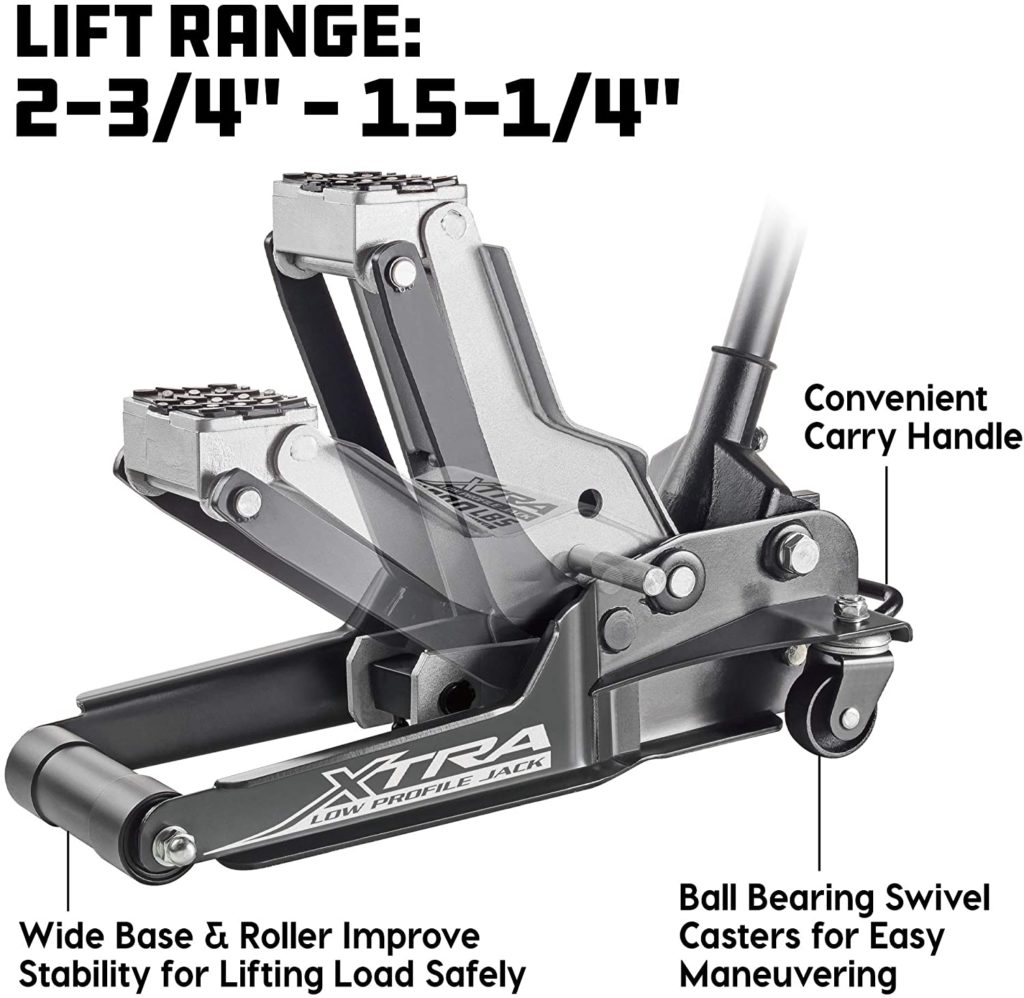 This is a tried and tested equipment on classic and customized cars that typically have a little distance to the ground. Moreover, this floor jack is also suitable for unibody vehicles where positioning of the jack stand is challenging.
Also Read: 10 Best All Season Tires On The Market in 2020 – Buying Guide
6. Torin Big Red Hydraulic Trolley Floor Jack (T83006) (Best Budget-friendly floor jack)
The Torin Big Red Floor Jack is powerful yet efficient equipment to have onboard. Made of heavy-duty steel, this floor jack has a capacity of up to 3 tons. Sporting an extra-long neck, the jack does all lifting tasks easily and rapidly.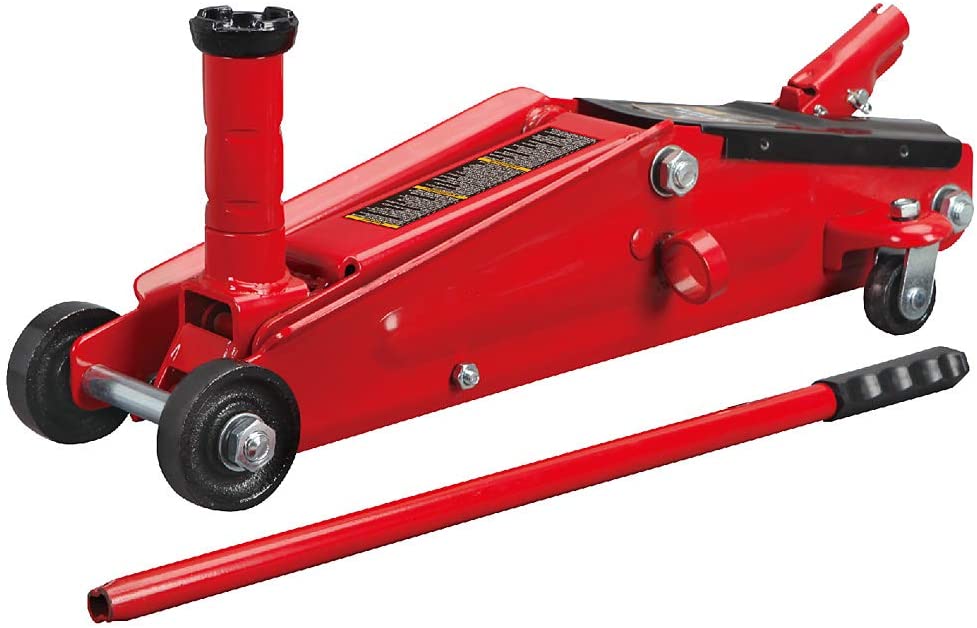 In addition, the large 360-degrees swivel casters offer effortless maneuvering. Torin is laden with top-quality materials that offer complete performance and reliability for the coming years.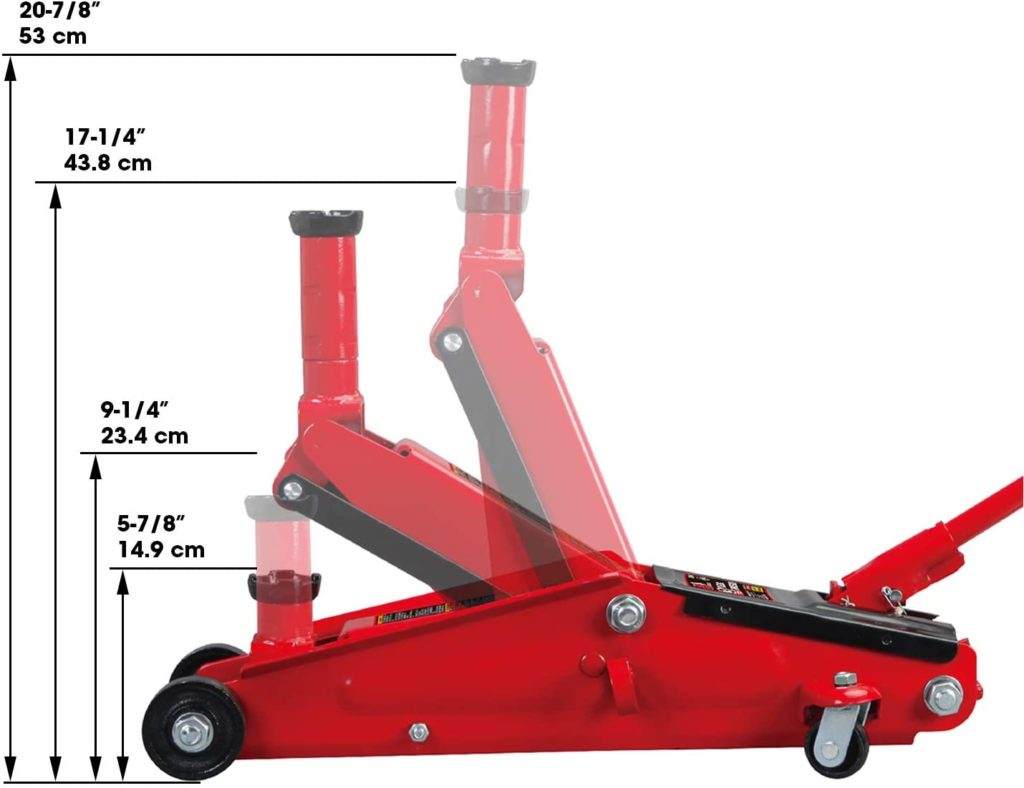 This best-in-the-business jack includes features like the single-piston lift pump that provides quick raising to the ideal height. While the bypass system stops the floor jack from overloading.
7. LiftMaster Heavy Duty Ultra Low Profile Floor Jack (Best design to fit on all vehicles)
LiftMaster's Low Profile Floor Jack is a simple and efficient tool in lifting all types of vehicles. This floor jack includes a dual pump system, which expedites the process of lifting your vehicle.
What's more, this feature also allows you to raise a vehicle in a few pumps. Loaded with a two-piece knurled steel handle, this floor jack provides a firm grip along with a bumper that prevents any sort of damage to your vehicle.
This is a lightweight floor jack that weighs only around 15 pounds, thus making it super convenient to carry around. Besides, the strengthened rubber pad works excellent in providing protection and friction when using the floor jack.
8. Craftsman 9-50139 Ton Service Jack (Best in Mobility)
The Craftsman Ton Service Jack is an easy-to-use and elegantly crafted floor jack that deserves a spot on the list. The floor jack comes with a nice, sturdy grip, which makes handling any difficult lifting tasks easier.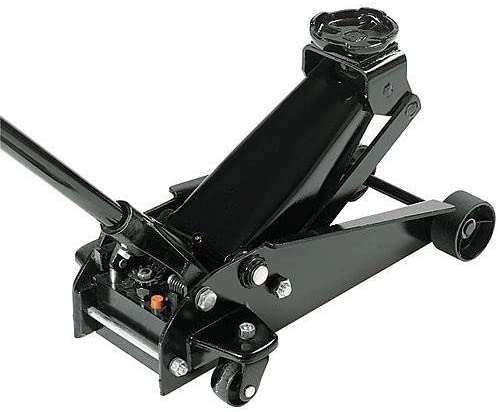 Craftsman's floor jack is built entirely out of steel, ensuring superior strength and durability. This floor jack comes without any bells and whistles, which may not be that crowd-pleasing but still gets the job done. This floor jack has a height range of 5-½ to 19-¼ inches.
9. Arcan Low-Profile Quick Rise Steel Floor Jack (Best for Lowered vehicles)
Coming from the best floor jack brand, The Quick Rise Steel Floor Jack is a feature-rich handy tool for lifting your vehicle with utmost ease and quickly. This floor jack boasts of a low-profile frame, which offers access under low ground clearance vehicles.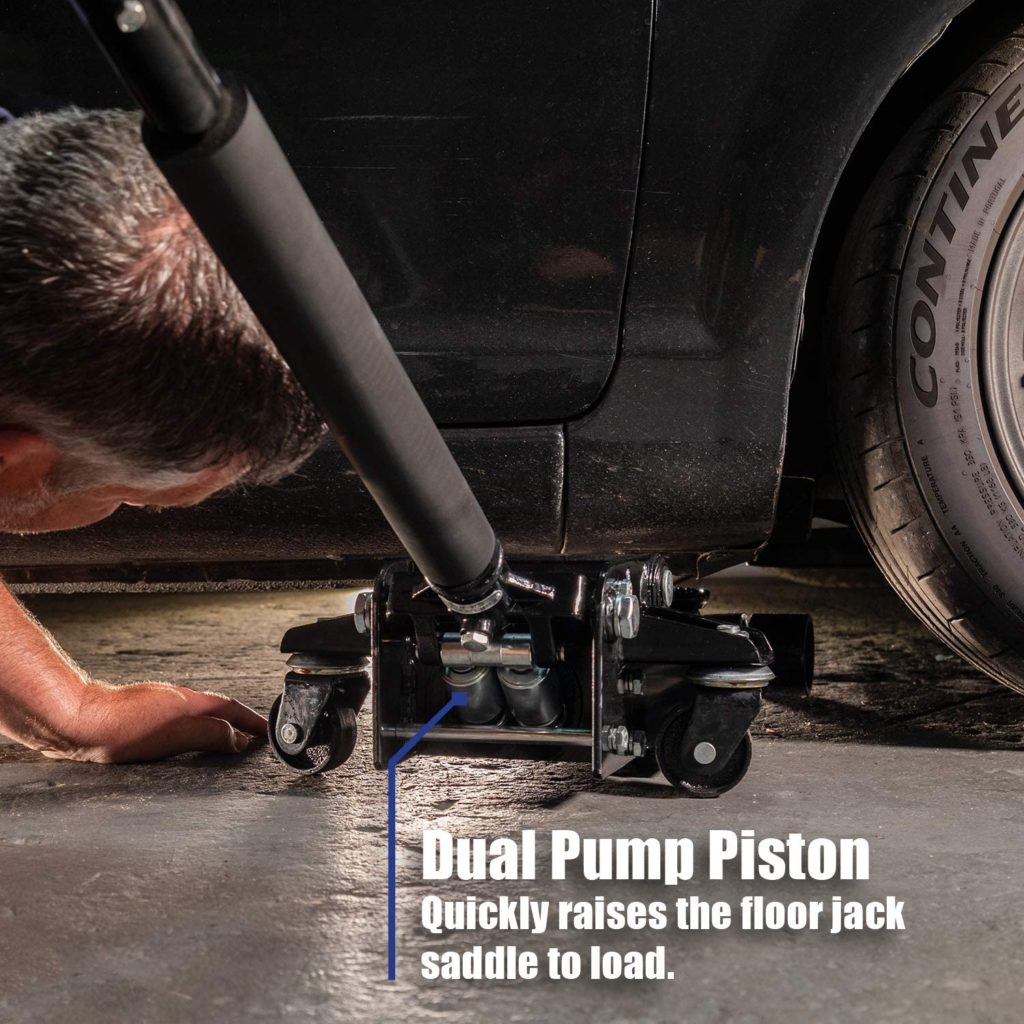 The universal joint release mechanism provides pinpoint control of the floor jack. Arcan's compact floor jack is embossed in complete steel, which is capable enough in handling heavy lifting jobs.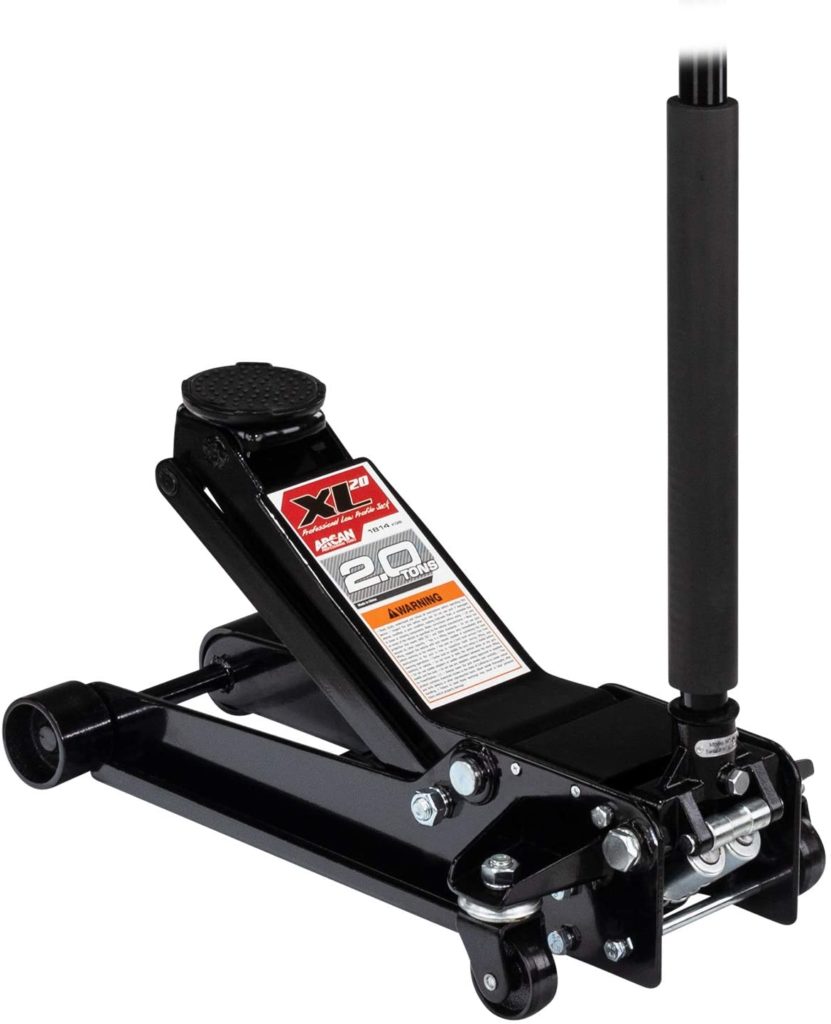 For the safety of your vehicle, this floor jack is powered by a rubber saddle and a foam handle bumper. The bypass and overload valves prevent the hydraulic ram and jack from operating beyond capacity. The 2-piece handle vouches for easy storage.
10. Performance Tool W1640 Floor Jack (Best in Style)
Finishing at the bottom of the best floor jacks list is the W1640 from Performance Tool. Yet another floor jack with a low-profile design, this one has a relatively lower weight capacity of 2.5 tons.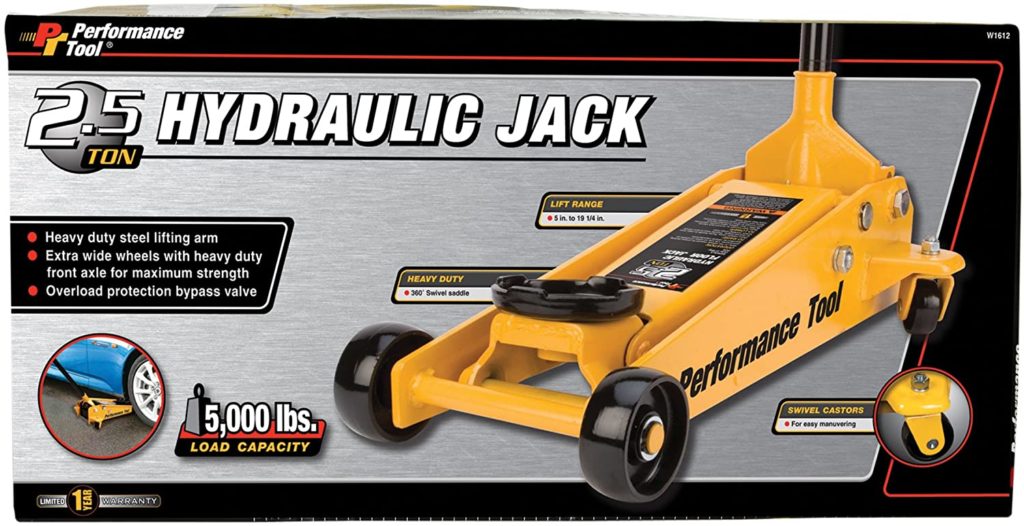 With the incredible heavy-duty steel frame, this floor jack is robust and does last for long. The W1640 comes with a dual-piston mechanism, which allows quick lifting almost on all vehicles.
Unlike many sporting fiery and feisty colors, this here comes in a cool, refreshing yellow color. This floor jack has a reasonably decent height range of up to 19 ¼ inches. It is available in several different sizes and styles.
Also Read: Best Off-Road Lights: Product Reviews & Buying Guide
---
CONCLUSION
This was our floor jack reviews! It is hard to choose out of the hundreds and thousands of products available. Jotting down the good ones had us shed some sweat. Ultimately, we awarded the Pro-Lift F-767 Floor Jack as the most perfect and reliable floor jack. While the Blackhawk B6350 Lift Service Jack was seen as a worthy opponent to the F-767.
---
FAQs
Will a 2-ton floor jack be able to lift my SUV?
This entirely depends on the type of SUV you own. Generally, a 2-ton jack is capable enough of lifting one side of the SUV, which can be used to change tires. Albeit, to perform all functions, you need a jack with twice the lifting or weight capacity. Safety is also a concern here.
How do these floor jacks work?
Floor jacks run either on hydraulic power or mechanical power. The mechanical ones come in small sizes and are a lot easier to store. However, these come with a less lifting capacity. Whereas the hydraulic ones are heavy and eat up some garage space. These are user-friendly and provide more lifting power.
How do I use my floor jack?
Learning how to use a floor jack isn't a challenging task. Here is what you need to do:
Park your vehicle on a flat and hard surface.
Have the wheels chocked in the opposite direction of your list point.
Place the jack handle and position it under the lift point.
Pump the handle till the saddle reaches your vehicle's chassis.
Position your jack stands, then gently lower the floor jack till it can be safely removed.