As a parent, things get tough when making sure your little one has both feet and arms covered in the winter. Perhaps the most essential of items required for a baby in a windy season is a baby snowsuit.
There is a horde of snowsuits available in the market, but which one would you like your kid to don? In this guidepost, we share with you a list of the ten best baby snowsuits.
For an investment like a snowsuit that ensures the safety of your toddler, there are certain aspects to be considered before buying. The following are a few considerations that come in handy when purchasing a snowsuit for your baby.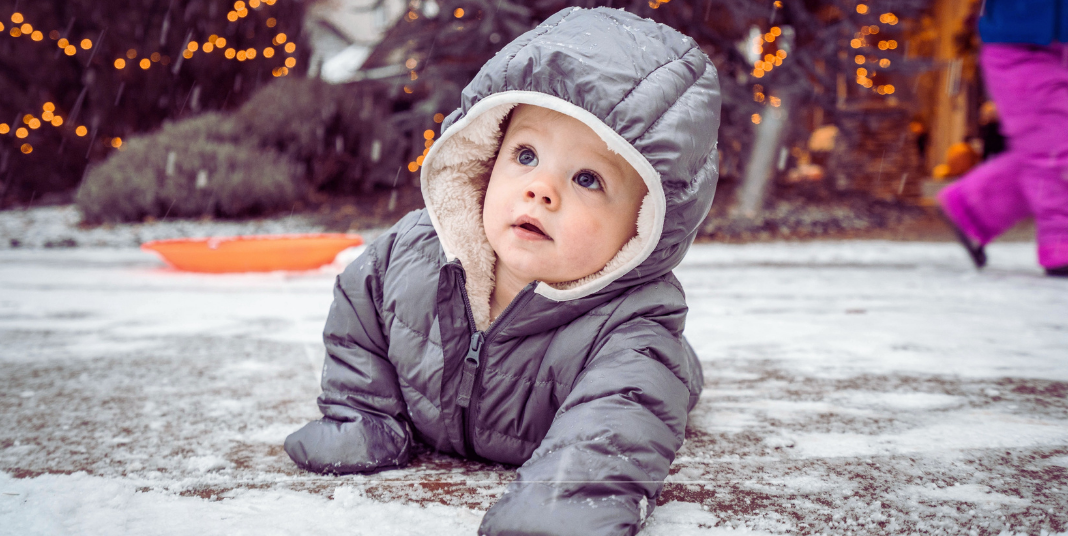 ---
Buying Guide to Baby Snowsuits
Size of the Snowsuit
While buying a snowsuit for your toddler, it is recommended that you get a size larger than regular clothes. Purchasing a snowsuit one size larger will help your toddler free arms and legs. We suggest you not to buy an immensely larger one also, as it may hamper your kid's movement.
Zipper Closures
Another vital consideration to make is that of zips. Skim through reviews and evaluate the baby snowsuits based on the performance of zips when wearing and removal. Also, make sure that you can get the suit on and off your baby without extra effort.
Convenient with Car Seats
For an ideal outing of the baby snowsuits, you need to ensure that your options do not hinder seat harness adjustment. In case your toddler is riding in an infant car seat, some suits are specifically built to unzip from the sides, so they don't impede the car seat harness.
Also Read: 10 Best Baby Play yards: Review & Buying Guide
---
10 Best Baby Snowsuits
The cold and freezing conditions trouble people across all age groups, but the toddlers are those who require much attention. Since the buying guide has helped you with some information, here are the best baby snowsuits to keep them cozy and warm under such conditions.
1. Happy Cherry Cotton Romper Baby Snowsuit
Created from high-quality materials, the Happy Cherry Romper Snowsuit outranks some of the best brands in the business. This snowsuit offers extra warmth with a design that is both water and wind-resistant.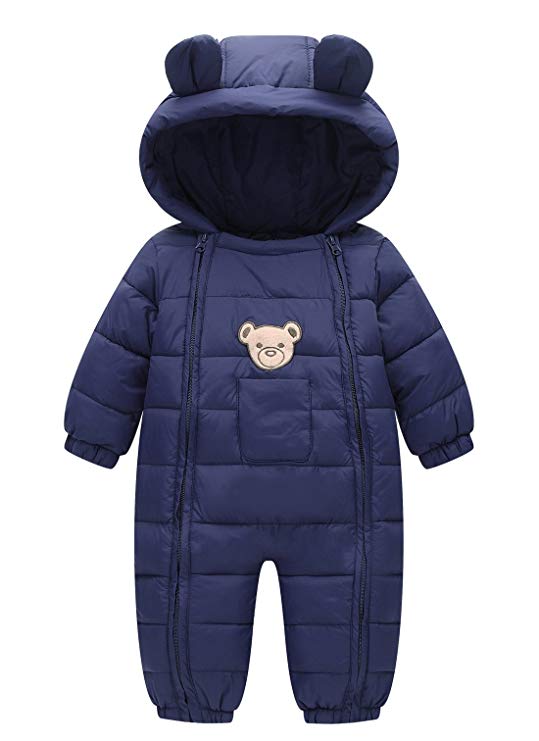 With a teddy bear-like design, the snowsuit sports a double zipper closure that allows you to dress/undress your, baby, effortlessly. Also, the rib cuff design ensures that your kid's hands are warm inside. Available in a variety of colors and sizes, the Happy Cherry Snowsuit will give your kid that comfort and garner some attention during the winter season.
2.Columbia Frosty Freeze Bunting
Built entirely of polyester, the Columbia Frosty Freeze Bunting is one of those snowsuits that is layered with design and extra comfort. With a single large zipper closure, you can have your baby boy placed in and taken off easily. This snowsuit keeps hands and feet warm thanks to the cuffs that fold over.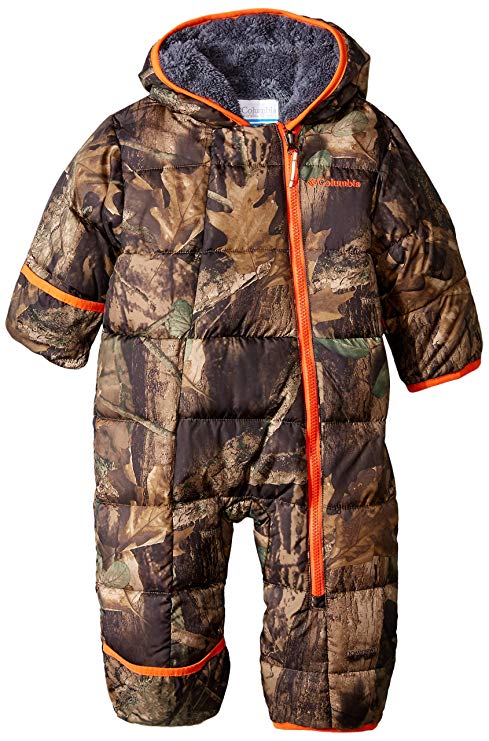 Equipped with faux-down insulation, Frosty Freeze Bunting is soft and protects your kid from windy and snowy evenings. This snowsuit is available in a range of sizes and some fancy prints that can easily set your kid apart from other kids.
3. Simple Joys by Carter's Baby Fleece Jumpsuit
Made of 100% Polyester, Simple Joys Snowsuit has added layers to keep your kid warm in the snowy, frosty conditions. This fleece jumpsuit is warm and fits snugly to allow your tots to move and flex their arms and legs. This well-designed snowsuit has a full zip front, so it becomes easy to take off and put on.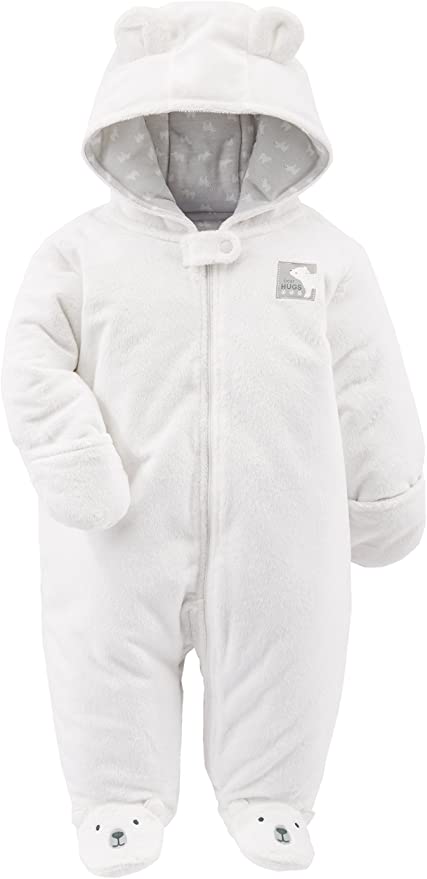 The lined hood and plushy ears give extra comfort to your little one in a freezing environment. The adorable-looking snowsuit comes in three unique styles — ivory, brown bear, and grey animals. It comes in multiple sizes, ranging from newborn to kids up to nine months. Furthermore, this little jumpsuit is machine washable and can be completely cleaned for a fresh, clean look.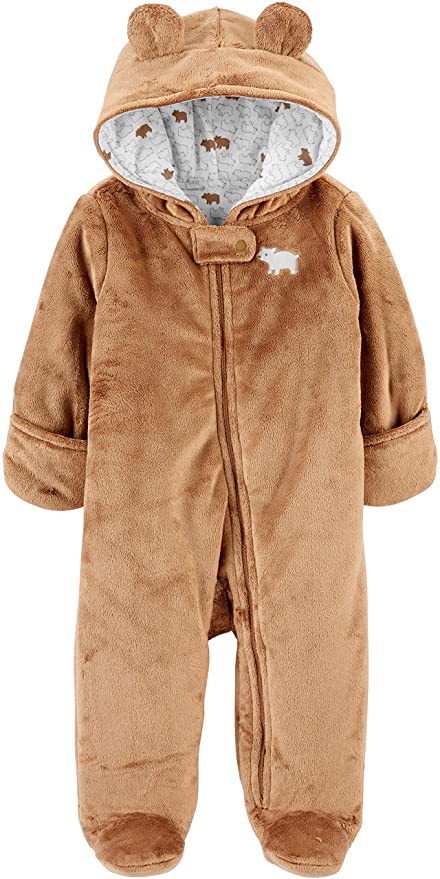 This wholesome attire has the appealing design and comfort that pleases your kids during extreme weather conditions. The footed design of this cute snowsuit is surely worth spending money on.
4. Carter's Baby Girls 2-Piece Snowsuit
Arguably the best two-piece snowsuit your baby girl can don in the winters — the Carter's Baby Girls Snowsuit is fourth on the list. This two-piece suit is made entirely of polyester and features a single zipper closure, which assists in easy wear and removal. This snowsuit arrives in a package that includes a jacket and matching snow bib.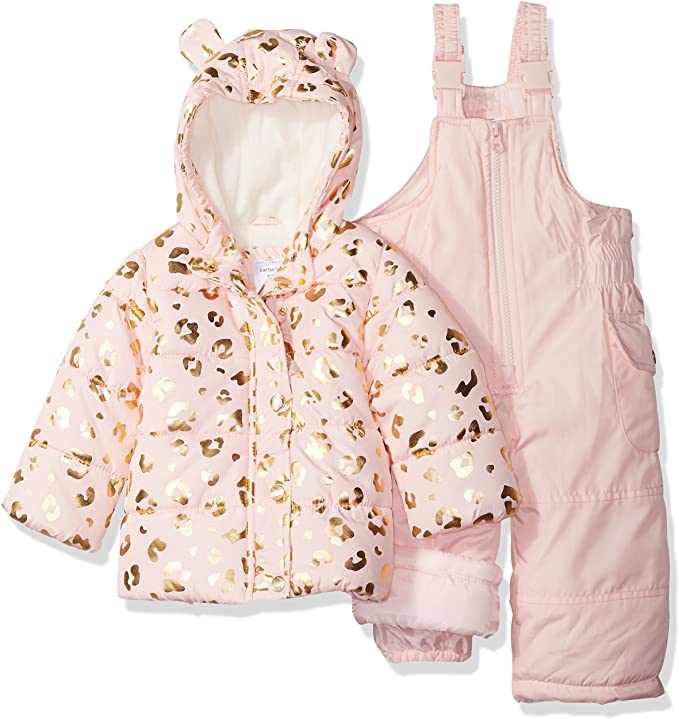 The jacket houses a cozy trimmed hood that does incredibly well in keeping the ears protected while tumbling and falling on snow-clad floors. This elegantly crafted snowsuit shields your kid from harsh windy conditions with superior comfort and warmth.
The two-piece snowsuit is machine washable and the construction brings top-notch warmth for your little one to feel cozy and warm. Carter's Baby Suit is available in different size options and two cute colors — pink floral, and leopard light pink.
5. Genda 2Archer Snow Jumpsuit
Made from 100% Polyester, the Genda 2Archer is loaded with down cotton to protect your child from unpleasant cold and snowy nights. Coming with a button-crotch and zip-top, adoring, and removing your kid from a suit was never this easier.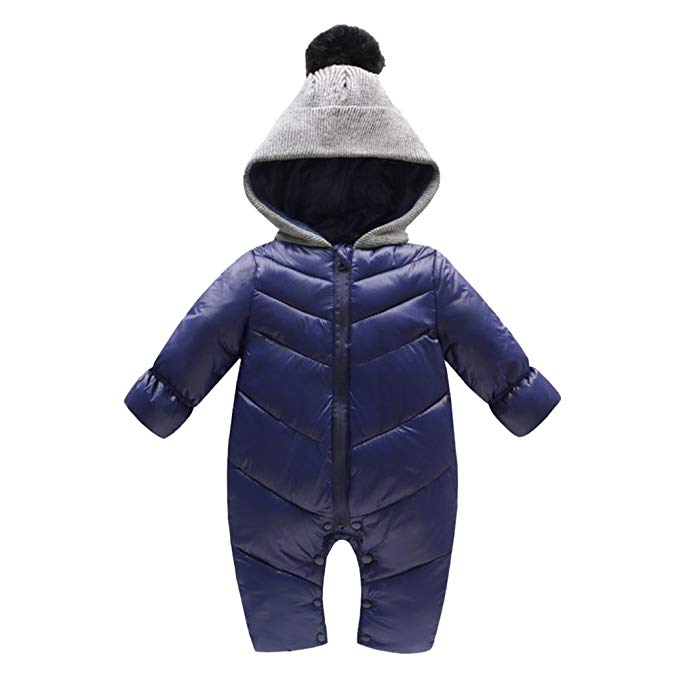 This snowsuit comprises a rub cuff design that has your kid's hands warm. With zero thickness and a puffy-like design, this snowsuit can be worn on a car seat with extreme comfort.
Also Read: Best Diaper Bags for Breastfeeding Moms
6. Columbia Foxy Baby II Bunting
With an uncanny resemblance to a fox, the Columbia Foxy Baby II Bunting is wholly made out of polyester material and is the right fit for babies, toddlers, and infants.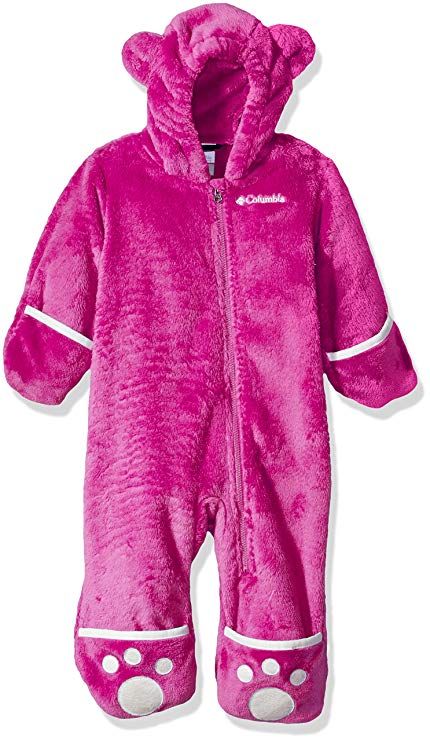 This one-piece fleece outfit is integrated with a fold-over cuff and hem to keep your kid's hands and feet warm. With a single large closure, the Foxy Baby II Bunting is unlike others listed when it comes to wearing and removing your baby out of a suit. Featuring an embroidered logo and a paw print detail, this snowsuit is impressive in terms of look and design.
7. London Fog Snowsuit Bunting
Built using high-quality polyester, London Fog Snowsuit Bunting offers an additional layer of assistance in keeping your child warm and cozy during breezy evenings. Conjoined with soft and puffy fabric on the inside, the snowsuit works well for toddlers and infants.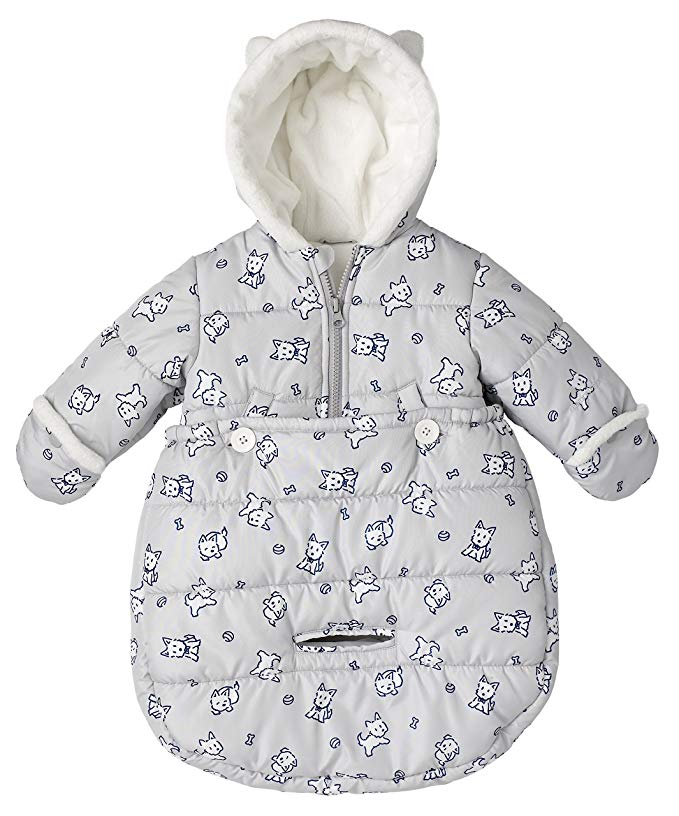 The snowsuit comprises of buttons closure, and detachable bottom, that allows you to rest your kid comfortably on a car seat. The snowsuit comes in a large size, ensuring that your kid can fit in even after months of wearing it. Coming in a lightweight design, this snowsuit keeps your kid comfortable all day long.
8. Pink Platinum Girls' Insulated Two-Piece Snowsuit
Another two-piece model that is amassing some positive feedback in the market of baby snowsuits is the Pink Platinum Girls' Insulated Two-Piece Model. Made out of 100% polyester, this is designed especially for baby girls to make them appear more modish.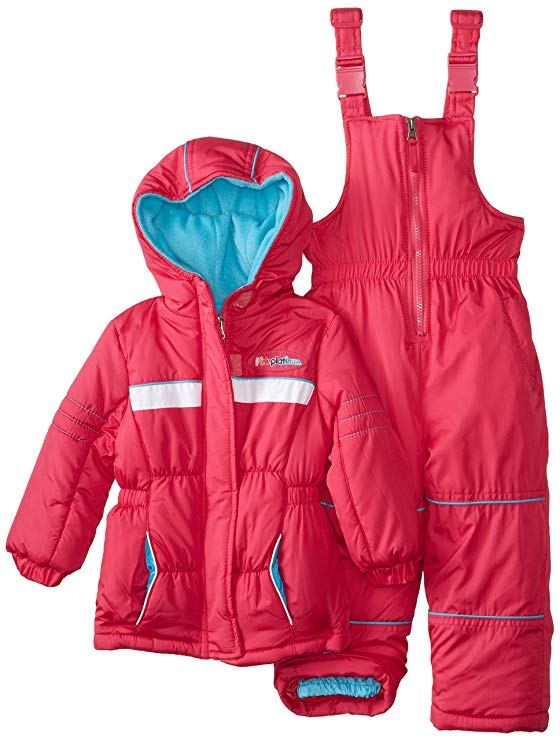 The snowsuit comes with a bib that includes elastic snow cuffs and adjustable straps. Also, with a fleeced line jacket that has an attached hood, the suit ensures that those tiny ears are well covered from the wind. This pack of snowsuits comes in an array of colors and sizes that can be ideal for your daughter.
9. Columbia Baby Snuggly Bunny Bunting
With a premium finish that has nylon on the exterior and polyester filling, the Columbia Snuggly Bunny Bunting is cozy in the harshest of windy conditions. Featuring shell and lining that are 100% water and wind-resistant, this snowsuit is adorable and highly comfortable.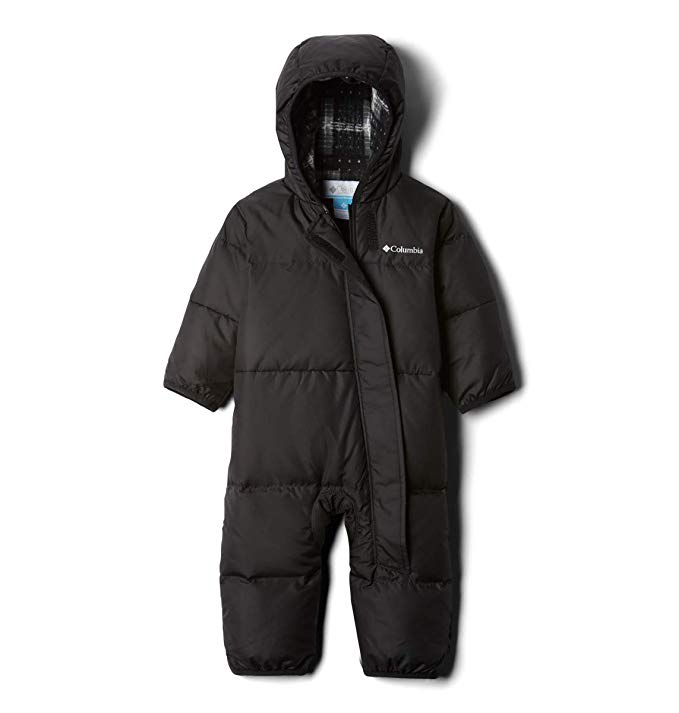 Equipped with a microfleece lining on the arm sleeves and hoodies, the Columbia Bunny Bunting offers your child comfort against tender skin. This snowsuit features a full-length zipper with reflective safety accents that help you spot your kid even in the harshest of elements. With fold-over cuffs, the snowsuit keeps your kid's feet and hands warm and prevents riding up.
10. Zoerea Snuggly Snowsuit
Zoerea's snowsuit is lightweight with a soft and warm feel, which safeguards your kid from the freezing weather. Featuring a detachable hoodie, gloves, and footwear, this suit packs all of the essential elements to keep your toddler's winter outings safe and warm. The snowsuit is made from polyamide fiber for maximum strength and white ducks down for superior comfort.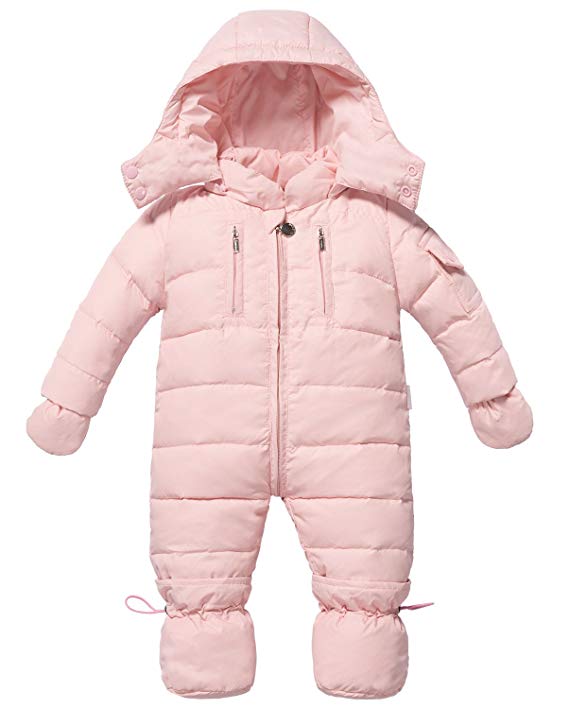 This suit features a double-zipper for comfortable wearing and removal. With the wind and water design, Zoerea keeps your kid safe from breezy wind and water. This snowsuit has worked effectively when taking kids out for activities like snowboarding, skiing, and snowballing.
Also Read: Top 10 best baby jogging strollers to buy
---
CONCLUSION
With factors and snowsuits discussed, it is time for you to pick the essential piece of outfit required for your child in this windy season. We hope that we saved you from strolling in the market and scrolling through multiple sites over the internet. Two of the highly recommended pieces of clothing in the testing cold times are — Happy Cherry Cotton Romper Baby Snowsuit and Columbia Frosty Freeze Bunting. 
If we've missed out on a suit that you feel is worth every penny, write it down in the comments section below.
---
FAQs
Is it necessary to layer up with a sweater under the snowsuit?
The answer largely depends on the level of coldness or whether you are currently in. For instance, if it is freezing cold, consider layering your kid with warm clothes like sweaters. If the weather is on a warmer side, do not overdo the layering.
How do I prepare my kid for cold weather?
There is no hard and fast rule as to what dress code you need to follow in order to keep your kid warm in the breezy conditions. However, here's a checklist of basics:
Multiple layers of clothing to quickly remove or replace.
Water-resistant fabrics to prevent moisture from reducing the body temperature
Always have them wearing gloves, scarves, hats, and other cold-weather accessories.