The world just gets a bit smarter day by day. Smart devices like robot vacuums are now finding a place in every household. If you're looking for one such tool, you've chanced upon the right article.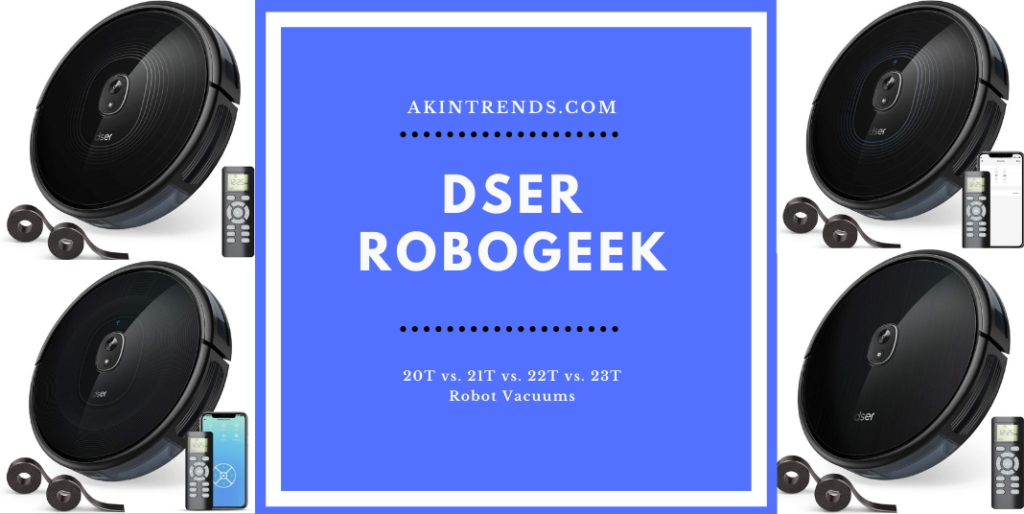 In this article, we review Dser's RoboGeek 20T, 21T, 22T, and 23T. Each of the brand's devices has this exceptional ability to clean your house surface while you're away. Without further ado, here's a detailed comparison chart, followed by each device's features and pros and cons.
| | | | | |
| --- | --- | --- | --- | --- |
| | | | | |
| | | | | |
| | | | | |
| | | | | |
| | | | | |
| | | | | |
| | | | | |
| | | | | |
| | | | | |
| | | | | |
| | | | | |
| | | | | |
---
Dser RoboGeek 20T Robot Vacuum Cleaner Review
The Dser RoboGeek 20T is the brand's cheapest offering, which boasts of features that are hardly found in products under this price range. Comprising some high functionalities, the RoboGeek 20T gives its best in keeping the surfaces clean. With some hands-on experience, here are some selling points of this machine.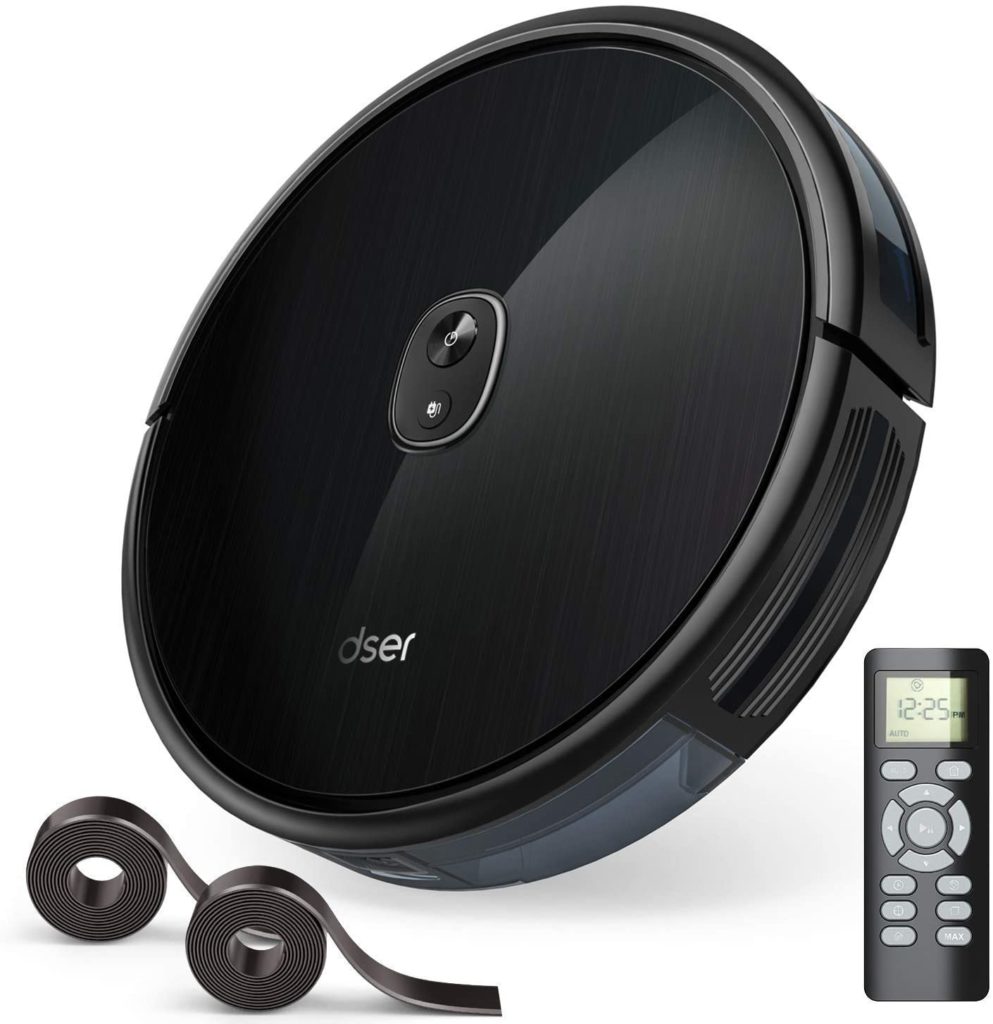 Dser's RoboGeek 20T has a sleek and simple design. This small yet mighty vacuum measures 14 inches in diameter and is 3 inches thick, meaning it quite seamlessly wipes out dust present beneath your sofas.
This robot vacuum cleaner has a floating design, making it hover over hard floors for more intensive cleaning. The downside is — it weighs close to about 11 pounds, which becomes a bit too heavy and irrelevant to glide around the surface.
The RoboGeek 20T is powered by 1600Pa of suction power, which gives the machine an edge over floors like wooden, tile, marble, and stone. With this power, this cleaner can effortlessly pull dirt and debris off hard floors and from carpet fibers.
This robotic vacuum cleaner is supplied with a 2,600mAh rechargeable battery, which offers a run time of up to 100 minutes. However, the actual run time depends a lot more on the settings you are using the machine on.
Notable Features
The Dser RoboGeek 20T is a feature-rich model that offers a ton of benefits under a low-price. The first feature that strikes a chord is — anti-collision and anti-drop sensors. These sensors prevent the vacuum from bumping into furniture and falling off the stairs.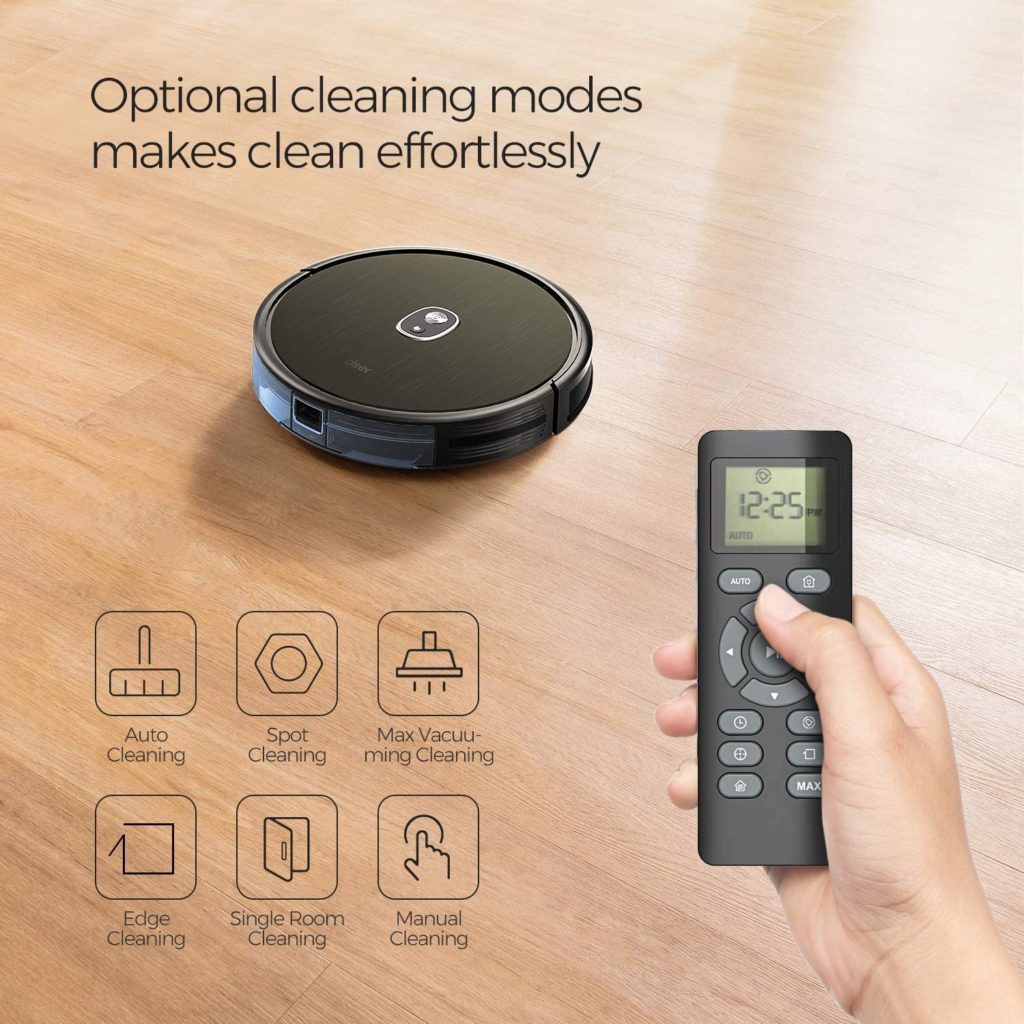 This also comes with a remote control that lets you control the device without having to touch it. Lastly, these boundary strips feature that ensure the robot does not enter it is not supposed to.
Pros and Cons of Dser RoboGeek 20T
Dser's RoboGeek 20T is an affordable piece of cleaning gear on this list. It has a few things to like and some that you may dislike. Following are some of the product's hits and misses:
Also Read: Top 10 Best Retractable Screen Doors to Buy in 2020
---
Dser RoboGeek 21T Robot Vacuum Cleaner Review
The Dser RoboGeek 21T is another smart variant that makes cleaning effortless and floors neat and tidy. Boasting a few identical features to the 20T, the RoboGeek 21T has some extra smart functionalities to check out.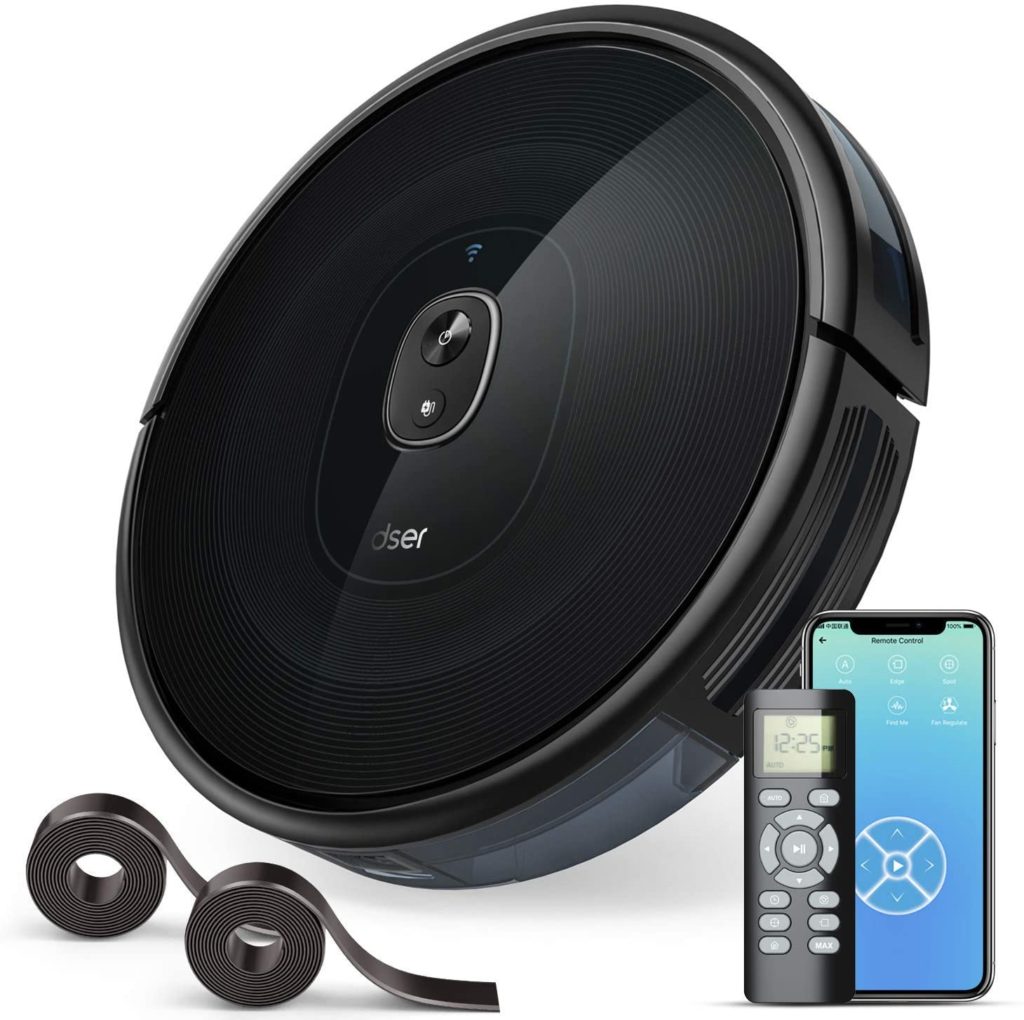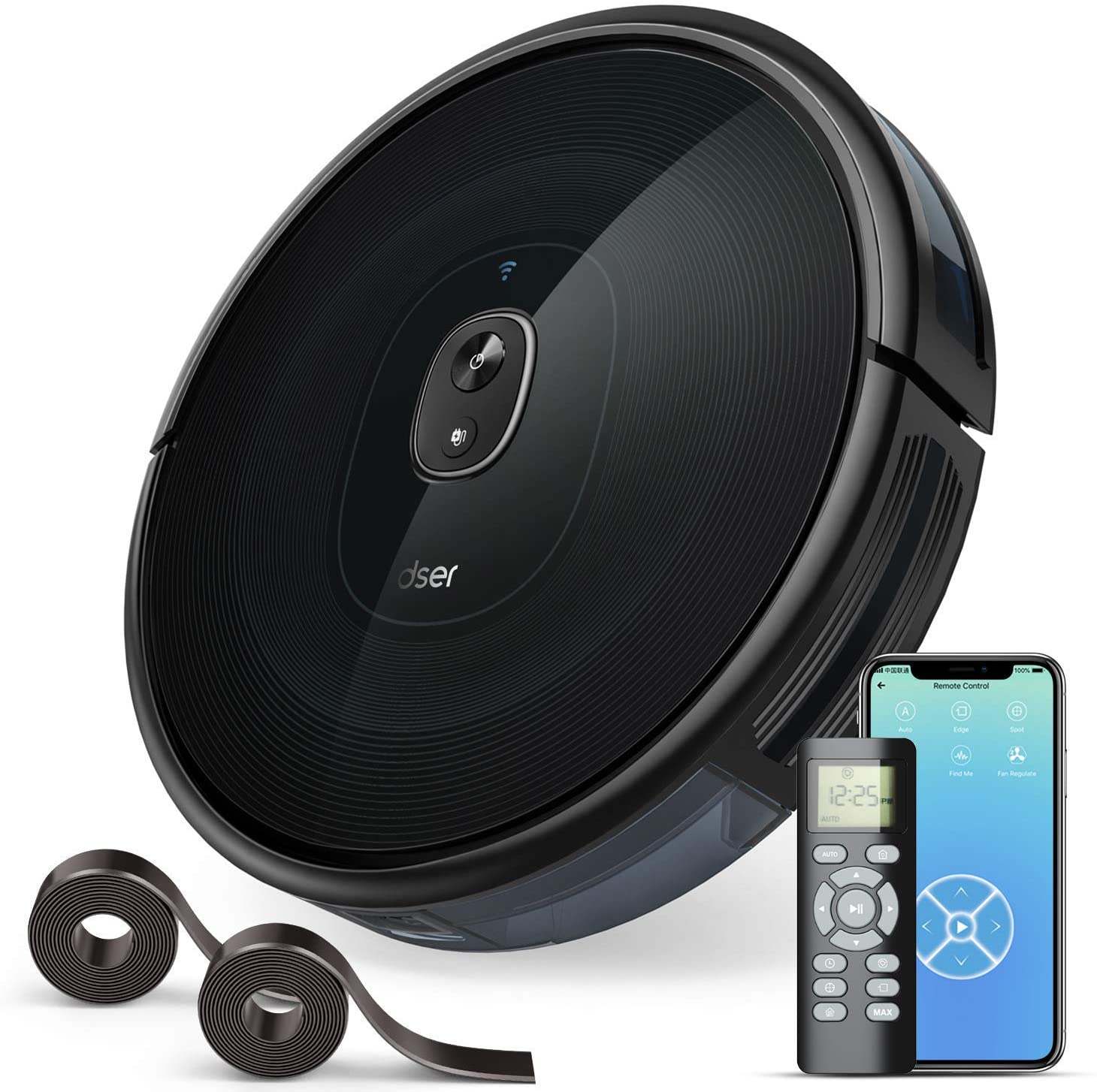 Dser's RoboGeek 21T is super-thin and is about 2.83 inches tall. Quite like the 20T, this one also can glide under the sofa and desks to suck up dust and dirt. This robot vacuum cleaner weighs 10.73 pounds, making it lighter and more space-efficient than the 20T.
The RoboGeek also relies on the 1600Pa strong suction power, making it undemanding to clean dirt over surfaces like wood, tiles or rugs, and carpets. This power is effective in picking up pet dander and hard debris.
It is further supplied with the same 2600mAh battery, which offers a working time of up to 100 minutes. What's more, this device automatically returns to the charging dock when it runs out of power.
Notable Features
The RoboGeek 21T carries the same features as the 20T; however, it comes with a few smart functionalities. The RoboGeek 21T is supplied with remote control, which is included with the purchase.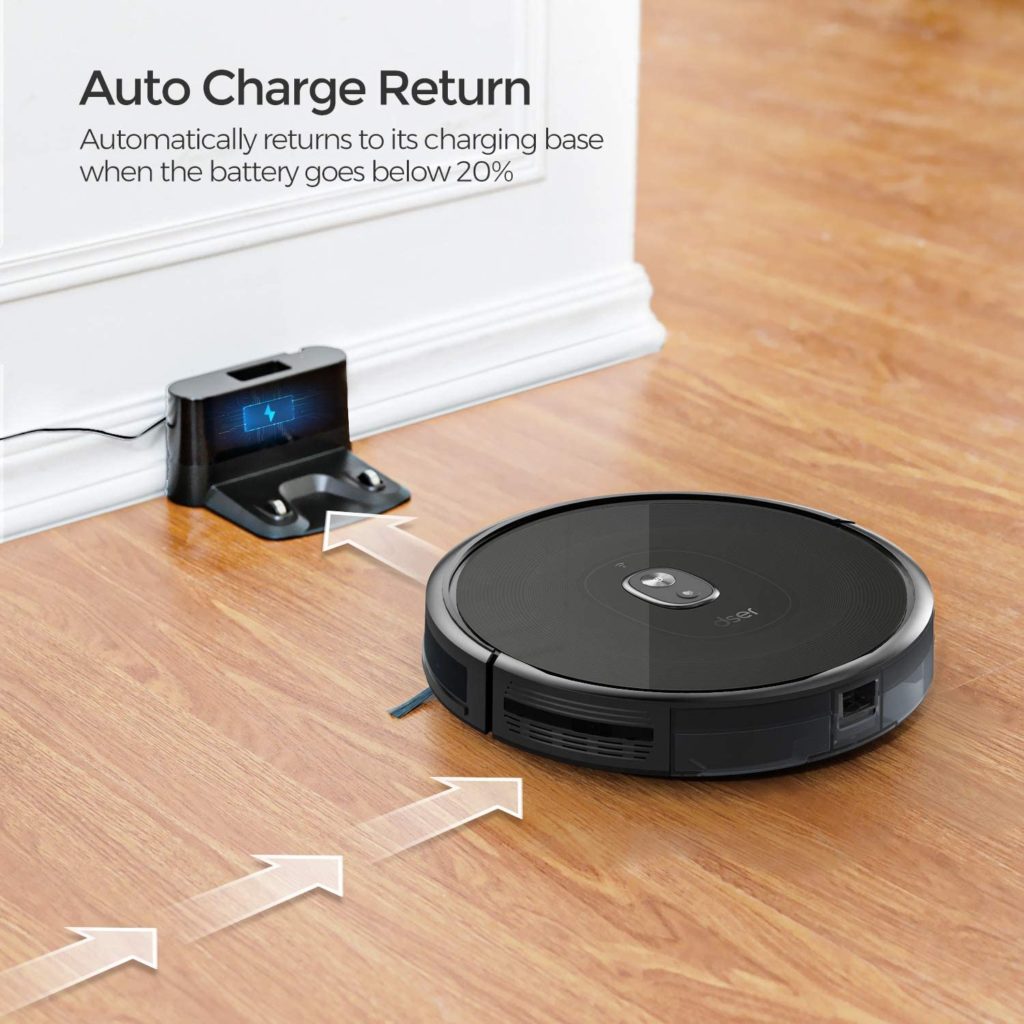 Nevertheless, it is the smartphone compatibility that separates it from the budget-friendly variant. This device is also accessible via smart devices, including Google Home and Amazon Alexa. With these aforementioned smart home devices' help, you can schedule vacuuming sessions while you are not in your home.
Pros and Cons of Dser RoboGeek 21T
Sporting the exact features as the 20T, the 21T solves most of the dust and debris problems. With the testing experience we've had, there were a few hits and flaws. Below are some benefits and drawbacks of this device:
Also Read: Worx WG505 vs WG509: Which is the Better Leaf Blower?
---
Dser RoboGeek 22T Robot Vacuum Cleaner Review
Dser's RoboGeek 22T arrives with bountiful features that boast the same size and shape of the 20T. Although it includes a few same features, it boasts one powerful feature — the suction power.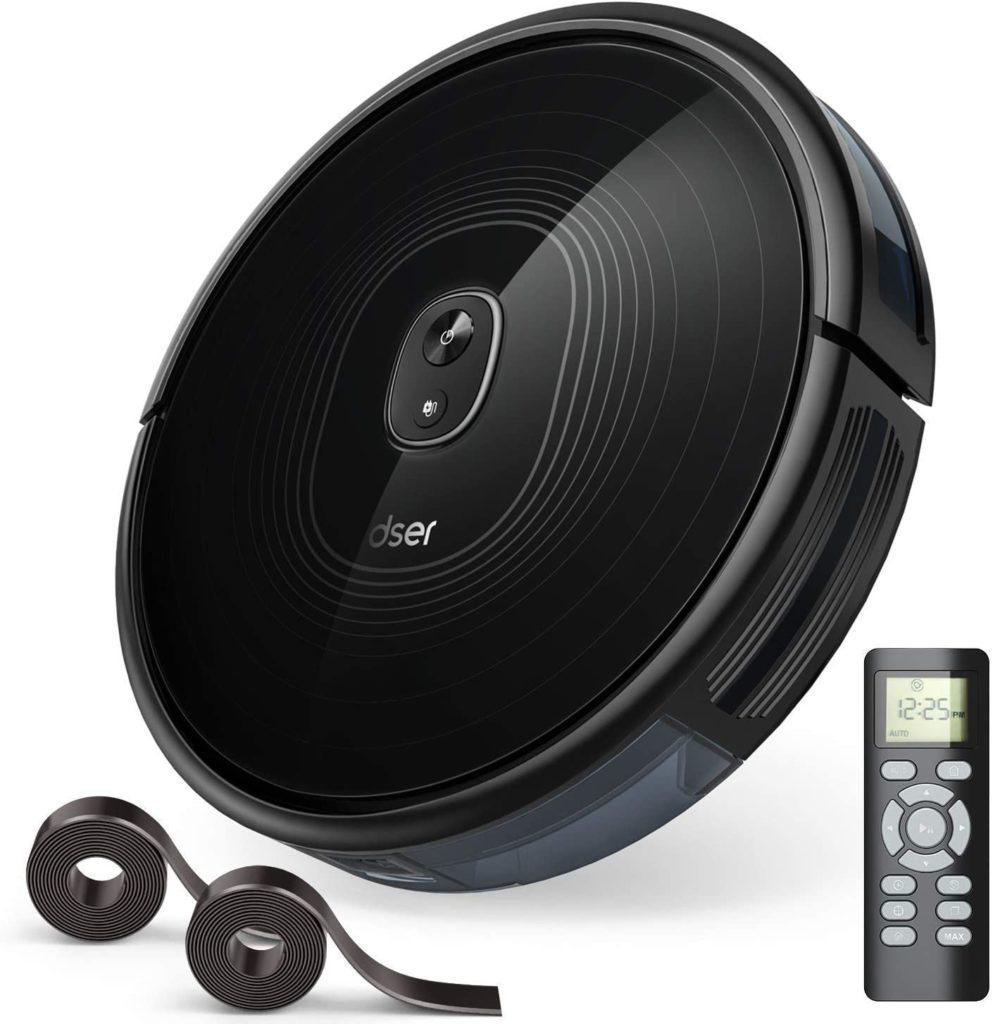 Dser's RoboGeek 22T is 2.83 inches thick, meaning it has the ultra-thin body that comfortably sucks dust from low-lying furniture such as sofas and beds. This robot vacuum cleaner weighs slightly over 10 pounds, which is still less than 20T.
To reiterate the device's most massive feature — the suction power, the RoboGeek 22T is supplied with upgraded 2200Pa powerful suction. With the kind of power it possesses, you easily pick up dust, hair, and animal fur. Furthermore, the 600ml dust collection bag is an efficient one.
The Dser RoboGeek 22T is powered by a 2600mAh Lithium-ion battery, providing you with a run of about 100 minutes.
Notable Features
This device amasses the same features as the others mentioned on this list. However, the suction power separates this from other devices. The RoboGeek 22T comes with two magnetic boundary strips, which serve as barriers for the vacuum to turn away. The device's two side brushes conveniently clean the edges and corners of the room.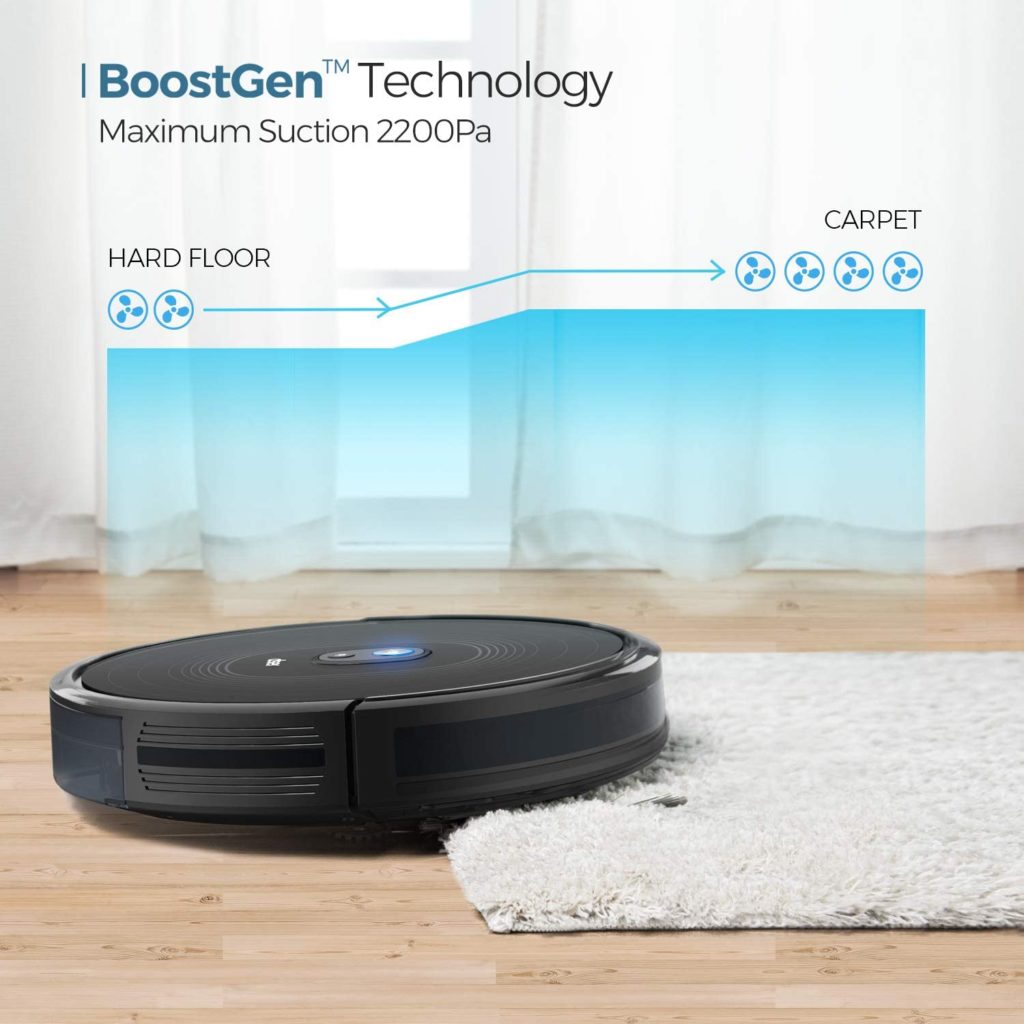 Pros and Cons of Dser RoboGeek 22T
This robot vacuum cleaner is a simple machine with not a lot of bells and whistles. Here are a few pros and cons of this device:
Also Read: 10 Best Air Fryers Under $100 to eat healthily
---
Dser RoboGeek 23T Robot Vacuum Cleaner Review
Lastly, we have the Dser RoboGeek 23T. This is the most expensive of all the vacuums we've reviewed in this article.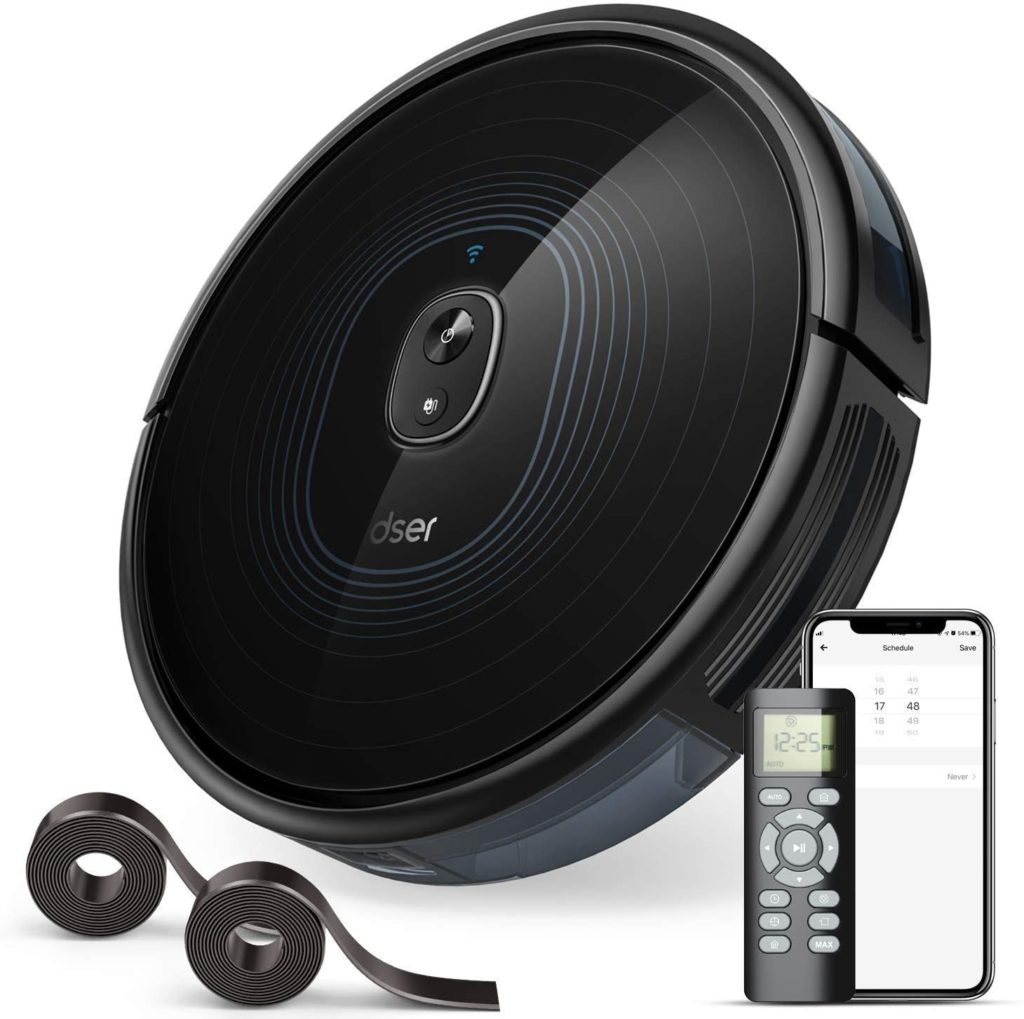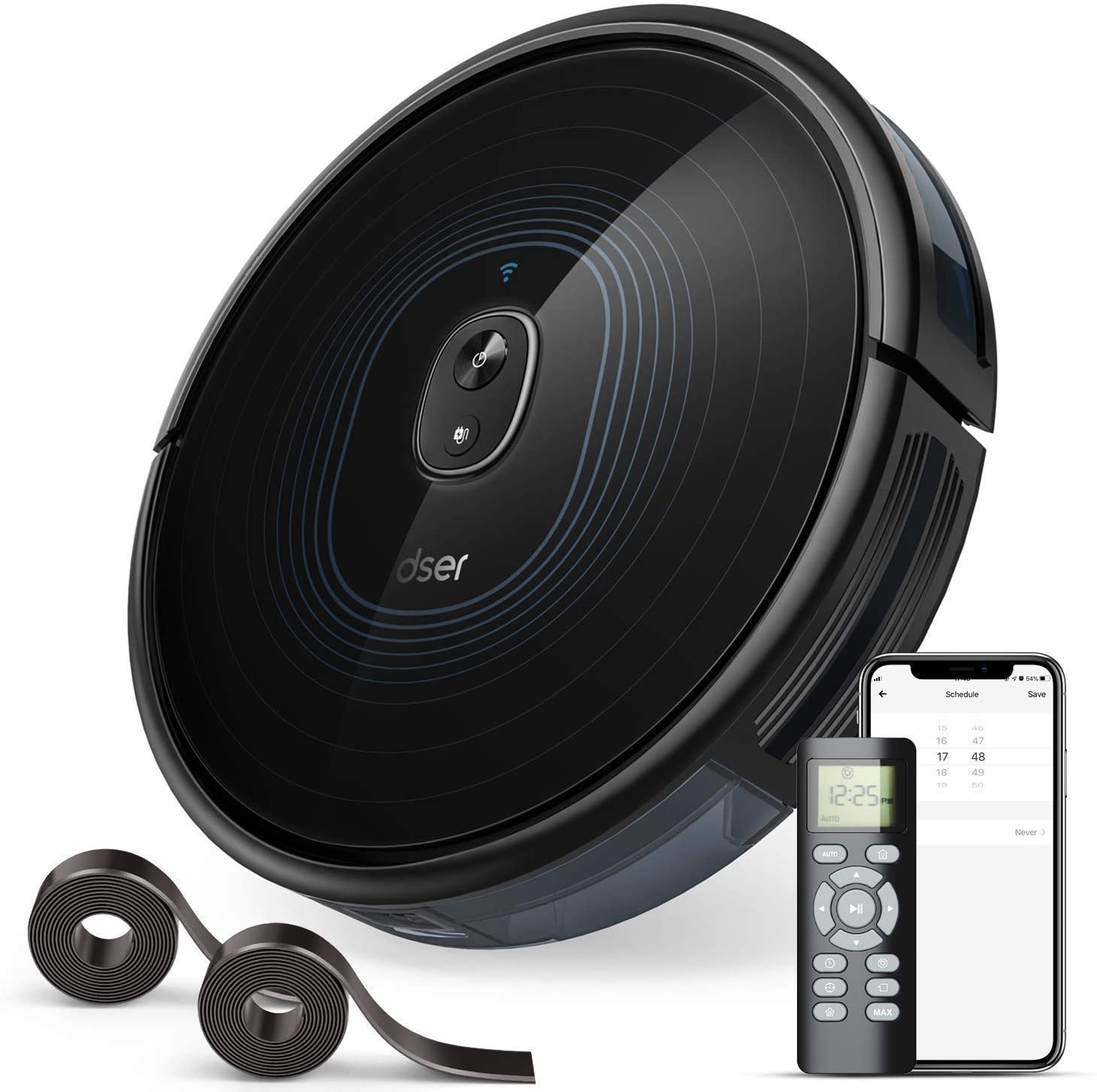 The RoboGeek 23T has similar looks to other budget-friendly vacuums available on the market. Measuring 12.5 inches in diameter and 2.83 inches in height, the robot vacuum cleaner does a remarkable job cleaning couches and low-lying furniture.
The 2200Pa suction power makes it a valuable piece of cleaning equipment. 23T's incredible suction power can handle crumbs, dirt, and hair. It is supplied with the same lithium-ion 2600mAh batteries, which offer a run time of about 100 minutes.
Notable Features
The RoboGeek 23T is engulfed with fascinating features that make the cleaning process less tedious and more exciting. This device can be accessed via an app, which allows you to control the device remotely. Just like the 21T, this device also supports smart devices' connectivity.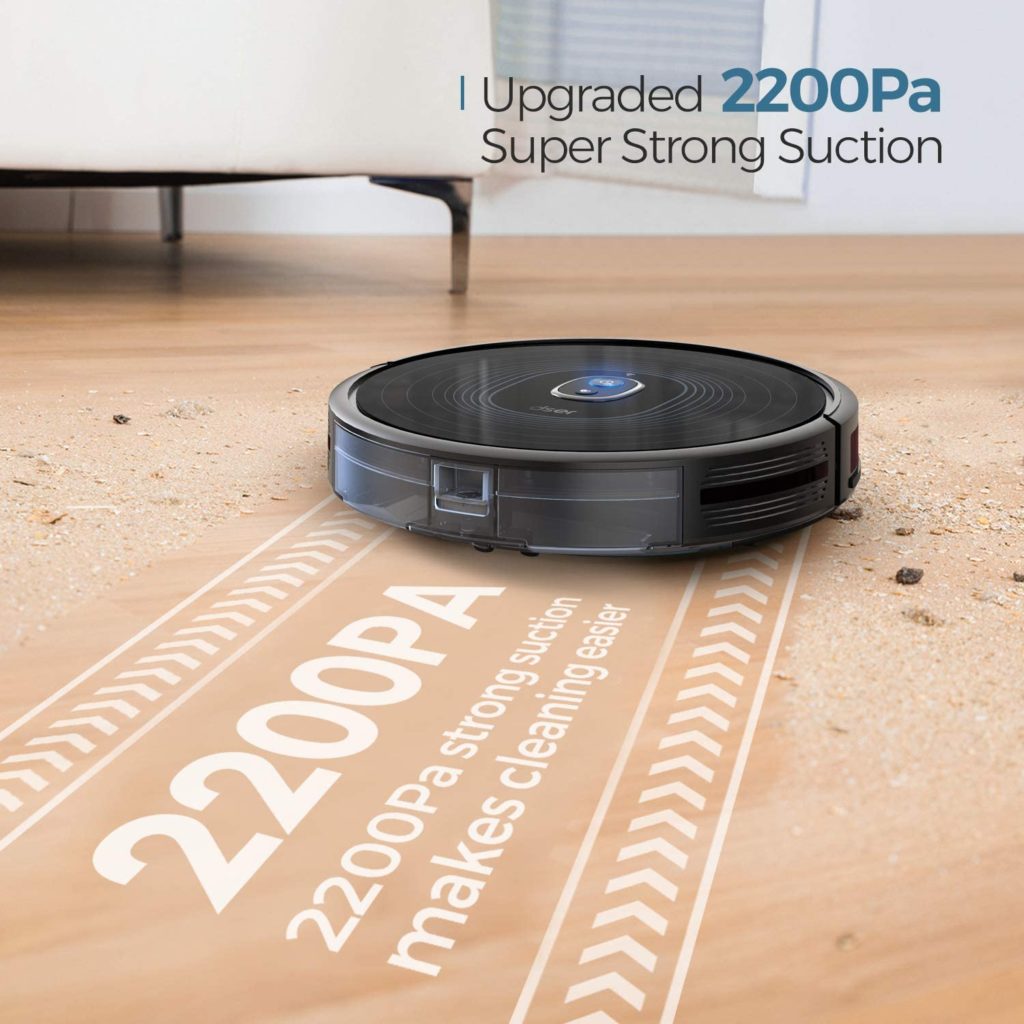 With the smartphone application, you can also change the modes to any of the four cleaning modes — Auto, Spot, Edge, and Manual.
Pros and Cons of Dser RoboGeek 23T
The Dser RoboGeek 23T has all the features that you look for in a 250 dollar robot vacuum cleaner. It is smart and probably the cheapest for the features it includes. With some thorough analysis, here are some of its strength and flaws:
Also Read: 10 Best Air Purifiers for Smoke Under $100
---
CONCLUSION
And that was the comparison guide! Every machine reviewed here is available at a price point, which is deemed a steal. Available at different price points, these share some identical features that might just make the purchasing decision a bit hard.
Let us know in the comments about the device you own or feel like buying. Have any questions or queries? Drop them below.
---
FAQs
Something that needs to be noticed here is — not all vacuums are compatible with most floors. However, most of these work well on surfaces like hard floors (wood, tile) and carpets. Each of the products mentioned above did well in clearing dust from all sorts of surfaces.
Why choose a Dser's RoboGeek robot vacuum over a vacuum cleaner?
There are plenty of things to consider while you're out shopping for a vacuum cleaner. If you often stay away from your home or want to have a smarter household, a robot vacuum cleaner is the best. Robot vacuum cleaner allows you to:
Have a better reach over areas that you usually can't clean
Control remotely with Alexa and Google Assistant
Clean without your presence.