Is your home inundated with leaves and debris? If yes, then one piece of equipment deserves all your attention — a leaf blower. Clearing the clutter in your garden area is an issue that you grapple with the most. And with a multi-functioning cleaning tool, you get to save some space and get the job done.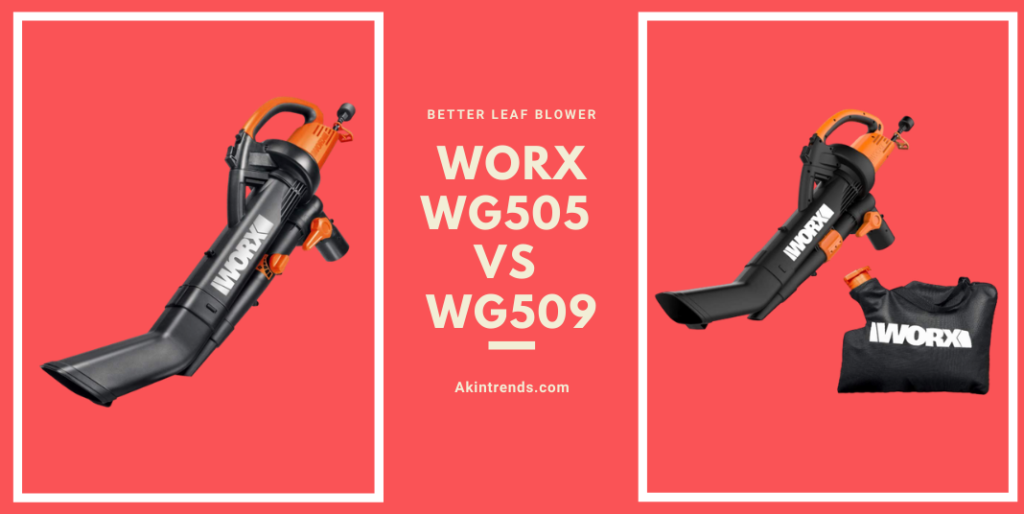 In this article, we share our experience with two products from the same brand — Worx WG505 and WG509. Following is a comparison table to start with this — Worx WG505 vs WG509 review article.
---
WORX WG505 Review
The Worx WG505 is an inexpensive and well-built 3-in-1 cleaning machine that saves hours of effort in clearing your leaves-infused garden areas. Inarguably one of the finest available in the market, this machine is a small yet worthwhile investment if you're short of storage space. Without further adieu, here's how WG505 performed in our hands-on review.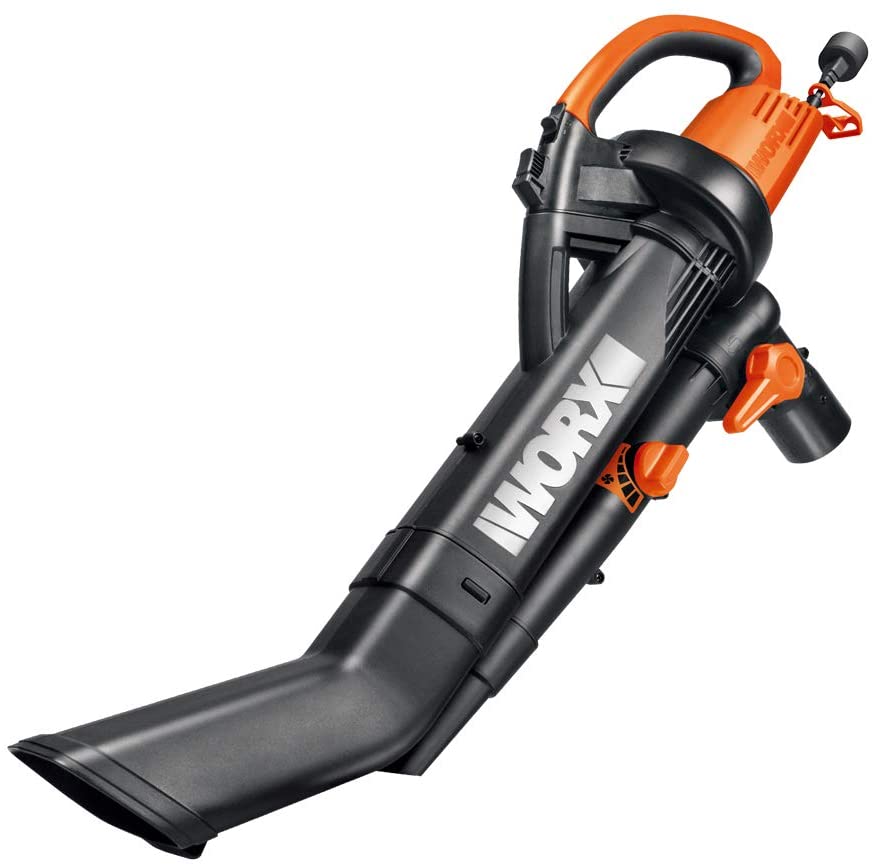 Design
Worx's WG505 is an exceptional 3-in-1 device sporting a lightweight and easy-to-handle design. This machine is supplied with an angled nozzle, which allows you to use it more comfortably. Moreover, the handles are comfy and gripped nicely.
This cleaning device arrives with a detachable trash bag, which includes a strap to hang on to your shoulders comfortably. Weighing slightly over 10 pounds, this device will seamlessly allow you to perform three tasks at the flip of a switch — blowing, mulching, and vacuuming.
Performance
The WG505 is one solid piece of cleaning gear that vouches for a safe and debris-free environment. This machine is powered by a 12Amp motor that oozes out wind at a speed of up to 210 miles per hour, helping you blow the stubborn leaves. While the lowest speed setting is 80 miles per hour — it still manages to pull out leaves from delicate areas.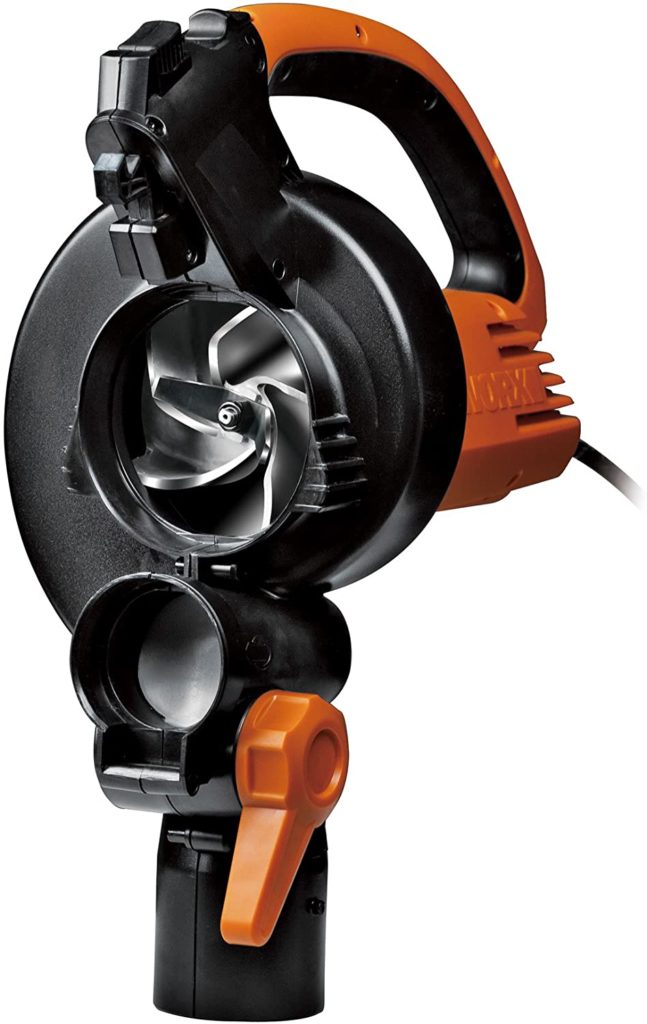 This 3-in-1 device comes with a mulching ratio of 16:1, meaning that every 16 bags piled with leaves and debris is mitigated to a single bag of mulched trash.
Notable Features
The Worx WG505 is a high-performing machine that puts an end to your leaf problems. Based on our first-hand experience, this device is a no-frills and laden with only quality features.
Firstly, the adjustable regulator allows you to increase and decrease the blowing speed. The lowest you can set is — 80mph, while 210mph being the highest. At the most top speed, the machine assists you in moving wet leaves, small branches, and twigs.
This is equipped with an all-metal impeller that whirls leaves into mulch for easy disposal. The WG505 boasts of a 2-stage mulching system, which quite conveniently shreds the collected leaves. The shredded leaves are dumped into the collection bag, which has a zipper at the bottom to remove the debris quickly.
Pros and Cons of Worx WG505 3-in-1 Blower
The WG505 3-in-1 Leaf Blower is a multi-purpose device that offers a ton of benefits at a cheap price. Whilst the tested period, we had the time to excavate a few hits and misses. Below are some of WG505's pros and cons:
---
WORX WG509 Review
The Worx WG509 vacuum cleaner is a handy equipment to help you with all the lawn work. Both the WG505 and WG509 sports an almost identical look — only a few features separate them. Read on to learn about this 3-in1 device.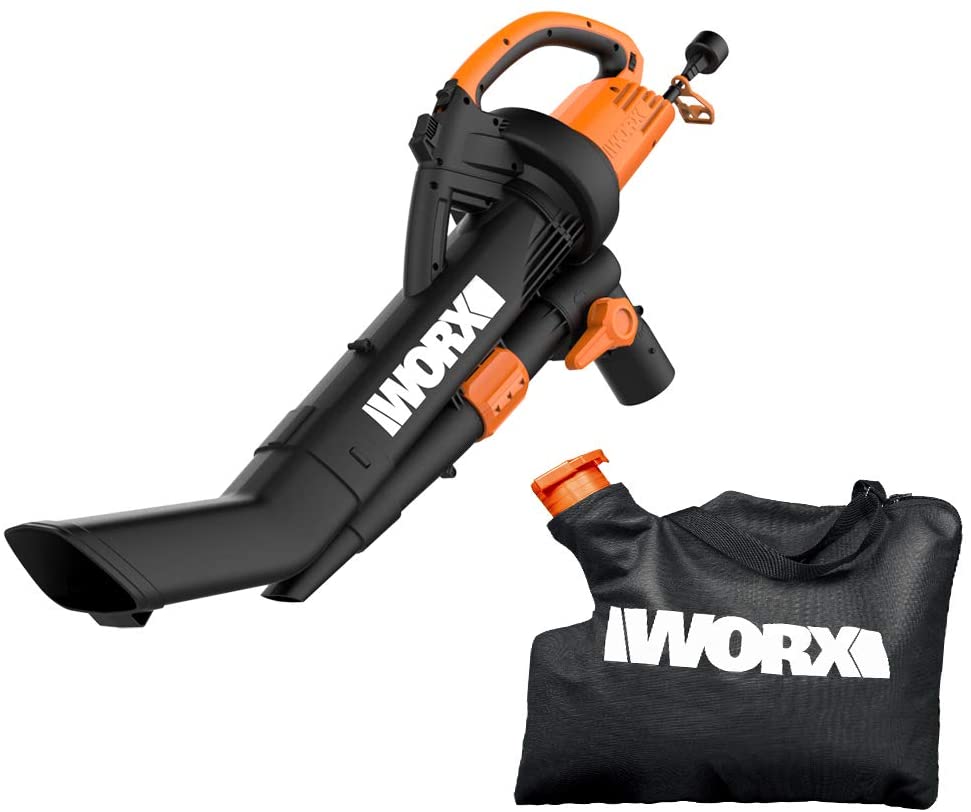 Design
The WG509 boasts WG505-like design. Only the former is a bit heavier than the latter. The WG509 boasts an ergonomic and easy-to-handle design, making it comfortable to carry around without exerting pressure on your wrists and arms.
This 3-in-1 device has a single tube paired with an angle noise, which vacuums places beneath bushes or outdoor furniture. It is supplied with an easy-to-carry debris bag that arrives with a strap to hold it on your shoulder.
With the dimensions measuring 20 x 15 x 9 inches, this device provides a tremendous single-handed functionality when operating both on lower and vacuum modes.
Performance
Worx's WG509 is a powerful cleaning device that safely strikes out leaves and debris from your garden areas. This cleaning device features a 12Amp motor, which offers a blowing speed up to 210mph, while 75mph is known to be the lowest.
A pivotal feature on the WG509 is the — speed full throttle control, which allows you to control the blowing speed coming out of the machine. Like the WG505, this device when at the highest speed has the capability of picking up wet leaves and debris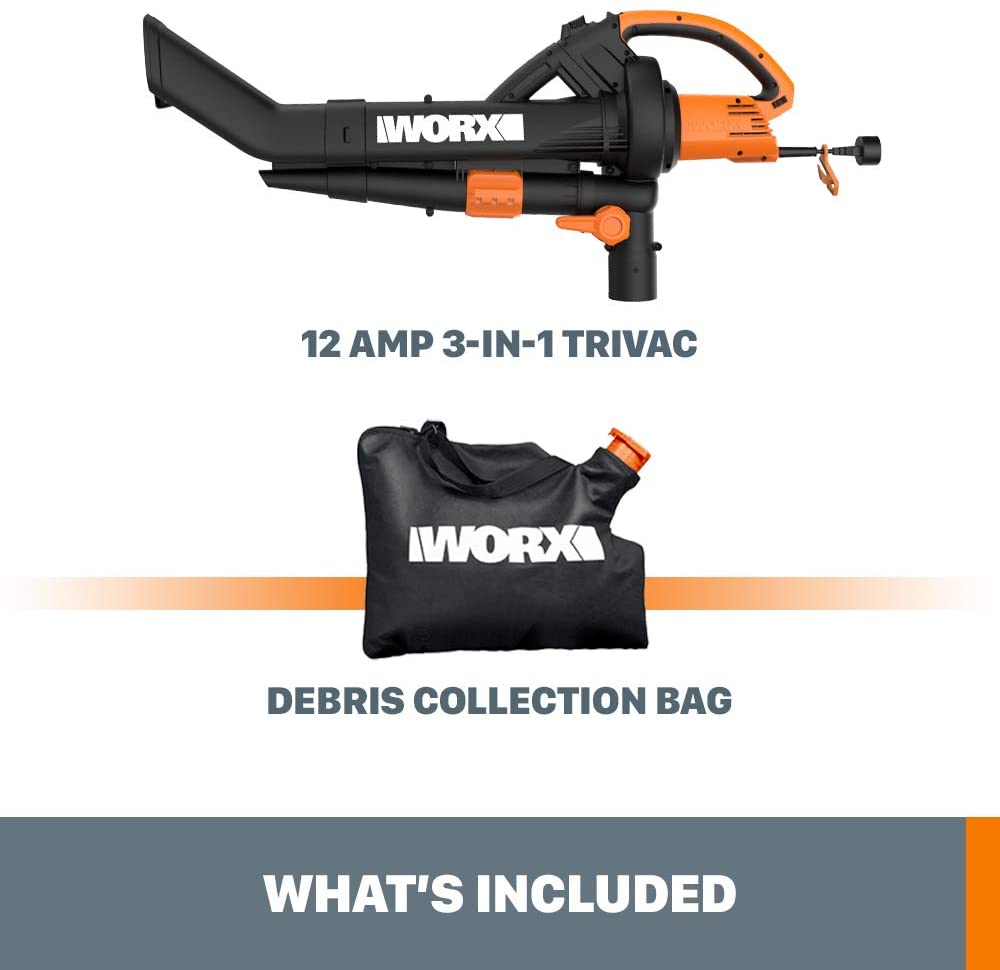 This is equipped with a larger mulching ratio of 18:1, which operates with the metal impeller to shred leaves into minuscule pieces. The pieces are pushed over to the collection bag, which is included in the purchase.
Notable Features
This is feature-rich, and a must-have machine in your garage. With the flip of a switch, this machine converts to a vacuum without changing any tubes. Coming with an all-metal 2-stage mulching system, this 3-in-1 device does a great job in chopping leaves and moving the debris across the bag.
The debris collection bag has a capacity of holding up to 1.2 bushels of shredded leaves, which is easy to unload with the zipper provided on the bottom. WG509 comes with the same 12-inches long power cord, which is not recommended for large-size lawns.
Pros and Cons of Worx WG509 3-in-1 Blower
The WG509 is one notch above most of the 3-in-1 devices available on the market. While both the machines offer the exact features, there are a few aspects that deserve your attention. The following are a few WG509's advantages and disadvantages:
---
Few Alternatives to Consider
The WORX WG505 and WG509 are some of the best 3-in-1 devices available. However, with the growing popularity, they may run out of stock very soon. If they do, the following alternatives are also considered the ideal options.
Black+Decker 3-in-1 Electric Blower/Vacuum/Mulcher
The Black+Decker's cleaning device is an affordable alternative to the WG505 and WG509 3-in-1 devices. This machine is effortless in several areas like — office, house, and garden areas. Backed by the 12-Amp motor, this machine is a valuable piece of gear to keep your environment clean and debris-free.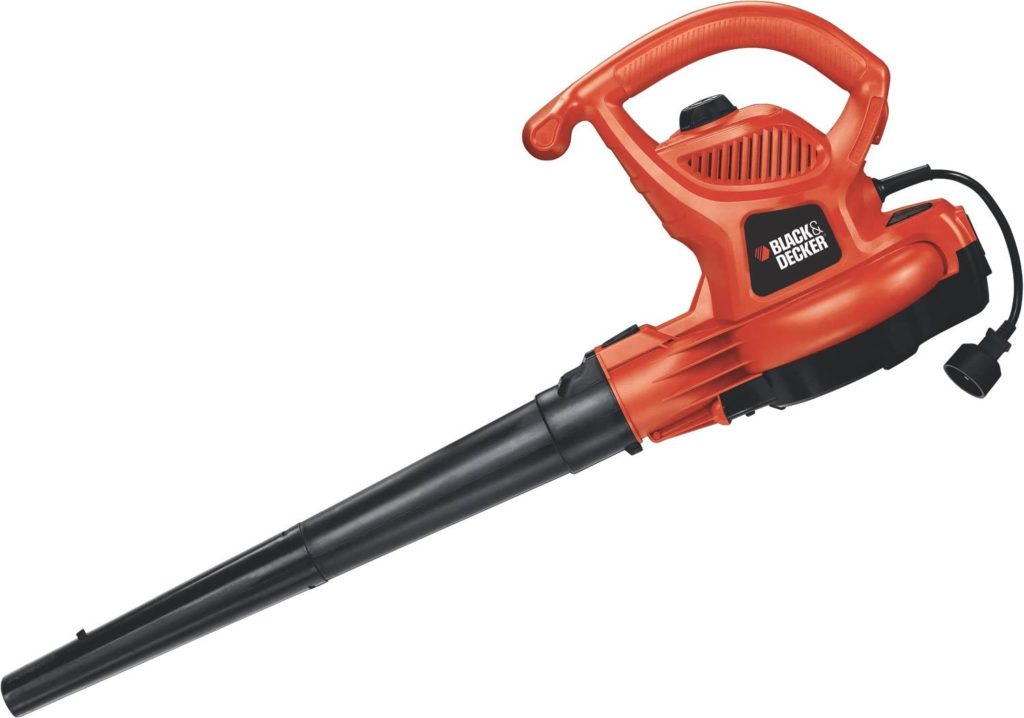 This device comes with an anti-clog vortex impeller, which prevents jamming while mulching leaves. Also, this has a blowing speed of 230 mph that clears out wet leaves and debris with ease.

WORX WG518 3-in-1 Cleaner
WORX is known for its exceptional line-up of 3-in-1 outdoor power tools — the WG518 is a part of this too. This cleaning device is compact and lightweight, making it easy-to-store and assemble. Contrary to the WG505 and WG509, this machine is capable of blowing leaves up to a speed of 250 mph.
The WG518 has a mulching ratio of 16:1, which is quite remarkable considering its price. Moreover, the metal impeller is also efficient in shredding leaves and prevents clogging.

---
CONCLUSION
The two highlighted models above have the features that are required the most. The selection process is a tedious task — given that both come with the same features. However, if the price is an issue — buying WG505 is a no-brainer.
Let us know in the comments section about your choice. If you have suggestions or queries, please drop them too.
---
FAQs
Can a leaf vacuum mulcher be used on gravel?
Yes! Most of the leaf vacuum mulchers can be used on gravel. However, we do not recommend you use them with a plastic impeller. A plastic impeller picks in the gravel, which may further damage the machine.
What is the most critical metric in a blower? — CFM or MPH?
CFM and MPH are two vital cogs of a leaf blower. Nevertheless, it is the MPH or miles per hour that gives you better information on how fast the machine performs. Ideally, a device with MPH score of above 200mph is deemed as a suitable choice.
Which is the best machine suited for my lawn — gas-powered, battery-powered or electric leaf vacuum?
Each of these vacuum mulchers comes with a range of benefits. Read on to know more about them:
Gas-powered: These are suitable for larger areas, but are louder than the other types.
Battery-powered: These are the best choice for clearing without facing wire entanglement issues. However, the runtime is lower than the rest.
Electric-powered: These electric blowers come with a cord and are the quietest of all the three. Since it is corded, you are restricted to a range.