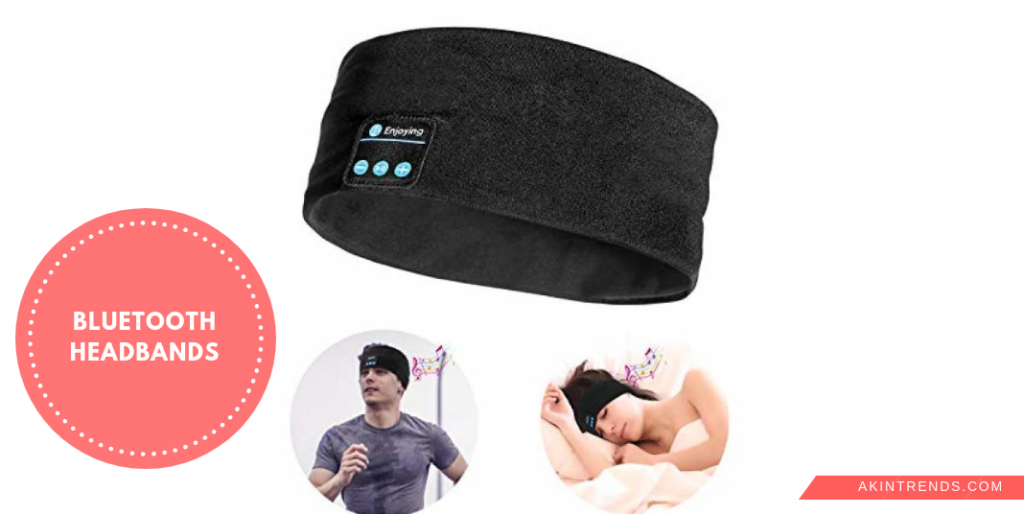 Headbands are one of the best choices when it comes to enjoying things to yourself. Music, movies, podcasts all of them are better enjoyed when you are on solo-mode.
Even though they are close to headphones, headbands are of great help while jogging or sleeping. You are free from keeping the headphones in the right position all the time. Headbands perfectly fit onto your head and never falls off, which is the crucial comfort factor while running or napping.
These days there is an end number of options in the market. All these brands compete with each other by offering impressive features and cost. It is quite a tedious task to settle with a choice finally.
As mentioned before you are choosing a product to enjoy quality time. So it is essential to end up with the right fit for you. Today, we are trying to ease you from all of the complications.
We are here to guide to through the process of purchasing a headband. Also, we have our share of recommendations which we hope that can help you with your decision.
Also Read: Prüvit Keto OS : A Product Review
The first step in buying a product is to do the research part thoroughly. You should be able to know whether the product is what you were looking for. So here are the things you should analyze before finalizing the choice:
Comfort and fit
Headbands are the ultimate choice when it comes you people who love sports activities. It not only bothers you but also encourages you to get yourself lost in the activity. It is important when you are comfortable wearing it. The Band should not be too tight or too loose. Give it a try, and no matter you go through how many products, it is necessary that it fits you.
Also, you may have people recommending you models and brands. There is nothing wrong with following the recommendation but the one that fit them may not be the one for you. Nobody likes wearing uncomfortable headphone. Comfort and fit should be taken seriously taken into consideration.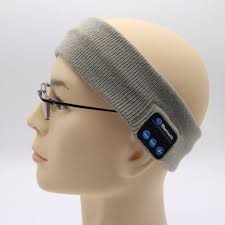 Technology It is also pretty important to know what a headband can do and how they work. Here is a small list of things to look out:

aptX – It is a set of audio codec compression algorithms from Qualcomm. Since Bluetooth is not a fast wireless connection, the files get an extra layer of compression. The headbands need to compress the data and play it back. aptX does this job well. It is always the right decision to go for this technology. Even though your phone does not support aptX, your laptop or car might.
A2DP – A2DP stands for Advanced Audio Distribution Profile. This is the protocol which is used for streaming digital audio from one device to another. All Bluetooth headbands and headphones should support this technology.
Bluetooth Version – This is a significant factor you should consider. Never go with a Bluetooth headband that doesn't support Bluetooth 4.2. Your phone will be using it since Android support it fully. 4.2 version comes with some critical security features.
If you go with any lower version, your device can be at risks. Also, it can be flaky if devices with mismatched versions get paired together.
Even though things are supposed to be backward-compatible, having the right equipment is the best solution. Please note that also if your phone's Bluetooth version is 4.3, it will not affect the audio transfer protocols.
Headbands are all about the way your music or movies sound. This is what matters the most. Some models sound bad, whether it is Bluetooth or wired, because of the design or the fit.
Don't expect that you will be getting the same experience with Bluetooth devices as with the wired headphones or earphones. It is because that the audio processing components on some
Bluetooth models can be outstanding, but the problems are that the source data from your phone over Bluetooth models will not be good enough to use that hardware. A recommendation will be to have a good device with Bluetooth 4.2 version and aptX support.
Battery

We all know the battery is the what gives life to any electronic device. It is essential to check how long will the battery last and how easily they charge.
It is fine that if the headband only lasts for 5 hours since you will not be using it for that time of stretch. While checking for the battery life know that any manufacturer that claims a fancy number of hours will be bluffing. So go with a product at least have 5 hours of battery life.
The second thing will be how the device gets charged, Whether it needs any proprietary charging cable or any attachment. It is always good to stick with devices that charge over USB.
Because it is going to be helpful even if you lose the cable, those products that can be charged while using is always useful. Pick a model that makes it convenient to maintain a charge.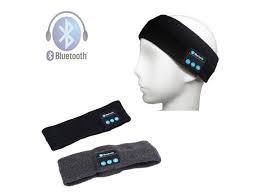 This is a must-have feature for most of the people. If you are concern about it, never settle for anything but the one with active noise cancellation. Even if the device comes with thick foam pads or is a tight fit, it will not substitute the technology.
Bluetooth headbands will come in all price ranges. Once you are done with the features and specifications, the next big thing is the price. There are some products under great brand names with all the features you need. Obviously, with big names come big price tags. The good news is that you can find headbands with decent features at a fair price. Giving it a real thought will help you spend money your money wisely. 
Following a section of this article is where we help you with our suggestions. We are going to introduce our top picks of Bluetooth headbands of this year, 2019. We hope by the end of this article, you will be able to come up with a final model in mind.
---
TOP FIVE BLUETOOTH HEADBANDS OF THE YEAR 2019
1. COJOYEE BLUETOOTH HEADBAND HEADPHONES
Cojoyee's Bluetooth Headband is a perfect gift for music lovers. This band is stylish and durable. Made of soft and breathable material. It absorbs sweat and dries off fast.
This headband is fully washable. The hole at the back allows you to take out the Bluetooth module before washing. It comes with Bluetooth 4.2 version technology and connects easily with other Bluetooth devices.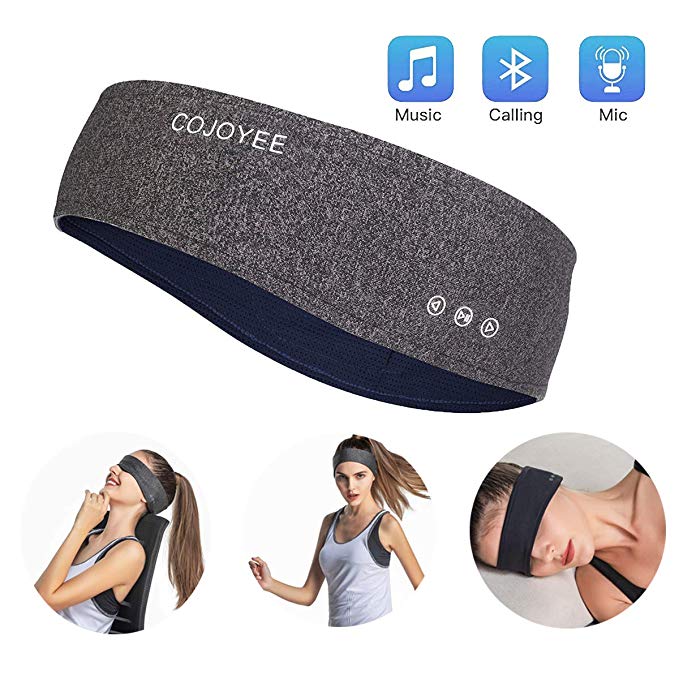 Has an in-built microphone which helps you to answer your calls. The device has an inbuilt rechargeable battery of 150 mA. The battery is Li-ion and has a playtime of 8 hours. You can charge the device using USB cable, and it takes 2 hours for it to get fully charged.

Also Read: Top 10 Air Mattress for Camping, College Student or Everyday use
2. BLUEEAR WIRELESS HEADBAND HEADPHONES
Blueear Wireless Headband Headphones are the headbands you should be looking if you are a sports lover. This is the perfect pair for that adrenaline junkie in you. It is suitable for both indoor and outdoor activities.
The material used for this headband is soft and thin. The Band is sweat absorbing, breathable, and fast-drying, which is one of the qualities we've been looking out. It fits onto your head, and the speaker covers your ear perfectly.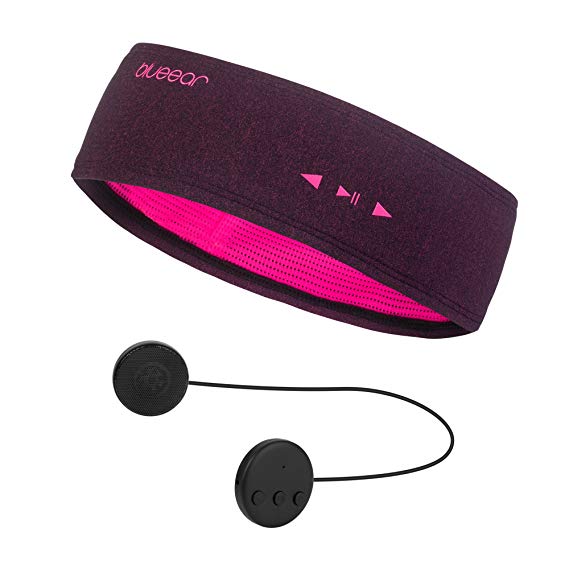 Won't hurt your ears even after you use it for a long time. The technology used is Bluetooth Version V4.2. This version ensures stable and fast connectivity with all smart devices.
The battery used is built-in and is of 150 mA. It is rechargeable and 1li-on which supports 8 hours of playtime. It takes 1½ hours to get fully charged.

3. BGJOY HANDSFREE BLUETOOTH HEADBAND HEADPHONES
BGJOY Handsfree Bluetooth Headband Headphones are launched with all those fitness freaks in mind. It is made in a way that you fitness enthusiasts find a right partner in this headphone.
It wraps around your head perfectly and makes you feel brisker. The material is good enough to absorb sweat and dry fast. It is eco-friendly and soft. Even it is fashionable and stylish and makes you feel more comfortable with the product.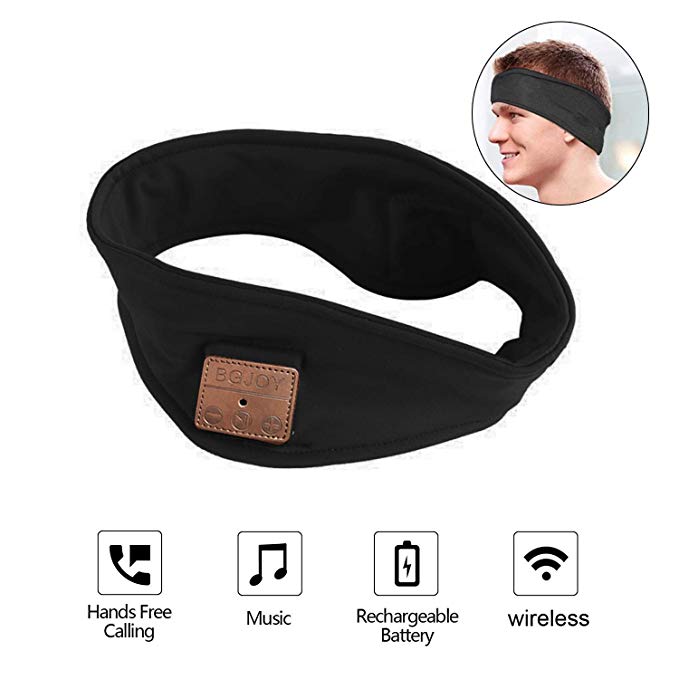 The headband is fully washable. The Bluetooth devices inside can be taken out easily, and the product can be washed to get clean from sweat and dirt.
This product comes with a built-in speaker and mic to support you for handsfree calls. You can answer your calls with 1 second without breaking off the activity you are engaged in.

4. LAVINCE SLEEP HEADBAND HEADPHONES
Lavince Sleeping Headband Headphones are the headphones for those who side sleepers and for those who have insomnia. It is not unknown to anyone that music is a good healer.
Listening to soft music during your sleep helps you with your sleeping disorder and stress relief. With this headbands, you can sleep comfortably, and the earbuds will not be hurt by using it for a long time.
The speakers are ultrathin and cover your ears entirely. The device is also ideal for meditation, yoga, and even sports activities.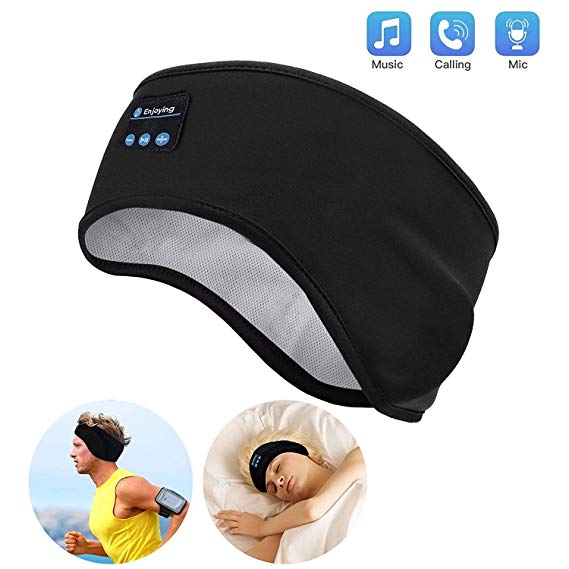 The headband is made of comfortable and washable material.  The unique fabric is compressive on pressure, and it protects your ears too. The audio quality of this device is incredible.
It comes with 12.5mm stereo speaker magnets and microphone which delivers clear and high-quality audio. This product uses V5.0 Bluetooth version technology.

It uses a LiPO rechargeable battery which takes 2 hours to get fully charged. Lavince boasts about 10 hours of playtime. It comes with a built-in microphone which won't allow missing any calls.
The company also offers a 100% money-back guarantee on this product and provides an 18- month warranty too.
Also Read: Best eReaders- A complete user guide for buying
5. LC-DOLIDA WIRELESS RUNNING HEADBAND HEADPHONES
If you are a runner, this is the product you were looking for. LC-dolida Wireless Headband Headphones is that partner you should have with you every time to feel like jogging and stretching.
It is also perfect for sleeping too. It allows you to lose yourself into sleep while listening to music. The product also acts like an eye mask, which is also a convenient way to utilize it.
The headband is lightweight and can be carried around easily. This material is made of 95% cotton and Polyester, which is comfortable and thin. It absorbs sweats and dries it off quickly.
It is also provided with an inside hole, through which you can remove the Bluetooth module for washing the headband.
The technology used is V4.1 version and EDR, which makes it compatible with all smart devices. It uses high-quality Li-ion battery, which takes 2 hours to get fully charged.

Once it is charged, you can play the headphones for 8 hours. The audio quality is clear and enchanting. It also comes with an inbuilt microphone, so that you won't miss any of your calls.
---
Frequently Asked Questions (FAQs) 
How to connect a headband?
First, you have to choose the device you want to pair with your headphones. This can be a phone, laptop, or an MP3 player. Then pair both the devices via Bluetooth.
Once it gets paired, you slip in your headband and press the play button. The music starts as soon as you hit the play button. You can use your Bluetooth headband just like a regular headband.
Yes, you can wash the headbands. It may require you to remove the wires every time, but you can wash them and get a fresh product. This helps you to get rid of the sweat, dirt, and germs.
This is also one of the unique features of headbands that no other electronic device have.
Is headband comfortable for sleeping?
If you love to sleep with the music on, this right here is the product for you. They are not only convenient but helps you to enjoy your music without disturbing others.
Headbands are of thin and soft material, good enough to provide you the comfort. They allow you to lay down without any difficulty, and the earpieces entirely cover your ears. Always go for a product where the sound doesn't 'leak' too much.
What is the benefit of going with a wireless device?
The undeniable reason to go with a wireless device is the convenience. It makes you free from the troubles of dangling wires and cables. This helps a lot in places like the gym, jogging, or when engaged in some physical activity.