The traditional grills in the market are quite large. Owing to their massive size and shape, grills may not be adequate to lift or ready-to-use on all occasions.
Tailgate grills are ideal when taken for camping or tailgating — more specifically in outdoor activities. Despite coming in smaller sizes, these grills still provide that smokiness to your meals — be it meats or veggies.
Before taking you through the list of best tailgate grills, we share useful tips on how to practice tailgating safely: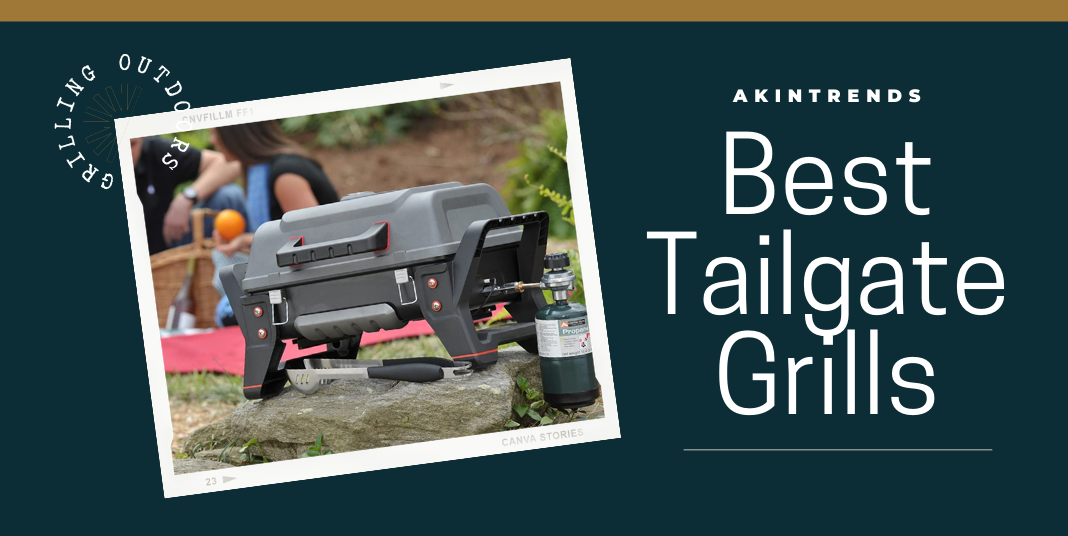 ---
Tips To Consider When Using a Tailgate Grill
Safety tips you must pay attention to when tailgating:
Grill from a distance
Maintaining close proximity to any kind of grill is dangerous. Grill masters recommend at least five meters of difference between your car and the grill.
Carry a fire extinguisher along
Prevention is better than cure. Regardless of how good it may be at tailgating, the combination of fire and car engines has never been a great idea.
Ensure the grill is clean
Having a neat and tidy grill ensures a clean and pure meal and promotes safety when cooking. A dirty grill may lead to flare-ups, which invites trouble. Pro Tip: Curb the amount of fat and oil, as it might help you prevent excess fuel on the fire.
Also Read: Best Wood Chips For Barbecue Smoking
---
Best Tailgate Grills
A perfect tailgate party is incomplete without a tailgate grill. Here's a tried and tested list of the best tailgate grills that take will surely uplift the spirits of your party.
1. Coleman RoadTrip 285 Stand-Up Propane Grill
Coleman is an iconic brand known for creating the finest tailgate grills. The RoadTrip 285 is an incredible offering with a convenient cooking space of 285 square inches that is adequate for large house parties. The smoker arrives with two wheels on one side and collapsible legs, ensuring better portability.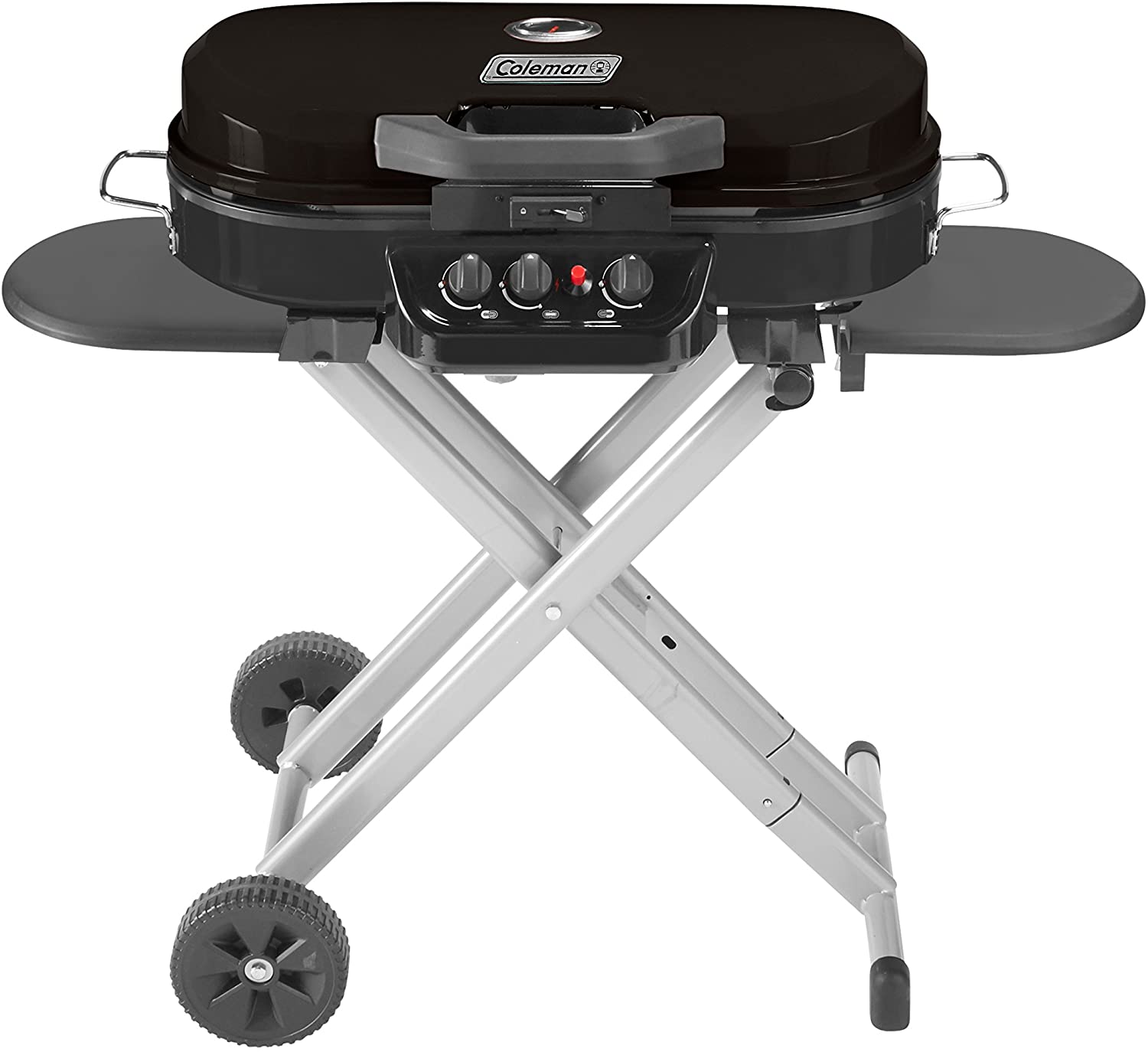 This tailgate grill boasts three adjustable burners, which provide up to 20,000 BTUs. The burners are effective in accurate heating, courtesy of improved burner technology. You also have the option of controlling each burner individually, thereby allowing room to cook multiple tailgate recipes simultaneously.
The Coleman RoadTrip 285 Stand-Up Propane Grill is a reliable smoking piece for tailgating anyplace you wish to. Although it is ranked amongst the heavier grills, it does make up for it by offering room for multiple foods to grill/smoke at once.
2. Weber Jumbo Joe Charcoal Grill
The Jumbo Joe Grill from the house of Weber is a charcoal-based tailgate grill with ample cooking space for large groups. The smoker comes with 18-inches of cooking area, accommodating space for steaks, burgers, chickens, etc. With a porcelain-enameled metal body, this tailgate grill is rust-resistant.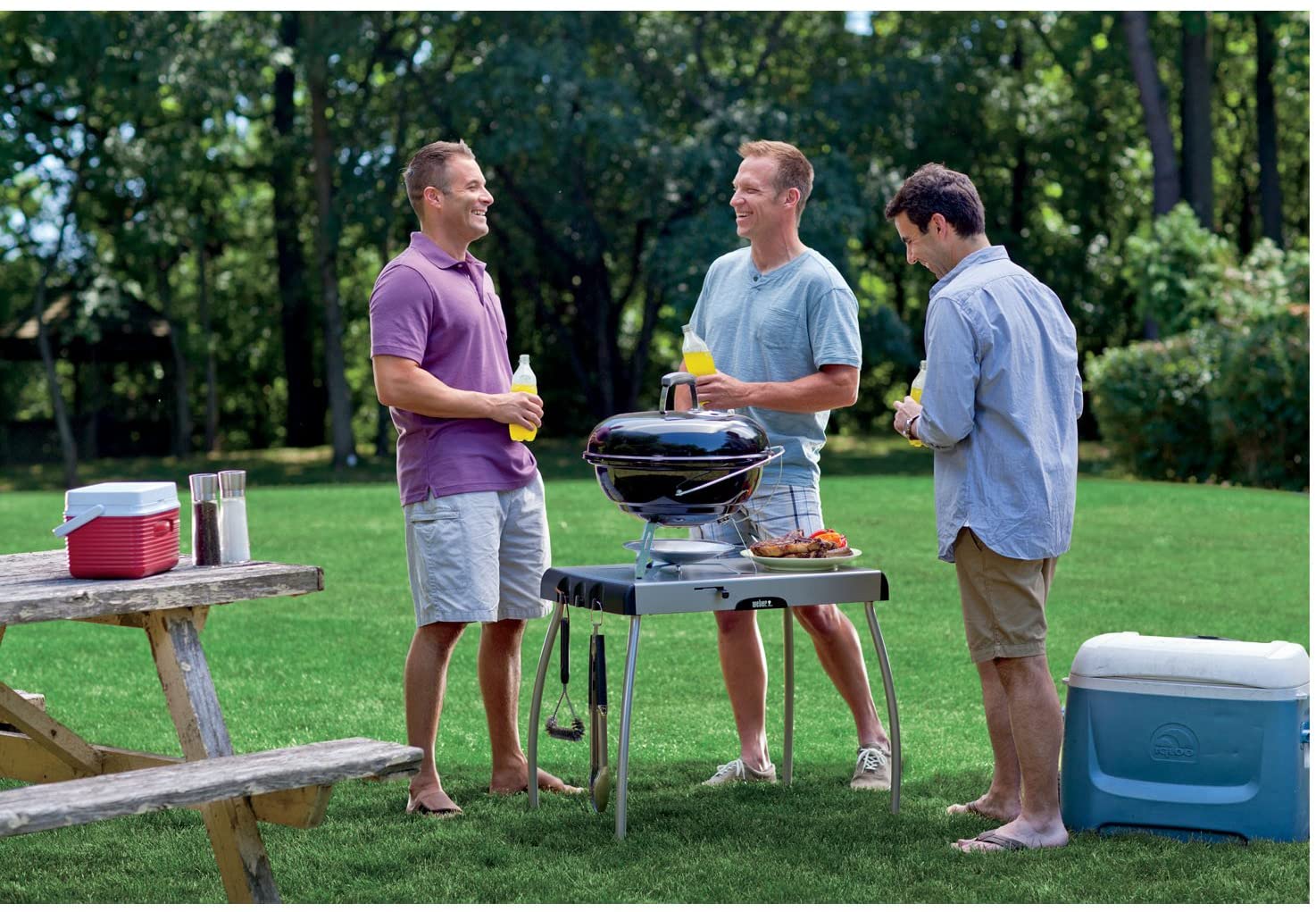 This grill includes rust-resistant dampers and an ash catcher tray, giving you a professional-style grilling in all weather. The grill has vents on top and bottom, providing you complete authority over temperature and your style of grilling. This model features an easy-to-access ash-catcher, making dumping ash a much easier job.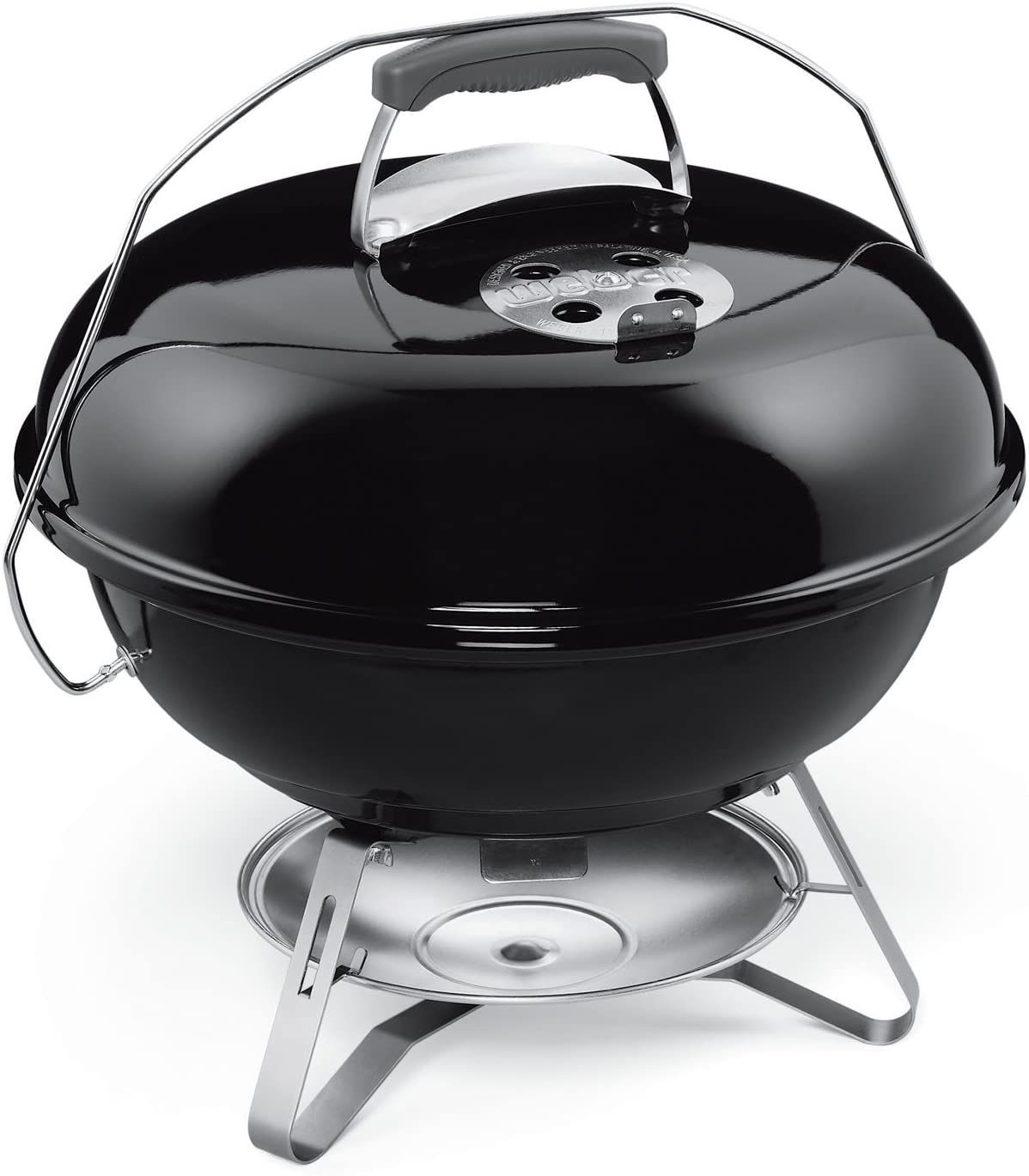 Weber's Jumbo Joe Charcoal Grill is supplied with enough materials to make grilling a worthwhile experience for beginners. This is a beginner-friendly tailgate grill that does more than a handy job in grilling.
3. Char-Broil Grill2Go X200 Portable Grill
Compact and super-efficient when tailgating, Char-Broil Grill2Go X200 is another recommended machine on the list of best tailgate grills. This grill has a cast aluminum and stainless-steel body that measures around 23 x 15 x 14- inches, covering a cooking area of about 200 square inches of stainless steel grates in total.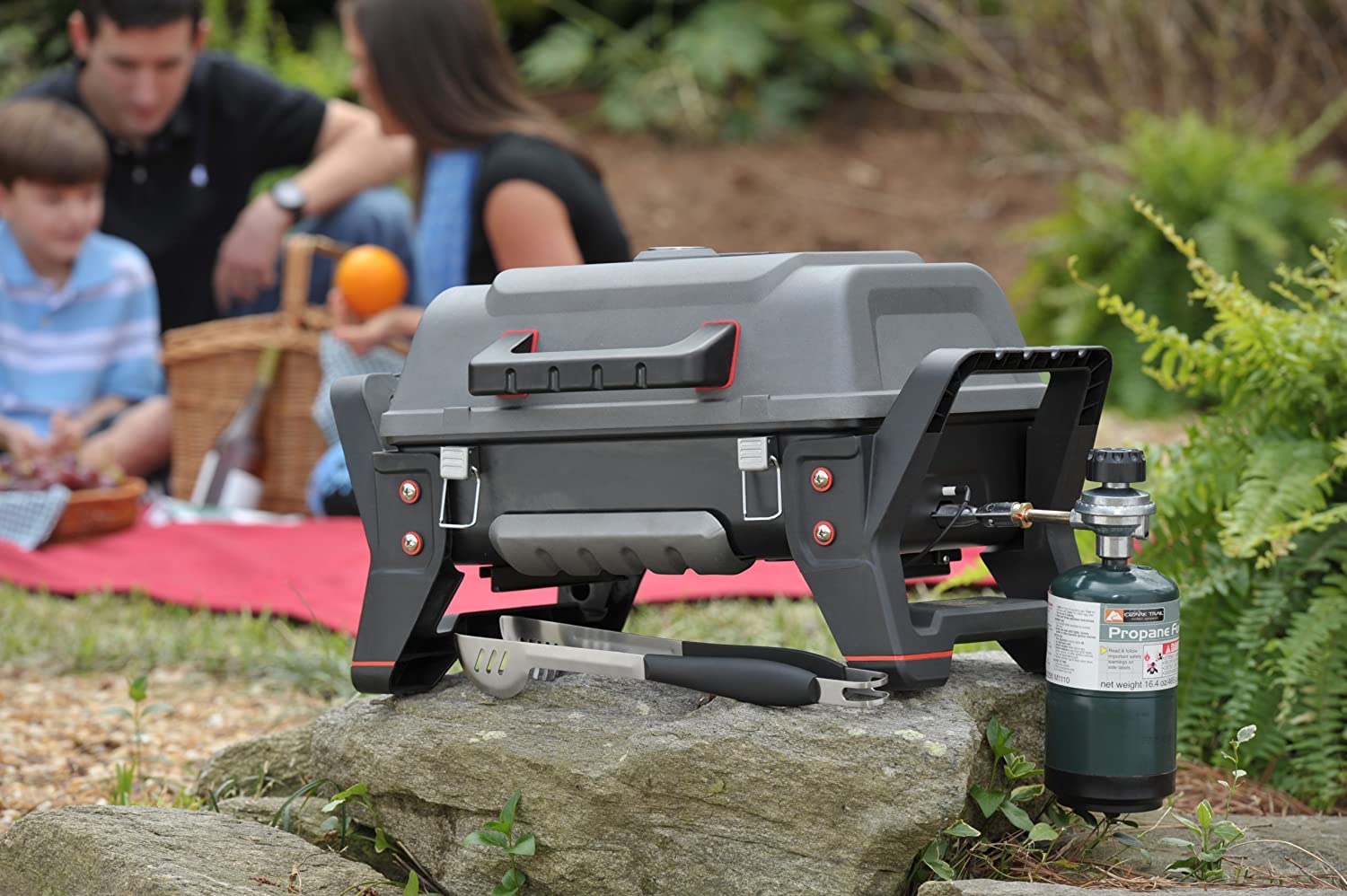 This grill is powered by a TRU-infrared technology, facilitating an even distribution of heat to enhance foods with more smokiness. It sports a high-impact frame coupled with legs and carries handles, making this model a transport-friendly grill. The grill features a top-mounted thermometer that helps keep a tab on the food that's been grilling.
The Char-Broil Grill2Go X200 is our favorite portable cooking gear, sturdy yet spacious enough to prepare a quality feast for small gatherings. If you relish grilling meats in the outdoors, then this model is worth every penny.
4. Blackstone Table Top Grill
Another travel-ready featuring on this list is the Blackstone Tabletop Grill. This grill has a generous space of 268 square inches powered by a 12,000 BTU H-shaped burner, which maintains heat on all sides of the grill. The burner is stainless steel, making it rust-resistant and durable.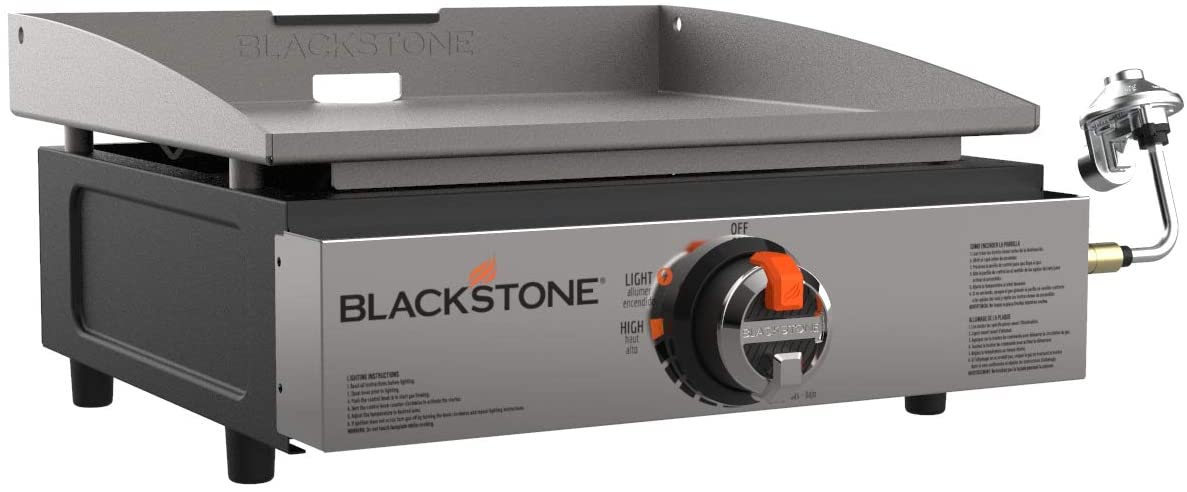 This grill includes features that are much-needed from a tailgate grill — a built-in grease cup, rubber feet to keep the unit steady, and adjustable heat control with a built-in igniter. The built-in grease cup is handy in collecting oil spills. The H-styled heat burners are equipped to deal with distinct foods at the same time. Overall, the Blackstone Tabletop Grill is easy to operate and nifty in grilling most foods, including burgers, bacon, eggs, or pancakes.
5. Weber Q1000 Portable Grill
Comes to another high-performing grill from the renowned Weber is the Q1000 Portable Grill. This grill is equipped with ergonomically designed side handles, making the unit much easier to carry and transport. It features an infinite control burner valve that allows dialing an exact amount of heat as you cook.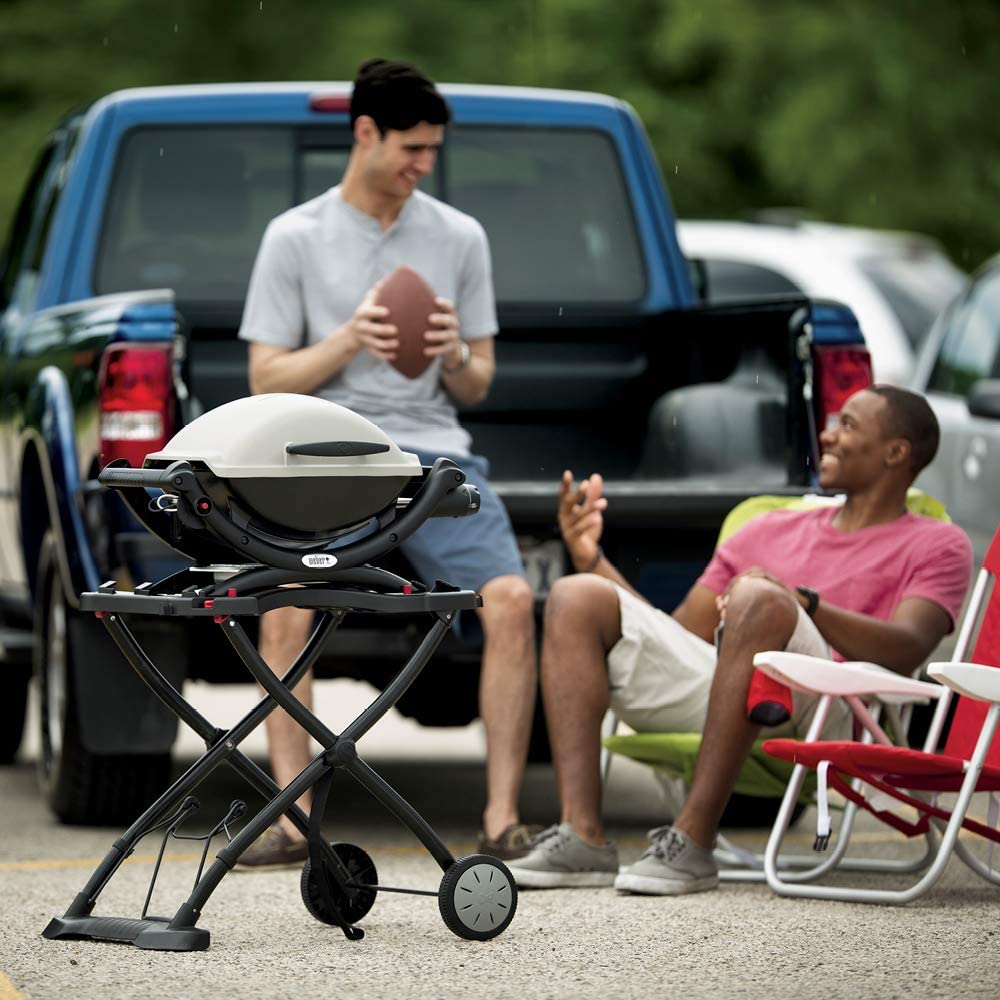 This tailgate grill features a removable drip pan that collects mess and is effortless in unloading and cleaning. The grill grates are porcelain-enameled, which are corrosion-resistant. This 189 square-inches cooking surface is sufficient for grilling six large steaks and can host about five people.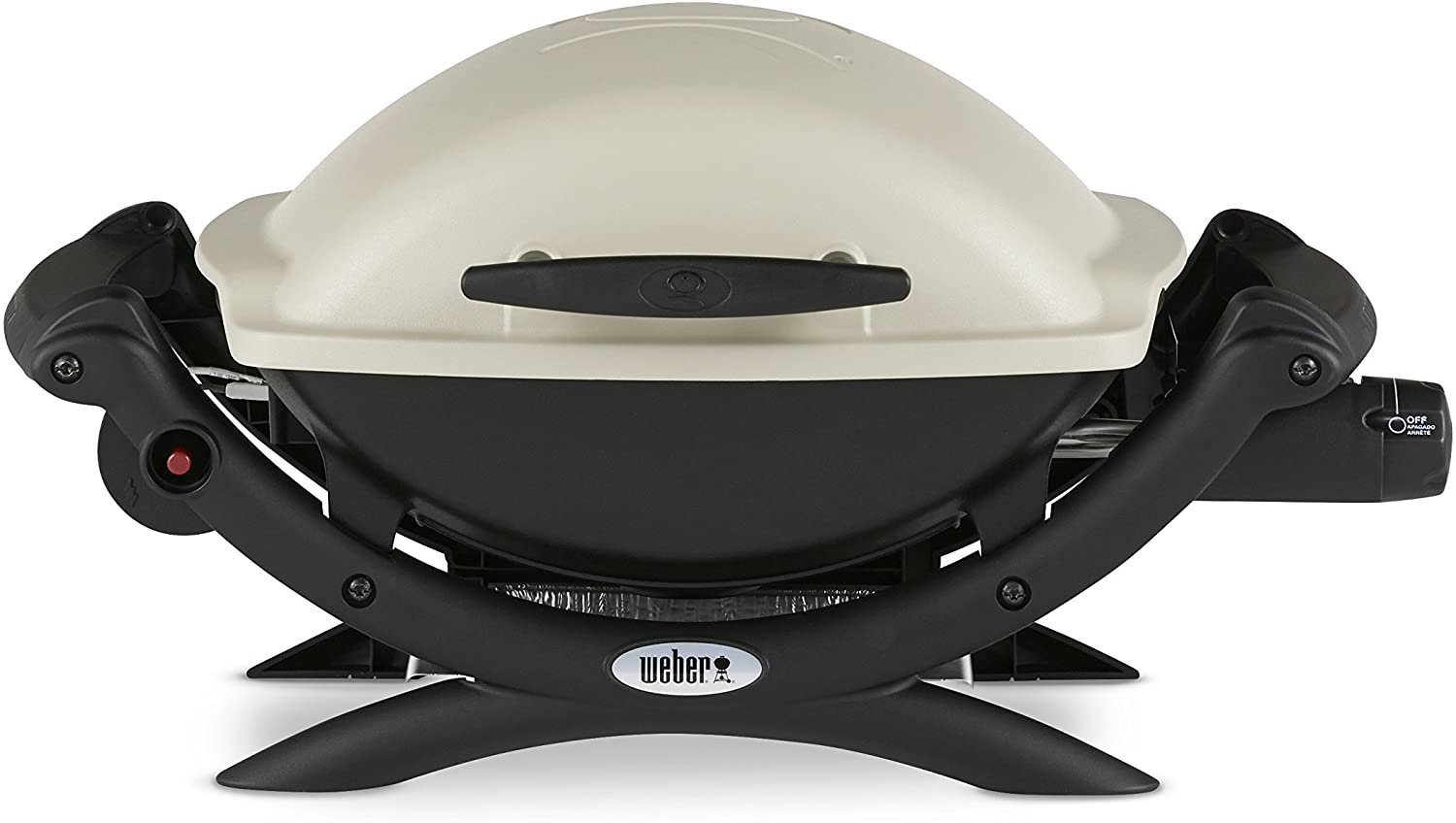 The Weber Q1000 has a pretty neat construction, and as an ergonomically designed grill, this unit stands out on this list of tailgate grills.
6. Cuisinart CGG-240 Roll-Away Grill
The Cuisinart CGG-240 Roll-Away Grill is hard to ignore grilling device since this is home to generous space and a few exciting features. The grill comes with 240 square inches of cooking space and a 15,000 BTU stainless steel burner to control the even distribution of heat.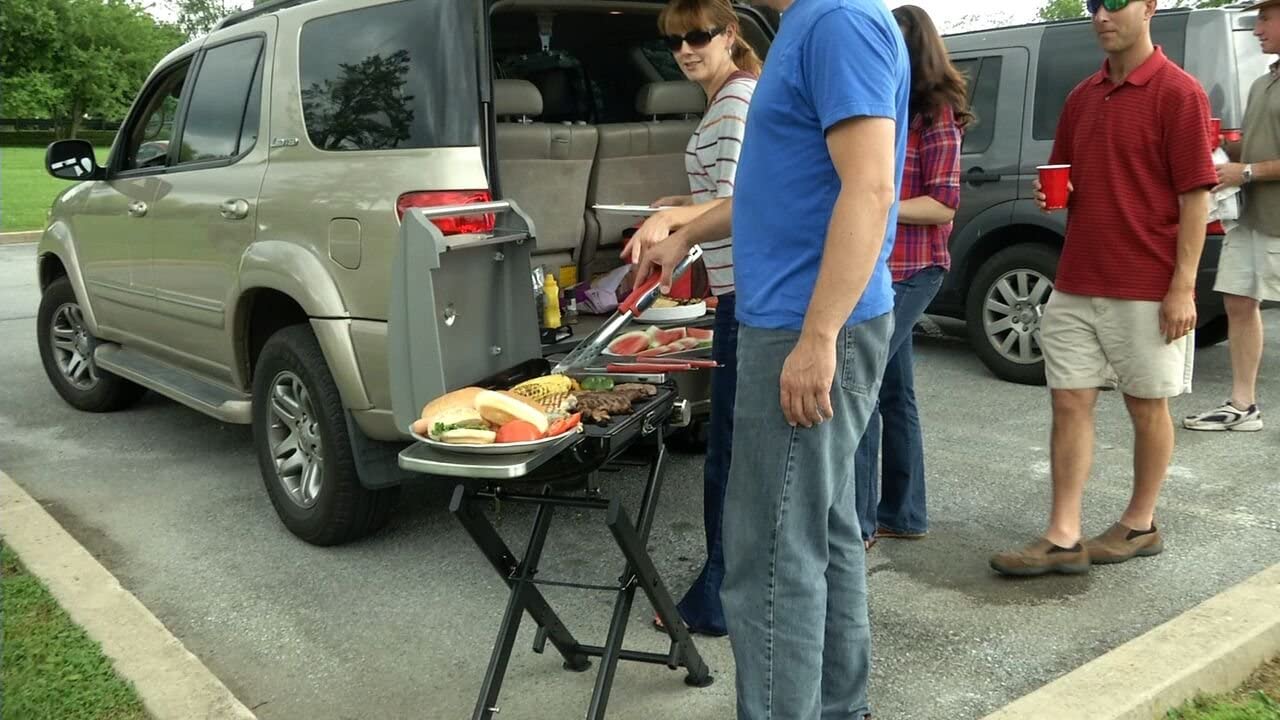 This tailgate grill has stainless steel shelves, which can be effortlessly folded when not in use. A built-in hood thermometer provides precise readings, allowing you to control the heat more conveniently. The twist-to-start ignition powers the grill to start almost instantly.
For someone fanboying over outdoor cooking, the Cuisinart CGG-240 Roll-Away Grill is a smart choice. There is ample space for you to grill most foods, including pizza, burgers, seafood, fish, and more.
7. Solaire SOL-IR17BWR Portable Infrared Grill
The final contender on the listicle is Solaire SOL-IR17BWR, a portable grill that functions on infrared. The grill weighs 20-lbs with 140 square inches of grilling space that grills all kinds of food over the flavor-enhancing V-grate.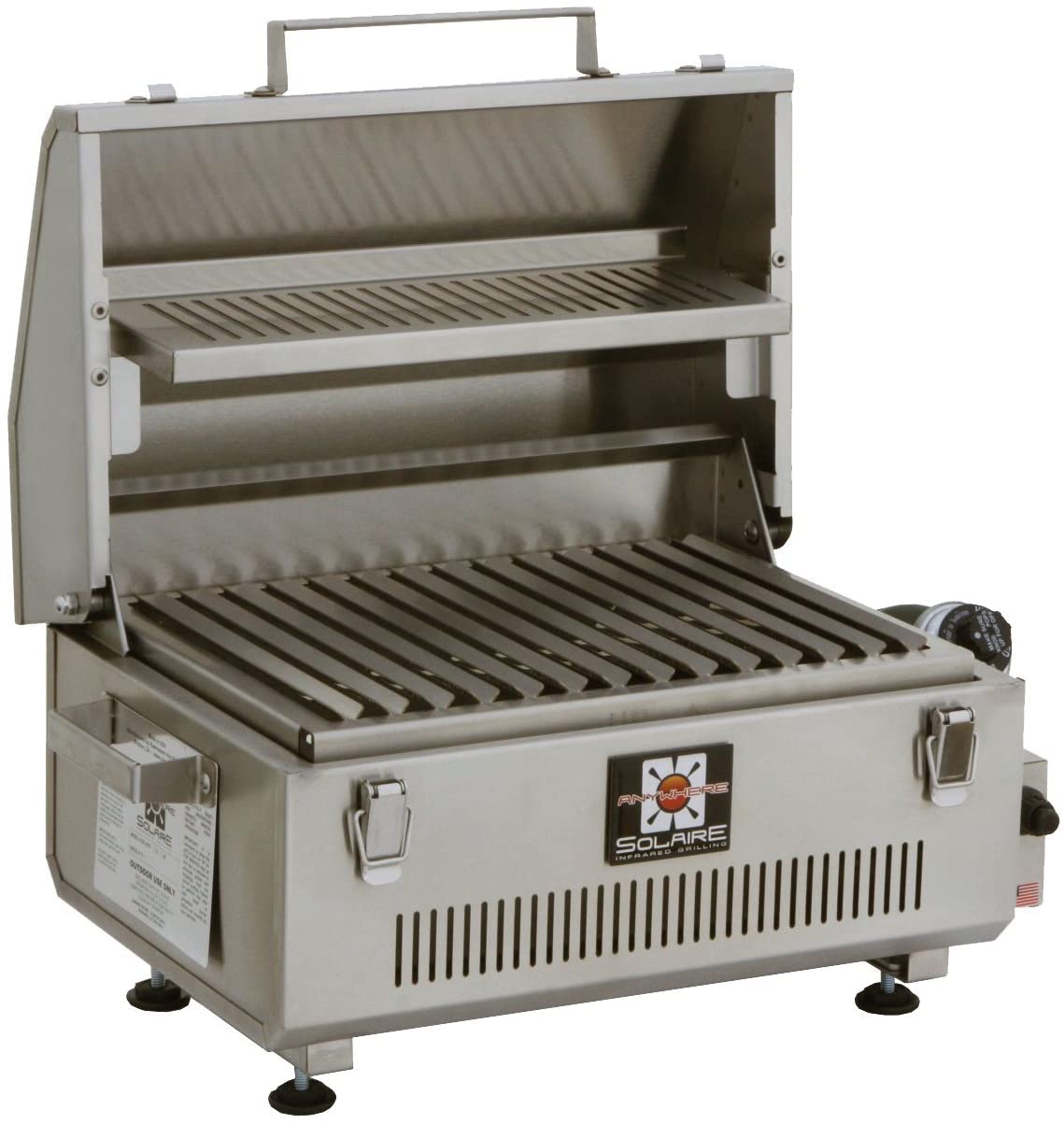 The rapid spark ignition quickly heats your food — works in few minutes. This grill does exceptionally well in distributing heat, courtesy of the powerful infrared burners.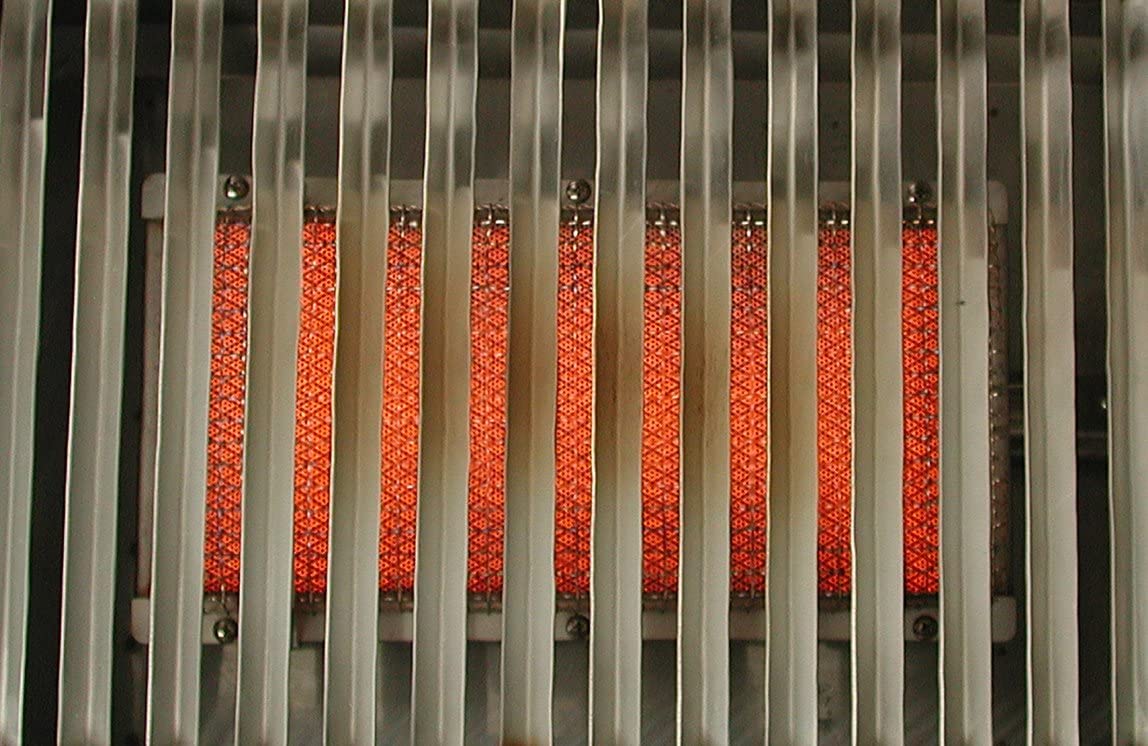 This grill is supplied with handy accessories — a portable stand to keep the unit still, a low-pressure propane kit, and a grip scraper for effortless cleaning.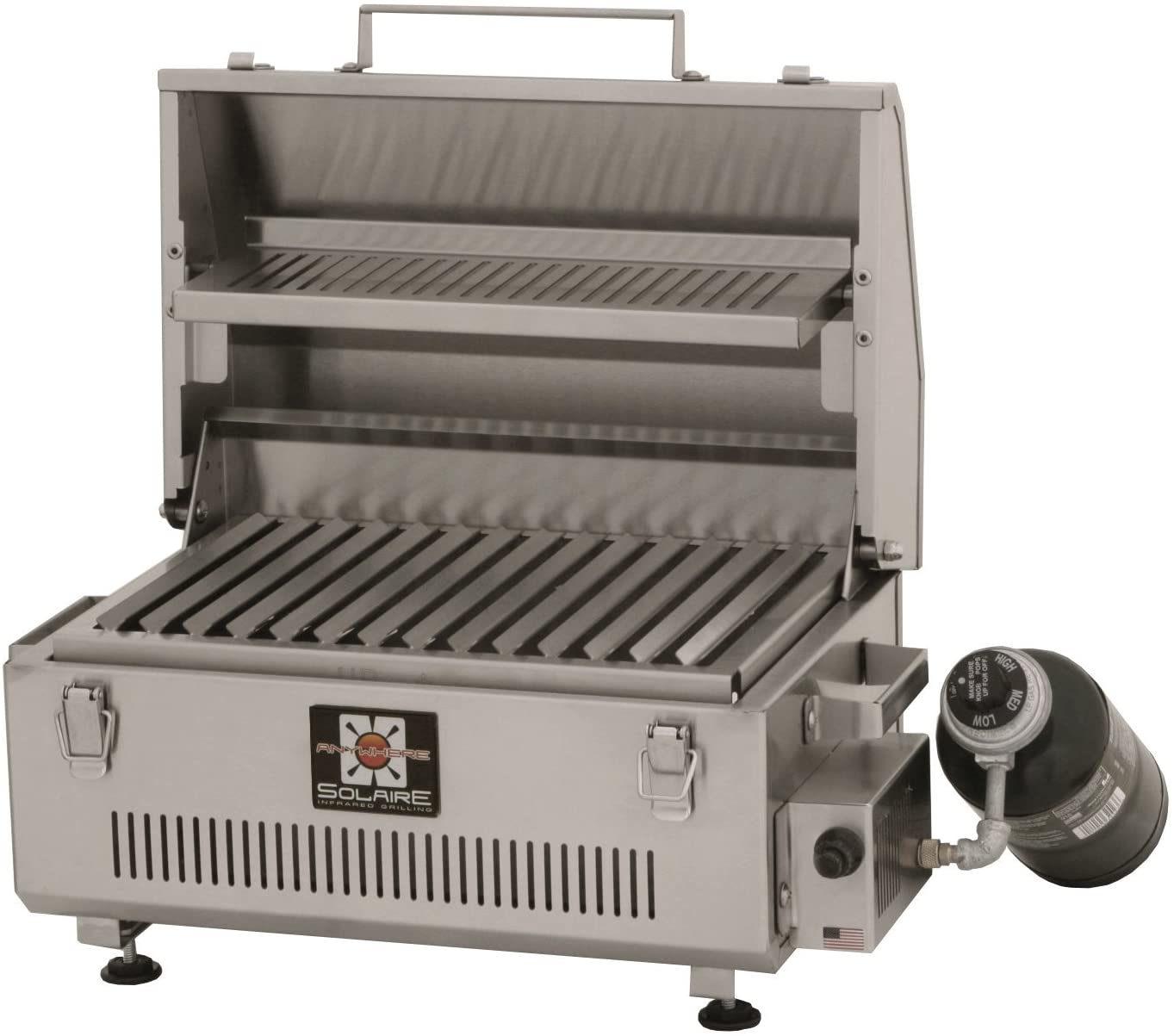 A one-year warranty from the manufacturer backs the SOL-IR17BWR. Nevertheless, the quality construction and materials used could make this grill last longer than its due date.
Also Read: Best Smokers Under $200 – Pocket-Friendly Option
---
CONCLUSION
Choosing one that fits into your car's trunk and your requirements is not the easiest of jobs. Considering portability and effectiveness, we recommend two quality models — the Coleman RoadTrip 285 Stand-Up Propane Grill and the Weber Q1000 Portable Grill.
Again, it all depends on what you want from a grill — compactness or touch of smokiness to your meal or anything else. The market has a piece for all your requirements.
---
FAQs
How do I perfect the art of tailgate?
There is no hard-and-fast rule when tailgating. Nevertheless, there are a few things to consider to ensure you give your guests a delectable feast. Follow the steps below:
Bring meat that can be grilled quickly.
Keep away from using lighter fluid.
Besides the aforementioned steps, ensure that you are well ahead of your guests arriving at the party—place trash cans in a place that is visible to all. Don't expedite any process — it may result in a dramatic turn of events.
Do large grills qualify for tailgating?
Large grills may not be the preferred choice when hosting tailgate parties. Carrying large grills is a challenging process. And if you are the only person hosting, things could get way out of control as the set-up is more than a single person's job. Since small grills conveniently fit into the trunk of a car, using them at tailgate parties is much easier and more comfortable.