Pocket-friendly equipment that serves your favorite food is a blessing. Smoking is a fun-filled activity that promises a lively session with family and friends.
A plethora of brands with high hopes to help you smoke your food leave you in a dilemma. To cut this clutter, here is the comprehensive article to end all the miseries and help pick the best.
We bring you a list of the best smokers that have very much to offer, a cost that is well under $200. Before you hover straight to the ranking, here is a guide on the things to consider before buying an inexpensive smoker.
---
Guide to Best Smokers Under $200
The market has much to offer under this budget-friendly price tag, but it becomes challenging to pick one with many options at our disposal. Following are a few points to consider when buying the best smoker under $200.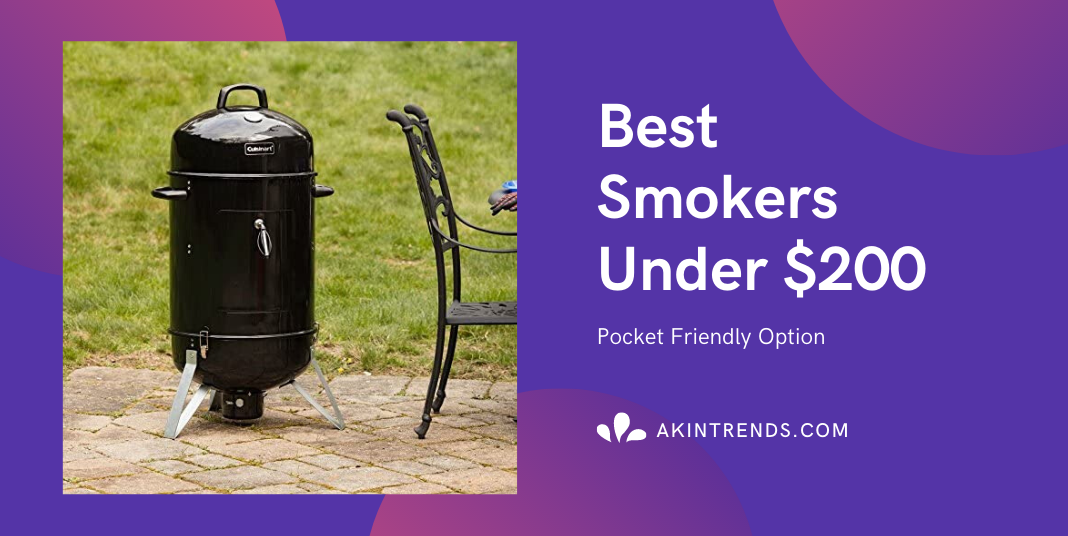 Smoking Space
The smoker you want to buy — depends mainly on the amount of space you want for smoking. There are smokers under $200 available to accommodate all kinds of sizes — from small gatherings to large parties.
Managing Temperature
One of the most crucial facets of a smoker is their ability to provide you with temperature control. Some models offer to change the temperature between 100 and 300-degrees Fahrenheit, while standard models come set at one temperature.
Modern-gen models allow you to insert a thermometer into the food — to control and adjust the temperature as your preference.
Miscellaneous
Or accessories; there are several options to consider before buying a budget-friendly smoker. A decent smoker must include: a thermometer, smoking racks, cooking grill, accessible trays, grates, and temperature control knobs.
---
Best Smokers Under $200
There are plenty of affordable options on the market — only the best have found a spot here. These are the eight best smokers available under the $200 price tag; pick one wisely.
1. Masterbuilt MB20071117 Digital Electric Smoker
First up on the chart is the Masterbuilt MB20071117 Electric Smoker. This is well-known as the professional's favorite smoker that makes smoking easy and quick. The controls and displays on this smoker are available in digital format. This smoker comes with four chrome-coated racks, which are easily removable and quick to clean.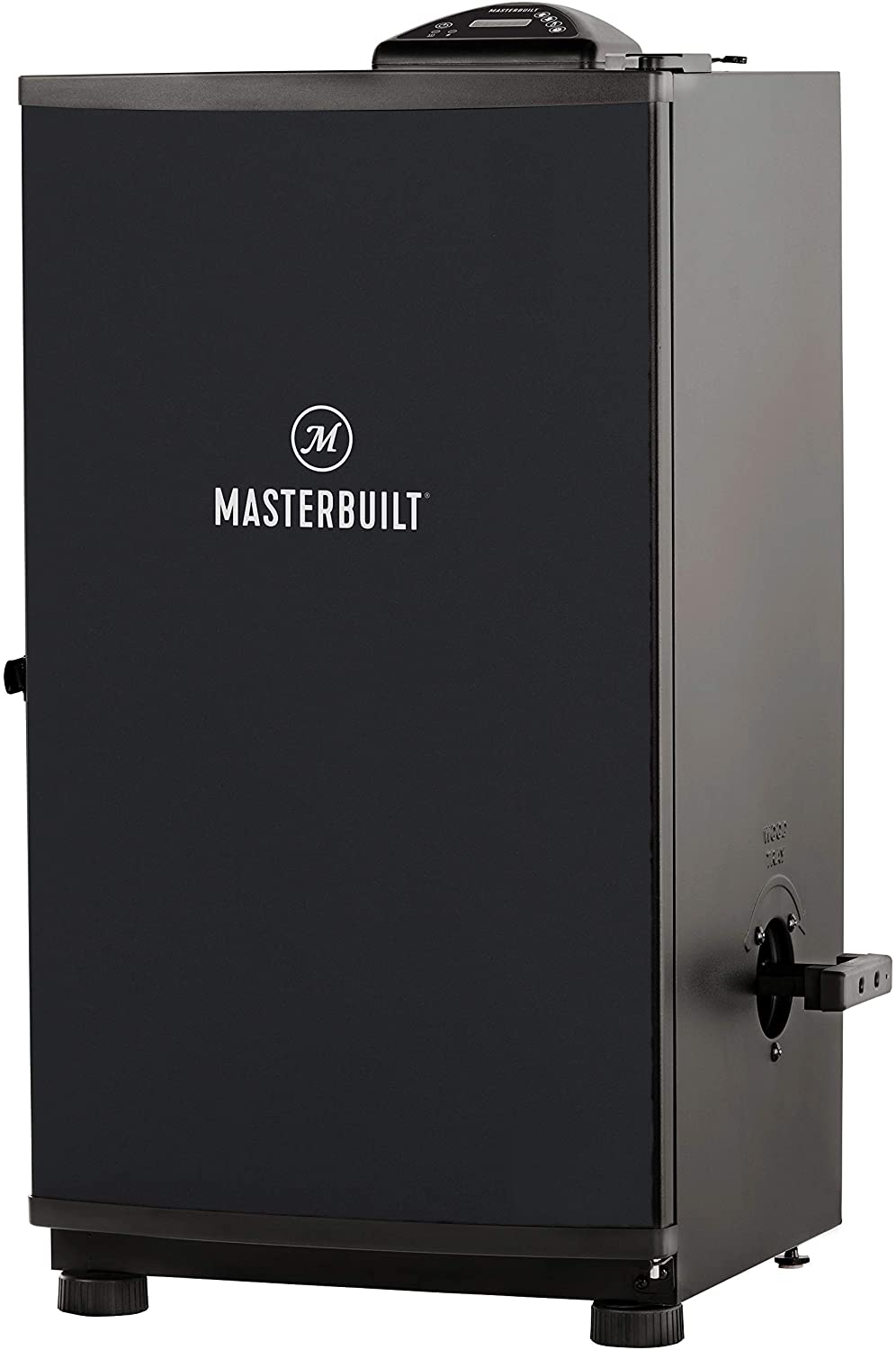 This electric smoker features a patented side wood chip loading system, providing the option of adding wood chips without opening the door. This small, compact smoker is convenient enough for a family of four. The price gives this an advantage over other smokers.
The Masterbuilt MB20071117 is something beginners love to start their journey with. If you are passionate about BBQing outdoors, then this is an excellent investment.
2. Smoke Hollow 26142E Electric Smoker
The Smoke Hollow 26142E is a high-quality electric smoker with adjustable temperature control, allowing the meat smoking process — less-tedious and straightforward. This smoker is powered by the 1500-watt heating element that brings flavor to the meat.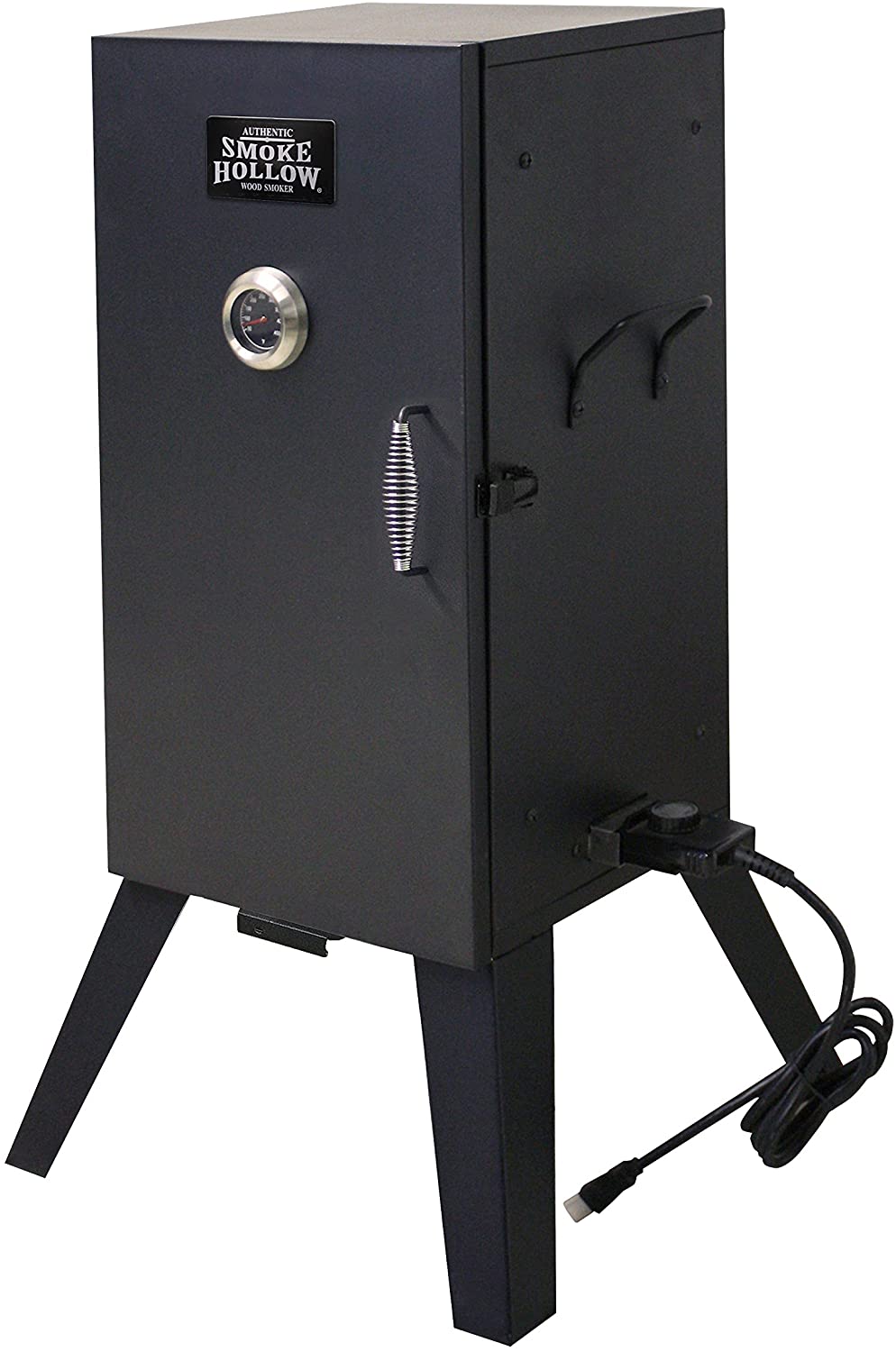 Furthermore, this smoke piece allows you to set the temperature from anywhere between 175 to 325- degrees Fahrenheit. As far as the smoker's design goes, the interiors are composed of heat-resistant materials to enhance the product's durability. Also, the porcelain-coated chip tray and water pan are effortless to clean.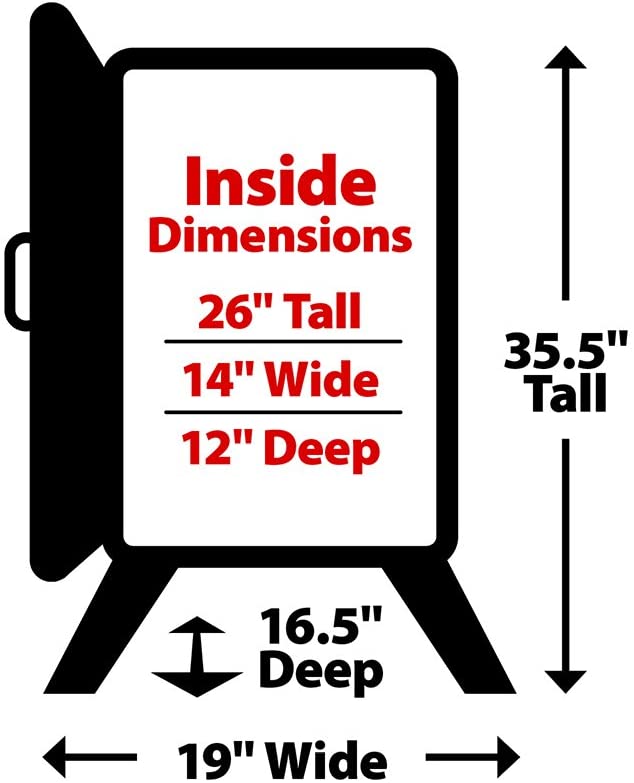 This smoker boasts two 1.3 cubic feet chrome-plated smoking racks, which assist in smoking multiple foods at once. The Smoke Hollow 26142E is another promising piece of equipment that will come in handy in the long run.
3. Cuisinart COS-330 Smoker
Third on the best smokers under the $200 list is Cuisinart's, COS-330 Smoker. This smoker comes with large 548 square inches of cooking space, making room to cook different meats and vegetables. There is the in-built thermometer that is nifty in tracking the temperature of the smoker.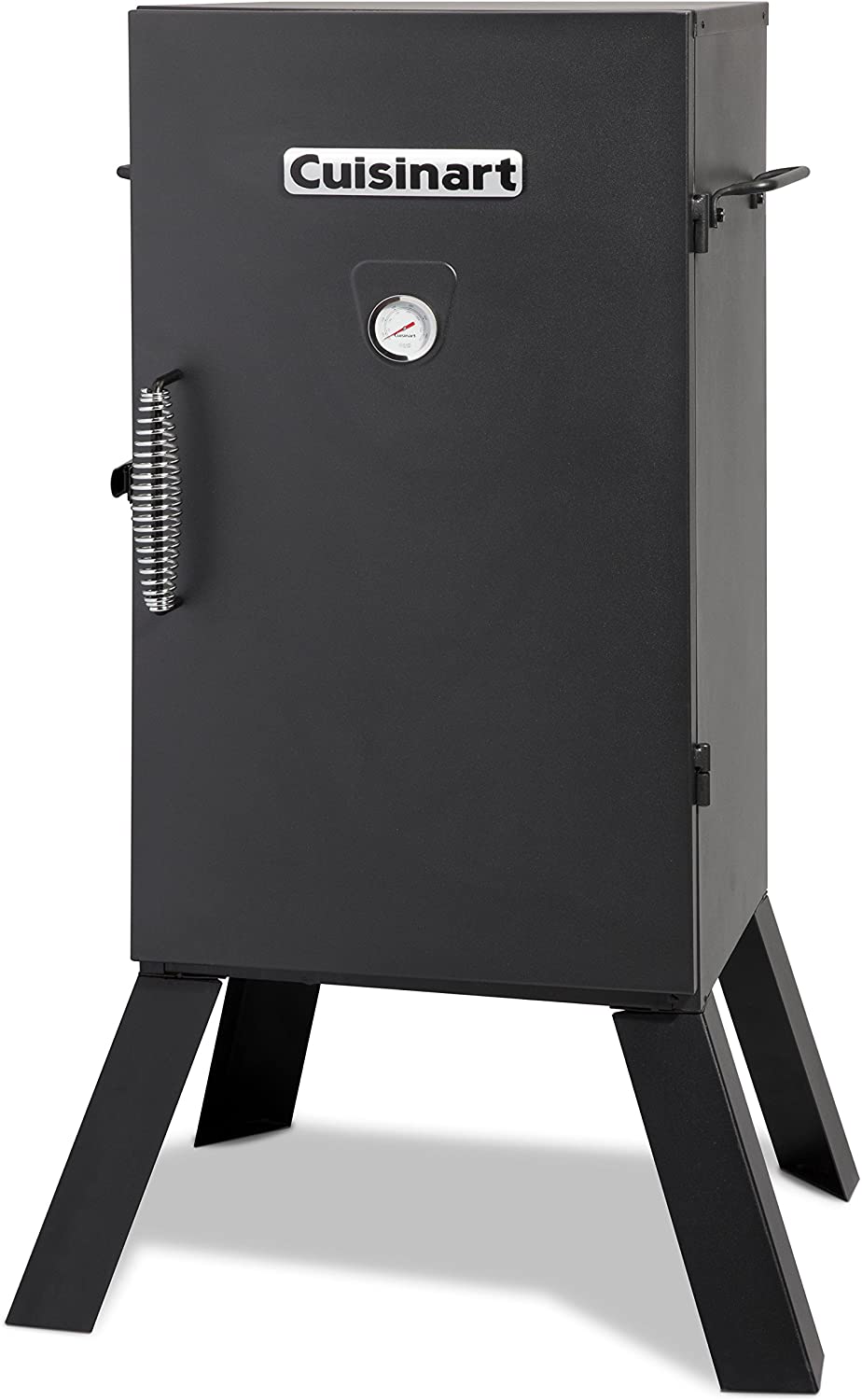 The smoker is excellent in portability, courtesy of side handles and the lightweight frame. This unit comes with a 1500-watt heating element, allowing you to set the from 100 to 400-degrees Fahrenheit using the dial. This smoker comes with three removable stainless steel racks, which can be used in cutting large chunks of meat.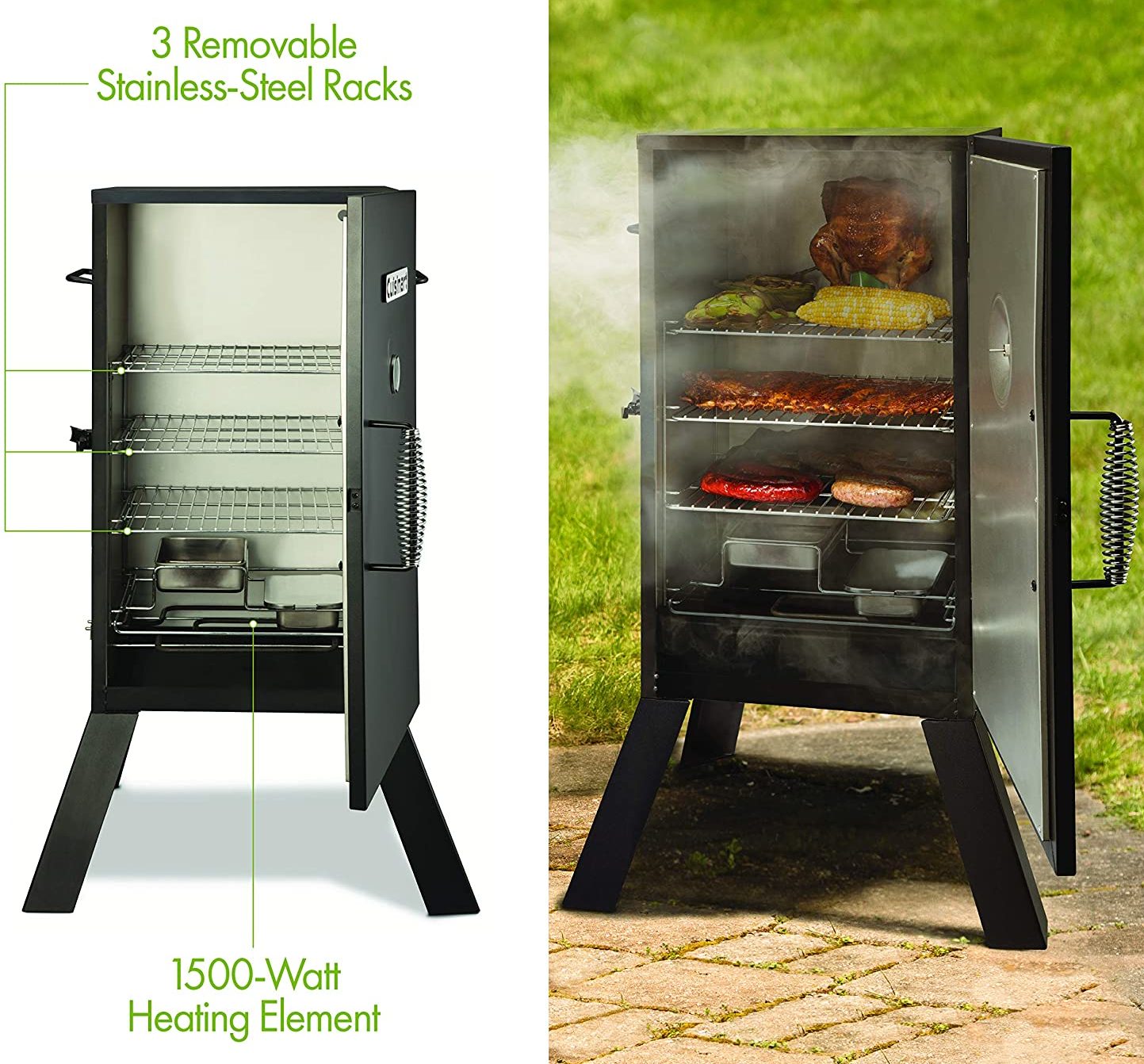 The Cuisinart COS-330 Smoker features steel trays to hold wood chips and water, making it easy to clean posting using. Moreover, this smoker comes with a three-year limited warranty backed by the manufacturer.
Also Read: Best Smoker Thermometers Review: For the Perfect Temperature
4. Landmann USA Smoky Mountain Electric Smoker
The Landmann USA Smoky Mountain Electric Smoker is a piece of budget-friendly feature-rich equipment to help you cook the most mouth-watering meats and vegetables. With 443 square inches of cooking space, there is enough room to cook multiple foods for a house party. For portability, this smoker features iron handles on both sides.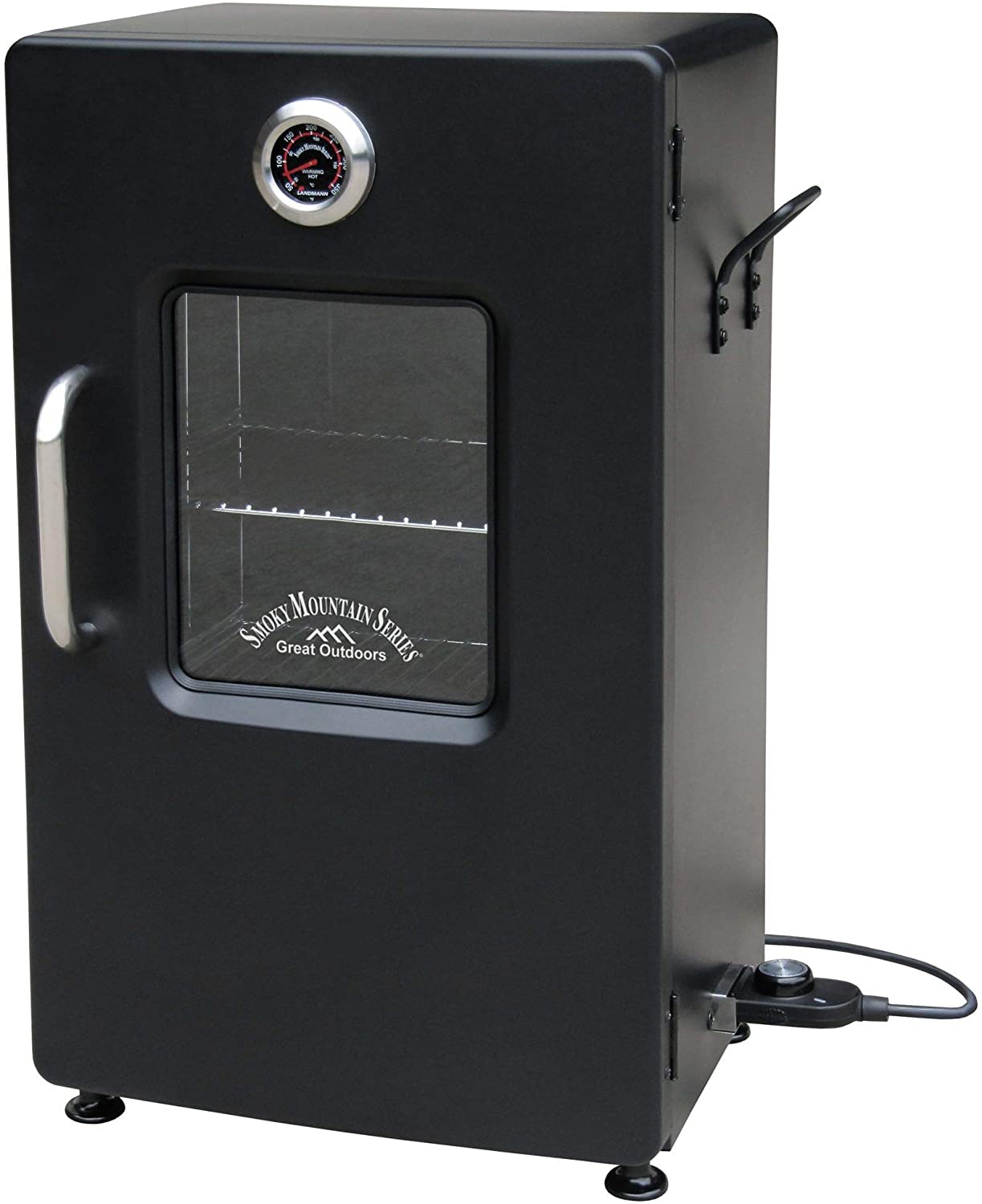 This smoker has an external temperature controller, allowing seamless maintaining of temperature per your preference. The temperature can be set anywhere from 100 to 260-degrees Fahrenheit. Not the largest of temperature ranges, but it may be sufficient for small recipes.
Landmann's electric smoker comes with a multipurpose tray that accommodates a wood chip box and water pan. Also, there is the grease-catching tray for easy cleanup.
5. Smokehouse Little Chief Load Smoker
Affordable yet easy-to-use, the Smokehouse Little Chief Load Smoker features four burners that can easily smoke up to 25 pounds of meat. This smoker boasts easy-slide chrome-plated grills, which is suitable for rookie smoker chefs. Engrossed in aluminum, the unit is light and easily portable.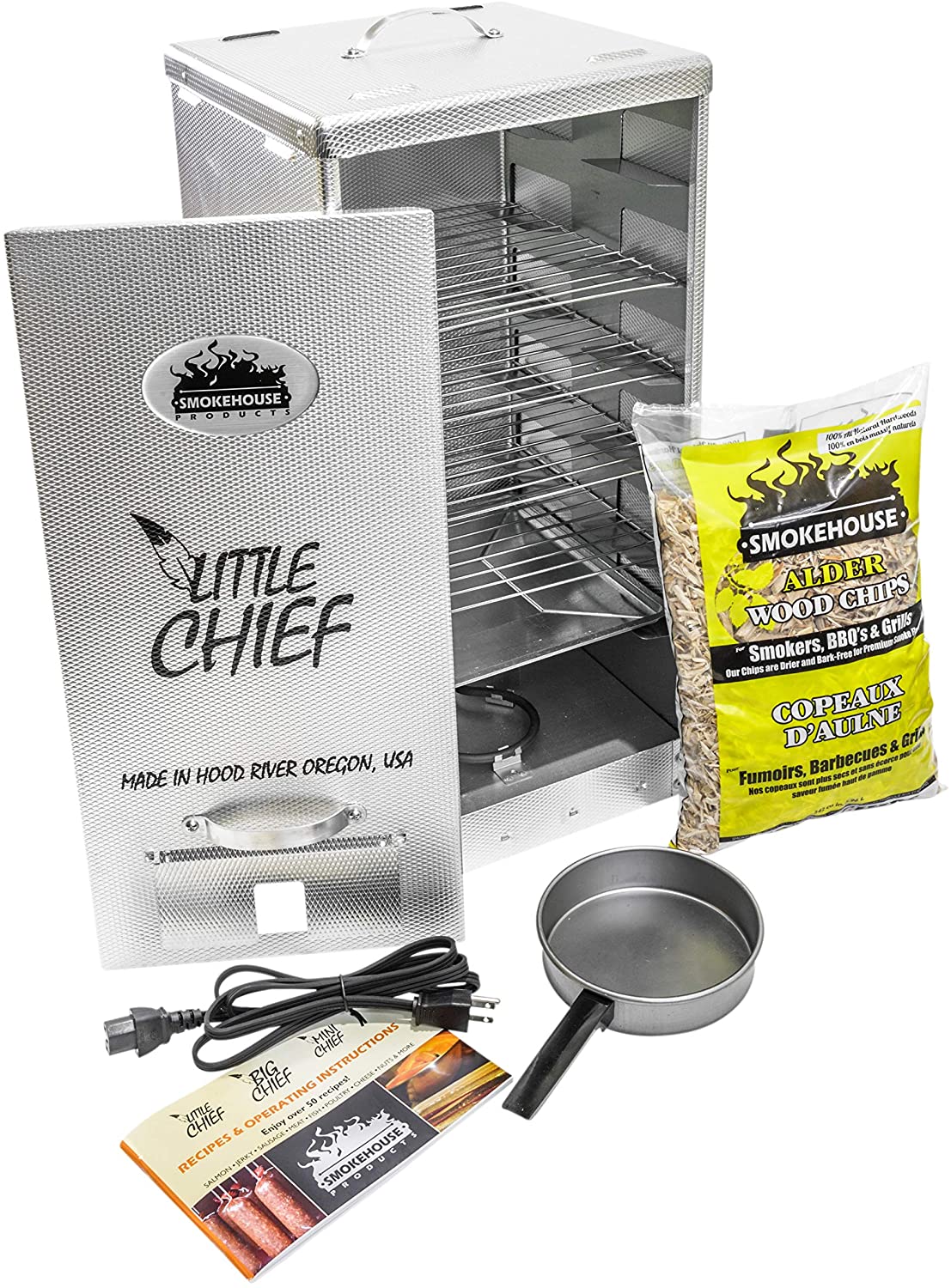 The smoker is supplied with alder chips, which are commonly used in adding aroma and flavors to the meat. This unit features a 250-watt heating element that comfortably smokes fish, beef, pork, etc. This smoker can be operated at a single heat setting of up to 165-degrees Fahrenheit.
The Smokehouse Little Chief Load Smoker is a great piece of smoking equipment without bells and whistles. This smoker is highly affordable and available in two variants — front load and top load.
6. Masterbuilt MB20070210 Analog Electric Smoker
Masterbuilt has enthralled professional smokers over the years — the brand's MB20070210 is a no-frills offering. This smoker is straightforward to use with the three chrome-coated shelves, allowing you to smoke up to three chickens, three racks of ribs, and two turkeys.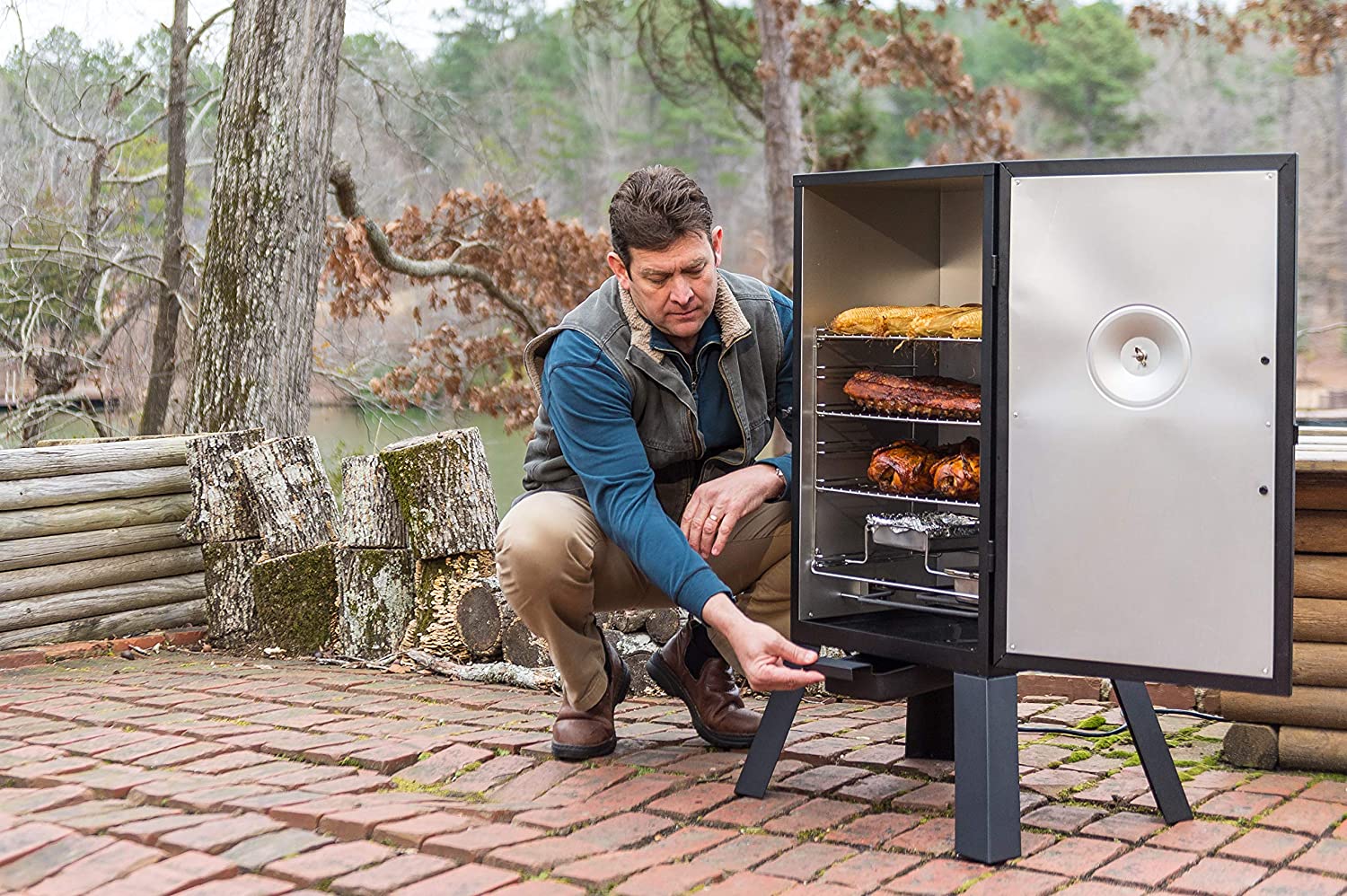 The smoker comes with dual wall insulation, assuring that heat and smoker are secure inside the unit. It is driven by a 1500-watt heating element that allows you to set temperatures from anywhere between 100 to 400-degrees Fahrenheit. The smoker has a temperature gauge built within the doors to help with the temperature reading.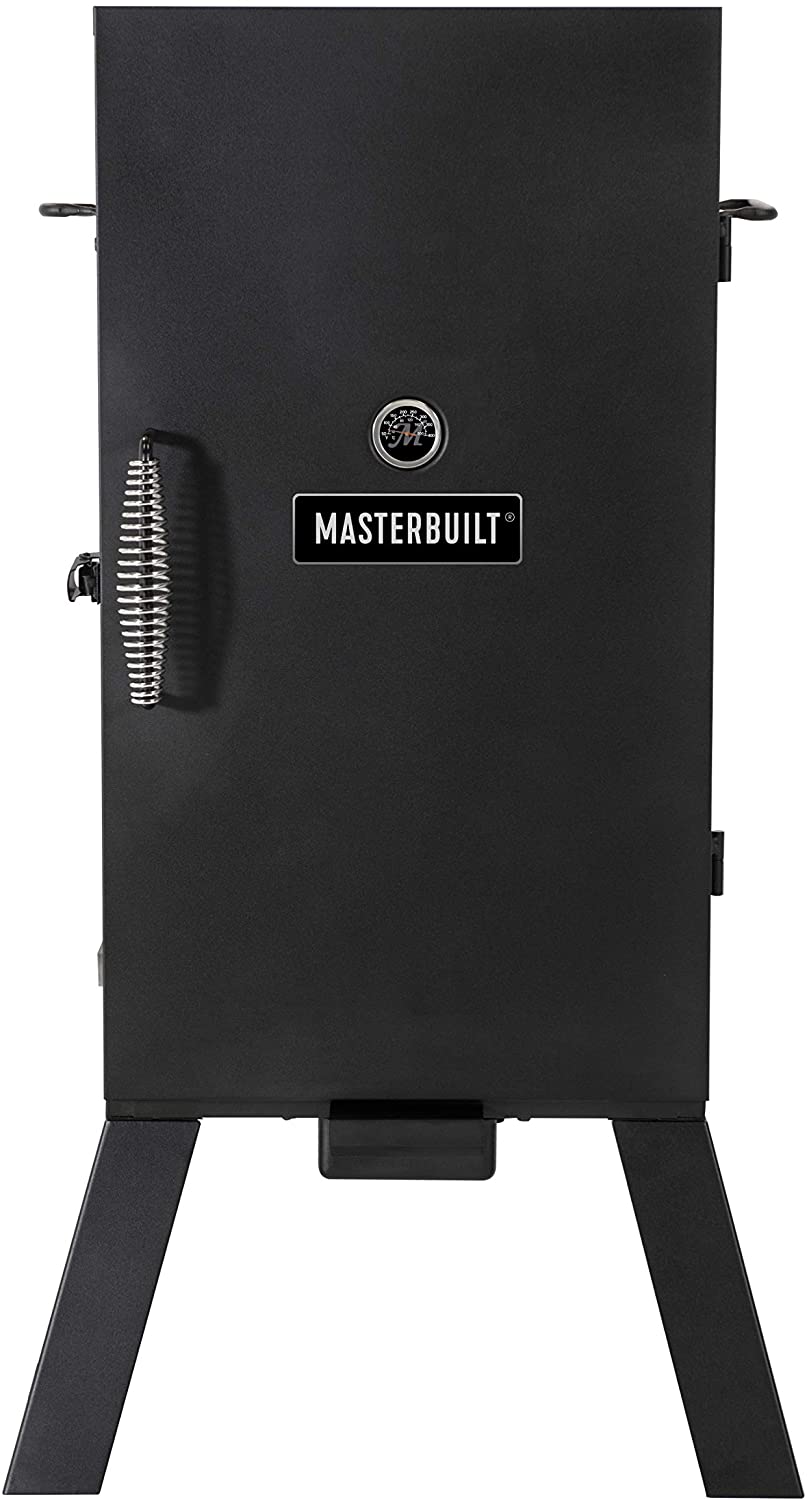 The Masterbuilt MB20070210 is an ideal smoker for hosting small parties. The user-friendliness of the smoker is top-class and a perfect tool for the first-timers.
7. Cuisinart COS-118 Vertical Charcoal Smoker
The Cuisinart COS-118 is our favorite charcoal smoker priced under $200. This smoker is efficient in smoking all kinds of meats and vegetables. The vertical charcoal smoker comes with two stainless steel racks, offering a large cooking area of 510 square inches. The space is exciting and brings the best of outdoor cooking.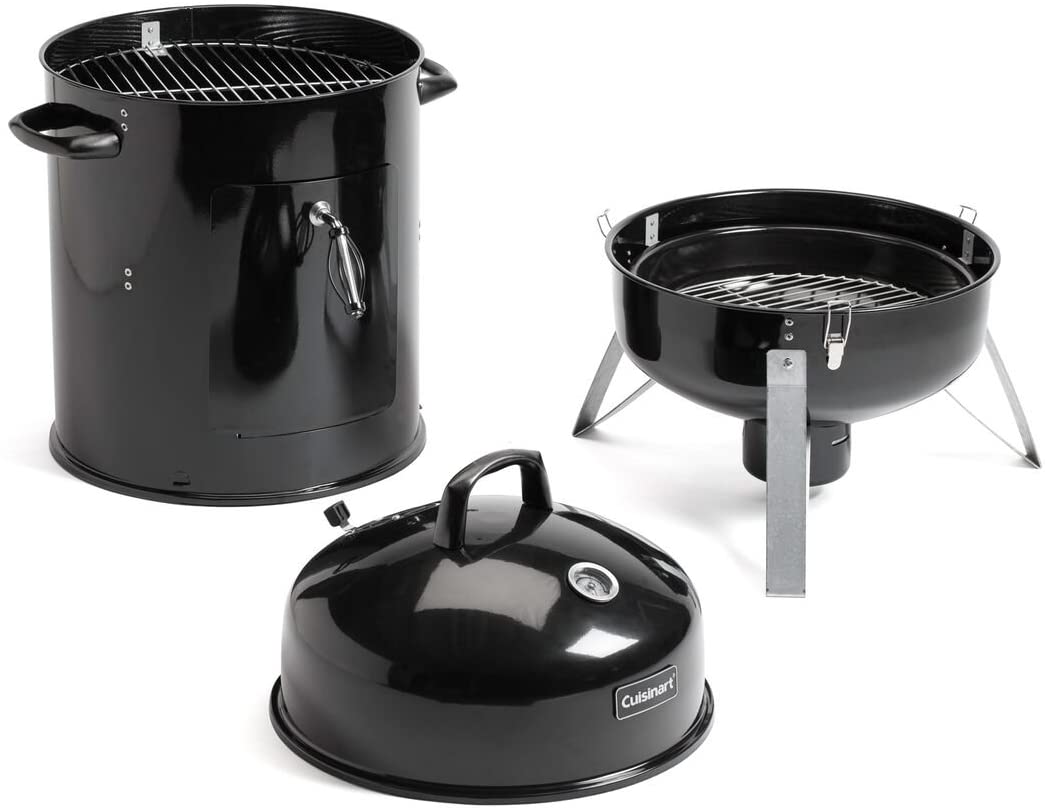 The COS-118 is supplied with two air vents, which can be opened and shut to control heat and smoke. The air vents are super comfortable in accessing the foods and effortless in cleaning and maintenance too. In addition, there is a seven-piece barbecue pit kit that features tools required to manage foods in the smoker.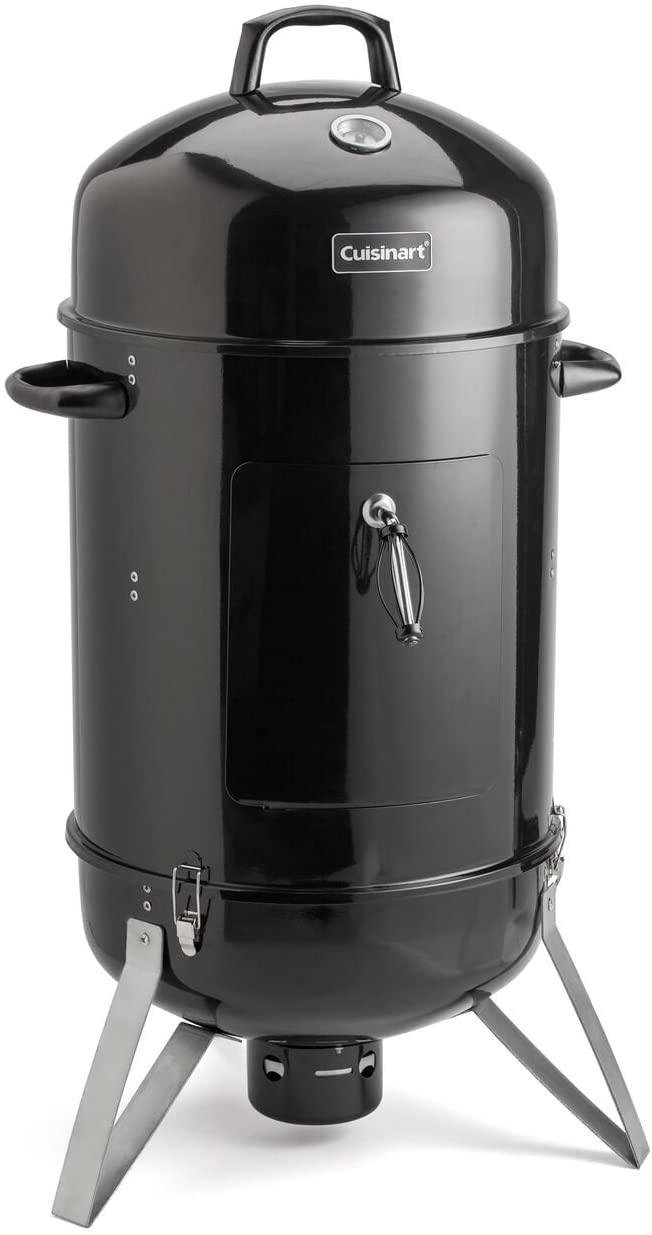 Sporting a vertical barrel design, the smoker conveniently distributes heat. All in all, the COS-118 is another feature-rich, affordable equipment that is an excellent buy at this price.
8. Char-Broil Analog Electric Smoker
Slightly over the $200 mark, the Char-Broil Analog Electric Smoker is a highly-rated contender on this list. The smoker features three chrome-plated cooking grates that are spacious enough to accommodate most of your favorite foods.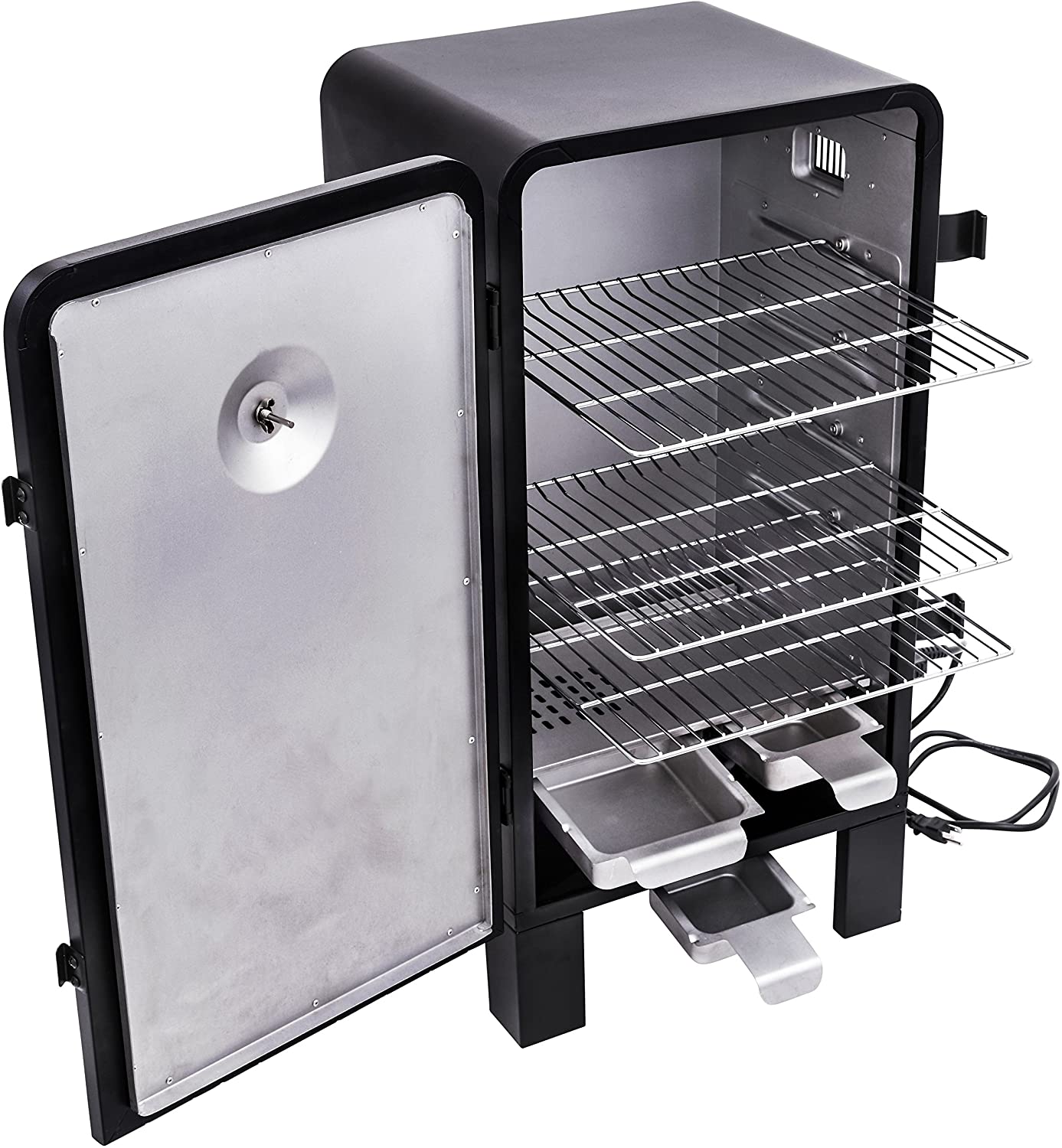 The smoker is embossed with double-wall insulated construction and dual exhaust ports, ensuring a smooth floor of smoke and air. The electric smoker has a few access trays — for water, wood chips, and a grease cup. There is an easy-to-read temperature gauge, which is helpful in many ways to beginners.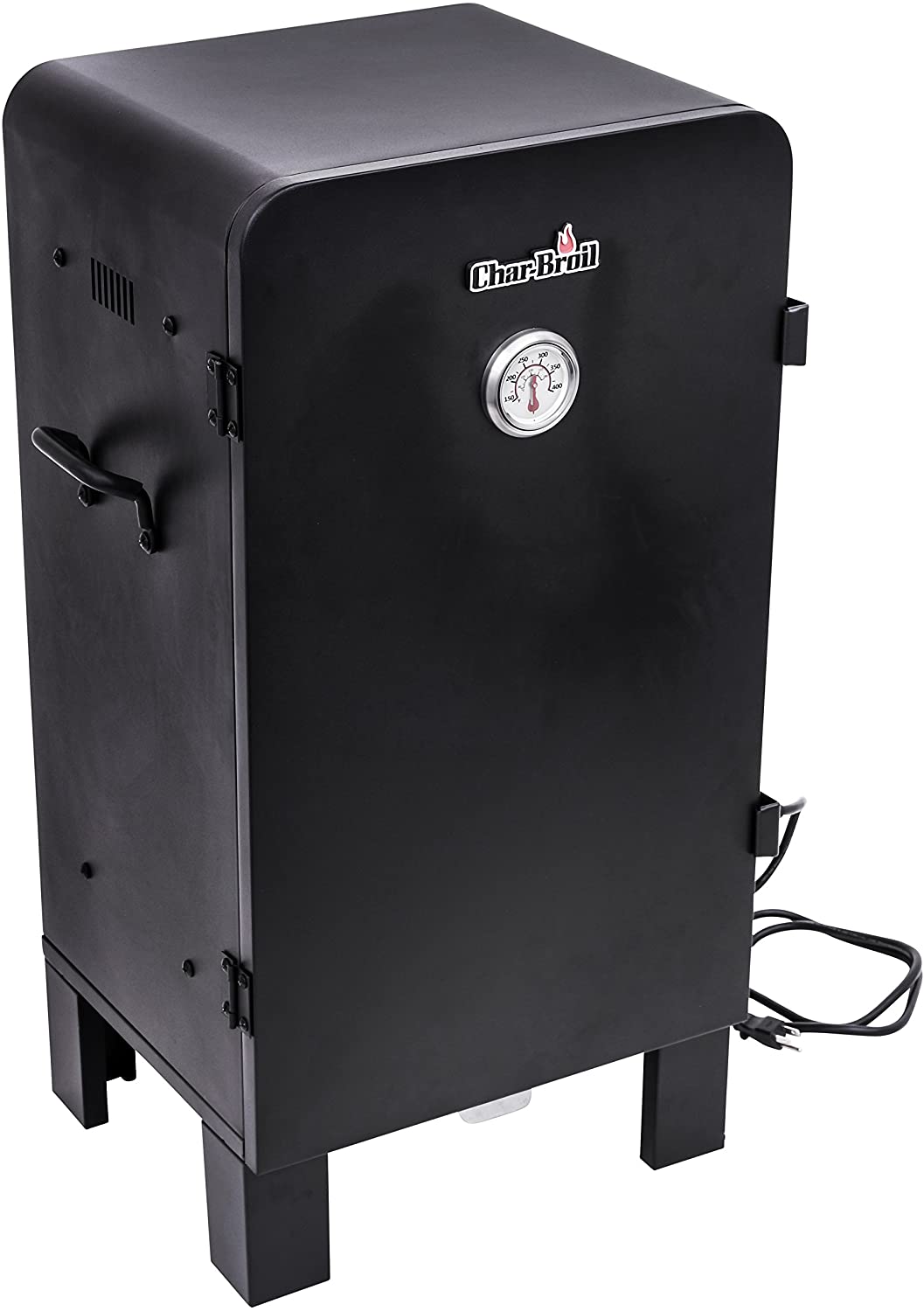 The Char-Broil Analog Electric Smoker comes with durable construction and a great cooking time. This is beginner-friendly equipment that requires the least effort in operating.
Also Read: Best Wood Chips For Barbecue Smoking
---
CONCLUSION
We name the Masterbuilt MB20071117 Digital Electric Smoker and the Cuisinart COS-330 Smoker as our favorites. The hands-on experience gave us a lot of smokiness flavor to our food. Hence, without much hesitation — we picked the aforementioned products.
Have your personal list that matches all the requirements of a 200$ smoker? Share it with us in the comment section.
---
FAQs for Best Smokers Under $200
When do I add wood chips?
The frequency of adding wood chips to the smoker depends heavily on the model. There are models with enough capacity to hold wood chips for a long time. On the other hand — a few models can only last for about an hour or so. Skim through the user reviews or description of that particular model you are interested in to know more.
What is the standard longevity of a smoker?
Numerous factors influence the longevity of a smoker. Generally, modern or technically advanced smokers last for about two years. Look to buy smokers with more years of warranty that are slightly priced higher than the cheap smokers that may fail the test of durability in a few years.
Can wood chips be added to a charcoal grill?
Yes, wood chips are imperative to adding that smokiness to your meat or veggies. In order to give your favorite food the smoky flavor, add wood chips and roast them in a wood chip smoker box or to an aluminum foil. Voila! There you have your food with a touch of smokiness added to it, courtesy of wood chips.