Watches are essential pieces of gear to wear every day. Wearing a watch presents a sophisticated personality — however, the kind of timepiece also matters. There is a multitude of options in the best men's watches under the $100 segment. If you've considered how much impact an inexpensive watch makes, then this guide has the right tips and products for you. 
To declutter your mind from unnecessary information, here is a small guide and list of the best available watches for men. The information shared here will help you pick the best piece that you can proudly wear around on your wrist.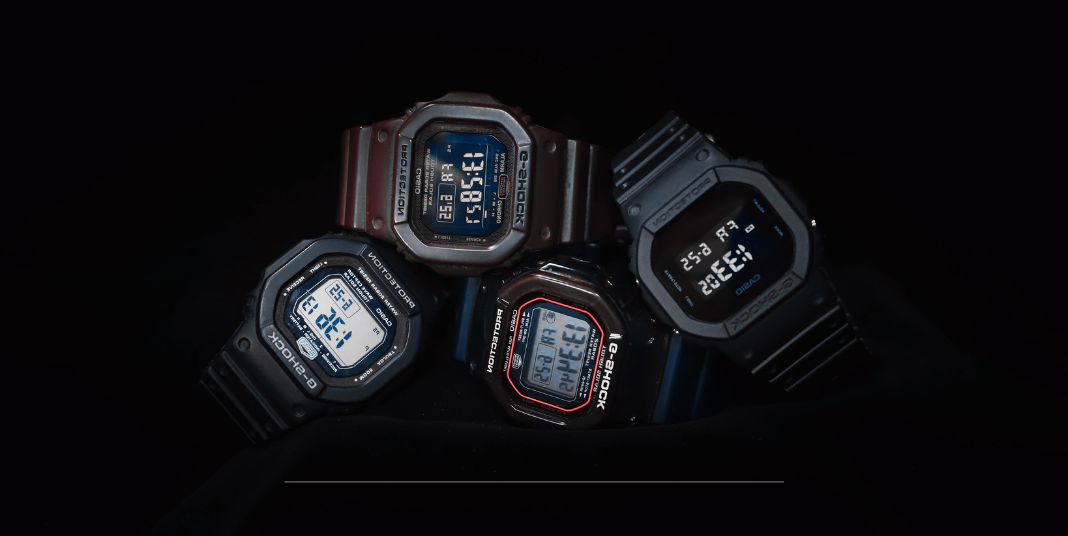 ---
Guide to Buying Inexpensive Men's Watch
There is a horde of men's watches under $100 that are as durable as the ones above the $250 mark. With our extensive research, we share with a buying guide and a list of the best men's watches under $100.
And to put it, $100 watches are not to be mistaken as "cheap" men's watches, because these aren't plastic-built and broken down easily. To shorten your time from surfing the web for a perfect watch under $100, here are a few things to consider.
Also Read: Ideal Gifts For The Fitness Freak In Your Life
---
Watch Movement
The movement of a watch is what keeps track of seconds, minutes, and hours. The movements are mainly the inner mechanism of a watch. There are three movements you may come across when buying a watch – Mechanical, Automatic, and Quartz. Consider the smoothest of all, like the quartz movement, which doesn't lag and durable than the other two movements.
Water Proof
Another vital factor to consider is the ability of a watch to withstand exposure to water. If you plan on purchasing a watch well below the $100 mark, there are plenty of watches that can do this job. Consider buying a watch that is water-resistant up to 50 meters, anything above this will keep your watch safe from a heavy downpour of rain.
Watch's Strap
Validate the strap of the watch, which should either be crafted of steel or leather. The quality of the band determines the durability of the watch. There is a multitude of straps that give comfort and a stylish look, irrespective of the outfit.
---
BEST MEN'S WATCHES UNDER $100
Now to the crux of the article — the best men's watches under 100 dollars. Bring home a classy yet elegant timepiece that you can tote on your wrist.
1. Citizen BM8180-03E
The Citizen BM8180-03E is a feature-rich watch that comes at a bargain price. Sporting a military-inspired design, this watch has your back when you are either at a party or hiking in the mountains.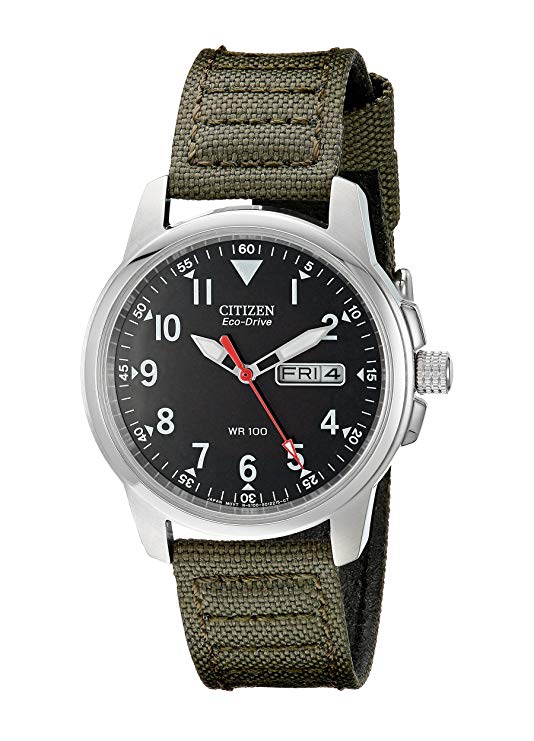 With a 37 mm stainless steel, the product's display has a black dial with day and date window. Powered by a Japanese-quartz movement, this watch recharges automatically in natural or indoor light.


Moreover, the watch is 300-feet water-resistant, which is ideal for snorkeling and swimming. Stocked with a high-quality luminescent material, the dial is visible even in pitch-darkness.
2. Timex Expedition Chronograph
Another inexpensive watch on this list is the Expedition Chronograph from Timex. Coupled with a black and brass cases, this watch is a handy companion when you are out in the woods.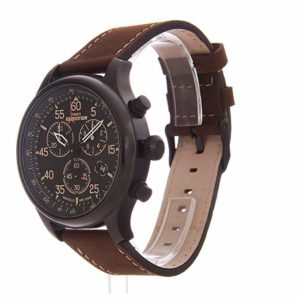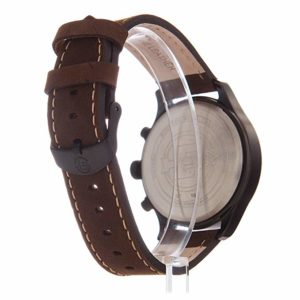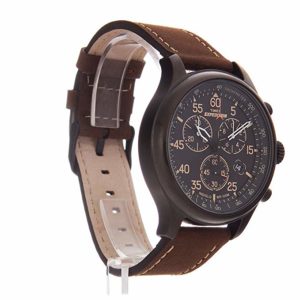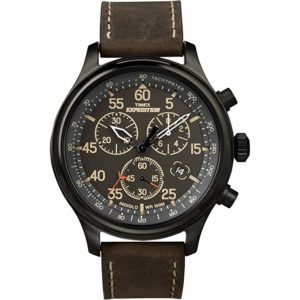 Sturdy and ergonomically designed, the Expedition bears a resemblance to vintage military watches. Featuring three sub-dials, the watch displays you minutes, seconds, and 1/20th seconds for up to 30 minutes. Available in a range of colors, this watch features an Indigo dial that allows checking the time while you slump against the cushions. Also, this watch is suitable for swimming and snorkeling.
3. Invicta 8926OB Pro Diver
Fond of stylish and stainless steel men's watches? Then Invicta 8926OB Pro Diver is worth every penny you spend. Featuring a stainless steel bracelet, the watch's bezel is unidirectional with a fold-over clasp and safety closure.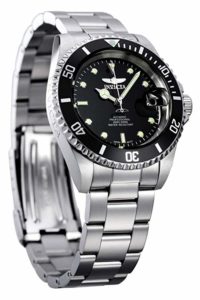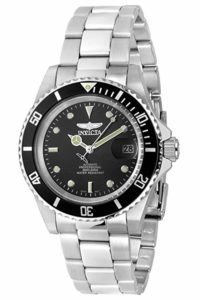 The watch is powered by the Japanese Quartz technology, which allows the watch to charge automatically. Boasting of a mineral dial window, Pro Driver offers you extra visibility in the darkest of places.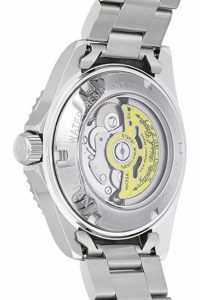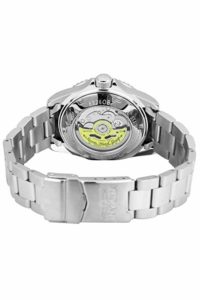 The Invicta Pro Diver is a widely-recognized for its durability and some grand designs with a touch of elegance.
4. Casio G-Shock Quartz Resin Sport Watch
Heavy-duty and sturdy looking, are few of the standard terms used to describe the Casio G-Shock. Arguably one of the most robust watches in the market, DW-9052-1CCG shields against all types of impact and vibration.

Fused with EL's back-light, this watch displays time in gloomy and dark situations. With 20-bar water resistance, the watch also works well even while taking a shower or dive in a pool.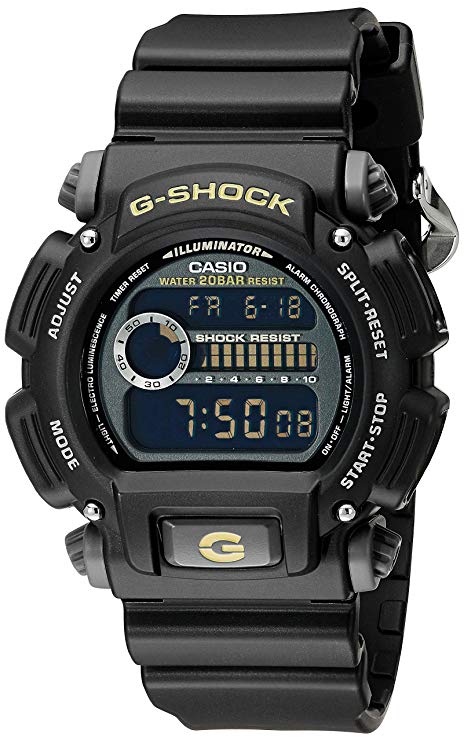 Available in four pairs of different colors, Casio G-Shock is super durable, and the best digital watch you could buy for under $100.
5. Fossil Men's The Minimalist – FS5304
With the minimalistic yet straightforward appeal, Fossil's Minimalist creates an impression that lasts long when you are at work or requesting a table for two. The watch sports a blue dial with gold-tone hands that impresses in the dark as well.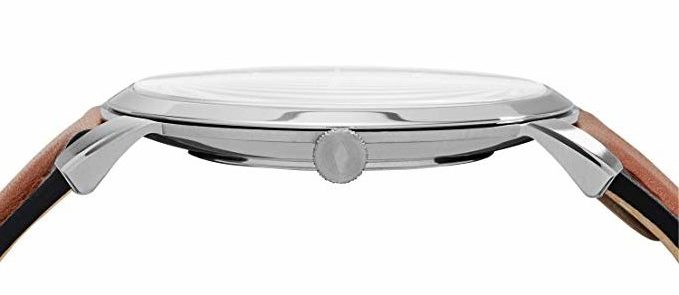 With 165-feet of water resistance, you can wear it during recreational swimming and showering. However, we don't recommend this. Also, the watch has a leather strap with adjustable buckle closure that fits in comfortably.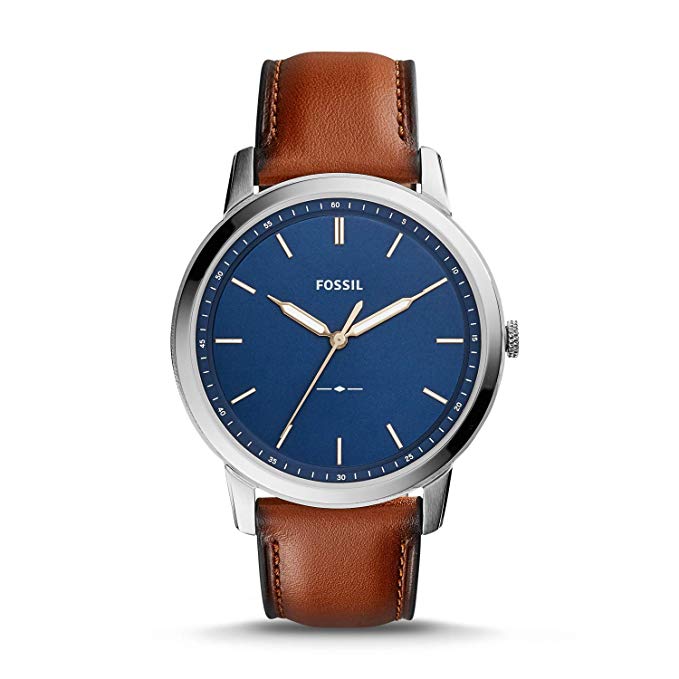 Endowed with analog quartz movement, this watch offers a classic display of time. This watch is quality and arrives with an appealing look that is a must-have for men.
6. Casio Edifice EF527D-1AV
Sporting a stainless steel case and bracelet, Edifice EF527D-1AV attracts fascinated onlookers towards your wrist with the bright steel band.

Featuring a black dial, this watch has a crown on the left side with a 1/20-second chronograph function and a date window. Besides, the band comprises of a fold-over push-button clasp to prevent the watch from falling down your wrists.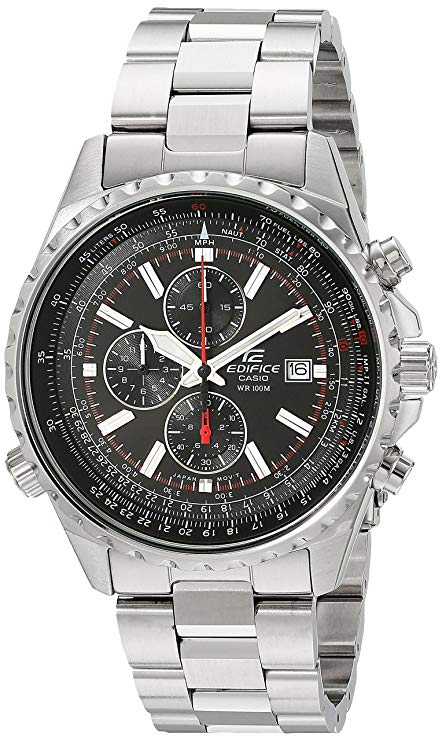 However, we would not recommend this watch as the ideal outdoor partner. Furthermore, this watch provides water resistance up to 330 feet, which seems to work well.
7. Tamlee Luxury Steel Analog Digital Watch
The cheapest of all the watches listed in this article, Tamlee Luxury Steel deserves a place in your watch deposit box. This watch boasts features such as a chronograph, tachometer, dual time, and LED display.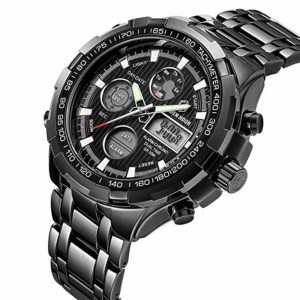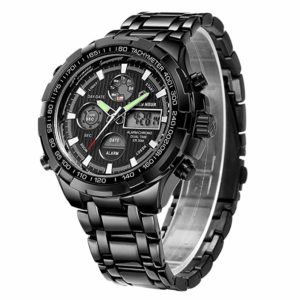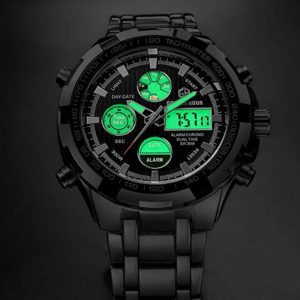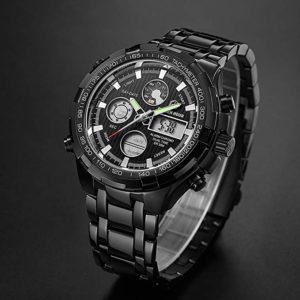 Tamlee is bulkier than other branded watches, which makes it the ideal gear to wear if you have large wrists. Albeit, the numbers on the dial are a bit too small. The watch is up for grabs in nine different colors, with each safeguarded by the mineral crystal scratch and water-resistant material.
8. Casio G-Shock – The GA 100-1A1 Military
Built to support every athlete, the Casio G-Shock – GA 100-1A1 Military Series is the partner to your sporty outfit. Besides, the watch is constructed precisely to resist mechanical shocks and vibrations.

Backed by a Triple ten concept, this watch has a ten-meter free-fall endurance that offers utmost safety support. What's more, the watch is also 10-bar water resistance and provides an impeccable battery life.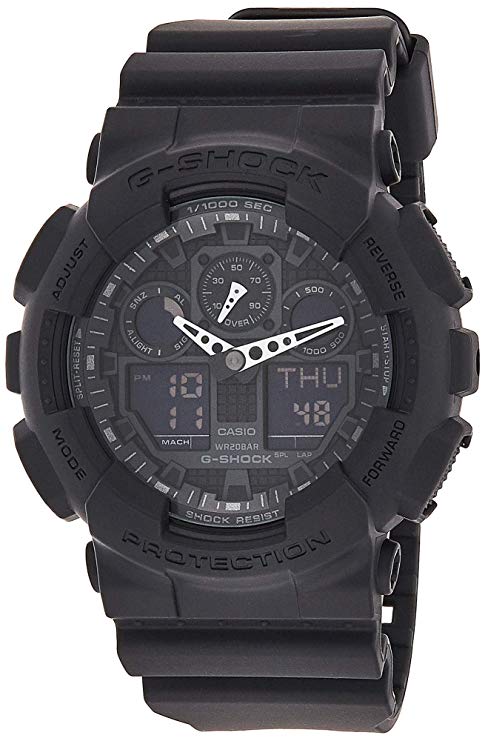 The watch is available in two variants – Black and Blue/Red. Also, the watch offers an option to change time zones based on location.
9. Seiko SNK809 Seiko 5 Automatic
Seiko's SNK809 is equipped with a solid construction, which ensures maximum durability. The watch has its glass toughened with Hardlex material, which is highly resistant to knocks and scratches.

Furnished with a matte finish coating, the watch is too good to wear for every occasion. Equipped with luminescent hands, the watch displays time with clearly visible hands in the dark.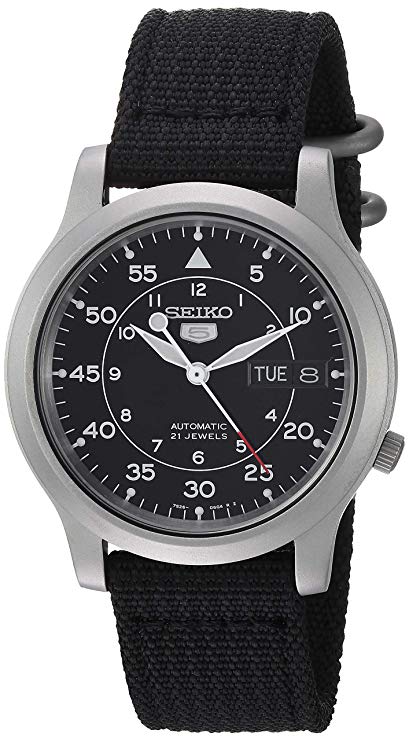 Powered by Seiko Caliber 7S26 automatic movement, the watch impresses with its non-hacking and non-winding mechanism.
10. Biden Chronograph Stainless Steel
Biden's Chronograph features a plain and classic large blue dial that delivers you time like no other watch. With the silicone watch band and stainless-steel alloy case, the watch never fades and is resistant against scratches.

The watch sports a standard design, which gives you more comfort while wearing it on several occasions. Moreover, this watch is waterproof up to 30-meters.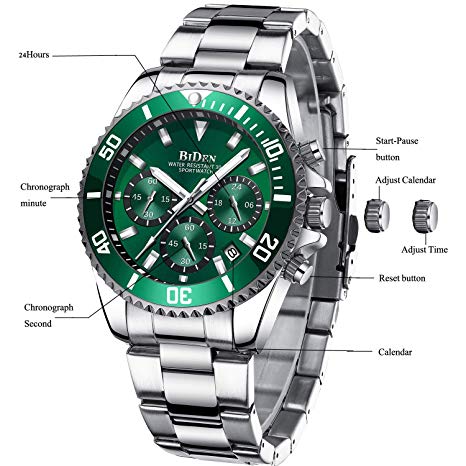 Available in several colors, this watch has been the most favored watch when gifting. Biden Chronograph is stocked with Japanese quartz movement and a high-quality battery.
Also Read: Prüvit Keto OS: A Product Review
---
THE BOTTOM LINE
With the factors and watches discussed in this article, we hope that you make a sound decision in choosing the right men's watches. All in all, buying a watch majorly depends on who is it for and the occasion they'll be wearing it in. Timex Expedition Chronograph is a real deal in oozing some style and class when worn, while the Invicta 8926OB Pro Diver has all the qualities of a 9 to 5 watch.
Hope the list could land you the watch you were looking for either yourself or friends. If there's a worthy watch we've not mentioned, write to us in the comments section, and we'll write back shortly.
---
FAQs
How to look after a watch?
A watch is a watch — be it a hundred dollar one or a thousand dollar premium-looking watch. Following are some tips to help you keep your watch up-to-date:
Have your watch clean regularly: A soft cloth and drops of soap water can be used to wipe off the dirt.
Store it neatly: The unexpected change in temperature does harm the quality of your watch. Consider storing your watch in a safe box to avoid contact with harmful elements.
Keep magnets far from reach: Standard watch types like quartz and mechanical require some sort of magnetic components to keep them running. Watches may lose or gain time, if in the vicinity of speakers or refrigerators. So avoid such spots.

What style of watch is recommended for different occasions?
Considering that you are buying an inexpensive watch, you might as well buy one for separate occasions. The market has no scarcity of watches, so pick one accordingly:
The leather strap watch is recommended for casual nights or dinners
A metal bracelet watch is more ideal for work
Chronograph watches come with quite a few features that come in handy during aviation and deep-sea diving adventures.