Perplexed with the choices you have at your disposal when buying a Japanese knife? Fret not, here is our guidepost on everything you wanted to know about this Japanese creation.
Japanese knives are built to achieve certain tasks — that are available in various styles and shapes to make cutting vegetables or meats a more straightforward job. The craftsmanship and attention to detail put into making these is something that is unparalleled.
---
Factors To Consider When Eyeing A Japanese Knife
Knives from Japan mean serious business. They come with the right blend of tough materials and an eye-catching design. Since the market is swapped with brands and various types of knives, choosing one that mimics your style of slicing, chopping becomes tedious.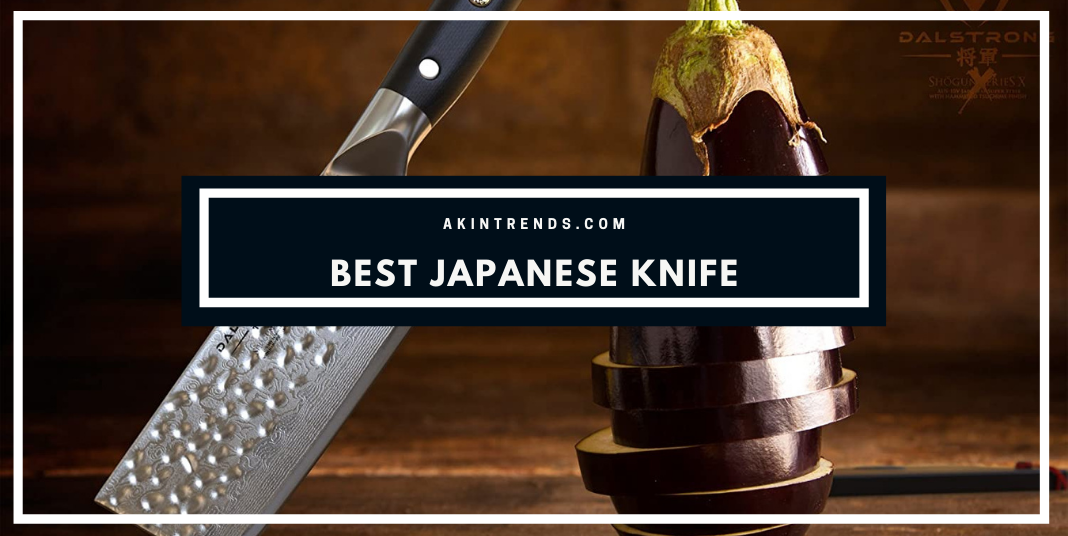 Let us walk you through some of the factors that will influence your purchase decision.
Design
The most impactful factor is the design of the knife. Japanese knives are available in two models — forged and stamped. Forged knives are heated and molded to a unique and elegant shape. These are heavy but long-lasting.
While the stamped knives are molded and shaped through a machine. Once the reshaping/molding process is complete, the blade becomes hard and rugged. The downside is that their sharpness wears off with time.
Steel
The steel used in forging the knife is another important factor to consider. Japanese knives have the toughness, sharpness that makes slicing easier. However, each style of knife is made using a different steel type.
The most common being Damascus steel, which has a carbon steel core beneath the soft and hard steel. Owing to the construction, the blade tends to last for a longer time.
Stainless steel is an entry-level choice forged to remain durable and rust-resistant. The drawback of having this is that sharpening may become a troublesome job.
Handle
The handle has to have that perfect balance of shape, design, and weight to give a smooth experience of slicing and chopping. The reviews online will help you find the right product, but we suggest holding them once before purchasing.
---
Best Japanese Knives
Japanese Knives are available in numbers — some variations in shape while some in design. Navigating markets and skimming through reviews, we bring you this list of the best Japanese Knives.
1. Global 8" Chef's Knife
Crafted by a famous industrial designer — Komin Yamada, Global Chef's Knife is meticulously designed with hints of local and modern appeal. The knife is carved from a single stainless steel piece, thus making the blade look thin and sleek.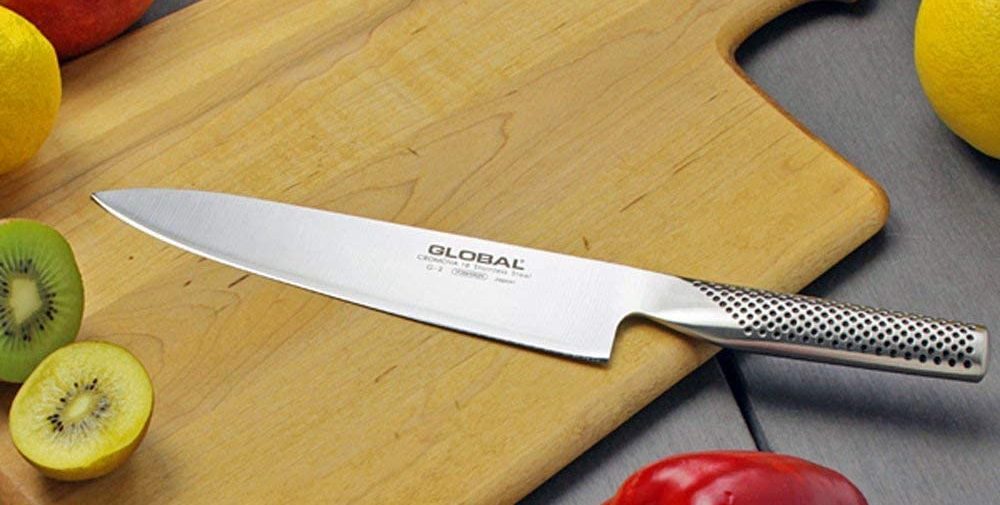 This chef's knife has a stainless-steel dimpled handle, which is designed for utmost comfort and safe grip. This piece is lightweight and has cutting-edge sharpness that reduces the chances of hand fatigue. Interestingly, this also comes infused with sand to keep the knife balanced.
Undeniably, this is the best knife we've come across that easily slices through different kinds of meats, vegetables, and other food items. This has garnered heaps of praises from home and professional chefs for state-of-the-art sharpness and grip quality.
2. Shun Cutlery Premier 8" Chef's Knife
Knives from Shun are preferred by chefs for their quality and top-notch design. The knife boasts an 8-inch blade that does all cutting, chopping, and slicing effortlessly. The blade is constructed from Damascus steel and has a hammered finish for a more appealing look.

The knife has a D-shaped PakkaWood handle, which enhances the sophisticated look and offers a comfortable grip. Moreover, the hammered tsuchime finish helps in releasing food easily for a smooth clean cut. The VG-MAX steel delivers maximum performance and makes the knife anti-corrosive.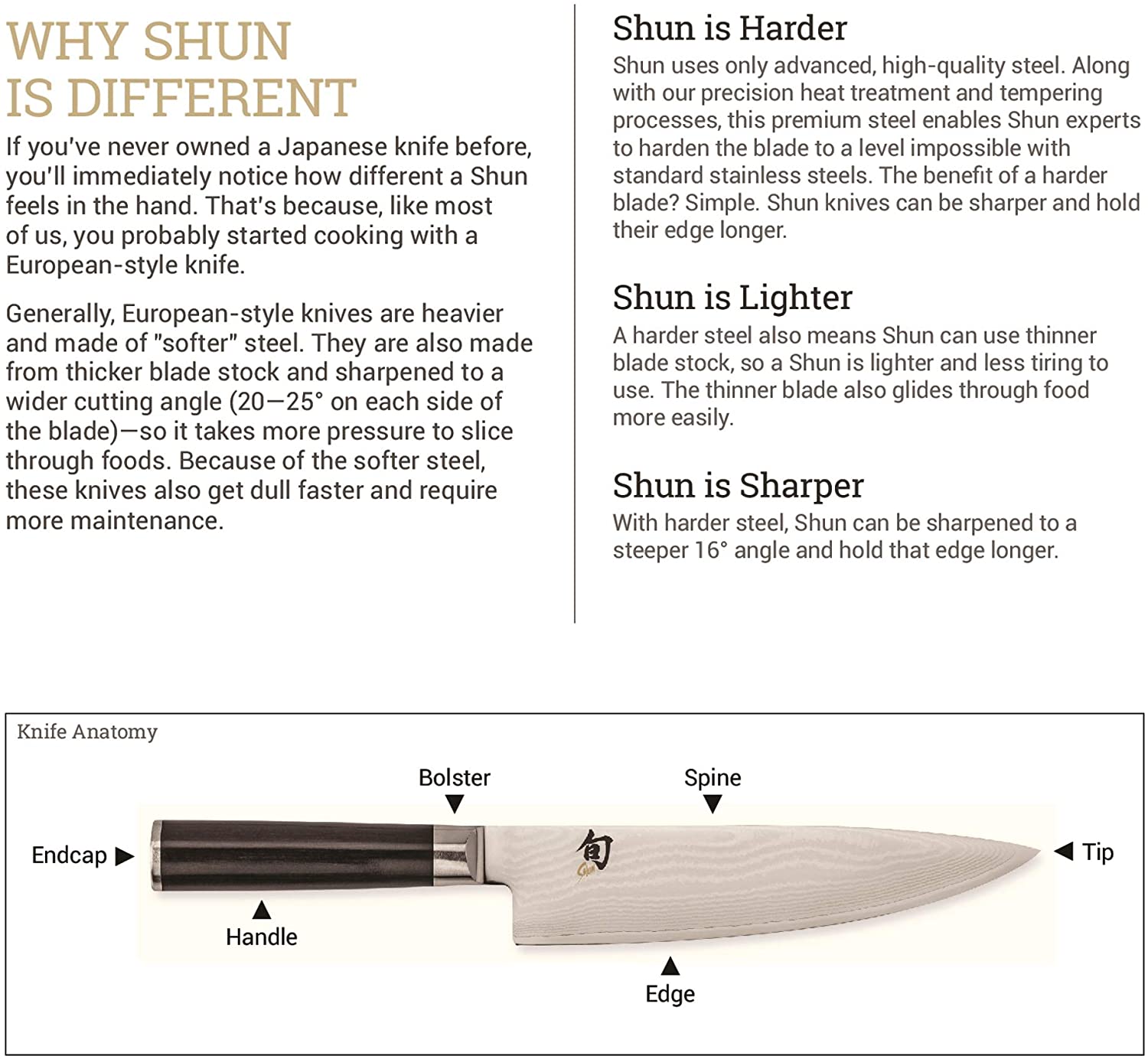 The Cutlery Premier 8" has comfortness oozing from all corners. The makers also offer a free lifetime sharpening at their warehouse.
3. Yoshihiro VG-10
The Yoshihiro VG-10 is popularly known in Japan as a nakiri knife and is widely-used when chopping vegetables. The knife is supplied with 16 layers of hammered outer Damascus steel that enhances durability and prevents food from clinging to the blade.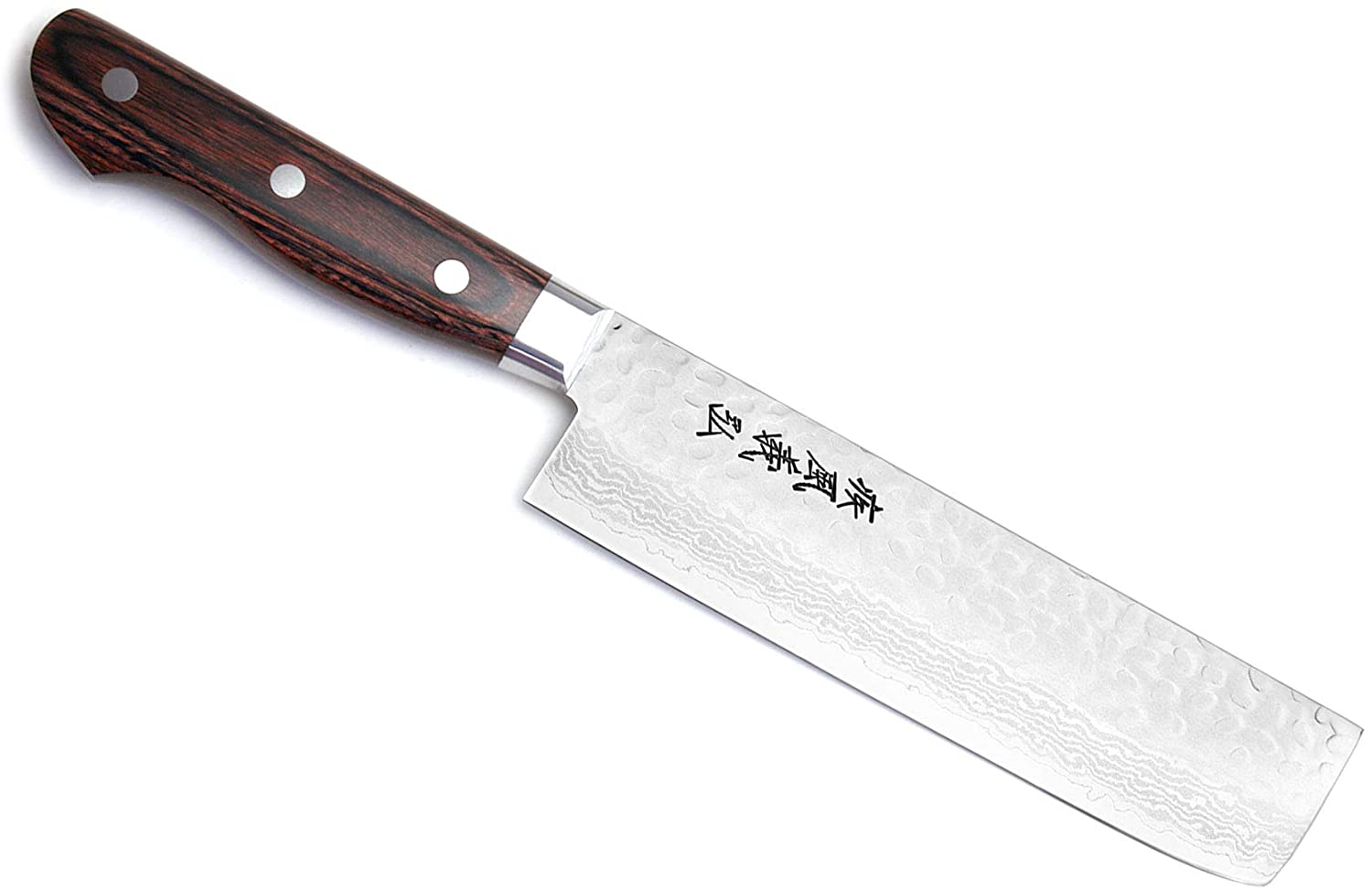 The knife sports a premium western-inspired Mahogany Wood handle that provides the right balance of security and comfort grip. The hammered texture of the blade does a nifty job in minimizing friction.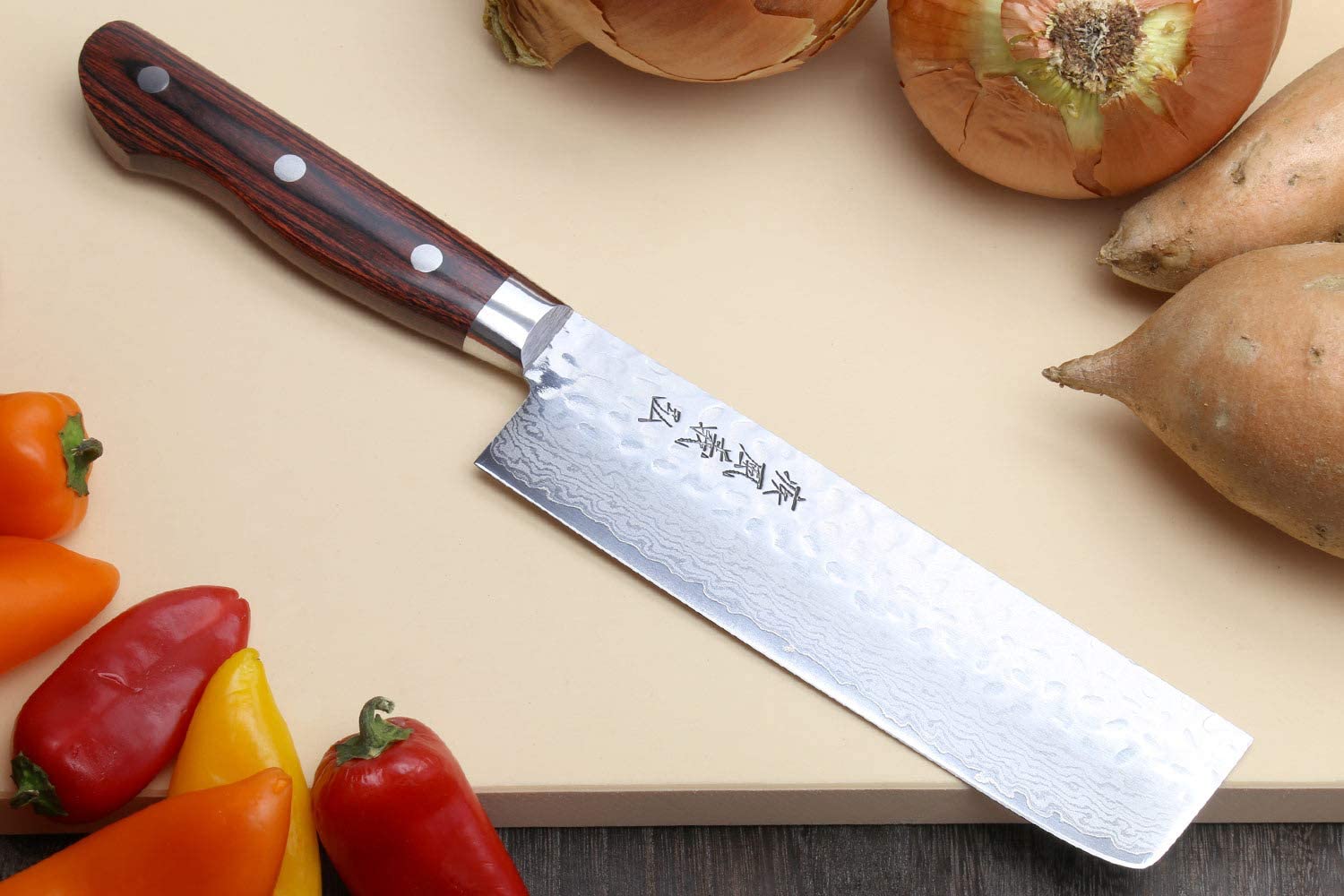 This Japan-forged knife is truly a work of art – rapid in slicing and smooth as a whistle. However, high carbon construction may lead to higher risks of rusting.
Also Read: Best BBQ Sauces: Perfect Taste Enhancers To Your BBQ Feast
4. DALSTRONG Nakiri Vegetable Knife
Featuring fourth is the award-winning and yet another nakiri knife — the Dalstrong Vegetable Knife. Boasting of an extra-narrow blade, this knife makes chopping and slathering pieces into the pan an effortless job.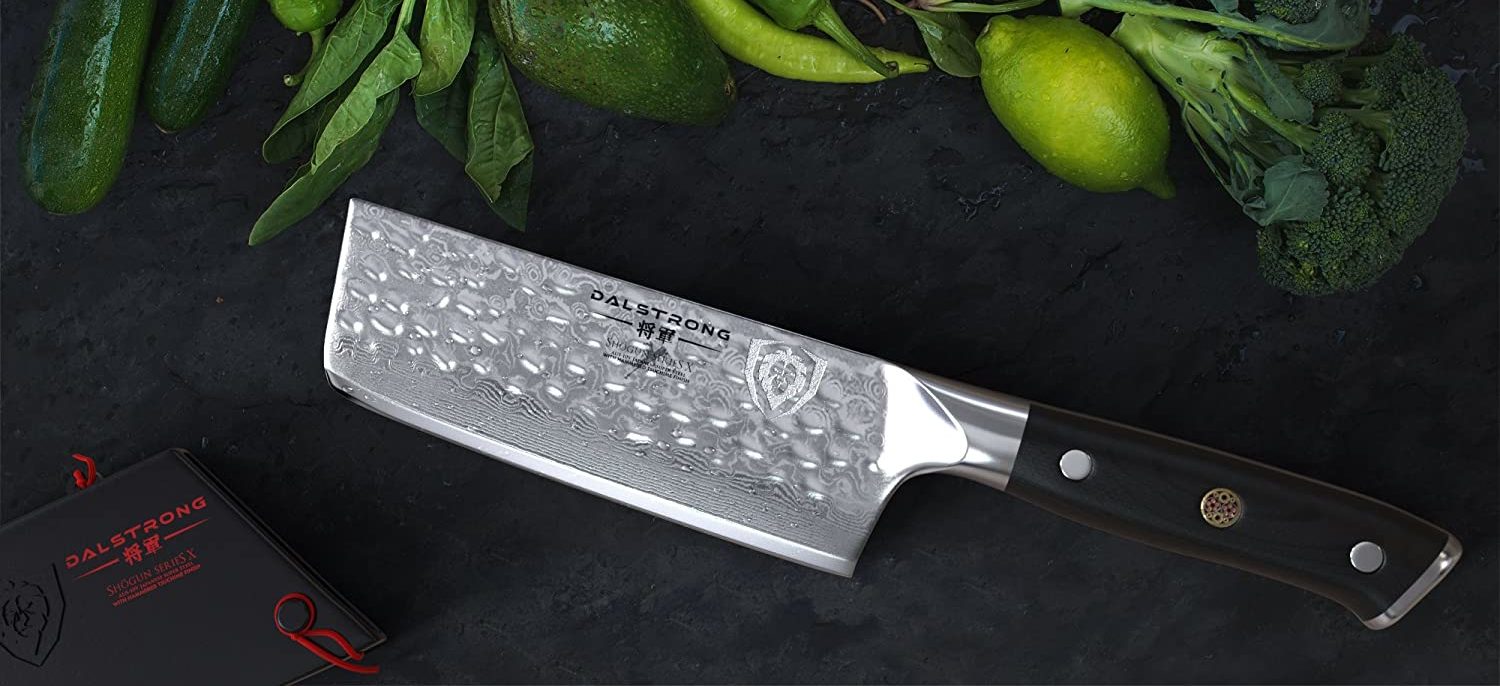 The blade of the knife is 6-inches long and is carved using ultra-sharp AUS-10V Japanese super steel. Meanwhile, the handle is ergonomically-designed and extremely durable, courtesy of the military-grade G-10 Garolite.
This razor-sharp knife comes with 67 layers of Damascus material and has incredible edge retention of more than 62. Overall, the Dalstrong Nakiri Knife provides the most comprehensive quality of zero-balance and finger protection.
5. Zelite Infinity Santoku Knife
Western-inspired and visually-pleasing, Alpha Roya Series' Santoku Knife jas grippy handle coupled with three rivets. Though the complete series is forged in China, this knife is built using the Japanese VG10 super steel with 67 layers of Damascus material.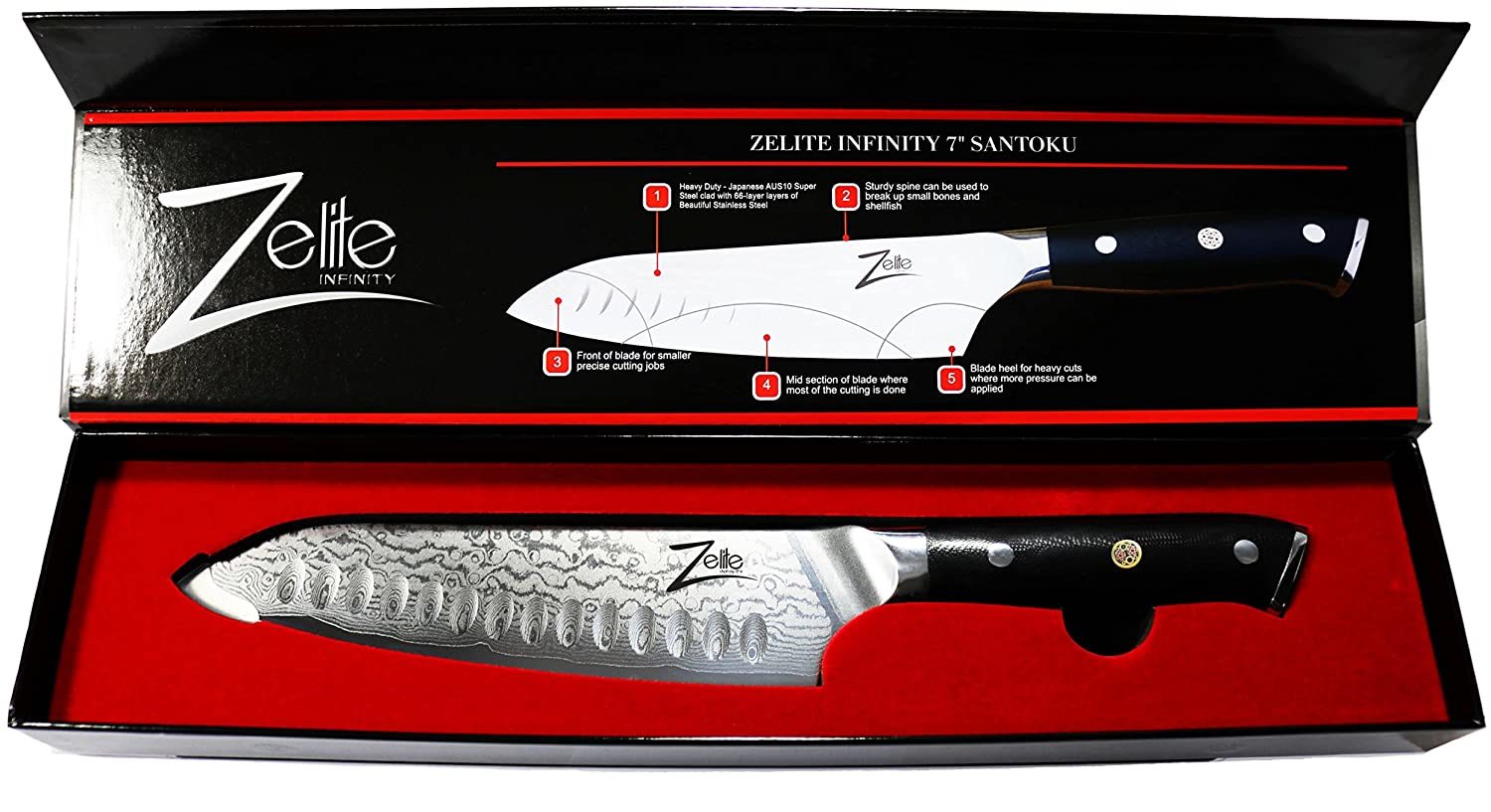 The G10 handle is riveted to enhance strength, while also extending the durability of the knife. The handle is black with shades of wood-grade pattern, which is tested to work better than wood in most kitchens.
The knife has to be regularly sharpened; suggest you hand wash and hone the knife. The manufacturer offers a lifetime warranty against manufacturing defects — that is more to ask from this premium santoku knife.
6. Miyabi Chef's Knife
The brainchild of German Knife manufacturer Zwilling J.A. Henckels, Miyabi's 8" Chef's Knife is a power-packed knife to slice or chop your meats and vegetables. This piece is available in three different lengths — 6, 8, and 9-inches. Ideally, the 9-inch one is perfect for most hands.

The knife boasts SG2 micro-carbide powder steel and is embossed with 100 layers of steel. For life-long sharpness and razor-sharp edges, this piece is honed with an in-house ice-hardening process.
Miyabi Chef's Knife has the elegant exterior that is layered over the flower Damasus pattern, which further enhances durability. Furthermore, Miyabi's factory edge falls between 9.5 and 12-degrees — subjected to where the knife you evaluate.
Also Read: Best Electric Grills for Indoor – Cook up Delicious Food
---
CONCLUSION
Jotting down the best Japanese knives wasn't an easy task. However, two products that caught our eye were — Global 8" Chef's Knife and the Yoshihiro VG-10. Both equally brilliant and handy on most cooking occasions.
The list is never-ending, but we'd like to know your recommendations. Drop your favorites in the comments section below, so we can do a hands-on!
---
FAQs
How do I take care of my Japanese knife?
A Japanese knife requires attention to every detail for long-lasting and maintaining sharpness. Here are a few steps that might help you:
Wash immediately after use: The carbon steel core knives are highly-prone to rust. Always wash knives with your hands by applying some soapy detergent, and dry them with a towel immediately. Avoid washing them in a dishwasher.
The handles need to be cleaned either with wax or oil. In order to maintain the shine and smoothness of the grip, apply oil once a month.
Have them stored safely: These knives must be stored safely in a separate case or a magnetic rack. If stored inside a common drawer along with other items, the sharpness might wear off. Invest in a blade guard or a high-quality magnet block.
What should be avoided when using a Japanese knife?
Japanese Knives are preferred choices by chefs. Nevertheless, there are some restrictions that come with it. Abstain from cutting hard or frozen items such as bones, seeds, or metal. You hamper the quality of the knife by throwing your knife at these items.