The awful sight when the knife you are about to use in slicing your favorite fruit or meat has a dull and rusty looking appearance. Knives are the most used items found in kitchens, and to keep them razor-sharp has to be the top-most priority.
In comes the electric knife sharpeners, these are reliable and equipped to obliterate dullness from your knives. In this comprehensive article of ours, we discuss the key factors to consider when buying a knife sharpener, followed by a list of the best knife sharpeners.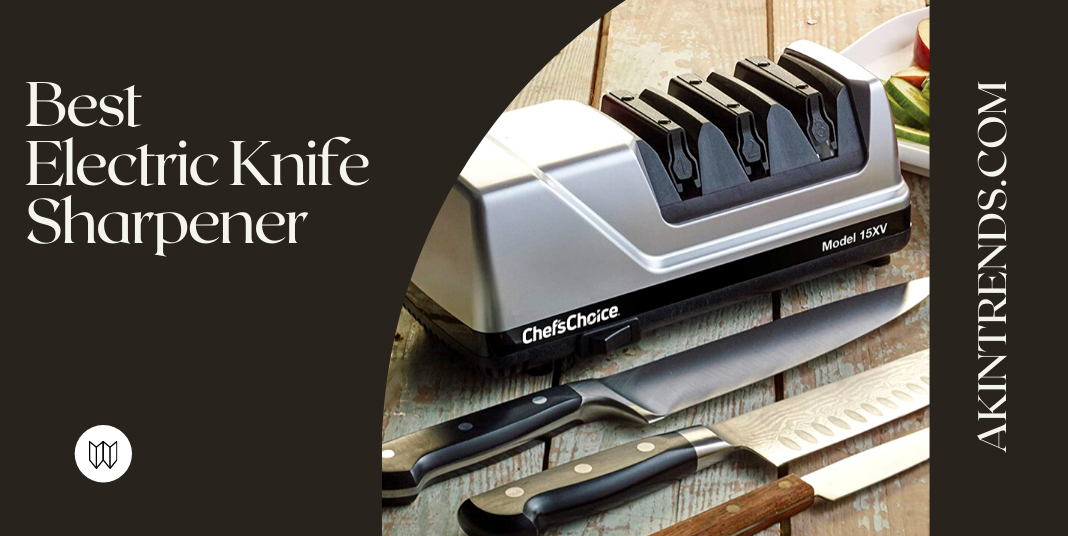 ---
Guide to Buying Best Electric Knife Sharpener
The dull knife lying on your kitchen counter does grab your attention even if you choose to ignore it. To rejuvenate some life into your knife — a smart device like an electric knife sharpener is the best foot forward. Following are a few things to consider when looking for the perfect knife sharpener.
Design
The first step in this buying guide is to learn about the space you will use while sharpening your knife. There are units available in different sizes and shapes — pick the one with more number features to save some space.
Sharpening stages
The modern-gen sharpeners come with two or three sharpening stages. When using a unit with a two-stage sharpener, the first stage will strike out the metal from the knife, and the final or second stage will polish and hone the knife.
While using the three-stage sharpener, you will be benefited from an extra stage in between. This stage works towards polishing your knife mildly, which helps bring razor-sharp edges to your knife.
Warranty
Warranty is the most pivotal consideration when looking for a knife sharpener. Generally, many sharpeners are backed by a standard one-year warranty from the manufacturer. Nevertheless, there are brands that also offer two to three years of warranty. We recommend safely place your bet on sharpeners with three years of warranty.
---
Best Electric Knife Sharpener
Enough with the strolling in the market to bring life to your dull knife (or even purchase a new one). Following are some of the best electric knife sharpeners available to make them fine and shine.
1. Linkyo Electric Knife Sharpener
Linkyo's Electric Knife Sharpener is inexpensive yet the most effective of the lot. This piece is equipped with a two-stage knife sharpening mechanism, which works towards enhancing the quality and speed. The very first stage of sharpening — molds the angle, and the second stage — polishes and gives your knife the final touches.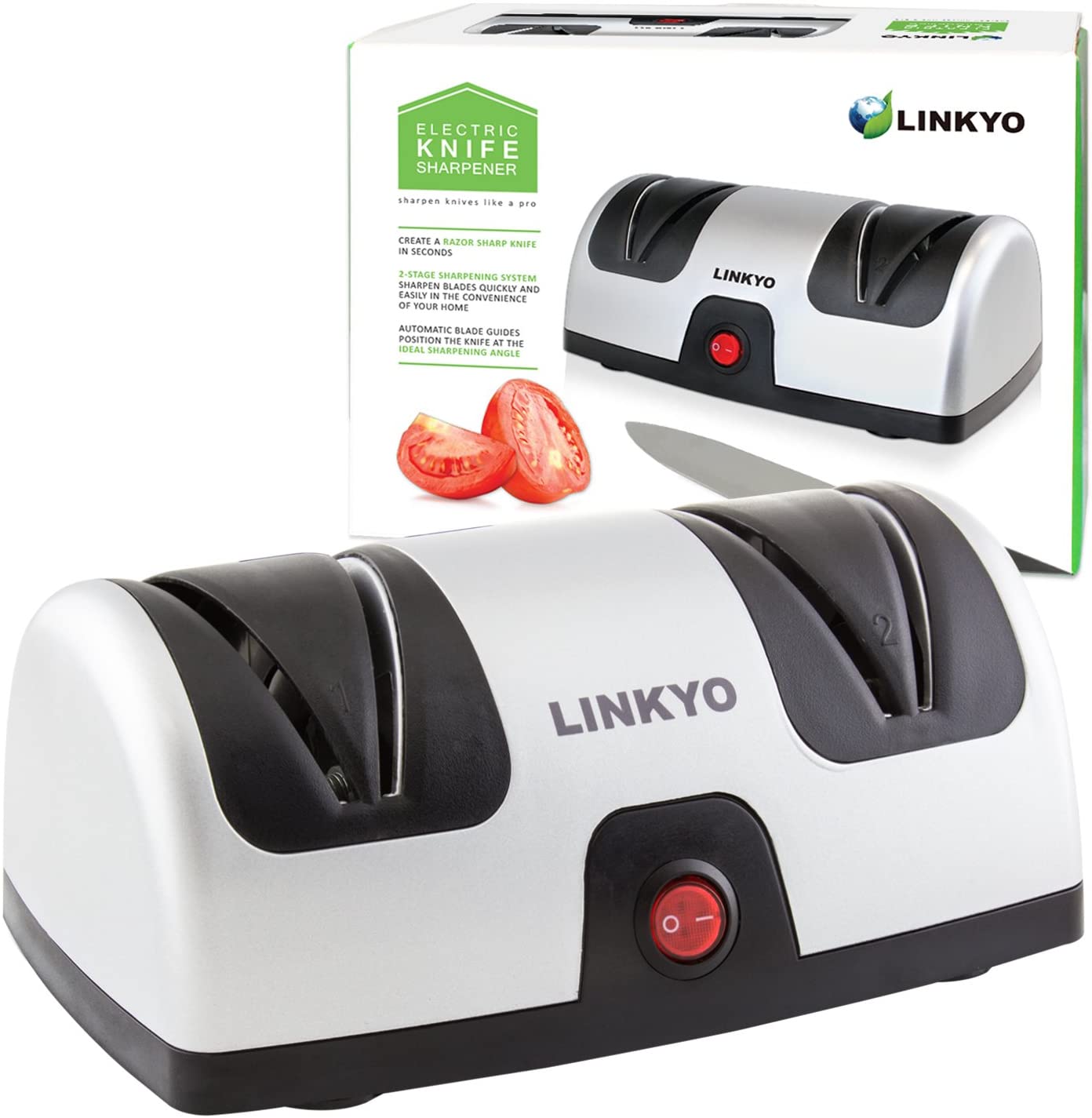 This sharpener features automatic blade positioning guides that keep your knife at an accurate position during the sharpening stage. You also have the non-slip suction cup feet that keep that sharpener in place while it is being used. Moreover, the cleanup process is pretty neat, and straightforward with the removable plugs catch.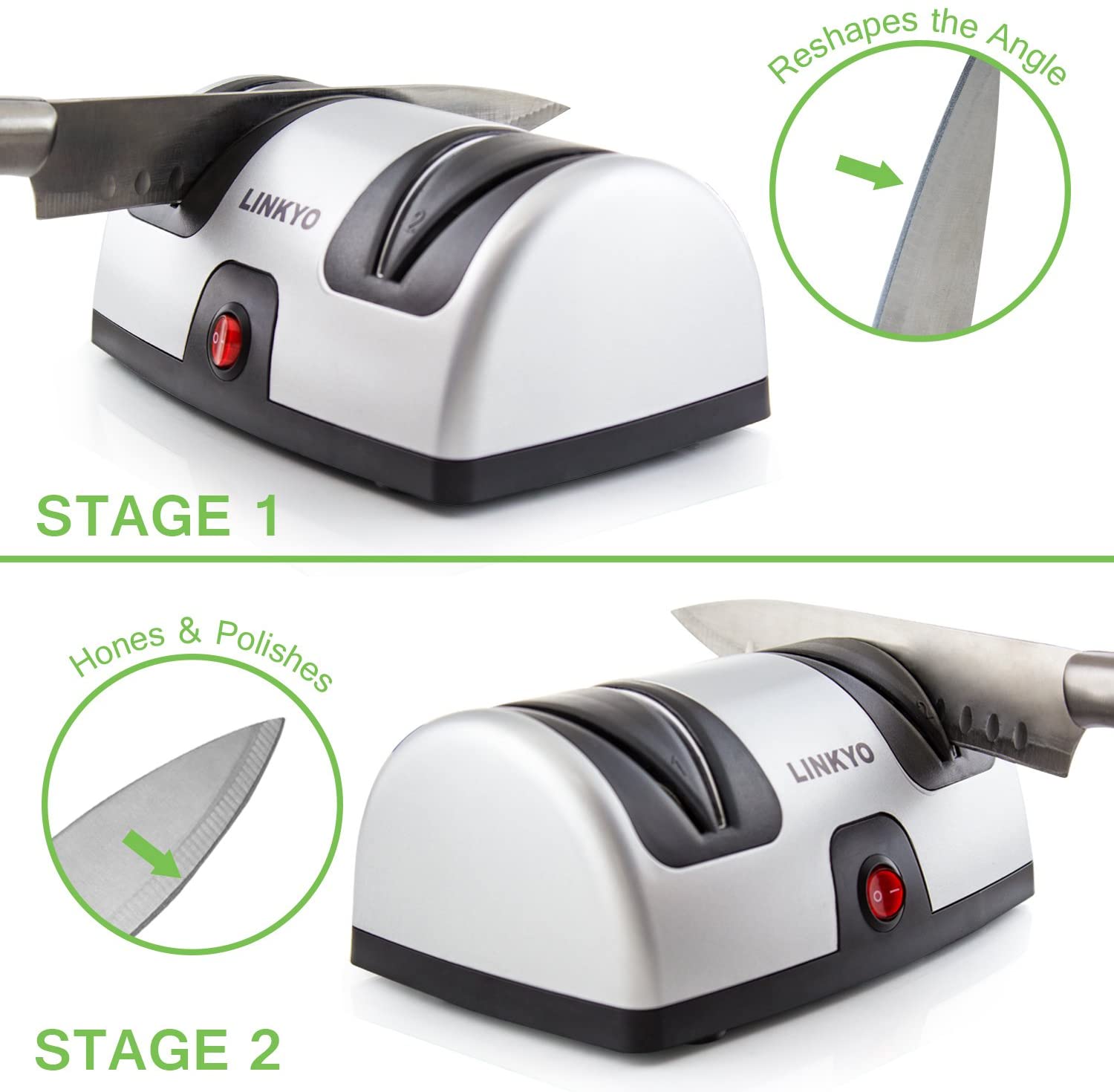 The Linkyo Knife Sharpener has an affordable price tag with beginner-friendly features, offering them complete authority throughout the sharpening process.
2. Presto 08800 EverSharp Electric Knife Sharpener
Presto's Eversharp is a feature-rich device that operates in silence and produces the best results. Much like the Linkyo Sharpener, Presto 08800 uses the two-stage sharpening system that does exceedingly well with carbon, alloy, and stainless steel built knives.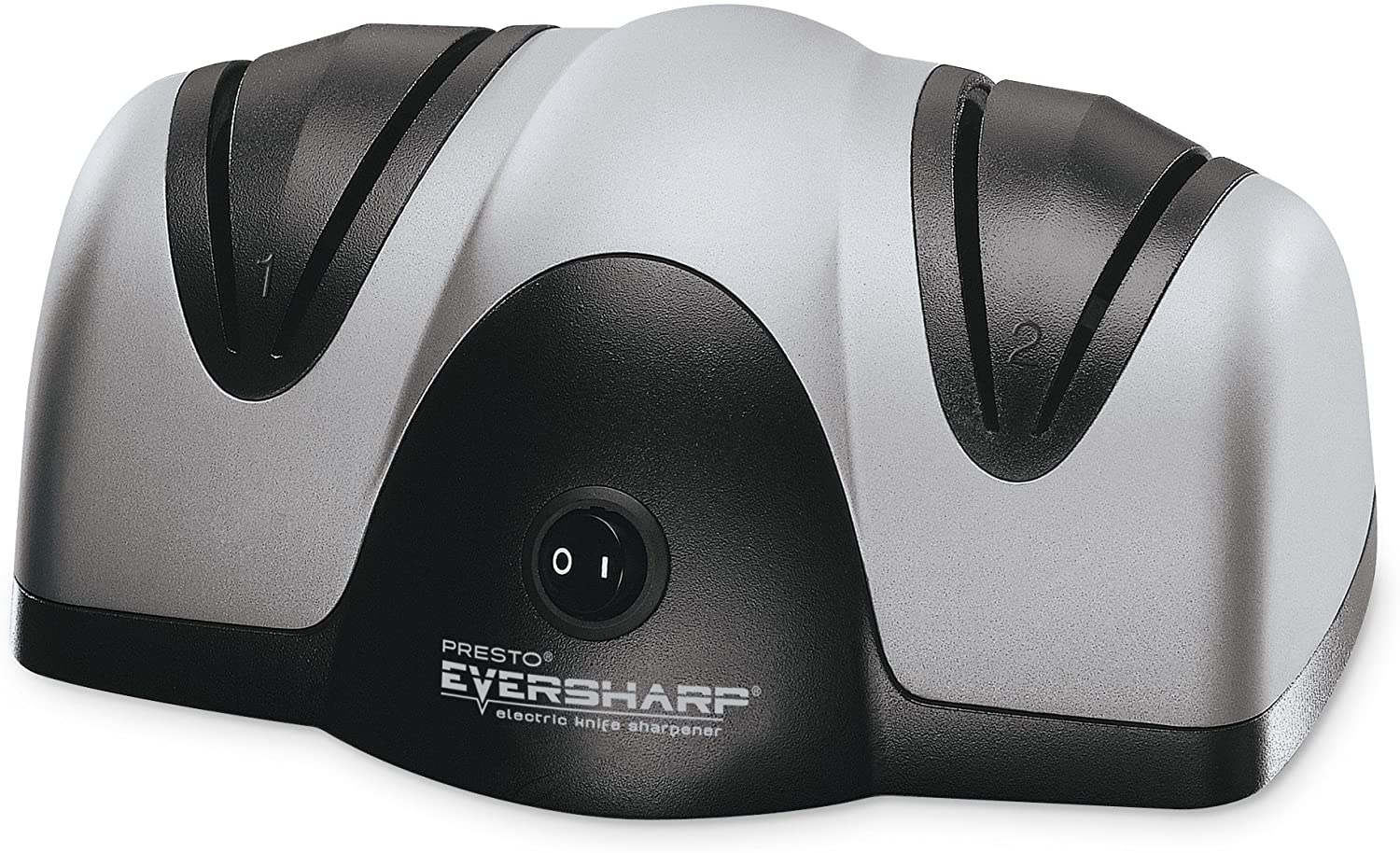 Incorporating the use of sapphirite sharpening wheels, this sharpener professionally creates razor-sharp edges in a span of a few seconds. For a variant as affordable as this, the feature gives Eversharp an edge over other premium brands. The supplied suction cups hold the device in one position, preventing slipping throughout the sharpening.
The precision blade guides keep the knife at a sharpening angle to achieve picture-perfect results on every occasion. Furthermore, there are two receptacles underneath the sharpener to hold the metal fillings for disposal.
3. Chef's Choice Trizor XV EdgeSelect Knife Sharpener
Bulky and distinct in design, Chef's Choice Trizor XV is a product with great abilities. This knife sharpener comes in two different stage variants — 2-Stage and 3-Stage. The 3-Stage is the most preferred choice of device utilized by professionals.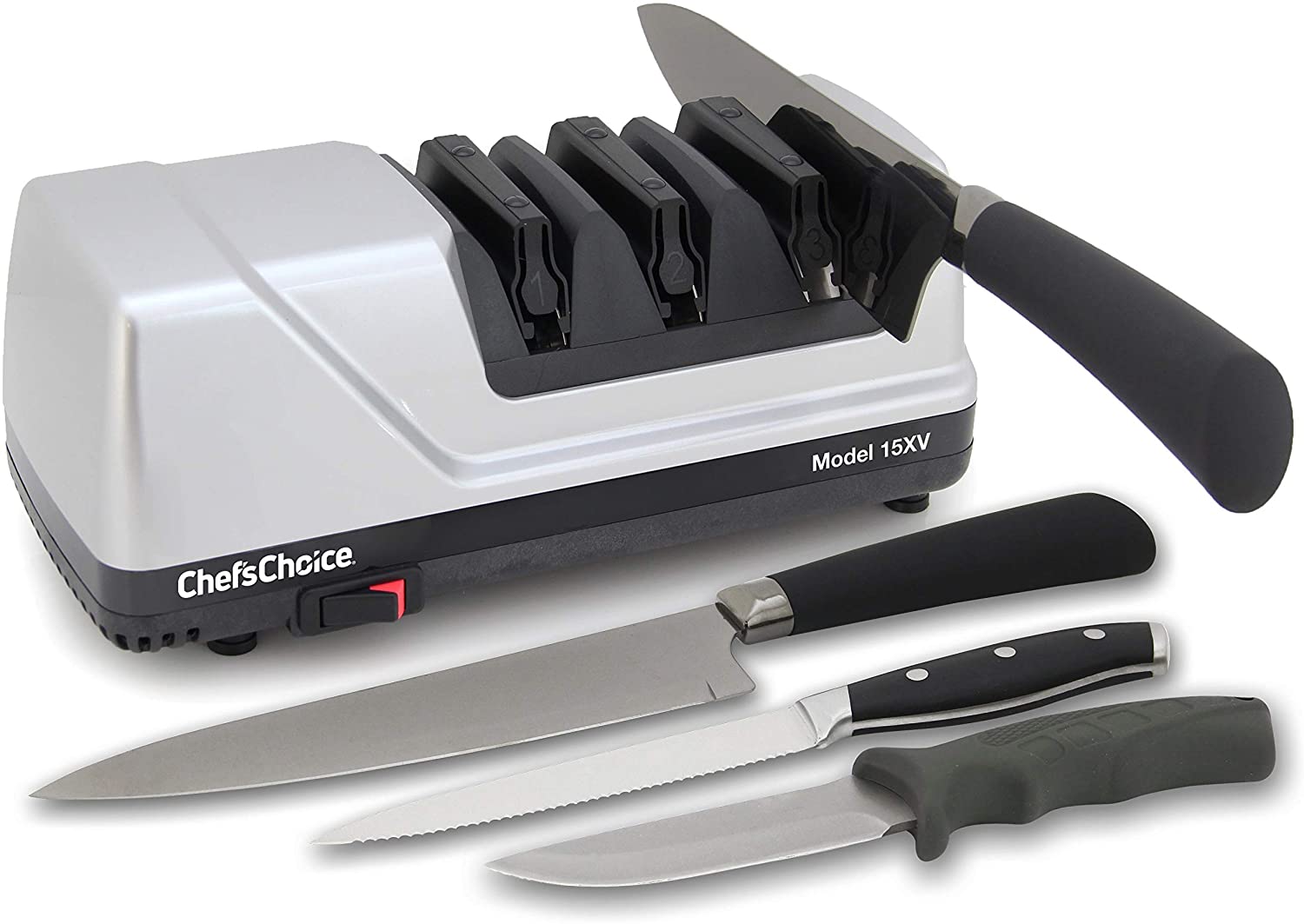 The first and second stages are completely coated in diamond abrasives to hone the edges. The final stage uses a patented flexible abrasive system for polishing serrated knives. Trizor's sharpener gives your knife the razor-shape 15 degrees angled edge that cuts easily than the traditional 20-degree edge knives.
This top-notch quality knife sharpener features flexible spring guides that help in gaining accurate control of the sharpening angle. The only shortcoming is the price, which may not be ideal for some users.
Also Read: Best Charcoal for Grilling Reviews – Get Grilling the BBQ's
4. Work Sharp Ken Onion Edition Sharpener
Ken Onion is a multi-purpose knife sharpener that shines all your essential cutting tools to your cooking knives. This sharpener includes a belt grinder that is capable of bringing ultra-sharp edges to all kinds of blades. Powered by a variable speed motor, this knife sharpener performs certain tasks with better control.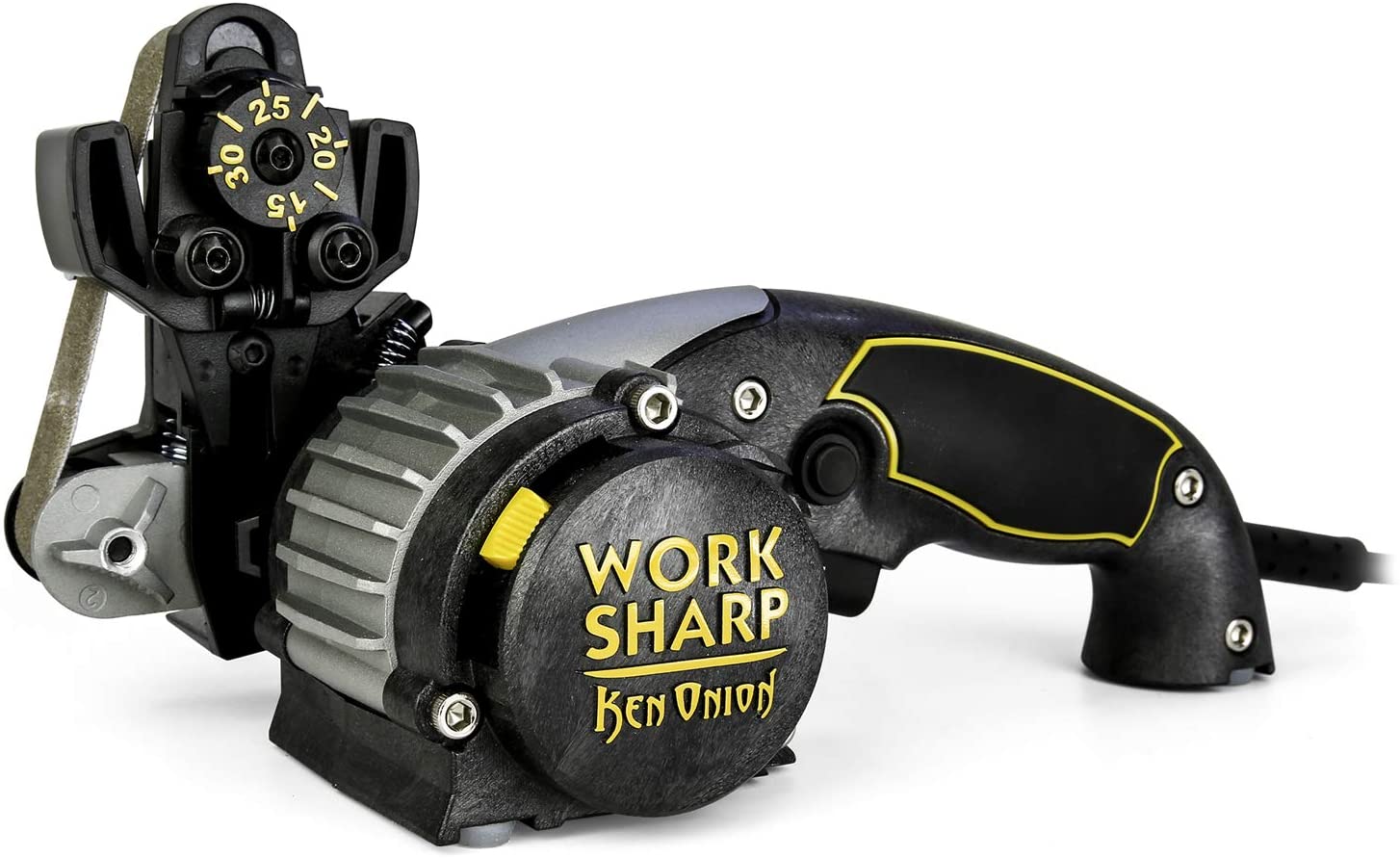 This features five different abrasive belts, which, in a matter of a few minutes, provide long-lasting razor-sharp edges. Irrespective of the blade you own, Work Sharp's Ken Onion accommodates all your needs and preferences.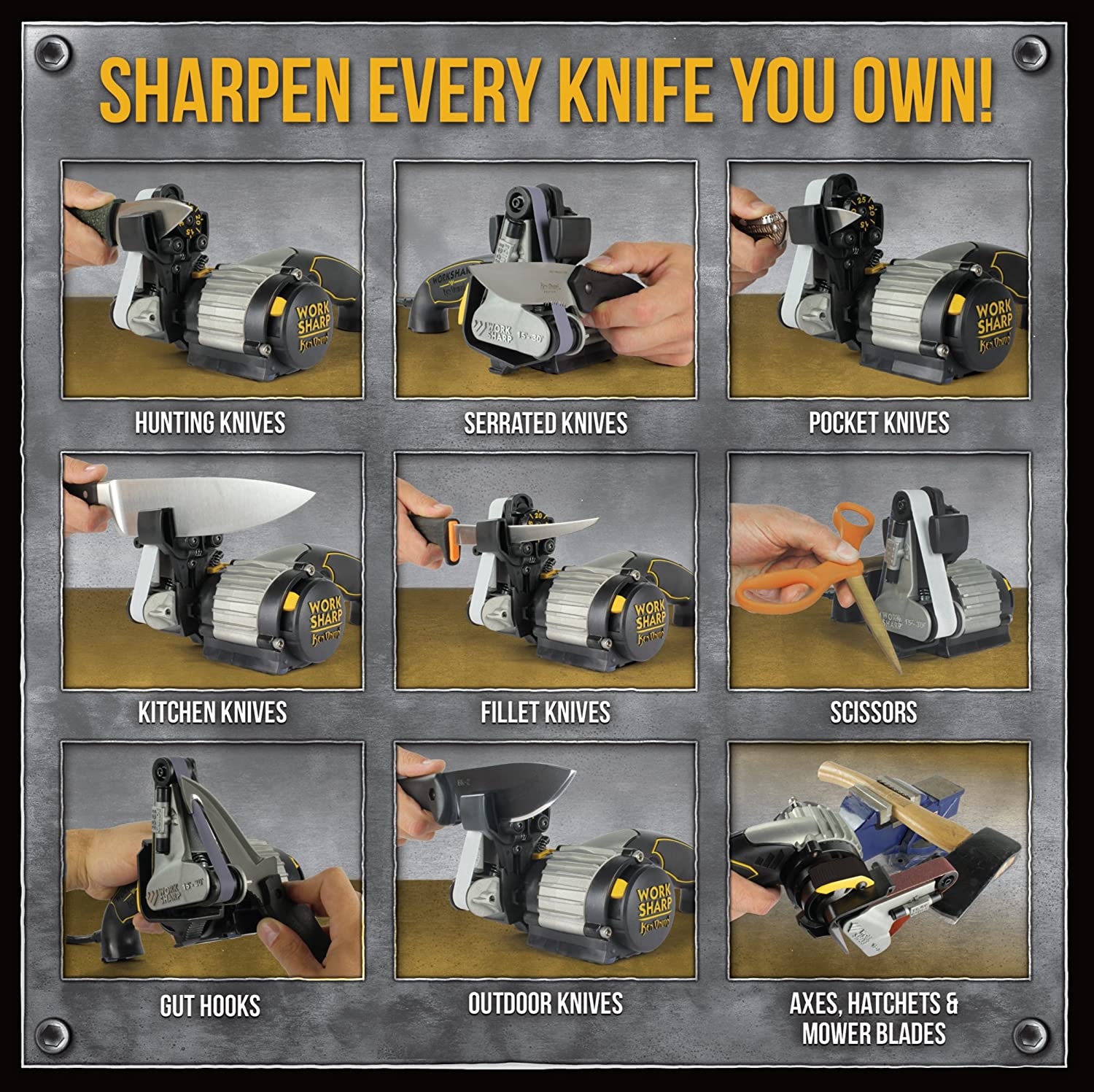 Ken Onion has amassed positive responses and is popular among internet users. This product is also backed by a one-year warranty that covers defects.
5. Chef's Choice Professional Knife Sharpener
Chef's Choice's other well-crafted model to feature on the list the 130 Professional Electric Knife Sharpener. This sharpener comes with a three-stage sharpener that sharpens most kinds of knives. This is a compact sharpener that sits comfortably in all American kitchens.
The initial stage is 100% diamond abrasive, which brings more sharpness even to old and rusty knives. The second stage makes use of the miniature steel for honing and to create microscopic serrations that many look for in a knife for meat cutting. Lastly, the final stage keeps serrated blades sharp using the stropping abrasive disk.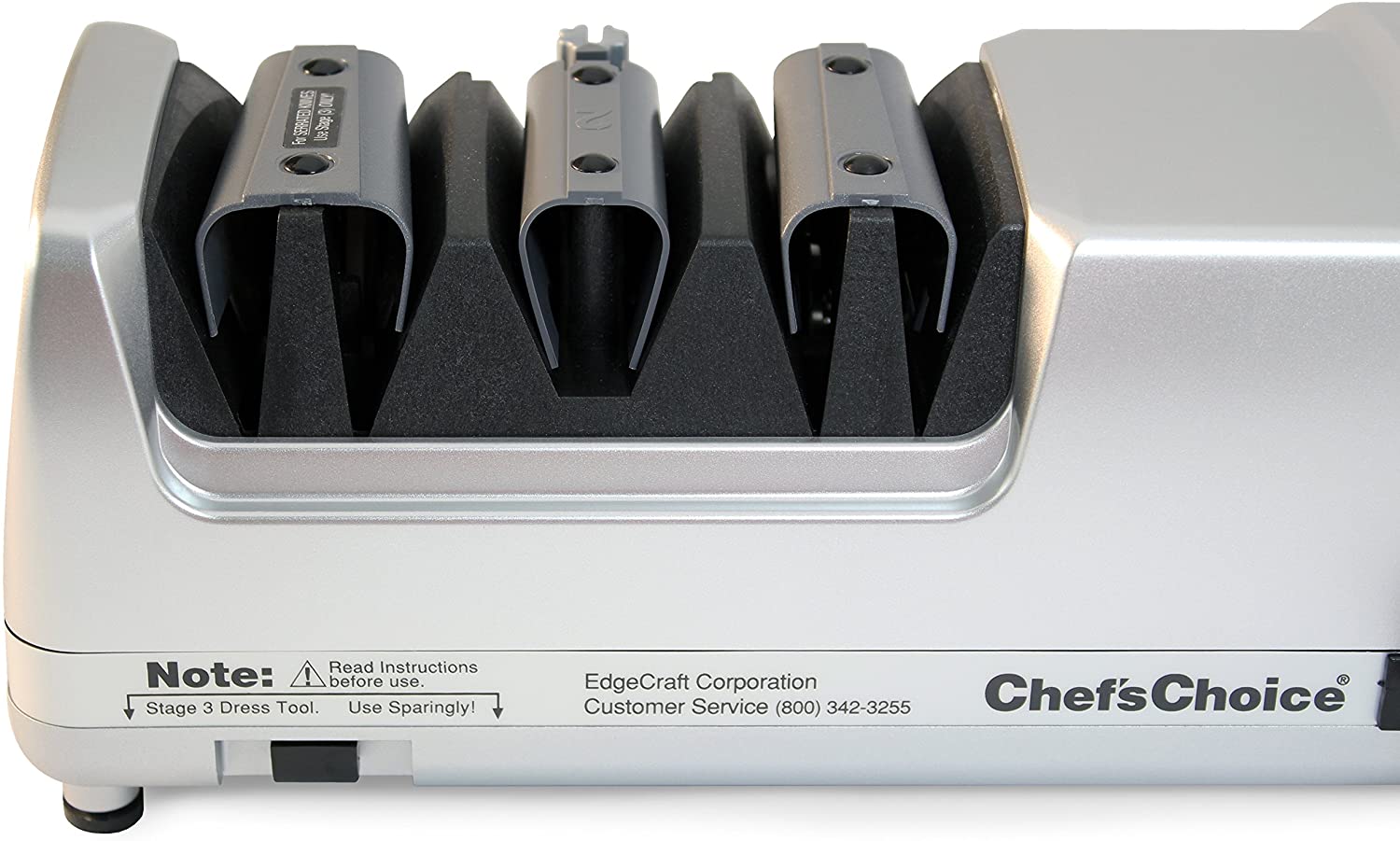 Made out of polymer, the Chef's Choice 130 is a sturdy and reliable piece of sharpening device that meets both beginner's and expert requirements. Moreover, this sharpener comes with a three-year warranty from the manufacturer.
6. Work Sharp Culinary E5 Kitchen Knife Sharpener
The E5 Kitchen Knife Sharpener is a state-of-the-art product from the Work Sharp. This knife sharpener makes use of flexible sharpening belts — a method that is widely followed by brands in sharpening knives.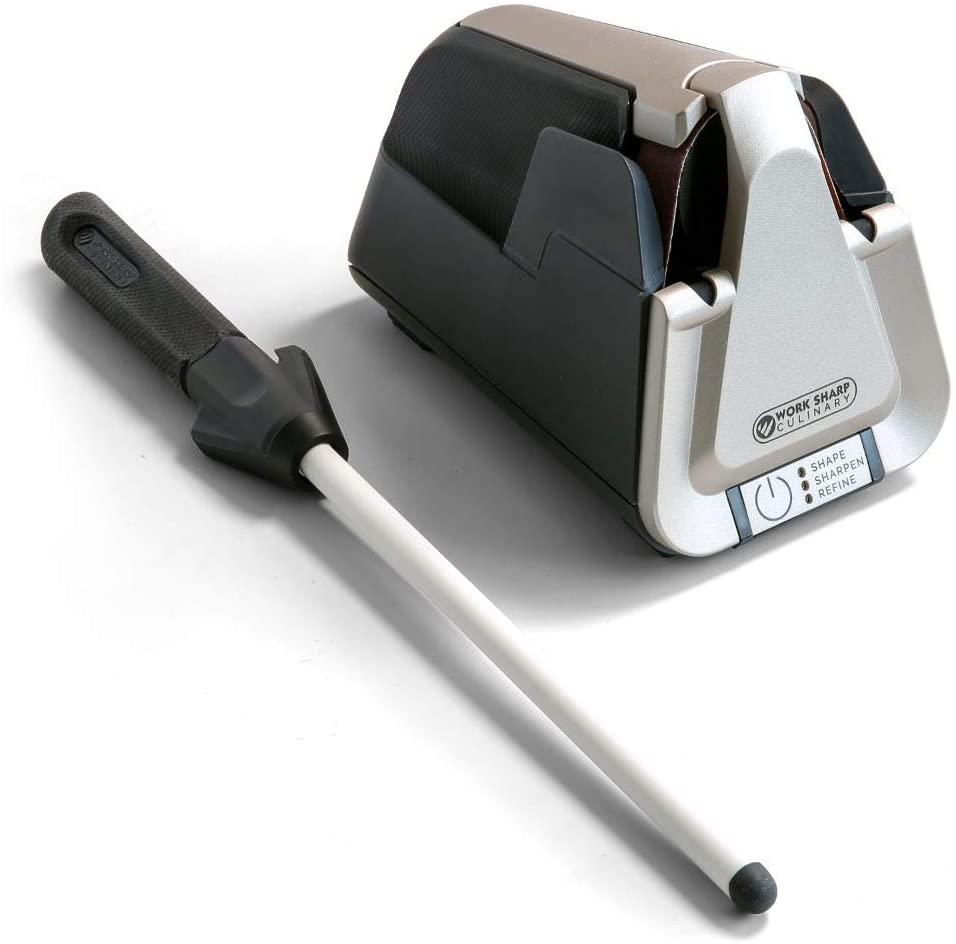 This ultra-modern device comes with a built-in vacuum that shuns debris to keep your kitchen counters clean. E5's design has received praises and was also awarded the '2018 Innovation award-winning sharpener. The sharpening guides keep the knife set at the right position, preventing any damages.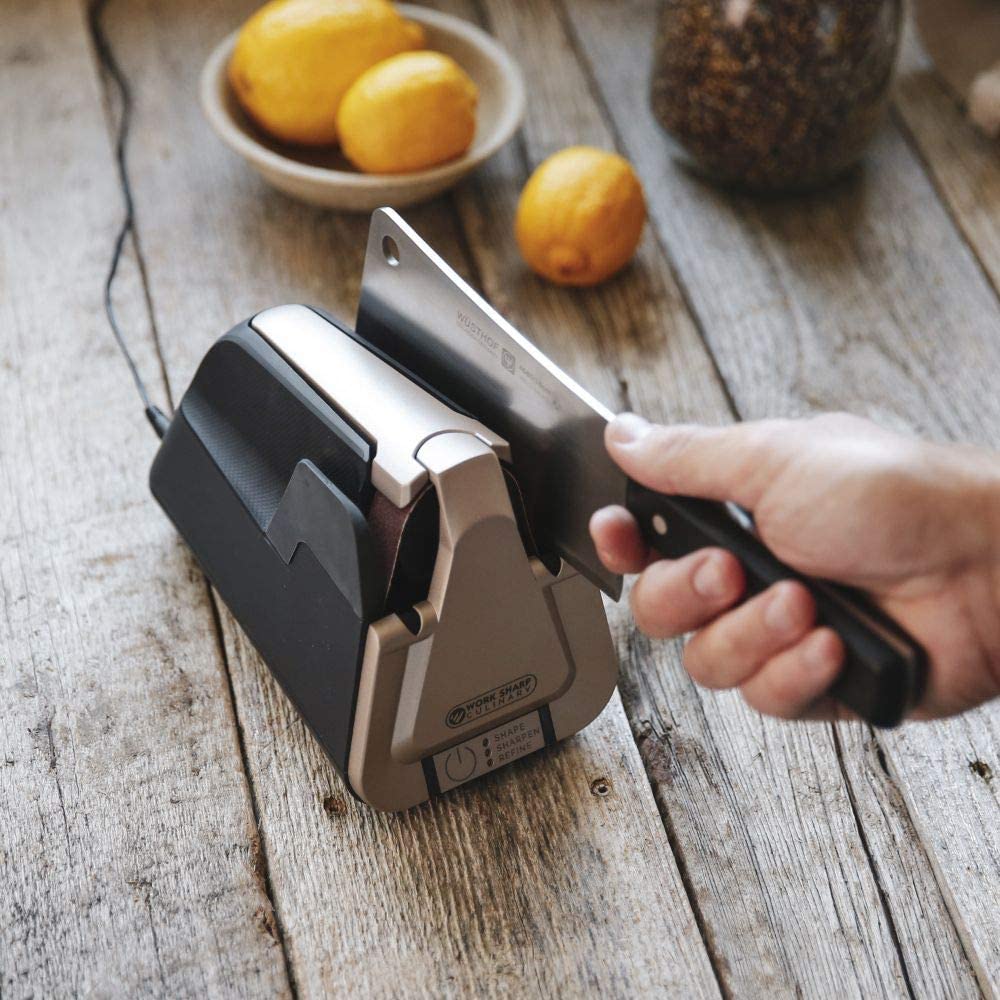 The integrated button lets you sharpen your knives in less than 90 seconds. You have three settings that allow you to shape, sharpen and hone your knives, depending on your style and knife.
Also Read: Best Electric Grills for Indoor – Cook up Delicious Food
---
CONCLUSION
That brings us to the end of the article. Of all the products reviewed, we found the Linkyo Electric Knife Sharpener and the Presto 08800 EverSharp Electric Knife Sharpener. The quality and speed at which these sharpeners deliver results are impeccable.
Ever used one of these before? Share your experience with us and our readers in the comment section below.
---
FAQs
What are the recommended knife sharpeners for chefs?
Chefs or professionals have plenty of tools to sharpen or polish blades. They generally use high-end electric models. While there are chefs that use whetstones for the quality of sharpness they bring to the knives.
How many times do I have to sharpen a knife?
This largely depends on the kind of knife you've been using. Stainless steel knives require sharpening after every two-four uses. The carbon steel knives have to be honed right after use.
Are electric knife sharpeners safe to use on knives?
There is no evidence backing the side effects of using sharpeners on knives. However, these machines have to be used correctly. The current models are strong enough in removing the right quantity of metal.