Looking for the best indoor workout session? Is your trainer giving up on you? The quest for the right answer has brought you here. In this guidepost, we share the best home gyms available in the market that are worth spending your money on.
But if you haven't heard of all-round home gym equipment, here's all you need to know: A home gym piece of equipment is a concoction of multiple gym gears into one single unit.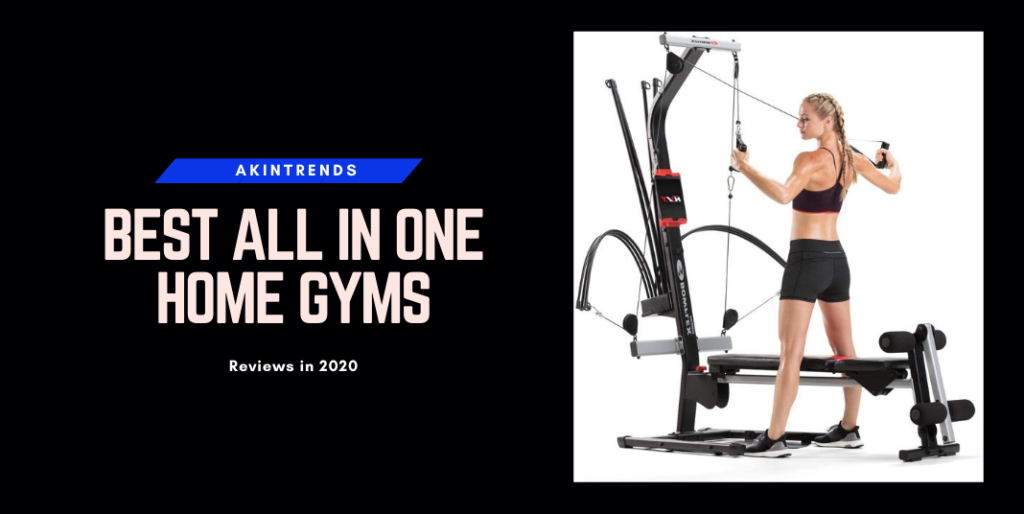 These machines avert the chance of spending money on equipment that takes a lot of space and costs more. To simply put, these all in one home gym machines help perform multiple exercises without toggling between different machines.
---
10 Best Home Gym Pieces of Equipment
Complete home gyms are ideal for both beginners as well as for professionals. The following are the home gym reviews that are tried and tested by our in-house fitness fanatics.
1. Total Gym XLS- Universal Home Gym for Total Body Workout
Popular and the most effective, the Total Gym XLS-Universal Home Gym is a piece of feature-laden workout equipment. This piece of home equipment is known for its space-efficient design and its capacity to hold up to 400 lbs.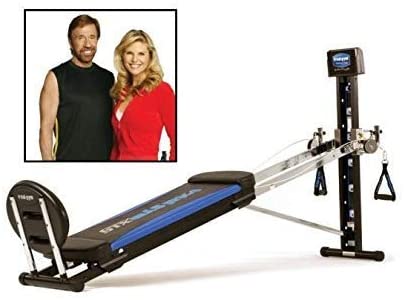 The XLS allows you to perform over 80 exercises, making it an ideal complete body workout machine. This machine is supplied with an exercise wall chart, training deck, and video guide to make practicing workouts more accessible.
Furthermore, you also are provided with a handful of other accessories like leg pull accessory, ladder glide board with head support, and a wing attachment.
2. Marcy MWM-988 Multifunction Steel Home Gym
The Marcy MWM-988 is a well-built and the best home weight machine made of heavy-duty 14 gauge steel tube frame that enhances the durability. Coupled with the 150lb vinyl weight stack, this machine has increments of 10lbs.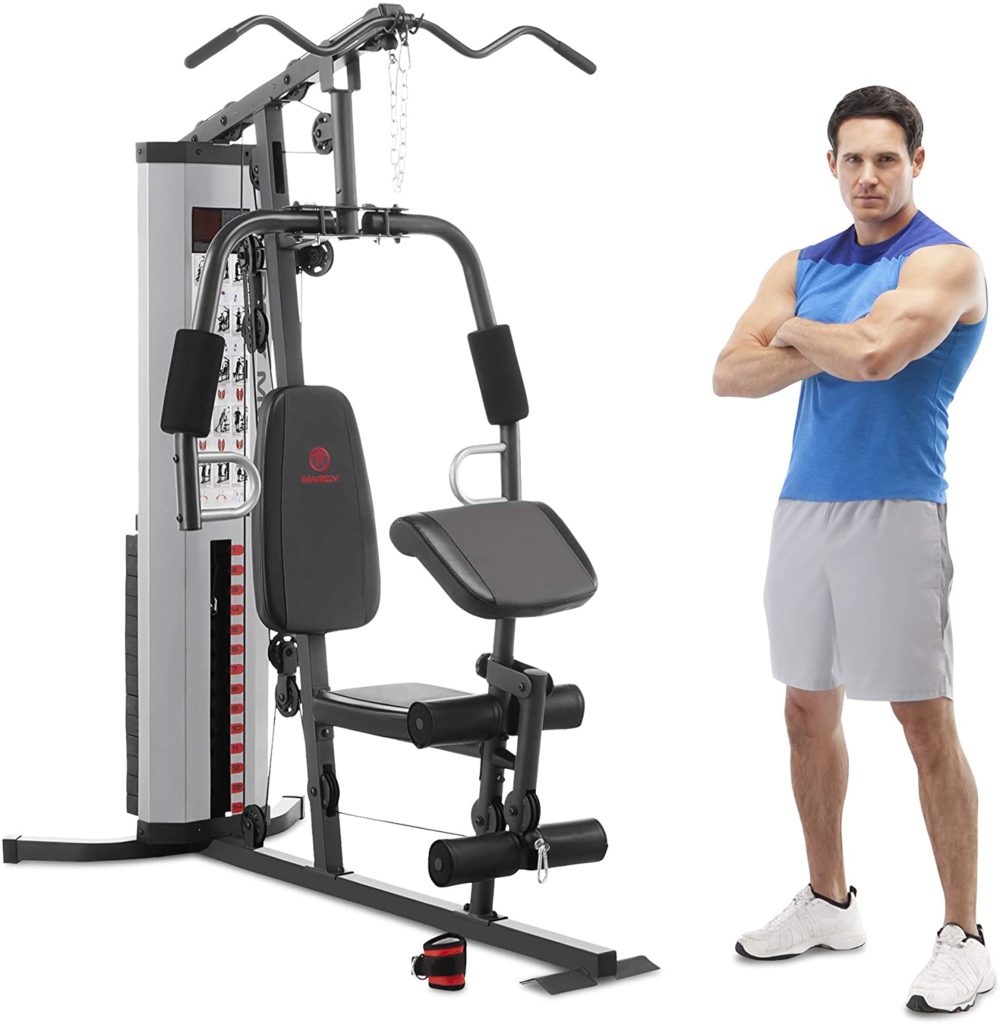 For highly-effective chest workouts, it is supplied with a pair of dual-action press arms. Moreover, there is the lat bar that works to hone your lats and triceps. To resist strain on your back, the MWM-988 features an adjustable preacher curl pad. This feature-rich machine can support users weighing up to 300 lbs.
3. Gold's Gym XRS 50
The XRS 50 from Gold's Gym packs a punch here. This machine is amongst the affordable options to start bodybuilding in the comfort of your home. The equipment boasts of a 125lb vinyl weight stack, accompanied with a 280 lbs of resistance. The vinyl cables allow you to workout without making any noise.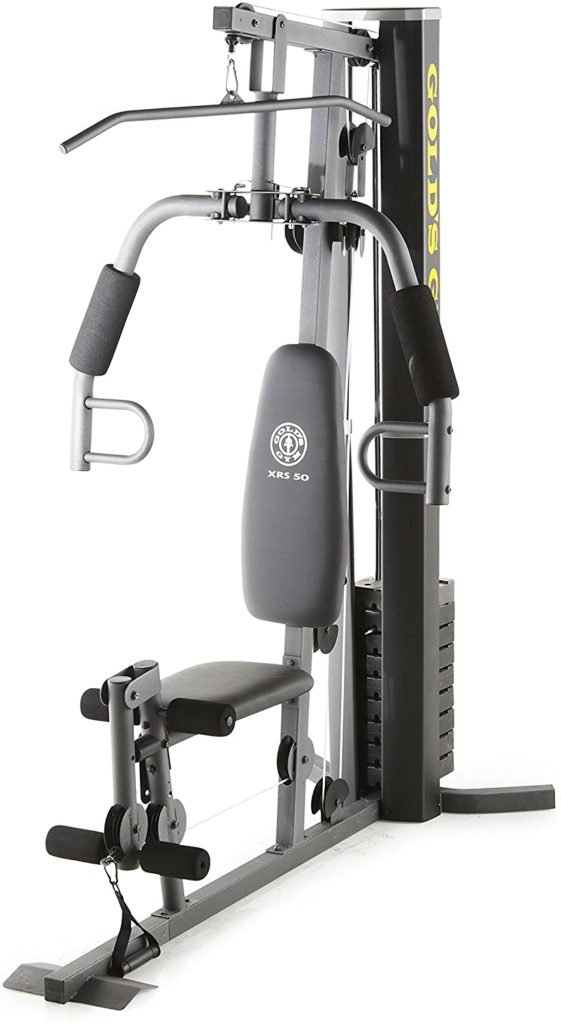 The XRS 50 comes with a chest press station, four-roll leg developers, and a double pulley system. This machine is also a sturdy piece of gear that can support a person of up to 300 lbs.
4. Bowflex PR1000
The Bowflex PR1000 is another power-packed exercise gear that allows you to perform over 25 full-body exercises. The machine boasts of a built-in media rack that offers space to keep your smart devices. The PR-1000 is a robust machine, providing support for users weighing up to 300 lbs.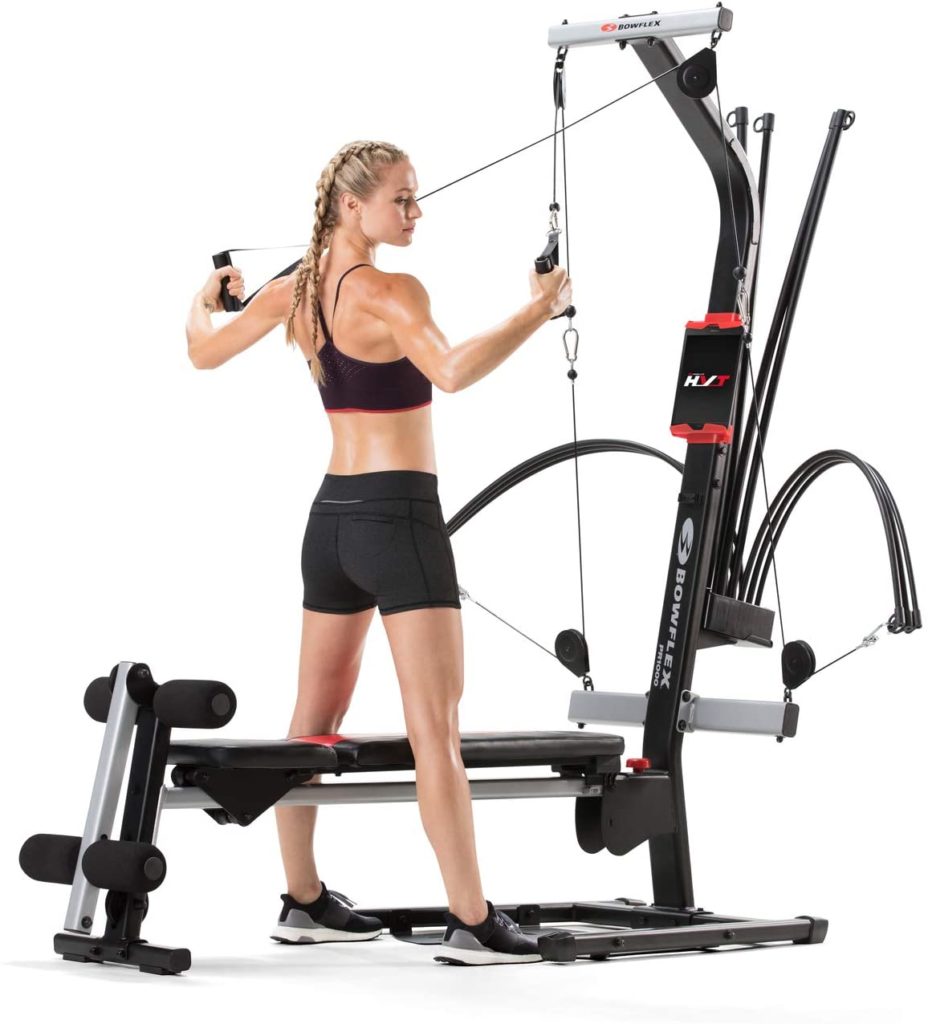 This bench converts into a rolling seat for use as a rowing machine. The machine arrives with a range of power rods that support 210lbs of adjustable resistance.
With the support of multiple cable pulley systems, it allows you to switch to different resistance angles, thus increasing the efficacy of workouts.
5. Marcy Smith Cage MD-9010G
The Marcy MD-9010G is a highly-praised machine for numerous reasons. This heavy-duty cage is entirely engulfed in steel with a durable powder-coated finish. The machine is equipped with dual action press arms, allowing you to perform a variety of arm and chest exercises.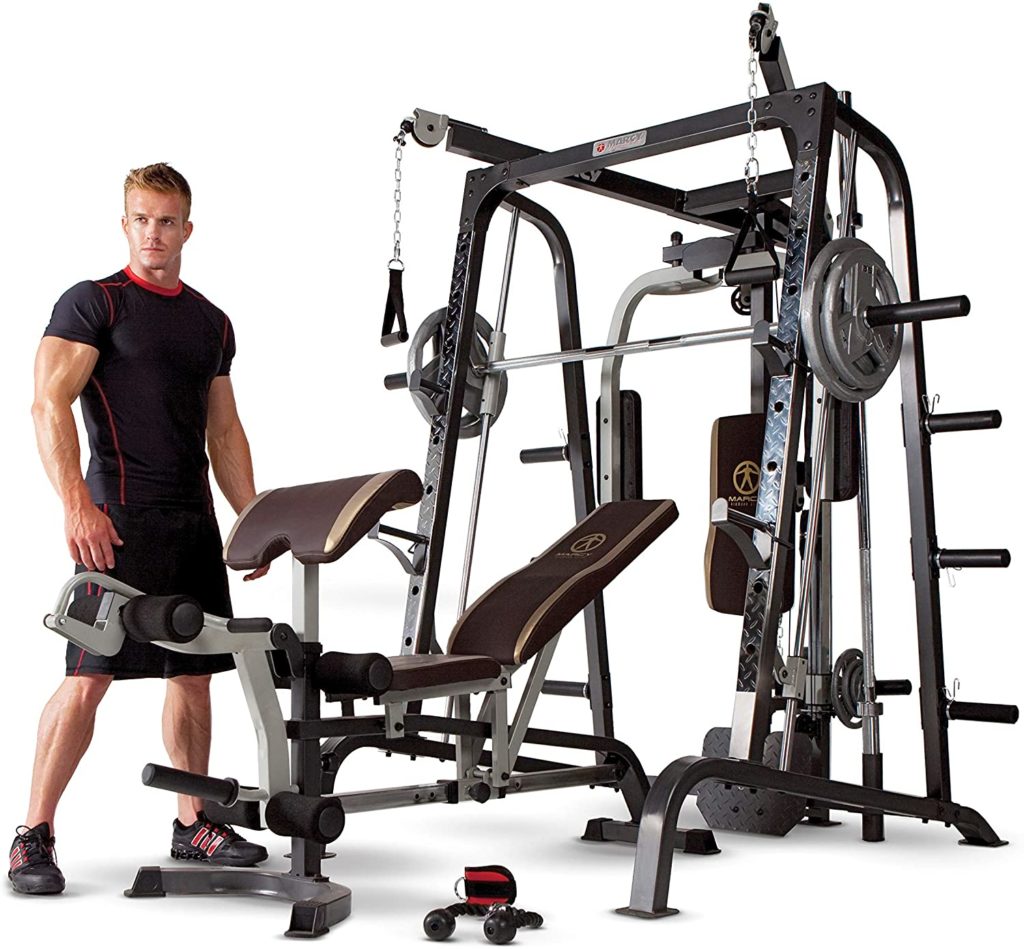 The MD-9010G has built-in Olympic weight racks that make organizing weights/barbells on the machine an easy chore. The maximum weight capacity on the bar is 300 lbs.
While the bench can hold users weighing up to 600 pounds. The machine further boasts of features like butterfly arms, leg developer, and preacher curl.
Also Read: 20 Best Home Workout Gears for weight loss at home
6. ICON Fitness Weider PRO 8500 Smith Cage
The Weider Smith Cage is a strong piece of home gym machine that is supplied with an adjustable bench and cable machine. This all-around fitness gear is highly-efficient in carrying out the hardest of workouts straight from your home.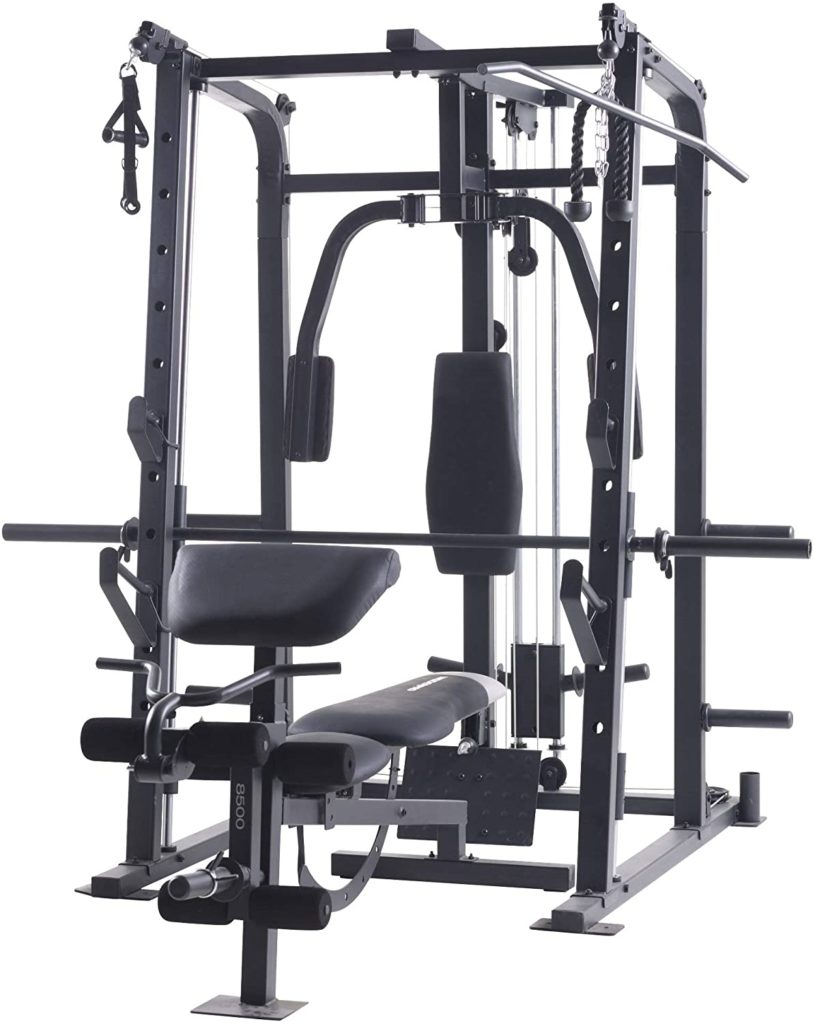 The Weider Pro 8500 arrives with a multi-grip and pull-down system that does decent work during exercises like pushdowns, cable flys, single and straight arm pull-downs, etc. This machine includes a 4-post squat rack that is a bonus. With a ton of other attachments included, the machine can hold exercisers up to 300 lbs.
7. Marcy MWM-4965
Laden with powerful features, the Marcy MWM-4965 sports a solid steel construction with smooth pulley wheels and heavy-duty cables. With a 125-pound selectorized weight stack, this machine is also supplied with a safety lock.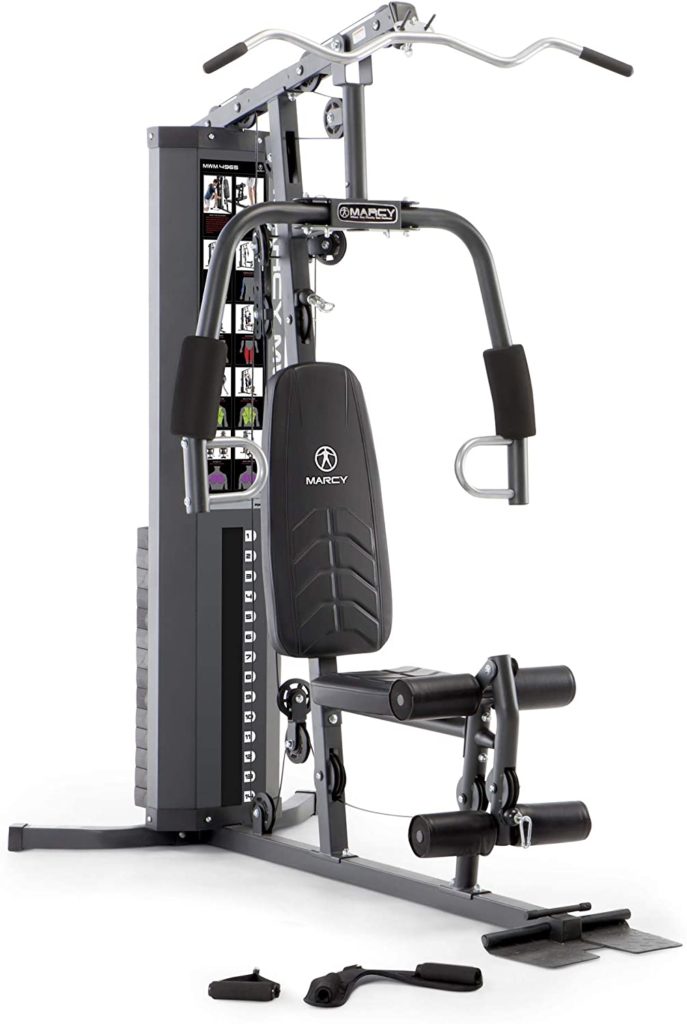 The MWM-4965 is supplied with a leg developer, 3-point pulley system, and a lat bar that makes full-body workout effortless. This machine is padded with high-density foam, which prevents damage and makes cleaning easier. This home gym equipment supports users weighing up to 300 lbs. 
8. Bowflex Xtreme 2SE
The Bowflex Xtreme 2SE is an incredible piece of home gym machine lauded for compact and space-saving design. For a hassle-free complete body workout experience, this machine allows performing over 70 exercises.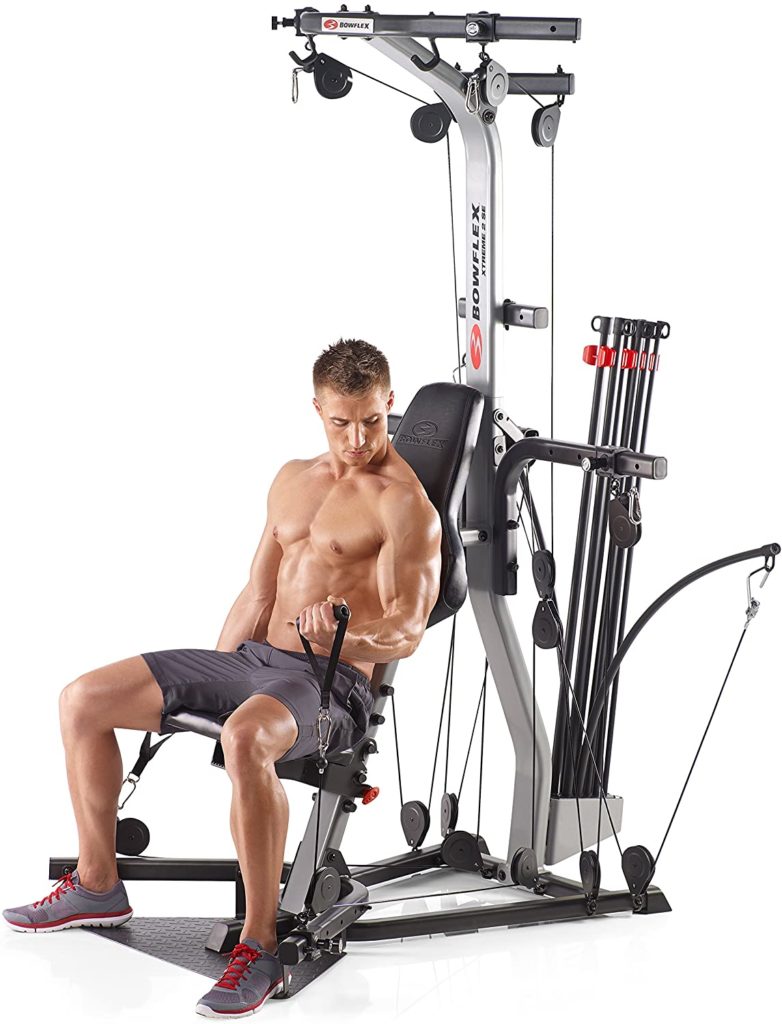 The Xtreme 2SE is supplied with up to 210 lbs of resistance, which can be extended to either 310 or 410 pounds. This machine allows you to switch between exercises seamlessly with the Bowflex no-change cable system. Furthermore, the machine has an adjustable seat with high-density foam padding.
9. Bowflex Blaze Home Gym
The Bowflex Blaze is another excellent addition to Bowflex's Home Gym Series. This machine is available in a super-compact size with 52' long and 38" wide. Regardless of the machine's size, you can carry out 60 plus exercises for complete body workout.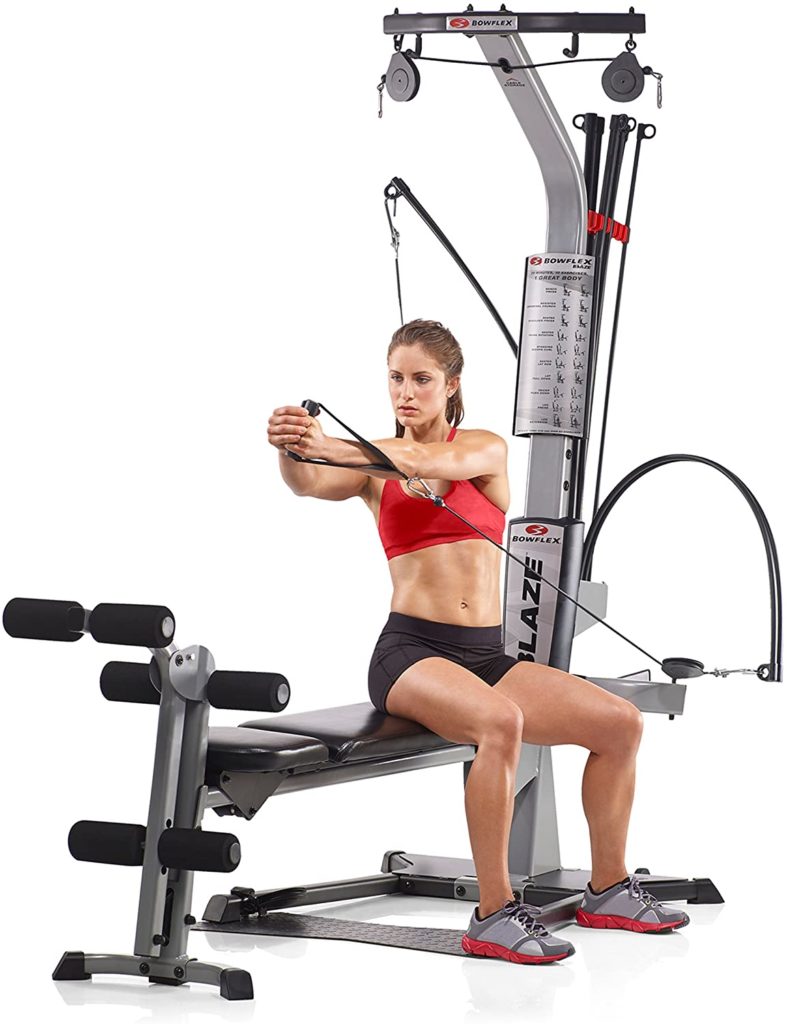 For easy storage and movement across the floor, this machine is supplied with a foldable bench and transport wheels. The sliding seat rail allows you to perform exercises like aerobic rowing and leg presses. Much like the other Bowflex machines, this is also available with 210 pounds of resistance that can be upgradable to 310 or 410 pounds.
10. Weider Ultimate Body Works
Rounding off the list with the affordable yet highly functional Weider Ultimate Body Works. This machine offers 50 lbs of resistance for more vigorous lifting experience. This machine boasts of eight levels of incline, making strength-training sessions more easy-going.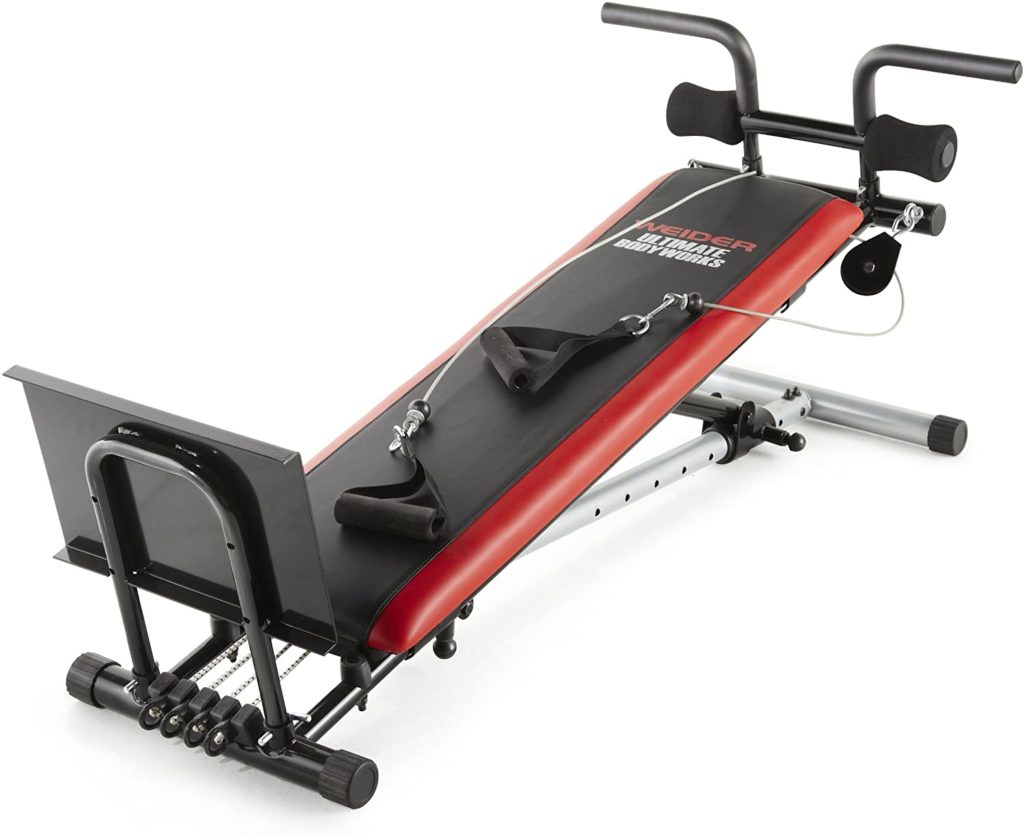 Of all the home gyms listed here, this machine is the best space-saving equipment. Weighing just over 70 pounds, Weider Ultimate can accommodate users weighing up to 250 pounds. It is supplied with a squat stand, exercise chart, and a warranty of up to 90-days.
Also Read: 15 Lifting Straps for Heavy lifts & Weight Lifting in 2020
---
CONCLUSION
That was the list! The machines listed are some of the best-in-the-business to help you in achieving your goals. Pick one and start making the most out of it. If there's one worth a spot and deserves our readers' attention, please mention it in the comments section below.