The spring season evokes the gardener in us; the tilling activity is enduring to some and pain to some. Nevertheless, the tilling task has to take place to give lawns and backyards an aesthetic makeover. And what's more than handy equipment like a mini rototiller.
These machines solve more problems than one; they operate with ease. These are miniature versions of the mammoth-sized tillers but are much more efficient at their job. In this article, we share the powerful yet easily maneuverable tillers that are effortless in your gardening-related tasks.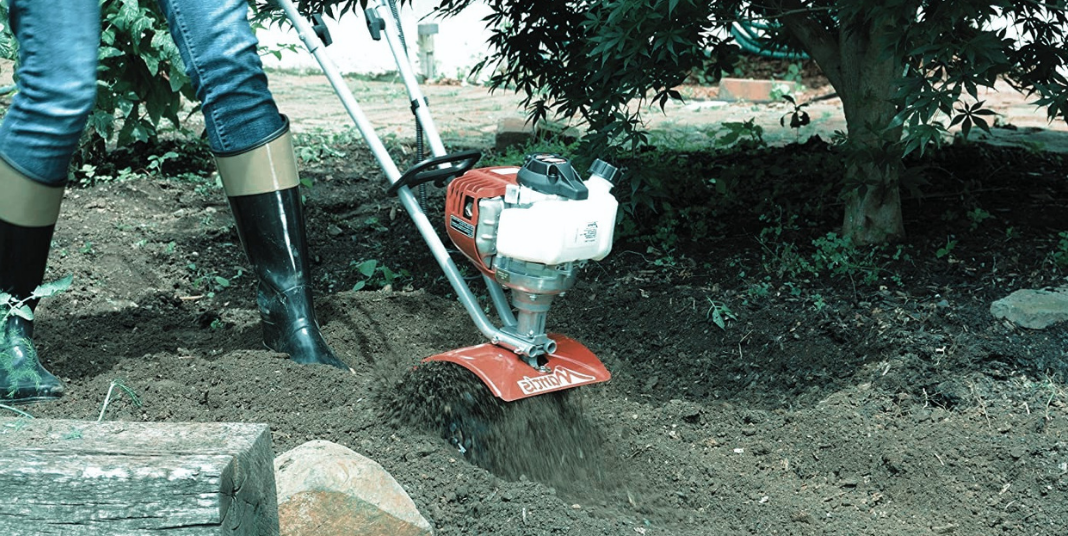 ---
Factors To Consider When Buying A Rototiller
Gardners adore using equipment that functions smoothly for the tilling and cultivating job. There are a multitude of rototillers on the market with different engines, sizes, and features. Following is a quick rundown of a few factors to help you choose your next tiller/cultivator.
Engine
Gas-powered or electric-powered — these are two of the most favored types of engines that rototillers come in. Electric tillers can be simply plugged into the socket for a smooth run on the soil. While these are considered to be environment-friendly, they are not as flexible as gasoline-powered tillers.
The gas tillers operate on fuel cylinders, thus extending the run time, and can be maneuvered easily without the annoyance of the cord. Since these gas-powered tillers come with cylinders, they can be a bit challenging to move around with.
Blades
The kind of blades tillers come with have a lot of impact on your tiling job. Tiller blade's length and construction offer a clear view of how effective they are going to be, irrespective of the ground you start digging in. The three types of blades included with the tillers are:
Bolo blades: These have the capacity of digging deeper into the soil and slashing the area apart.
Slasher blades: These blades work effectively in cleaning soft soil grounds, which are more ideal for placing plant seeds. Slashers are commonly used in extracting weeds or pulling out old plants and vegetation.
Pick and chisel: Widely used on hard, rocky soil grounds, pick and chisel blades are unbreakable and the sharpest to come with tillers.
Weight
Since your main purpose is to have a small, convenient rototiller, a lightweight tiller is the best option to resort to. Lightweight models do restrict the movements; however, these become easier to shove into the ground. The electric tillers are the lightest of rototillers, whereas the gasoline-powered ones weigh more and handle cultivating tasks with ease.
---
Best Small Rototillers For Your Lawn
Mini rototillers are inseparable equipment from gardeners who heartedly practice cultivating their lawn. Here are some of our picks for the best small rototillers category.
1. Earthwise TC70025 Corded Electric Tiller
Beating some prominent's in this category, Earthwise's TC70025 is a product of many features that effortlessly tills down lawns. This electric tiller runs on a 2.5-amp engine that is capable of steering small to medium-sized lawns for longer durations. Equipped with four steel tines — each of these does an incredible job in tilling up to 7.5-inch wide and 6 inches deep into the ground.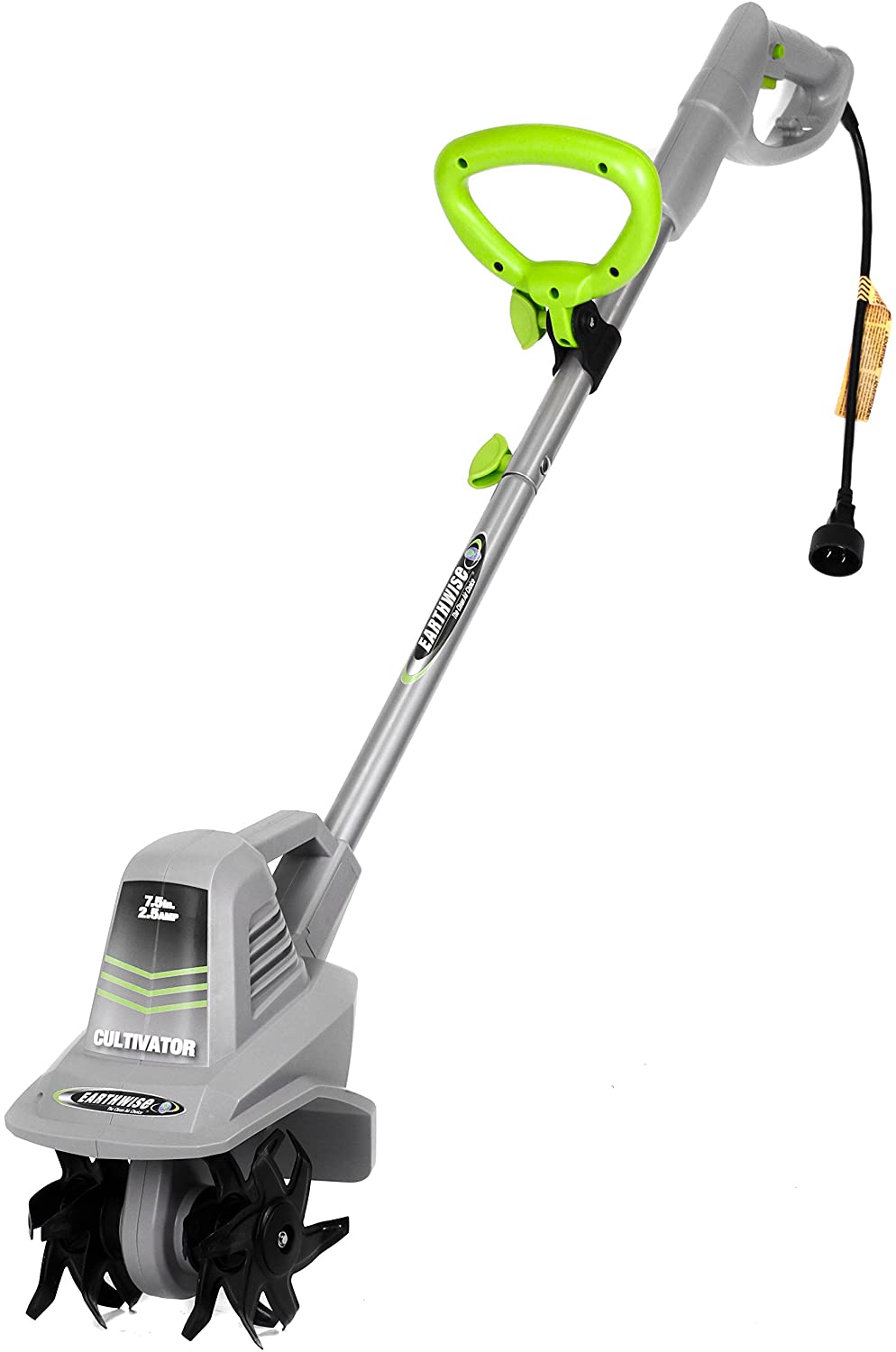 The tiller is designed to work smoothly for gardens, irrespective of their areas. The construction is appealing and comfortable for garden duties, thanks to soft and ergonomically designed handles that don't cause fatigue to your wrists. This corded tiller works simply by switching the single lever each time.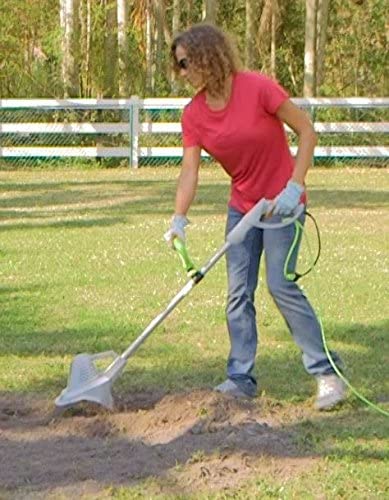 The TC70025 has an eco-friendly working process — hence becomes an automatic choice as a great substitute to gas-operating lawn and garden equipment. The only downside is that it comes with a wire that may limit your movements.
2. Sun Joe TJ603E Electric Tiller and Cultivator
Sun Joe's TJ603E is a powerhouse of a tiller, which with a 12-Amp motor whips across large garden areas without any stutters. The model houses six angled blades that maintain the balance between durability and effectiveness on all types of surfaces. The tiller is widely acknowledged for its cutting width of 16 inches and 8 inches of depth.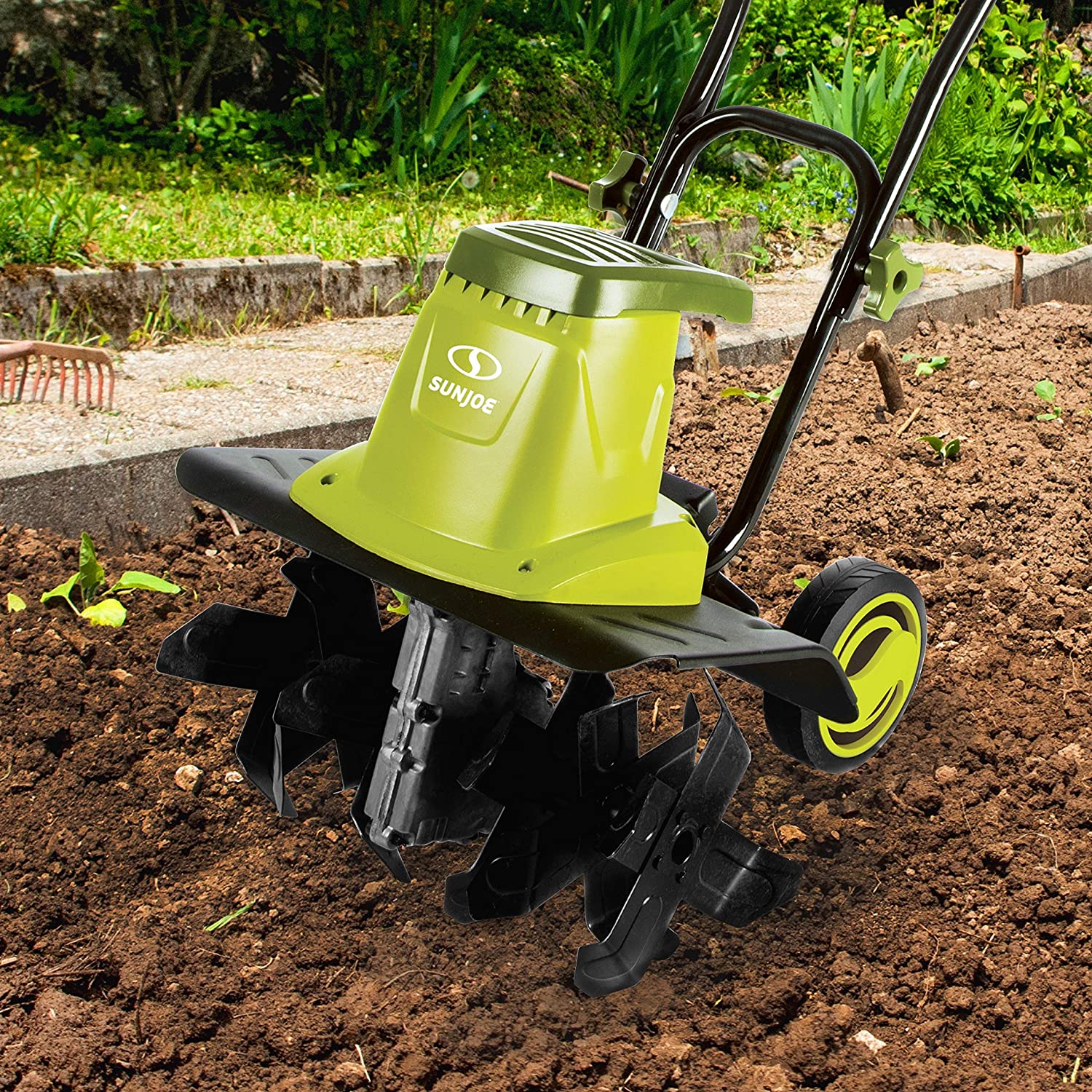 This tiller cum cultivator sports a safe-to-travel design, courtesy of foldable handles and adjustable wheels. The wheels can be tweaked to different positions for better steering through the lawns. Much like the Earthwise TC70025, this also is corded, so the inevitable restriction while maneuvering will be there.
The Sun Joe TJ603E operates on a 120-volt electric motor that is ideal for medium-sized lands. This rototiller is backed by a two-year warranty from the manufacturer, while also ensuring seamless assistance post-purchase.
3. Black+Decker Max Tiller (LGC120)
The undisputed champion regarded highly by regular lawnmowers — the Max Tiller from the house of Black+Decker is one high-effective piece to have in your garage. This dual-function piece gracefully tilts and cultivates small lawns and flowerbeds.

This machine is powered by a 20-volt lithium-ion battery, which can smoothly cultivate up to 325-sq. feet after fully charged. This also comes with an adjustable handle clubbed with a telescoping tube for a super-smooth session in the gardens. The counter-oscillating tines ensure that weeds or towering grass don't get twined when steering the machine.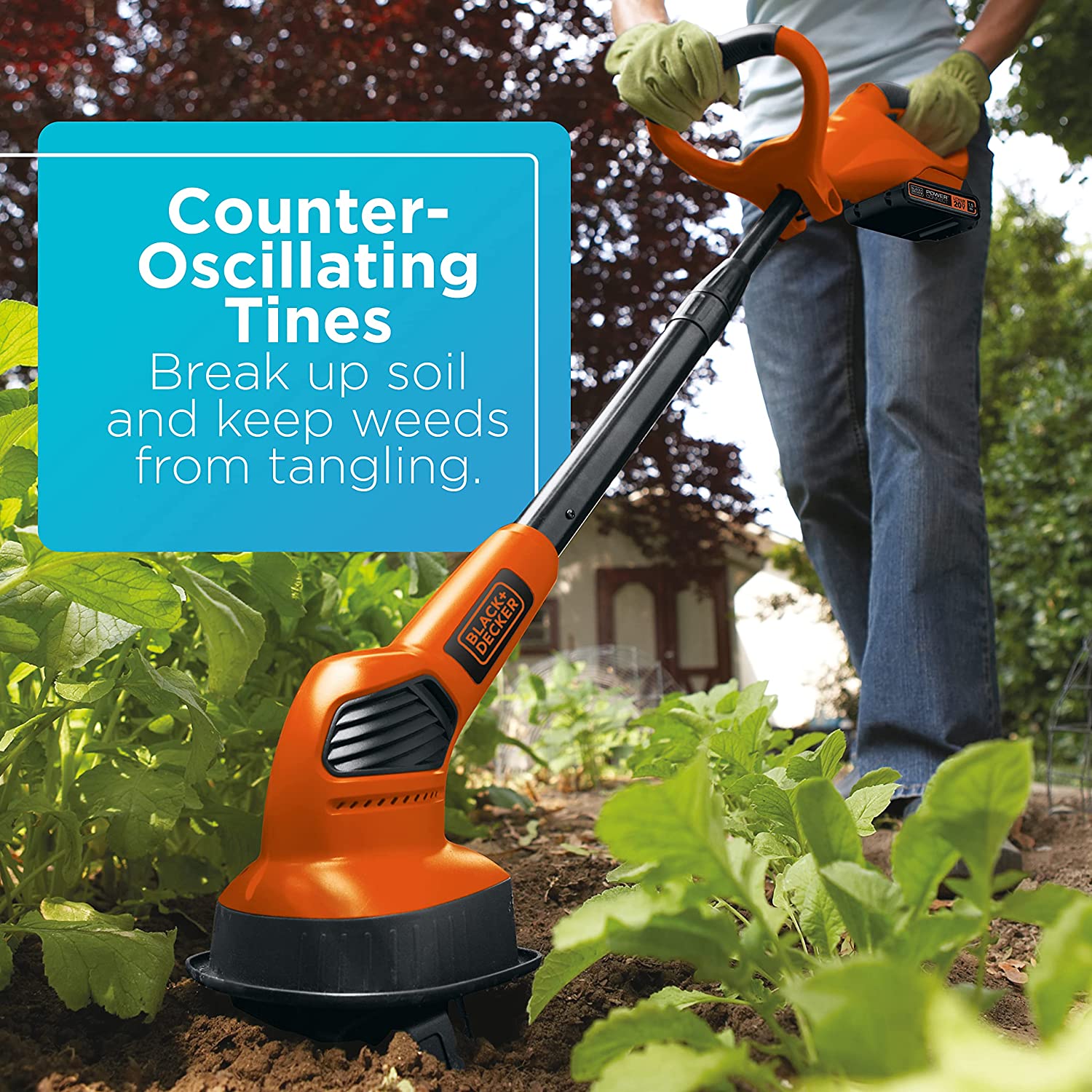 Max Tiller is unlike the two aforementioned products — it runs on battery and doesn't let the wire bother you as you steer the machine through the lawn. This rototiller is available in plenty of different styles, and with basic personal safety equipment. Moreover, the manufacturer also supplies the machine with a two-year warranty on tools and parts.
Also Read: Best Self-Propelled Lawn Mowers for Hills – Complete Reviews and Buying Guide
4. Greenworks 10-Inch Corded Tiller
Featuring another high-performing corded machine, the Greenworks has been a brand of high repute that many gardeners consider buying. The supplied 8-Amp motor is a powerful one that effectively tills on most soils — rocky, and clay, just to name a few. The machine comes with four 8-inch tines, which is more than enough of doing the required job.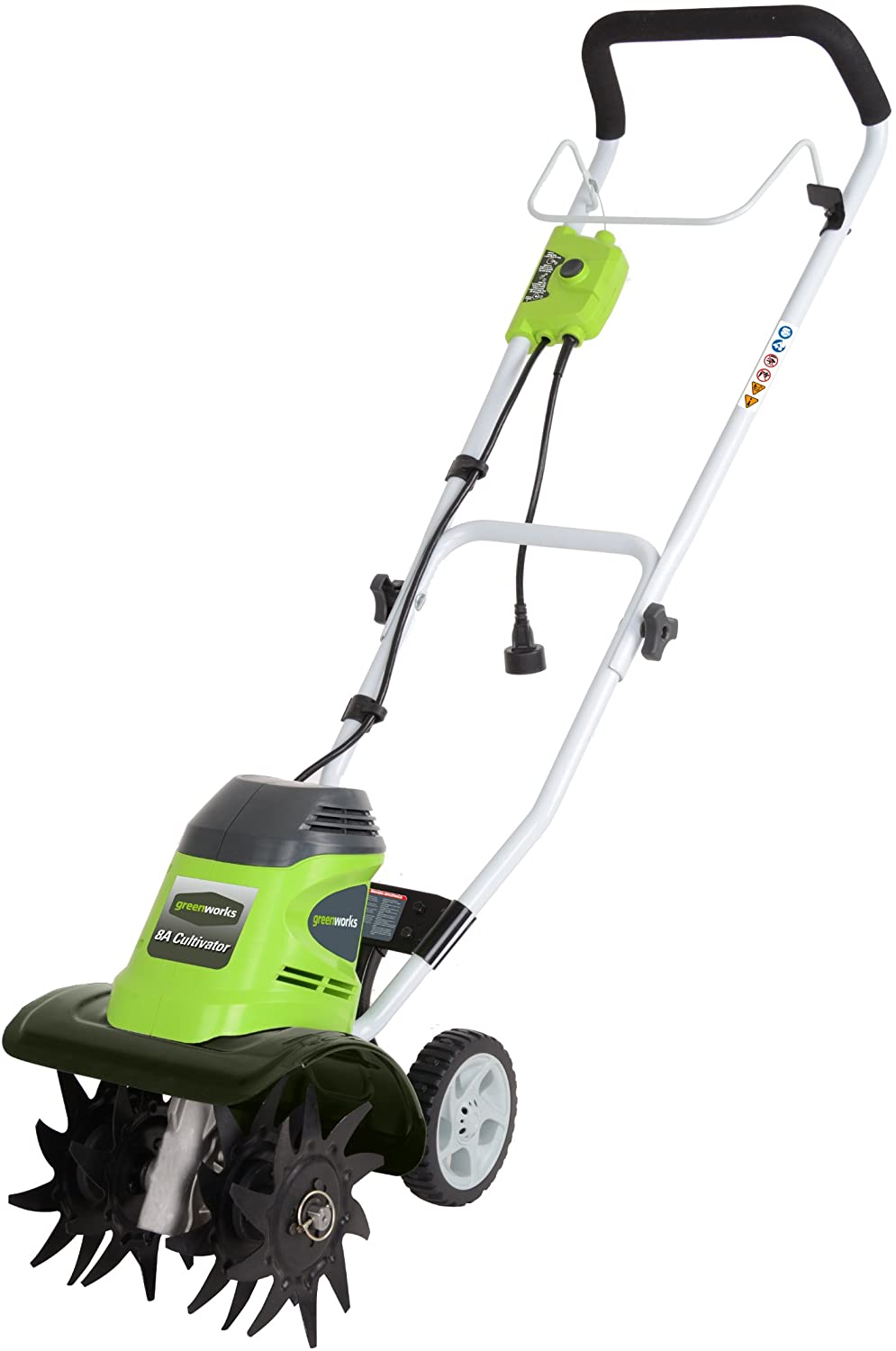 The tiller's width can be adjusted between 8.25 inches to 10 inches, depending on the kind of surface you are plowing. The tiller boasts adjustable wheels, which can be tweaked to a height of up to 5 inches. This corded tiller features a quick start button to help you kick-start the machine.
GreenWorks Corded Tiller is a convenient tool that is easy to store too — the foldable handles make room for sneaking the gear in almost any nook and corner of your house. At 29 pounds, this tiller could be slightly heavy to work as a small rototiller.
5. Mantis 7940 4-Cycle Gas Powered Cultivator
The last in the list of Small Rototillers is this premium gas-powered cultivator from Mantis is an extremely handy offering that  performs smoothly on any type of ground. Stacked with a Honda 4-cycle 25cc engine motor, the tines of the tiller effortlessly scour through the lawns at a speed of 240 RPM. This feature-rich cultivator houses curved blades that dig about 10 inches in depth.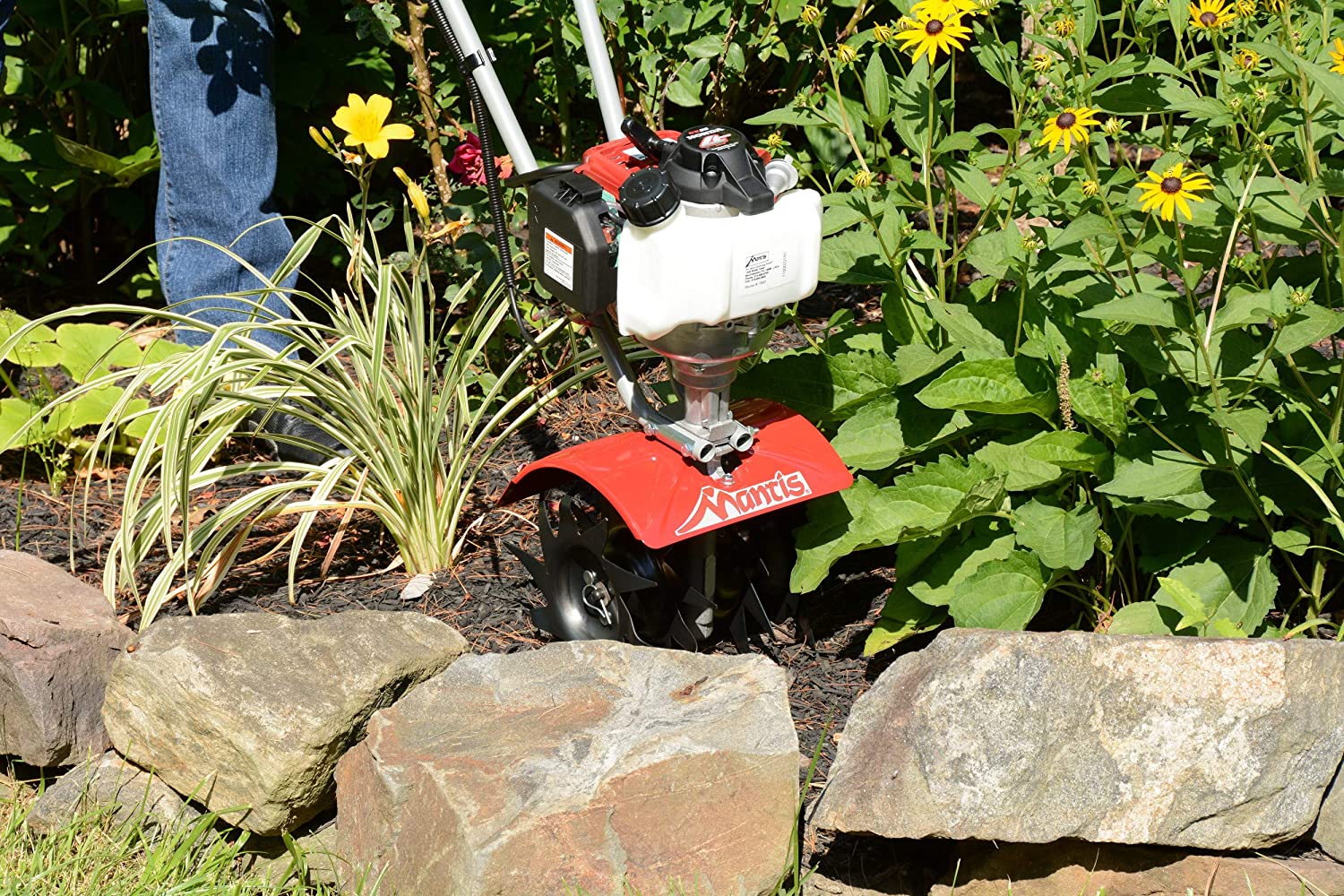 The cultivator comes with a kickstand that is nifty when the machine is not being used. Quite like most models on this list, this machine also features a folding handle that does help with storage and transportation. Since this is a corded tiller, you will have restrictions moving it through large-sized lawns.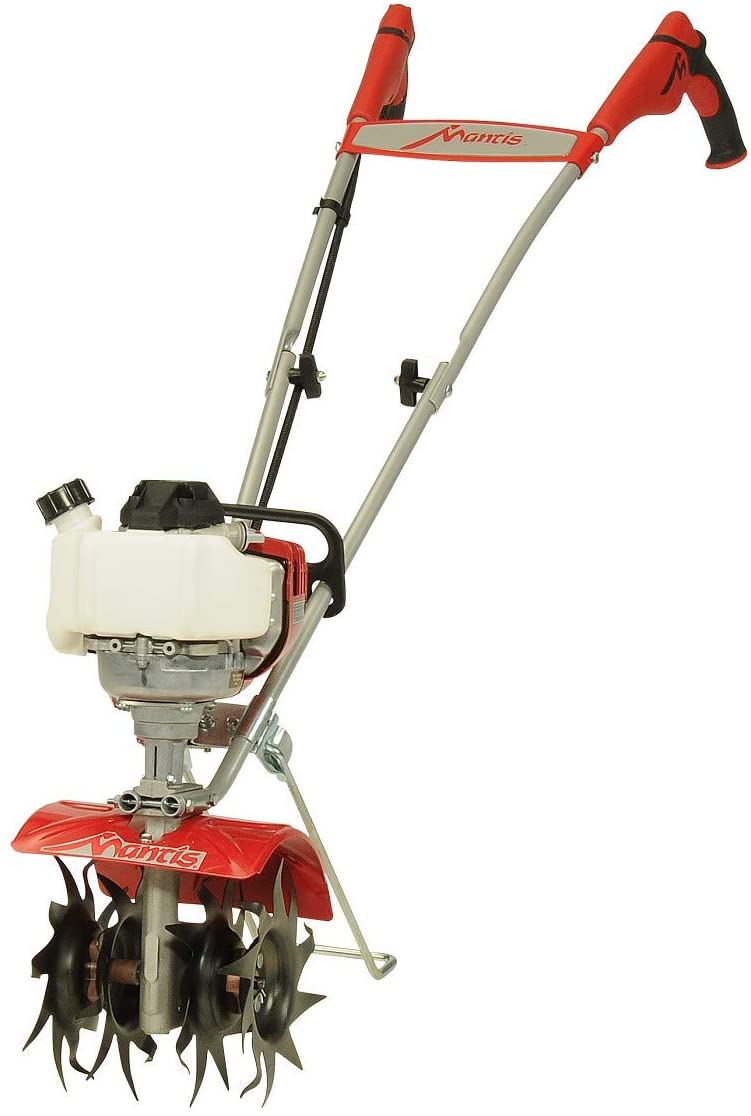 This also incorporates the use of a finger controller throttle for easy adjustment and tracking of speed. The Mantis 7940 weighs about 24 pounds, which is a tad delicate to push around. There is a two-year limited warranty supplied with the machine.
---
Conclusion
That was our list comprising the best small rototillers available on the market. Effective in everything they have to offer for your gardening/lawn needs — we recommend these products without any hesitation. Of all those listed here, Earthwise TC70025 Corded Electric Tiller and Sun Joe TJ603E Electric Tiller and Cultivator have been the pick of many and so are ours.
If there's a machine that has managed to pull off the cultivating job effortlessly for your backyard, mention it in the comment section below to help our readers make an easy choice.
---
FAQs
What is the ideal time to start tilling?
Several people from different opinions on when to start tilling. While most agree on tilling once a year, there are people who prefer not to till at all. Most gardeners carry out the tilling process during the spring season, which becomes the more favorable surface to implant the seeds. Nevertheless, it is important to inspect that area of your lawn you are about to dig. You can examine the area by simply using your finger or a soil thermometer. The best time to start is in the months of fall and spring.
What type of wheels are considered for tilling tasks?
Wheels are an integral part of tillers; they too require attention when buying. The wheels of the tillers have to be sturdy in design and construction. They also have to be huge to help maneuver the machine across stiff and rock-laden surfaces without constant stops.