Vegetables require care from their growth to the development phase. Tomatoes that look healthy and vibrant also require the same level of support to yield the desired results. The role of potting soil becomes crucial in ensuring that the plant remains healthy and rooted even in the most depleted conditions.
Potting soils are a blend of nutritious ingredients that promote the overall development of your tomatoes. That said, potting soils come in innumerable types — each with a different set of ingredients. We walk you through a few factors essential in considering the right kind of potting soil required for your tomatoes.
---
Guide to Buying Potting Soil for Tomatoes
Growing healthy and tasty tomatoes in limited spaces like pots requires attention to every detail. There are innumerable kinds of soil available with good aeration and drainage quality to support the growth of tomatoes and other veggies. Understanding that soil can make or break your favorite fruit/veggie — gardeners have to pick the best one according to their needs. Here are a few things to help you select one from the horde of products available.
pH Value
The pH level of soil has an indispensable role to play in the growth and development of your tomatoes. The pH level of 6.0 to 6.8 is considered suitable for tomatoes. A pH level of 7.0 or acidic is favored by tomatoes and most plants. Potting soils share the pH level content in their package. There are soils that come with neutral pH levels, allowing you to add substances to suit your plants.
Fertilizer
The next consideration is the fertilizer — and the ratio ideal for tomatoes is 5-10-10. Plenty of potting soil also act as organic material which are handy in the growth of plants in difficult conditions. Ingredients like coconut fibers, earthworm casing fall under this category. Since potting soils are more likely absorbent to nutrients, extra fertilizer is considered as a great tool in achieving positive results.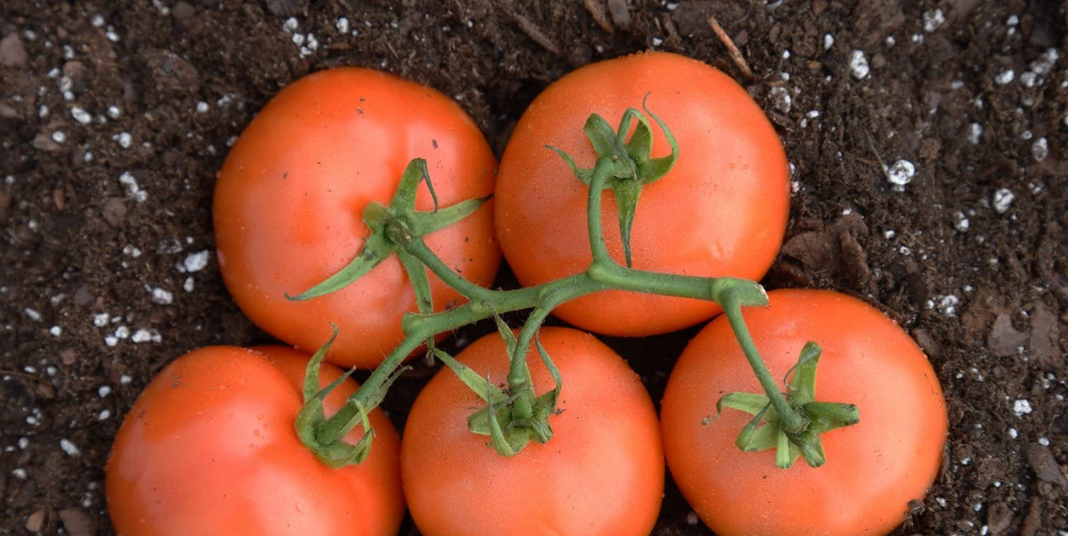 ---
Best Potting Soil for Tomatoes
Healthy and juicy tomatoes require utmost attention — with products available at our disposal it is better to take their help. Following are the best potting soil for tomatoes to help you achieve results effectively and quickly.
1. Espoma AP8 Organic Potting Mix
Espoma has been the household name recognized by many gardeners to grow juicy and healthy tomatoes. This potting mix package is supplied with Myco-tone water-saving formula, a one-of-a-kind formula that uses less water than most standard soils. This is a 100% organic formula that requires little to no mixing from your side.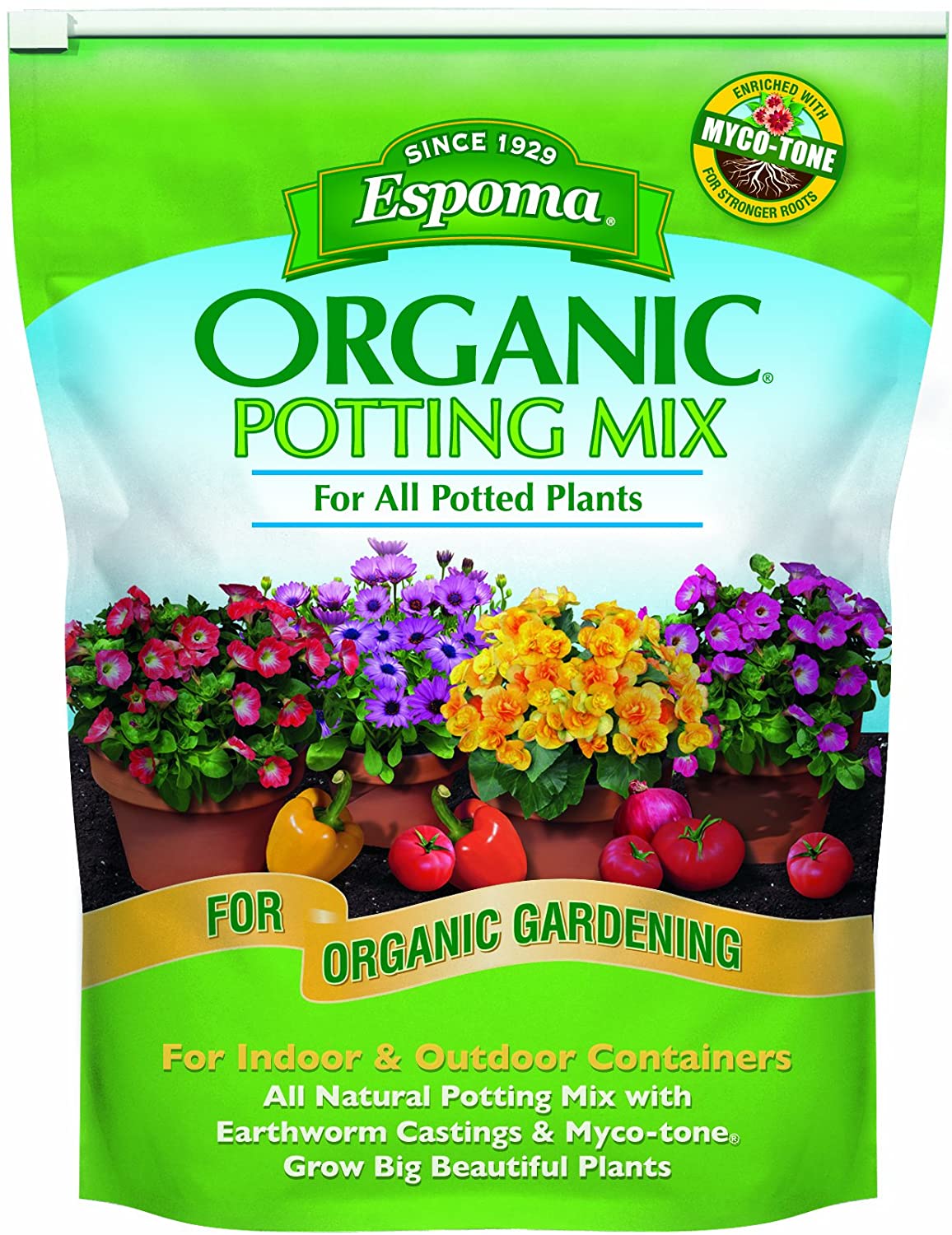 The AP8 is a package of wholesome organic ingredients, consisting of Canadian sphagnum peat moss, peat humus, and earthworm castings. The moisture retention and drought stress reduction are some of the main USPs of this potting package. What's more, the addition of certain ingredients makes this ideal to use both indoors and outdoors.
Espoma's AP8 is a much sought-after solution for potting needs — gardeners recommend this for all phases of tomatoes' development — from growth to transplanting your plants.
2. FoxFarm Ocean Forest Potting Soil
Highly regarded in the plant care industry, Fox Farm Ocean Forest Potting is touted as the best organic potting soil for tomatoes. This highly effective nutrient package comes with a 6.3 to 6.8 pH level that provides an acidic or alkaline soil bed for tomato and other seeds. This is a product that has a tinge of ingredients from both land and sea.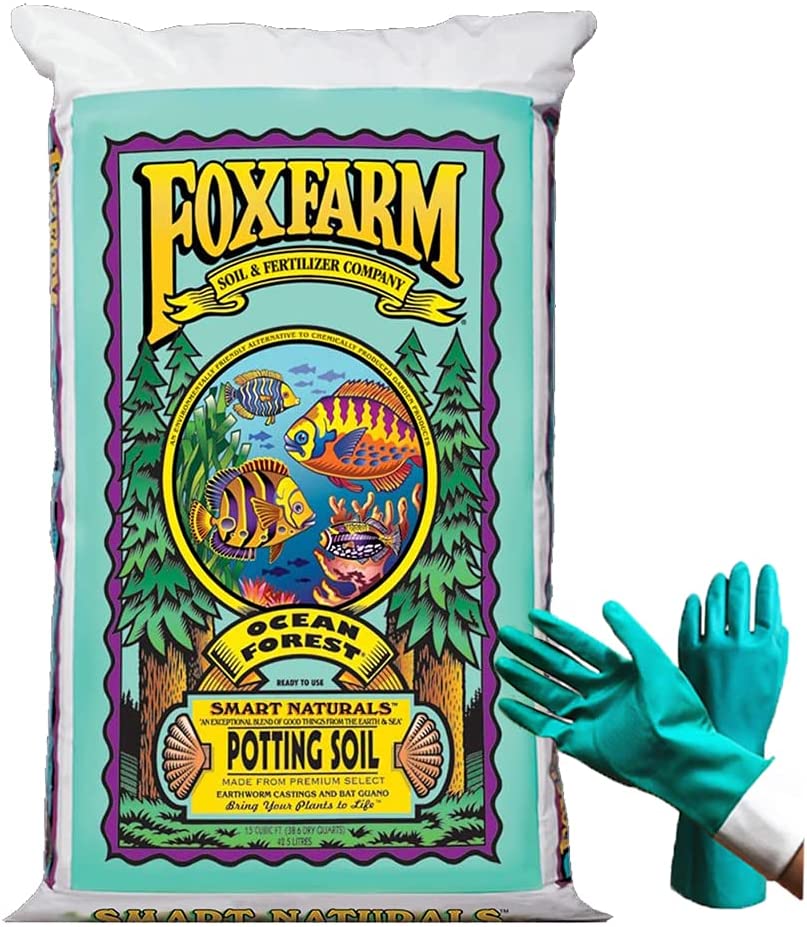 The inclusion of naturally rich ingredients like worm castings — plants become less prone to contracting diseases and thrive with strong branches. It has most of the standard potting soil ingredients and is an all-natural mix, making it more suitable for plants grown in limited spaces like containers.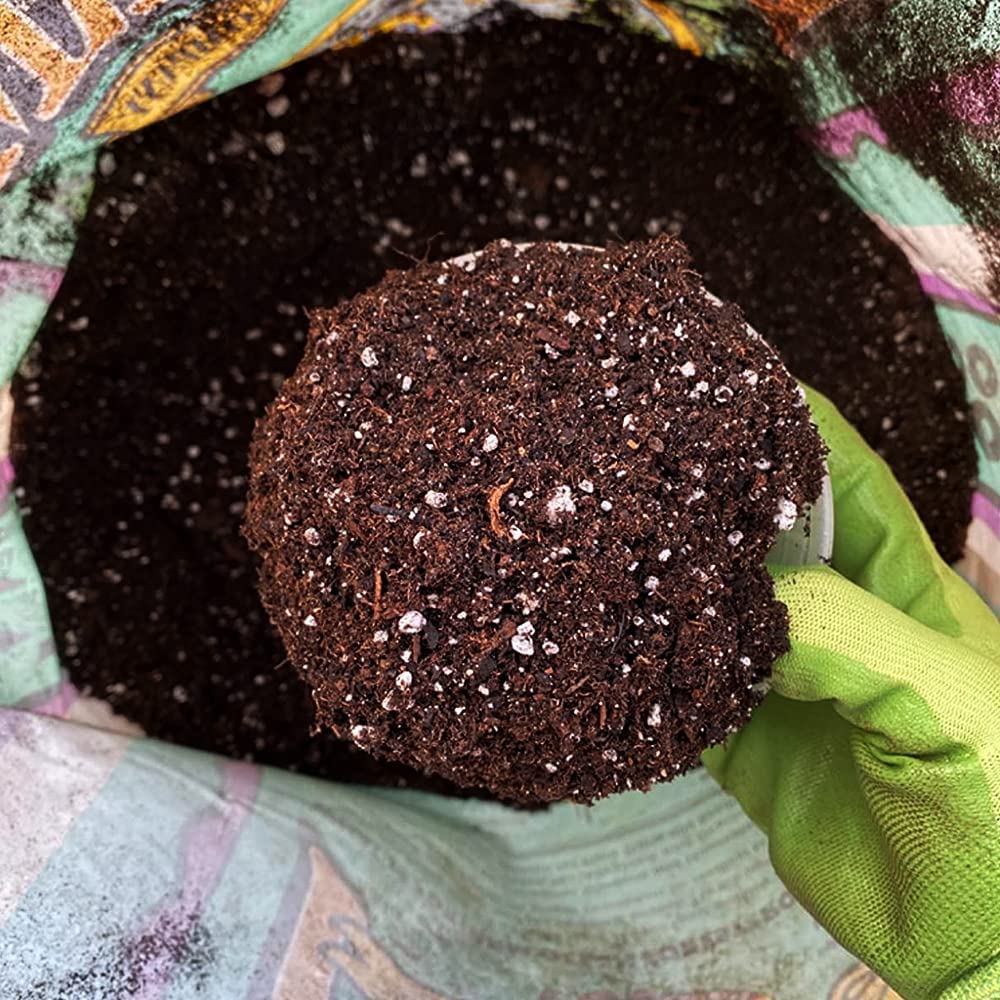 Besides all the quality ingredients involved, FoxFarm's Ocean Forest Soil also comes with a protective pair of gloves that come in handy in planting and other gardening duties.
3. Miracle-Gro Potting Mix
Miracle-Gro is a gardener's favorite for potting and other gardening requirements. This potting mix is highly preferred for container-grown veggies. This has the unique ability to retain moisture as you sprinkle over the plants, thanks to the special wetting agent.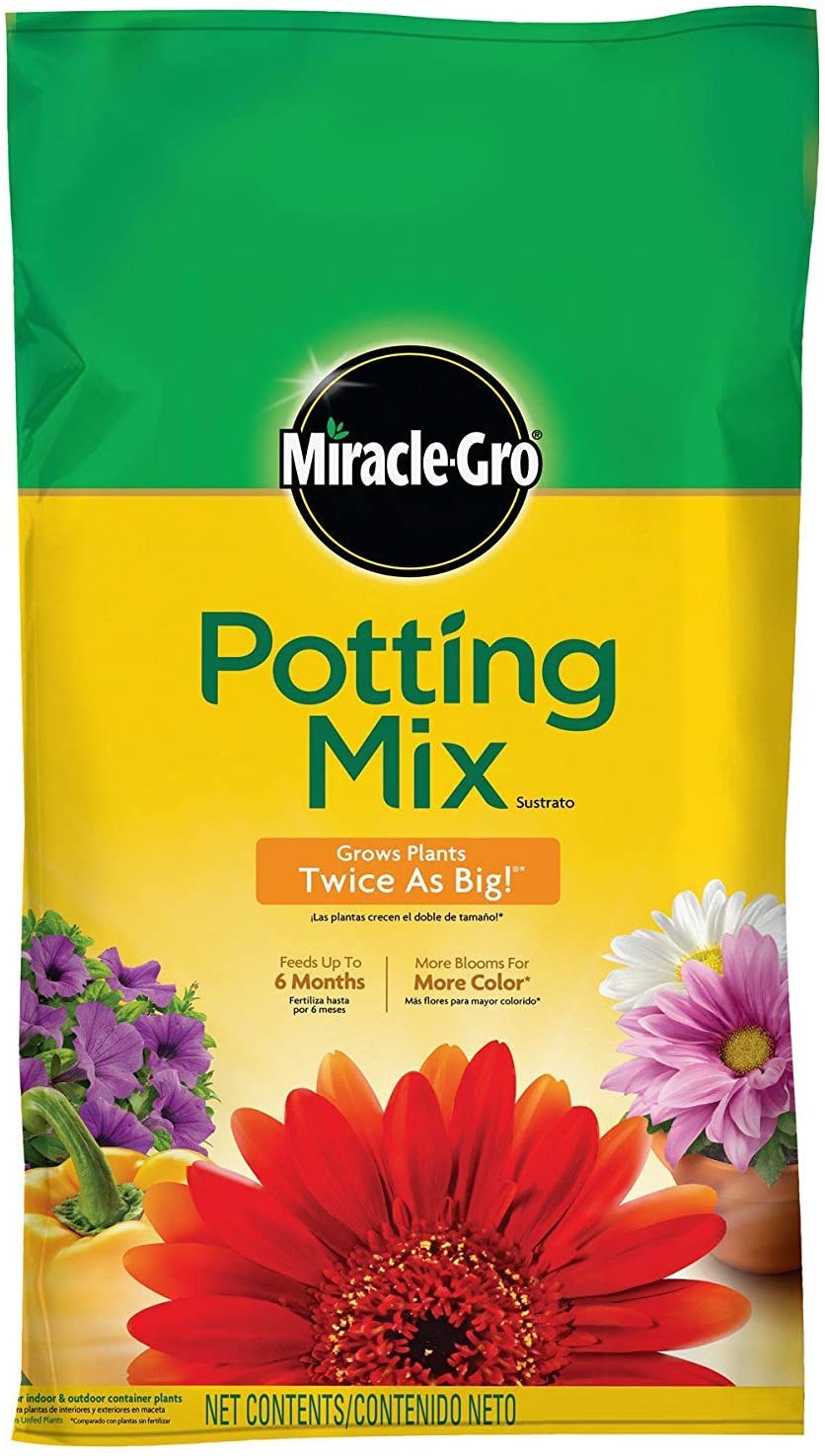 With a decent amount of fertilizer ratio, this package is capable of feeding plants for up to size months. It has all the ingredients to help tomatoes thrive in both indoor and outdoor conditions — peat, coir, sphagnum peat moss, and perlute, just to name a few. The aforementioned ingredients are essential in the growth of tomatoes and also mitigating the risk of rotting roots.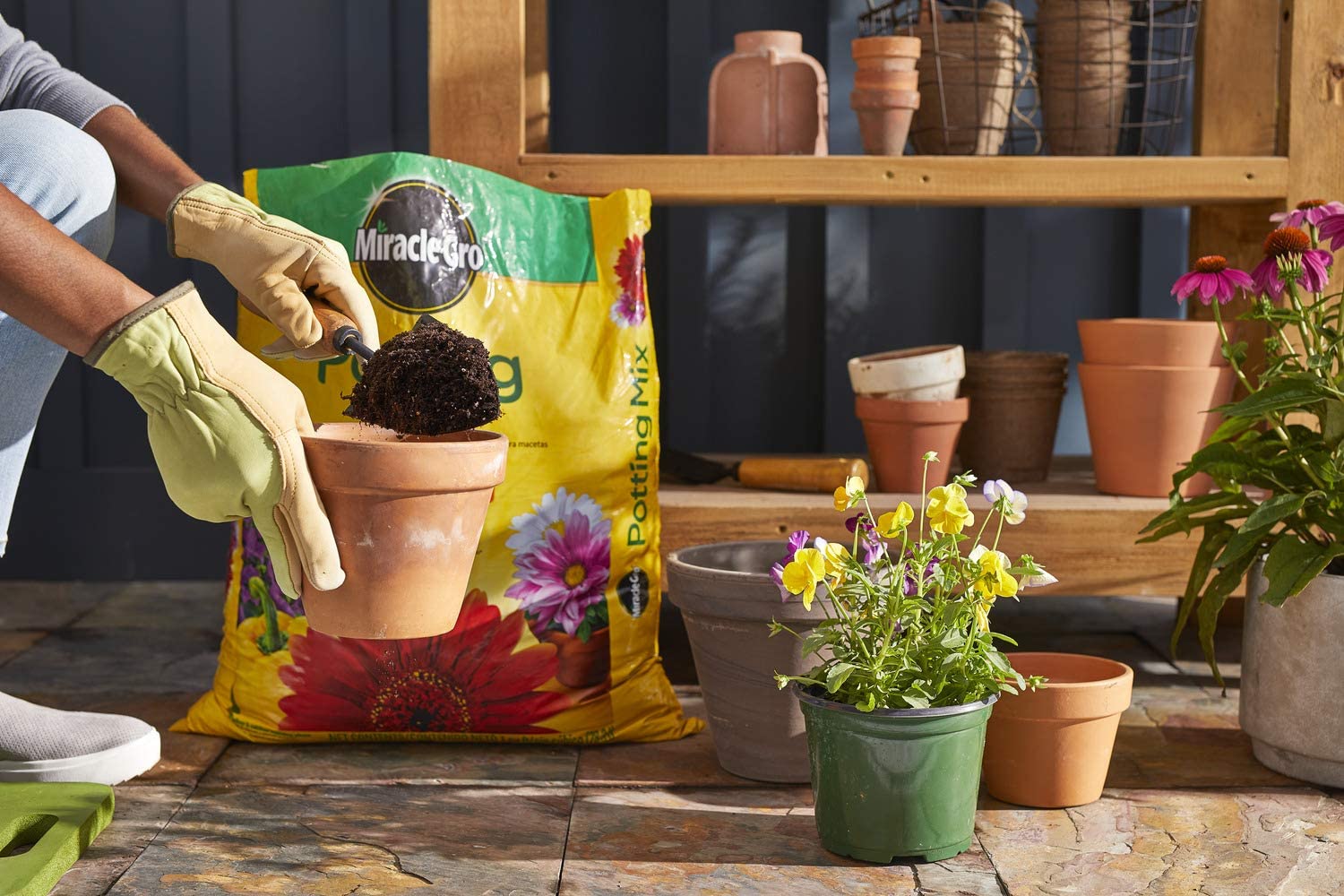 This nutrient-rich blend of Miracle-Gro comes without any pesticides. Since this is an all-purpose potting soil, you can have unconditional benefits even when using it on flowers and plenty of other plants. It is available in sizes ranging from 1 cu. ft to 16 quarts.
Also Read: The A – Z Guide Of Small Rototillers For Your Lawn
4. Organic Potting Mix by Perfect Plants
Understated yet effective in all stages of development, Perfect Plants' Organic Potting Mix is a go-to option to help in the growth of not just tomatoes but all herbs, and vegetables too. This has a healthy, nutrient-enhancing concoction of ingredients like peat moss, perlite, earthworm castings, coconut air, composted pine bark, and dolomite lime.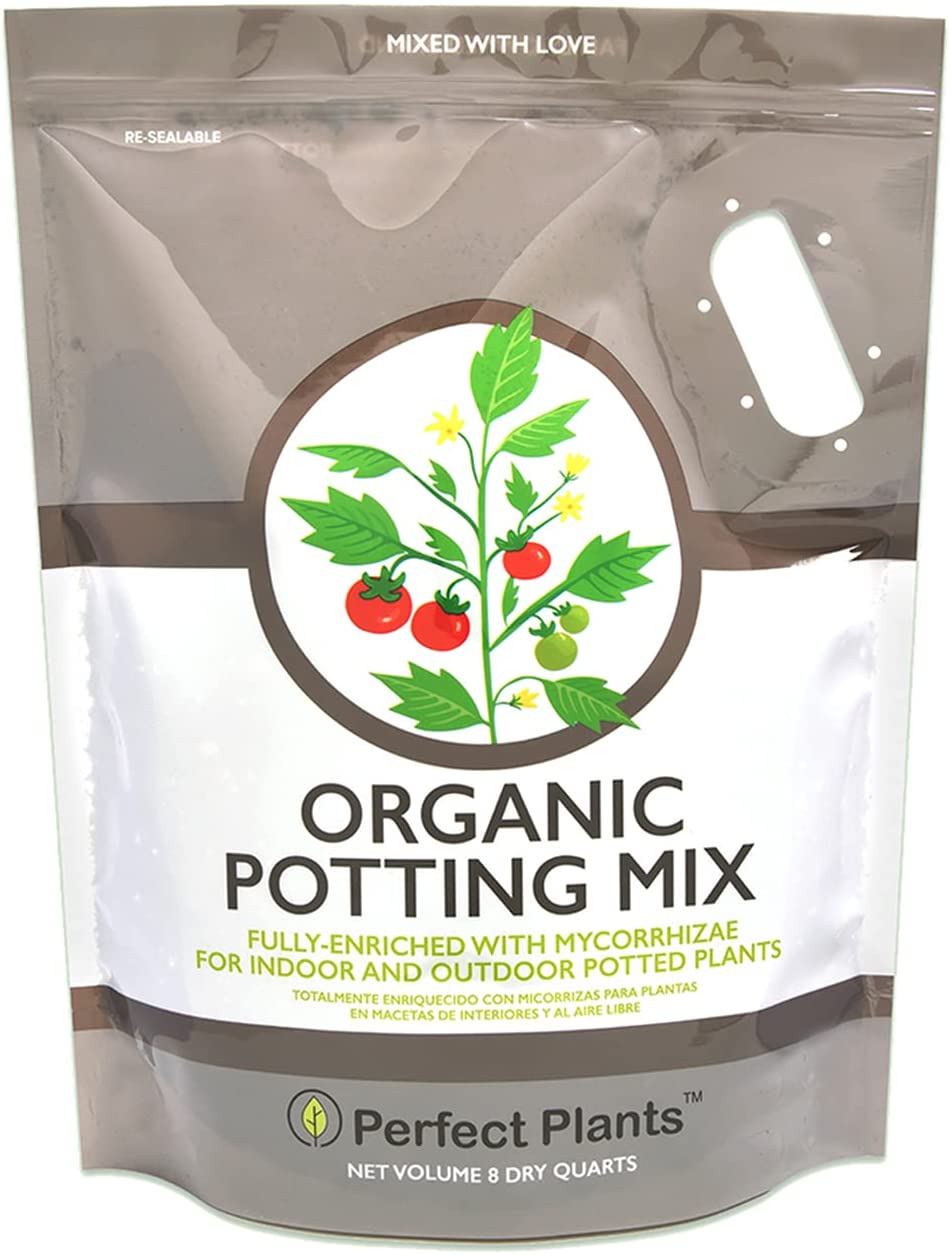 The addition of coconut coir allows water to seep through soil particles. This solution compensates for the inadequate watering issues and spreads easily to the seeds of tomatoes. In addition, this potting soil comes with balanced pH levels for a better supply of nutrients pivotal in the growth of tomato plants.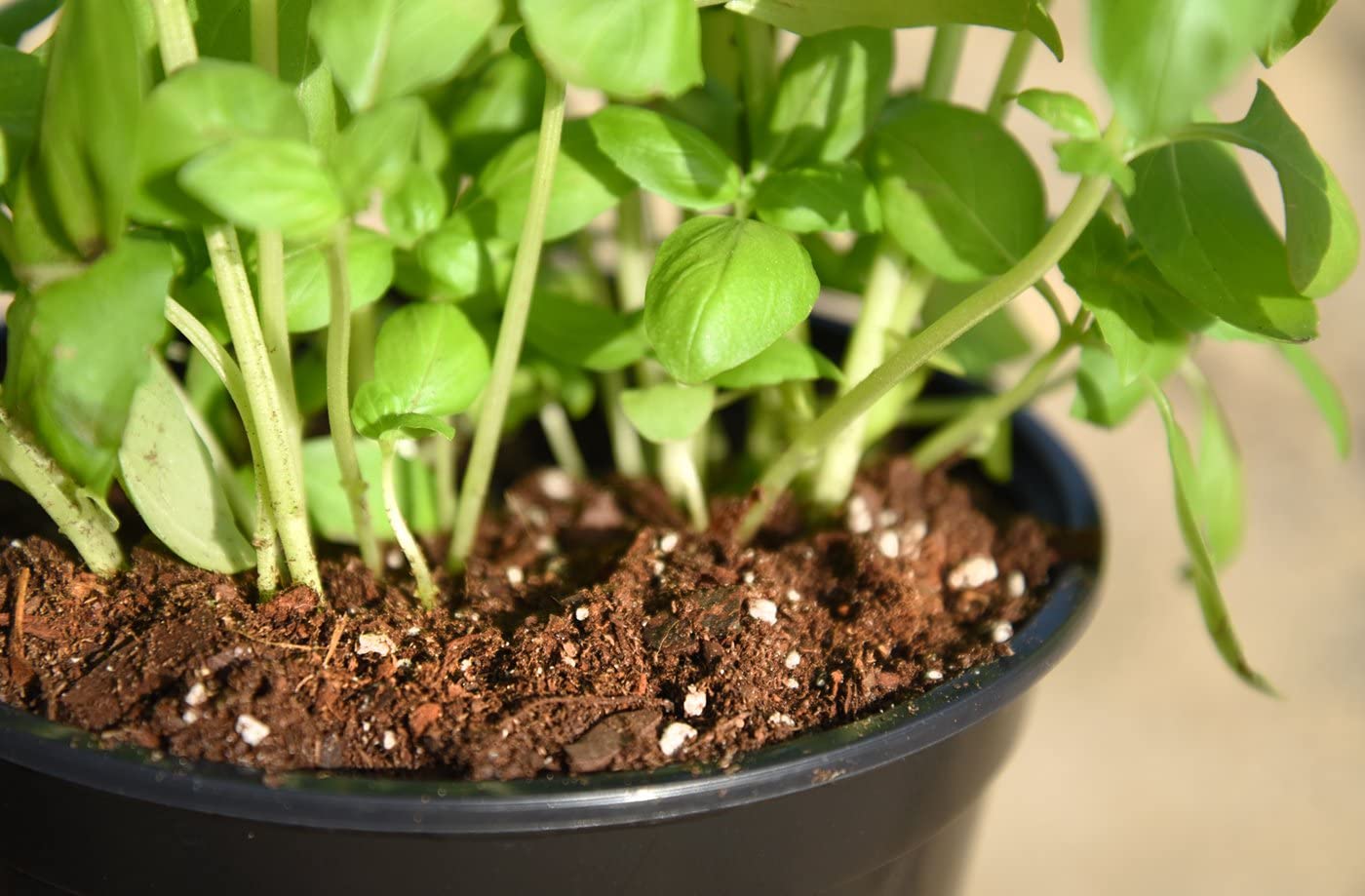 This comes with a re-sealable pouch, which is nifty with storage. All in all, Organic Potting Mix is arguably the best find for indoor and outdoor use on herbs, cannabis plants, and all kinds of veggies.
5. Black Gold 1302040 Potting Soil
Black Gold takes pride in manufacturing reliable and high-quality gardening equipment. The 1302040 potting soil is the gardener's product for tomatoes in conditions such as containers and ground. This potting soil comes without harmful elements like synthetic chemicals or toxic substances.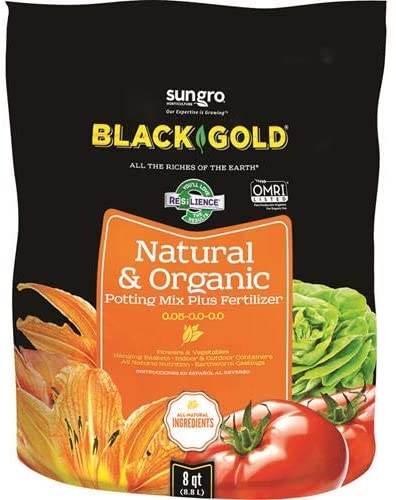 The list of ingredients enhances the growth to development stages of tomatoes — it is derived from Canadian sphagnum peat moss, composted bark, compost, earthworm castings, horticultural perlite, fertilizer, and more. The soil's rich, the loamy mix makes it ideal for all kinds of gardening requirements.
Black Gold also incorporates the use of RESiLIENCE silicon compound, which is a great addition to enhance the growth of plants and most flowers.
---
Conclusion
Potting soil is a piece of must-have gardening equipment with unparalleled benefits to all kinds of plants, especially tomatoes that grow inside the container. We listed some of the best potting soils that come with all components essential in the growth of your tomatoes. Espoma AP8 Organic Potting Mix and FoxFarm Ocean Forest Potting Soil — are two of our favorites from the above list.
Hope you use one from the aforementioned list of products to nourish your favorite plant. If you've already used one, let us know how it went in the comment section.
---
FAQs
What is the most preferred soil depth considered for tomatoes in containers?
Tomatoes have their roots not spread to the depth, instead, they scatter out. The ideal soil depth considered by most experts is between 8-12 inches within the containers. You can take a trowel to loosen the soil before you transplant the tomato plants. Always plant three to four inches deep into the container, as this allows roots to spread from the stem and create a sturdy plant.
Do coffee grounds work well even for tomatoes?
Coffee grounds have also become suitable for tomatoes. With a blend of compost, they can become a great fit for your tomatoes. The help in bolstering the growth of root and stem, courtesy of the high presence of nitrogen. Moreover, they also serve as an attraction for earthworms, which have an abundance of beneficial nutrients for the growth of your tomatoes. In addition, they also act as a barrier in preventing pests from penetrating your tomato plant.
What is the ideal soil requirement for tomatoes to develop in containers/pots?
The ballpark figure is at least five gallons of soil. Wider the container, the more suitable it is for the growth of your tomatoes. This is because tomatoes tend to scatter outside the container more than in-depth.