Composting waste from your yard or kitchen is the simplest of tasks —and pretty easily achievable with a set of handy tools at your disposal like the composting grinder. The process may be exhausting to a few, but it becomes fun and easier after frequent use.
The market is thriving with options —both in manual and electric ones. We have picked a few items that we enjoyed churning down our kitchen. We have listed those below. Prior to buying one, there are certain factors to consider. Following we have narrowed down a few of those to help in choosing the best one according to your needs.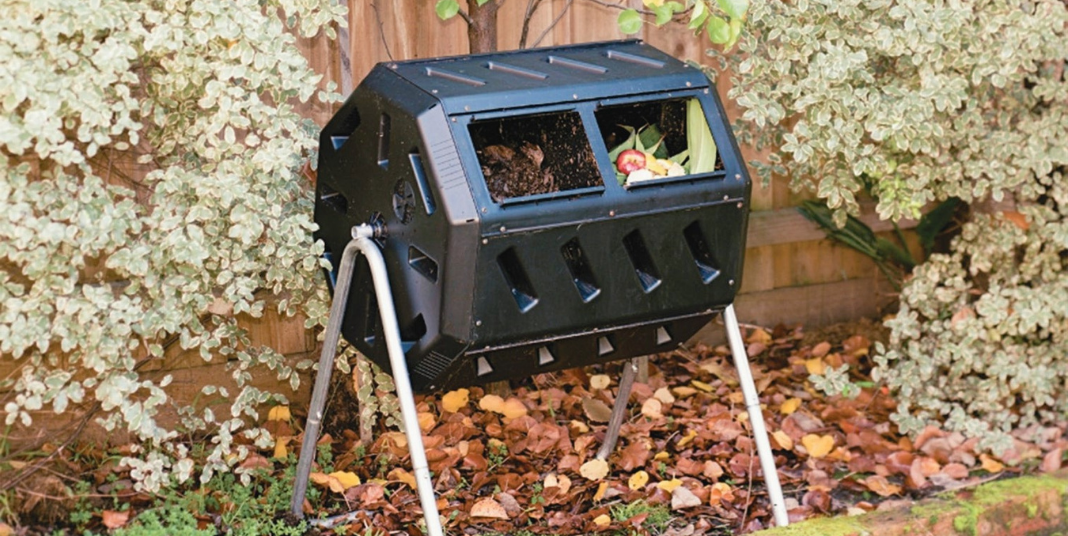 Materials
The material used in the making of composting grinder does play an indispensable role. The exteriors of the grinder must be durable plastic with a touch of UV coating. While navigating through the frame, ensure that it is either in stainless steel or in powder-coated steel. This prevents the grinder from surrendering to rust and corrosion. Recycled bins have also gained popularity in recent times. These are safe but require additional care.
Size
Always consider the space you have where you will be placing the bin. Grinders come in different sizes, so you will be spoilt for choices. The smaller grinders come with minimal capacity, thus have to be discharged quite frequently. You need to have a clear idea of the amount of waste you'll be generating. Based upon the ballpark figure, then proceed to buy one.
Loading & Unloading
Two self-explanatory terms have a massive role to play in the composting process. The bins with large doors allow you to toss large chunks of compost. Another factor to consider is the height of the grinder. Make sure you go for a taller one so you can place a bucket to hold the remains of the compost.
---
Best Composting Grinders
With a few basics discussed, the time we move to the crux of the article. Following is a list of the best composting grinders currently available in the market.
1. Worx WG430 Electric Leaf Mulcher
The most sought-after item on our list is the WG430 from the house of Worx. This electric leaf mulcher is a complete machine to help with your lawn cleaning needs. The bladeless design is quick to mulch down bags of leaves without the requirement of any additional tools. The 13 Amp motor offers a top-notch performance —mulches up to 53 gallons of leaves per minute.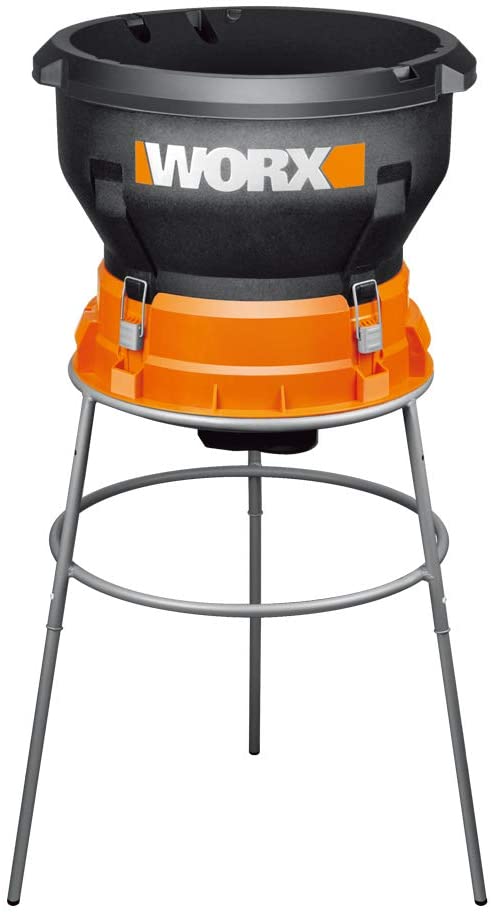 The clean air motor cooling system is quite efficient at eliminating dust. At 20 lbs, the WG430 is convenient enough to store inside your garage. The foldable construction of the grinder makes it easy to travel with. The most fascinating thing about the mulcher is that it supports the use of both plastic and paper bags.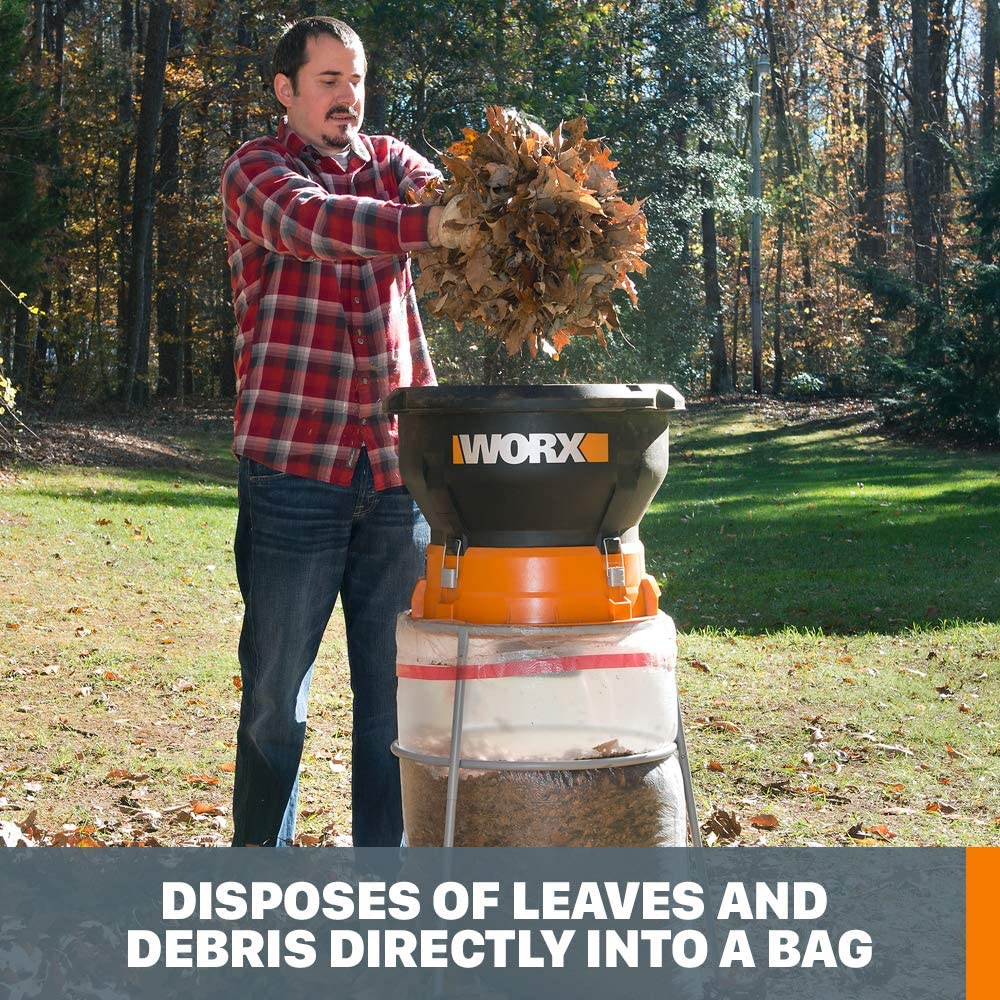 This is a recommended buy for those on budget. Everything about this is simple and straightforward —from assembling the machine to disposing of the waste.
2. Joseph Joseph 30060 Intelligent Waste Totem Kitchen Compost Bin
Joseph Joseph is a well-established brand in the market —with the 30060 Compost Bin it takes innovation a step further. This one has a 16-gallon container clubbed with a multi-purpose drawer, offering space to store accessories at the base. The removable bin is easily accessible, and can also be stored either on the top or bottom compartment.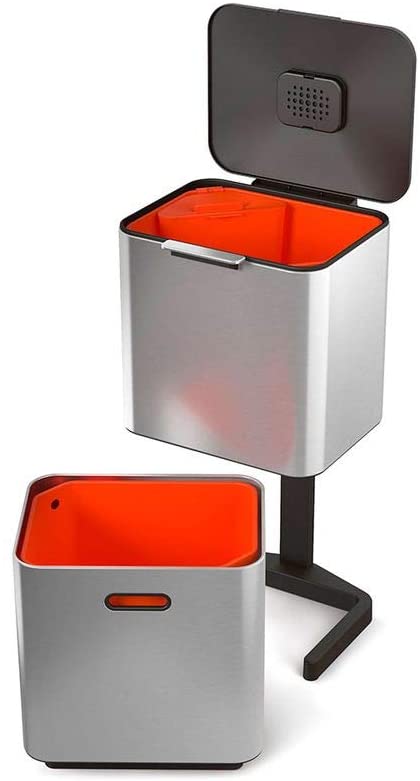 The 30060 boasts advanced features like the —ventilated odor filter, a one-of-a-kind technology that lets air pass through a carbon filter for pleasant and refreshing odor. This is transport-friendly gear, all thanks to the wheeled base which helps to move the machine from one corner to another.
All in all, this is one machine that stands tall even during large tasks. Moreover, with the 10-year warranty —this one is a bankable machine too. The bin comes in four unique styles: namely, graphite, stainless steel, stone, and carbon black.
3. Miracle-Gro Small Composter
The Miracle-Gro Small Composter is another worthy contender to satiate your kitchen and gardening needs. This 27.7-gallon composter is spacious and stands tall on its metal legs. Furthermore, the compact design of this machine makes it easier to accommodate on either patio or the backyard.
The composter houses mixing bars which expedite the decomposition process. It also features a strong locking system that ensures the smooth loading and discharging of waste. The composter impresses with its durable materials such as BPA-free, food-grade, and UV-protected plastic.
Miracle-Gro's composter is light and can be conveniently placed in every corner of the house. This is an all-weather machine that can withstand nature's severities. For the environment saviors, there's more —it also helps in reducing your carbon footprint.
Also Read: Best Potting Soil for Tomatoes: Juicy & Healthy Tomatoes Guaranteed
4. Vitamix 068051 FoodCycler FC-50
The Vitamix 068051 is a feature-rich composter that does all your composting work with a push of a button. This multi-purpose machine grates food scraps and produces soil fertilizer in a matter of a few hours. It comes with a removable waste bin clubbed with a carbon filter lid that restricts horrid smell.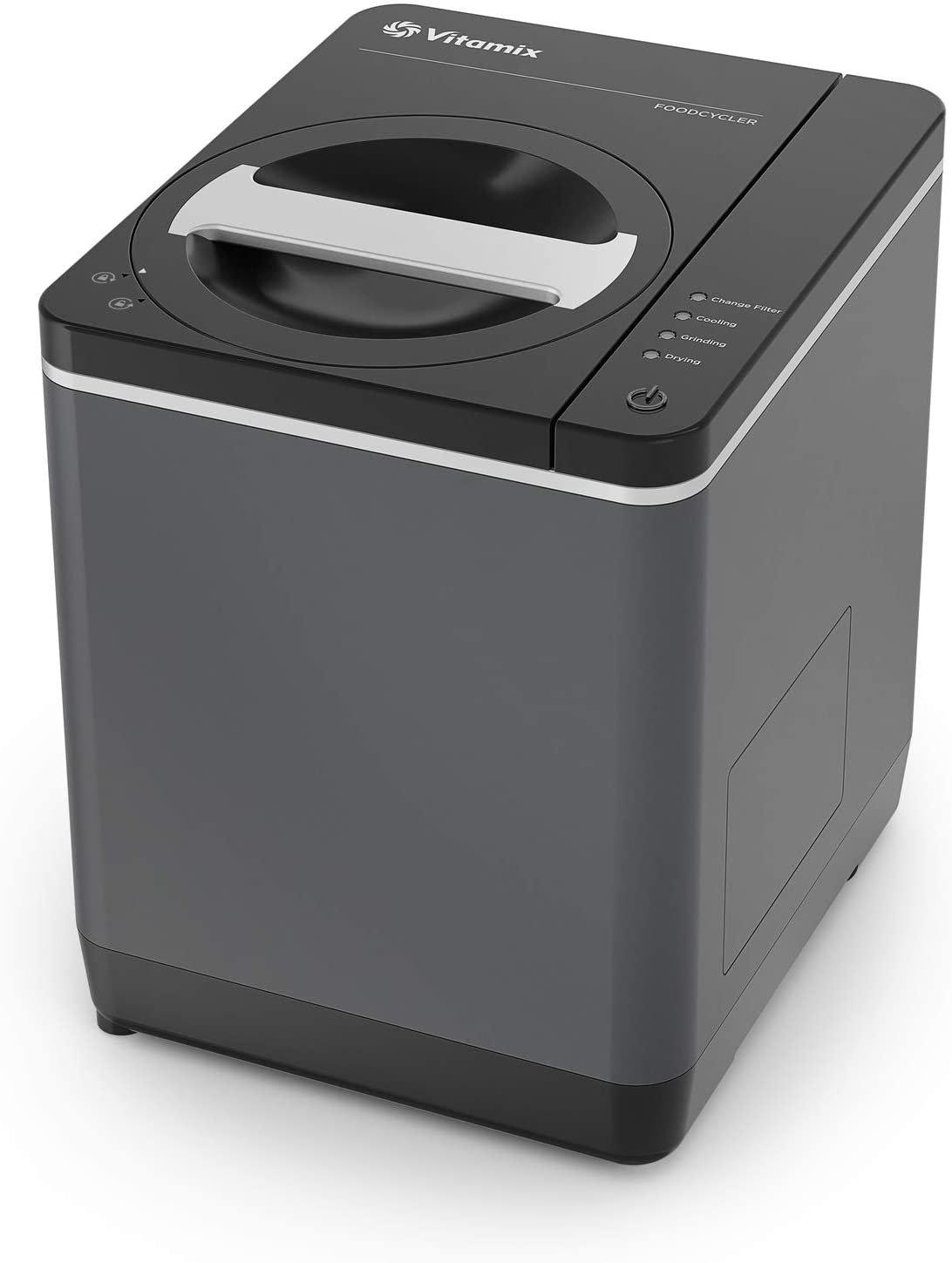 It is supplied with a two-liter capacity bin —meaning it is not equipped to deal with large collections of waste. Moreover, the three-year warranty does instill a little faith in the device. In terms of build quality, it is elegant with a touch of ruggedness. The FoodCycler FC-50 is an easy-to-use machine with plenty of controls that make the composting task bearable.
5. Exaco AEROPLUS 6000 Compost Bin
The final product on this list of best compositing grinders is Exaco's AEROPLUS6000. The compost bin is tiny and space-efficient —still produces amazing results in a hassle-free manner. This machine works on a three-phase system, which allows effortless mixing and aeration of the compost.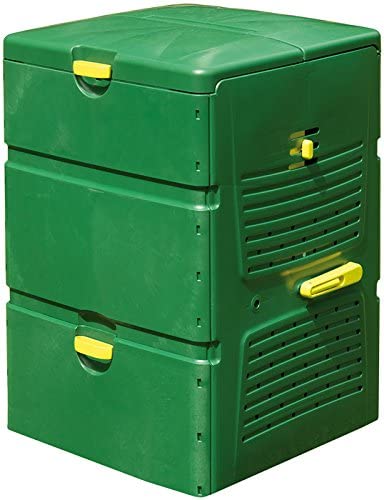 The bin also features removal flaps coupled with snap-on wind protection. The addition of a hinged lid with swiveling handle prevents pets from entering the bin. Moreover, the bin is also marked as "dishwasher-friendly", so you won't have problems cleaning the remains.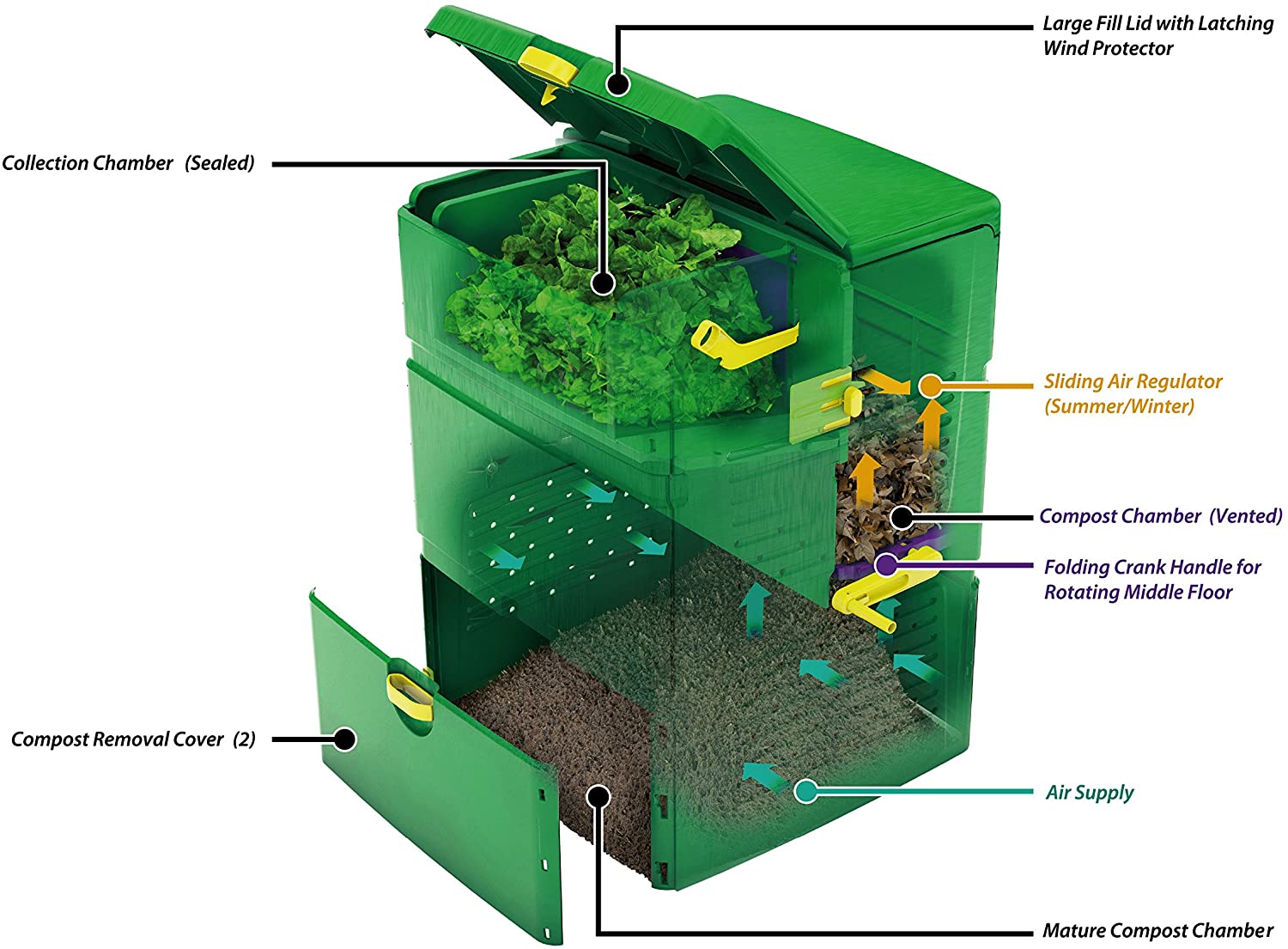 AEROPLUS6000 is a wholesome package used in shredding down your kitchen waste and churning those into pulp. The compost bin is supplied with a two-year warranty and comes with all-weather support.
---
Bottom Line
Navigating through a horde of products in this overwhelming market isn't easy. We trimmed down the list to five of the best composting grinders that are super-efficient and qualify for today's standards. We also have favorites from the list —Worx WG430 Electric Leaf Mulcher and Joseph Joseph 30060 Intelligent Waste Totem Kitchen Compost Bin.
Go ahead and pick one of these —they are efficient in mulching down your kitchen and garden compost quite painlessly.
---
FAQs
Can water be used in a multi-phased compost grinder?
Water is imperative; however, not most grinders can withstand water. Water prevents multiple chambers from performing smoothly when used simultaneously. You will be inundated with issues such as odor or incessant noises. We recommend adhering to the instructions jotted down in the manual to understand the capabilities of your grinder.
Are compost grinders without a lid as effective as those with lids?
Compost grinders generate power from micro-organic activity. During this grinding process, you will inevitably face the wrath of an unpleasant odor. It then attracts flies, thus making a lid super essential. A lid offers compost protection from the smell and keeps flies at bay.
What items cannot be tossed into a compost grinder?
There are several items that when tossed into the grinder may harm its performance —including fish, meat, eggs, or dairy products. Other elements include coal, charcoal ash, fats, and oil material. All these elements are unhealthy to the environment once they come out decomposed.