Kids are a gift to many; however, handling two kids at a time can be strenuous. To help traveling with the newborns easier, a double stroller is all you need. Double strollers make the most challenging of jobs easier by offering space for two kids and accommodating the essentials you require when strolling.
Before you stroll around the market or scroll through innumerable sites, we've got you covered in this article. If you have budget constraints or can't afford to spend much on kids, the following are few of the best affordable double strollers under $100 currently available in the market.
---
Best Double Strollers Under $100
Finding one within your budget is a daunting task; however, you must consider keeping your babies safe all the time. Below is a list of ten best double strollers under $100 that might just do the job.
1. Jeep Scout Double Stroller
Affordable and functional, the Jeep Scout Double Stroller is first in the list of best double strollers under $100. This is arguably the most comfortable stroller for your toddlers to lay in. This double stroller boasts of multiple recline options, allowing your babies on board to enjoy the ride without bothering them. The seats feature a five-point safety harness coupled with soft shoulder pads.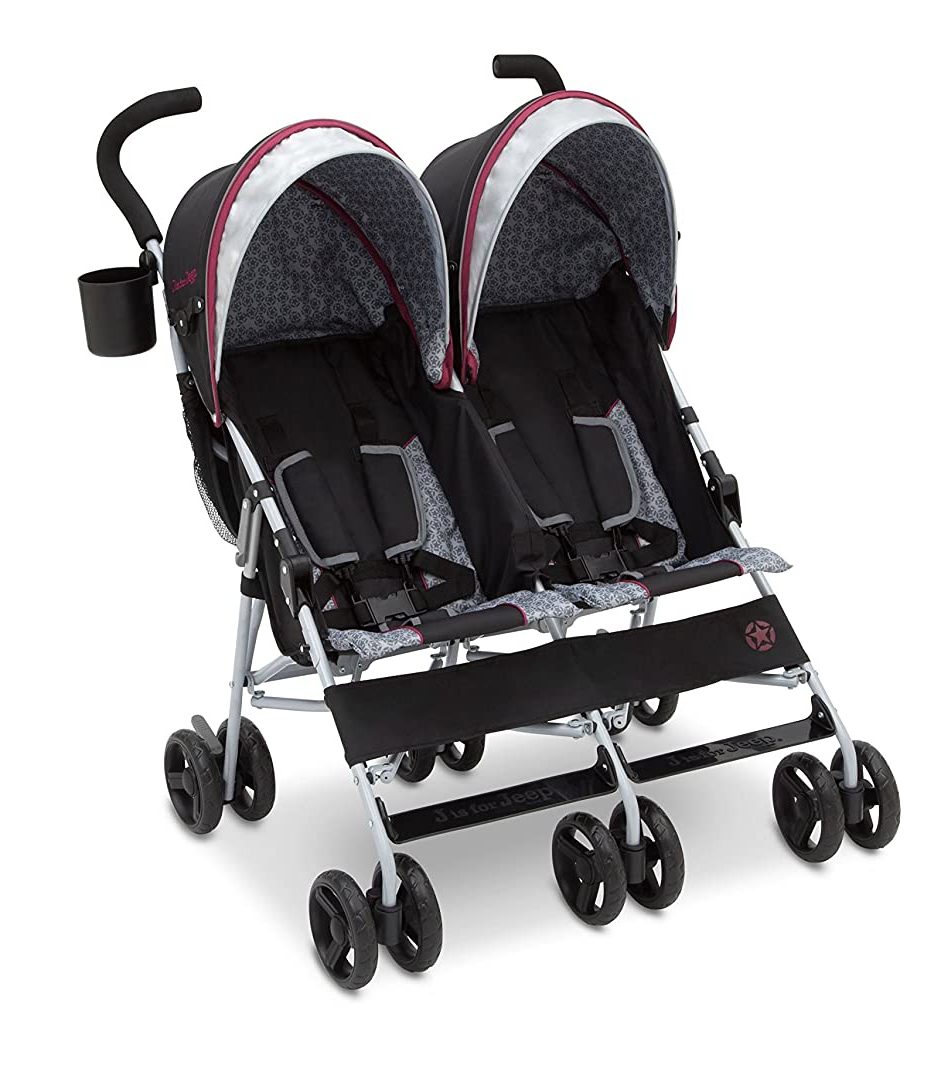 Loaded with robust and extendable canopies, the Jeep Scout also comprises two canopy bags for storing necessities like toys, diapers, water bottles, etc. Moreover, this stroller features 5.5 front swivel wheels and a suspension system.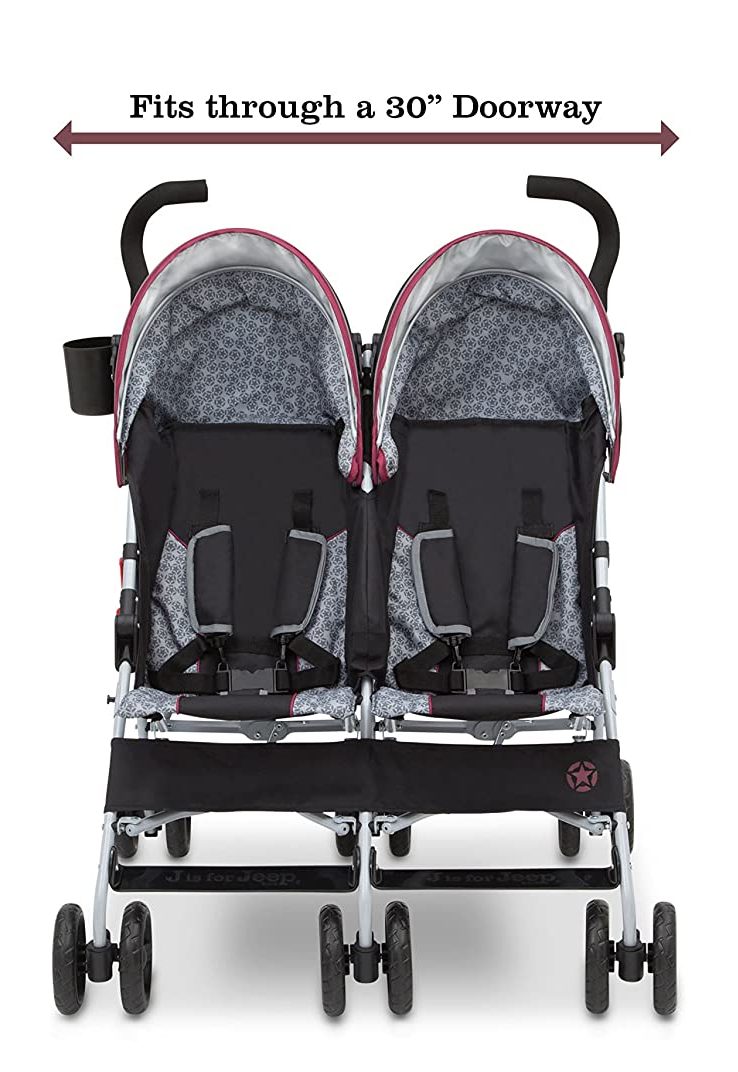 This double stroller weighs around 18.5 pounds, while has a carrying capacity of up to 40 pounds. The Jeep Scout Double Stroller is available in three different color variants, namely Charcoal Galaxy, Lunar Burgundy, and Spot On.
2. Delta Children LX Side by Side Tandem Umbrella Stroller
The next best cheap double stroller is the Delta Children LX Tandem Umbrella Stroller. This double stroller ensures stability and maximum comfort as it is JPMA (Juvenile Products Manufacturers Association) certified. Furthermore, the framework of this product is incredibly light, helping in smooth maneuverability.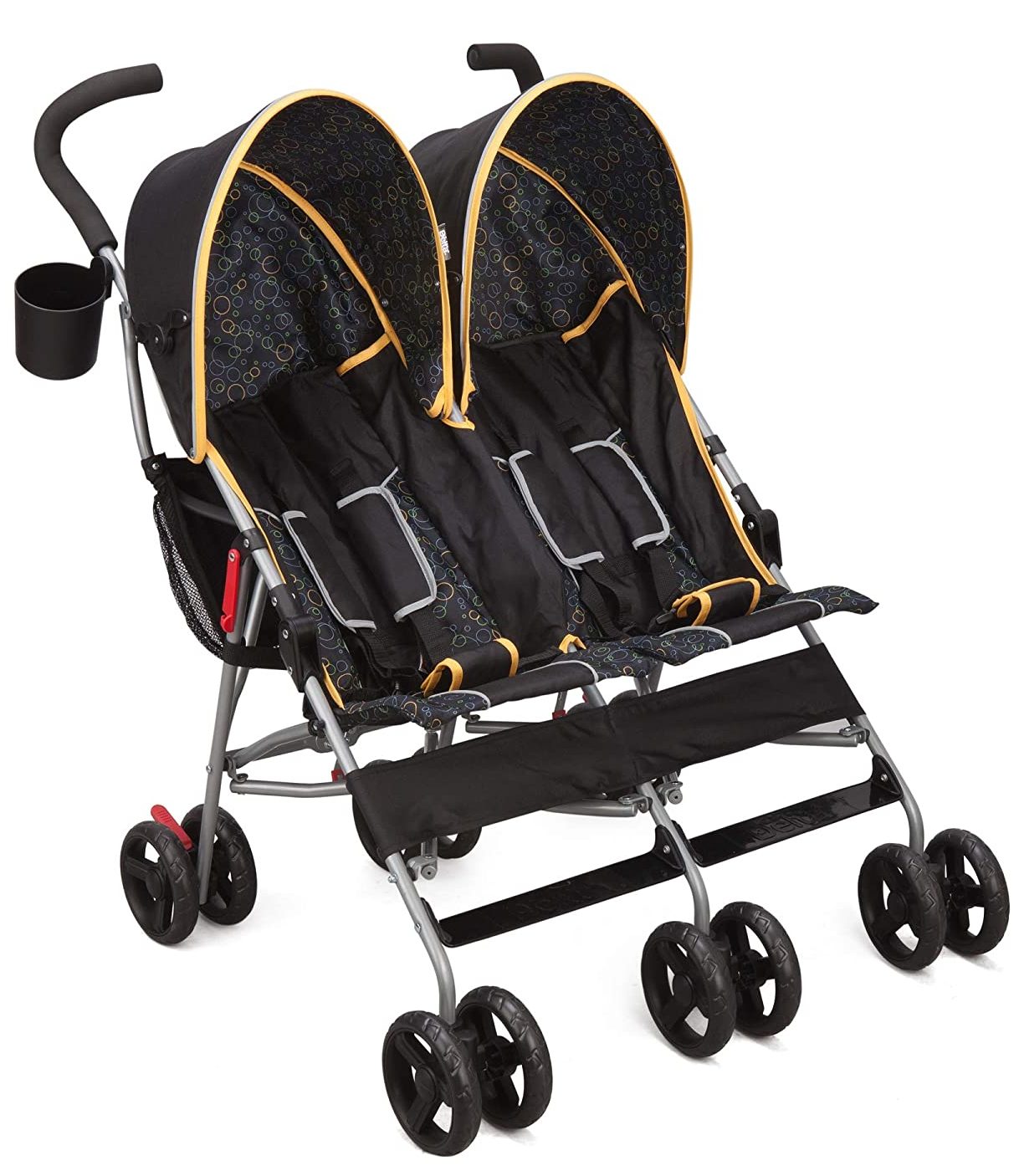 This double stroller weighs about 24 pounds, which accommodates kids weighing 35 pounds in each seat. This feature-rich product houses a cup holder, two large storage bags to save essential when taking the stroller outdoors.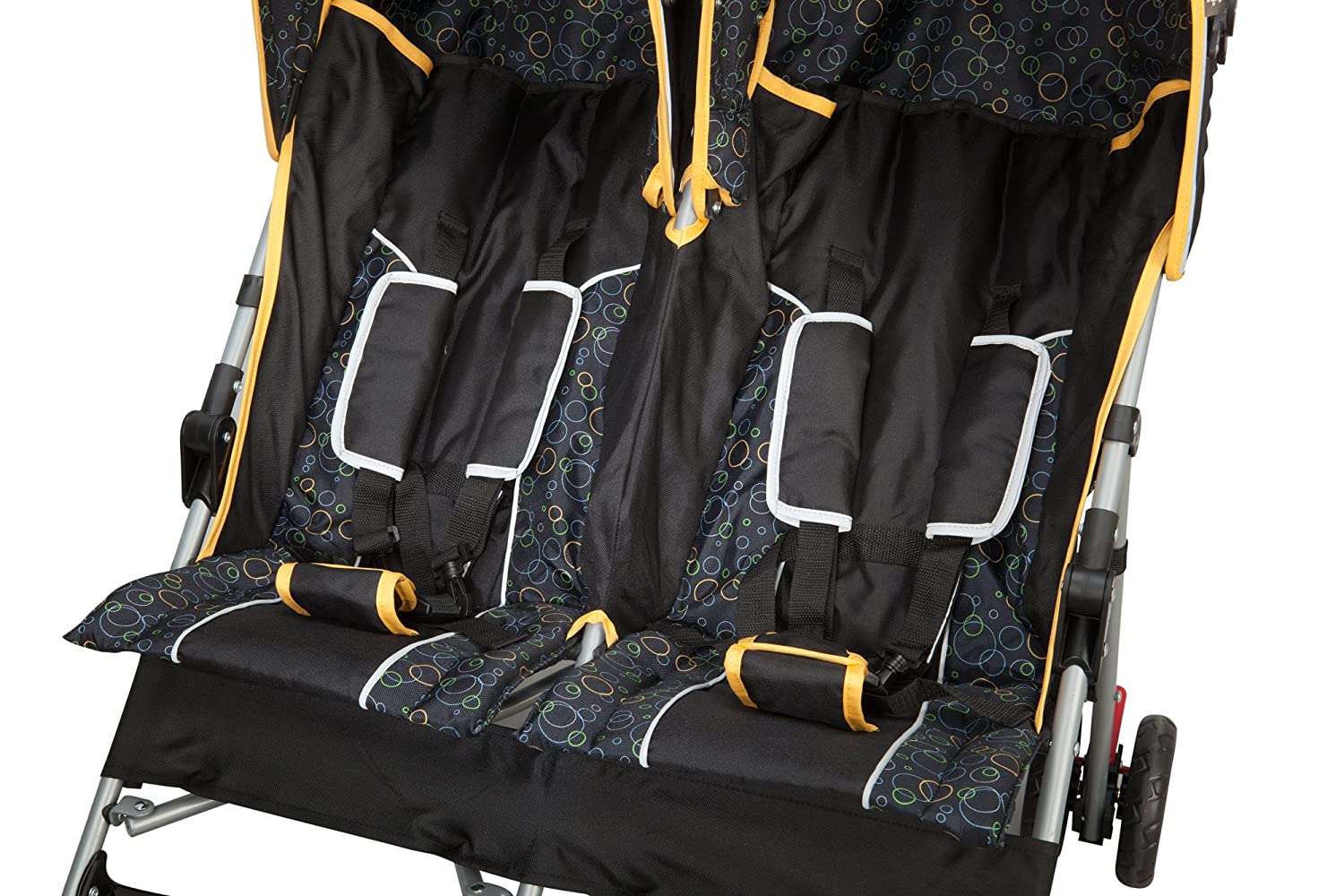 The Delta Children Stroller boasts of a European style canopy that protects your toddlers from the scorching heat and harmful UV rays. This tandem stroller is available in four different exciting and fancy colors.
3. Kolcraft Cloud Double Umbrella Stroller
Incredibly lightweight and easily maneuverable, the Kolcraft Cloud Double Umbrella Stroller weighs 21 pounds and can accommodate kids weighing 35 pounds per seat. This piece of strolling gear reclines in multiple positions, ensuring the utmost comfort to your toddlers onboard.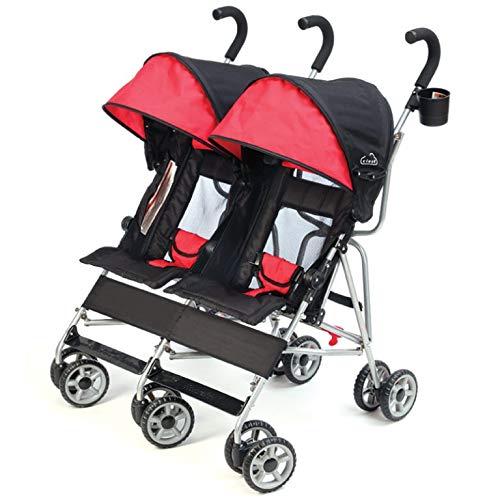 The Kolcraft Cloud stroller features a compact umbrella fold and canopy for safeguarding your kids from sunlight and heatwaves. Moreover, the shade can easily cover the whole of the stroller.
With dimensions measuring 31" L x 31" W x 38.5" H, this double stroller may not be the ideal option for carrying it when taking in a car. Also, this is assembled by a top States' manufacturer, making it a reliable product to use.
4. Graco DuoGlider Click Connect Stroller (Honourable Mention)
Slightly above the $100 mark, the Graco DuoGlider Click Connect Stroller is a feature-rich tandem double stroller. The double stroller sports a stadium-style like seating position, while the seats recline for your kids to take long naps.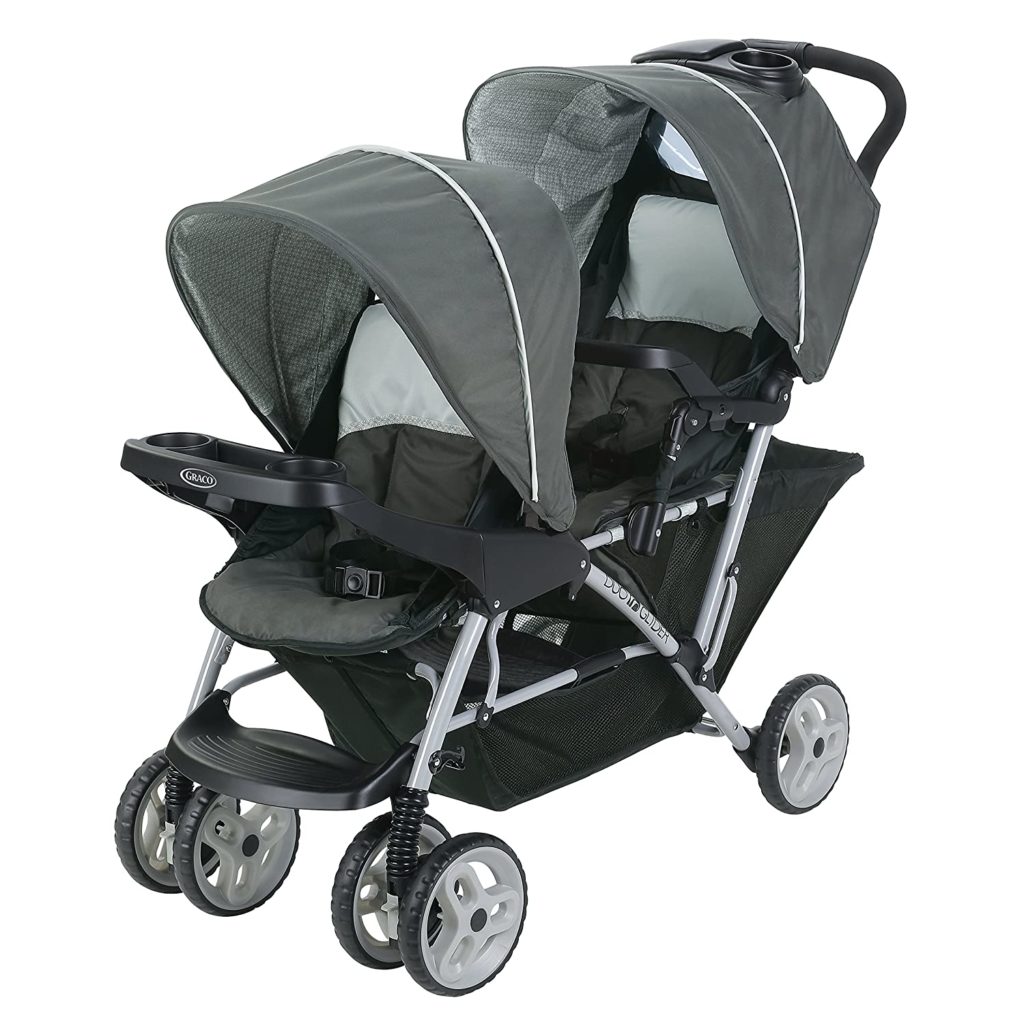 This product boasts of a basket with ample storage capacity. For easy and quick folding, the DuoGlider double stroller is loaded with automatic storage latch. This stroller is further stocked with lockable swivel wheels for excellent maneuverability and flexibility. It is equipped with a parent's and child's tray. 
5. Graco Roomfor2 Stand and Ride Stroller
Graco Roomfor2 is arguably the best double stroller available in the market with an enormous weight capacity. Weighing nearly 27 pounds, this double stroller accommodates children weighing up to 50 pounds each.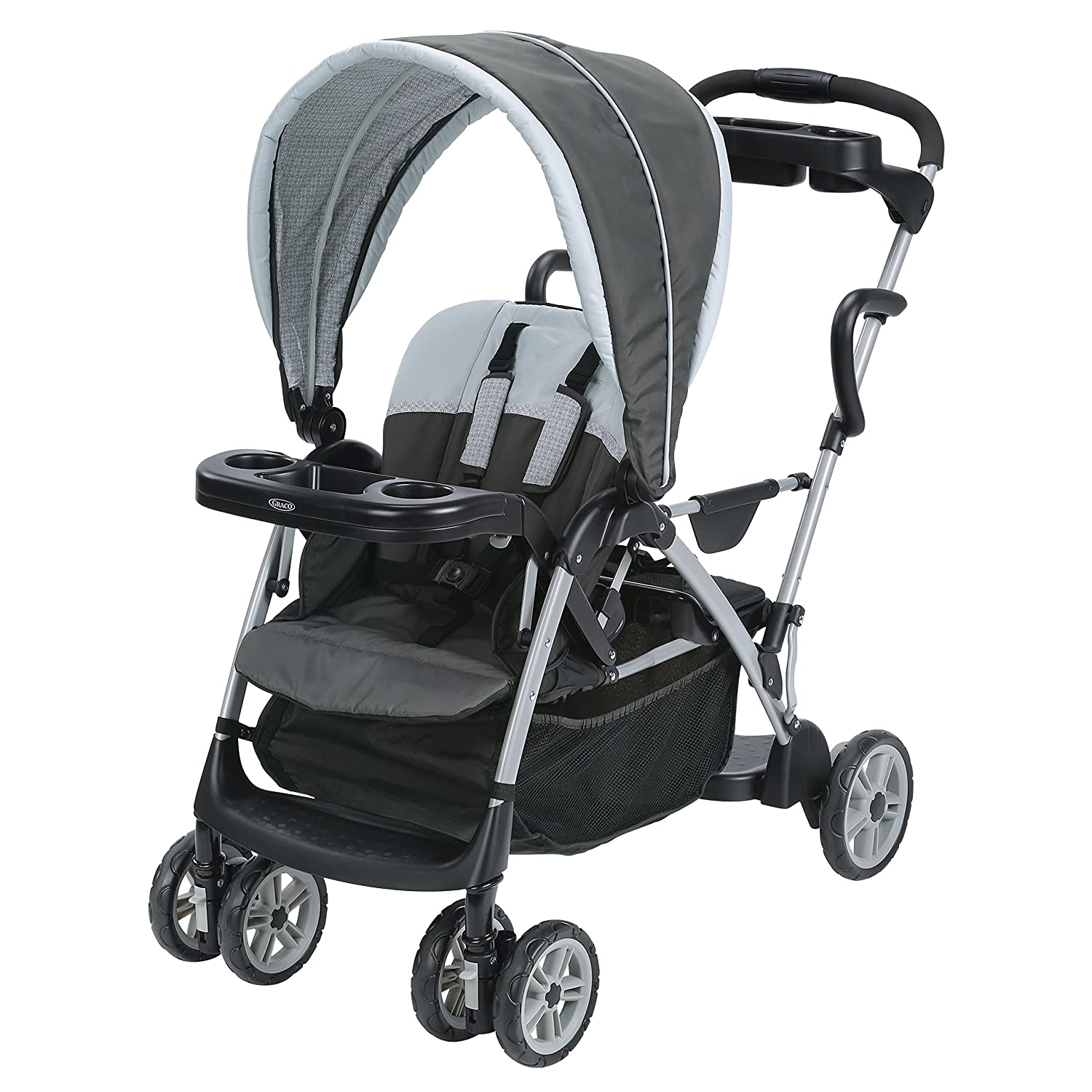 The bench seat on this is padded, allowing your kids to sit or stand on the platform. While the front seat is a recliner, which can be adjusted in different positions in order to provide your kid the maximum comfort.
It is equipped with lockable front swivel wheels, making it easier for you to move even in the toughest terrains. The Graco Roomfor2 houses a sizable storage basket and parent tray to hold two cups too.
Also Read: 10 Best Baby gates: Complete Buying Guide
6. Baby Joy Double Light-Weight Stroller
Loaded with bountiful exciting features, the Baby Joy Double Stroller is an ideal option for families that like to venture out with their kids often. This tandem stroller weighs just about 18 pounds and can carry kids up to 35 pounds each.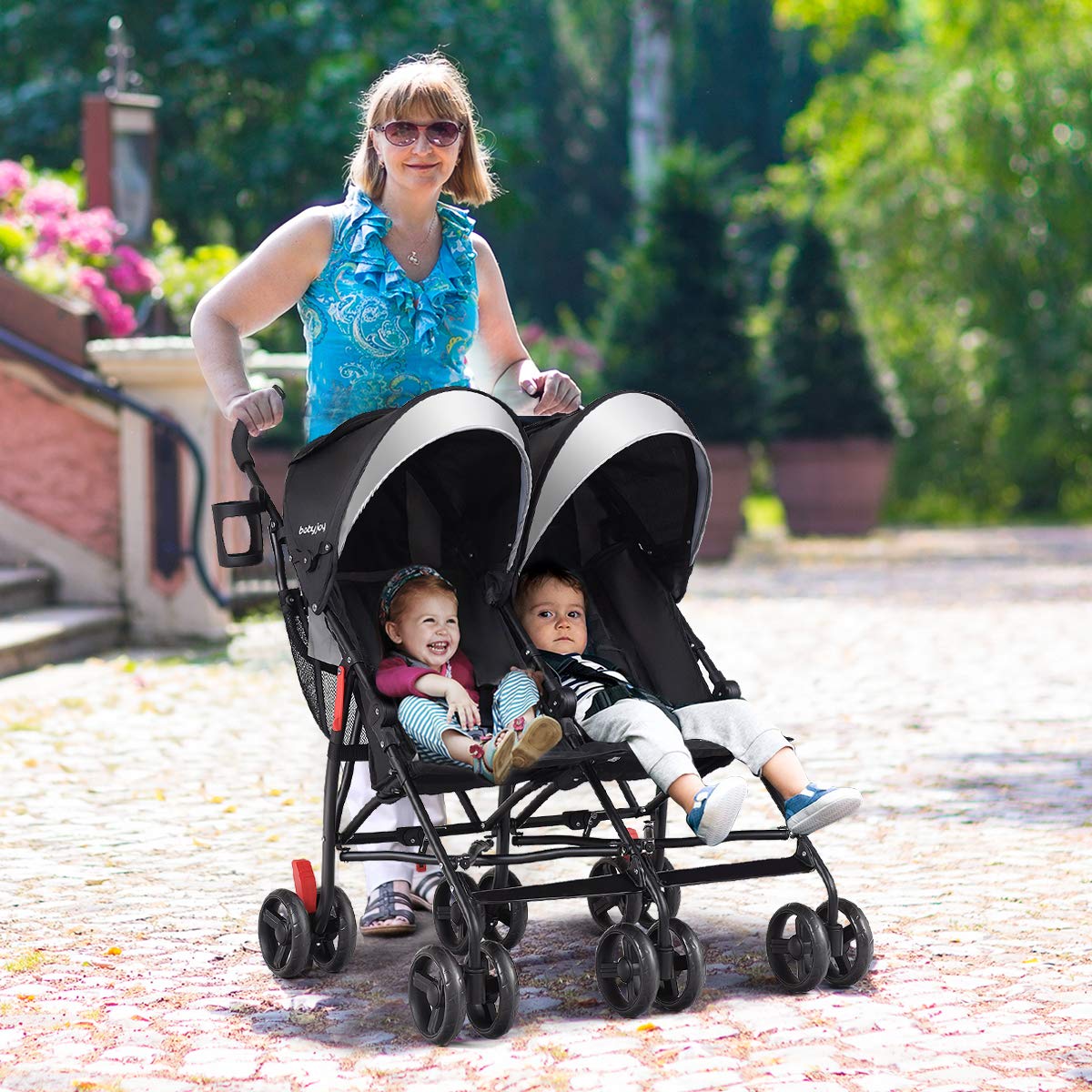 It comes with a 360-degree swivel, shock-absorbing front wheels, which are significant in terms of maneuverability and resisting bumps on tough terrains. Each of the seats is stocked with soft shoulder pads to give your toddlers secure and comfortable seats.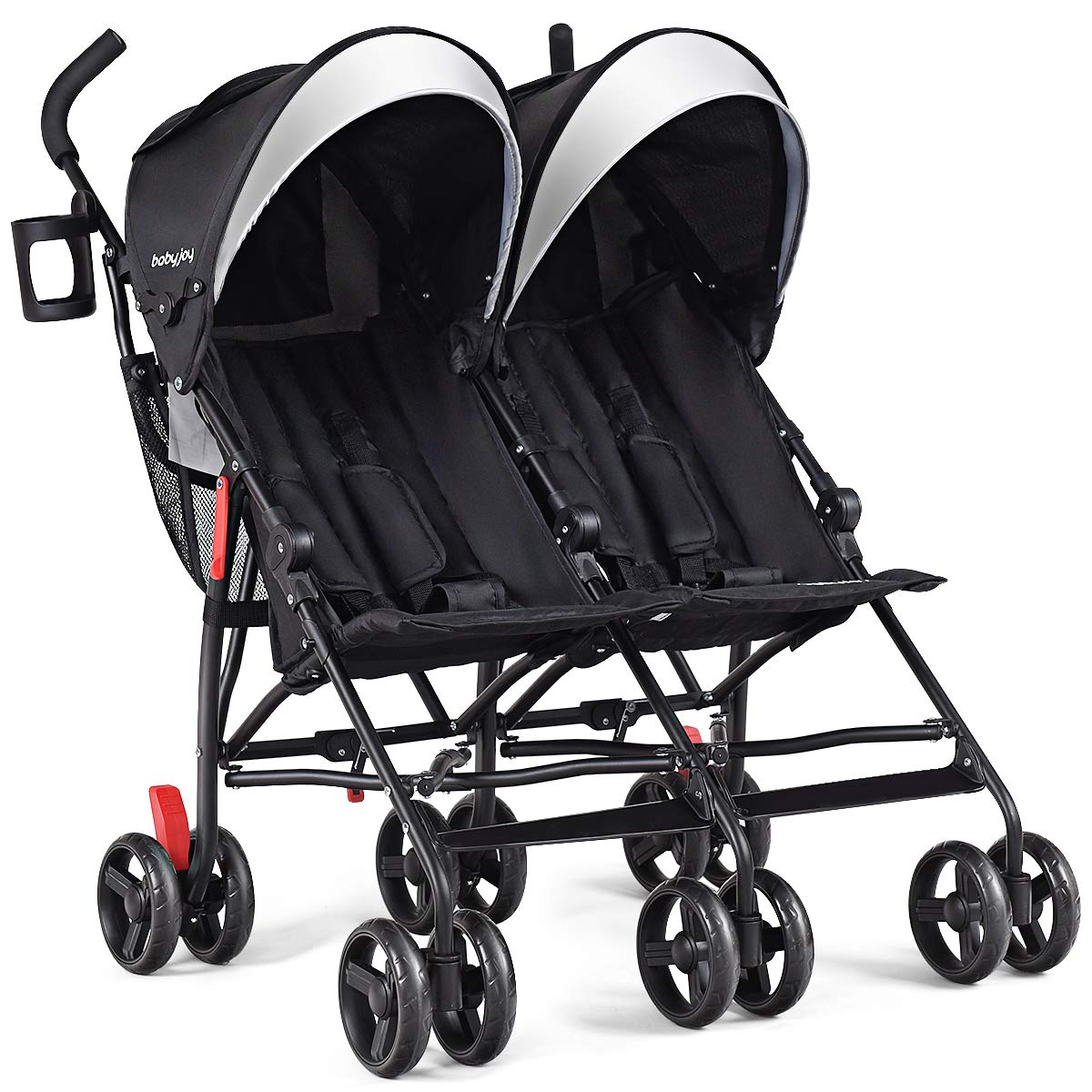 The stroller features an adjustable canopy to protect your kids from UV rays and sudden showers. For storing essentials, this double stroller houses a storage bag and cup holder. Besides, it is available in two different colors — black and pink.
7. Baby Trend Double Sit N Stand Stroller
The Baby Trend Double Sit N Stand Stroller is another sturdy and alluring piece of walking gear. It is designed to give kids perfect seats; one kid can sit in the front and the other at the back. Unlike a few strollers, this double stroller comes with two canopies, each for both seats.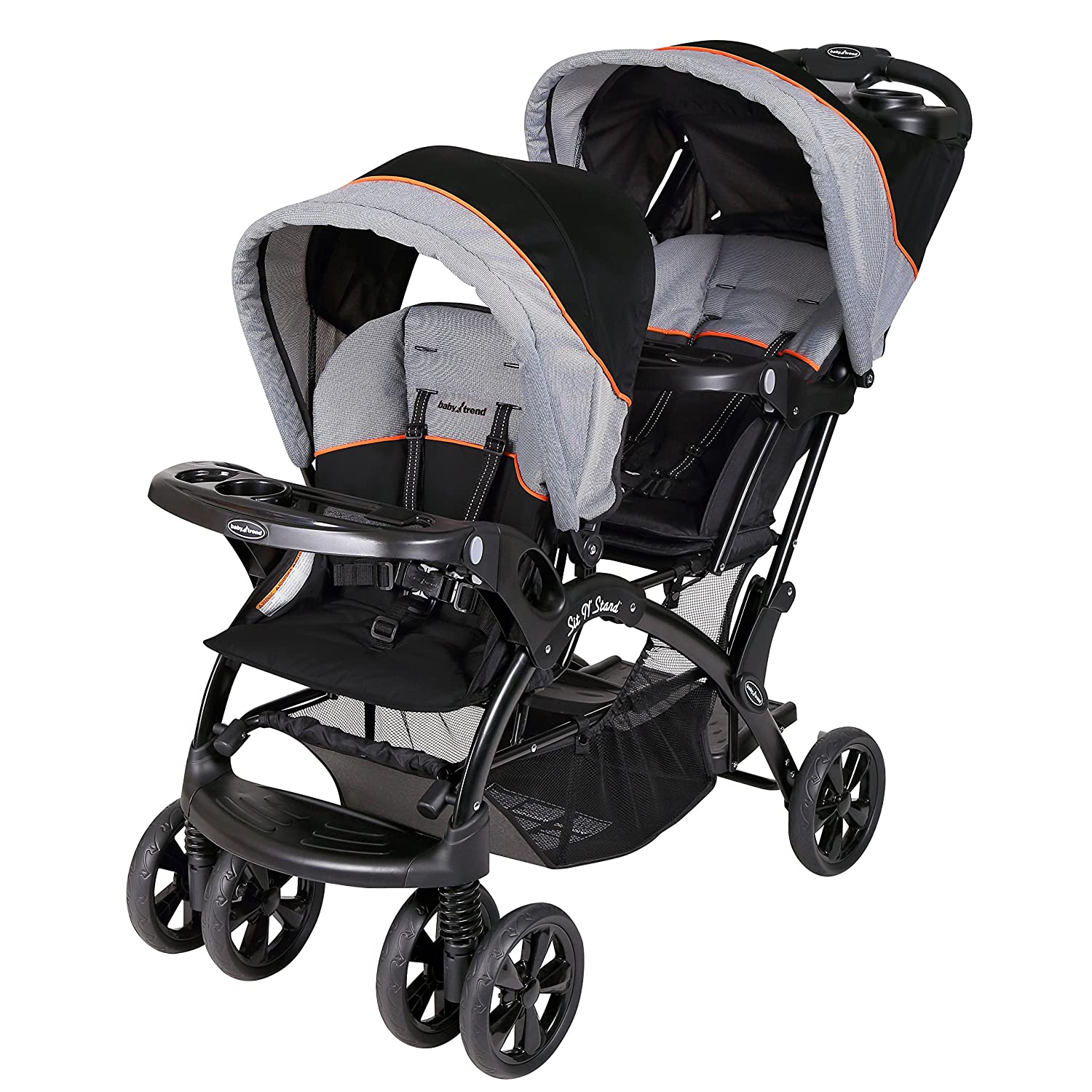 The stroller boasts of a removable child and parent tray with two cup holders. Moreover, this also features a big storage basket for storing additional necessary items. Besides, there is also a space of two infant car seats, which have to be purchased separately.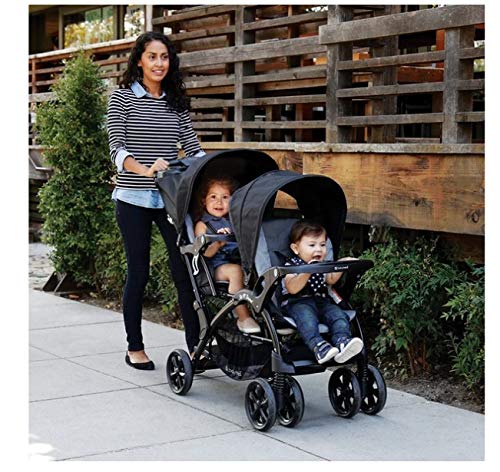 The Baby Trend Double Sit N Stand Stroller weighs about 35 pounds and can accommodate kids weighing 50 pounds on each stroller. Furthermore, this stroller is available in aesthetically pleasing colors.
8. Joovy Caboose Graphite Stand-on Tandem Stroller
Built to suit kids of different ages, the Joovy Caboose Graphite Stand Stroller sports a full-size seat, a bench seat, and a foot-board at the back. Contrary to many strollers, this stroller allows the younger kid to take a seat, while the older one gets to either stand or sit behind.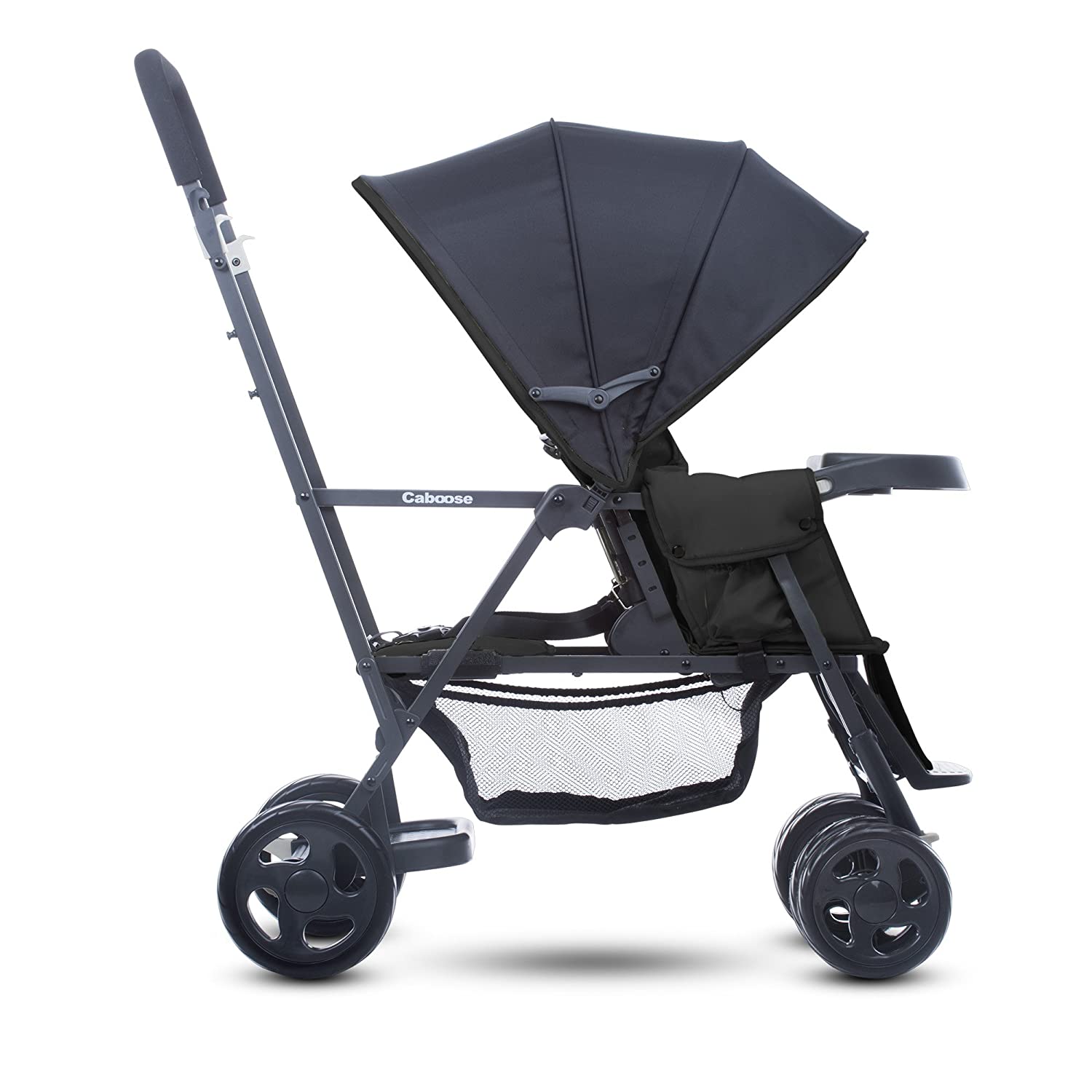 This stroller is equipped with a universal infant car seat that fits in with the majority of big brands. Moreover, the seat here reclines to three different positions and has a canopy coupled with extendable Sun visor.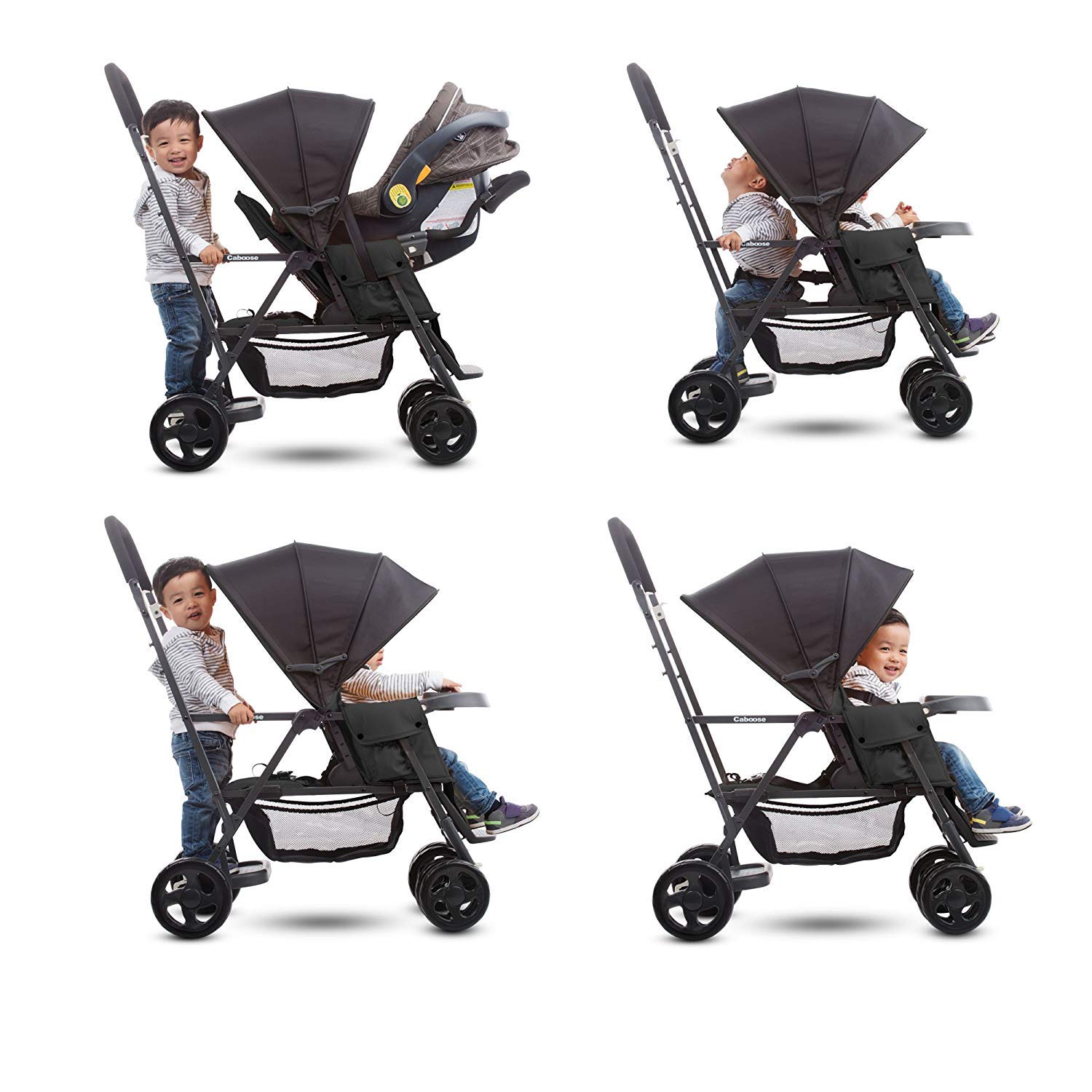 With the all-wheel suspension, the ride only gets smoother and easier while on rough and bumpy terrains. This stroller can hold kids weighing up to 45 pounds.
9. Chicco Echo Twin Stroller
Highly expensive yet the most durable product on the list of best durable strollers, Chicco Echo Twin Stroller is one that you can bank on for eternity. Featuring two comfortable seats, the stroller allows you to recline both in four positions. Also, each of the seats has a carrying capacity of up to 40 pounds.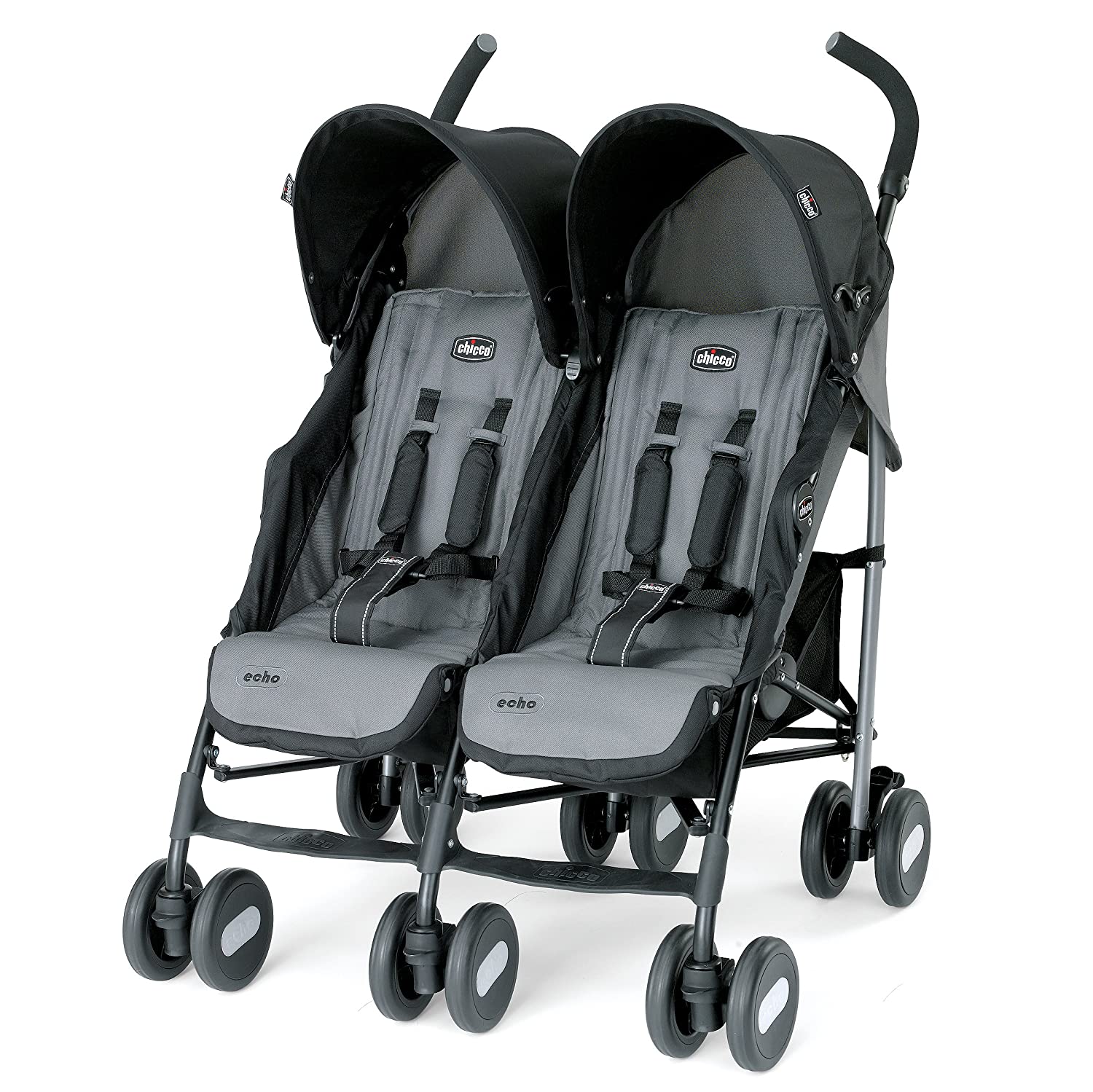 Coming with five-point safety harnesses, this stroller ensures that both your kids get the maximum comfort. For easy maneuvering, comes with swivel-lock dual front wheels.
The Chicco Echo Twin Stroller features elegant canopies to keep your kids safe from rays and light showers. It can hold kids weighing up to 40 pounds per seat.
10. Evenflo Minno Twin Double Stroller
The Evenflo Minno Twin Double Stroller is a lightweight and compact stroller that can provide your babies with the most comfortable seat whilst strolling outdoors. Weighing just under 26 pounds, this double stroller can accommodate kids up to 45 pounds.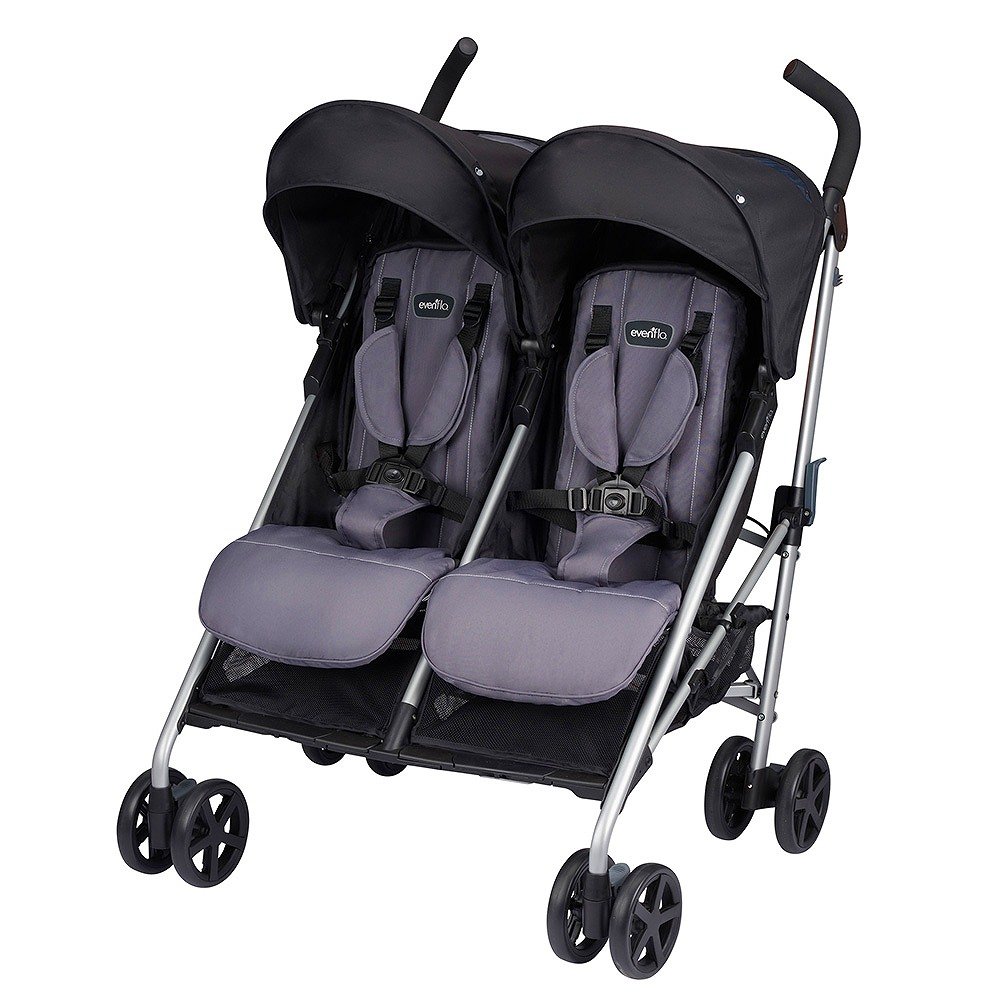 It houses a single-hand standing fold, meaning you can use your other hand to attend your kids. Featuring an oversized canopy with extended visor, this stroller protects your kids from harmful elements.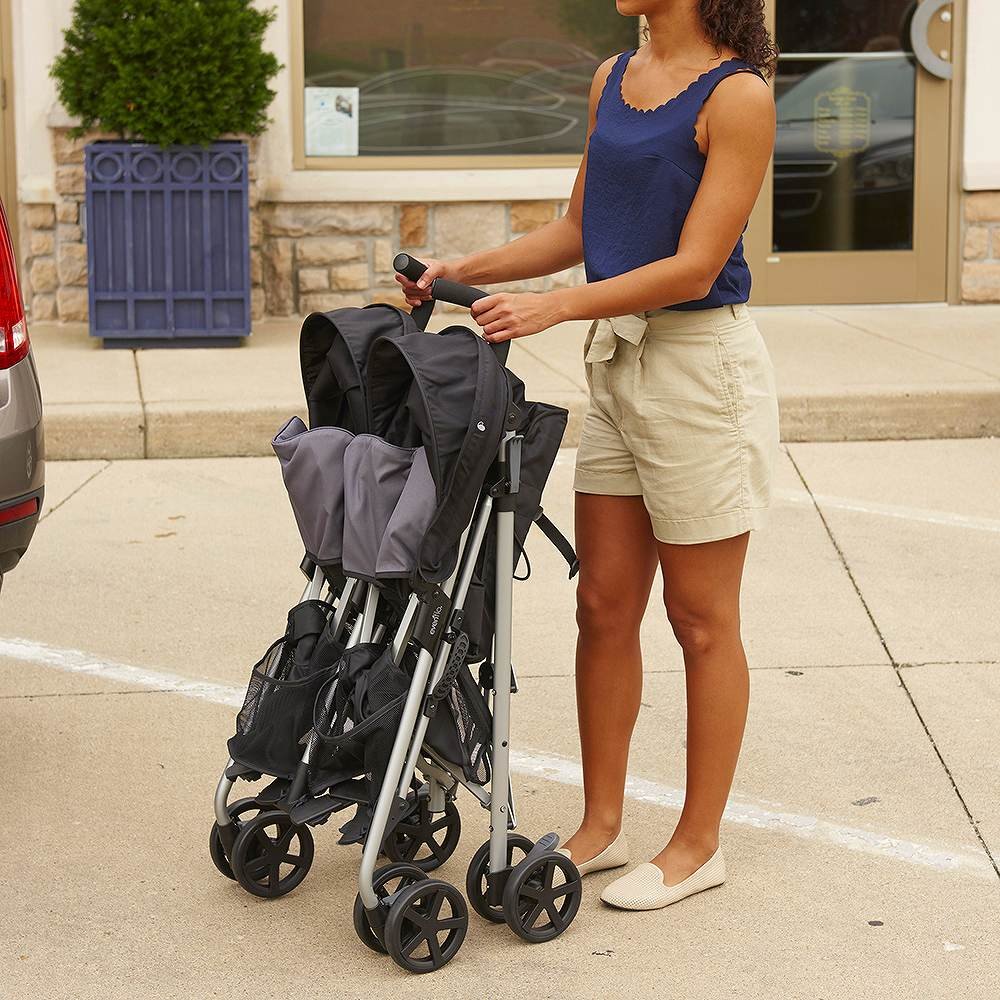 Furthermore, this also comprises a huge storage basket that allows you to store necessary accessories. The Evenflo Minno Twin Double Stroller is up for grabs in several different colors and styles.
Also Read: 10 Best Lightweight Umbrella Strollers for $100
---
CONCLUSION
So these were our picks for the best double strollers under $100 that offer your kid safety and comfort. All in all, we assure you the best of strolling experience while your kid is with you. Of all the products we've listed, we found the Jeep Scout Double Stroller and Delta Children LX Side by Side Tandem Umbrella Stroller as the most smoothest double strollers on the market.
If there's a product we've missed out on, feel free to write to us in the comments section below.
FAQs
Is a double stroller recommended for a three-year-old and newborn?
Generally, double strollers come with a maximum carrying capacity of 40 to 45 pounds on each seat. Since most three-year-old kids are bulky and a bit too tall, they might be trained to walk. When it comes to accommodating your newborn, you can buy a single stroller.
Is it essential to buy a double stroller?
Yes, ofcourse. The role of a double stroller if you are a proud parent of two kids is indispensable. These are fully equipped to help you keep your twins or two babies safe and comfortable through the bumpy and wobbly strolling routines. 
How do I keep the stroller in good condition?
There are great ways to help you keep strollers in proper condition. Avoid leaving the stroller outdoors in bad weather, always keep a check on belts and fasteners, and ensure the seat covers are neat.