Cooking without the right equipment invites trouble. Preparing and serving is part of your house party that plays a significant role in uplifting the attendees' spirits.
Having a vertical smoker that assists in slow cooking is a pure and pleasant sight. Vertical smokers are laden with features that ensure top-class cooking sessions. In this article, we list a few of the best vertical smokers of 2021 that will fit your cooking budget and style.
---
Things to Consider When Buying A Vertical Smoker
Buying a smoker is not a challenging job. In fact, purchasing the ideal smoker that suits your needs is a challenging job. Several factors influence a purchase decision — from size and shape to the warranty of the smoker. Here are a few things that will help in choosing the ideal vertical smoker.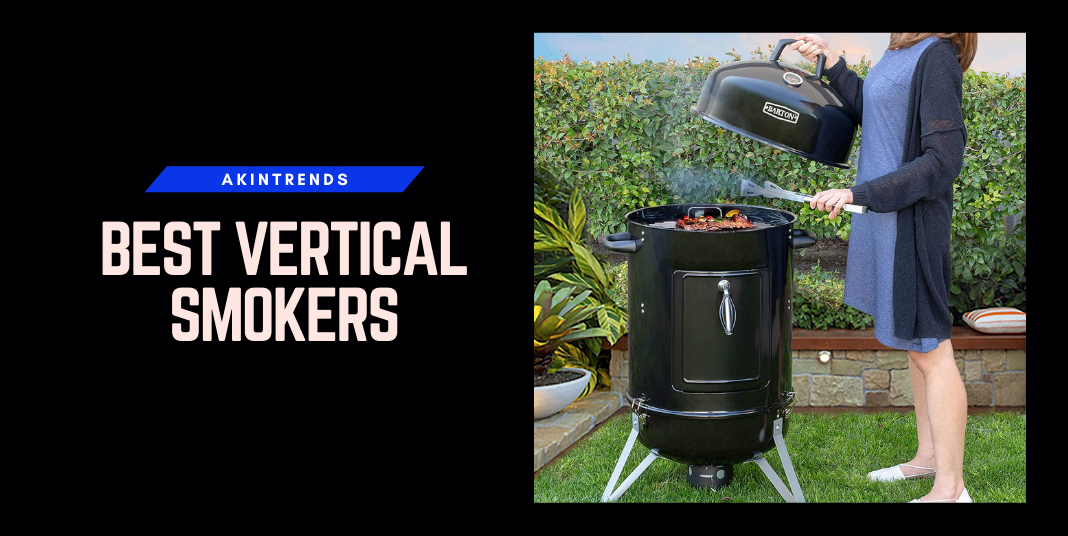 Number of Racks
A vertical smoker is a great buy when it has enough space to accommodate all meat shapes and sizes at once. The larger the smoker, the better it is for you to cook multiple foods. For someone who is a fan of hosting a large crowd, vertical smokers with a minimum of three racks are required.
Temperature Range
One cannot simply ignore the role of temperature when it comes to a smoker — be it vertical or a normal smoker. If you are a fan of searing in plenty, then a smoker with 500-degrees Fahrenheit will come in handy. For something like turkey, a smoker with 400-degrees Fahrenheit is sufficient.
Warranty of the Smoker
A purchase that requires you shelling hundreds of dollars — the warranty becomes the talk of the town. Vertical smokers with a more extended warranty date are, without a doubt, signs of durability and exceptional after-sale services.
---
Best Vertical Smokers
Bringing home a piece of the best cooking equipment is always a joy. Following are some of our favorite vertical smokers out there on the market.
1. Dyna-Glo DGO1176BDC-D Vertical Offset Charcoal Smoker
Sturdy built yet affordable smoking gear, the Dyna-Glo DGO1176BDC-D landed the top spot on our list of the best vertical smokers. This vertical smoker has 1176 square inches of total cooking surface that is large enough to accommodate all kinds of foods.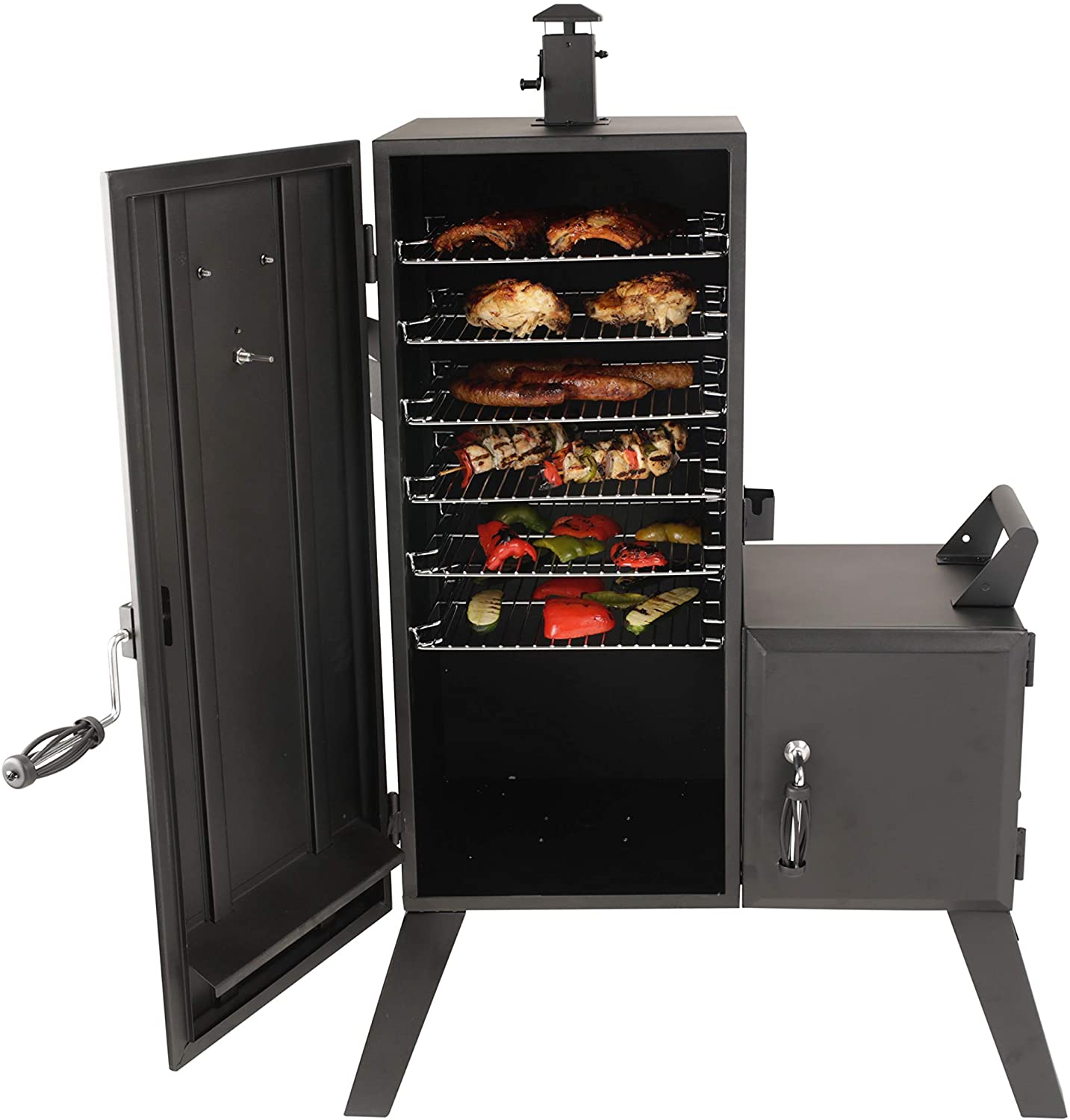 The smoker comes with a porcelain-enameled steel chamber, which is credited for improving burn efficiency. The Dyna-Glo smoker has an adjustable flue that is imperative in adding flavor and controlling the temperature. It includes an easy-to-read gauge that assists in smoking your favorite food at the right temperature.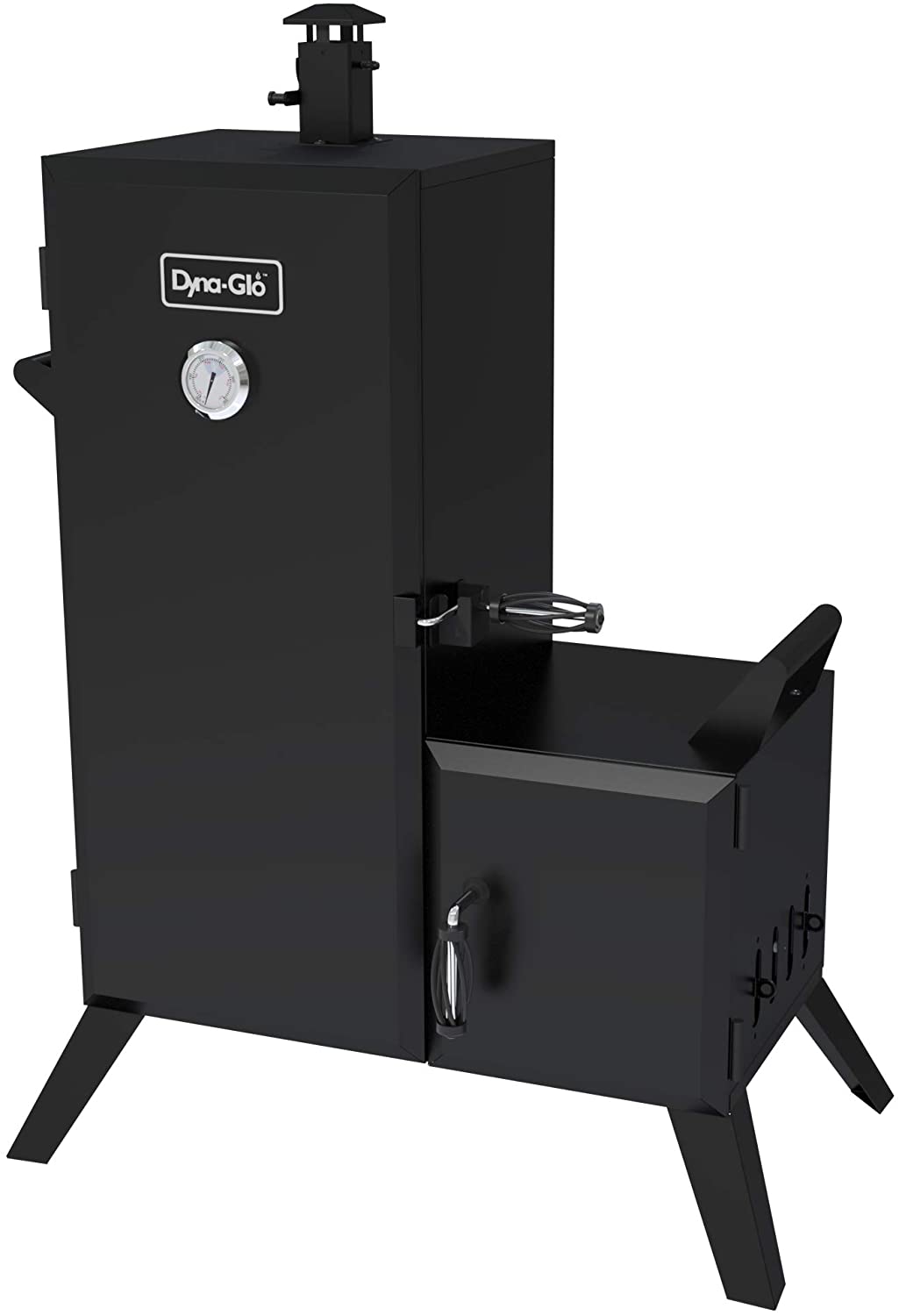 This smoker boasts of a sliding, removable steel ash pan built to stockpile large chunks of ashes for a long-time. All in all, this vertical smoker machine is hard to beat at this price point and remains a top choice on many listicles.
2. Pit Boss Grills 77550 Vertical Pellet Smoker
The Pit Boss Grills 77550 Vertical Pellet Smoker is a neat and sleek smoker comprising much-needed features essential in a vertical smoker. This smoker features an easy-to-track temperature display that sits beside the control knob. The smoker clocks a maximum temperature of up to 450-degrees Fahrenheit.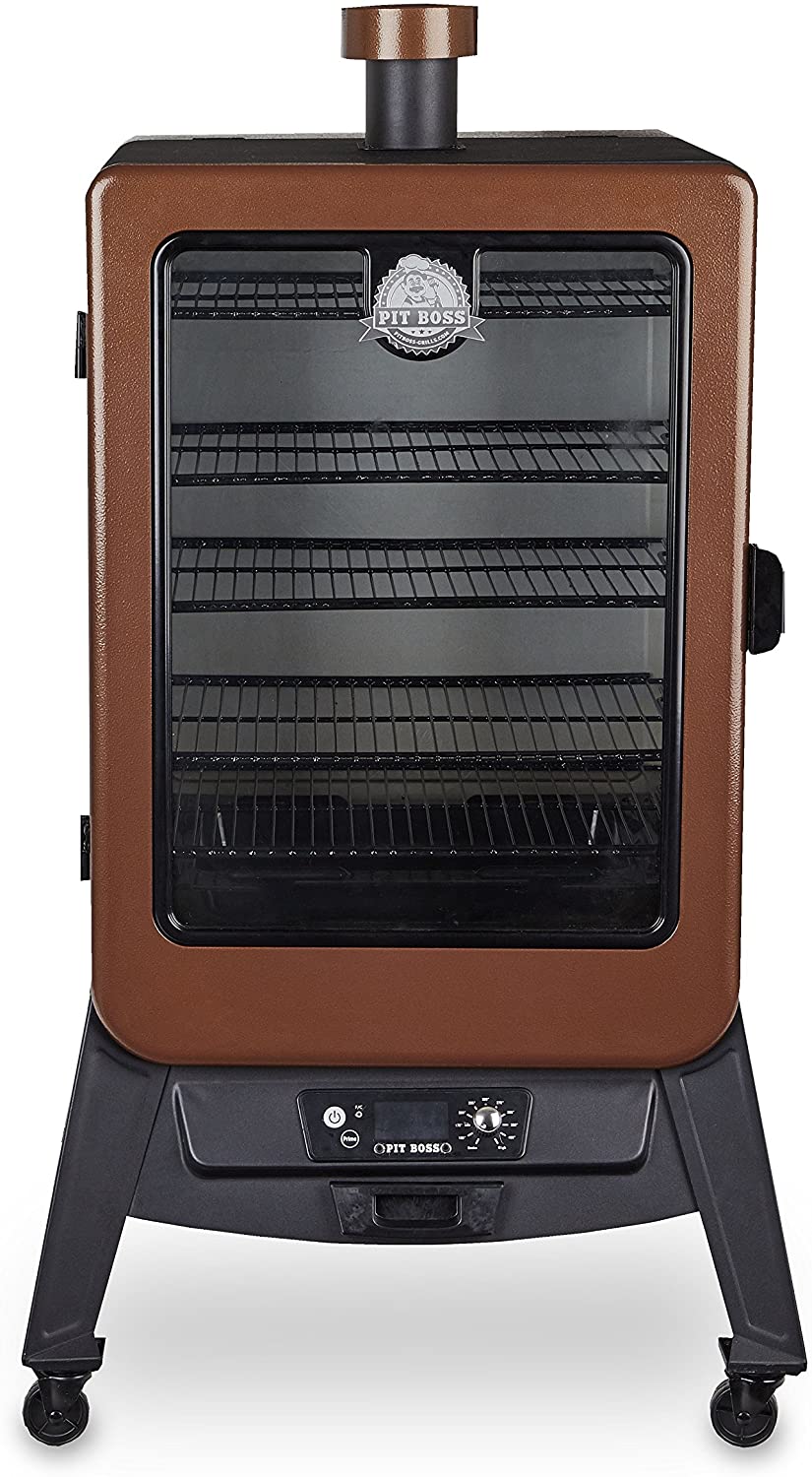 This vertical smoker features five porcelain-coated cooking grids, a porcelain-coated water pan, and a heat deflector to control the temperature when smoking. The porcelain coating of racks ensures even distribution of heat while smoking multiple foods.
The water pan is another top-quality element of the smoker since it is rust-resistant and more durable than standard ones found in smokers. Pit Boss Vertical Smoker is expensive but a feature-rich model that makes smoking a plain-sailing and straightforward process.
3. Cuisinart COS-244 Vertical Propane Smoker
Well-crafted and built to last long, the Cuisinart COS-244 Vertical Smoker is third on our list. This vertical smoker boasts a stainless steel finish and comes with four grates, occupying 784 square inches of cooking surface. The smoking chamber is spacious enough to accommodate pork butt and even a tiny turkey.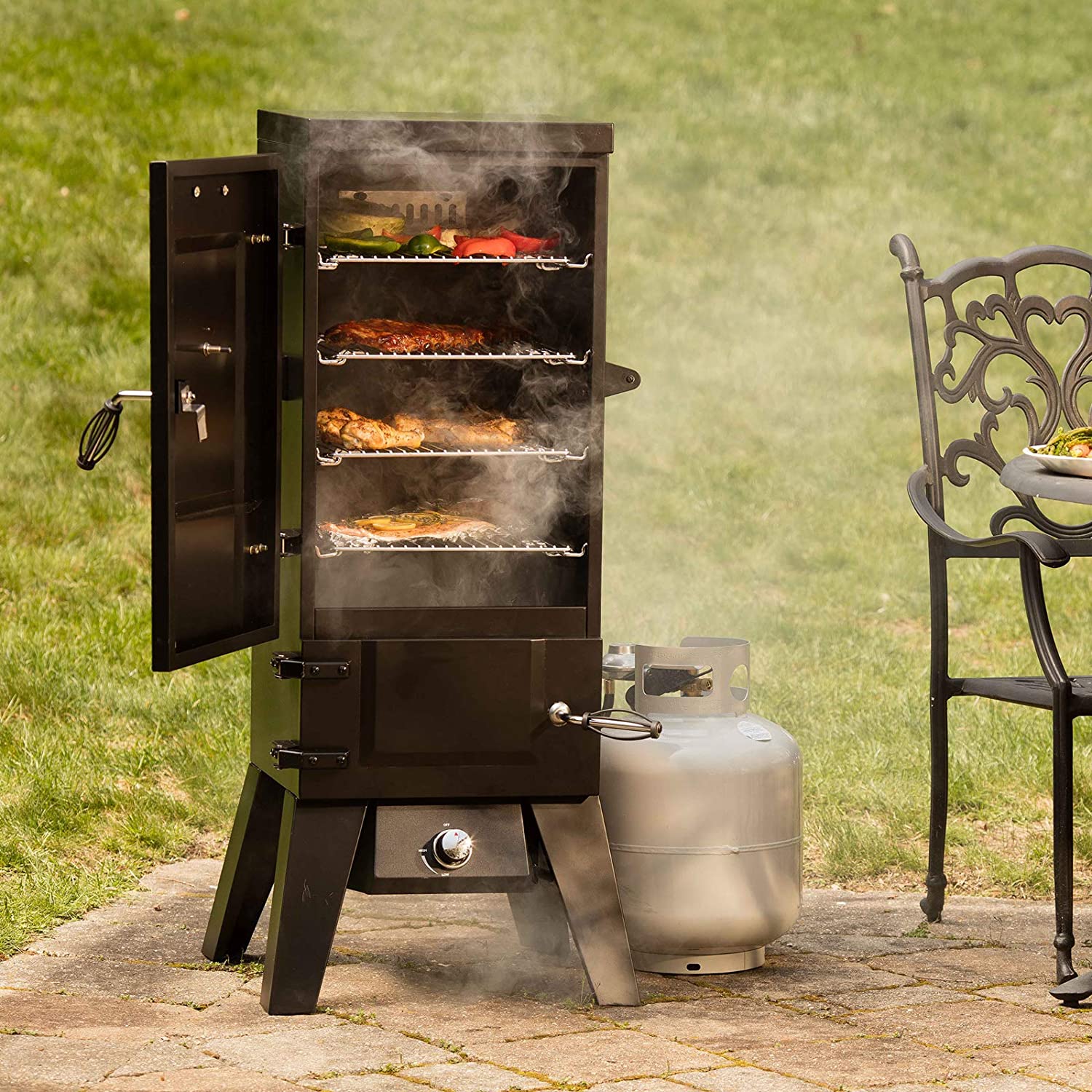 The smoker features a porcelain-coated wood chip tray that is coupled to the water pan. It provides access to the wood chip tray and dripping pan, which can be easily cleaned. This comes with a twist locking handle that keeps the unit tightly packed.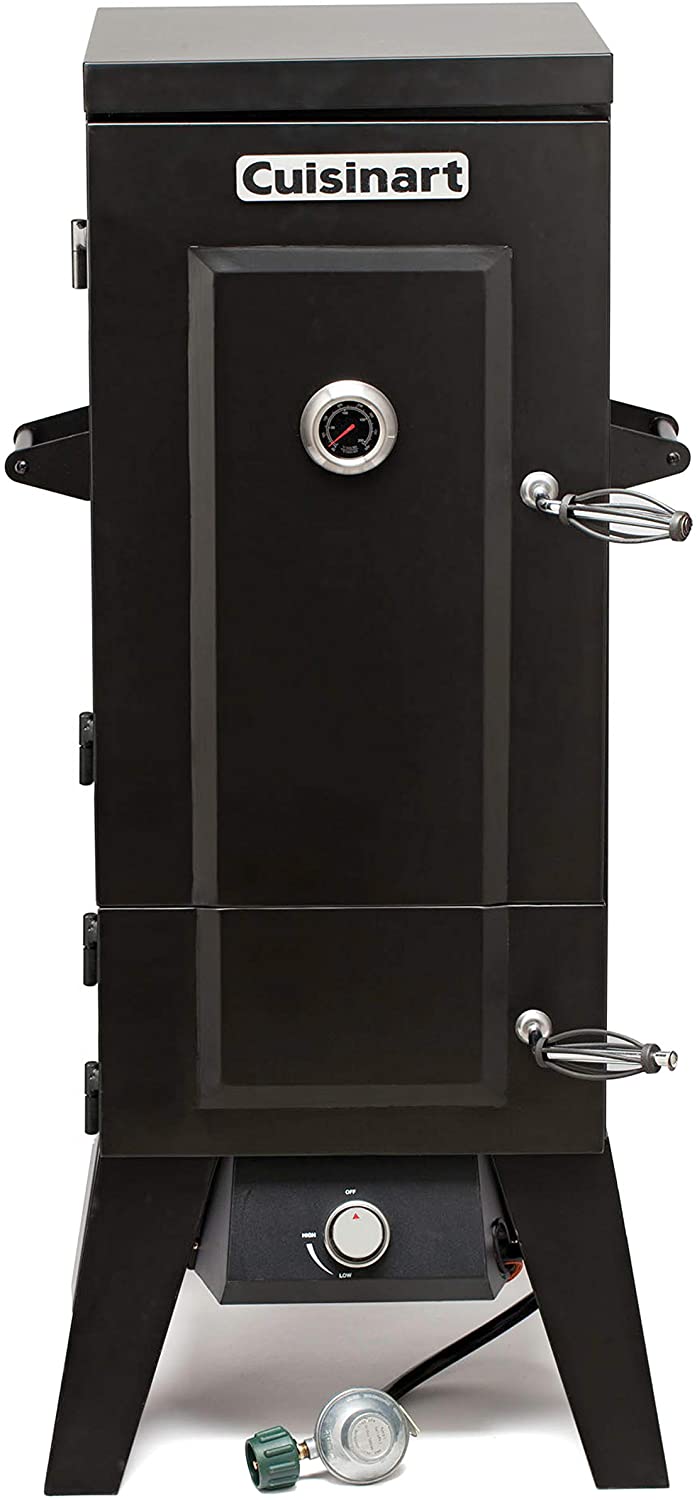 The built-in thermometer brings precise temperature, courtesy of the easy-to-read display on the front door. The COS-244 is a handy yet straightforward equipment to let you smoke your favorite meal without putting you or your apartment at risk.
Also Read: A Guide To Buying The Best Smoking Pellets
4. Bradley 4-Rack Digital Smoker
Bradley's Digital Smoker is a modern smoker infused with technologically advanced features that smoke masters cannot afford to miss out on. This vertical smoker has a rust-proof stainless steel smoking chamber with an epoxy-coated exterior that contains heat, thus making the unit easy and quick to clean.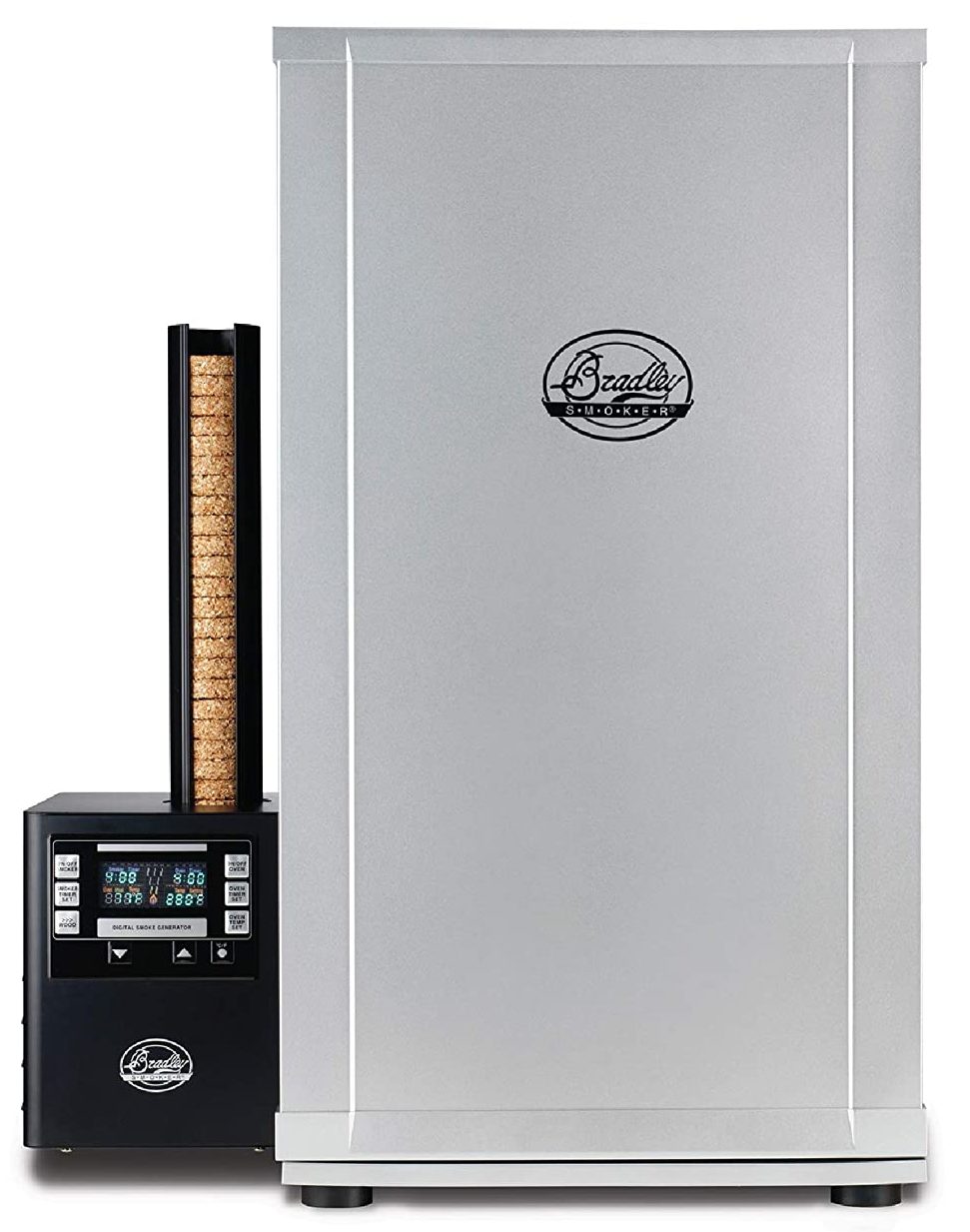 The smoker comes with an auto-feed briquette system that maintains the smoke flow to not run out of wood chips. Furthermore, the unit can also be controlled via a smartphone app, preventing you from overcooking your meat or veggies.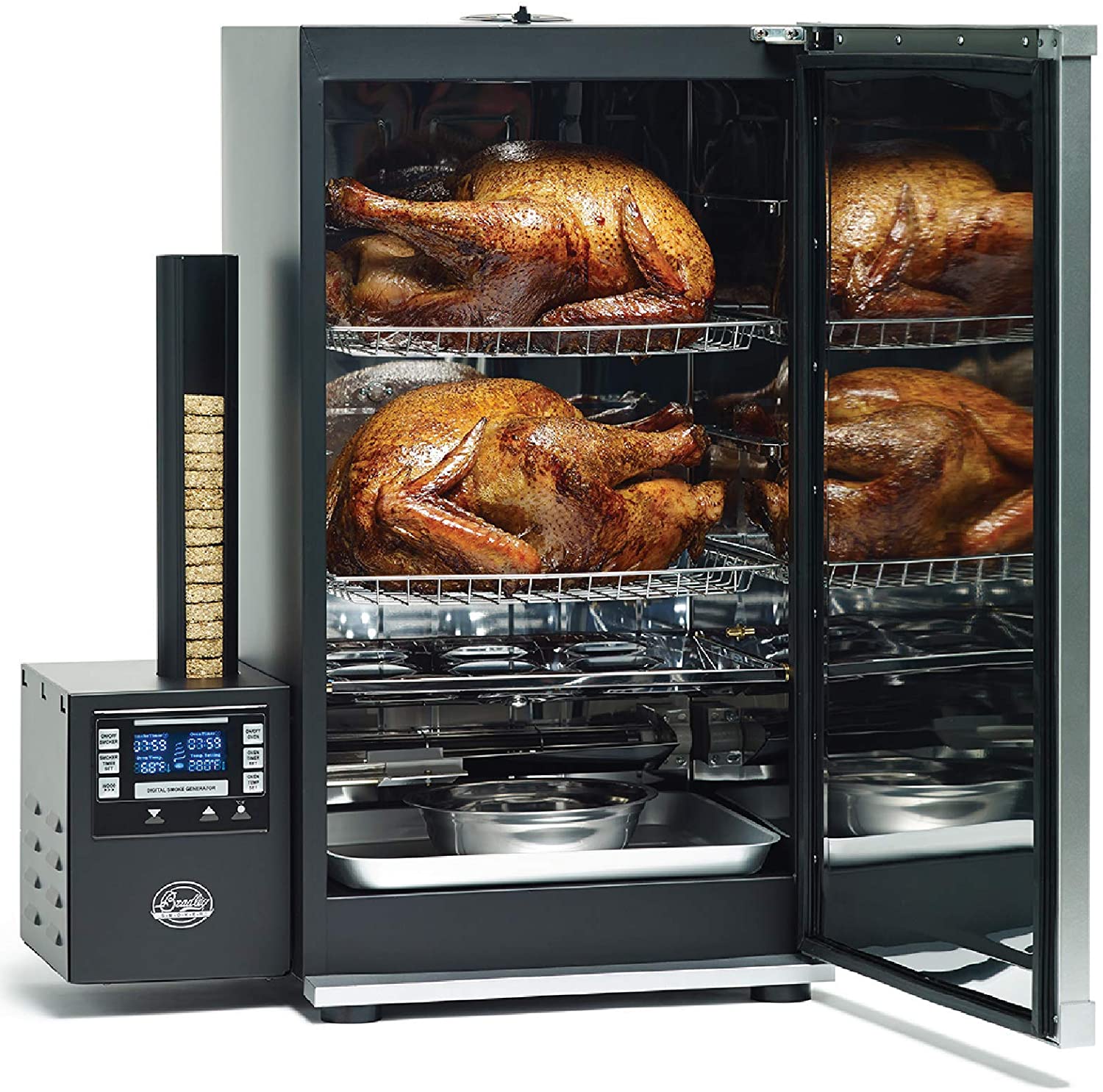 The two heating elements of the smoker work towards controlling the cooking temperature and the amount of smoke. The four racks offer smoking space for meat, chicken, pork, fish, and all other types of meat. If you're looking for a reliable digitally-powered machine to smoke your food, then this one's for you.
5. Dyna-Glo Signature DGSS1382VCS-D Vertical Offset Smoker
Signature Series' vertical smokers coming from the house of Dyna-Glo are bound to create a huge impact on the taste of your dishes. This vertical offset smoker sports a sturdy and heavy-steel construction, which can be moved easily with oversized steel wheels.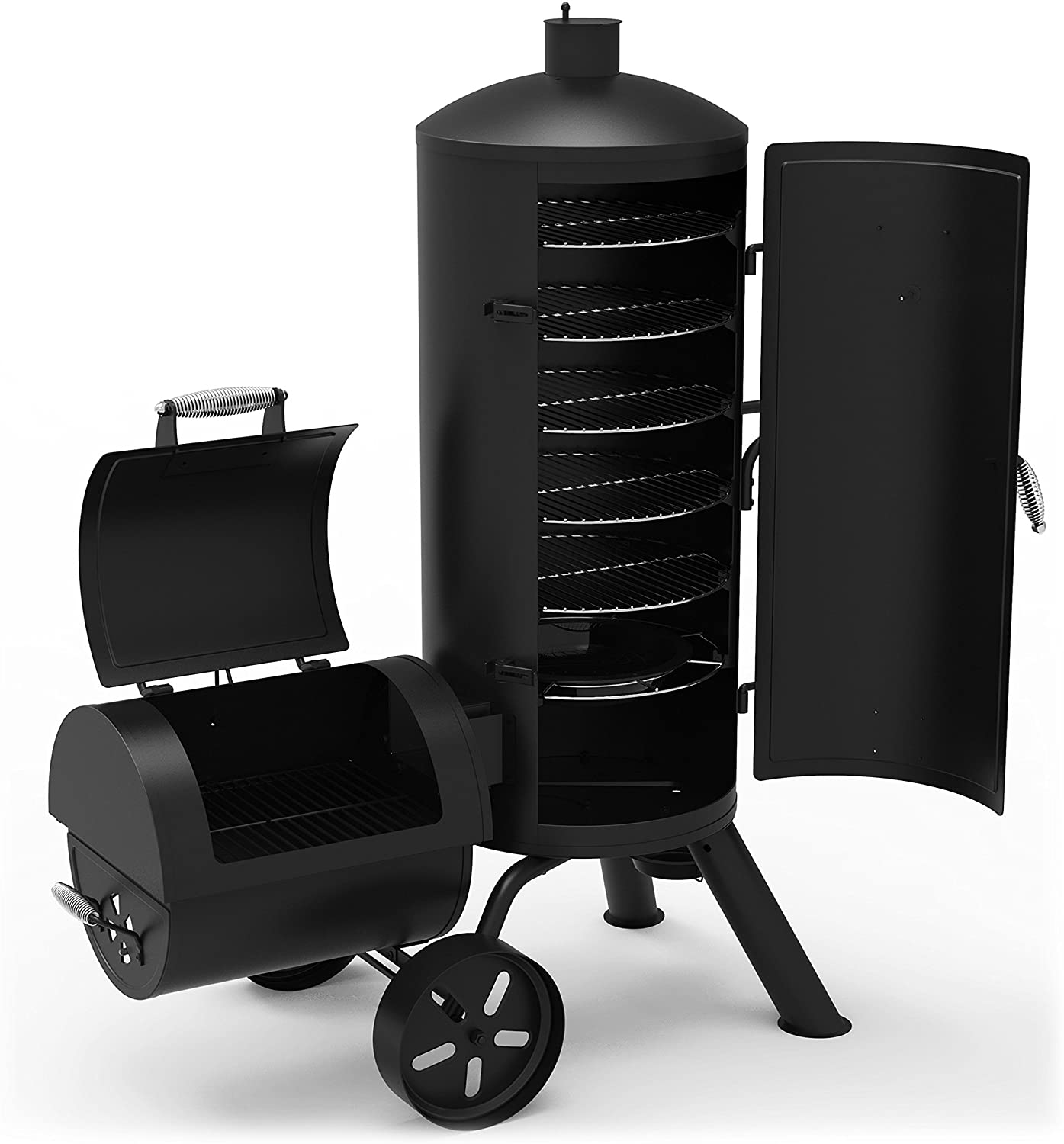 The smoker has a nifty temperature gauge paired with a smoke zone indicator, which indicates the temperature for infusing smoky flavor to your dish. It also features a heat-resistant door and lid handle, making the smoker safe to touch while using it. Furthermore, the cool-to-touch spring lid grip also enables safer access to your food.
With spacious chrome-plated cooking grates amounting to 1382 square inches in total, the Dyna-Glo Signature DGSS1382VCS-D has enough room to accommodate all kinds of meat and vegetables.
Also Read: Best Smoker Thermometers Review: For the Perfect Temperature
6. Barton Vertical 18" Charcoal Smoker
The Barton Vertical Charcoal Smoker is rated highly as a vertical smoker with two steel wire racks covering 18 inches of the smoking surface. The dual-tiers smoking racks bring generous space for you to smoke fish, meats, veggies, and a large-sized chicken.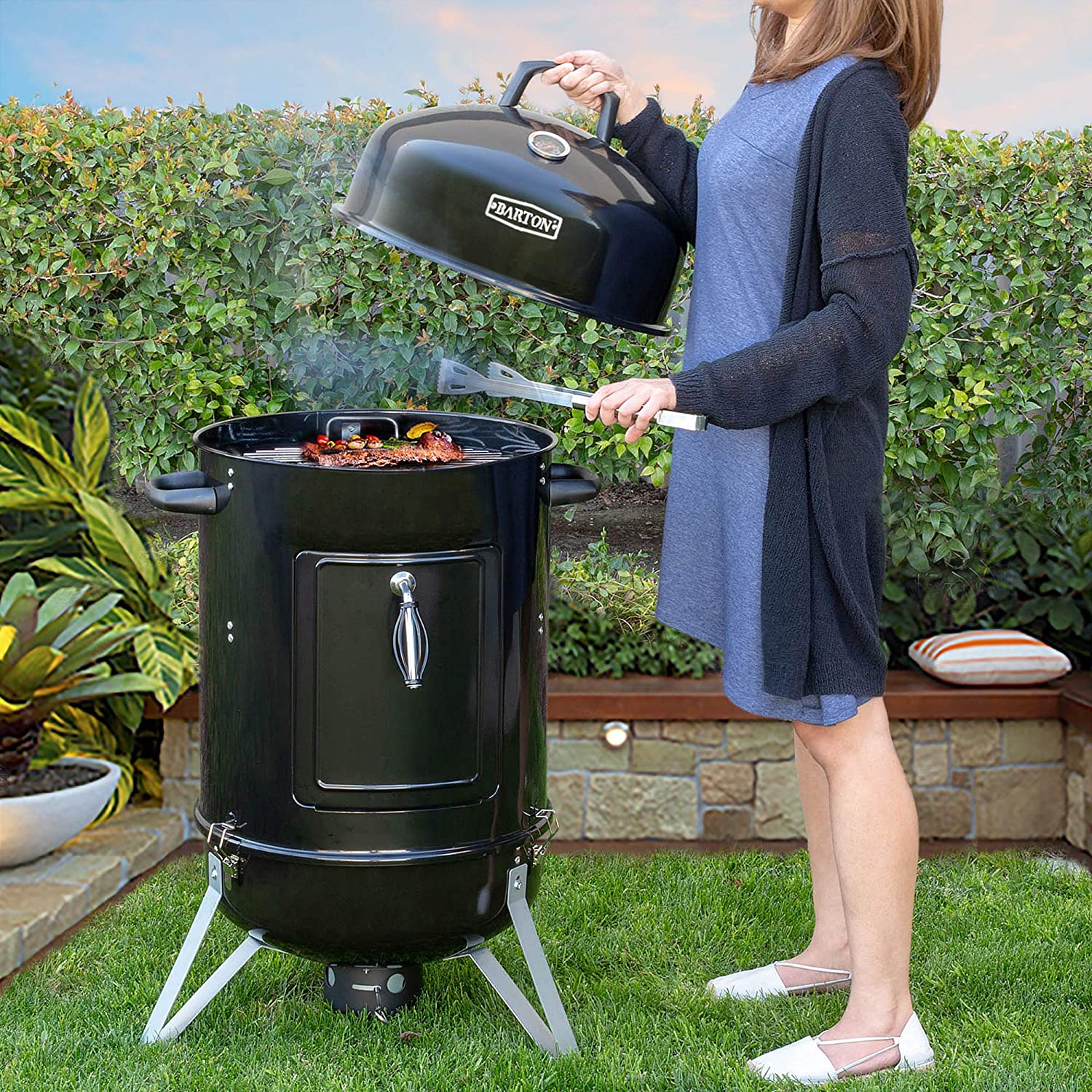 The dual air vent system on the smoker can open or close in order to maintain the flow of heat and smoke. The lid-mounted temperature gauge is invaluable when it comes to reading temperature. This charcoal smoker is a great buy when used for grilling, roasting, steaming, and BBQing.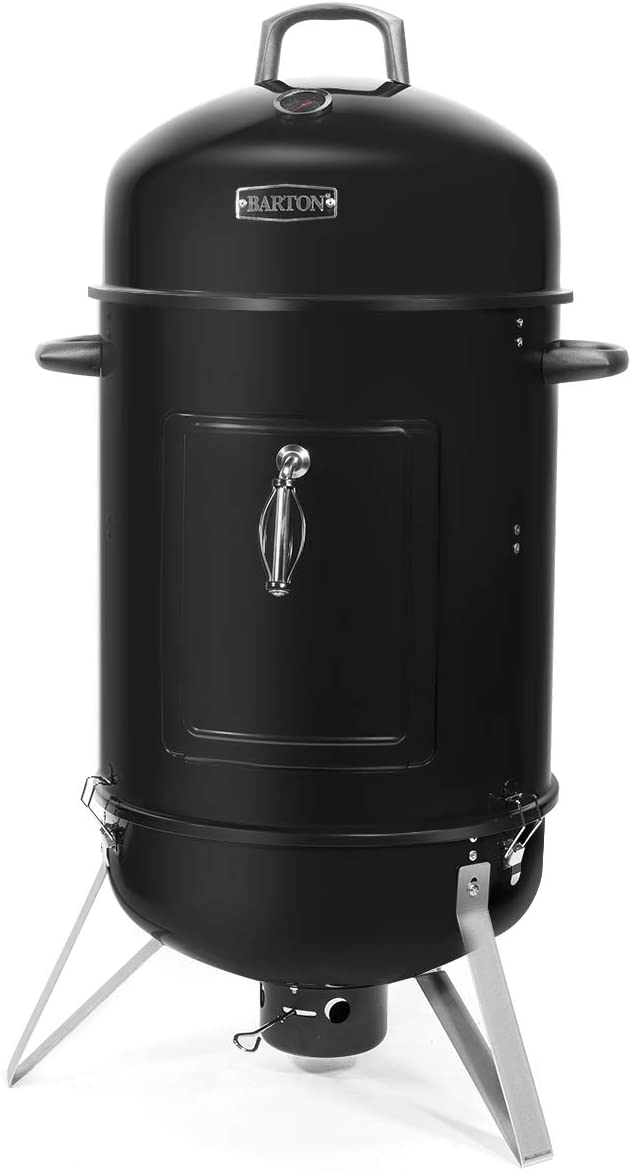 The Barton Vertical Charcoal Smoker's contour helps in distributing the heat evenly throughout the smoking chamber. Besides all the positives, the gripe we have of the machine is the missing tires that could make this easily transportable across the apartment.
7. Char-Broil Vertical Liquid Propane Gas Smoker
The Char-Broil Vertical Gas Smoker is a package that arrives with a ton of features, allowing you to add an extra bit of smoking to your favorite food with ease. The smoker features three chrome-plated grates, which cover a total cooking surface area of 595 square inches.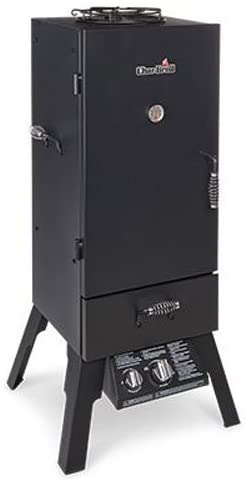 The smoker arrives with an easy temperature-controlling dial, allowing you to set fire to the burner in less than a second. It boasts chrome-plated cooking grates along with three cool-touch handles for easy and secure transport.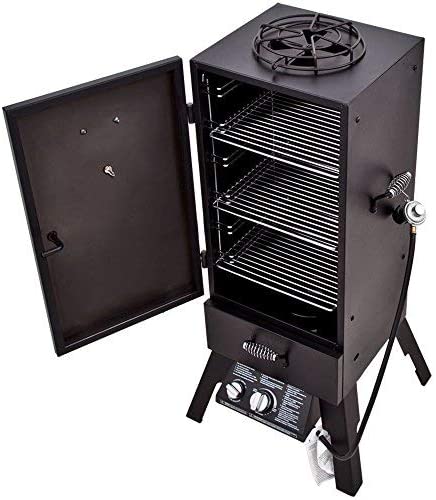 The Char-Broil Vertical Liquid Propane Gas Smoker comes with a unique water and wood chip pan design that easily slides into the cooker. The smoker has a dual door design that smokers of all kinds can easily operate.
---
CONCLUSION
The taxing task of picking the best products took some toll on our reviewers. Alas, the products that we recommend would be the Pit Boss Grills 77550 Vertical Pellet Smoker and Dyna-Glo DGO1176BDC-D Vertical Offset Charcoal Smoker — two of the finest quality products on the market.
If you favor something off the list, please write to us in the comments section, and we'll get back.
---
FAQs
How do I maintain a vertical smoker?
Maintaining a vertical smoker isn't that challenging. Soon after you finish smoking, unload the ash and pellets pan; thoroughly rinse the racks using soap water and let them dry.
What separates vertical smokers and horizontal smokers?
Vertical smokers tend to roast and smoke neatly; however, they aren't great to deal with grilling meat and veggies. In contrast, horizontal smokers are suitable to bake, smoke, grill, and broil at times. Vertical smokers are in many ways rated higher than horizontal ones.
Which fuel is best for vertical smokers?
Vertical smokers work exceptionally well when they run on wood and charcoal. On a few occasions, propane or electric smokers are also good as they prevent heat loss. However, to give your dishes a touch of smokiness — there is nothing better than charcoal or wood to cook with.