There is no doubt that a good massage after a long day at work is very relaxing. But, who has the time to go to a massage parlor after spending most of the day at work? Massage chairs can give you the same massaging experience by replicating the techniques. They offer a very comforting experience. But the real problem is finding the best massage chair. A massage chair can be considered a luxury item. It is like having a spa right at your home, whenever you feel the need to relax its right there.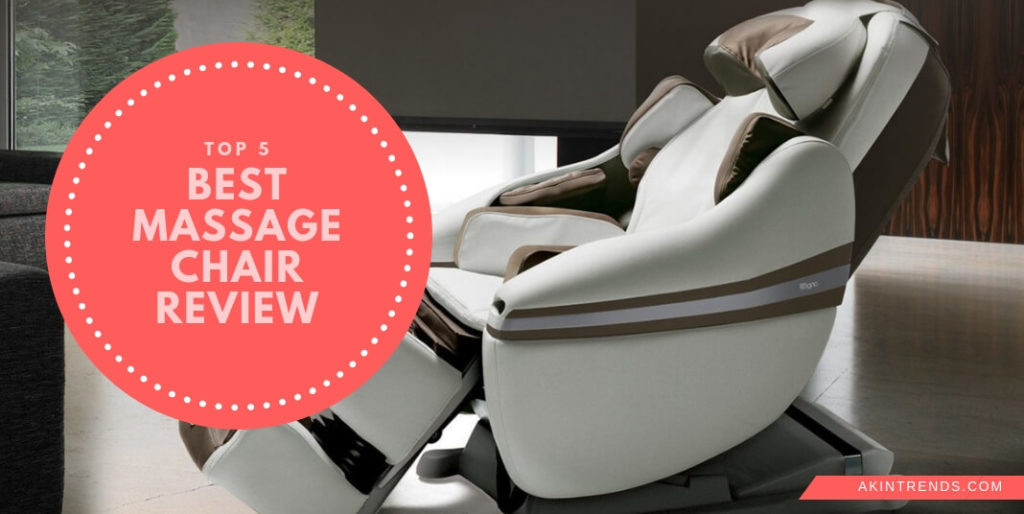 A massage chair is a mechanical chair that uses airbags and other functions to give you a complete body massage. You get the freedom of choosing your customized massage within a few settings away. According to APA (American Psychological Association), 77% of people experience stress-induced physical symptoms, and 73% of the psychological symptoms are because of stress. These massage chairs can help you in this situation to an extent.
TYPES OF MASSAGE CHAIRS
To start from the basics, it is essential to know about different kinds of chairs. Each type with specific kind of massage. Below are the few types of comfort giving chairs :
1. SHIATSU MASSAGE CHAIR
This chair offers a unique Shiatsu Massage, which is a form that originated from Japan. It targets the pressure points of the body inducing relaxation and reducing pain.
2. RECLINING CHAIR 
All modern chairs come in a reclining position. It is that position that is most effective, and we feel the most relaxed. Massage chairs come in flexible degrees of reclines, which can be changed according to your comfort.
3. ZERO GRAVITY MASSAGE CHAIR
Zero Gravity Massage Chair is the one that reclines to an extent where you feel weightless. This feature gives it the name 'zero gravity.' This chair helps you in reaching a high level of relaxation and gives you good circulation.
4. VIBRATING CHAIR
Vibrating Chairs are the basic kind of chairs. Almost every chair comes with this feature. It vibrates electronically that gives you the feeling of getting a massage.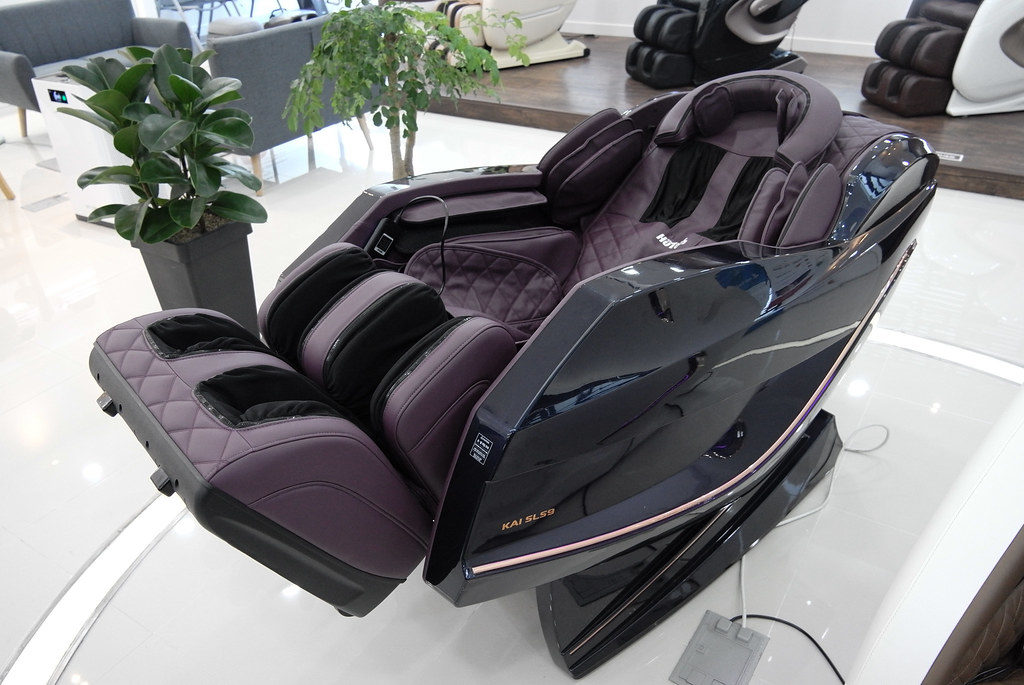 ---
COMMON FEATURES IN A MASSAGE CHAIR
Below we are listing some features of massage chair that will give you an idea of how they work. This is a general list; not every massage chairs come with these features. Find the most common features of almost every massage chairs below:
Massage techniques such as shiatsu, kneading, knocking, rolling, tapping, and flapping
Vibrating airbags
Body scanner
Adjustable height
Foot roller massage
Zero gravity reclining function
One year+ warranty
Data and memory storage
ADVANTAGES OF HAVING A MASSAGE CHAIR

Now let's discuss the benefits of having a massage chair:
1. Stress Relief
Stress Relief is the main reason that people rely on a massage chair. Studies prove that massage gives you relief from stress. You can get stress from your daily life; from work, relationships, commitments, school, etc. you need to unwind all these stress for a healthy life. These Chairs gives you more energy, and it completely changes your outlook on life.
2. Better Posture
There is a discussion going on whether massages lead to good posture. This is true only when it is done in the right way. Massages certainly focus on posture, massage chairs too. Using a massage chair regularly can make you flexible and makes you feel more relaxed. This significantly affects your posture. You find that you are no more slouching, not rolling your shoulders, and you start you sit up straight. This is because of the specific techniques that massage chairs offer.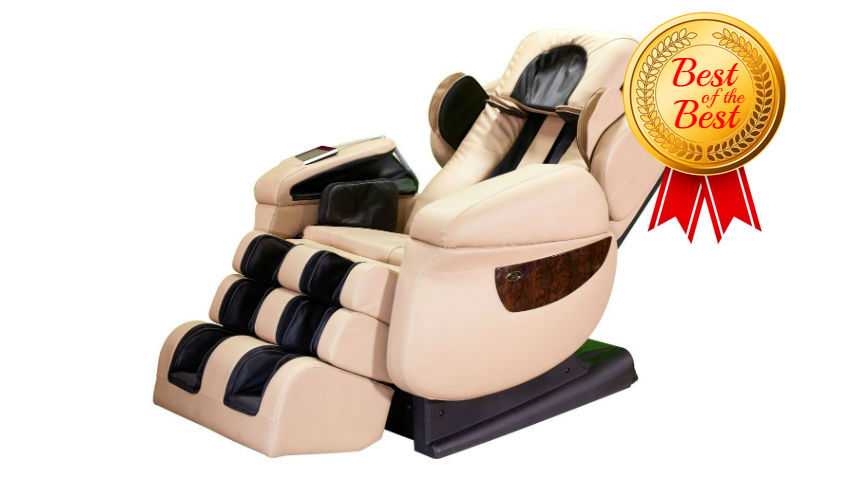 3. Chronic Pain Relief
Another big reason for people to buy a massage chair is that they suffer from chronic pain. Usually, they experience pain in their joints, back, or neck. If you are suffering from any of these pain, then you should have a massage chair at home which can help you get massage therapy whenever you need without going to a spa or clinic. Studies are showing that massages can reduce such pains. Since massage chairs are as effective as the massage performed from humans, massage chairs can come to the rescue at these situations.
4. Improved Circulation
Using a massage chair for a while can result in improved blood circulation. You feel more active and awake after a good massage. This is one of the main advantages of a massage chair. The zero gravity chair performs well in this condition. People who don't get enough exercise or are in a situation where they cannot leave their house, a gentle massage that keeps them active throughout the day since it enhances blood circulation.
IS IT WORTH THE PRICE?
Here comes the big question- is buying a massage chair worth it?
Since these chairs come at a high price, many people are not sure whether they should make the purchase. They indeed cost a lot, but what satisfied users say is that it is all worth the money.
It is not a fancy item to have in your house, but the health benefits of these chairs are worth paying for. They are advanced and indeed a cool product you can trust spending your money. The benefits of these chairs may save you money in the future.
When you are relaxed and stress-free, there is less chance for the need to go to a doctor. Thus fewer health issues, fewer health expenses. We would strongly recommend you to go with the choice of buying these massage chairs.
---
THINGS TO KEEP IN MIND BEFORE BUYING A MASSAGE CHAIR
It is always better to think well before you buy something new. The same goes for the massage chairs. Here are some things to need you to keep in mind before you go for the purchase:
Massage chairs are big. Even the smallest chair comes in the size of a regular armchair. Therefore, it is important to make sure you have enough space for a massage chair. Also, keep in mind that folding massage chairs need more space than regular chairs. They require certain space in the folded form and even more in extended form.
You need to find whether the massage chair fits you before you go with your decision. These chairs come in different sizes and frames. Most of them are built with common users in mind. So they can accommodate both tall and short customers. Even though, double-check whether the chair is comfortable for you, or else you will end with the wrong choice.
Type of massage these chairs offer massage chairs come with different types of massage techniques. Some users may enjoy them all, but some go looking for a specific type of massage. Here are some types of massage most chairs offer:

Kneading – This technique is highly advised for pain relief, for tight muscles, and increasing flexibility. It involves the compression of soft tissues against each other or underlying bones.
Tapping – Tapping is a massage technique performed to stimulate muscles. This stimulates the pounding and striking actions replicating a professional massage technique with their fists. It stimulates blood circulation and increases tissue elasticity and local blood circulation.
Rolling – Rolling involves the lifting and rolling of the skin with fingers and thumbs. Massage chairs use rollers for performing this technique. It is used to treat muscular tension, to loosen the skin, and for providing a relaxing effect.
Shiatsu – Shiatsu is one of the most popular and effective massage techniques. It is performed by applying palms, thumbs, and hands against specific stress points. It promotes relaxation and muscle relief. Massage chairs perform shiatsu with the help for airbags and rollers.
Special Techniques – Techniques like heated massage, spinal relief, yoga, reflexology, muscle stretch, and combo are some of the special techniques to attract customers. These features may vary from model to model. Each of these techniques has its pros and advantages.
All these features can be a bit overwhelming. If you are not familiar with these features or techniques, you can go with the model that comes with more techniques. Go with the model that has special features like yoga, spinal relief, and muscle stretch. This way, you can make use of your chair to the fullest.
There are a lot of manufacturers that are great players in the massage chair market. Some come with a long history of expertise in this field. While others may be new to the market. When it comes to massage chairs, the brand name should not be a factor for you to make a decision.
Because you can find high-quality products from lesser-known brands too, you can be a bit confused here; you are advised to go with the brand that offers good customer support service. A manufacturer that respects the customer's needs, warranty and that takes care of repair expenses are the ones you should go looking for. This is going to be good for the long run.
When it comes to massage chairs, the price is determined by the quality and capability of the chair. Massage chairs come with an expensive price tag. Make sure you spend your money on the right model and is not wasting it by going for models that you cannot afford. Manage your budget accordingly. There are best massage chairs under $1000 that also do the job. Look for those that offer multiple techniques, better designs, and various features that will be costing more.
---
Here you can find the top 5 models of massaging chairs.
We are discussing these chairs, and you can find the advantages, features, and everything you need to know about these models:
1. LURACO TECHNOLOGIES IROBOTICS 7 (best massage chair)
Luraco iRobotics 7 is one of the best massage chairs out there. It is an all-rounder when it comes to its features. This is also one of the quietest massage chairs out there. It benefits those people who are stuck in a certain position. iRobotics 7 offers a wide range of shiatsu massages varying from different intensity levels under your control.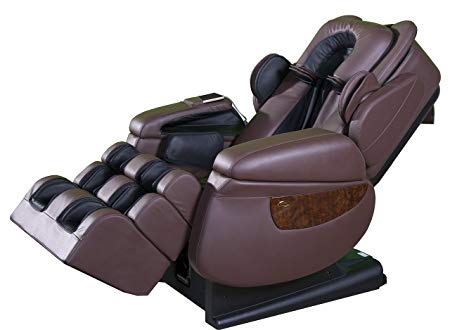 This machine is one of the highly adjustable massage chairs with lots of adjustment settings. It patterns and mold itself according to the frame of a person and outputs an outstanding massage experience. In one sentence, this machine can be described as an electric full body massager providing a wide range of adjustable features, performed with complete precision.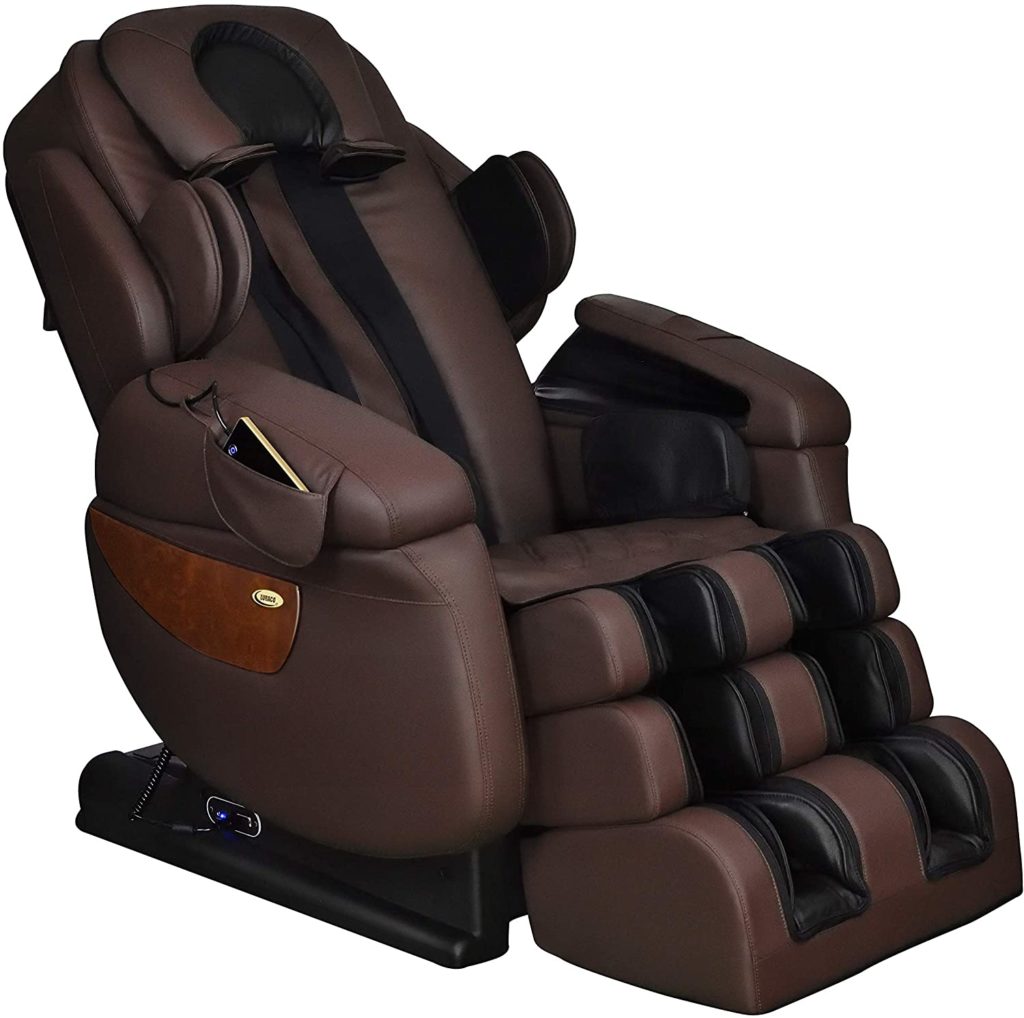 Stocked with the best massage chair pad, this massage chair also comes with a full-body scan which helps the roller tracks to find and address a problem area individually. It is FDA, and UL approved and is assembled in the US.
Tip: If you are new, start off slow. Begin with one session/week. Then, increase it to two or three sessions/week.
2. HUMAN TOUCH NOVO XT (best home massage chair)
Human Touch Novo XT is another great massage recliner, which is space-efficient and a wall hanger. It is perfect for small apartments and limited spaces. Space efficiency is this model's specialty.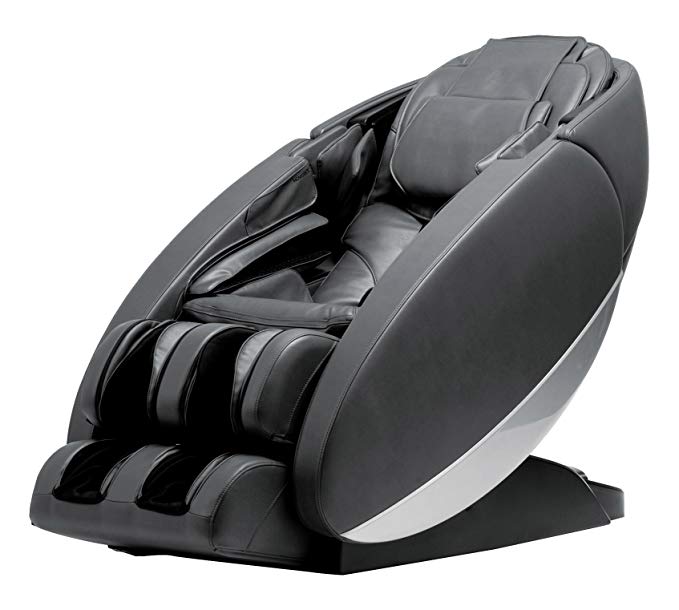 You need only a few inches away from the wall, and it reclines smoothly. Unlike the above model, this machine lacks the feature of providing heat only to the lumbar area.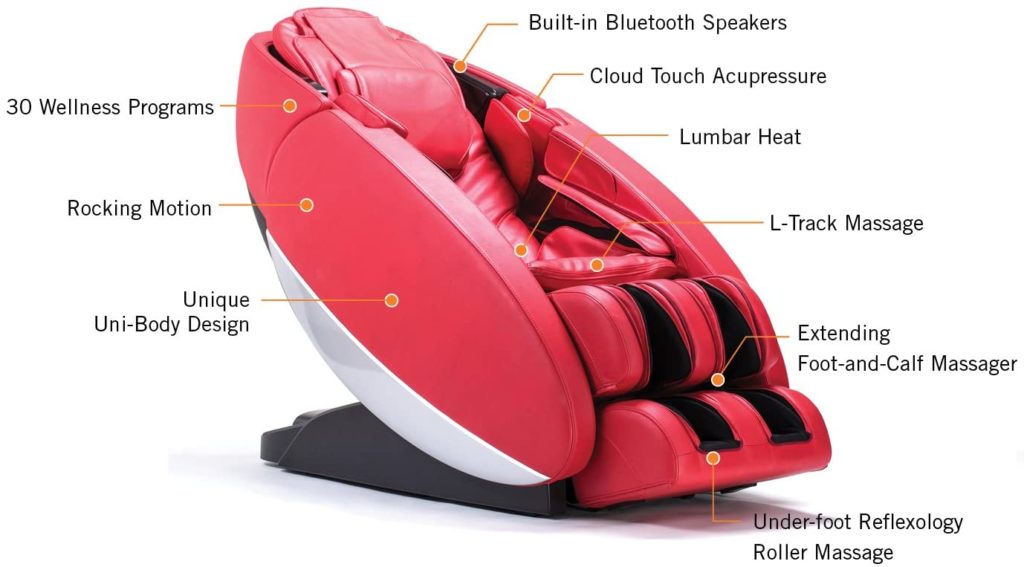 This model comes with an adjustable feature for the neck, shoulder massages, and separate ones for your back and feet. It also provides zero-gravity massages and full-body stretch. Come with a five years warranty period on labor.
Did You Know? Massage chairs were first introduced in the late 1980's.
3.  INFINITY IT-8500
Infinity IT-8500 is also a luxurious massage chair that holds its position in the level of iRobotics but comes in an attractive price tag. It has everything needed for a good quality recliner.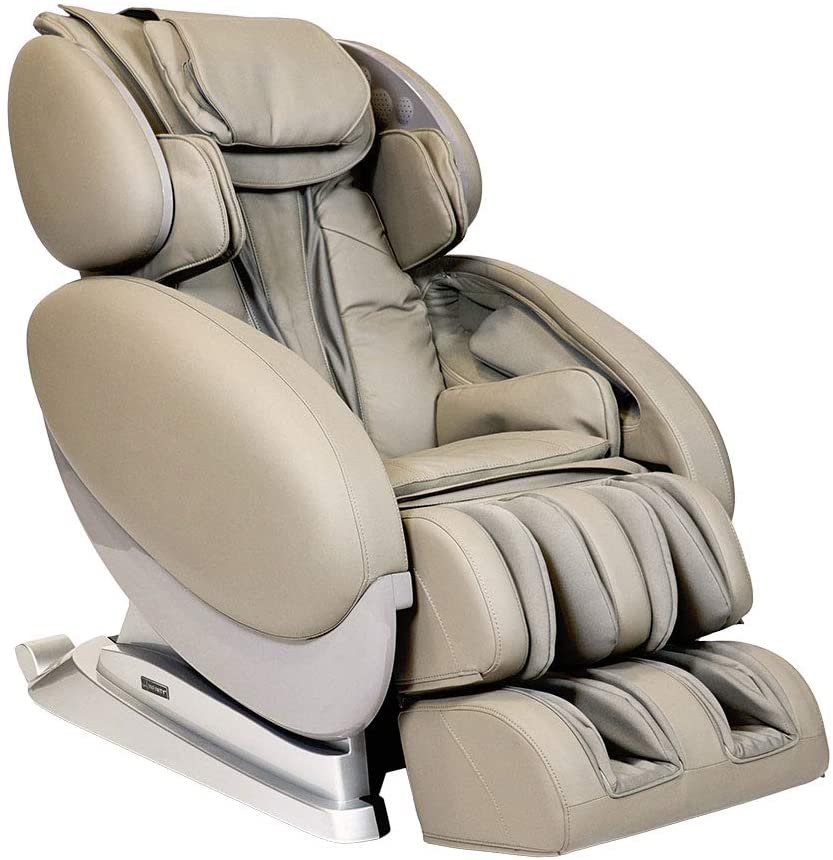 What makes is different from iRobotics is that it uses a 2D roller instead of 3D rollers, even though you can find chairs with 3D rollers from the same brand.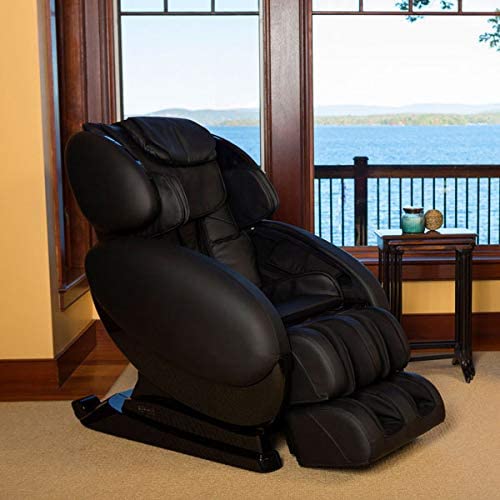 It offers features like neck and hand massage, body scanning technology, foot rollers, heat features, and many more. The main advantage of this machine is that you can have all of these features at a reasonable price.
Also, Read Top 10 best stepmills to buy this year.
4. KAHUNA LM-6800 RECLINER
Kahuna LM-6800 is a massage chair that offers a wide range of features. It is also space-efficient, which needs only 5 inches away from the wall. This is quite a popular model among Amazon Recliners for the price tag. This machine is affordable and four times lesser than the above massage chairs.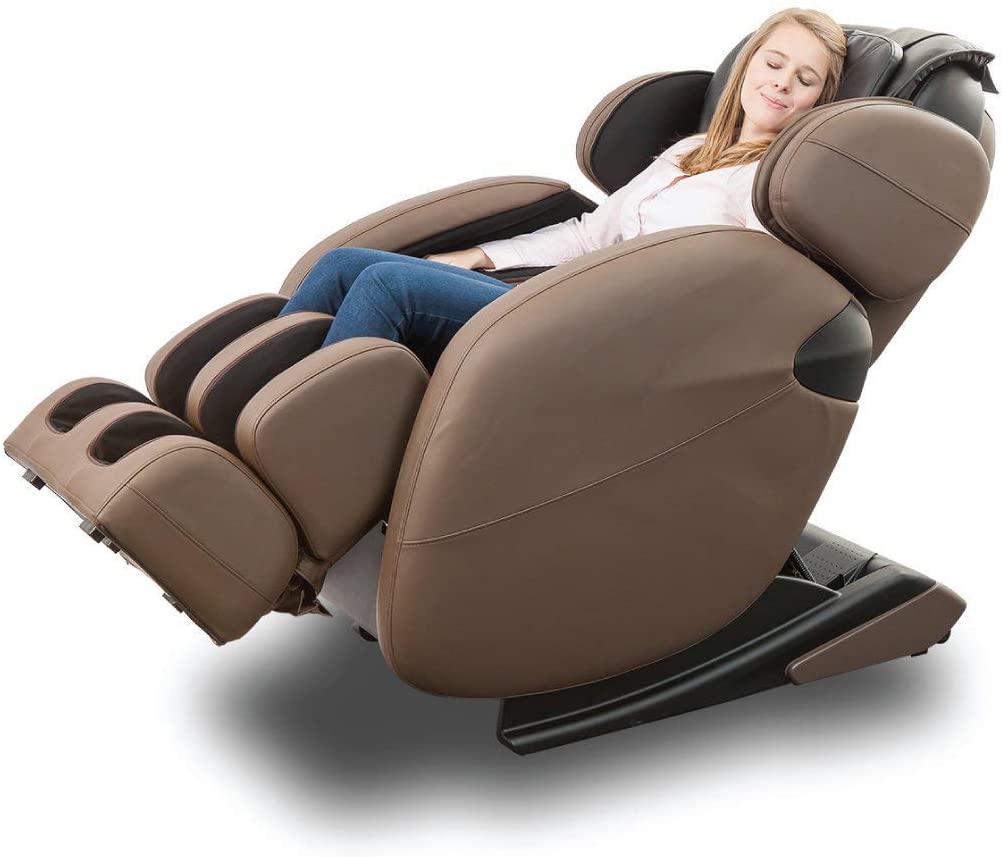 It provides only back massages without any additional features to manage the price tag. This chair offers an L-tack design and has features like four 2D rollers for massaging your lower body down to your glutes.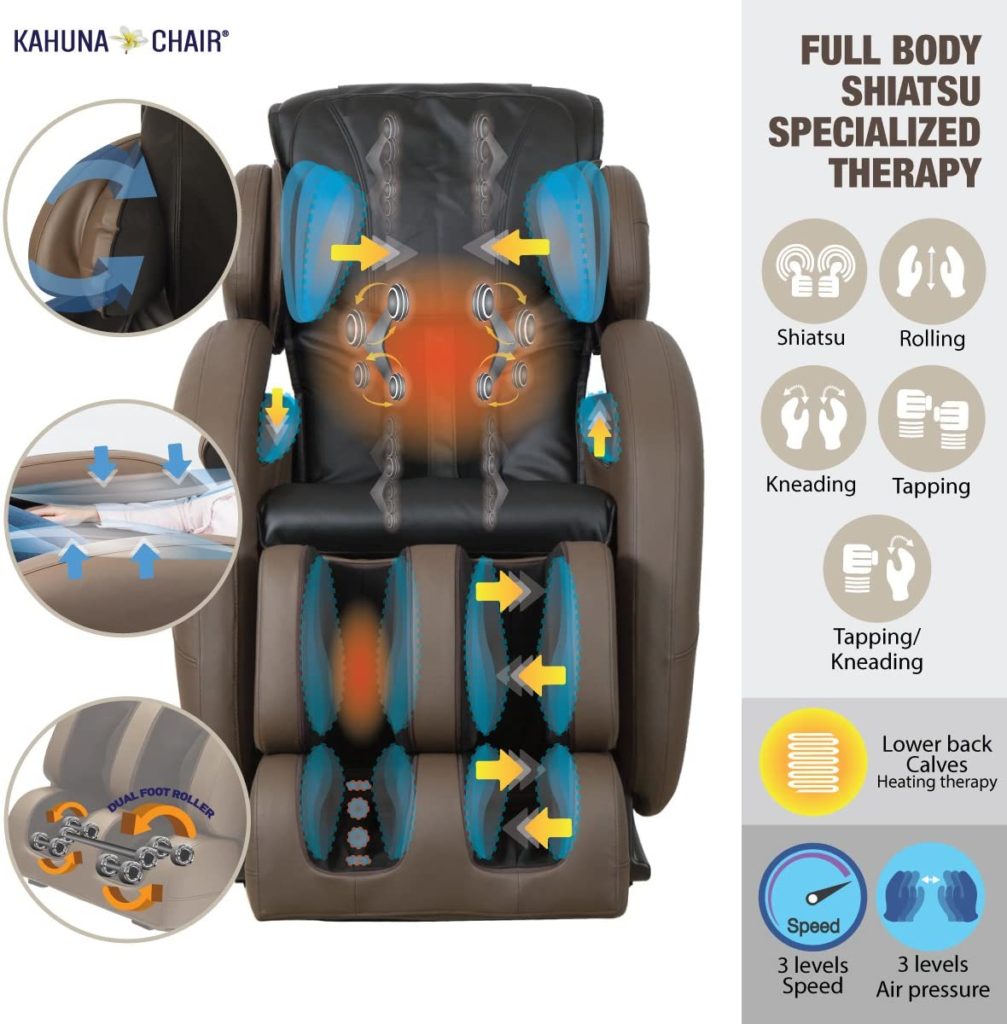 The double foot rollers of this chair give you a thorough foot massage. The Yoga Body Stretch feature stretches your front portion of your body, hamstrings, and spine. The heat therapy is concentrated towards the lumbar region and the calf muscles to calm this area and improve circulation. The vibratory function of this chair seat gives you instant stress relief.
Tip: Make sure to clean and maintain the chair regularly.
5. OSAKI OS-4000 (best full body massage chair)
Osaki Os-4000 are well designed and well-built chairs that offer a range of attractive features. Manufactured in China, Osaki is a well-known brand. It is also famous among the zero gravity massage chair category.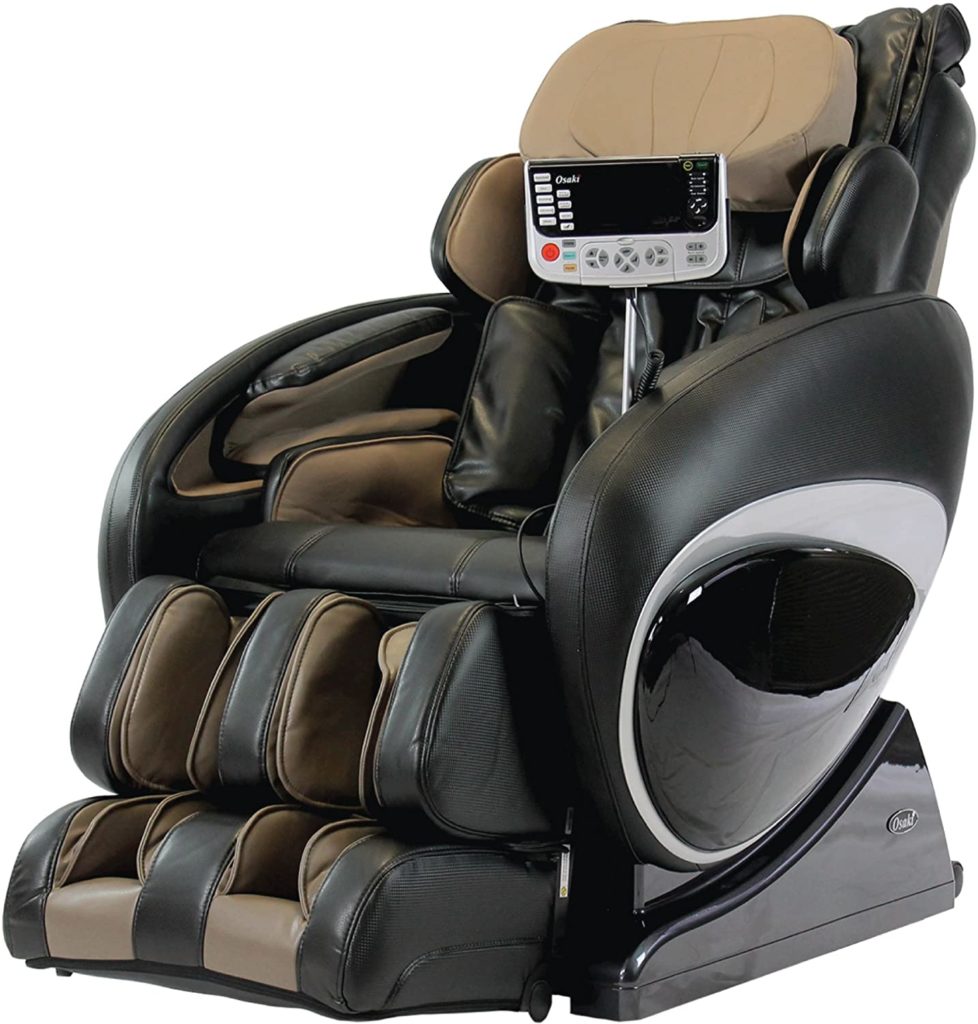 It comes at a really low price than compared to the above models. With its price range, you cannot expect a wide range of features. It comes with a limited range of features. But the features it offers are the ones that you can find in high-end massage chairs.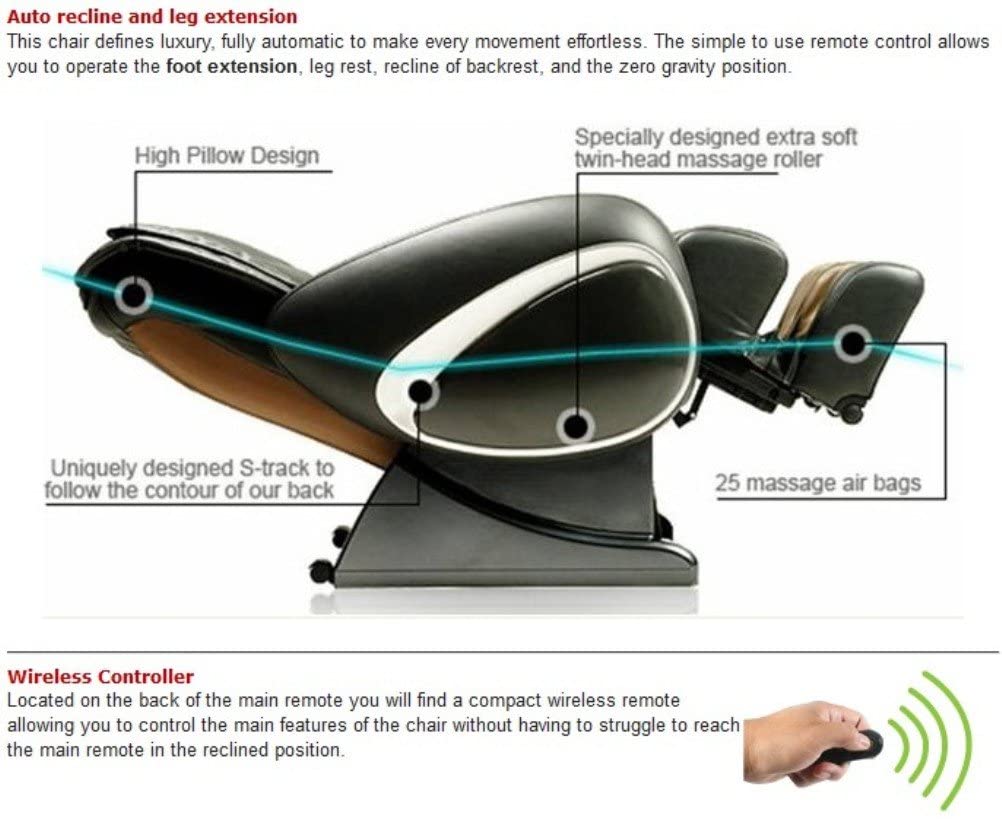 This zero gravity massage chair provides a full body shiatsu massage. Device can be easily used for general aches and pains in the body. It also provides a vibration massage that relaxes your muscles and improves your whole body circulation.
Massage chairs are a great way to reduce your stress and relieve back pain. They do not come at a low price but trust the features, and you will find every penny you spend was worth it. As you can see, many models come almost with the same price range. So get familiar with the features each model offers and choose the right you think will be great for your needs. Massage chairs should not be purchased based on its design; features are what makes a chair worth the price.
Also, Read Top 10 Best Lawn Mowers you should buy
---
FAQs
1. What is the zero gravity massage chair feature?

This feature involves reclining the chair to a position where the user's legs are reclined above or the same level as the heart. In this position, the user's experience weightless, lowering blood pressure and taking the pressure off the spinal column.

2. How often should I use a massage chair?
There is no limit in using massage chairs. Massage sessions are supposed to be therapeutic and relaxing. Which means you can make use of them as often you like.
3. What are S-track and L-track?

S-track massage chair is in the form of the letter 'S' to follow the curve of the body's spine. It may vary from model to model, but the S-track is to provide a massage that begins from your neck, extends to your torso, and then to the base of your spine.
L-track massage chair is the modern chair that comes in the form of the letter 'L.' As the S-track chair, the massage track starts from your neck and follows the natural curve of your spine, and from there it turns to an 'L' shape that travels under the seat providing a massage to your glutes and backs of your thighs.

4. How much powder does a massage chair use?
A massage chair uses the same power as your desktop computer would. The power usage is inclusive of heating elements and vibrating heads.
5. Are massage chairs effective?
Massage chairs are a blessing in disguise when your therapist is not around. Although they come at a hefty price, the benefits certainly outweigh the cost factor. There is significant evidence on how massage therapy has been a relief for people suffering from pain. With several different types of techniques imbued in massaging chairs, the massaging chairs are highly-efficient machines.
6. Are massage chairs safe to use during pregnancy?
Massaging chairs have become a household device in homes with pregnant women. These provide soothing support during the grueling period of pregnancy with various techniques and modes. However, not everything is bells and whistles when using a massaging chair during pregnancy. Many massage chair manufacturers request not to use these chairs, as the massage point might stimulate a woman into premature labor.
7. How to clean your massage chair?
Massage chairs, like every other piece lying in your house, do get dirty. The cleaning part is simple but requires attention to every detail. The following is a step-by-step procedure to clean your massage chair:
Know the type of fabric: Massage chairs are made using different materials. Some chairs come embossed in fabric upholstery and some in leather upholstery. If you find it hard to figure out what material it is — read the label.
Remove the cushions to clean the interiors of the chair.
Wipeout dirt, animal hair, or dander from the hooks and corners
If the chair's fabric is delicate, wash it thoroughly with soap and water. Or use spraying.
Once you finish cleaning the chair, use a damp cloth to dry. Do not sit or use the chair for a few hours.
Start placing the cushion back on to the chair. Voila! Your massage chair looks glossy and shiny from the day you brought.
8. Can I use a massage chair with a pacemaker?
Pacemakers are imperative in learning the regulation of your heartbeats. While this device is a highly important one to be included in a massage chair, it comes with some risks. Several massage chair brands have embedded magnets into their products, thus impacting the performance of the pacemaker.
However, pairing pacemakers alongside magnets is not the best option, as the latter prevents the former from sending signals. New-gen massage chairs come with magnets. But, it is better to seek advice from an expert and proceed with the purchase.
9. Can massage chairs hurt your back?
This is a million-dollar question that can make or break your buying decision. Like said earlier, massaging chairs are swamped with benefits that outweigh negatives. However, your body might take a toll if the massage chair is misused.
On rare occasions, the pressure of excessive massage may lead to bruising. It is vital to adhere to the manufacturer's guidelines or seek advice from an expert about the duration.