Connoisseurs of coffee having faced the wrath of the situation already, fine cafe-quality coffee is what they must be craving for. Our search for the best home coffee roaster revealed that there are excellent choices for people at all levels of experience.
Rather than choosing just one, we decided to choose one model for absolute beginners, one for novices, one for intermediate roasters, one for advanced roasters, one for people who are serious about turning their home roasting into a small business.
---
Guide to Buying The Best Coffee Roaster for Home
For those kick-starting their brewing journey, here is a simple run-through of some of the considerations to pay attention to while buying.
Size
Most brands have different sizes of coffee roasters to offer. Generally, coffee roasters for homes are purchased based on their capacity — the smaller they are, the more ideal to use for a family or friends. However, if you are having an in-house team aboard, large capacity models are also available in numbers.
Temperature
The most significant traits of a modern-day roaster machine are their abilities in switching to different degrees. The benefit of such a feature will allow you to switch between temperatures and stick to what suits you the best, and for those, you are brewing.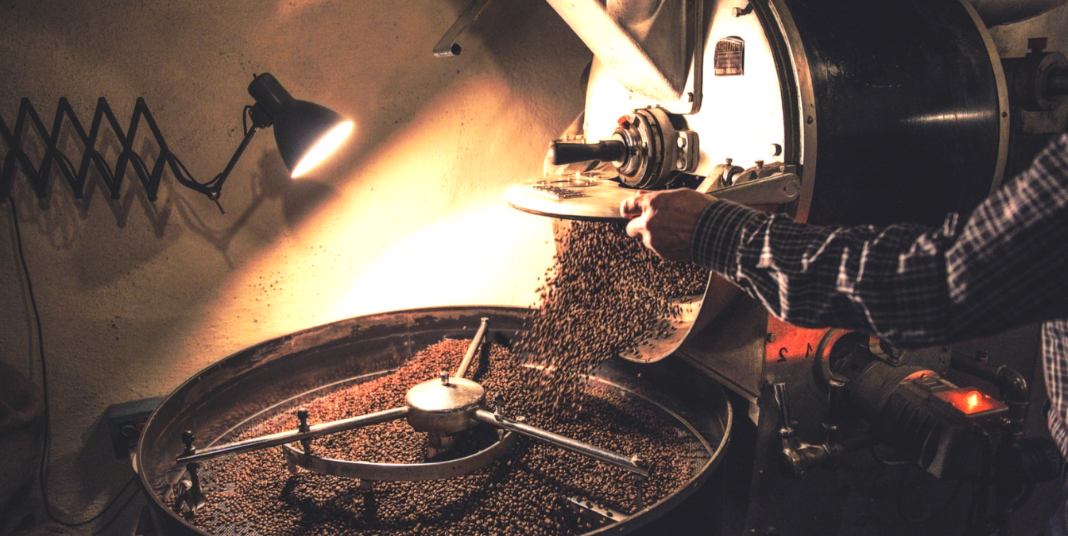 Besides the aforementioned things, we also suggest you ponder upon your budget, and how much time you can afford to spend on a roasting machine. All said and done, the time we scroll through the list of best coffee roasters for home.
---
The Best Home Coffee Roaster Machines This Year
Brewing a cup of cafe-like coffee from the comfort of your home can be accomplished now —courtesy of brands thriving on innovation. With an abundance of options available at our disposal, picking one becomes challenging. Following our picks for the best home coffee roasters of the year.
1. Kaldi Home Coffee Roaster
The Kaldi Home Coffee Roaster is the most advanced roasting machine on the list with a heavy-duty look and an expensive price tag. This is a powerhouse of a roaster that features a thermometer to keep a tab of the temperature inside the roasting chamber. The large stirring drum has the capacity of holding up to 200 grams of coffee beans.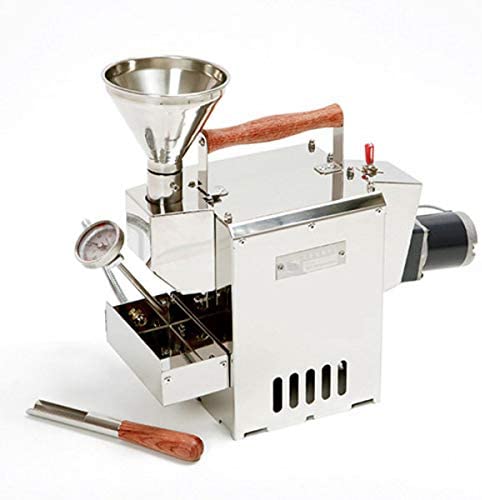 This coffee roaster is powered by Air Roasting Technology that distributes heat evenly within the roasting drum, which oozes out consistent roasts. This roaster is supplied with a removable chaff tray that traps the beans' thin layers of dried skin. The tray does a fine job in reducing the efforts of cleaning.
Kaldi's coffee roaster is easy-to-use with a little bit of learning to do in the beginning stages. Overall, the machine has the build and features that both beginners and artisans look for. The major upset we had using this was — it lacks smoke suppression technology.
2. DYVEE Coffee Bean Roaster
DYVEE's Coffee Bean Roaster is a no-frills model boasting a sleek and minimalist body for a comfortable brewing over a gas stove. The included 14-ounce capacity transparent quartz drum can be easily removed and disassembled for a full-fledged cleaning.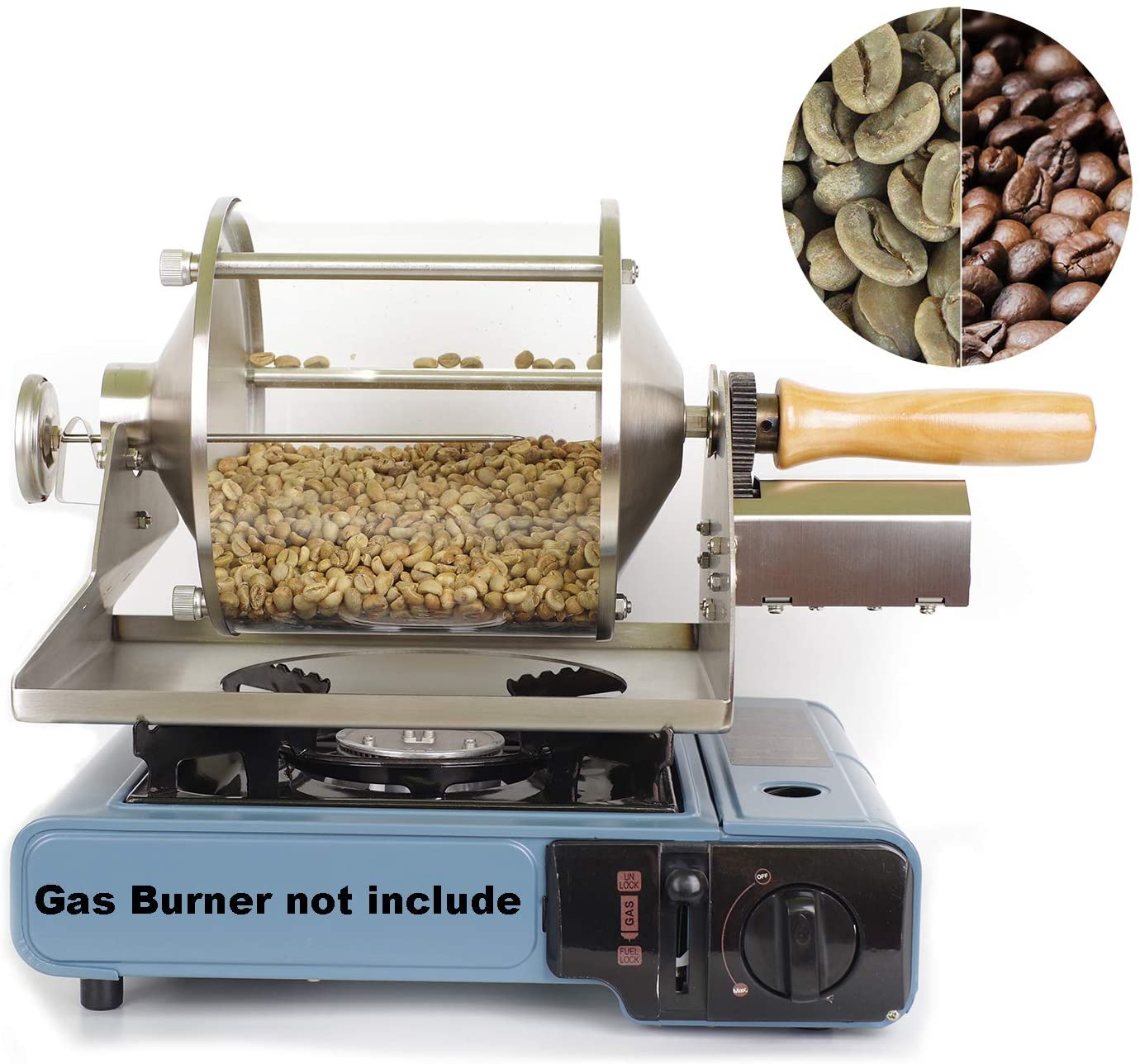 This reasonably large capacity roaster has a capacity of holding up to 400 grams of coffee beans. The stainless steel body and the wooden handle enhance the aesthetics of the roaster. Besides the coffee beans, we have also had a not-so-disappointing experience roasting peanuts, chestnut, dried fruits, and sunflower seeds.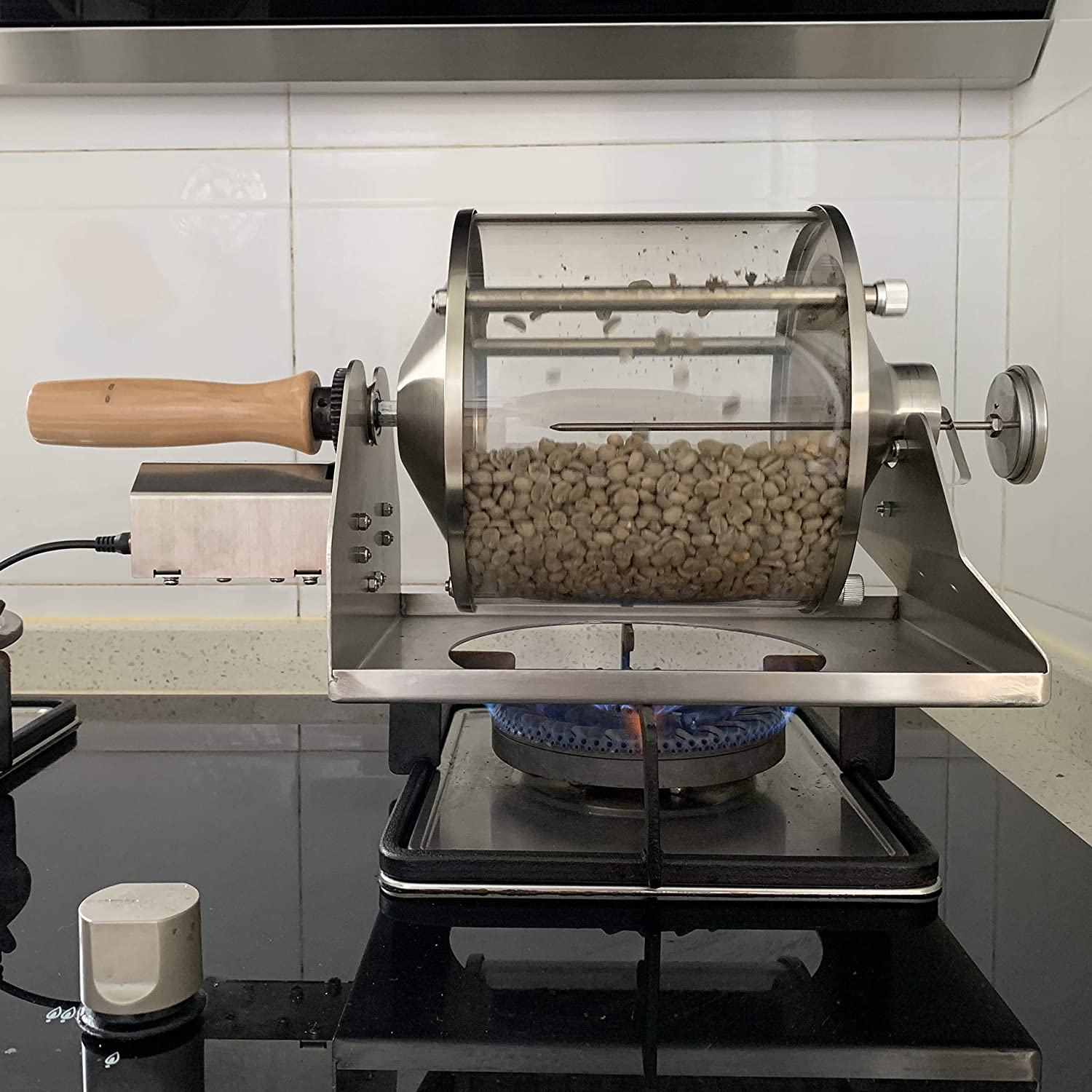 The DYVEE coffee roaster is the most simple yet effective model on the list of best home coffee roasters. The downside of having equipment such as this is there is missing temperature feedback, and since it is more hands-on, it does take time to roast.
3. Jiawanshun Home Coffee Roaster
The Jiawanshun Coffee Roaster boasts a unique appearance to all the other models listed on this guide. This feature-rich home coffee roaster features a temperature dial knob that allows you to set the roasting temperature from anywhere between 0 to 240-degree Celsius. In addition, the transparent glass lid lets you monitor the roasting progress.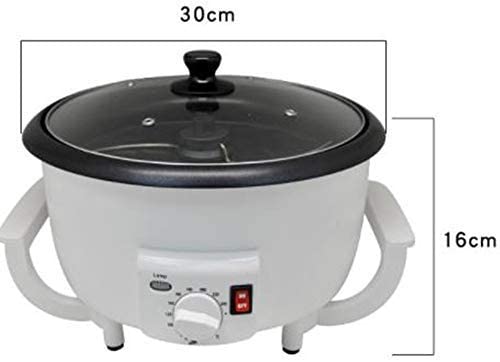 It comes with a mammoth capacity, making this model an ideal buy for large families and avid coffee consumers. The roaster's rotating arm seamlessly keeps the beans moving for a much better roast. Courtesy of the non-stick surface, the roaster can be cleaned without shedding any sweat.
This multifunctional roaster can be used in roasting popcorn, nuts, and seeds. All in all, the Jiawanshun Home Coffee Roaster is a simple to use a roasting machine that reduces efforts of cleaning and monitoring.
4. Nuvo Eco Ceramic Handy Coffee Bean Roaster
Eccentric yet equally good at coffee roasting, Nuvo's Eco Ceramic Coffee Roaster is a vessel-like shaped model that works on a straightforward process. This minimalist-looking coffee roaster can roast up to 70 grams of beans, brewing small cups of coffee in minutes. The interior of the roaster is a waffler grid that exudes hot air to evenly roast the beans.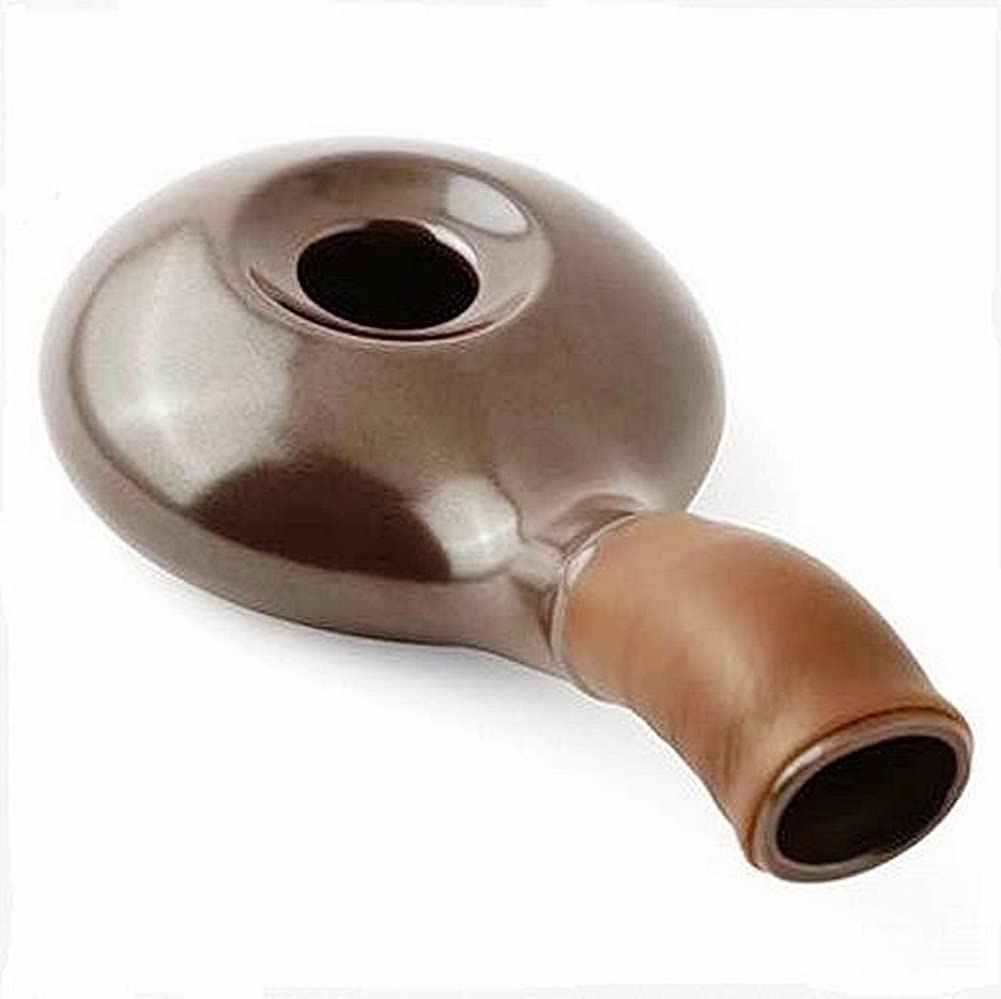 The process is simple — place it on a stovetop, or an electric cooktop, and voila! Roasted coffee beans at your fingertips. It comfortably sits over the stovetop, thanks to the flattened bottom. Since the roaster is embossed in the ceramic material, there is a decent supply of thermal conductivity to roast the coffee beans.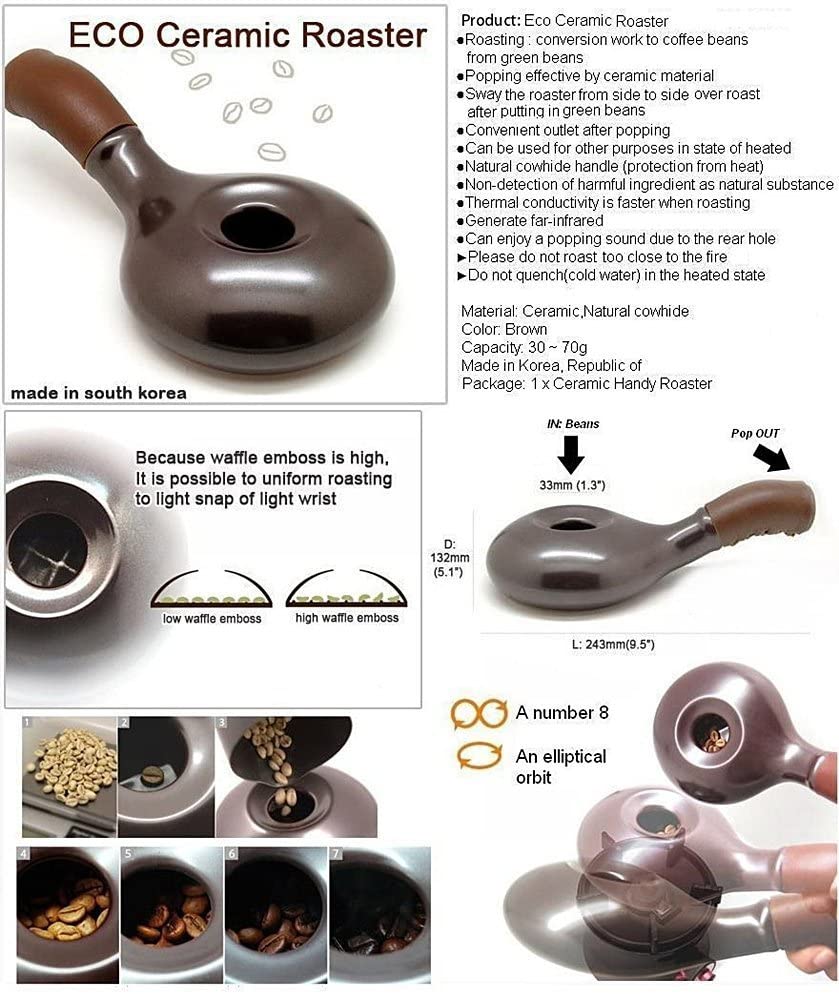 The roaster is incredibly lightweight, making this a no-brainer for on-the-go coffee lovers. The leather-enveloped grip prevents your hand from burning as you roast. If you are a fan of antiques that help rejuvenate your entire day, then the Nuvo Eco perfectly fits your bill.
5. Fresh Roast Air Roaster
Last in the lineup of the Best Home Coffee Roaster Machine is the SR540 from the house of Fresh Roast is the most suitable roaster machine available in the market for beginners. This machine is a go-to option when considering compactness and quick roasting time. This coffee roaster simplifies coffee brewing with features like nine temperature settings, a fan adjustment knob, and buttons to set the roast time.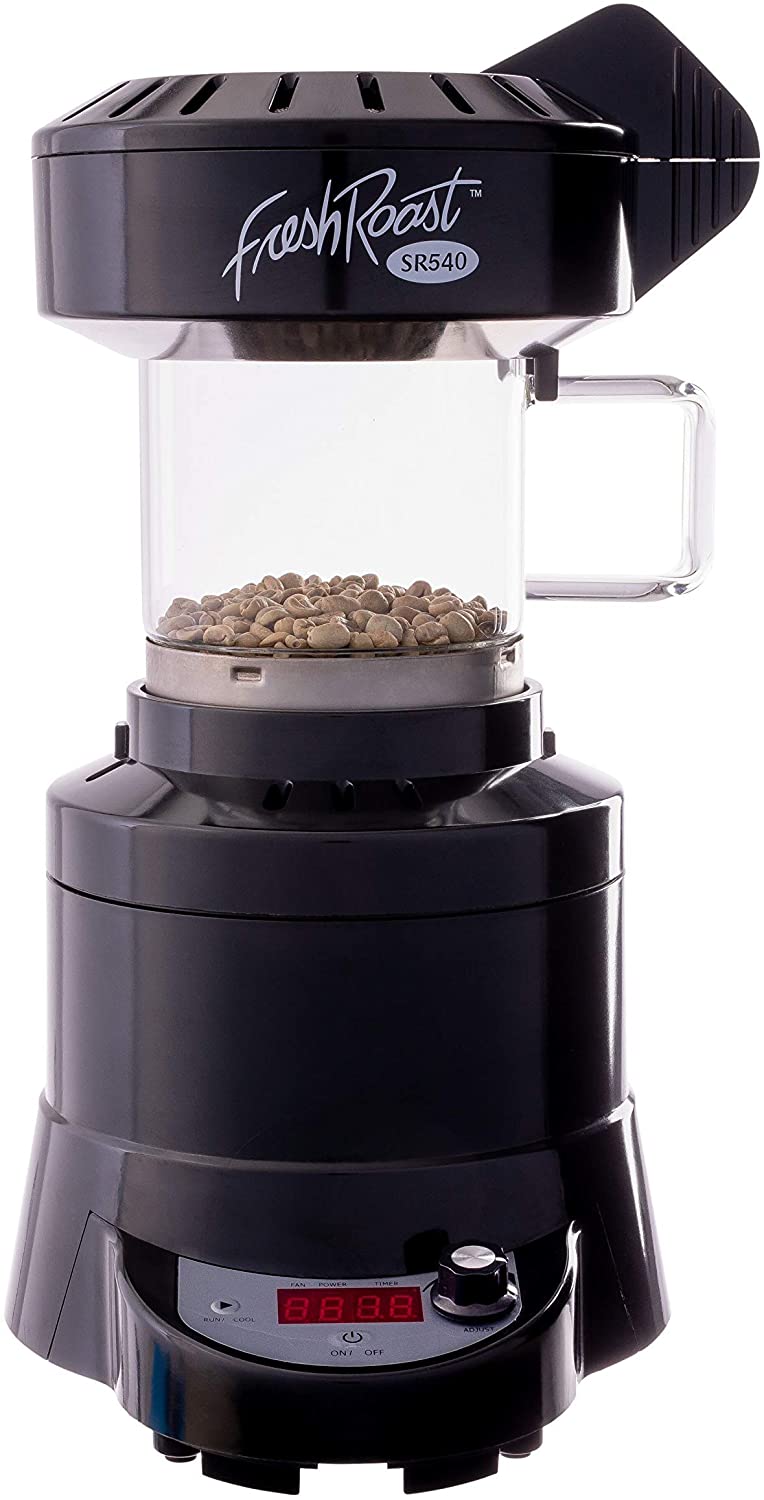 This wholesome yet compact coffee-making machine has the capacity of holding four scoops or 120 grams of beans. There's an option of blowing hot air to a three-minute cool cycle — without having to pause the ongoing roasting process. The display is larger on this model, which informs you about the roasting time.
The minimalist design and unparalleled brewing quality are regarded highly among coffee aficionados who prefer this as their travel companion for sumptuous on-the-go coffee.
Also Read: Best Low Carb Keto Protein Powder and Shakes for Keto Diet
---
Wrapping Up
It would make perfect sense to work your way up through these models as you learn the basics of coffee roasting and then develop some experience. Each one is a logical step up from the one that came before.
If you're just getting started, we just love the Kaldi Home Coffee Roaster – which is the updated version. The price point is perfect and it's a great stepping stone into the world of home roasting. You'll be setting up small-batch roasts and enjoying the freshest coffee of your life in no time.
---
FAQs For The Best Home Coffee Roaster Machine
How long do coffee beans last?
Roasted coffee beans can last up to 10 days if stored correctly. They do start losing their flavor and freshness after 7 days though so we'd recommend roasting a new batch each week. To keep your batch fresh for the week store them in an airtight container away from sunlight. Do not put your roasted beans in the fridge!
When can I drink coffee after roasting?
You can drink coffee about 24 hours after roasting it. A fresh roast requires at least one day to develop its body and flavor. Espresso roasts can take up to 5 days to fully mature in their flavors.
What are the different stages of roasting?
Below are the five stages of roasting coffee beans:
Drying
Browning
First crack
Roast development
Second crack