There is no sight as pleasing as having your garden look neat and appealing. Gardening tools like hedge trimmers make life easier. The use of certain tools will save you from draining your own energy.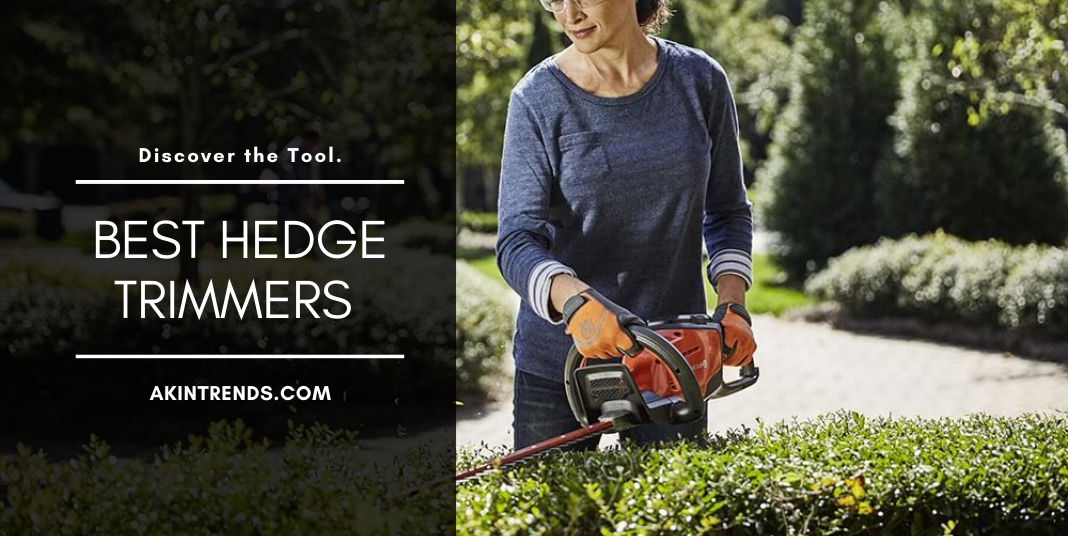 Tools such as hedge trimmers will help in finishing the job much faster. By picking the right piece, you will give your hedge and shrubs the proper shape. In this comprehensive guidepost of ours, we discuss everything about hedge trimmers.
---
What are Hedge Trimmers?
A hedge trimmer is an essential piece of equipment required in cutting/trimming hedges or shrubs. This handy tool comes with long, sharp blades and runs on a motor that keeps the blade moving and doing the job. The modern or age-old hedge trimmer operates on three types of power sources: battery, gas, and electric power.
Hedge trimmers are a must-have for anyone having a huge backyard. The time and efforts taken when manually trimming down all the unnecessary elements are quite massive. Nevertheless, with new gears like the hedge trimmer, most of your time is saved without having to drop a sweat.
---
Buying Guide for Hedge Trimmers
The task of buying the best gear available on the market requires some doing. The support of hedge trimmers will have your backyard look neat and jaw-dropping to the visitors. The following are a few points to consider when buying a hedge trimmer:
Blade Length
The very first thing you must pay heed to — is the length of the blade. The larger the blade, the more you can cut more hedges at once. Usually, most hedge trimmers feature 22-inch blades, while there are trimmers that come with 24-inches long blades.
It would be best if you also verified the placement of blades — are they single or double-sided. The double-sided trimmers take less time in cutting than the single-sided ones. The smaller blades work better in cutting small-sized hedges and bushes. On the other hand, the larger blades are used in cutting strong hedges and bushes.
Power Source
The three hedge trimmer variants — electric, battery, or gas are measured in different power metrics. The electric devices are measured in watts and range from 400W to 900W.
The cordless or battery trimmers are measured in volts (V), ranging from 18V to 36V. In comparison, the petrol-based hedge trimmers are measured in cubic centimeters (CC) that range between 20 CC to 40 CC.
Battery
The next thing to consider is the hedge trimmer's battery life. And most cordless hedge trimmer can be recharged and used for hours. A cordless trimmer, once fully charged, will easily last for about 45 minutes to an hour.
Trimmers that run on 7.2-volt or higher will require about four to five hours to be fully charged. The product manual will give you a clear picture of how long the battery needs to be charged and when it can last.
Noise Levels
The hedge trimmers come with high-performing motors that power the blades. This causes the machine to make some noise. The corded and cordless hedge trimmers tend to make less noise than the gas trimmers since these use a robust motor.
Weight
The hedge trimmers have to be moved physically, which is why buying a lightweight and easy-to-hold machine is the best way forward. The cordless trimmers are useful and comfortable to hold when trimming large garden areas. While the gas trimmers are effective but are heavier than other types of hedge trimmers.
---
Best Hedge Trimmers for your Garden
There are many options to choose from; however, selecting one with all qualities can become a bit challenging. The following is our list of the top hedge trimmers available on the market. Pick one wisely!
1. Black+Decker Cordless Hedge Trimmer (Editor's Choice)
Black+Decker's products have been the most preferred choice by professionals. The Black+Decker 20V Cordless Hedge Trimmer boasts a 22-inches long dual-action blade that effortlessly knocks down branches up to ¾ inches in diameter.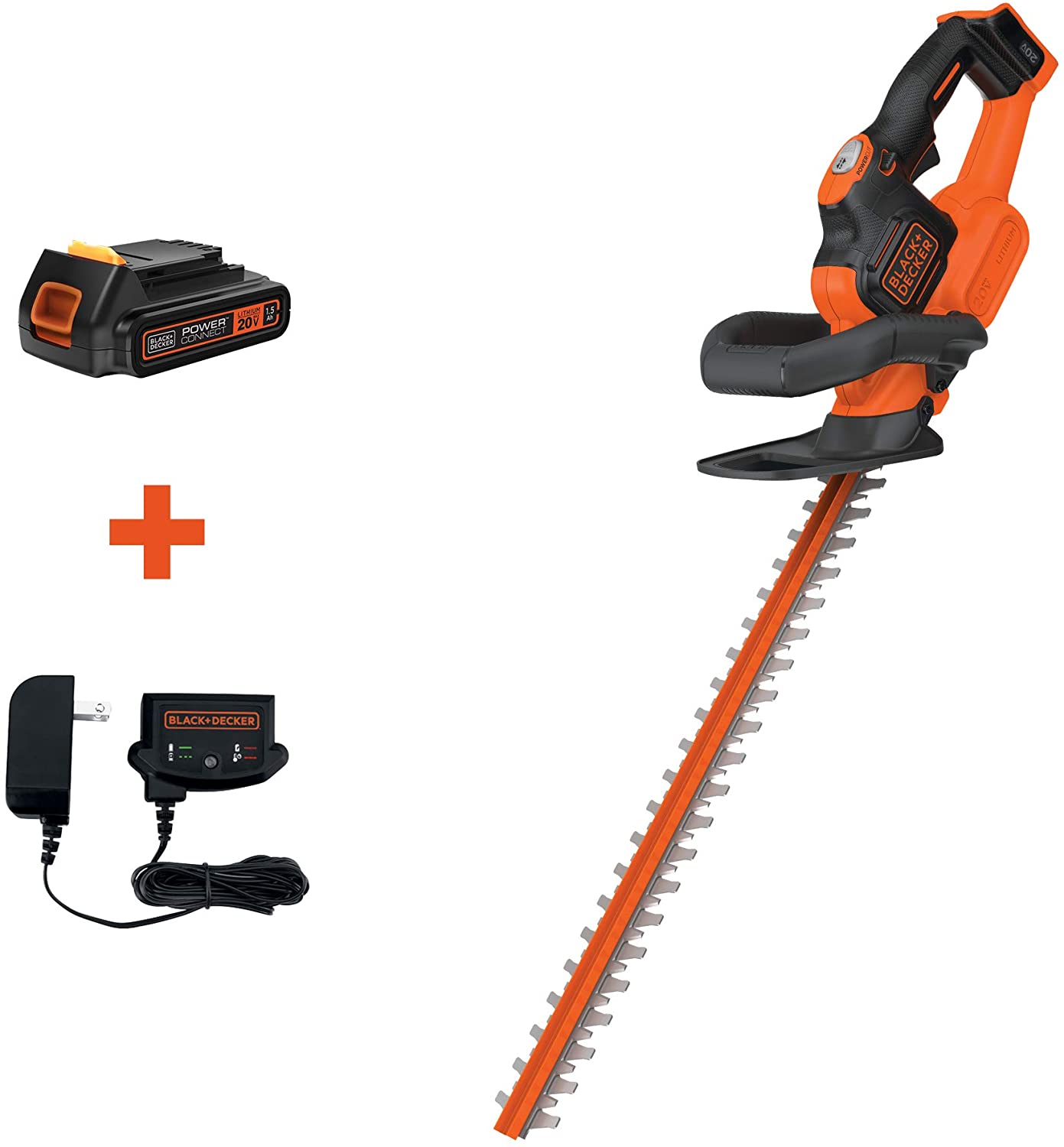 Furthermore, the gaps in the teeth will minimize the vibration while trimming. This powerful trimmer features ergonomic grips, thus helping in hours of trimming job.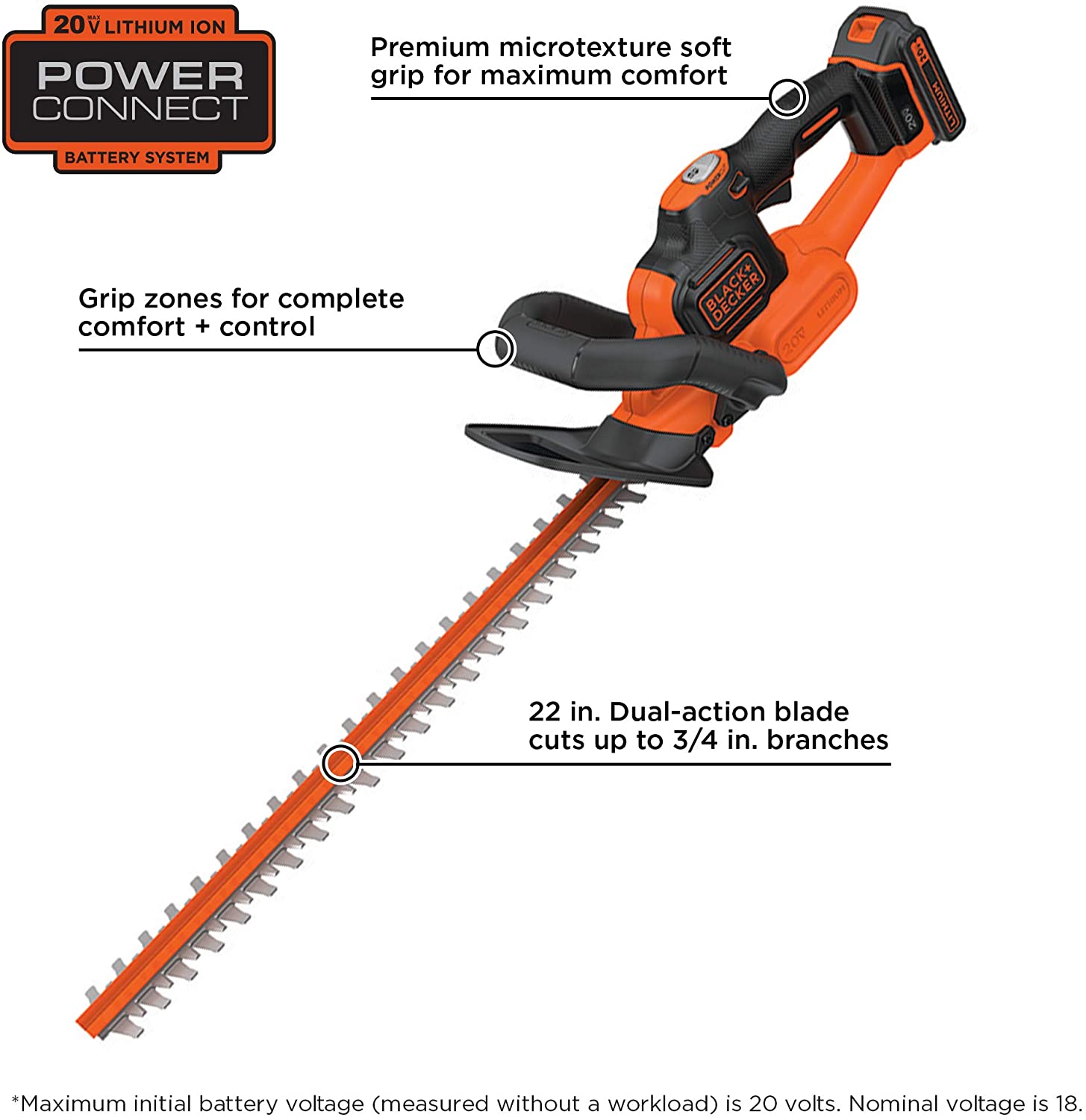 Stocked with a 20-volt battery and a PowerCut switch, the machine can work for hours on a single charge. The hedge trimmer is light and slits branches in a breeze. This trimmer is backed by a two-year warranty offered by the manufacturer.
2. Worx WG261 Power Share Cordless Hedge Trimmer (Best Cordless Hedge Trimmer)
Coming close to the Black+Decker Hedge Trimmer is the Worx WG261. This hedge trimmer has garnered positive reviews from veterans all around the globe. This lightweight trimmer sports a compact design with a D-grip front handle, making it comfortable to hold for trimming hours.
Equipped with 20-inch dual-action blades, this trimmer cuts through branches more rapidly and efficiently than other standard hedge trimmers. The trimmer arrives with a cutting capacity of ¾ inches that doesn't lead to any fatigue in your arms. The WG261 is backed by three years of manufacturer's warranty and a 30 days return guarantee.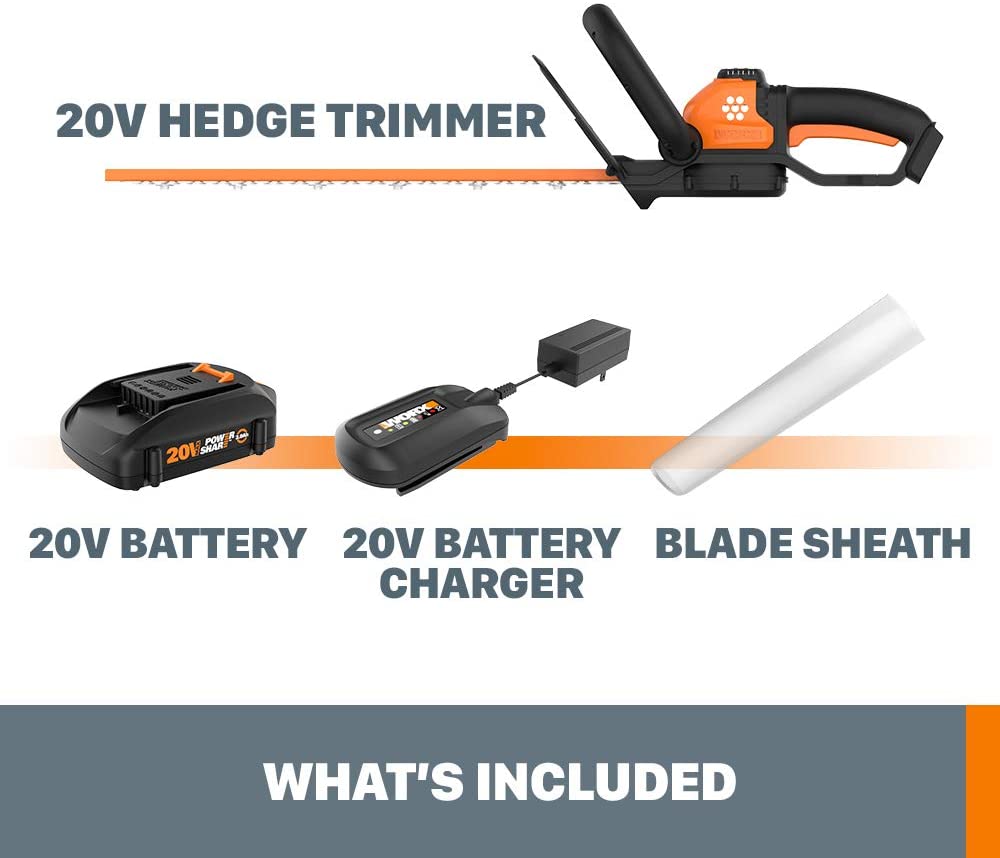 3. DeWalt 20V Max Cordless Hedge Trimmer (DCHT820P1) (Easy-to-use Tool)
The DCHT820P1 is an excellent offering from the house of DeWalt. This trimmer is supplied with a motor that makes cutting an uncomplicated task.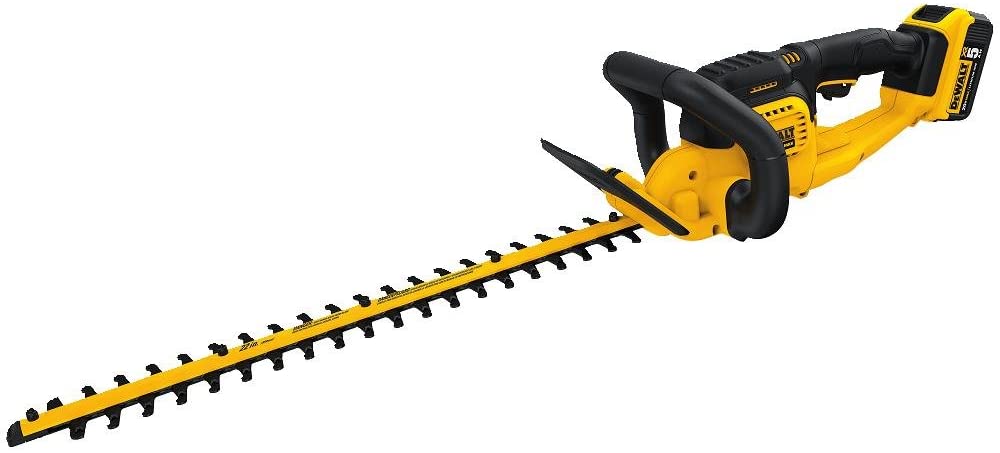 This elegantly-designed hedge trimmer includes a 5.0 Ah Lithium-ion battery, which can easily last for hours after fully charged. This trimmer has a 22-inch laser cut with a hooked blade that cuts through branches up to ¾ inches in thickness.
The DCHT820P1 is backed by a 3-year limited warranty, one year of free service, and a 90-day money-back guarantee from the manufacturer. Moreover, this machine is lightweight as it weighs just 7.5 lbs, thus reducing stress on arms.
4. Husqvarna 115iHD55 Cordless Hedge Trimmer (Best in Battery Life)
The Husqvarna 115iHD55 Cordless Hedge Trimmer is another fascinating cutting tool. This trimmer is designed to trim down medium to large-sized hedges. This hedge trimmer boasts a top-notch build quality, which is light and user-friendly at the same time.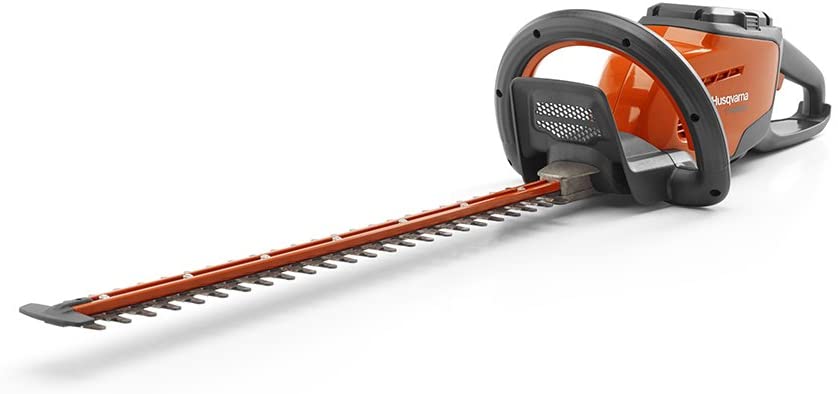 Sporting a half-moon shaped handle, this hedge trimmer is easy to work around at different angles. The 22-inches dual-action blades are highly-effective during difficult cuts. Supplied with a powerful 40V brushless motor, this hedge trimmer is one tough nut.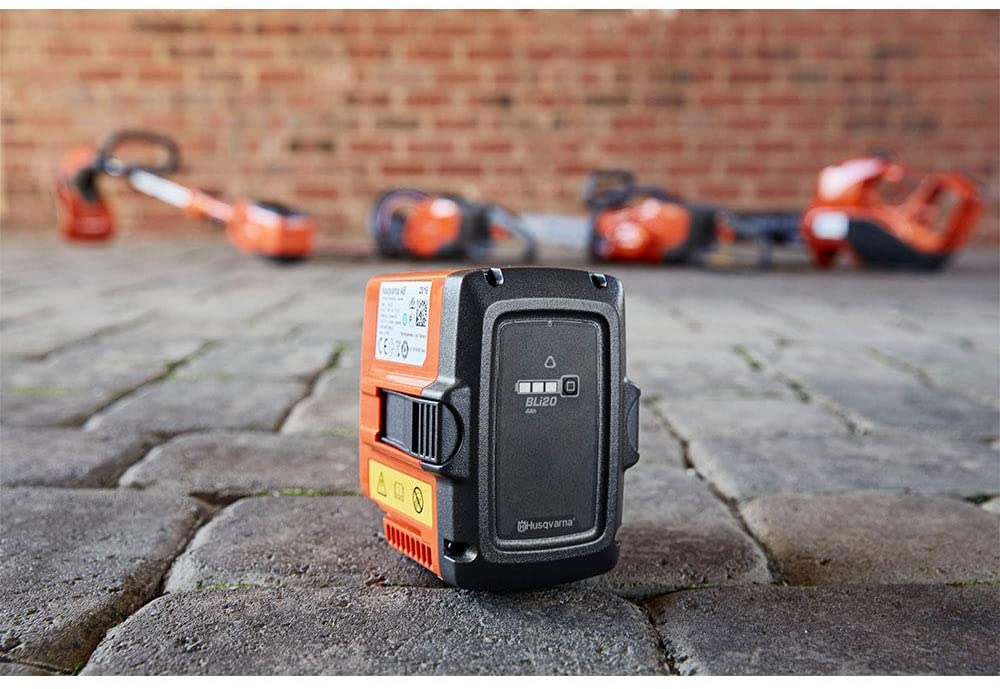 The engine comes with a save mode and an intuitive keypad. Furthermore, there is a telescopic shaft that makes adjusting height easier. The Husqvarna 115iHD55 comes with a 2-year warranty.
5. Toro 51490 Corded Hedge Trimmer (Best Hedge trimmer for Thick Branches)
The 51490 Corded Hedge Trimmer from Toro is an extremely lightweight tool, weighing at only 6.2 pounds. This lightweight cutting gear is easily maneuverable, and it becomes easy to utilize vertically or horizontally and even above shoulder height.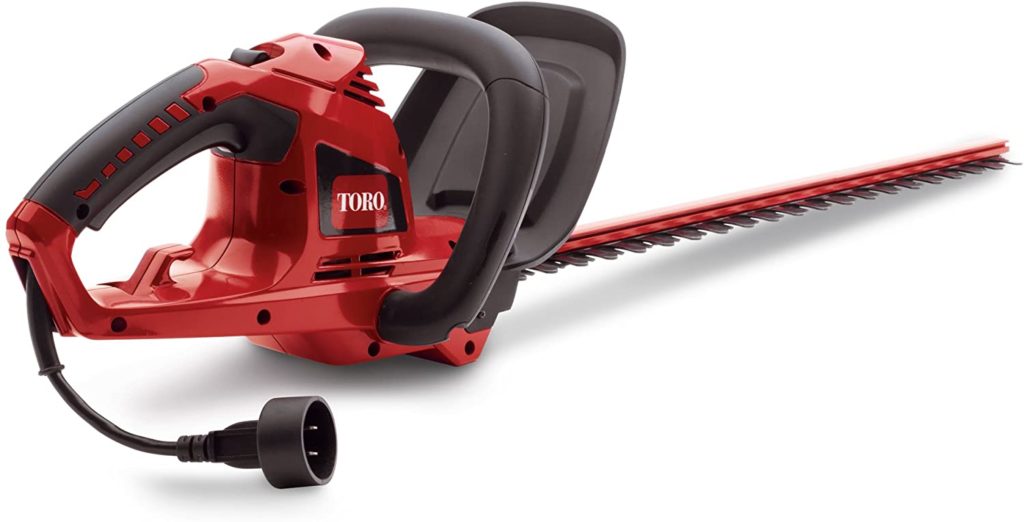 This hedge trimmer provides a whopping 2,400 cutting strokes per minute and can manage to trim through branches up to 9/16-inches in thickness. The Toro 51490 features dual-action cutting blades that significantly mitigate vibration.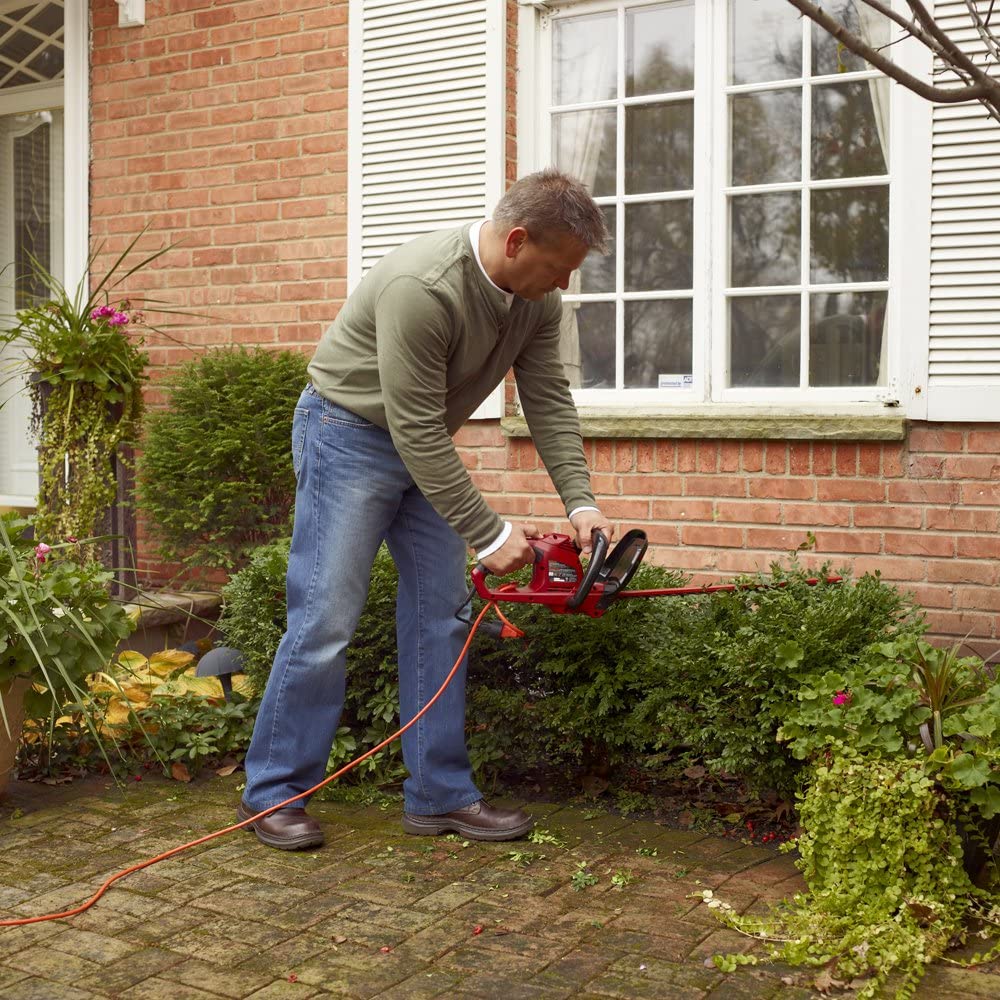 This handy tool is also supplied with a cord-lock system that stops the gear from getting disconnected. This machine is supported with two years of warranty offered by the manufacturer. We feel this is the best-corded hedge trimmer.
Also Read: 16 Best Power Tool Sets of 2020 To Make Your Life Easy
6. Makita XHU02Z 18V Cordless Hedge Trimmer (Best Anti-Vibrating Design)
Securing the number six spot on the best hedge trimmers list is the Makita XHU02Z Cordless Hedge Trimmer. This high-efficient tool comes with an anti-vibration design and cushions stuffed inside the motor, helping cut the vibration.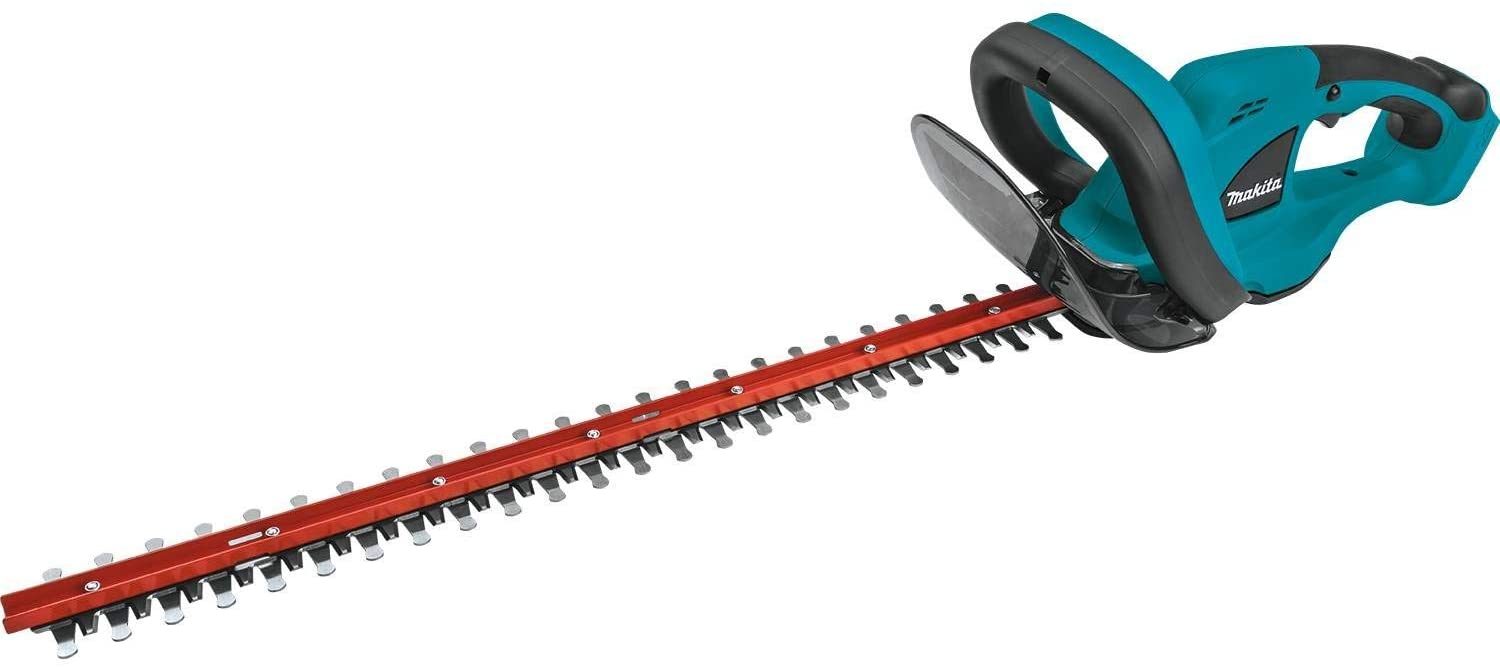 The 22-inches blade is reliable and works fine in gardens and backyards. It is powered by an 18-volt battery that lasts for about two hours. This hedge trimmer has a pretty low noise level of only 87 dba, 25% lesser than high-end units.
The machine features a comfortable, rubberized soft grip that enhances comfort when using the tool for a long time. The hedge trimmer is supplied with a battery cooling fan, which has the gear cool under all circumstances.
7. Black+Decker 36V Cordless Hedge Trimmer (LHT2436B) (Best Low Noise Hedge Trimmer)
Black+Decker LHT2436B is the hottest and the top-rated hedge trimmer on the market. Garnering reviews in thousands, this hedge trimmer is powered by a lithium-ion battery that quite effortlessly allows you to trim up to 6,000 square feet on a single charge.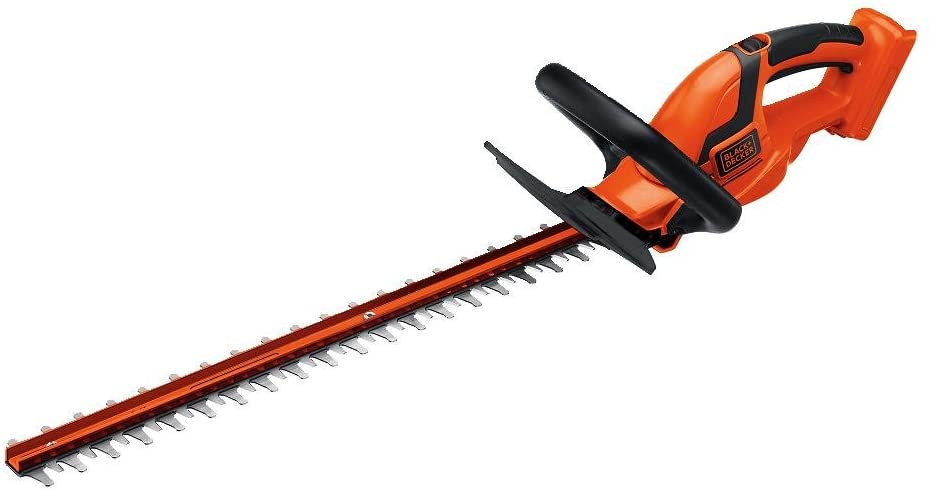 The 24-inch dual-action blades are formidable enough to cut through branches up to ¾ inches. This hedge trimmer comes with a Power Drive facility, enabling you to slice more hedges in quick time.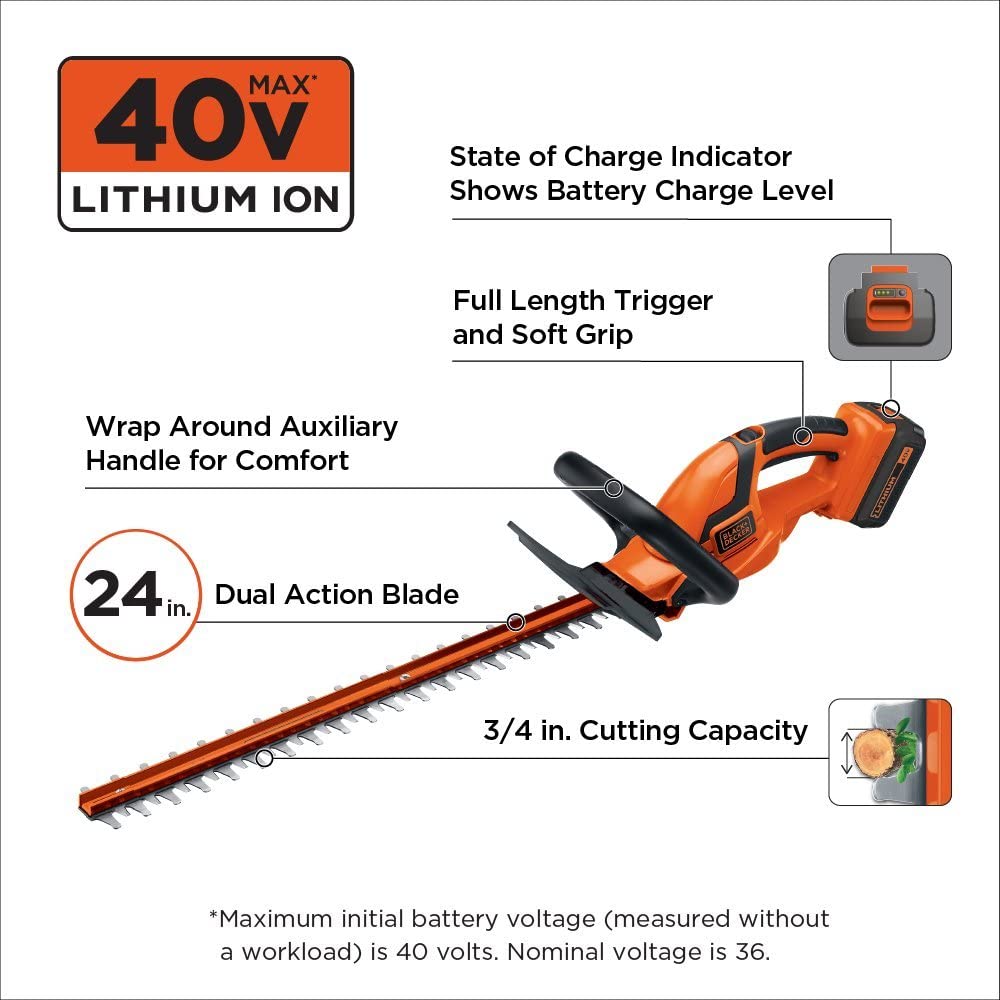 The LHT2436B has a wrap-around handle, offering you a robust and comfy grip to hold vertically or horizontally. Three-years of manufacturer's warranty back this hedge trimmer.
8. Ego Power+ HT2400 56-Volt Cordless Hedge Trimmer (Best in Longevity)
The Ego Power+ HT2400 is a mighty gardening toy driven by a powerful lithium-ion battery. The 24-inches dual-action steel blades are large and can slice through branches up to ¾-inches. Powered by a 56-volt battery system, this hedger trimmer is backed by many gardeners for longevity and reliability.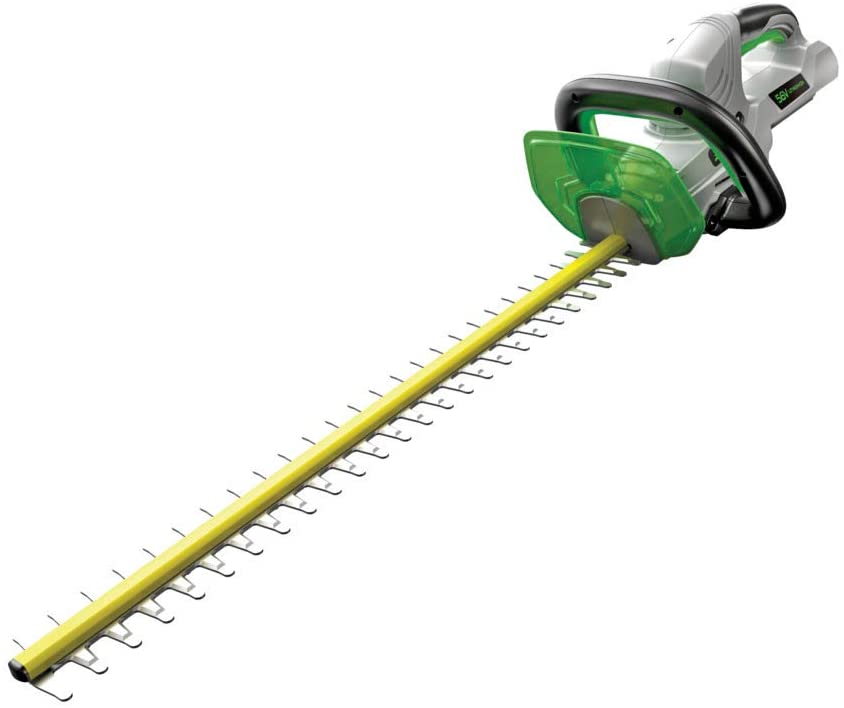 This trimmer is exceptional in delivering 3,000 strokes per minute, helping you chop off the branches more rapidly. The HT2400 features an electric brake system, which halts the machine in case of an emergency. What's more, this hedge trimmer comes with a whopping five-year manufacturer's warranty.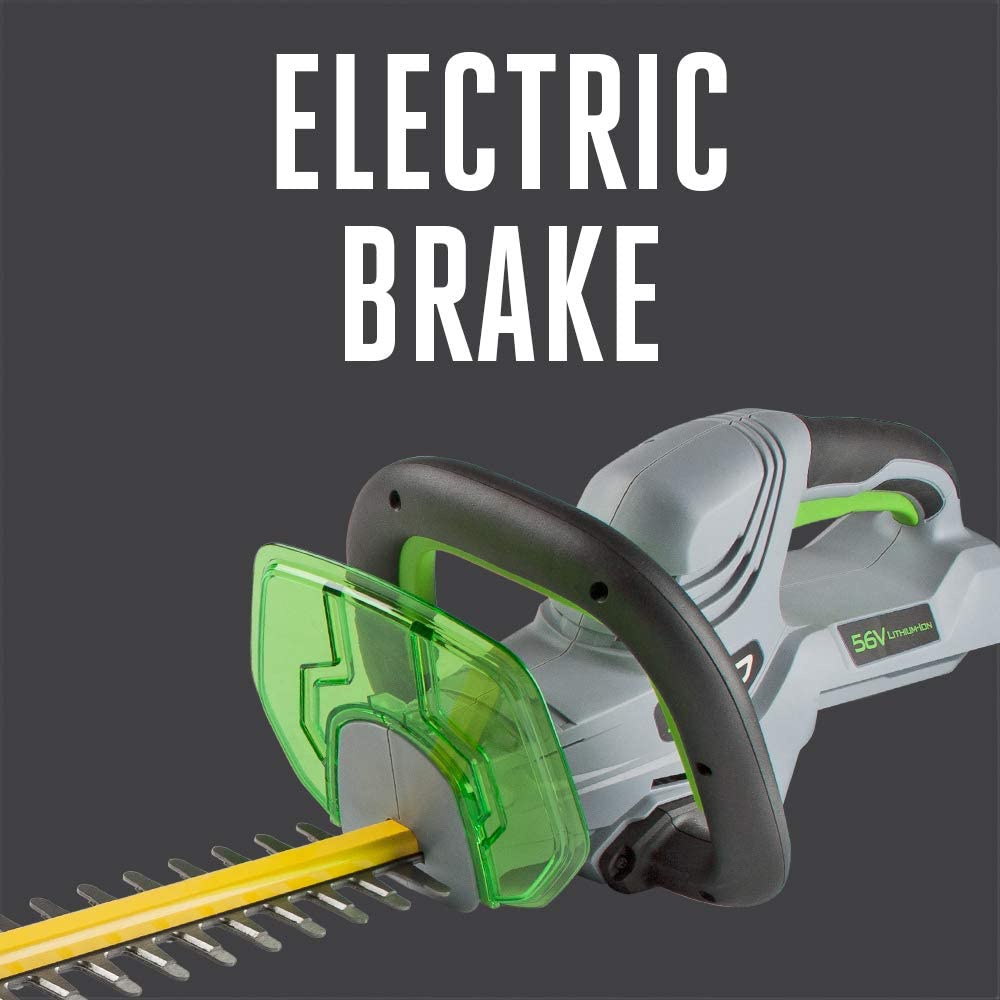 9. Sun Joe 7.2-Volt Cordless Hedge Trimmer (Best Compact Hedge Trimmer)
Compact and pocket-friendly, the Sun Joe HJ604C is the most preferred affordable option on this best hedge trimmer list. This handy trimmer is compatible in packed passages, where standard mowers may not be able to reach.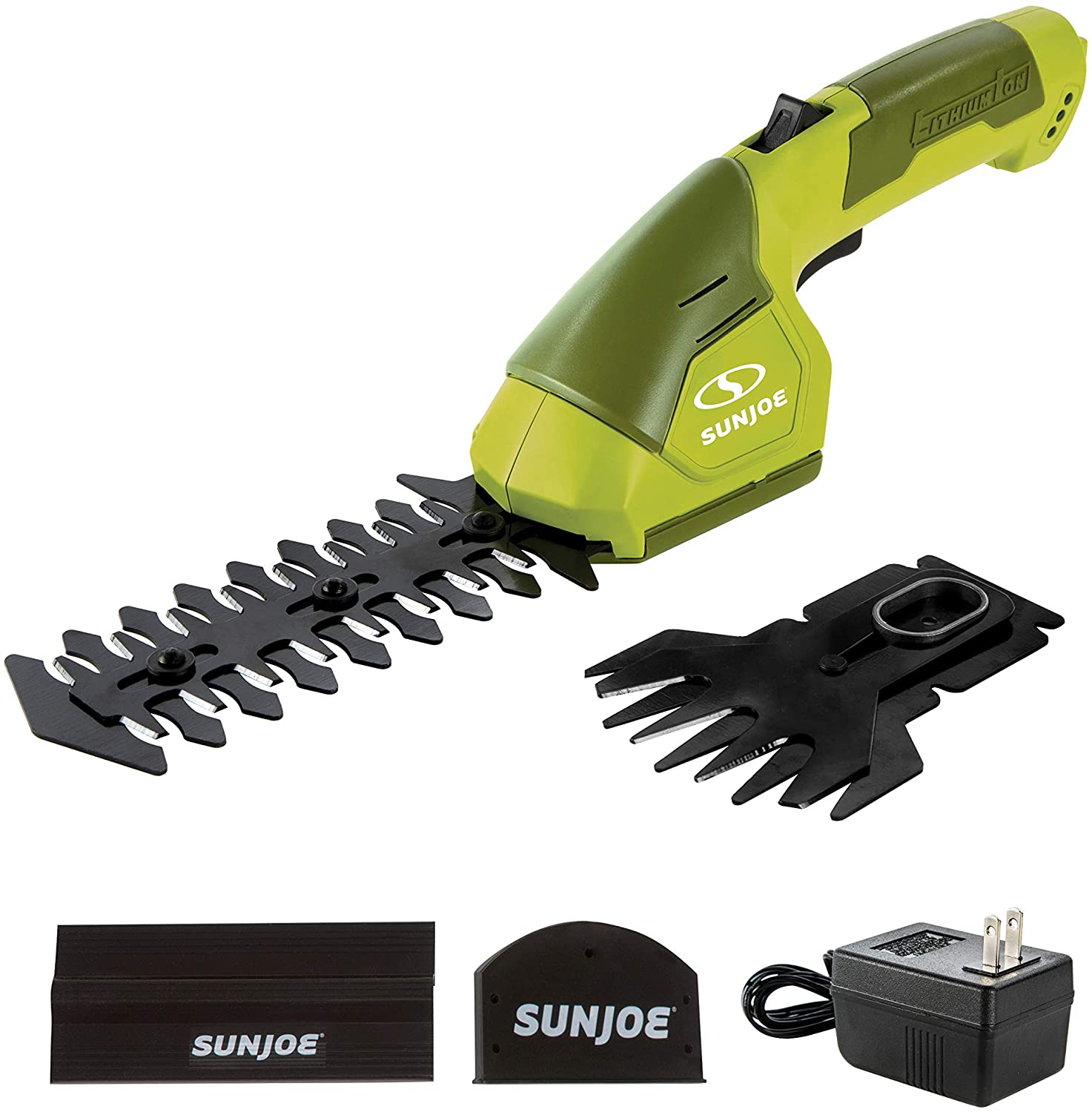 The trimmer boasts of a 6-inches long hedge trimmer blade convenient enough to tackle robust grooming jobs. This hedge trimmer weighs 2.5 pounds, making it extremely light and easy to carry around places.
This tiny trimming machine works on a rechargeable 7.2-volt lithium-ion battery, assisted by the battery life indicator. Overall, this hedge trimmer is a pretty good experience and comes with a full two-year warranty.
10. Milwaukee 2726-20 M18 Fuel Hedge Trimmer (Best Electric Hedge Trimmer)
The tenth spot on the best hedge trimmers list is Milwaukee 2726-20 M18 Hedge Trimmer. This complete trimming package can slice through branches measuring up to ¾-inches.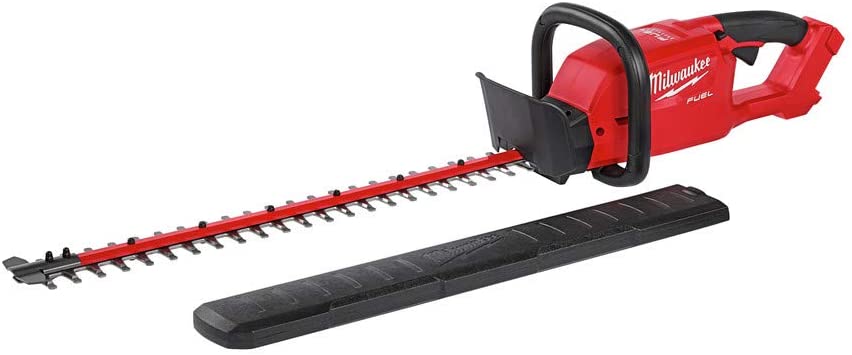 The trimmer includes a 24-inch dual-sided blade, which impresses with 3,400 cuts per minute. The brushless motor powered by an 18-volt battery offers a run-time of up to two hours. This hedge trimmer features a blade tip guard that prevents the blades from being damaged.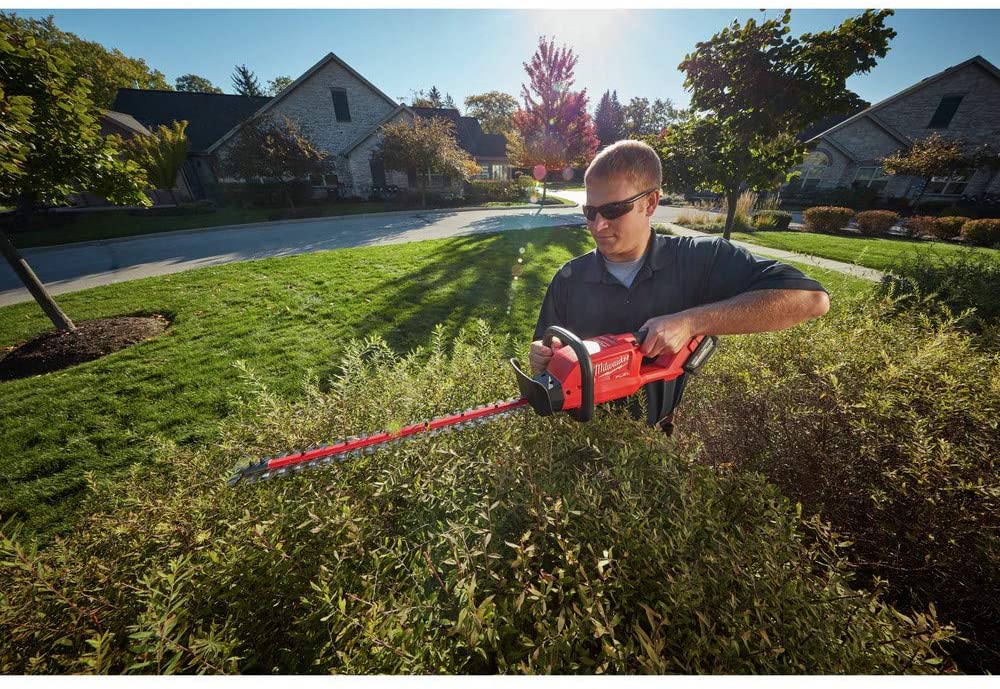 This is the most well-balanced gear with perfectly placed handles that are comfortable to hold for long hours. The Milwaukee 2726-20 comes with a three-year warranty.
11. Worx WG255.1 20V PowerShare Cordless Hedge Trimmer (Best Value)
The Worx WG255.1 Cordless Hedge Trimmer is a feature-rich tool that does the job faster than average trimmers. This hedge trimmer runs on a lithium-ion battery, which offers an exceptional run-time.

Weighing in at 6 lbs, this trimmer is lightweight and compact. The machine features dual-action cutting blades that provide clean cutting with minimal vibration. This tool comes with an over-mold soft grip handle that offers a decent grip and less fatigue.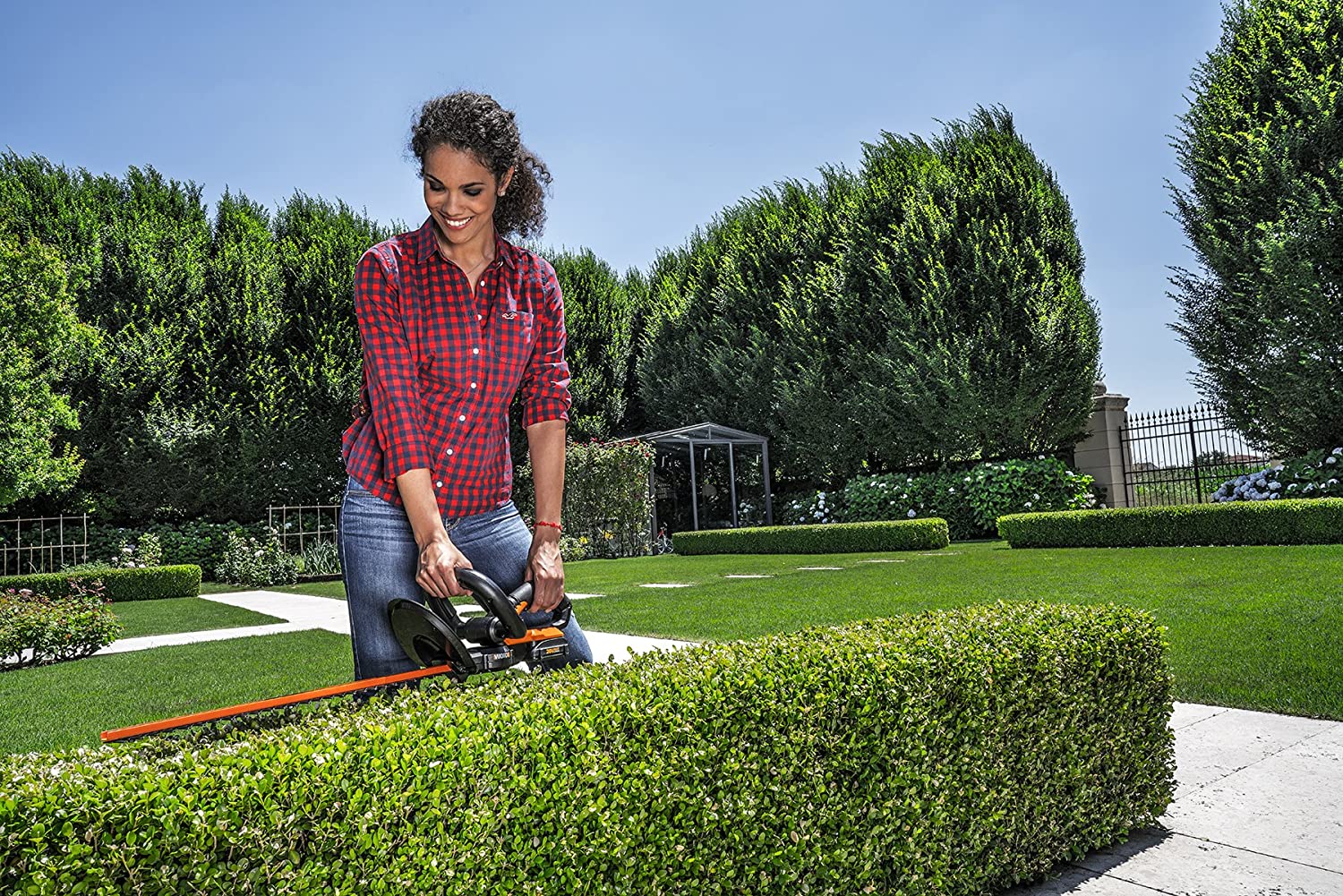 The trimmer's D-grip handle is effortless in cutting the grass from the top and both sides. This ultra-lightweight trimmer has a rust-proof and safe-to-clean aluminum blade cover.
12. Greenworks 4-Amp Corded Hedge Trimmer (The Valuable Corded Machine)
The Greenworks 2200102 Corded Hedge Trimmer is a decent performing machine that, like many other models, trims down the hardest of branches faster and more comfortably. This hedge trimmer features 22-inch dual-action blades that work without causing much vibration.

The machine has an integrated cord lock, which prevents accidental unplugging. Powered by a 4-amp motor, this trimmer quite effortless trims down the hedges.
The trimmer has a lightweight design, allowing you to cut through branches effortlessly. A four-year warranty from the manufacturer backs the hedge trimmer.
13. Poulan Pro PR2322 Gas-Powered Hedge Trimmer (Best Hedge Trimmer Gas)
Last on the list of best hedge trimmers is the Poulan Pro PR2322. This hedge trimmer is ideal for cutting down dense shrubbery and keeping the backyard clean. Unlike the battery-powered trimmers, this machine is gas-powered and requires no connection to a socket.

Gas-powered machines are generally more efficient than electric-powered ones. The trimmer features 22-inch dual-action blades that can slit through branches up to 1-inch.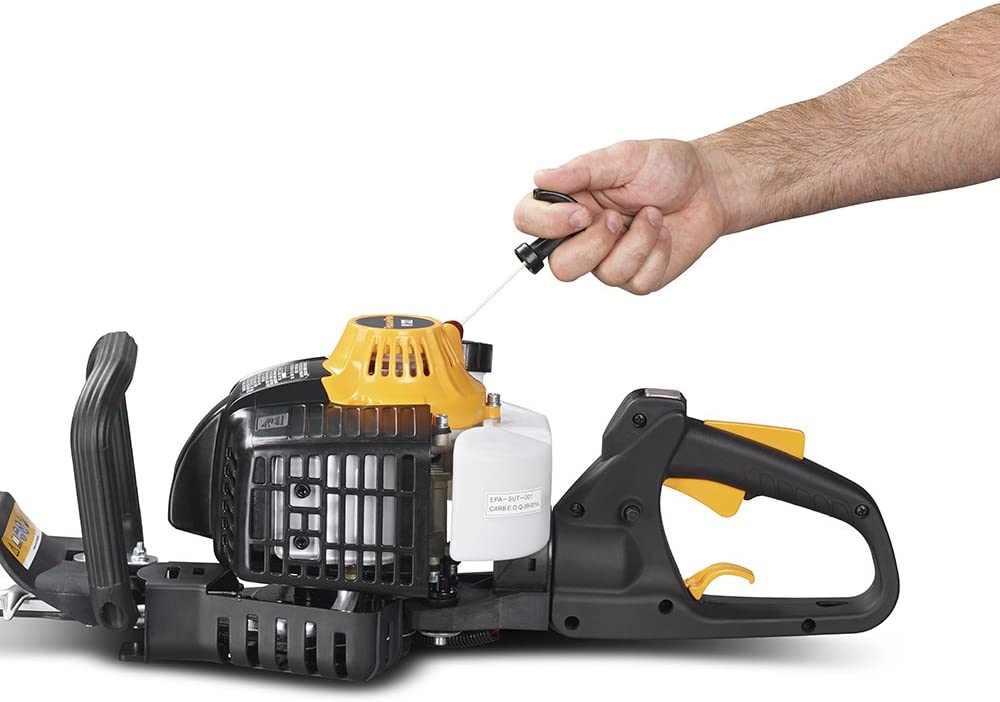 This hedge trimmer has a rotating handle, which is comfortable and reduces vibration for maximum comfort, and lessens fatigue. Two-years of manufacturer's warranty back Poulan Pro.
---
CONCLUSION
And that was our detailed post on hedge trimmers. The Black+Decker Cordless Hedge Trimmer is the one we recommend you splurge your money on. The only other model coming close to it is the Worx WG261 Power Share Cordless Hedge Trimmer.
These were some of our picks. You have one of these? Do you recommend using them? Drop your thoughts in the comments section below.
---
FAQs
What are the safety tips to follow when using a hedge trimmer?
To use the hedge trimmer safely, adhere to the following safety tips:
Always wear hand gloves for a comfortable grip on the handle and to keep your hands protected.
Always have safety goggles on. These glasses will protect your eyes from debris. Consider wearing tough shoes to keep your feet safe.
Try not to wash the hedge trimmer blades with water. Keep the leave and other debris away from the blade to function smoothly.
Stay away from using an electric trimmer; this may lead to shock.
Alert the neighbors or family members about the use of a hedge trimmer. Ask them (also you) to wear earplugs during the use.
Difference between hedge cutters and hedge trimmers?
Hedge cutters and trimmers are both imperative in slimming down hedges. The hedge cutters are efficient enough in handling heavy-duty jobs. The hedge trimmers are capable of managing lightweight tasks.
Hedge trimmers are ideal for branch and bush-related work. Whereas the hedge cutters are convenient for large bushes and chopping down thick branches.
When is the best time to trim my hedges?
The highly-recommended time to trim the hedges is either late spring, early fall, or winter. It is not good to prune hedges during humid or dry weather. Make sure that maintenance trimming happens between spring and summer.