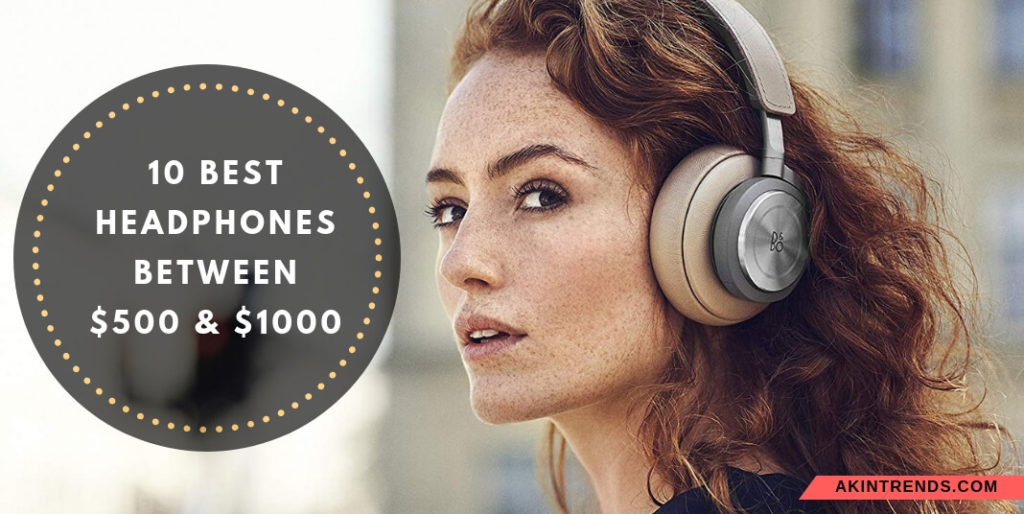 The majority of music lovers spent thousands of dollars on the music systems that they use a couple of hours a week, but they don't care much about spending even 10% of the money on the headphones that they use daily for hours. If you have come to this post, then it means that you understand the importance of quality music and that's why looking for the best headphones under $1000. It seems like you are some of those people who prefer to spend money on quality things.
Best Headphones Between $500 & $1000
There is no doubt these headphones may cost more, but the experience is worth to enjoy for sure. If you are puzzled to find which product is the best one to fit this range, then you need to check out the entire post. We will tell you about the top 10 best bang for buck headphones under $500 and $1000 in detail. Each of them offers complete value for money and ensures you don't have to disappoint later. All you need to do check out each of them carefully and go for the one that suits you the best.
1. Oppo PM-3 Closed Back Planar Magnetic Headphones (Editor's Choice)
We suggest that you don't even need to read the full review of the Oppo PM-3 as they are the best one in terms of quality, performance, and price. The stunning sound and great isolation of this amazing product will mesmerize your experience for sure. Believe us, our team has reviewed plenty of headphones, but this one is better than a mile from all of them.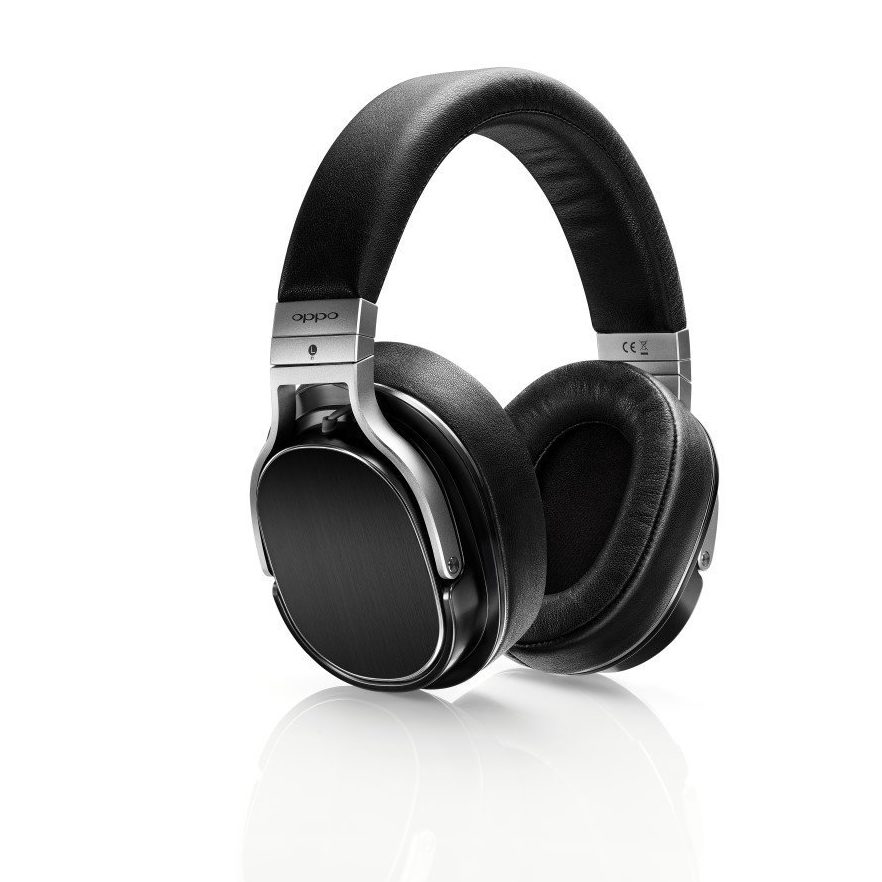 It is a perfect combination of both portability as well as extreme comfort. They have a little bit bigger size than the usual headphones, but you will find it stylish enough to wear on any occasion. This classy headphone comes with brushed aluminum and black leather-style pads for enhancing the experience level. Furthermore, there is additional privacy and noise isolation offered by the closed-back design.
It is one of the most innovative headphones designed ever due to its planar magnetic drivers and sonic excellence. Overall, PM-3 is the best product to buy if your budget allows doing so.
2. beyerdynamic T1 2nd Generation Audiophile Stereo Headphones ( best audiophile headphones for gaming)
If you want to utilize your money to its highest level, then you should go for the Beyerdynamic T1 2nd Generation. It is one of the best bang for buck headphones under 1000$ due to its incredible design and performance. They are available in two different colors, black, and silver. The company has added efficient Tesla technology drivers so that it can produce a fantastic sound justifying its price tag.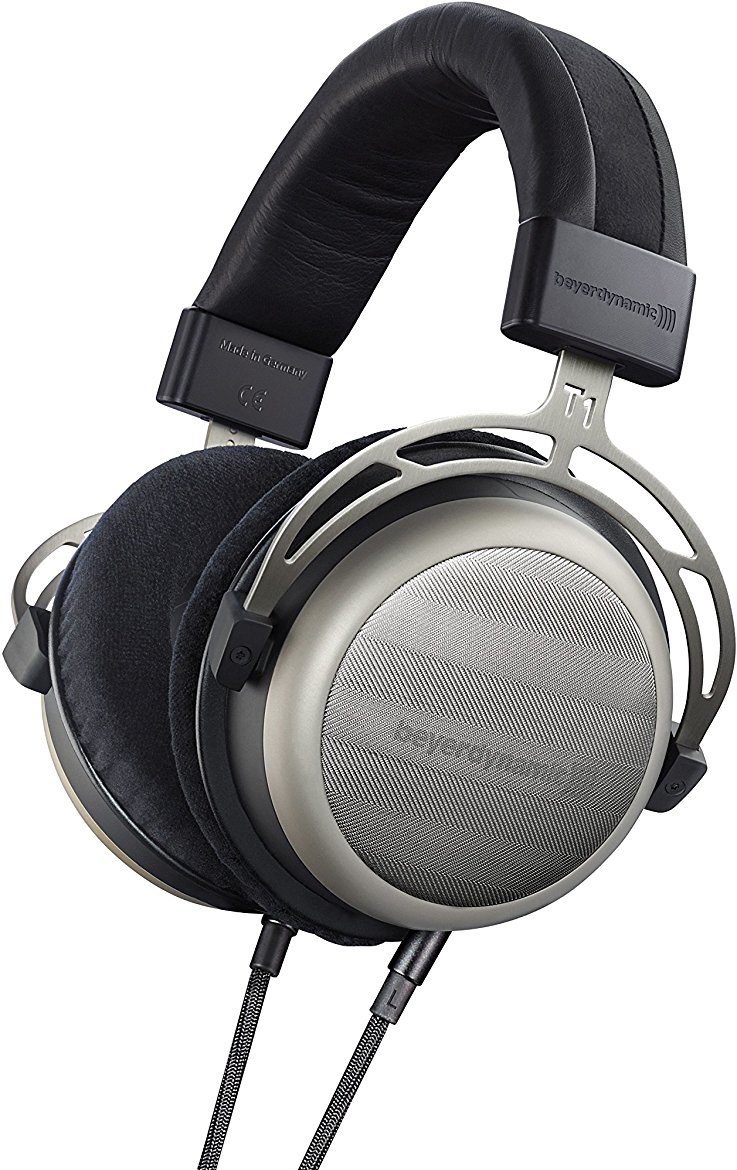 They come with an enormous designed case and removable cables that make it a much-improved version when compared to the T1 1st Generation. The high impedance and five-year warranty ensure that the buyers stay free from all the worries after buying this product.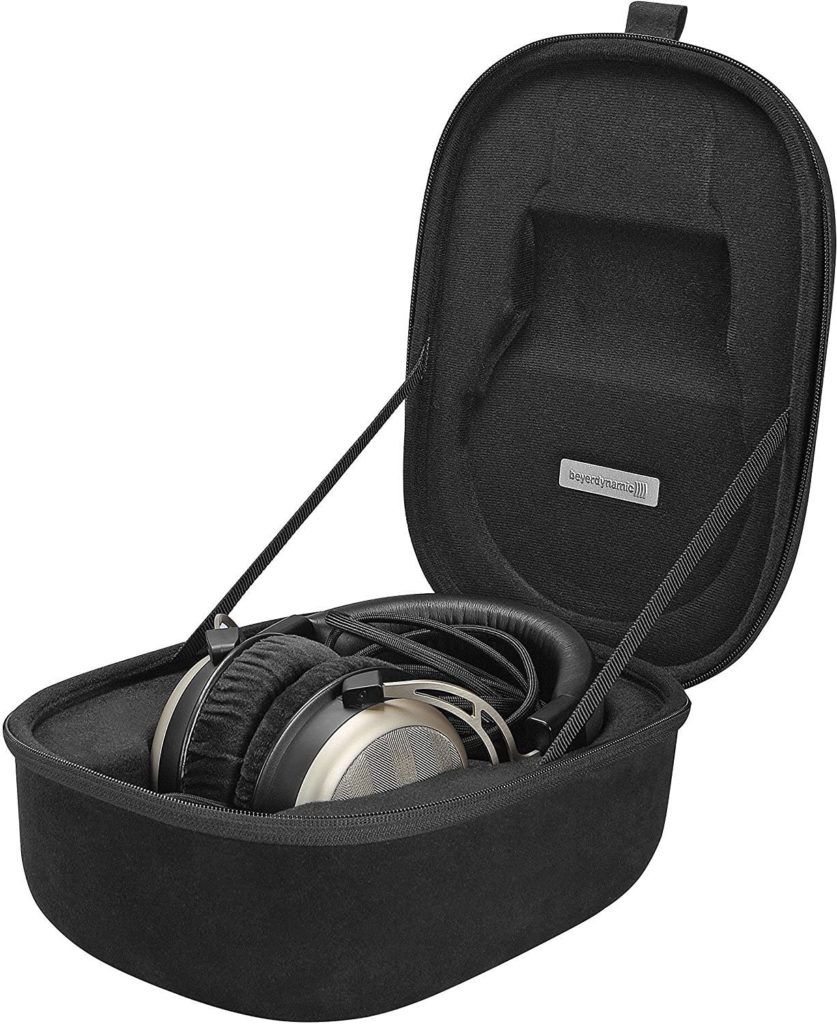 It has a semi-open design the same as the previous model, but there is coated leather on the headband that allows you to wear it comfortably for a longer period. Overall, these headphones are the perfect option to buy and invest your money.
Also Read: 10 Best Earbuds under $25
3. Audeze LCD-2 Closed Back Over Ear Headphones (Best over-ear headphones)
Third, on the best headphones between $500 and $100 list is the Audeze LCD-2. This power-packed headphone is supplied with over-sized ear cans that offer the most realistic sound experience.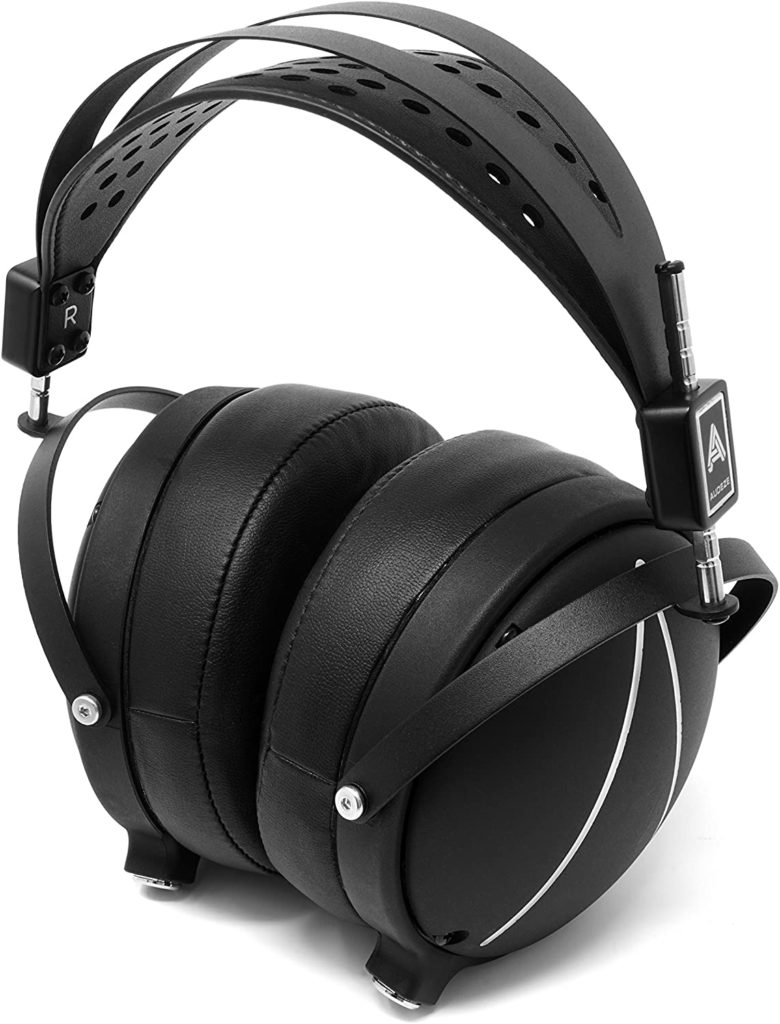 The incredible bass response is primarily credited to the 100mm planar drivers and the headphones' design. Boasting of double-sided magnet arrays, the headphone's distortion rate is close to zero.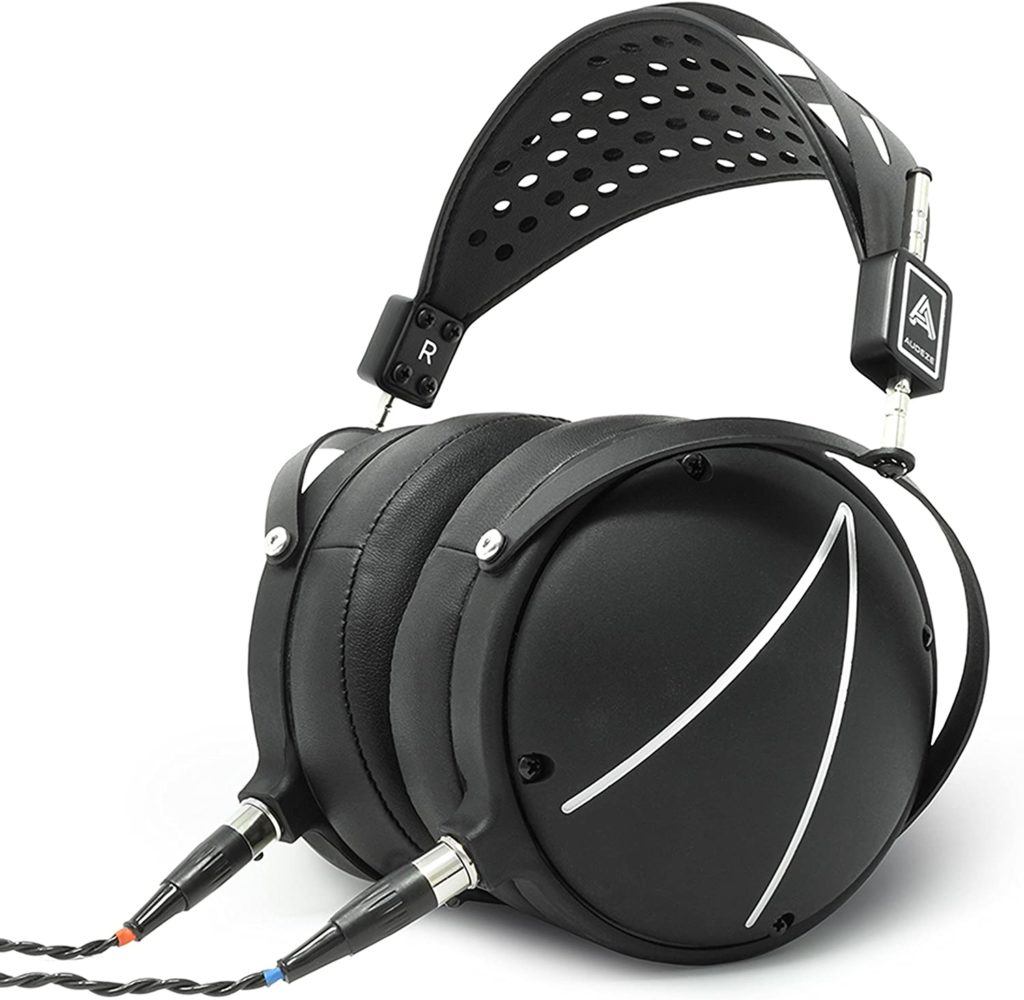 The nylon infused cups and leather-free earpads are the testimonies of the brand's assurance on durability. Furthermore, there is a rugged travel case sold separately that fits these headphones perfectly.
4. Sony MDRZ7 Hi-Res Stereo Headphones (Best affordable headphones)
The next in the list is the wonderfully crafted and comfortable to wear Sony MDR-Z7. These headphones are known for their fully balanced well-articulated sound among the listeners. It is not in the toe to toe shape as the majority of Sony models as the MDR-27 is the real deal to buy.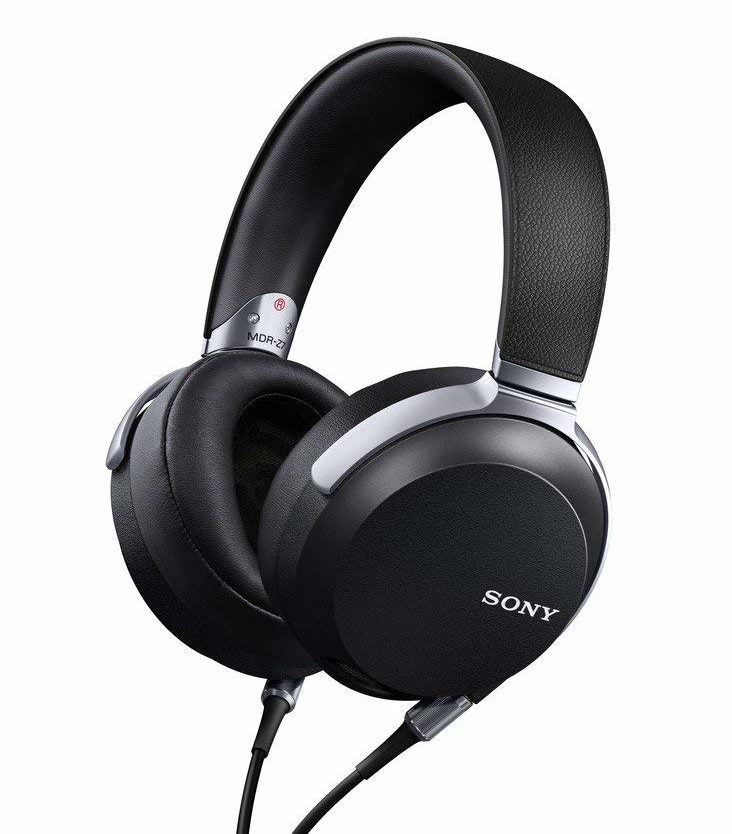 It will put the other products in the list of the best bang for buck headphones under 1000$ to the shame. They are super-comfortable headphones made by the company for the individuals who want to listen to pure music.
There are over-ear earcups design used in these headphones that further equipped with cushioned leather earpads for setting out perfectly in the ears. It has a stunning bass response and sound that let you feel that live music is performing in your nearby surroundings.
Overall, we believe that it is the perfect headphones to buy for the individuals who prefer to listen to each line of an audio file. The music of all type the genres sound fantastic wearing these headphones.
5. Grado Professional Series PS500e Headphones (best with midrange sound)
The Grado headphones are known for their terrific midrange sound, and you can expect even better from their PS500e model. The company has designed these headphones by keeping professionals in mind. It produces a crispy sound so that they can understand each mentioned detail clearly.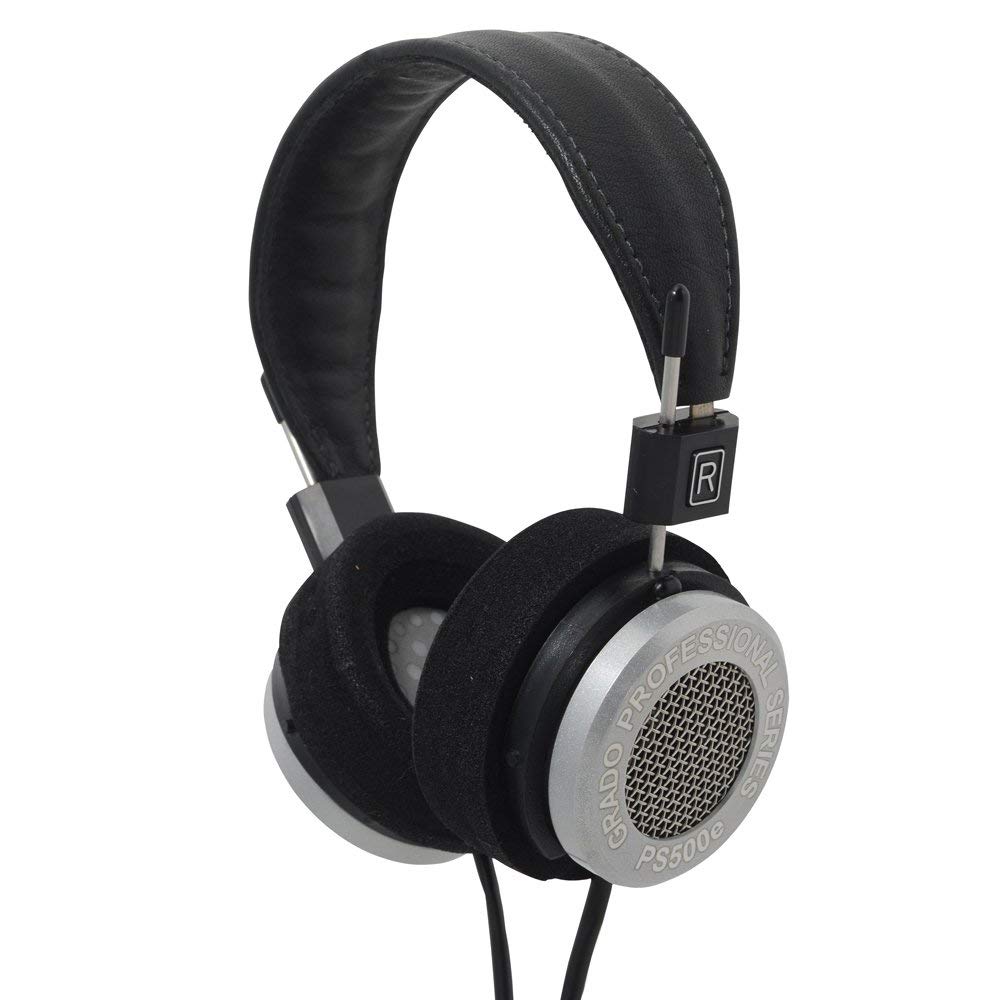 Furthermore, the sound resonances are kept to the minimal due to the power coating on the aluminum housing components of the headphones. You will find that they produce airy & spacious sound by separating the tone of various instruments efficiently. The headphones successfully control all the things even if you play them at a higher volume.
During the testing process, we found these headphones pretty sturdy and strong enough to work for many years. They have comparatively low impedance and equip with a soft & plush ear padding that let the users stay comfortable in the ear while enjoying the music. Also, the metal and wood hybrid air chamber boosts the quality of the sound for sure. Overall, this model is perfect to buy in this budget.
6. Harmon Kardon NC Premium Over-Ear Noise Cancelling Headphones (best noise-canceling headphones)
If you are looking for the best headphones under 1000$ in terms of distinct design and price, then this one will top the list for sure. The Harmon Kardon NC is manufactured using active digital noise-cancellation technology that allows it to optimize the sound before anyone listens to it. Also, it comes with a USB recharging feature that ensures you don't have to rely on the batteries.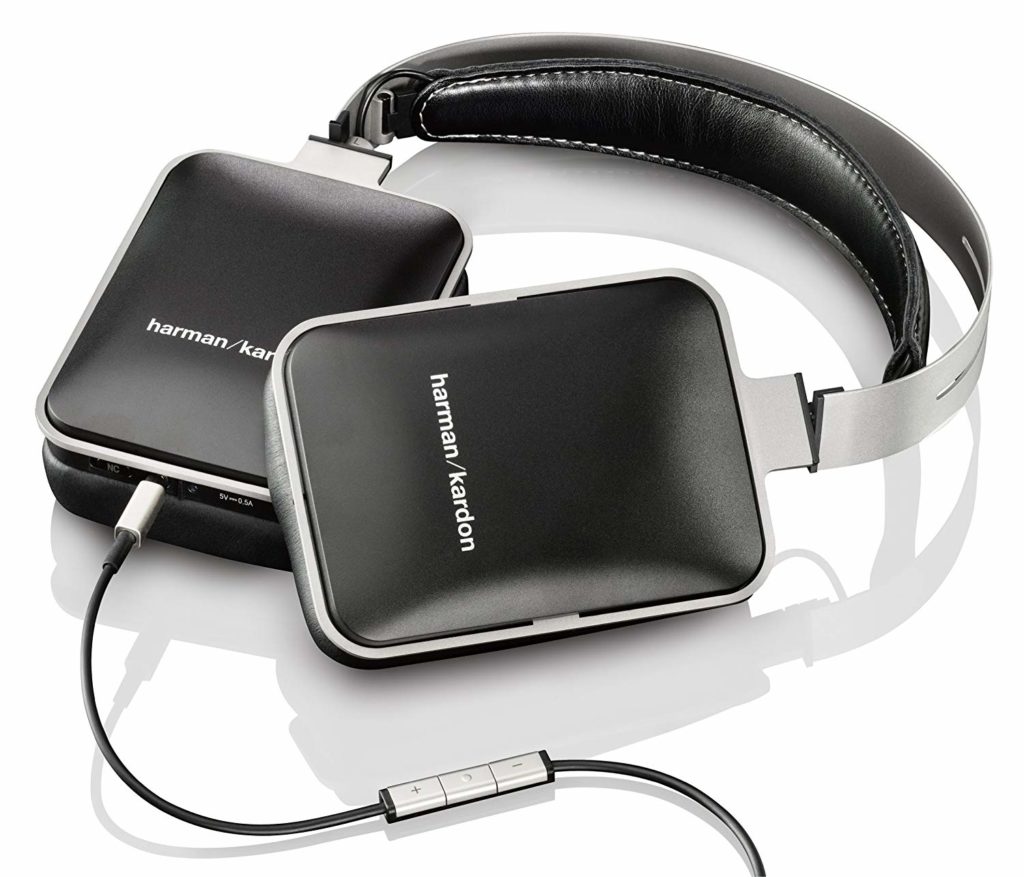 We found that it has quite a comfortable and stylish design that can immediately attract the eyes. It comes with fully padded ear cups that fit perfectly with the majority of owners. When it comes to controlling the music, they are quite stable and broader enough for implementing the proper pressure near the ear.
Furthermore, these headphones are sold by the company in two different sizes so that one can buy them as per their convenience level. We found that its sound has a little bit brittleness, but that is not a strong reason to worry considering its price. The optimized driver system provides the sonic clarity voice that everyone wishes to hear.
7. beyerdynamic DT 1990 Pro Studio Open Reference Headphones (best closed-back headphones)
Another expensive yet incredible product crafted by the Beyerdynamic brand. The DT 1990 Pro Studio comes in a closed-back design that provides a fully natural experience to the ears. There is a matte black frame having vented outer panels on the headphones. They are available in a beautiful black design and come with a premium hard case for easy transportation.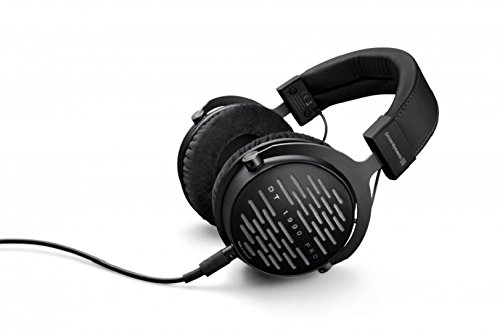 These headphones are used by many professionals in their studio that prove its authenticity among the audience. The high-quality cables are equipped with mini-XLR connectors for a better experience. There is a lot of metal used in manufacturing these headphones providing extra solidity.
There is an apogee symphony used by these headphones as the main source of the
sound. We find that it delivers a high-frequency and accurate sound response while playing the music that is a plus point for the listeners. In terms of full sonic enjoyment, these headphones become successful in giving a rich experience. Overall, they are premier choice headphones for individual want to listen to pure sound.
8. beyerdynamic Xelento Remote Tesla Headset (best in-ear)
Coming seventh on the list is Xelento Remote Tesla, another impressive piece of a hearing device from beyerdynamic. This product's excellent sound quality and luxurious design make them a perfect candidate for the list of the best bang for buck headphones under 1000$.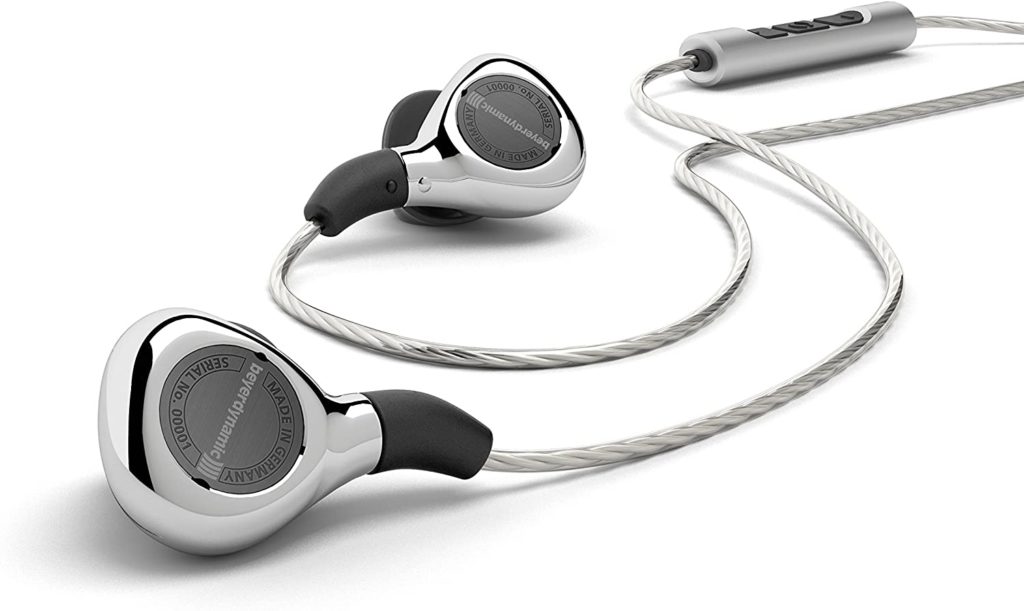 It may be on an expensive side, but the rich bass depth and water-resistant quality make it worthy of such an amount. These in-ear earphones are too light and fit comfortably in the ears.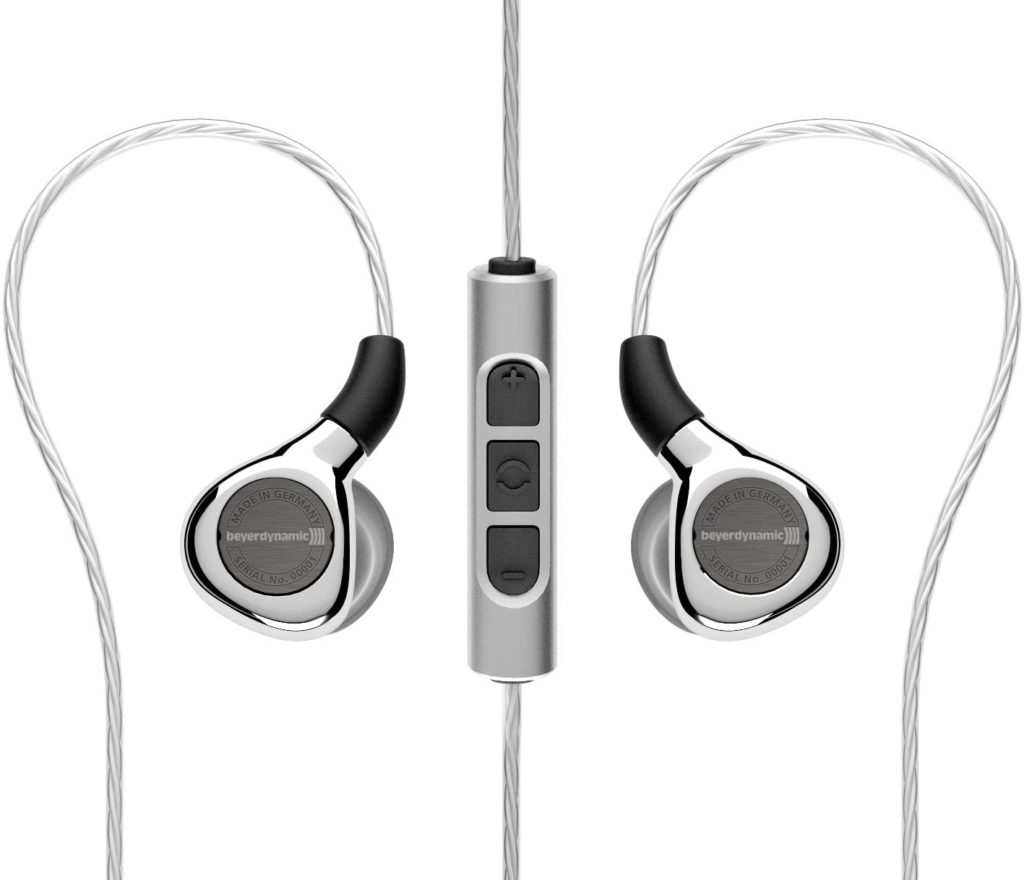 These earphones arrive with ten different sizes of ergonomically-shaped ear tips. The device is Hi-res audio-certified, meaning it plays all high-resolution audio files without distortion. With the miniaturized Tesla technology, these earphones offer the most authentic musical experience.
9. Shure SE846-CL Sound Isolating Earphones (best sound isolation)
If you are one of those people who prefer to buy unique things and immediately attract the eyes, then buy the Shure SE846-CL now. There are four drivers installed in each earpiece for ensuring an astonishing sound. They come in both wired as well as wireless style allowing you to choose any one as per your convenience. Furthermore, the SE846-CL is available in many different designs like transparent, bronze, blue, and black, giving enough choice to choose from.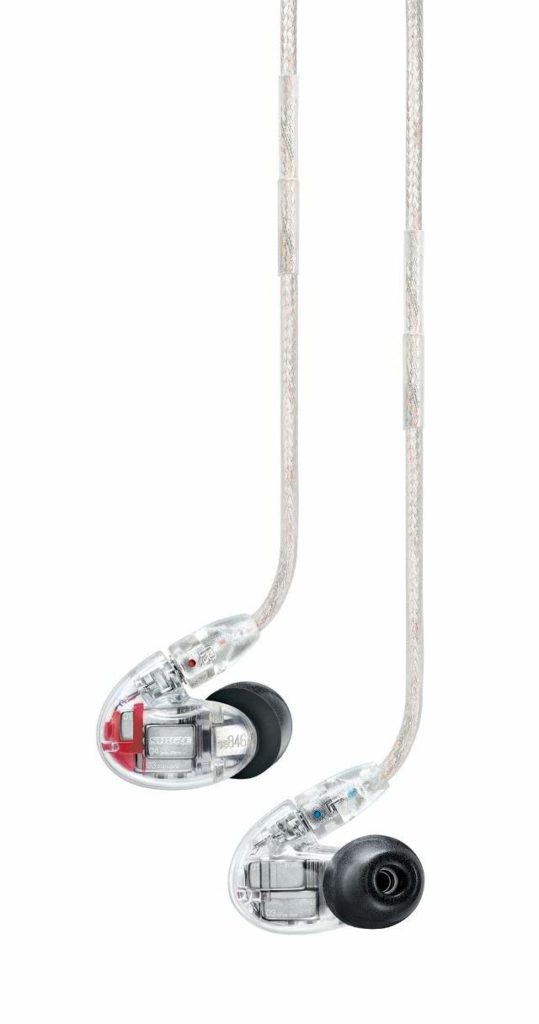 There is a tremendous amount of transition offered between the mid-range and bass in these headphones. Also, the performance of sound clearly shows that the company knows how to manage the bass in a musical instrument. Overall, this product plays the sound in a completely natural way for the listeners.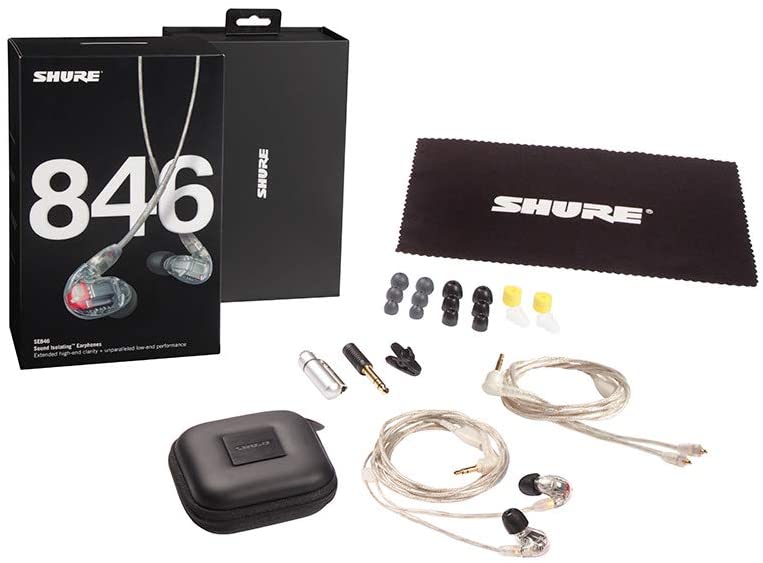 There is no doubt spending US$ 1,000 is not an easy task, but when the product is SE846s, then it is worthy of investing your money.
10. HiFiMAN Sundara Over-Ear Headphones (best lightweight and portable headphones)
Finishing at the bottom of the charts is Sundara from the brand — HiFiMAN. Sporting a thin, lightweight design, these headphones offer higher frequency response and more detailed audio experience.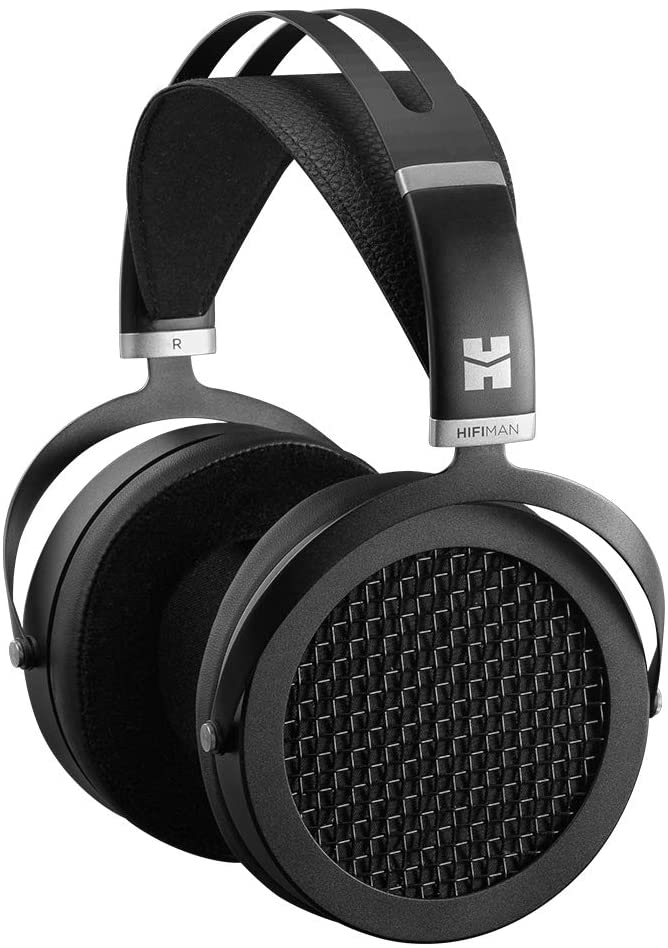 Ensuring utmost comfort around your ears, these comfortable headphones come with a sleek, sumptuous matte finish weight spreading strap.
What's more, the name 'SUNDARA' is derived from Sanskrit, which means "beautiful" — has all things beautiful inside and exterior — visually-appealing. Powered by the Planar magnetic technology, HiFiMAN SUNDARA offers a more enjoyable listening experience with more energy.
---
FAQs
Difference between open-back vs. closed-back headphones?
If you're struggling to find the best pair of headphones for yourself or someone close, you might have come across these terms — open back and close back headphones. Here's the difference between the two:
Open-back headphones: These headphones prevent sound from passing through the back of the headphones' ear cups. This further prevents echoes from coming into the headphones. Open-back headphones are standard among high-end headphones, thus making them offer a clear and rich sound experience. The downside is — these are not built for commuting or to listen to music on the plane.
Closed-back headphones: These are packed around the neck, meaning you can listen to more music and cut down on the noise happening around. These are go-to choices for outdoors or when commuting. The drawback — not the comfortable option to settle with.

Which one's better? On-ear or over-ear headphones?
The world of headphones has plenty to offer. Some of the common ways to wear headphones is by either wearing them over-war or on-ear. Read on to know what separates both:
On-ear headphones: These headphones rest directly against your ears. They are light and made keeping traveling in mind. Since these don't sit inside your ear canal and are pressed on ears, they tend to hurt ears more frequently.
Over-ear headphones: Coming with oversized ear cups and padded headbands, these headphones offer some great comfort. While they may not be the best option to carry around, they are comfortable to listen all day long.
How to pick the best high-end headphones?
There are plenty of things to consider when picking the best high-end headphone available on the market. Some of the areas to consider are mentioned below:
Comfort: High-end headphones come in three different types — over-ear, on-ear, and in-ear. In the previous question, we discussed over-ear and on-ear; the in-ear type is nothing different in sound quality. However, in-ear are lightest and comfortable amongst the three.
Driver: These are basically the magnets that transform digital signals into audio signals via vibration. The three common driver types are — dynamic, planar magnetic, and electrostatic. The higher the driver, the powerful the sound.
Impedance: The electrical resistance on the headphones is measured in Ohms, which denotes the headphone's loudness. Choose the one with a high rate of impedance for a great listening experience.
Isolation: The ability to block outside noise from entering the headphone is something you must look for in a high-end headphone. This feature is common among top-end headphones.
Do high priced headphones have much to offer on quality?
Not really. On paper, headphones with a slightly high price tend to offer a lot. In most cases, they do offer plenty of features, but the option of choosing one that fits according to your budget and needs rests in your hand. Don't just go ahead in choosing an expensive one; look for alternatives that offer the same features at a lower cost. This extensive list has the best ranging from $500 – $1000; each has plenty of features that give a run for the money to many top-end headphones.
How do high-end headphones differ from an average headphone?
High-end headphones offer a lot in terms of sound and build quality. But with most brands deceiving with the same design at a lower cost, you compromise on the music experience. Spending more on headphones will benefit you with extra features like wireless audio, noise cancellation, etc. We recommend you to save some extra bucks before settling for low-end headphone.
What Are Audiophile Headphones?
Audiophile headphones are referred to as the high fidelity headphones that are composed of the finest quality materials. Fidelity refers to the quality of the audio signal. These headphones come as luxury audio machines, which tend to ooze out sound signals with the highest accuracy. Beyerdynamic T1 2nd Generation is one such device to fit into this list of best audiophile headphones. However, there are other brands also, like Sennheiser and Audeze. The design could be different; the audio leaves listeners spellbound.
---
Conclusion
Our team has tested each pair of these headphones under 1000$ before creating this list efficiently. Each one possesses its own set of qualities and features, making them a perfect candidate for getting part of this list. So, you want to enhance your music experience, then buy one of the products mentioned in this list. If you want to go for a light and comfortable piece, the Beyerdynamic Xelento Remote Tesla Headset is a perfect option. With all features and points considered, the OPPO PM-3 is something we'd suggest for a better music experience.
If you have any other product in your mind, please tell us in the comment section. We will respond to your query as soon as possible.