Exercise bikes perhaps give the best cardio workouts straight from the comfort of home. These machines are easy to use, convenient, and provide excellent workout without exerting much stress on the joints. Recumbent bikes are the best ones, especially for beginners who have just placed their foot on this fitness journey.
Whether you are looking for a home workout purpose or gym purpose, there are some of the best recumbent exercise bikes available for everyone's needs, which consists of flashy features, offer exceptional performance, and provide stability as well.
But before jumping to that, let us go through a few things to consider before buying a recumbent exercise bike.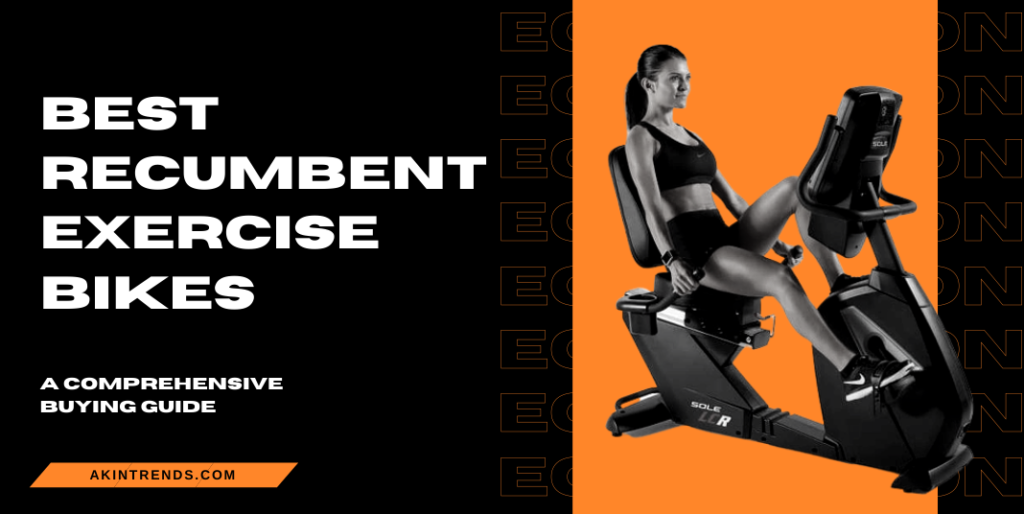 ---
Things to consider before buying a bike
Before buying a recumbent bike, ensure that the bike is efficient in tracking workout data like distance, time calories, pulse rate, and much more so that you can keep track of our goals.
Heavy wheels are perfect if you prefer to experience a road-like experience. Though, some units consist of perimeter-weighted flywheels, as these help in mimicking and enhancing the feeling of being on an actual road bike with a smooth consistency.
Another thing you might want to consider is the stability of the bike. The more stable the bike is, the harder it is for you to lose grip and fall while working out. Hence, this is something you need to be assured of before buying.
Resistance is one of the critical aspects of a recumbent exercise bike. Being able to switch resistance levels in order to get a challenging workout. Also, there are a few models that allow users to gain control over pre-programmed workouts, which can help track the progress.
Now that we've learned some of the imperative factors to be considered before buying. Let us look at some of the best recumbent exercise bikes available in the market.
Also read: NuStep TRS 4000 Recumbent Cross Trainer Review: A Comprehensive Guide
---
Best Recumbent Exercise Bikes of 2020
With the buying guide discussed above, it is time to discuss the best recumbent exercise bikes in the business.
1. Nautilus R614
Nautilus R614 has toppled many powerful machines to feature on our list of the best recumbent exercise bikes. The bike packs some exclusive features without eliminating the critical elements in its design. This bike boasts 20 levels of magnetic resistance with a weighted flywheel that ensures a smooth riding experience.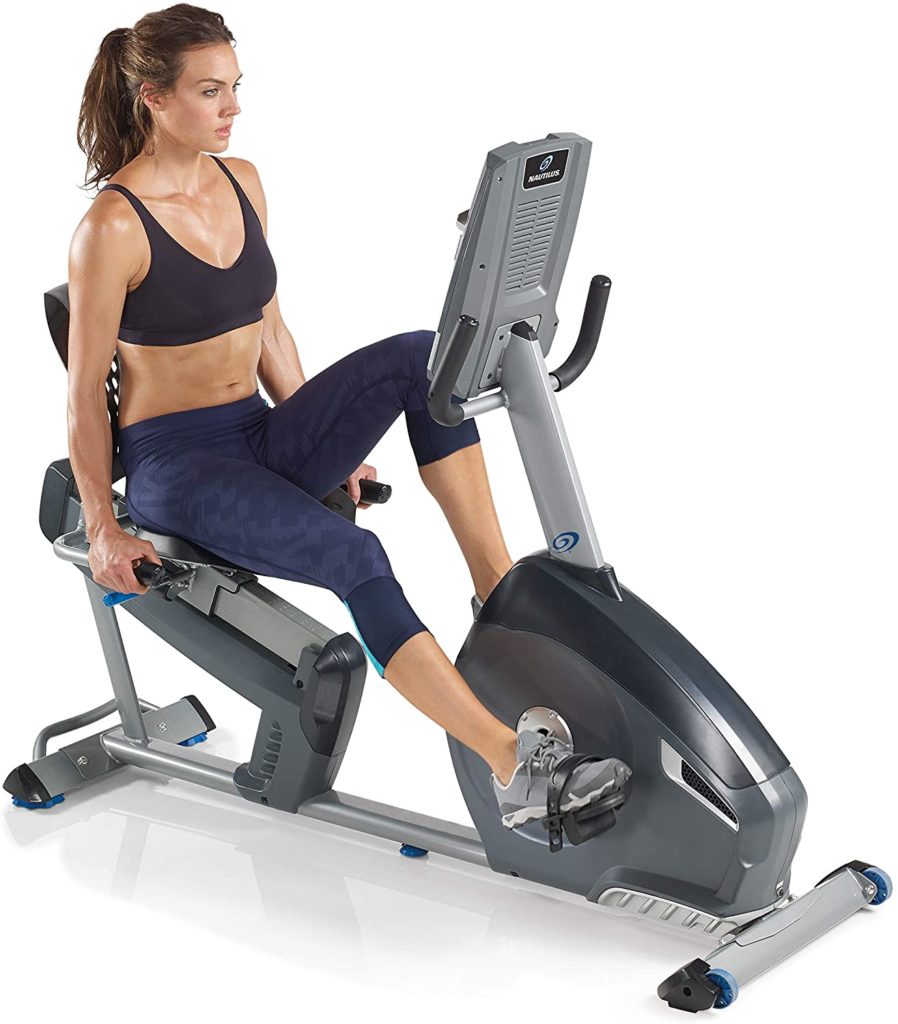 It comprises 22 preset workout programs in-built. If you are unaware of how to structure your workouts or do not have time for forming your workout plans, then these programs can come out very handy.
The unit also consists of an LCD screen displaying stats of your workout and also keeping the programs running at the same time. The only drawback of the unit is that it does not consist of a backlight, so you need to keep the machine in a room with ample light.
2. Marcy ME-709
Marcy ME-709 is among the best recumbent exercise bikes that is known for its robust performance. The bike is budget-friendly, which with the step-through performance, is considerably smaller than most of the other products.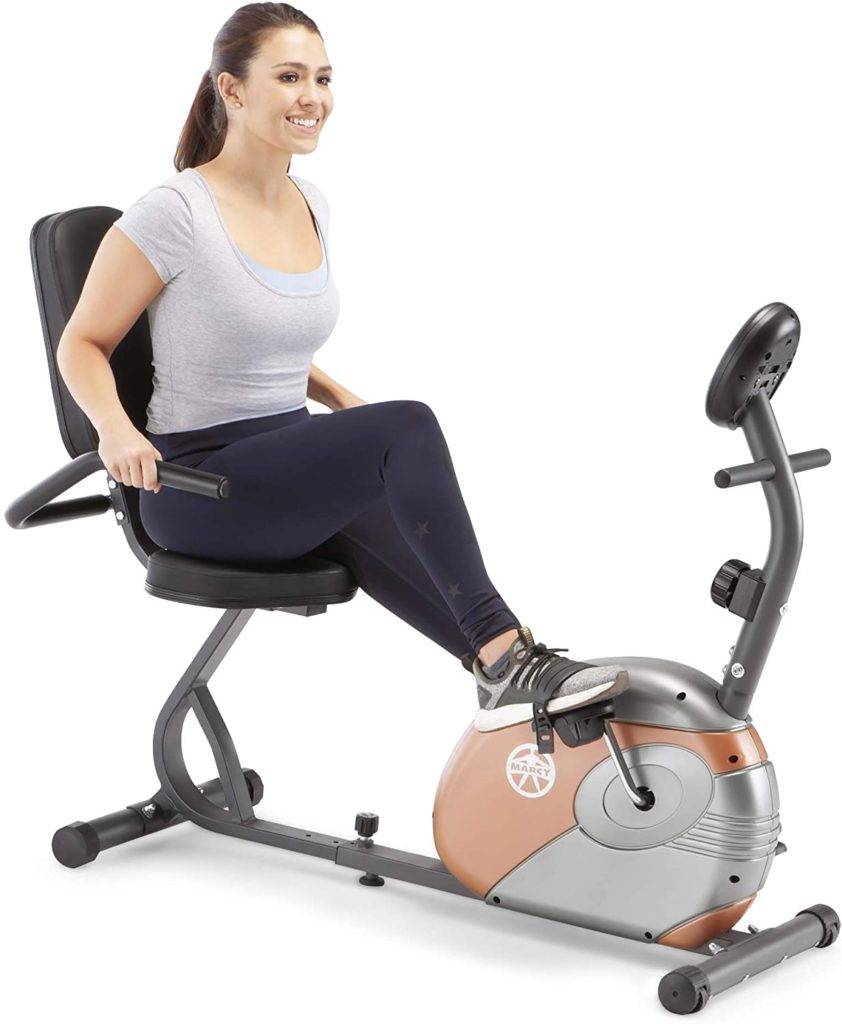 The unit features eight levels of resistance that are adjustable via a dial that is provided beneath the central console. The frame of the bike is made of powder-coated 14 gauge steel, keeping the bike steady and sturdy despite the smaller footprint.
Moreover, there are a few other features like an LCD screen console and weighted pedals, which makes it the best fit.
3. Schwinn 230 Recumbent Bike
Schwinn 230 is another excellent choice while we are discussing the best recumbent exercise bikes. The bike eliminates most of the frills to provide an extraordinary workout session at a reasonable price. You may require sacrificing some of the amenities; still, the combination of the performance and value of the bike is unbeatable.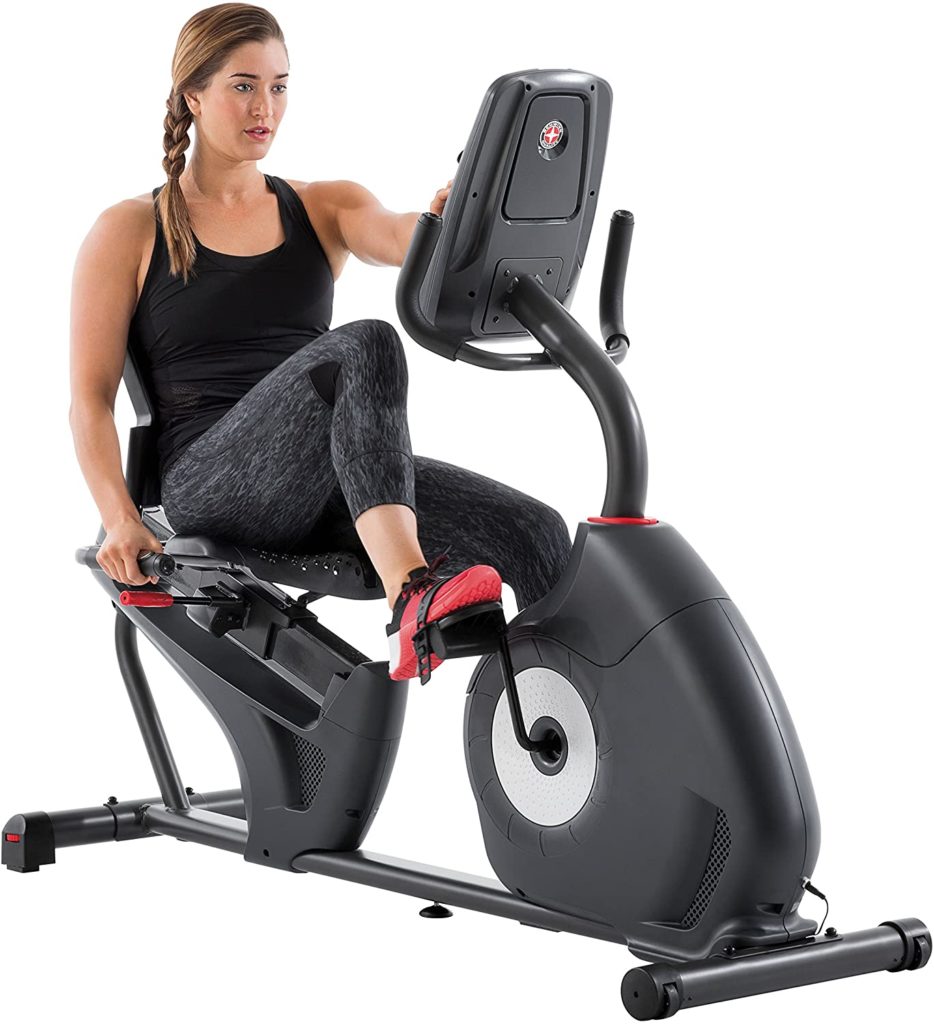 This recumbent bike offers 20 levels of magnetic resistance from its weighted flywheels, which allows you to adjust the level during a workout. It also comes with 22 preset workout programs to make exercises more comfortable.
Also, the seat of the Schwinn 230 is mounted on a sliding rail that makes it quick and easy to adjust as well. It is well-versed to fit people with different height and size, making it more interesting.
4. Teeter FreeStep Recumbent Cross Trainer and Elliptical
It would not be challenging to pick Teeter FreeStep as one of our top choices after having a look at the bike. The bike is perfect for people who are looking for a zero-impact workout along with various varieties.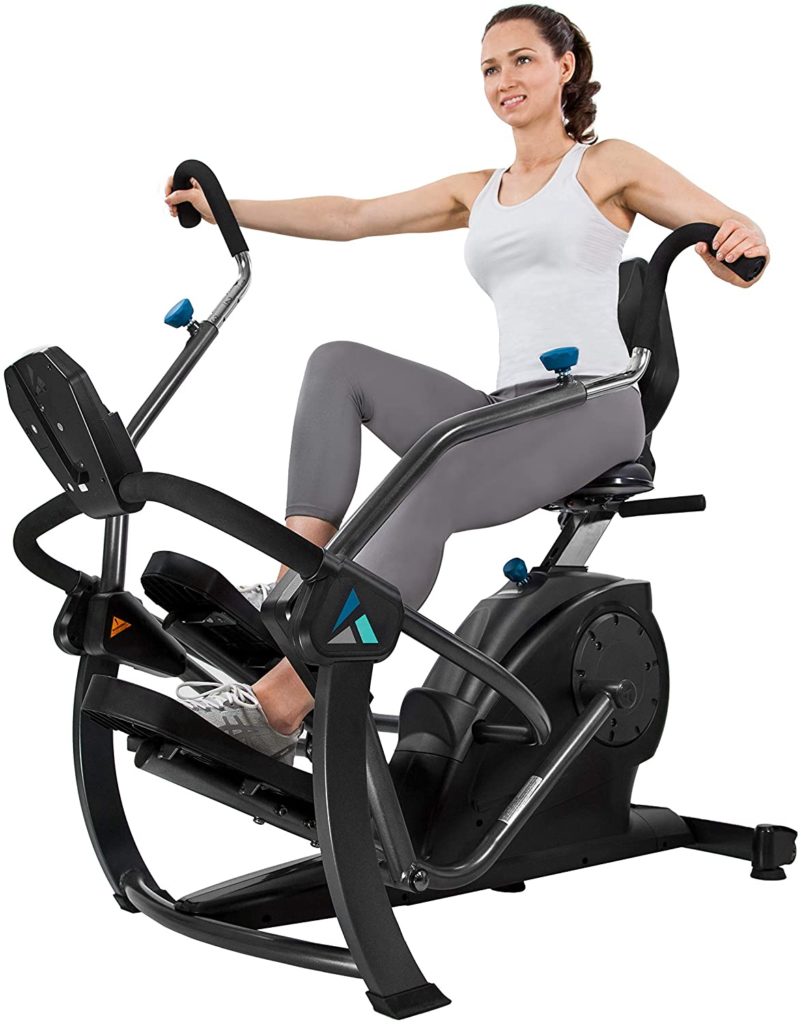 Few things it comes loaded with are a battery-powered digital console, media shelf, water bottle holder, an aux input for giving the ultimate riding experience to those working on it.
The bike is quite strong and sturdy and is capable of taking weight up to 300 lbs, while also providing a smooth and quiet workout with the help of unique striding motion. Everything in the unit is comfort-oriented with an oversized seat, and adjustable backrest.
5. JEEKEE Recumbent Exercise Bike
The JEEKEE's Recumbent Exercise Bike is adjustable to fit different heights that can hold a weight capacity of up to 300 lbs. The unit includes eight levels of magnetic resistance levels, which is quite well at this price.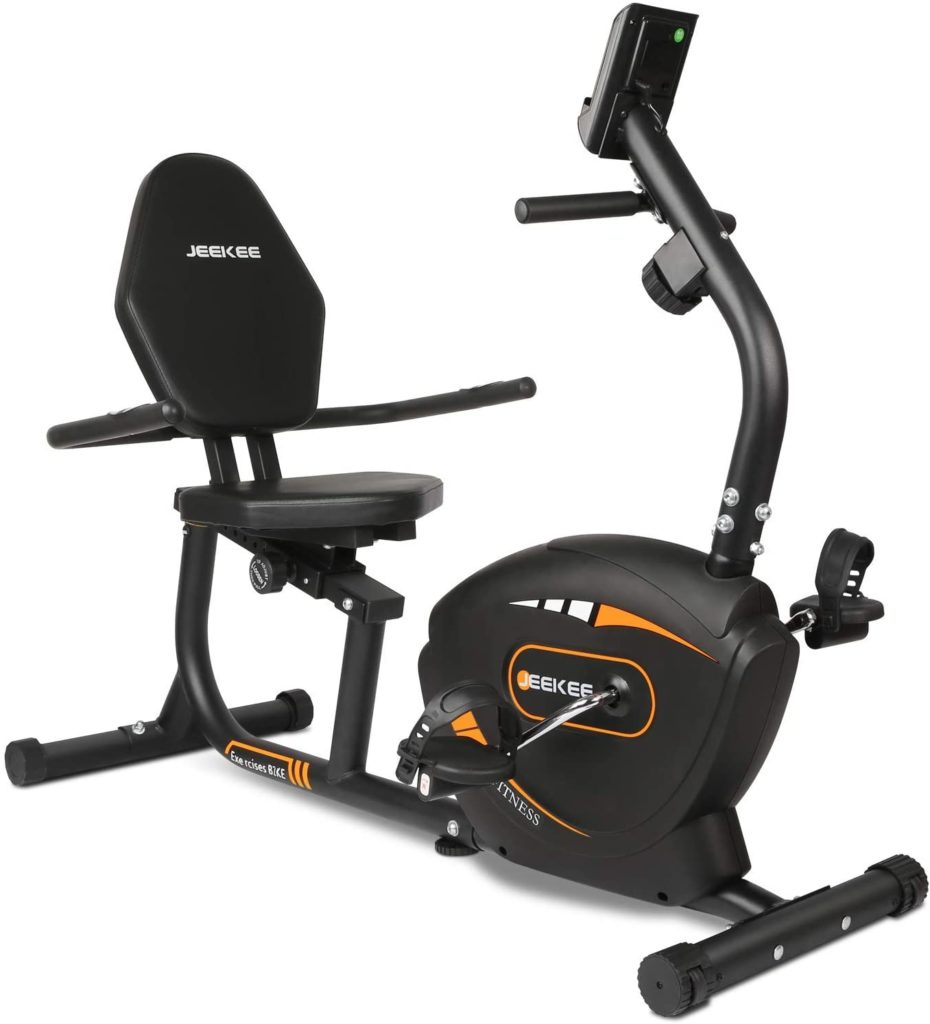 The unit has an ergonomic design with a huge backrest and seat to take the pressure over your spine and tailbone to provide a comfy experience. The bike offers a low impact legs exercise that eliminates joint pains while also building endurance and increasing circulation as well.
The unit is perfect for physical therapies and older people. Other features of the unit include an LCD screen, an iPad holder, and an alarm system as well to provide you an alert as to when you have achieved your goals so you can keep a track.
6. Sunny Health & Fitness Magnetic Recumbent Bike Exercise Bike – SF-RB4708
The Sunny SF-RB4708 is the cheapest available option in the market. The bike has a moveable handlebar that helps in transforming the bike into a low impact fitness machine to increase efforts and burn more calories.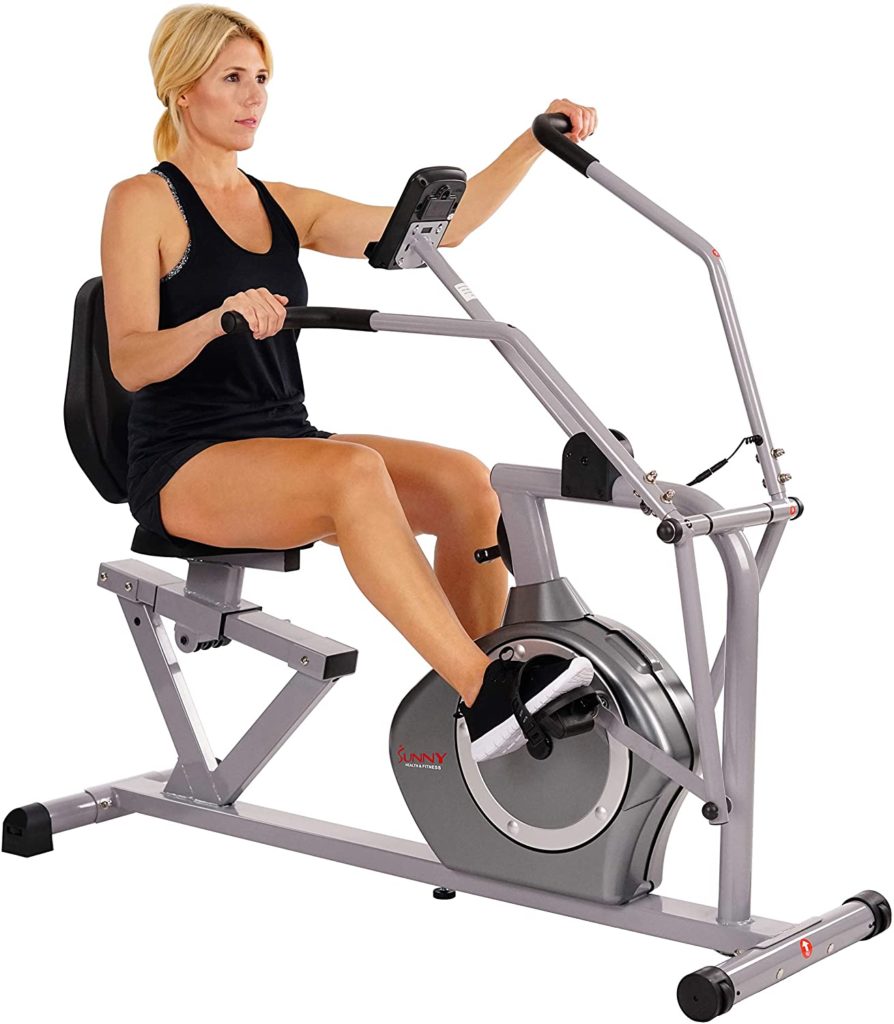 The bike features eight levels of resistance that allows users of different fitness levels to achieve their goals. It also consists of integrated pulse sensors, which help in reading the heartbeat per minute of a person.
Few other notable features of this bike include oversized seat and backrest, easily adjustable seats, and non-slip adjustable foot pedals, which come with a strap to avoid sliding. The bike can carry a user weighing up to 350 lbs. Besides, it also consists of built-in wheels that make transportation of the bike quite easy and smooth.
Also Read: 12 Best Folding Exercise Bikes of 2020
---
WRAPPING UP
Recumbent bikes are considered as machines that ensure comfort during the strenuous hours of workout. These bikes tend to make people come back for their effective and intense workouts, which doesn't hurt the joints, or back unlike other gym pieces of equipment.
Also, nowadays the technology that comes with such bikes is enough to make you want to enjoy such powerful sessions while relaxing, which can reduce your weight also and give you a comfy ride as well. If you are looking for workout sessions where you can enjoy, then this list of best recumbent exercise bikes can serve you the best!