Babies start pouncing at a very early age, and the safety of your child becomes of utmost importance to avoid them for hurting themselves. So this is why you need to baby proof your house, and the first thing you require is a baby gate.
Baby gates are designed to keep your child from restricted areas like fireplace, kitchen, staircase, and other similar areas. You can install it when your child turns six months and can keep it till they are two years old.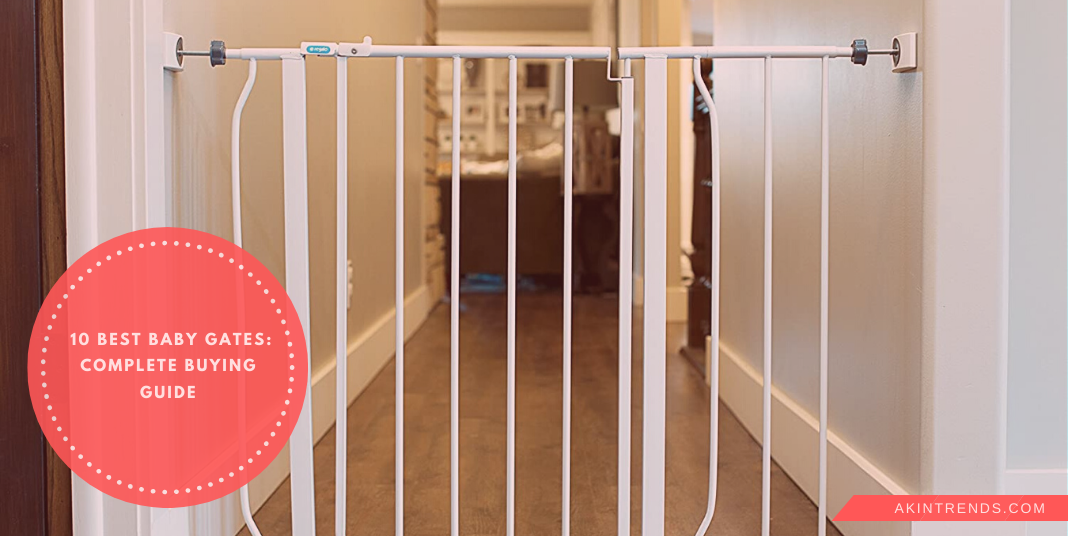 Though before we check on the best baby gates, let's have a quick look at the types of baby gates.
---
Types of baby gates
· Hardware mounted glass
These gates are mounted to the wall, so they act as barricades and avoid the child from going to restricted places. They are mostly used in the staircases and window openings. The best part is that they are pressure resistant. The only drawback is that you can't remove the baby gate without removing the frame.
· Pressure Mounted baby gate
These are the most well-known gates that quickly press on opposing walls without the need for any tools or installation. The bar comes with rubber caps to avoid the walls from getting spoiled. These gates are strictly prohibited from using near stairs.
· Free stand baby gate
These gates are free-standing gates that are not mounted by hardware or pressure. These gates can be pushed by the baby, though they slow down their speed. Such gates are not advisable as the safety of your child can be compromised as they topple.
Now that we know the types of gates let's have a look at the top 10 baby gates.
Also Read: Top 10 best baby jogging strollers to buy
---
10 best baby gates
1. Summer Multi-Use Walk-Thru Gate
The Summer Multi-Use Walk-Thru Gate is a 36-inch gate that prevents your baby from climbing. It can be easily adjusted to fit the staircase and door openings.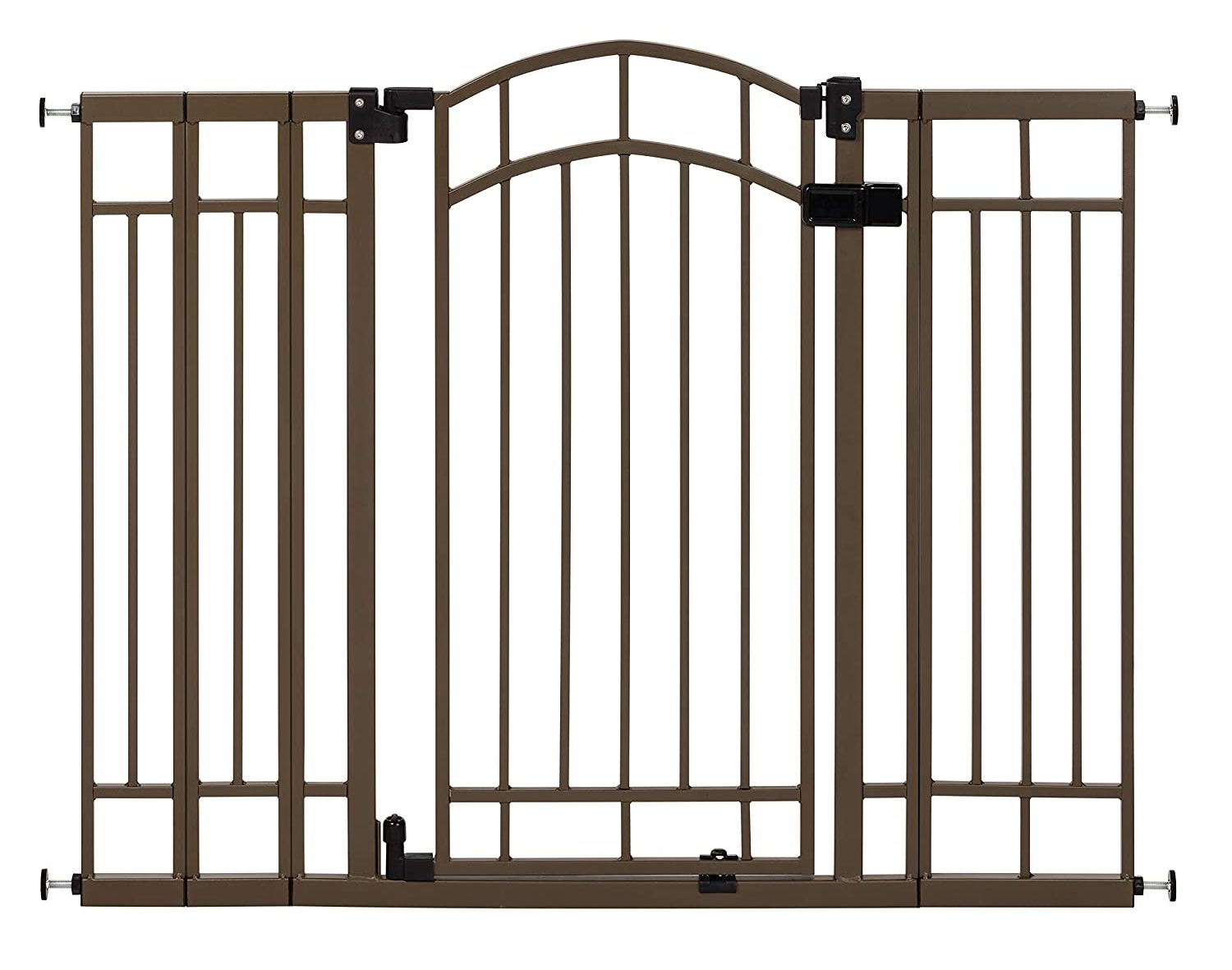 This gate can be easily positioned between doorways, thanks to pressuring mounted tension bolts. It also comes with an optional hardware mount, in case you require a more secure installation.
It is sturdy and robust, can resist the baby's pushing and leaning comfortably, and is easy to use. The Summer Walk-Thru gate can be used in various places in the house, making it the perfect choice for your baby.
2. Cardinal Gates Stairway Angle Baby Gate
Cardinal Gates is a versatile gate that can be used in any part of the house, including the staircase. This gate arrives with an auto-lock feature and has an easy installation process. The gate is designed to provide maximum safety to babies up to 10 months old.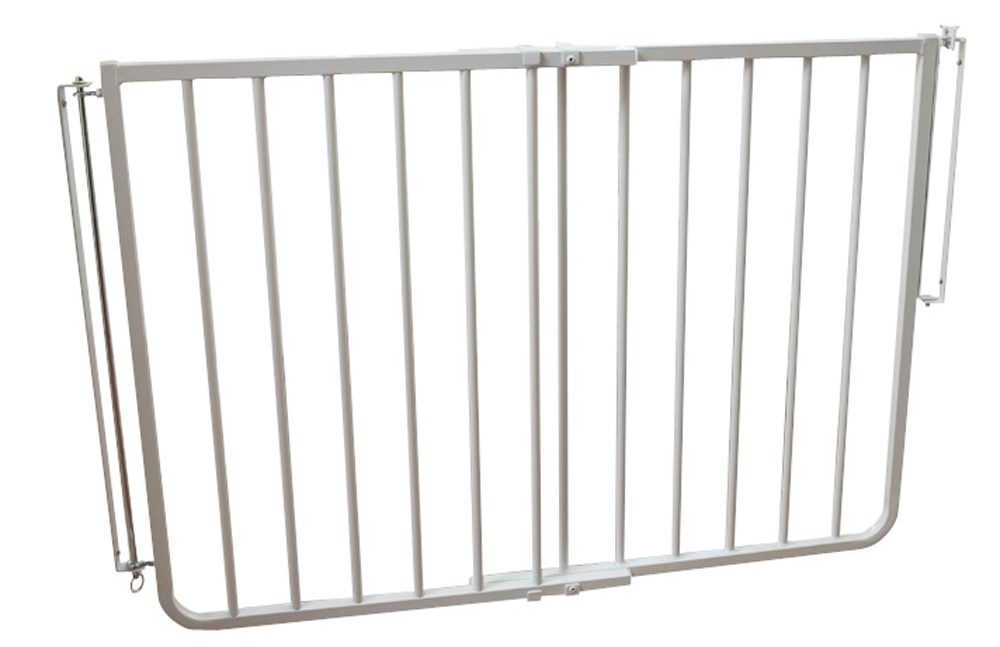 It comes with a powder-coated finish that ensures durability and makes it easy to clean as well. It is made of aluminum, which makes it rustproof and lightweight.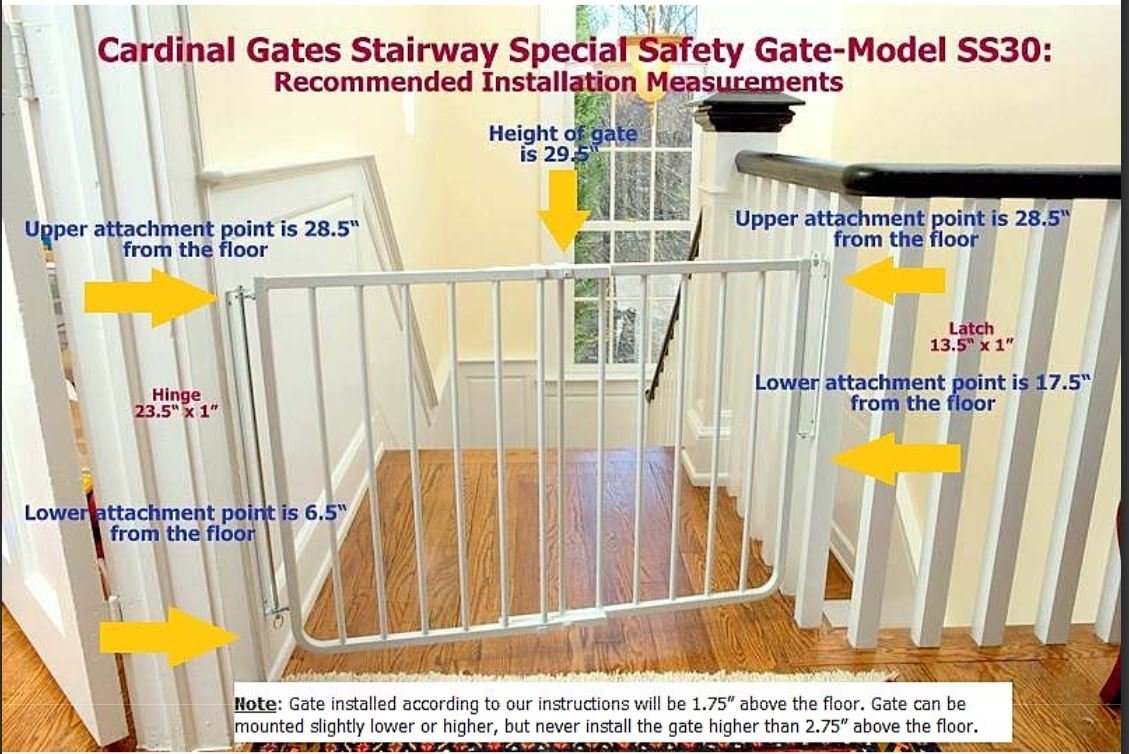 The Cardinal Gates' Stairway Angle Baby Gate blends with every interior look and comes with an additional stopper to provide maximum safety. It can be easily adjusted and slanted to offer your kid the maximum space.
3. Toddleroo by North States 3 in 1 Arched Décor Metal Superyard
North States' Superyard comes with six panels that are adjustable and removable that enclose around 10 square feet. The door consists of a double locking system that is childproof. Also, the rotating joints of the gates allow you to use it anywhere.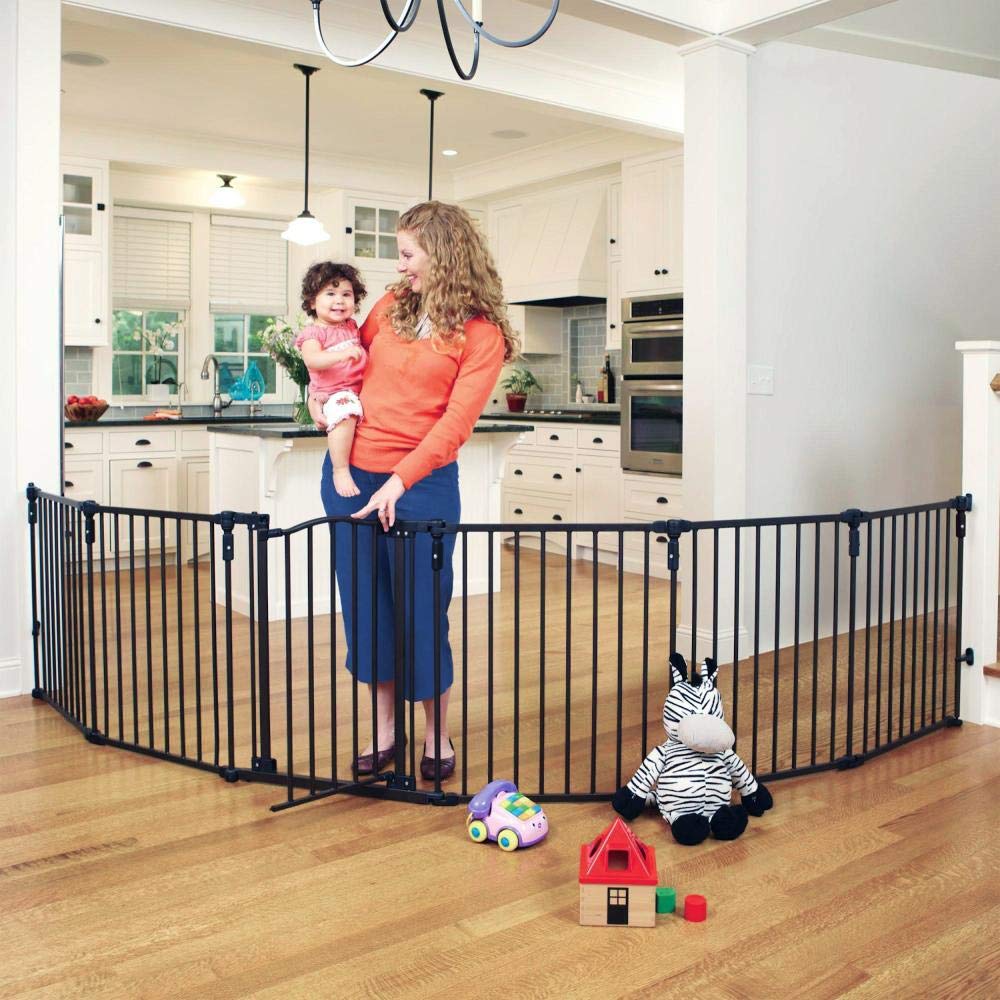 The brand is known to produce some of the sturdy and durable baby gates. These gates have a rubber foot underneath each panel, which prevents your floor from scratching while dragging the gates.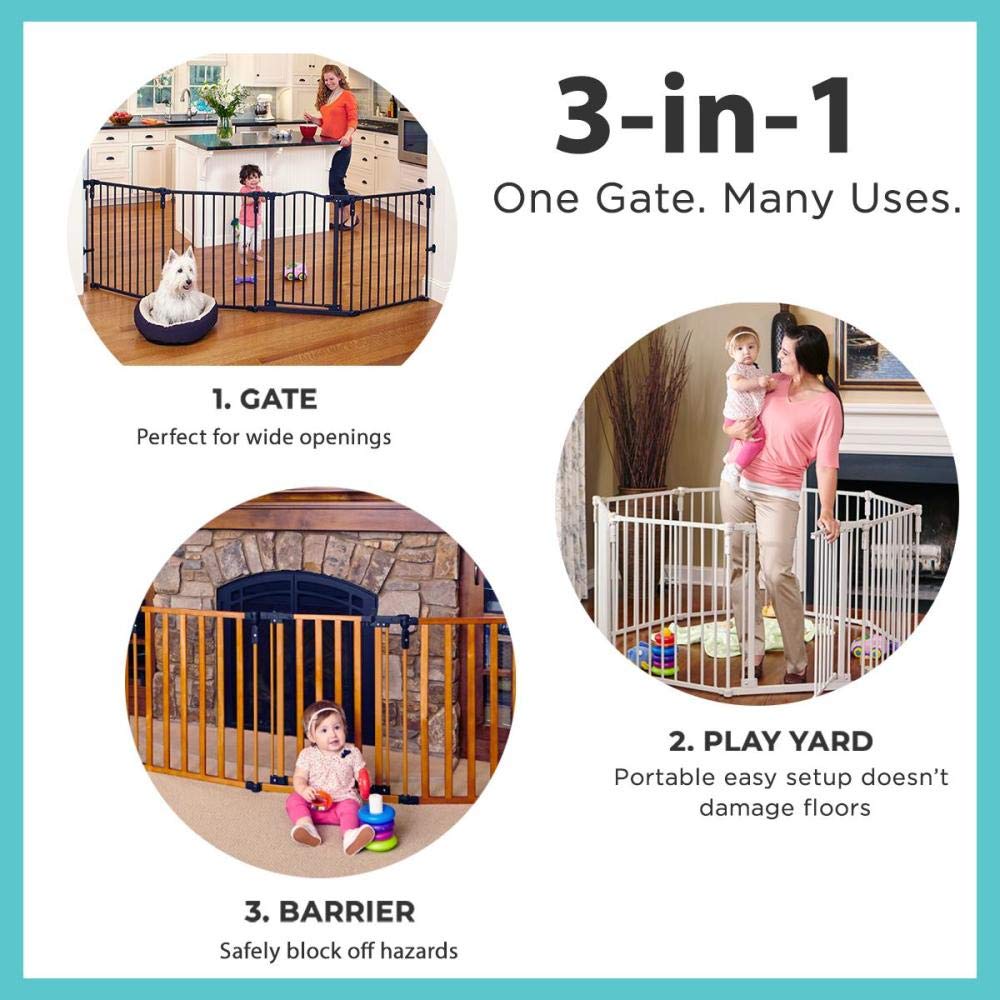 It can be used indoors as well as outdoors for your baby. You can hardware mount it anytime for added security. Also, you can always add or remove panels.
4. Cardinal Gates Auto-Lock Gate
Cardinal Gates Auto-Lock Gate is one of the best for high traffic areas, which consists of a patented latch that is super easy to operate. It can be mounted on any surface and is extendable. You can easily open the door by pulling and twisting the lock and also close it by pushing it.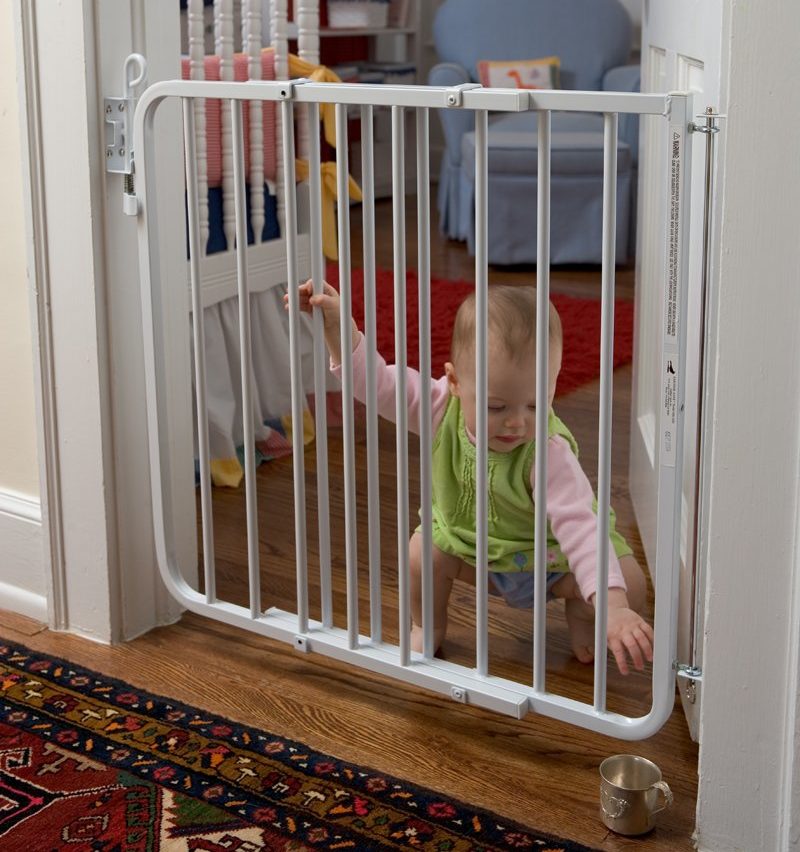 The gate comes with a safety panel where you can use the stop brackets on the stairways, which avoid the gate from opening, thus ensuring the safety of your child. The Cardinal Gates Auto-Lock Gate is made of aluminum, which makes it chew-proof and rustproof. Also, it has powder coating, making the gate easy to clean and last longer.
5. Toddleroo by the North States 38.5″ Wide Easy-Close Baby Gate
North States' gate is considered as a tension gate that can easily squeeze into any doorway without the requirement of any setup. It has a double-lock mechanism that provides you peace of mind that your child is safe.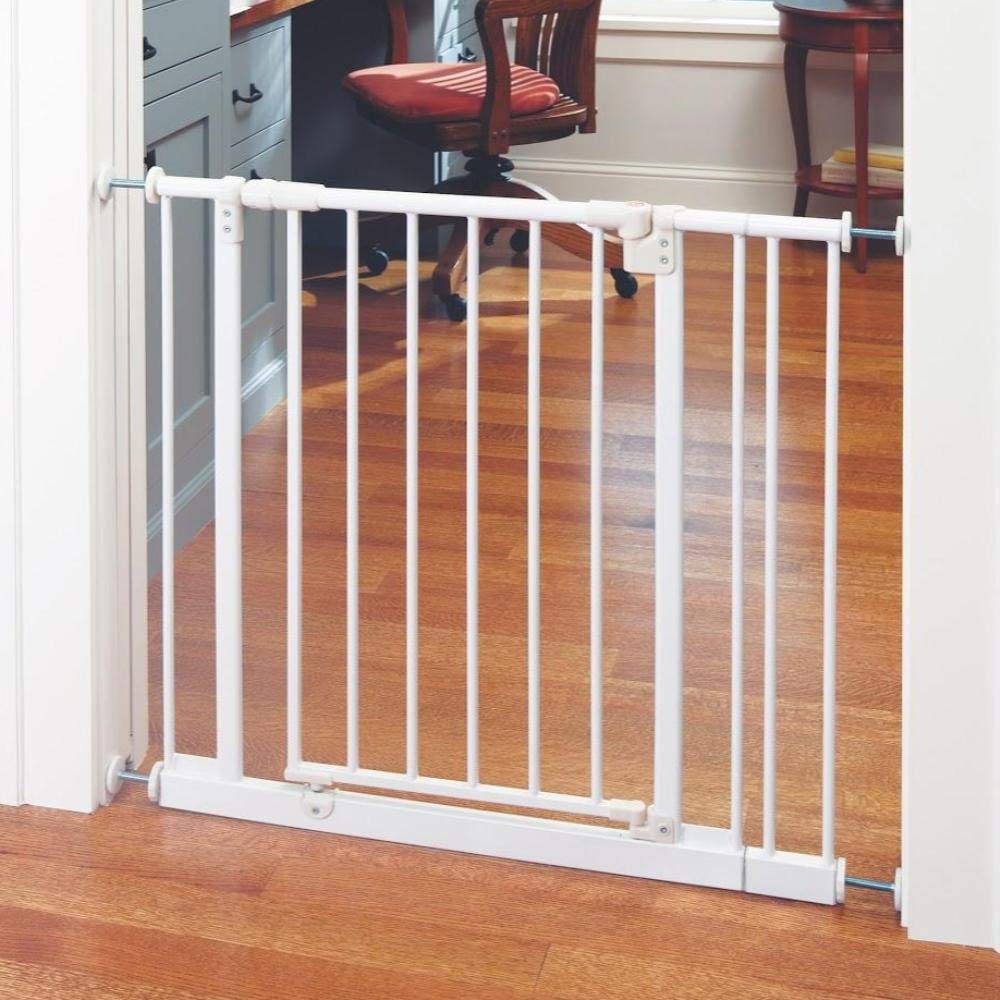 It consists of a hold-open feature that enables you to keep the door open at 90 degrees so that you can have multiple passes through.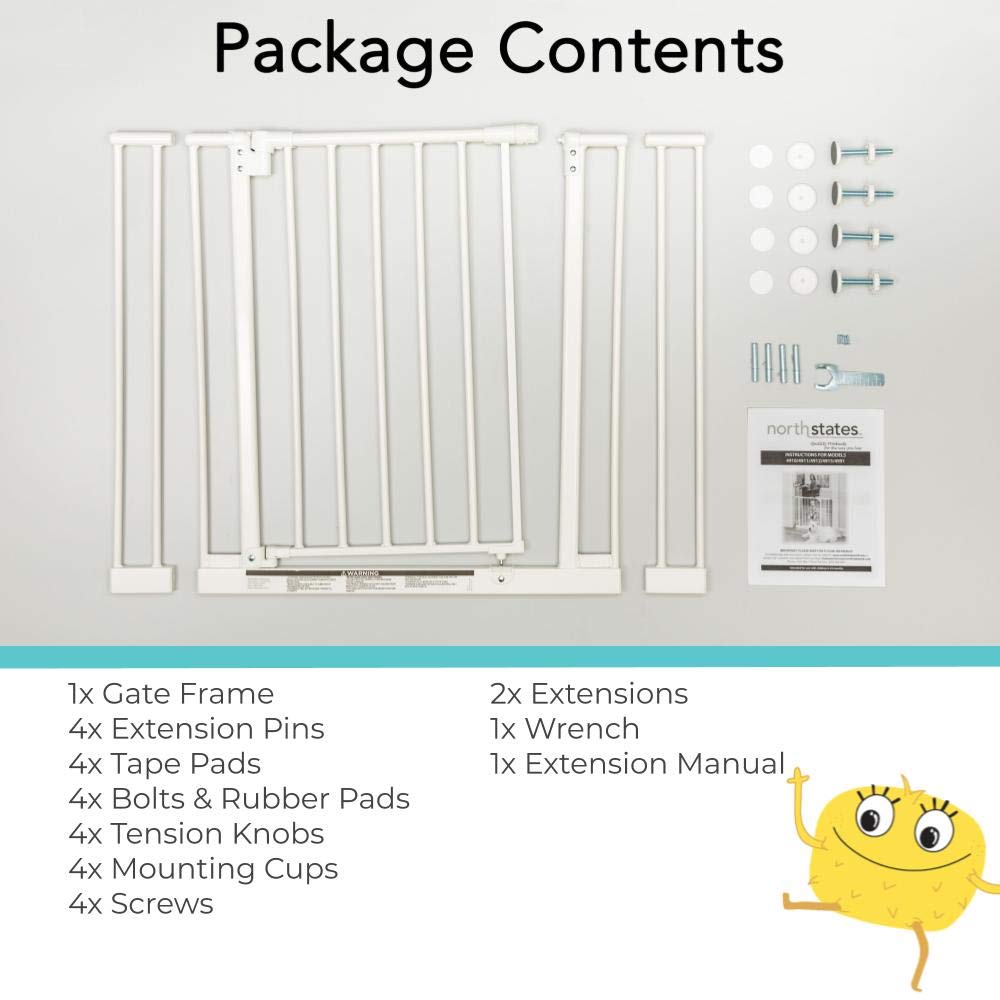 The North States 38.5″ Wide Easy-Close Baby Gate is manufactured of steel, which makes it durable and sturdy to restrict any pushing and pulling. Also, it comes in white and bronze finish, which can sit perfectly with every kind of home décor.
Also Read: 10 Best Baby Jumpers To Gift Your Kid
6. Evenflo Secure Step Gate
Evenflo Secure Step Gate is a versatile gate designed for stairways but works equally well in other areas. It is super easy to operate and can open from either side, making it flexible to suit your needs.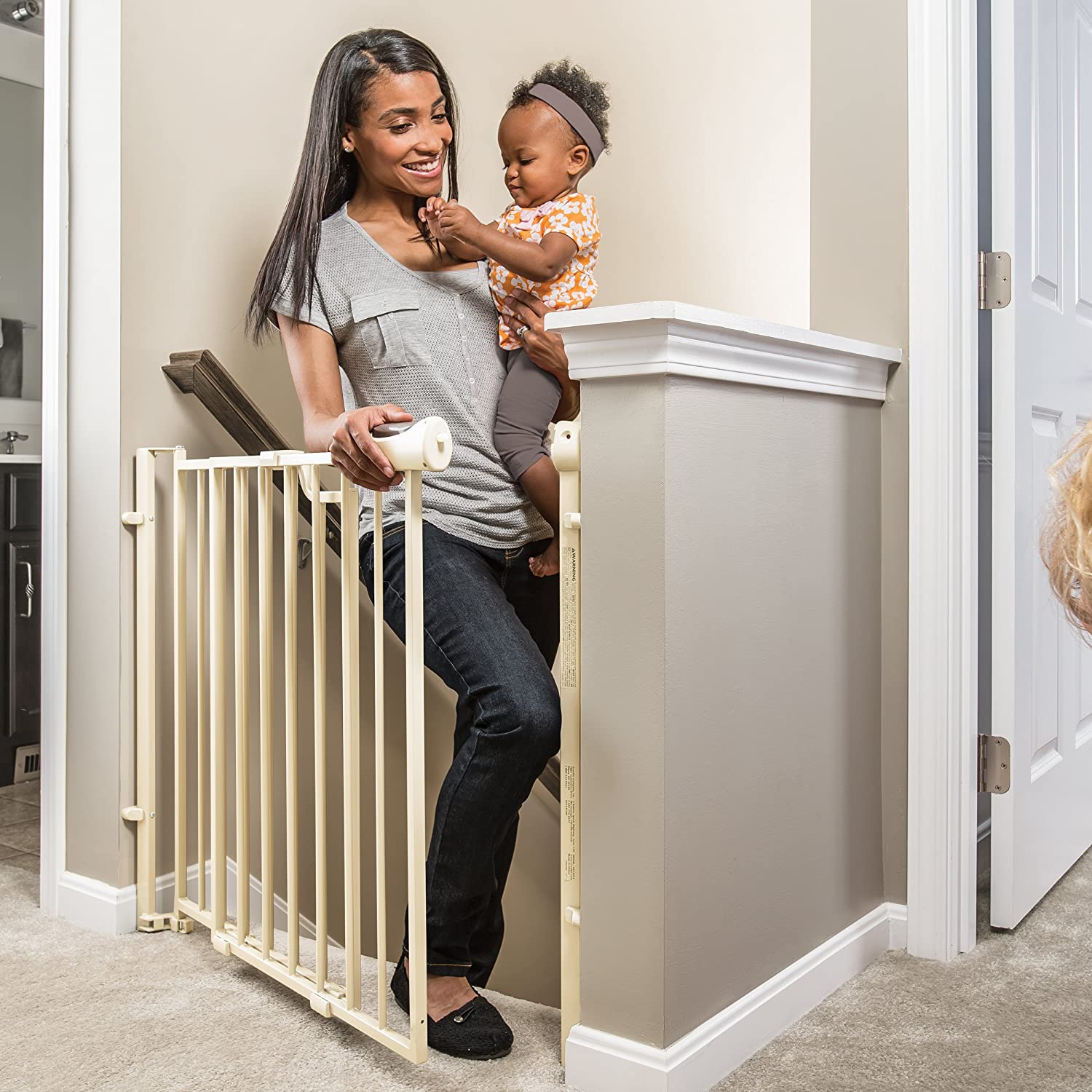 The ergonomic design makes it easy to handle and is convenient to use for keeping your baby secure. It comes with a swing stopper that avoids the gate from opening on either side when used on the stairway.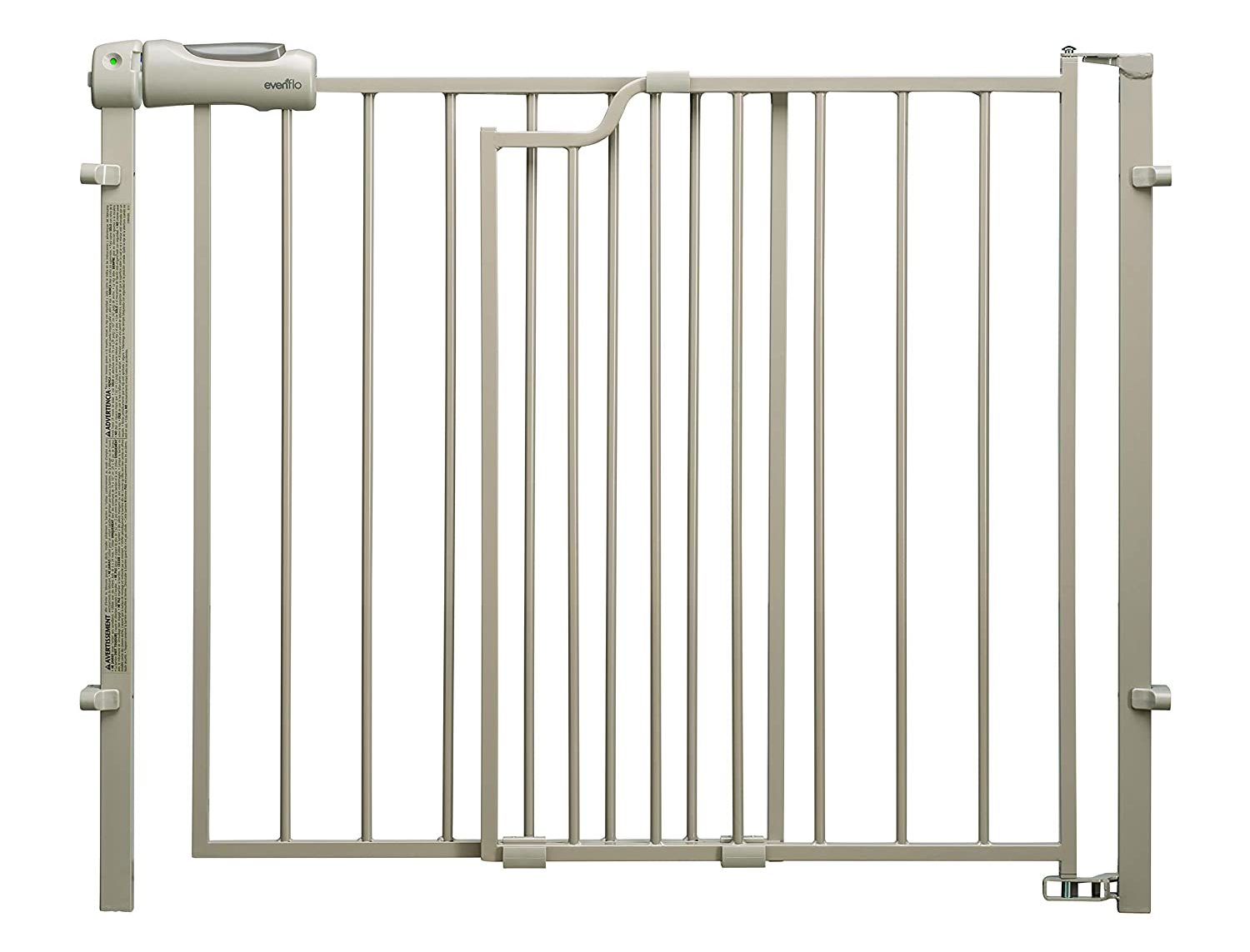 The gate consists of a lock release handle, which has an indicator to warn you that the gate is not locked properly. For locking it, all you are required to do is give a gentle push and slam the latch.
7. Evenflo Soft and Wide gate
Evenflo Soft and Wide gate are best suited for traveling. It comes with bumpers to avoid your walls from getting damaged. These gates are ready to use, so you won't have to assemble it. It is lightweight and sturdy, which can handle the pulling, leaning, and pushing of the baby.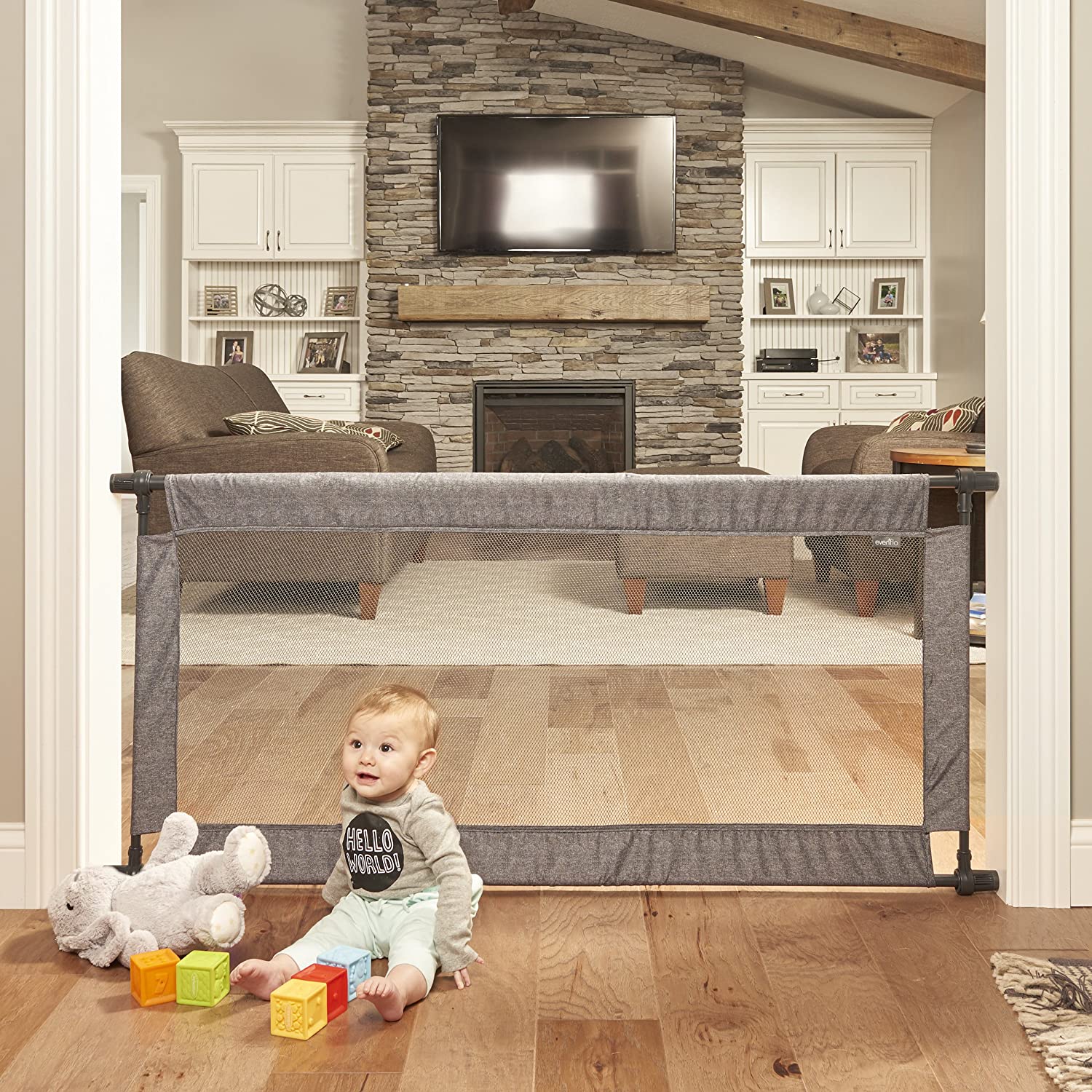 The Evenflo Soft and Wide Gate sports a neutral design that complements well with most home décor. It comes with a decent padding and a sheer mesh that allows the baby to use what's going in the next room.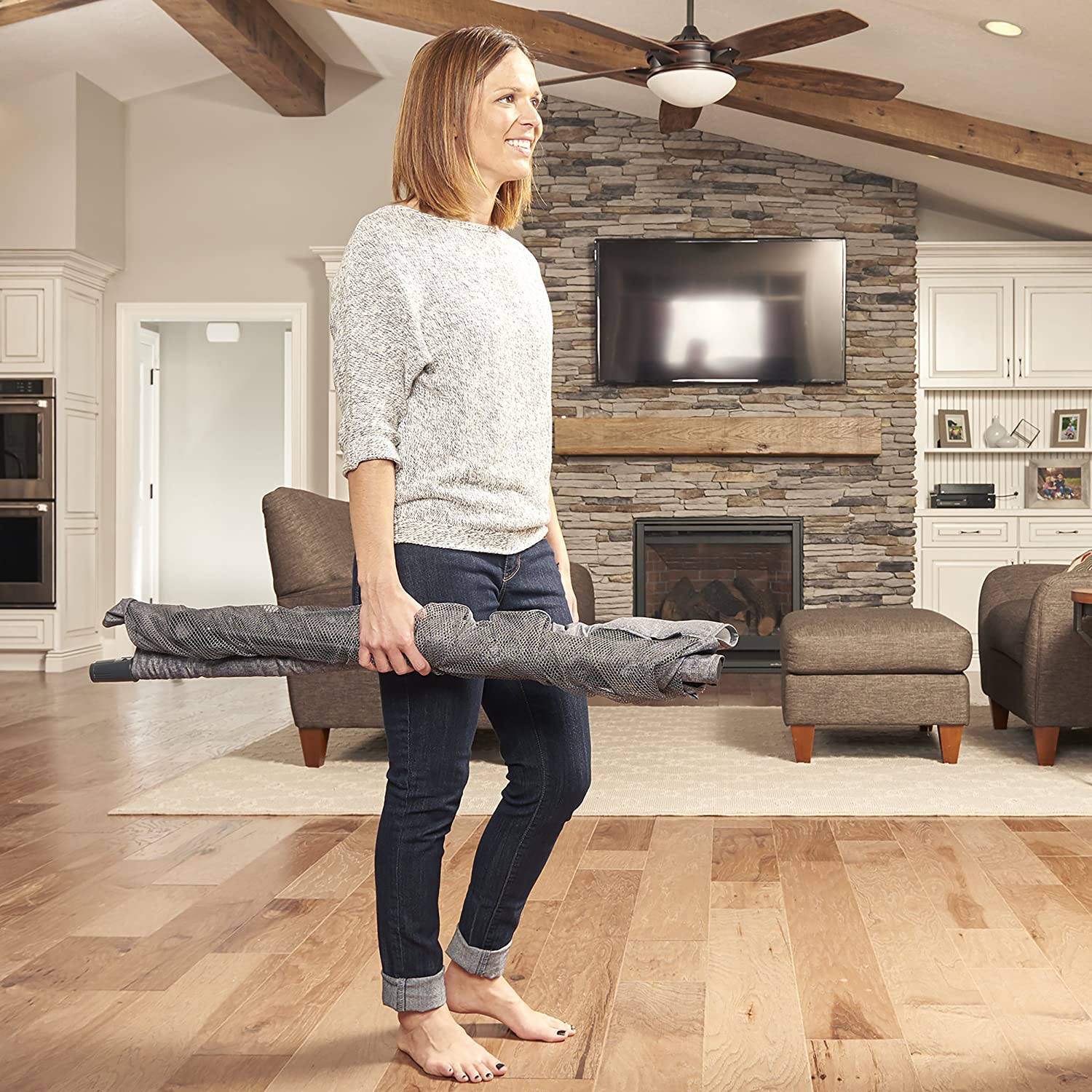 The fabric of the gate is machine washable, which makes it super easy to clean. It is portable, so it is the best choice if you keep moving around places.
8. Toddleroo by North States 72" wide Deluxe Décor Baby Gate
The North States 72" wide Deluxe Décor Baby Gate is another top-class product that is made of heavy construction material, making it strong enough. It comes in a matte brown finish, thus making it blend with every interior.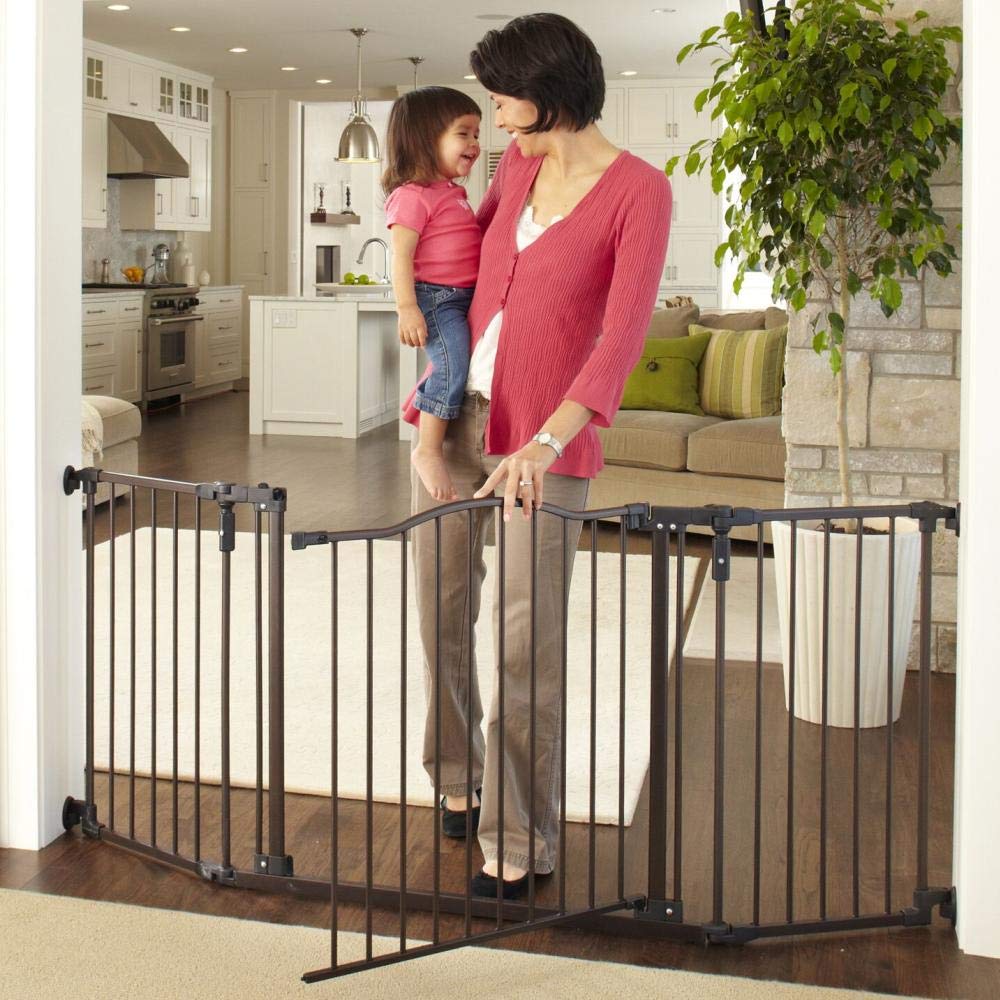 The gate comes with a stay-open feature and double locking system to provide you utmost convenience in using it. These gates can be easily installed and are durable, so you are set for a long time after purchasing this.
It also comes with 6 bar extensions, which tend to add 15 inches to provide extra-wide openings in your home. Also, it has a safety latch, so you don't have to worry about your child moving out of the gate.
9. Regalo 192-Inch Super Wide Adjustable Baby Gate and Play Yard
Regalo 192-Inch Super Wide Adjustable Baby Gate and Play Yard is a 28-inch baby gate providing enough room for your baby to move around. Also, this door can take a lot of stress and handle all the rigid movements.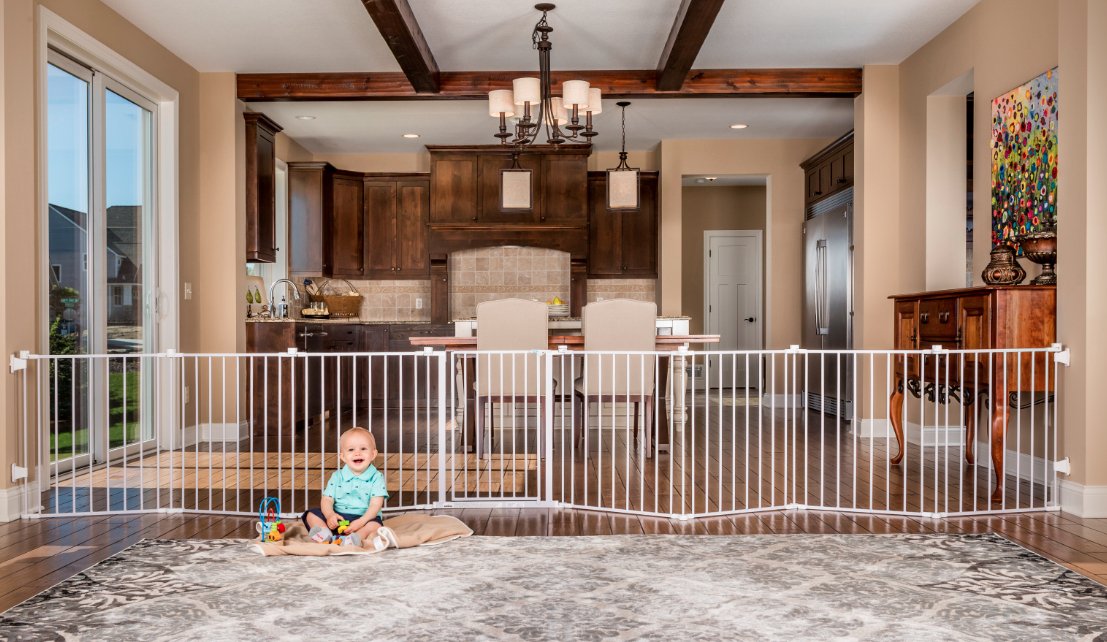 The length it comes in is quite challenging to find in baby gates. The gate has a steel construction, which makes it quite sturdy and durable.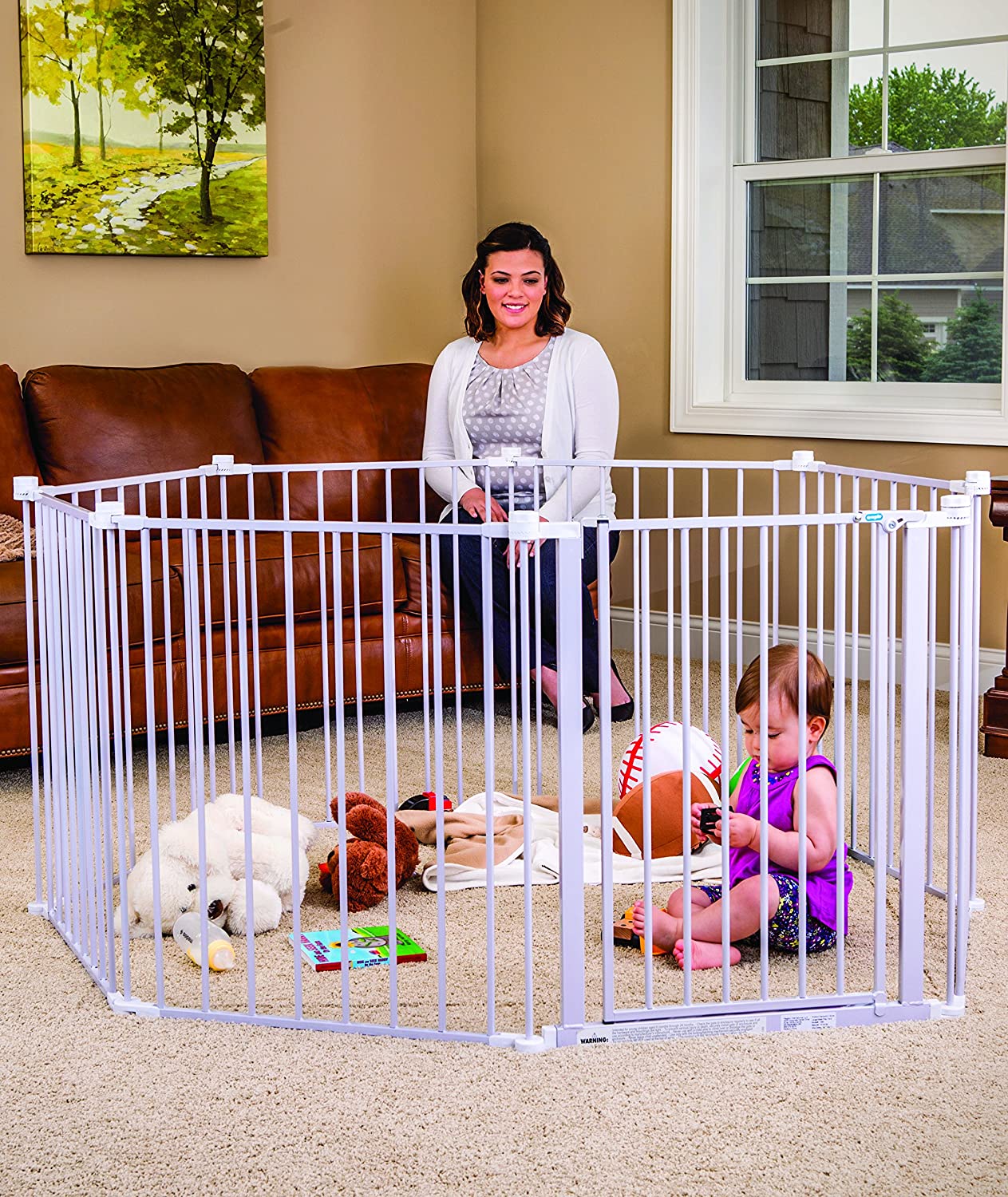 It is super adjustable that adheres to safety standards and comes with a 24-months warranty as well. All in all, this is the best product available at a price like this.
10. Dreambaby Chelsea Extra Tall and Wide Auto Close Security Gate
Dreambaby Chelsea is a 41-inch baby gate that is designed for babies with tall height so that they don't hop. It can be mounted easily against the wall as they are pressure mounted. It also comes with optional hardware mounting for extra safety.
The gate comes with a security gate and an auto-close feature, which is the best part. Also, it has a hold function, which is another added advantage.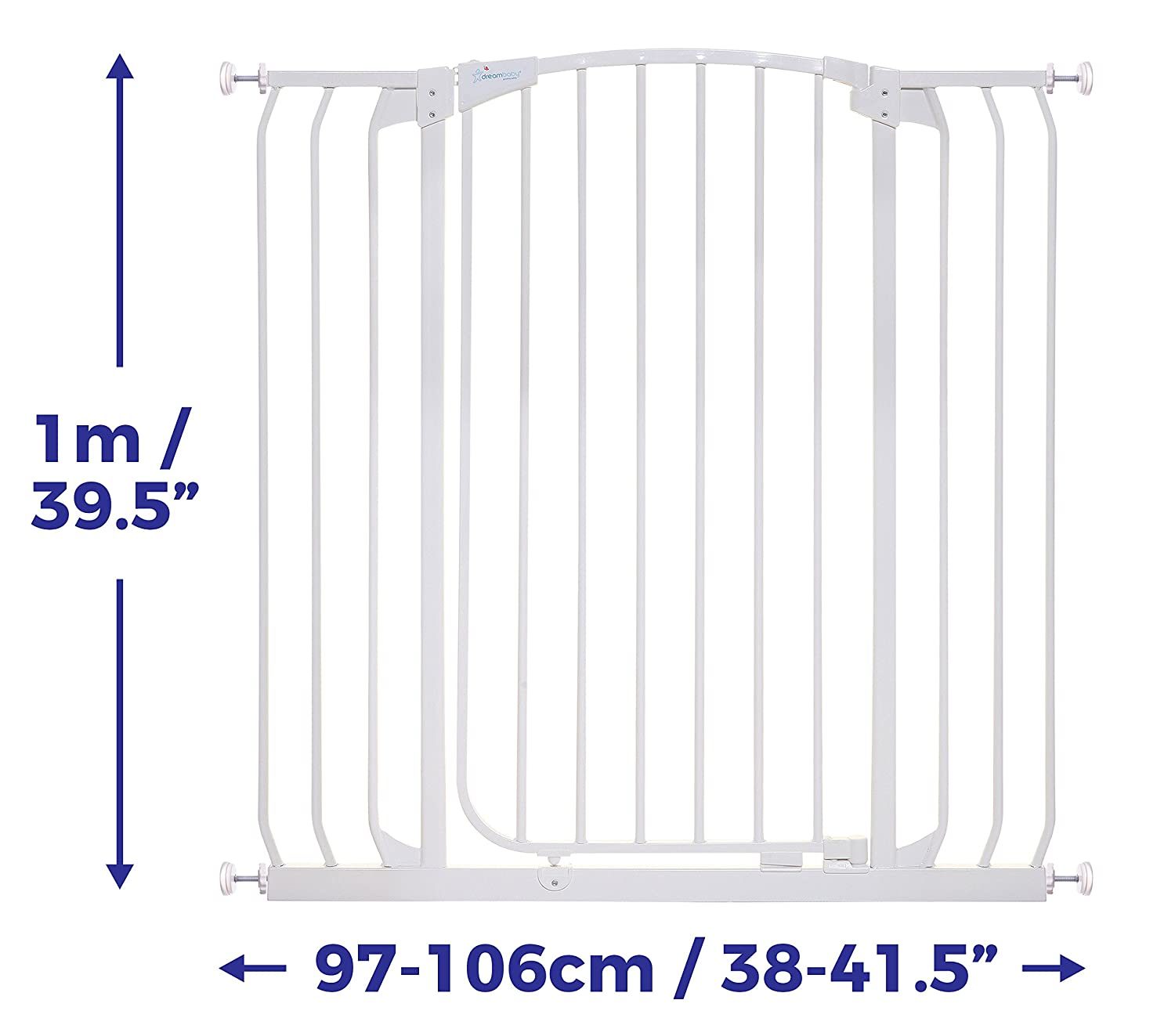 The Dreambaby Chelsea gate doesn't have to be always removed, while it can also be used on the stairs, so you are good to use it anywhere you like.
Also Read: 10 Best Baby Walkers under $100 to pick for your kid in 2020
---
CONCLUSION
When it comes to buying stuff for your baby, you would always want to have the best thing. There are a lot of products available in the market, but deciding which one to rely on can be tricky. So we have narrowed it down to the top 10 to make this choice simple for you.